Medicine Head – 'Warriors Of Love' (2021)
Just out is a new album by Medicine Head, highly praised by such as John Peel, Pete Townshend, John and Yoko around 1970 and in this century by Jack White and Bobby Gillespie among many others.
---
Like Jethro Tull equals Ian Anderson, Medicine Head is actually John Fiddler; co-founder Peter Hope-Evans left (twice) in the 70s when hits materialized though they were always true to their origins. John Fiddler went on to feature as song-writing frontman in Box of Frogs (ex-Yardbirds plus famous guests) and British Lions (ex-Mott The Hoople).
His aim from the very beginning in the late '60s has been to convey or recreate true emotions with whatever instruments were to hand (the initial pre-album Medicine Head was actually non-guitar). And that honest ethos continues in fine style here, with another timeless conjuring of music's best elements seen through his vision.
Recently he started Living Room Records as "the label of love", which is appropriate considering his philosophy and latest album, 'Warriors Of Love'. Its opening line "I believe in freedom / I believe in truth / I believe in the power of love / And I believe in you" sets his stall out in this violent world of conflicts on various levels. The warrior of love is again backed on some songs by top-level musicians, including Morgan Fisher (Love Affair—'Everlasting Love'!!—Mott The Hoople, British Lions, Queen etc.) on keyboards, although John Fiddler also contributes some piano too (it was his first instrument). In the 1980s Morgan's acclaimed project Miniatures had one-minute songs by well-known artists. John Fiddler contributed to its follow-up in 2000 alongside Terry Riley, Robert Fripp, Lol Coxhill and numerous others worldwide. Both Fiddler and Fisher are also pictorial artists of some renown and well-worth checking out.
Additional "guest headz" include Dave "Bucket" Colwell on two tracks, well-known to fans of Bad Company, Samson and the new version of Humble Pie as well as with his own band. He wrote Iron Maiden's 'Reach Out'. On guitars including bass is Dzal Martin, who was involved with the Box Of Frogs albums and praised by John Fiddler elsewhere as a "sensitive and intuitive guitarist", a rarity in these brasher days. He is currently working on his own album for Living Room. The Wurlitzer instrument appears in a wider-than-usual approach, added by Roy Shipston who is a keyboard player with his own studio in America, where this album was mastered. Ben Dale adds guitar to one track, and four tracks feature the superb singing of Belinda Campbell, who's also recorded the Fiddler-produced 'Painkiller' for the label.
There are ten songs of fifty minutes including a bonus single mix of the title track at the end, bringing the album full circle as it were. Following the burn of 'Chinese Whispers', a single, 'Love In Your Eyes" sweet vibrato is reminiscent of his 'Dark Side Of The Moon' LP in the 70s (the title nicked by you-know-who) plus beautiful piano by Fiddler. 'Dancing In The Rain's' lyric to one "who smells like sweet magnolia "adds strings and keening acoustic guitar to moving electric guitar plus piano by Morgan Fisher. 'Want Your Love' soars with wailing mouth organ and heavy fuzzy guitar for some rocking delight while 'Close Your Eyes' could be swampy blues by masters like Burnside, Hooker or Tony Joe White.
'The Ballad Of Ruby Rose' celebrates the appearance of a grand-daughter, seeking to articulate the magic of a new arrival of life for those looking on. 'Dreams I Lost' is a new and poignant approach counterpointing banjo, mouth harp and guitar in a part-autobiographical song that mentions early love of Beat writers with an almost gospel feel not dispelled by the hand-clapping rhythm near the end. A slow ballad, 'Alcohol And Cheap Perfume', reminds a little of 'Cadillacs And Diamonds' from 'Fiddlersophical' (2011, Angel Air) but with more potent words concerning life today in an age of isolation, a paradox in view of the social media we are prone or subjected to. John has always been a master of swampy almost-sleaze rock, made famous with the hit 'Slip And Slide'.
Rocking guitar, blues harp and mean vocals continue on 'Give Me Love', reminiscent of his 'Don't Stop The Dance' album. 'Forgive & Forget' is a co-write with Morgan Fisher as the only deviation from the prolific Fiddler's writing (he's working on the next album as we speak), incredibly at an always-strong level with no misfire or padding in his whole career. This song is atmospheric with layered multi-instruments for what is a top notch stadium-like anthem.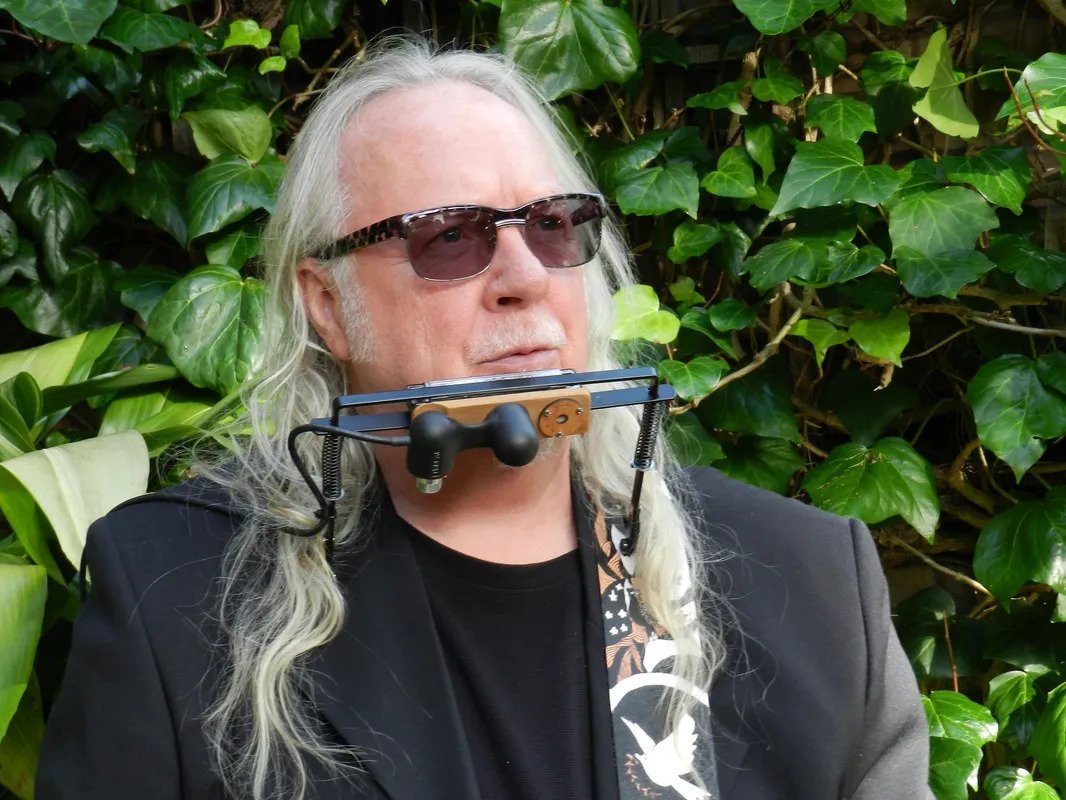 Mastered in America, with the exception of the co-write done in London's Metropolis Studio, this masterwork by a believer in love's magic is available at his website of medicinehead.rocks as are other Living Room Records releases not to be missed rocksters (or confused with non-UK names). One review at 'Velvet Thunder' compares the lead guitar to Carlos Santana. This is however John Fiddler in the new century, his ethic never forgets what went before to get to this place. The fruit of countless music connections at the highest level intertwined with experiences in life results in a mesmerizing "magical trip" shared while 'On the Road'.
Brian R. Banks
---
Medicine Head – 'Warriors Of Love' (Living Room Records 2021)