'What Can I Say?' by Drop Party | New EP
Exclusive video premiere of 'What Can I Say?' by Stratford Connecticut's eclectic septet Drop Party, taken from the upcoming four-track EP, out later this year.
---
This funky track is a showcase of the band's chops. They've got wah scratching, bass-slapping, double the percussion, and triple the horns. With jazz-inspired chord progressions and lovesick lyrics, 'What Can I Say' packs an upbeat punch that brings to mind contemporary jazz-funk engineers Vulfpeck and Snarky Puppy.
Drop Party is more than just a name. This seven-piece lineup is a party with Anthony Chabla on percussion, Ryan Furbush on alto sax, Jake Krasniewicz on bass and vocals, Dan Raccuia on trumpet, Jacob Raccuia on tenor sax, Zach Rader on drums, and Jeff Wickun on guitar and vocals. Together they really fill a stage–or Carriage House Studios where they filmed the video for 'What Can I Say?'.
Wickun's voice is a surprisingly bright tenor that cuts through the mix taking things from a straight-up groove to something a little more laid back and jazzy. The verse is reminiscent of early Steely Dan or even jazzier Little Feat tracks. He sings; "I'm not ashamed for throwing all my loving at you", which at first listen may sound like a typical love song but the band questions "Are they really in love, or is it just the idealization of something so powerful that you write an entire song about it?". Perhaps it's an infatuation song after all.
'What Can I Say' happens to be one of the few Drop Party songs that include vocals. Most of the tracks rely on Furbush and the Raccuia's horn section filling out the melodies while the rhythm section holds it down. The dual percussionists have a strong tradition in the funk, jazz, and Latin music scenes. Chabla and Rader meld together seamlessly to create and fill out that driving groove. Krasniewicz is obviously a very capable bassist, keeping busy up and down the fretboard without forgetting to lock in with the drummers. He also offers some back and forth vocals during the "Don't let it get to your head" section. Wickun channels Shaft with his funky wah stylings and plucks some fun riffs between verses.
'What Can I Say?' is the first single off Drop Party's new four-track EP recorded at Carriage House Studios. If you're trying to get out and dance, catch Drop Party playing live as they plan on announcing summer shows soon.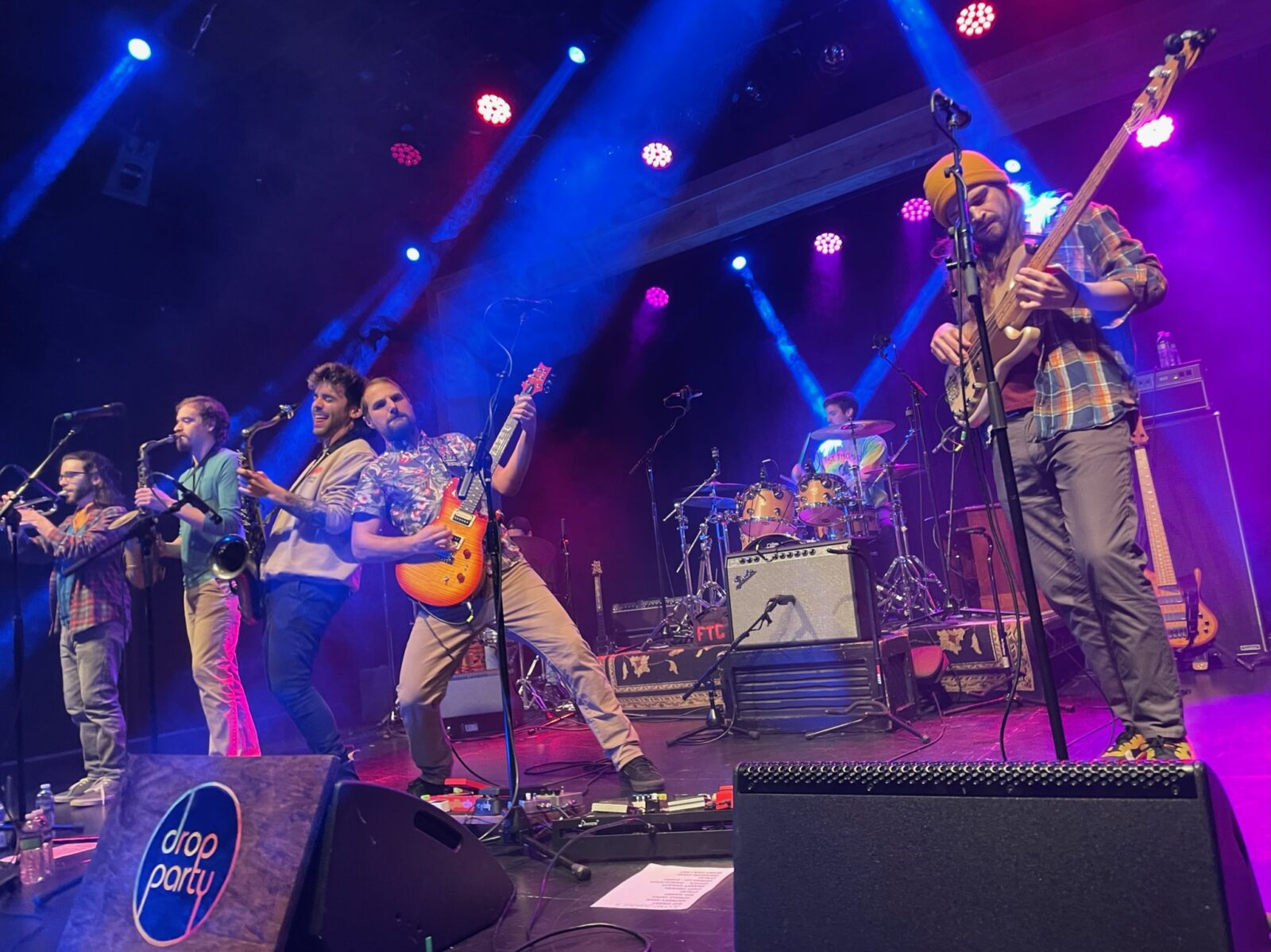 What were some of your direct influences (musical or otherwise) when writing 'What Can I Say?'?
The vocal melody originated as a bass line that turned into a horn line and before we knew it, there were lyrics. The melody wouldn't leave our heads and it gave us Lake Street Dive vibes that we tried to channel into our own sound. The horn arrangement behind the choruses is inspired by SNL and the power of runs and stabs that leave you feeling some type of way. Our writing process involves a lot of jamming; ideas are driven by our sound and the written parts are constantly changing and developing into something new.
How did Drop Party form?
Most of us played together in a ska band when we were in high school, and after college, Jacob and Jake collaborated and sketched out ideas for Drop Party's first album with a different focus than in the past. Instead of relying on the lyrics and vocal melodies to draw in the crowd, they shifted the focus to catchy horn licks and rhythmic grooves that make you want to dance. And of course, they knew the best musicians to ask to join.
How did the pandemic affect the band?
With gigging out of the question, we took the time instead to focus on improving our gear and getting more hands on with video and audio production. We invested in better gear (finally upgraded to a digital mixer) and recorded a lot of fun content at our practice space.
What was the recording process like for this new EP?
Mikhail Pivovarov was our wonderful engineer at Carriage House Studio and he guided us through the process. We recorded the EP live for two reasons – one was to capture our energy as we feed off of each other when we're playing together. The other was so we could film the entire thing and release videos for each song. Although live tracking can be daunting since no one wants to be the one to make a mistake and have to start over, that never ends up being a problem. We were prepared and we nailed it.
It's gear talk time. What's your favorite musical toy at the moment?
Jeff Wickun here. I recently upgraded to a PRS and she is something special. It plays like nothing I've ever played before and it makes everything just feel.. easier. Which of course makes playing that much more enjoyable!
You've mentioned that you're planning some more shows this summer. Where are some cities and venues you'd love to play?
As we play mostly around Connecticut, we really look forward to our out of state shows. Boston has been good to us, but getting into NYC would be great and The Met in Rhode Island is on our list.
---
Headline photo: Bill McMenamey
Drop Party Official Website / Facebook / Instagram / Twitter / Bandcamp / Spotify / YouTube