The Asteroid No.4 – 'Tones of the Sparrow' (2022)
As one of those who was there then, during the psychedelic 60's, which was actually 1966 and the summer of 1967, I would suggest that had Asteroid No.4 been there then, they would have stood at the top of the hill, favored as one of the forebears of the intoxicatingly wasted couchbound jangling guitar psychedelic scene.
---
Those who walked through the psychedelic doors during those heady days and nights planted a seed that's come into bloom, one that's flowered into the intoxicating rapture laid down between these grooves that could not have been imagined over fifty years ago; where I for one am beholding to Asteroid No.4, a band who've managed to pick up that banner and walked it into the 21st century with grace and a resounding style that can not be ignored.
What's held between the grooves on 'Tones of the Sparrow' is a sturdy, secure, well balanced and cohesive adventure into the unassailable nether regions of the mind and body.
"A Vinyl Listen To Be Sure …"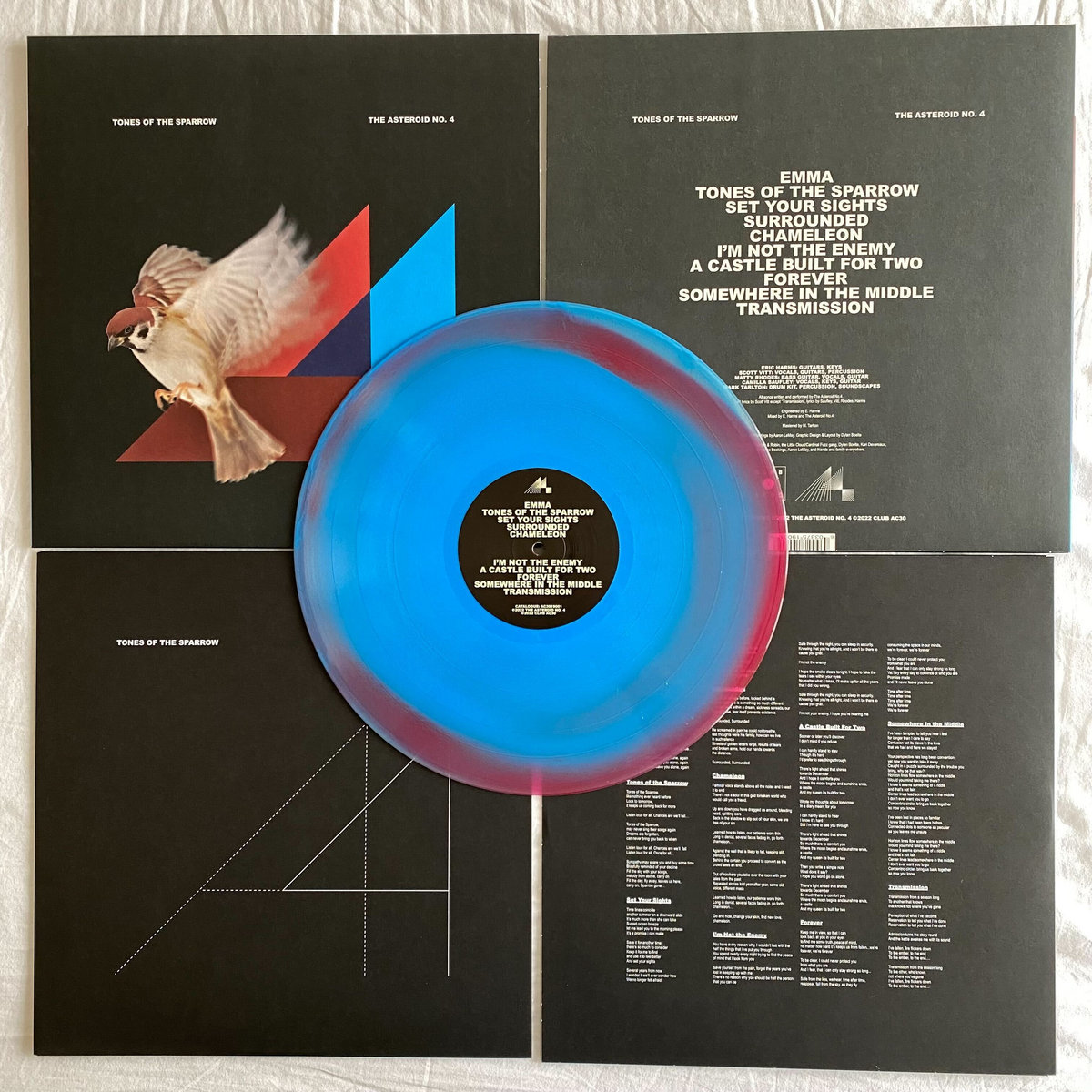 In the headspace created here, textural guitars dance over delicate harmonic vocals that are intermingled and spiced within a reverb laced slice of inherent rhythm that holds not only all other aspects in place, but gives the sonic wanderings a place to expand and develop, all while allowing the entire production to come across as a fluid unified concept, one that ushers in outwardly directional explorations, giving those wonderings a welcomed place to return and then venture out again. With that in mind, numbers can be dark and elating, sometimes both dark and elating within the same hushed breath, an aesthetic romp through the occurrences of their younger lives and the music that resounds most passionately with each member; as the personal dynamics of this band are singularly responsible for what you are presented with. As to those thoughts, I would be remiss if I did not mention Camila Saufley (vocals & guitar) and the imaginative solid contributions she's responsible for.
'Tones of the Sparrow' offers up a grouping of songs that are worthy of exploration, not only for the nocturnal music and attitude that drift from your speakers, but for the potent often dream-laden euphonious lyrics that slowly reveal themselves through a hazed atmospheric splendor that certainly needs to be acknowledged.
*** The Fun Facts: The band named themselves after Vesta, the brightest asteroid in our solar system, along with an obvious nod to Spacemen 3; where if you've not heard the A4 cover of the Spacemen 3 song 'Losing Touch With My Mind', you're in for a super adventure.
From the EU, limited editions of 200 blue & red splatter effect 180g vinyl LP in full colour inner and thick reverse board outer sleeve, 200 blue, red & clear with starburst effect and 100 on frosted clear vinyl.
Jenell Kesler
---
The Asteroid No.4 – 'Tones of the Sparrow' (Club AC30 2022)
'A Castle Built For Two' by The Asteroid No.4 | New Album, 'Tones of the Sparrow'