The Trojan Story: Limited Edition Reissue
Casual reggae or pop music fans may know of Bob Marley and the Wailers and the label that broke him worldwide, Island Records. Those that have a little knowledge of Jamaican or reggae music may even know of producers like Lee "Scratch" Perry and the Studio One label, but British- based Trojan Records may not be as well known. That may soon change with the reissue of The Trojan Story.
---
It is now available as a 3CD or 3LP set and the 3LP set is the one reggae purists will want to own.
Trojan Records was founded in 1968 and became instrumental in bringing reggae music to the world. At the time, bluebeat, ska, rock steady and other reggae-precursors were being distributed by Trojan, mainly on 45, 7-inchvinyl releases and primarily in England. The tracks included here are from U.K. releases. This set, originally released in 1971 and produced by Trojan label manager Rob Bell, who also produced this updated version, covers 1957 through 1968 and begins with the pre-bluebeat and ska sounds of Jamaican artists assimilating a variety of black American musical idioms and artists.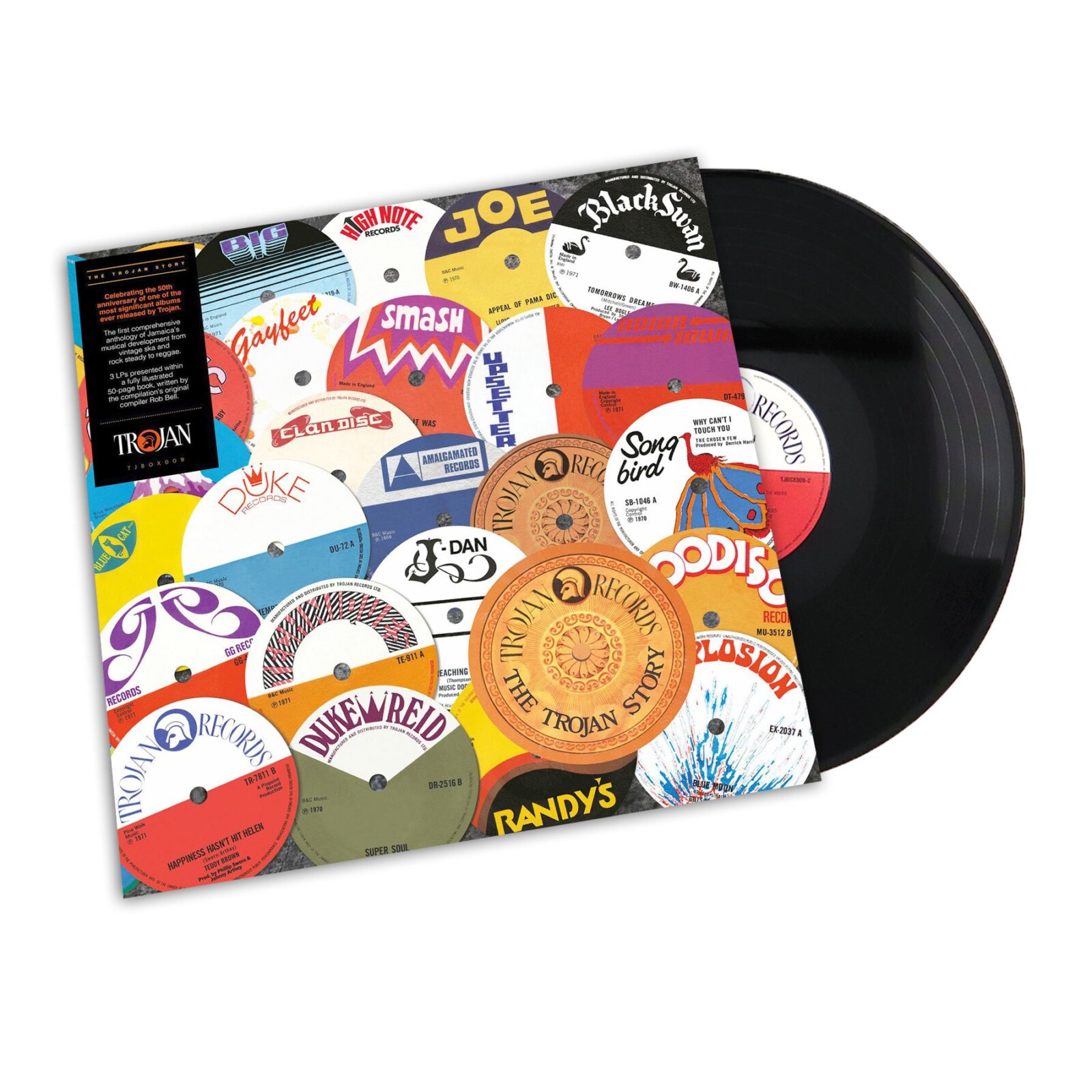 Much of the first side of the first album reflects the strong influence New Orleans and doo-wop had on the music that would eventually morph into bluebeat and ska, with horn-heavy arrangements and perky rhythms spanning 1957 through 1962.
All three albums feature tracks originally issued from a variety of labels and it's no surprise to find most of the first album consisting of singles from Blue Beat and Island Records. There are tracks here produced by Chris Blackwell and three by Leslie Kong. The tracks on side B of record one, from 1963 through 1965, vocally have a more pronounced, hicuppy ska style. There is also a track from Jimmy Cliff and the Beverly's All-Stars. It's interesting to note that on the track 'Gone is Yesterday', from Higgs & Wilson with the Baba Brooks Band, there is a credit for their manager Edward Seaga, who would become the prime minister of Jamaica.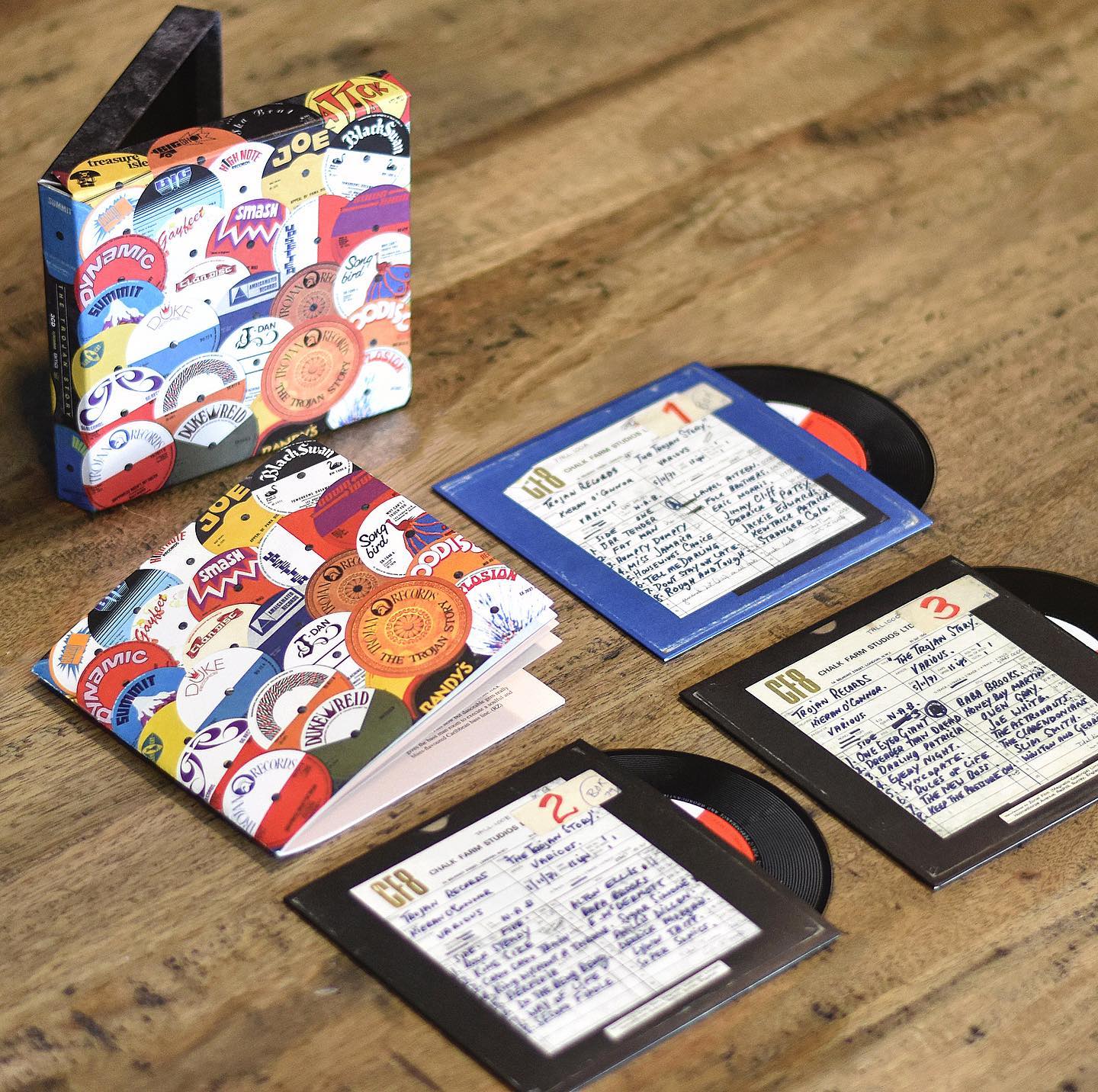 The second album moves from 1965 through 1967 and features more from Island Records and production by Leslie Kong. It also includes the original 'Message To You, Rudy', which was popularized by British ska revivalists the Specials. The record shows the gradual shift from ska to rock steady, which is even more pronounced on side two. Desmond Dekker, another artist who is well known from the reggae world through his hit 'The Israelites', is included on this album on the track 'Pretty Africa', credited to Desmond Dekker & the Aces with the Beverly's All Stars. This second album very much reflects rock steady, which would finally give way to reggae
The third album covers 1967 through 1971, with the reggae sound starting to emerge. Again, Leslie Kong continues to be a key figure, with nine total productions on this set. Producer Duke Reid is also ubiquitous with 12 productions included over the three albums. There is also a track called 'People Funny Boy' on the final album that features legendary producer Lee Scratch Perry, here, credited as Lee King Perry. The Maytals also appear on the album with 'Do The Reggay' and the classic 'Pressure Drop'. There is a version of another classic, 'Rivers of Babylon', from the Melodians.
This is a beautiful package. The 12-inch, 78-RPM hardcover album-styled set includes the three albums in polyvinyl sleeves. There is a colorful, 50-page booklet with detailed liner notes. There are an array of color and black-and-white photos, that include record labels and album and 45 RPM jackets that are truly a feast for the eyes of fans of Jamaican music. Adding to the history are adverts, venue listings, music charts, press releases, publicity photos, music press clippings, pictures of tape boxes and record store bags. This is a must-have for serious reggae fans and, given its limited release on vinyl, one that should be scooped up quickly.
Steve Matteo
---
The Trojan Story: Limited Edition Reissue (Trojan Records)