Stark Naked | Interview | Long Island's 1970s Psychedelic Rock
Stark Naked was a psychedelic rock group from Long Island, New York. Their album was released by RCA and received rave reviews and features in Record World, Cashbox, and Billboard magazines. Single 'Sins' charted in the top-ten in Billboard's Hot 100.
---
Members Lyne Bunn (vocals), Richard Belsky (lead guitar), Jim Monahan (guitar), Tom Rubino (bass), Paul Venier (keyboards), and John Fragos (drums) were either in their teens when their band's self-titled debut was issued by RCA.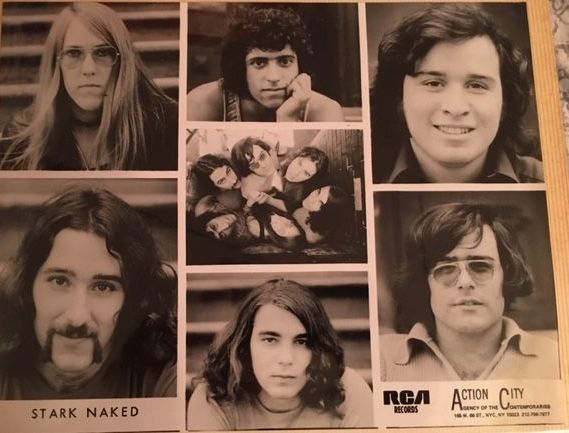 "We were very heavily influenced by the psychedelic sound that was beginning to permeate the airwaves"
Where and when did you grow up? Was music a big part of your family life? Did the local music scene influence you or inspire you to play music?
Joey Lyne (formerly AKA Lyne Bunn): I grew up all over New York, basically between Brooklyn, Queens, and Long Island. My family moved about every two years, so it wasn't until junior high when my folks bought a house in Levittown, Long Island, that I got a bit more stabilized.
Music was always a large part of my family life. My mother had a gorgeous voice and used to do those lounge-kind of gigs with the piano and vocalist. She told me she got out of it because she didn't like the "stage fright". However, she LOVED music, so I grew up listening to her vinyl, everything from Della Reese, Patsy Cline, The Platters, and Nat King Cole.
In my young teen years, I was inspired by those fantastic "girl groups" like The Shangri-Las, The Ronettes, The Shirelles, Darlene Love and The Crystals. That was the era of the Phil Spector's "take over" (his Wall of Sound) with a good dose of rebels, motorcycles, and leather jackets.
Paul Venier: I grew up on Long Island, NY during the 60's. One of my earliest musical recollections was watching my mother perform in the play, South Pacific. I knew at that young age of 3 years old that that was what I wanted to do, entertain audiences and have ever since the the age of 9.
When did you begin playing music? What was your first instrument? Who were your major influences?
Joey Lyne: I think I was singing since birth, probably shouting out of my mother's womb! I picked up an acoustic guitar when I was 12. I was listening to "renegade folk" back then, Phil Ochs, Country Joe & The Fish, early activism. I was shy so speaking out was important to me. The first concert I attended was Donovan (I was enamored by his voice, guitar style, and charisma, haha, I still am).
Early on most major influences came from my sister's and mother's music…the heart and soul of Ray Charles, Elvis Presley, Everly Brothers, and an ole' fav of mine was Mickey and Sylvia (Mickey "Guitar" Baker) with 'Love Is Strange' – All around great songwriting! Once I heard the music coming out of California's San Francisco, Haight-Ashbury, I was definitely STRUCK! Between Jefferson Airplane and Big Brother and the Holding Company (female rocker "royalty") I knew I was SOLD! HA!
Paul Venier: I began playing the accordion at age 9 and then the Beatles appeared on The Ed Sullivan Show. I started to teach myself piano and guitar and by 16 years old I started being in bands and playing all over the Island.
What bands were you a member of prior to the formation of Stark Naked?
Joey Lyne: Through high school, I played solo shows with acoustic guitar, and worked with members of Hazy Shades as well (guitarists Rich Belsky and Joey DeVito).
Paul Venier: Before Stark Naked I was in a few bands and played in Battles of the Bands contests. One was called Her Majesty's Navel and Vested Light. Our competition back then were Eddie Money (who was in a band called The Grapes of Wrath) and Billy Joel (who was in a band called The Hassles).
Can you elaborate the formation of Stark Naked?
Joey Lyne: Stark Naked was a growing-together process for us musically. The band started with guitarist Rich Belsky, Tom Rubino on bass, and me on vocals in my garage and Rich's basement (Richie's brother, Jim Belsky played guitar with us for a short while). We had our eyes on this HOT drummer who was in another band named "Radical" – that amazing drummer was our very own John Fragos. Jim Monahan joined us on rhythm guitar/vocals (replacing Jim Belsky) then Paul Venier on keyboard/vocals completed our rock-fam. Paul being a multi-instrumentalist gave us a far better ability to explore additionally, with three lead-capable singers and countless arranging abilities.
Paul Venier: Stark Naked was already formed before I joined. Two of the members, Richard Belsky (lead guitarist) and Jimmy Monahan (rhythm guitar) were friends of mine growing up in Levittown, NY and the other members were Thomas Rubino (bass guitar) and Lynne Bunn (vocals and acoustic guitar).
"We had fab audience reception"
When and where did Stark Naked play their first gig? Do you remember the first song the band played? How was the band accepted by the audience?
Joey Lyne: Our very first gigs were high-school based frat-parties, and in my high-school "Hullabaloo" we opened up with Jefferson Airplane's 'White Rabbit' and Janis's (Joplin) 'Piece Of My Heart'.
We had fab audience reception, it was a tumultuous time, there was a great sense of camaraderie growing in the air. Vietnam, black arm bands, Woodstock, the battle lines were being drawn.
Paul Venier: Once I joined we started playing more originals and scored a record deal on RCA within the year. The first song I remember playing was an original song I wrote called 'Or Else You Must Leave'.
What sort of venues did you play early on? Where were they located?
Joey Lyne: Early on we played local college hang-out bars, and we jumped on every opportunity to perform! We played a wild club on Long Island, NY called "Nanny's". Growing a sweet and loyal following is integral to any new band. Another outrageously fun gig we did, we had the opportunity to open for The James Gang with guitarist Joe Walsh – that was a mind-breaking introduction to the use of the Echoplex/Spring Reverb with that incredible tape-loop! We performed mostly up the entire East Coast to the Canadian border!
Paul Venier: We played all the the clubs on Long Island and once the album hit we started playing theaters and arenas all over the country, plus all the A list clubs.
How did you decide to use the name "Stark Naked"?
Joey Lyne: Originally, we were going to use the name "Count Zeppelin & His Fabled Airship!" Then we shortened it to "Count Zeppelin." Soon after, Led Zeppelin hit the airwaves big time, so by majority vote we became "Stark Naked" – (being the only female in the band, I was quite outnumbered), HA!
What influenced the band's sound?
Joey Lyne: I know we all brought our musicality from different backgrounds. Some of the groups we listened to were The Yardbirds, Peter Green (early Fleetwood Mac), Beatles (and the entire British Invasion), Buffalo Springfield, The Byrds, Hendrix, Yes, and Zeppelin…For me, being the female vocalist, raising the bar was the Bill Graham/Fillmore era. This was, notably, Janis Joplin and Grace Slick. Several other "chick-singers" were pumping it, like Pattie Santos (It's A Beautiful Day… 'White Bird'), Christine McVie (formerly Christine Perfect…. 'I'd Rather Go Blind') and Fleetwood Mac; Lydia Pense (Cold Blood…. 'I Just Wanna Make Love To You').
Paul Venier: We were very heavily influenced by the psychedelic sound that was beginning to permeate the airwaves, plus we had tremendous harmonies and performed some awesome ballads as well.
How did you get signed to RCA Victor?
Joey Lyne: We played a packed club for New Year's Eve, and really rocked it! A producer (Joey Day) and friend dropped in for a brew and freaked! He turned out to be legit (with MCA Music Publishing/Universal). We recorded a TON of original songs with him. Shortly after, MCA set up a "LIVE AUDITION" at RCA Records. By the time we packed our equipment for the ride home, they told us we "had the deal." We were REVVED! It was probably the highest energy audition I ever did (except perhaps, for me playing the Bitter End Cafe, in The NYC Village when I was 12)!
Paul Venier: We were playing a club in Smithtown, NY and at the end of the show the club owner said that someone from MCA, Joey Day, saw us and was going to contact that week and wanted to hear all of our originals. We performed them in our bass player's garage for him. He signed us to a publishing deal and promised to get us a record deal within the year or else the contract was null and void. He got us a deal within the month and we were on our way.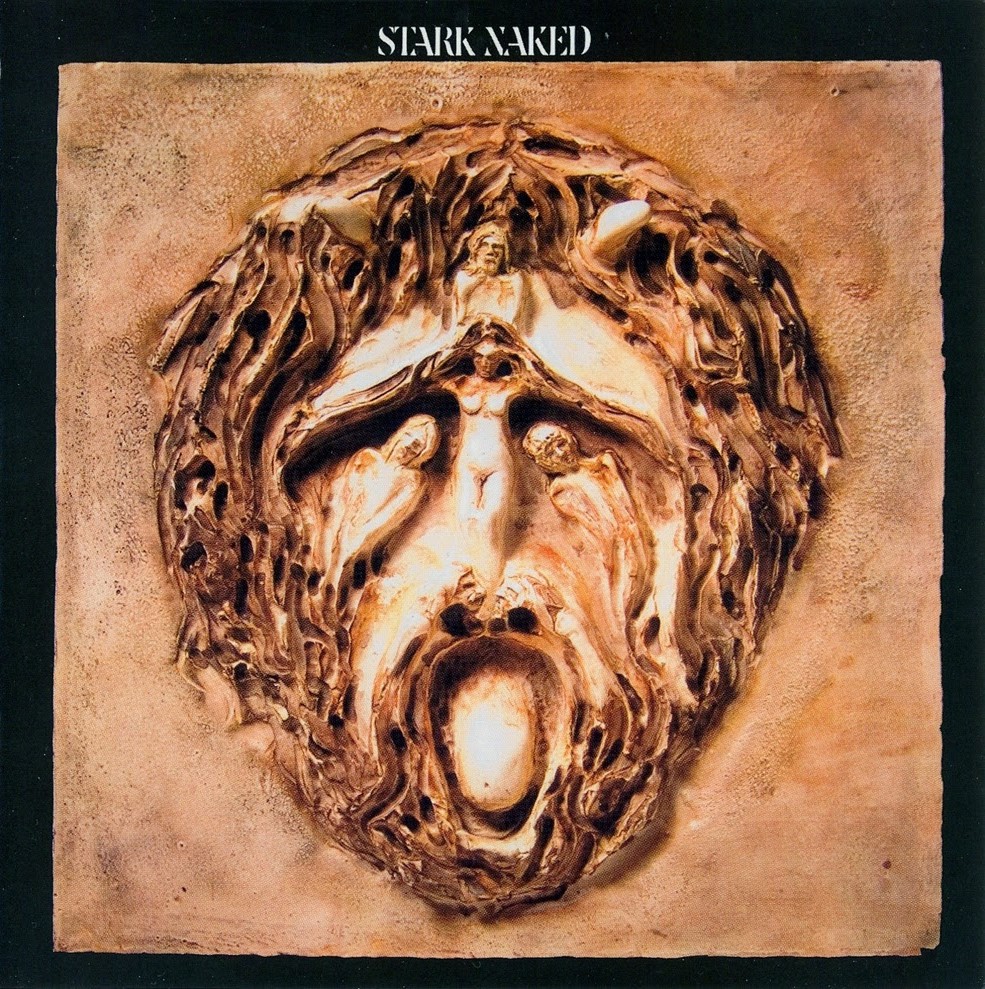 What's the story behind your debut album? Where did you record it? What kind of equipment did you use and who was the producer? How many hours did you spend in the studio?
Joey Lyne: The band was gigging a lot in Upstate NY and all-over New England. We talked with the graphic artist (Nick Aristovulos) regarding album cover ideas and told him about countless "paranormal" experiences we'd had in the "haunted hotel" we stayed in. He then created the cover photo of the sculptured face with 5-guys and me…STILL creepy after all these years!
We recorded the album in RCA's Historic Studio C, a great space with those tunable walls. I believe we mainly used our own gigging equipment, and the engineer (Ray Hall) did a fab job miking the guitar amps LIVE with some hefty condensers and isolating sound baffles.
Our main man was producer, Joey Day. I believe we recorded for several weeks doing everything in daily 6-hour sessions. (We were extremely rehearsed before stepping into the studio, so everything went pretty smooth for newbies.) Paul played that gorgeous Steinway Grand, and John got to smash that beautiful Chinese Gong. Tom Rubino was the ultimate timepiece on bass and always kept it moving.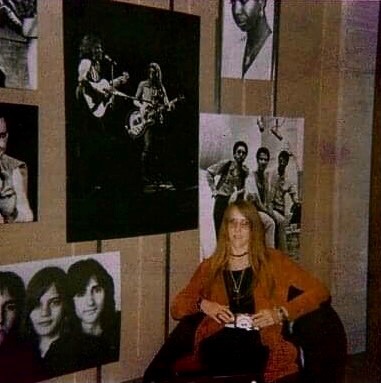 Paul Venier: We recorded the album in the historic RCA Studio A on 44th street in NYC and was produced by Joey Day. We recorded the album in about a month and was released by October of 1970, I believe. I played a Steinway Piano, Hammond Organ and acoustic guitar and we all used state of the art at that time amplifiers. Great studio and we had Carte Blanche.
"We incorporated a very wild theatrical aspect to our performances"
There was also a single released together with the album, right?
Joey Lyne: Yes, an edited single was released. We were doing live-radio interviews with Midwest DJs who were giving us airplay. We cruised out across the U.S. promoting the single which was 'Sins0. Richie and I penned that groove in my garage, and it became quite the on-fire rocker, rising to #6 on the charts, and getting reviews in Cashbox and Record World Magazines, plus hitting Billboard's Hot 100.
Paul Venier: Yes the song, 'Sins', was released as a single but we should have followed it up with one of the two ballads, 'Done' or 'Wasted Time', because that was the type of songs that were doing well on the radio at the time. RCA wouldn't do it and our album started to slide from Number 6 on Billboard downward.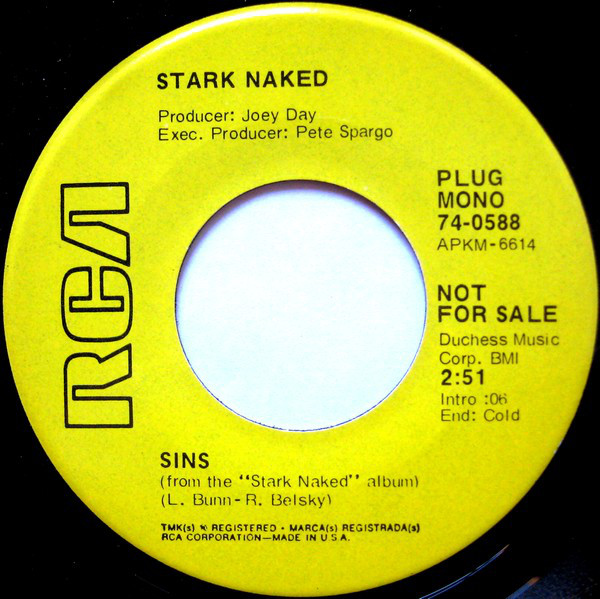 Did the size of audiences increase following the release of your debut?
Joey Lyne: Absolutely! We had a huge following as we incorporated a very wild theatrical aspect to our performances. We were burning 8-foot crosses onstage in our finale, and often opened-up with faux bolted-machine guns aimed towards the audience with a barrage of thunderous drums and music. It was always about the element of shock and surprise, long before Alice Cooper's cacabre!
Paul Venier: Yes, most definitely. We were really starting to draw large audiences, especially in the Midwest, where the album was selling very well.
Please share your recollections of the sessions. What were the influences and inspirations for the songs recorded?
Joey Lyne: The sessions were a blast! There's a huge difference between stage/tour chops and studio technique, both take focus, discipline and practice. To ease tensions, we would roll each other around the studio on a "dolly" – anything to keep the attitude light. Artists tend to be much more involved in self perfectionism than our audience really requires.
I think our (collective) inspiration was basically, we saw a world in pain, a world in political refuse…We wanted to change the way people looked at one another, to love and not to judge. Along the way we got entangled in a dangerous play with occult-oriented/witchcraft followers who sought to challenge the very Power of Love. It is through some of these experiences that the songs took form. We are truly physical bodies living in a Spiritual World; we are NOT alone; we are surrounded always by the UNSEEN.
Paul Venier: I've been writing since a very early age so my influences were and have been very broad. I love everything from heavy to sweet and everything in between. I never know what is going to some out of me. I feel like a middle man sometimes. I don't know where they come from, I just go with the feeling and see where it leads me.
Would you share your insight on the albums' tracks?
Joey Lyne: We often worked on songs and arrangements with Paul at his piano. Our vocals and harmonies fell together naturally. We created off each other's energies, jamming till we knew it just felt right. Creativity is a balanced exchange. There were no major puzzle pieces; we all needed one another to define the full picture.
Paul Venier: I wrote 'All of Them Witches' after seeing the movie, Rosemarie's Baby. That was the title of the book in the movie and it sparked the song. I wrote 'Done' as a lost love kind of song for my band mate, Jimmy. He was dumped by a girl and that inspired that one. 'Wasted Time' was written by Jimmy and I in my parent's patio one night, under the influence…lol. 'Look Again' just came out of nowhere but was inspired by the phrase, "You Can't Judge A Book By It's Cover". 'Iceberg' was inspired by a Jethro Tull feel. 'Sins' was written by Richard and Lynne I believe.
Was there a certain concept behind the album?
Joey Lyne: Maybe not intentionally…our collective backgrounds brought us together in a time when we were allowed to speak our minds and say it LOUD. I'd have to say, we crisscrossed that supernatural veil so many times on the road, the conceptual aspect boldly revealed itself. I personally stand strong with Ephesians 6:12 – "For our struggle is not against flesh and blood, but against the rulers, against the authorities, against the powers of this dark world and against the spiritual forces of evil in the heavenly realms."
Paul Venier: Not really, we just did what we felt was in our hearts and felt right to us. We weren't really going for any kind of concept. We were just young kids just happy to do what we loved to do.
How about the cover artwork? What's the story behind it?
Joey Lyne: I believe Nick Aristovulos (graphic artist) wanted to portray us in a conduit struggle between Good and Evil. So many people think the Supernatural isn't real, until they fall victim to ancient and organized evil. The band expressed our many paranormal, weird, and often dangerous experiences in that world, so Nick then came up with the sculpture (which still creeps me out)!
Paul Venier: The cover was a photo of an award winning sculpture that someone made by taking different characteristics of everyone in the band. It was very cool.
Were you inspired by psychoactive substances like LSD at the time of writing the album?
Joey Lyne: Not one of us was involved in anything "recreational" at that time. We had enough to handle the wackiness of powerful paranormal activity on its own, straight and sober. We operated purely on collective creative energy, writing and submitting songs for consideration…MCA and RCA had the ultimate last word.
Paul Venier: The only song we wrote under the influence was 'Wasted Time'. Jimmy and I were tripping on Orange Sunshine…lol Back in those days we mostly only smoke pot or hashish. We really didn't dabble in the heavy stuff that often.
How pleased was the band with the sound of the album? What, if anything, would you like to have been different from the finished product?
Joey Lyne: We were happy with the album. We were told later that during the RCA/MCA executive premier of the "New Album Releases" we received a standing ovation in the theater from the attendees. I would've loved to see that one, LOL! ("smiling").
I think if we had a better vocal-harmony balance in the final mix it would have been better. I don't think the blend between our vocals was as pronounced as what we REALLY sounded like LIVE; We had a dynamic blend that just fell in place when we sang together and some of those tones really got buried. Musically, the guys were so tight, pounding, and rehearsed – they really kicked it! Rich's guitar work in 'Sins' still blows me away as one of the best lead guitar solos I've ever heard. The album was re-released in 2006 in CD format on Fallout Records as a UK Import (available in four different formats worldwide – Vinyl, CD, MP3, and Streaming).
I recently found out the album was REMASTERED in 2013. I haven't heard the "Remastered Version" yet, but it should be interesting over my studio speakers.
Paul Venier: I personally would have liked the songs to not be so dry. I would have liked a little more reverb or effect to the instruments. Our producer was a great guy but mostly had only produced gospel music and never recorded heavy metal or hard rock before.
Did the band tour to support the LP?
Joey Lyne: We were dominating the East Coast up into the Canadian border, so once our manager found we were now rolling up on the Midwest Charts, we were booked to go across the U.S. in support of the LP. I remember one fun concert we did in Kansas at a Convention Center opening for Guess Who ('American Woman'). You meet the wildest people on the road…of course traveling in our old band truck (a '51 Brockway Postal Truck-Lovingly named "Old 18") wasn't exactly inconspicuous!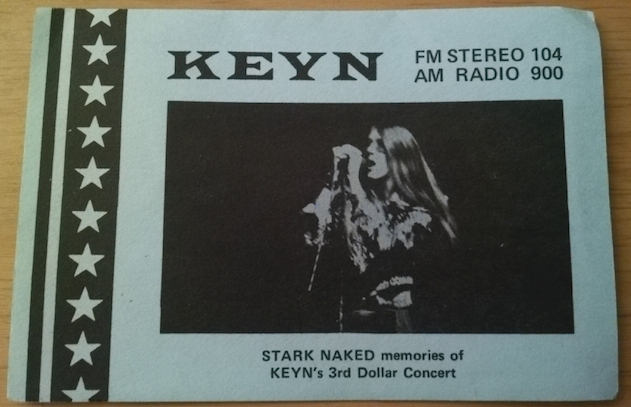 Paul Venier: Yes, as I said before, we toured all over the country. We also once performed in Central Park in front of 60,000 people. Wow, what a feeling.
How about gigs? What bands did you play with and do you have any crazy stories from playing live?
Joey Lyne: We lived to GIG! We opened for several HOT rockers…Mountain (with Leslie West, Felix Pappalardi, and Corky Laing); The Illusion; Gladys Knight; Chambers Brothers; James Gang (with the amazing Joe Walsh); Lydia Pense and Cold Blood; Lee Michaels, et al.
Crazy stories? We were booked to play an outdoor Concert in Central Park, NYC. The roster included the Marshall Tucker Band, Elephant's Memory (*John Lennon's back-up band), and the headliner was Santana. When we arrived at the Concert site in "Old 18" we were escorted by a motorcade of 'Hell's Angels' bikers protecting the band! The event was totally packed on a beautiful, sunny day…however, I guess the promoters didn't lay down the bucks for the required retainer, so Carlos and the band never showed! All was not lost, the rest of the lot of us performed, and we all had a rockin' good time in a "New York State of Mind."
Another concert promoter royal screw-up was…We were booked via Western Union Telegram to open a concert in Saranac Lake, NY. The headliner was "Delaney & Bonnie & Friends" – at the time, the "Friend" was George Harrison of the Beatles, and one of my absolute favorite vocalists Bonnie Bramlett! Why do promoters think the show will go on (because they put out the promo), even when they don't forward the retainer $$$?!
Paul Venier: We performed with Mountain, The Chambers Brothers, Lee Michaels, The Illusion, Delaney and Bonnie & Friends (Eric Clapton was the guitarist), The Grass Roots and many more. Lot of partying back then….
What happened after the band stopped? Were you still in touch with other members? Is any member still involved with the music?
Joey Lyne: When the band ended, it was like my whole life stopped. You see, I ran away when I was 16 and my fam moved to the West Coast. Those guys were my "family" and I was quite lost without them. I think most of us have connected over the years, I am in touch with John Fragos, Tom Rubino, and a bit with Paul Venier.
I know John and Tom were still involved playing gigs. John has done some fine session drumming with vocalist extraordinaire Ken Tamplin. Paul and I are the only two (that I know of) who continue in the professional realm of all things Music. After Stark Naked…I went on with solo-acoustic gigs, grabbed the vocals in a 10-piece, soul-based horn band (named "Stash") and performed much in an acoustic duo (named "Windfall") with a FAB musician/singer/songwriter and friend (Beatle-Boy) Mike McLenison.
Co-Wrote the title cut, 'Passion' with Mother Records artist, Celia McRee, on her ASCAP Award Winning Album, Adult Contemporary Pick.
My life's journey then took me to the West Coast, in Hollywood CA, where I learned the music industry ins-and-outs and met multi-instrumentalist and co-writer/biz-partner Layne Bourgoyne. We formed a band named "Atomic Angel" and pursued songwriting, recording and performing "Melodic-Metal" throughout Los Angeles.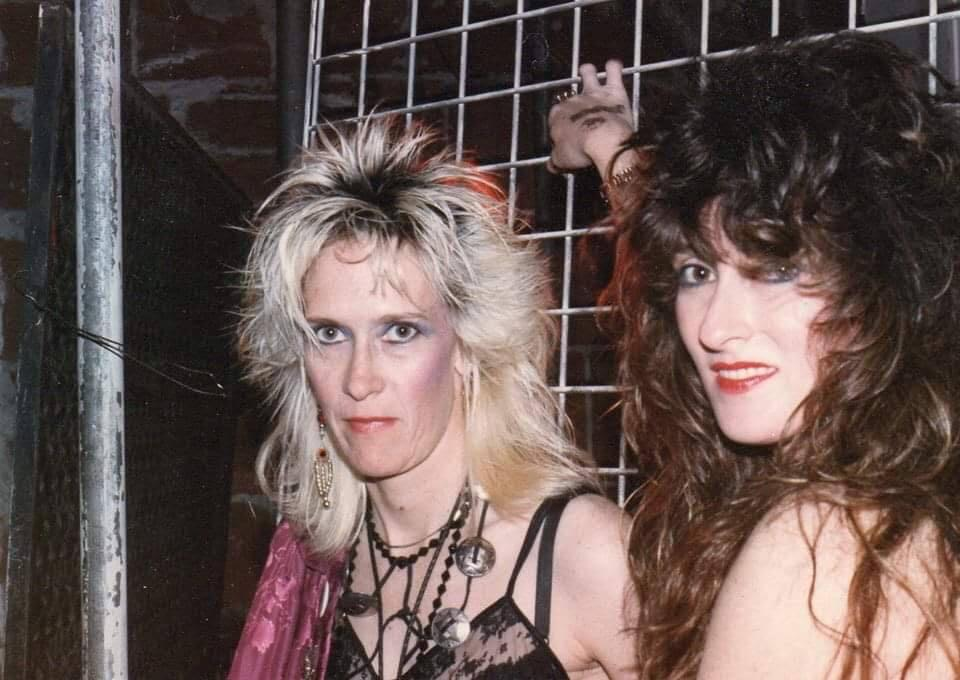 We had a grand opportunity when we were asked to perform at The Crossroads Music Festival and Industry Showcase, Beale Street, Memphis, Tennessee! We were invited to a personal meeting with prestigious producer, engineer, owner, and studio designer, legendary Tony Bongiovi of New York City's Power Station Recording Studios. That was a thrill and continues to be a huge inspiration in our singer/songwriting endeavors NOW!
Paul Venier: While we were on tours, we were sending money back to our manager. When we returned our manager and the money were gone. RCA dropped us because they didn't want to be involved in any lawsuits, and as quick as we ascended in the business, we fell. It was a virtual roller coaster ride for us and the band eventually broke up. I later went on to join a band called Salty Dog and did that for 5 years. it was very successful also and I eventually went solo and have been doing a 2 hour comedy and music show since then and still do.
Looking back, what was the highlight of your time in the band? Which songs are you most proud of? Where and when was your most memorable gig?
Joey Lyne: Stark Naked had so many highlights, we were young and crazy! We always had a trip of a journey when we piled into "Old 18" and headed out on the road to our gigs. I remember a big highlight for me was when we traveled in the Midwest, 'Sins' was on the charts and was getting radio airplay about every thirty-minutes. Then, much to my surprise, the concert venue announced an "impromptu guest performance" by none other than Lydia Pense and Cold Blood, on the bill with us! I've always been a fan of that band's dynamics, great horns, and Lydia Pense's passionate vocal delivery…My most memorable gig, heavenly! Another memorable gig was in concert at the Syria Mosque, in Philadelphia, with showman, Lee Michaels (he was like an early American "Elton John").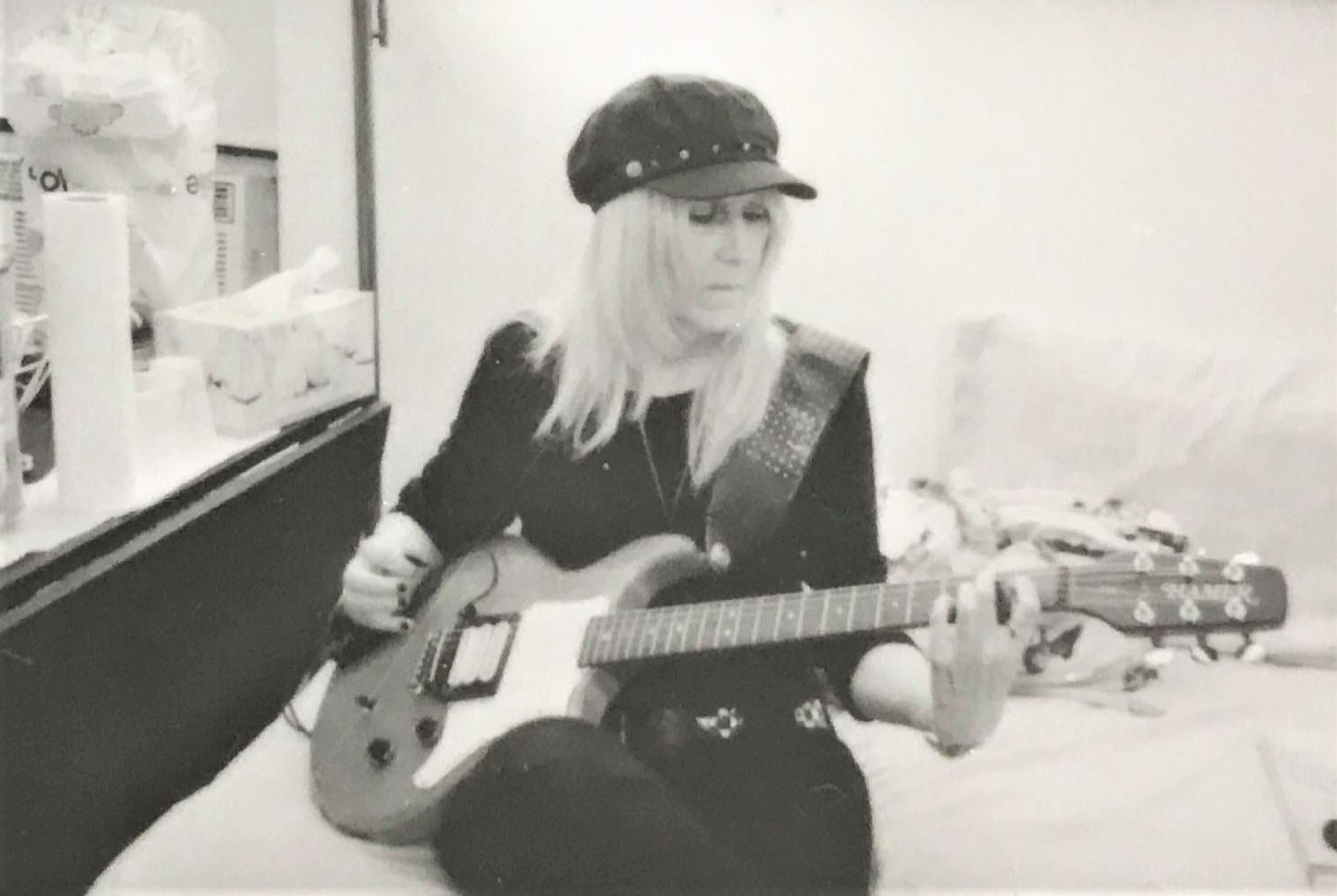 The songs in Stark Naked that I was most proud of? I love the way 'Sins' cooked, high energy from beginning to end. Overall, I never get tired of the musicality of my bandmates, my "brothers-in-arms". I love the sensitivity of Jim Monahan's vocals in 'Done' –it goes straight to the heart.
Paul Venier: The highlight for me was getting the record deal and touring with people in the band who I felt were my brothers and sister and really enjoying each other's company. A lot of great times on the road, too many to mention.
Is there any unreleased material by Stark Naked?
Joey Lyne: Somewhere, hidden in an archive there must be gems. We recorded a lot of material with the producer at MCA to present for record label interest. I know Rich and Paul used to record our on-the-road songwriting on a two-track tape machine. We had a barrage of song material READY for our second album (It was a KILLER!). Our new management with Chuck and Marcia Rubin, plus Jay Black (Jay and The Americans) were in the middle of new record label negotiations when the whole band fell apart (our previous manager did a real financial number on us, by stealing our earned money and cost us everything).
Paul Venier: Not that I'm aware of. We were writing new material for a second album but it never came to pass. I brought the songs I wrote to my next band, Salty Dog.
Was anyone part of any other music project after Stark Naked?
Joey Lyne: After relocating to California, I teamed up with my present co-writer and Memphis-born music partner, Layne Bourgoyne. Together, we wrote and performed our original songs in Hollywood, CA and throughout Los Angeles under the name "Atomic Angel."
ABC-TV: Together we placed 6 songs receiving international network airplay In 7 countries.
We did quite a lot of recording with some fine and fab musicians:
Larry Seymour (bassist with Billy Idol and Rod Stewart, 'Downtown Train')
Scott Van Zen (songwriter with Gene Simmons/Kiss, Carnival of Souls), toured with Brian Howe of Bad Company; guitarist and Dove Award-Winner with Ken Tamplin.
Dino Herrmann (owner Sculptured Music, composer, keyboardist, engineer/programmer/producer, Mixer, and Pro Tools engineer: Guns N' Roses, Faith Hill, Coldplay, Ricky Martin, Jennifer Lopez, Kelly Clarkson, Scorpions, et al).
We had the honor of opening for Quiet Riot at a Mega-Multi Battle-Of-The-Bands Event where we performed with the phenomenal Charles Glenn "King Charles" (bassist/with Little Richard).
Paul Venier: I can only speak for myself, I don't know what path the others took after the band. I went into Salty Dog and then my solo career.
Thank you for taking your time. Last word is yours.
Joey Lyne: Klemen, First, I'd like to thank you for your interest and patience. This has been such a journey for me in many ways. I would like to add…I am honored by your kindness and would like to share "Round 2" with you along the way.
My co-writer and I formed a music & film production company "Rock The Dead Productions, Inc" in New York.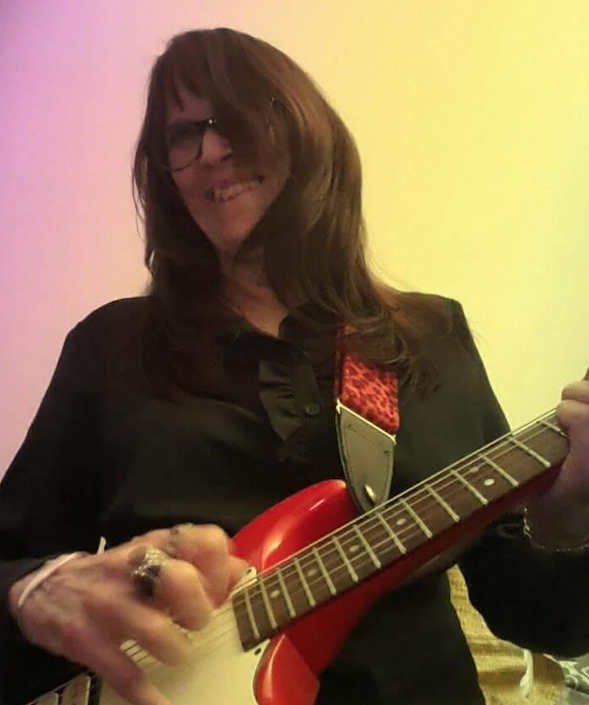 Currently, we are in the process of recording the songs and music for a memoir/feature film (working title) "The Promise." It is a musical-rock journey of my experiences, trials, and choices – leading me down a certain road of destruction. In the script, the turn-around and uplift is when I realize I am not alone…all trials have a purpose, and all hardship makes us stronger. I had the opportunity to experience BOTH the undeniable Powers of Dark and Light and have received the Ultimate Grace and Wisdom to know the Difference – "Having a form of godliness but denying the Power thereof" – 2 Timothy 3:4-5 (American Standard Version)
It Ain't over till GOD says it's over. My new band is called "MAJESTY" (Please continue to Follow). We Creatives are a Voice for the voiceless and are responsible for many…Choose Who you will Serve, "To Whom Much Is Given, Much Is Required" – Luke 12:48.
Ciao for Now Luvlies, Stay safe and BE LOVE!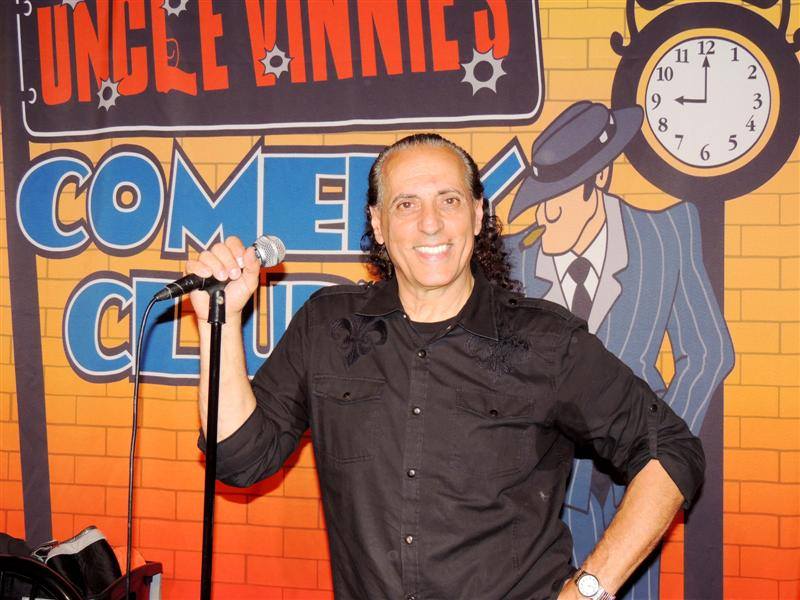 Paul Venier: I wish we had an honest manager back then. The band was really on it's way to a lot bigger things.Some people just don't look long term. The band had a great bond and chemistry and could've done a lot great things in the music business. We were ahead of our times. Our show was very visual, with fire and sets. Way before Alice Cooper and Kiss. That's the way it goes and I have no regrets at all. It was great spending my youth with that band of friends.
Klemen Breznikar
---
Headline photo: Copyright Chuck Rubin Enterprises