Jim Morrison, The Doors, featured in Jim Coke's Photography: California Counterculture -1966-69 | By Sean Mageean
From 1966 through 1969, photographer Jim Coke documented several important historic events of the California Counterculture while a student at the University of Southern California and University of California, Berkeley.
---
Using a Nikon F, the photojournalistic workhorse camera, he captured full frame photos which stand out for their sense of candid intimacy and "being there" ambiance. Among the events Coke captured on film are the Griffith Park Human Be-In in March of 1967; Allen Ginsberg HOWLing at the USC campus in April of 1967; Ravi Shankar at the Monterey Pop Festival in June of 1967; The Doors performing at LA's first Rock Festival in July of 1967; and the Stop the Draft Week protest at the Oakland Army Induction Center in October of 1967. Along with fellow UC Berkeley student Takashi Suzuki (also a photographer and a founding member of the Asian-American Political Alliance during the late '60s), Coke organically documented the spirit of the turbulent times–politically, socially, spiritually, and sonically.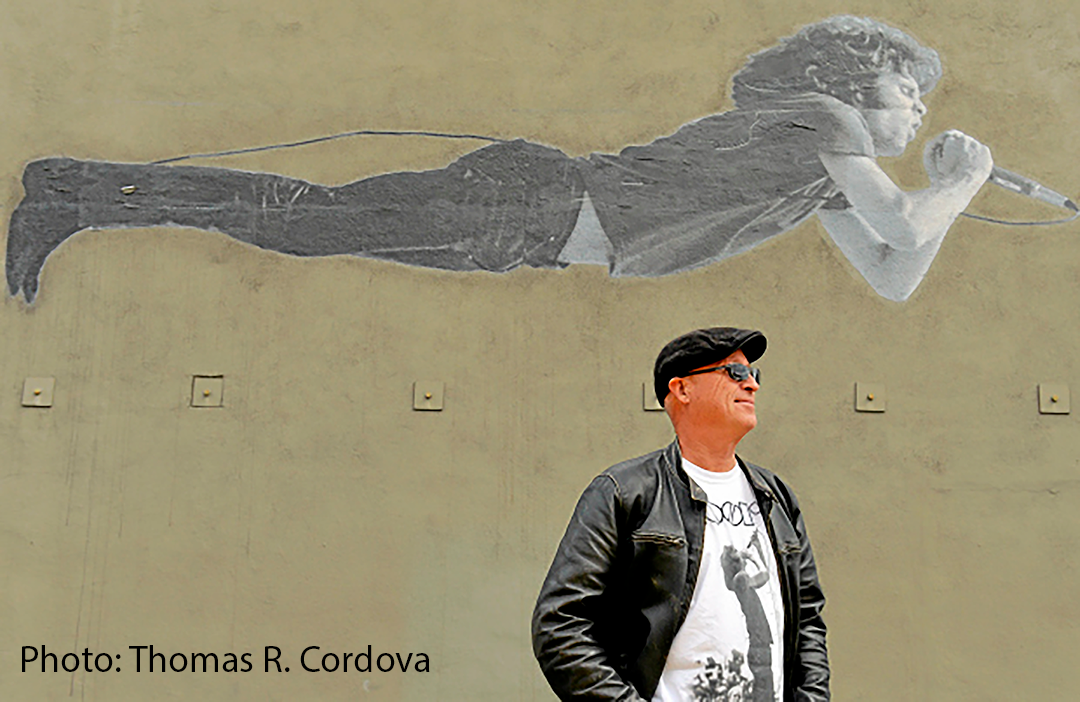 After graduating from UC Berkeley in December of 1969, Coke sold his photographic equipment and went on the road after leaving his unprinted negatives in storage at his parents' garage. Decades later, after seeing Oliver Stone's 1991 The Doors biopic, Coke revisited his forgotten photos of the late '60s, ultimately leading to more than ten gallery shows featuring his photos of The Doors. At that time, Coke utilized the new digital photographic technology to retouch and print experiments such as his Jim Morrison photo montage: "Jim Morrison Scream Sequence," and a twenty-foot long "Flying Morrison" paste-up mural in Long Beach, California.
July 3, 2021 will mark the 50th anniversary of Jim Morrison's passing, and Jim Coke is currently developing a concept called Strange Days Project/Flying Morrison Global Mural, based on his photographic artwork, to celebrate Mr. Mojo Risin's revolutionary and poetic legacy.
I recently interviewed Jim Coke while he was visiting Santa Barbara, where we were introduced by a mutual friend, the freewheeling Eric Kirsch! Special thanks also to Jim's photography assistant, film student Erika Martinez, for helping prepare the photos that accompany this article!
"I saw that Morrison had this charisma in every shot"

So, what are we looking at here?
Jim Coke: This is called "Jim Morrison Scream Sequence." It's a digital composition of 11 photos of Jim Morrison singing on stage with the background removed digitally; begun after I found these photos 25 years after I took them. I found them after The Doors movie came out–when I went and looked at my old darkroom at my parents' house, I found my old negatives. They had never been printed. That was before anybody thought about digital. I printed them, I started working on them in the traditional way; then I saw that Morrison had this charisma in every shot, whether the shot was good or not. A lot of them were good–but not all of them. But this sequence represents all of the shots that show Jim Morrison from head to toe and in sharp focus.
Roughly what was the time frame between each of those shots would you say?
The Doors played the whole concert in an hour. The photos aren't in chronological order, they're in a selected sequence. I composed it to look like a film sequence influenced by Eadweard Muybridge's photographic studies of motion and Robert Longo's life-sized black and white figurative paintings…that kind of combo. My original concept was to create a photo-mural of "Jim Morrison Scream Sequence" with Morrison printed life-size. The final result would be fifty feet long. I'm still looking for the right wall.
I see, I thought it was photographed sequentially at first…
It basically is very organic. I just saw that Morrison had the charisma, and all of the photos I chose to include in the sequence were sharp and I could string them together some way or another.
Did you also feel that Jim Morrison was aware that you were taking photos and he was playing up to you?
He might have been–there was a professional photographer there that was on stage who's in some of my pictures–that he might have played up to, because I've seen all of that guy's work; when he died, he left the pictures to someone who showed me all of his work. But, no, he wasn't playing up to me.
Okay. You can definitely see it though in almost all photos of Morrison…that charisma is there!
Yeah, whether the shot is good or not.
At least in Jim's early days that charisma's omnipresent…
So, this is like the result of the shots…and then I have about twenty shots that are shown individually that are valid individual shots.
What year was this that you shot the pictures and where was the venue?
I shot the pictures on July 15, 1967 at the Fantasy Faire & Magic Music Festival at Devonshire Downs in Northridge–near LA. It was a month after the Monterey Pop Festival, so it was the first LA rock festival of that era. It was two weeks before "Light My Fire" went no. 1. [On July 15 & 16, 1967, Devonshire Downs in Northridge, CA hosted the psychedelic and acid rock festival called "Fantasy Faire & Magic Music Festival." It featured The Doors, Jefferson Airplane, Country Joe & the Fish, The Grassroots, Canned Heat and Iron Butterfly].
Wow!
So, the band came out and just played music–there was no bullshit–it was all just an awesome, great concert! And the stage was only three feet high, and people were sitting on the stage, and I climbed up and I shot pictures.
And that was an era when massive security wouldn't hassle you for doing that or anything?
There was no massive security– it looked like they hired a local ice cream man…to wear his uniform…you can see that in the photos…
(laughs) Even better!
You know, the cops were just having a good time. I don't think I'd even smoked weed yet…I was twenty. That summer everybody–even the seven-year-olds and the seventy-year-olds–were starting to say: Hey, what's this counterculture about? But the trouble came when people went way overboard. But this was a very peaceful concert. And the result was two rolls of fine grain black and white film 32 ASA super fine grain. And one roll of 125 ASA Plus-X film, and a few Kodachrome slides. I had one camera–a really great 35 mm single lens reflex Nikon F with two lenses. Thus, the photos show a varied sense of distance from the band, in the case of the Doors shots, which were all taken from the same position on the stage. I was just a student at USC at the time and I was using the school stuff.
Nice.
And USC were sending lenses back to Nikon and complaining that they weren't sharp enough. So that by the time I got the camera, I had a great camera. It was hand held, I eyeballed the lighting and exposures, full frame, black and white, available light, that's the mode. And in terms of the day–July 15th, LA, summer. They played at noon. What would you expect the light to be at noon and in summer?
Intense?
Intense–heavy shadows. It was coastal fog that day–even out in the Valley. It was awesome, perfect light for all of the details on all of the symbols, all the people; the shadows didn't interfere at all. It was really wonderful. So, when I saw the pictures, I saw them in negative form. I might have had a proof sheet, and maybe not even, but I saw all these pictures from there and stuck 'em in the darkroom and moved off to Berkeley. And I didn't come back for twenty years. And so when I saw them, I had to go get them printed, and when I saw the prints, Morrison looked great–you know–some pictures pretty good, and I've had about ten shows with The Doors photographs. Then I realized the billboard on Sunset was the first rock billboard, and I wanted to put this Jim Morrison picture up on a billboard. So, I started looking around for billboard printing companies.
"The Doors album billboard, back in 1967 from Elektra Records–that was the first rock billboard in LA."
Just for clarification, are you saying that The Doors billboard on Sunset Boulevard back in the day promoting their first album was the first rock billboard?
Yes, The Doors album billboard, back in 1967 from Elektra Records–that was the first rock billboard in LA. So, I'm looking for a printer that can print this Morrison montage out life size. I didn't know a billboard costs like fifty-thousand bucks a month to rent, but my friend Victor Raphael who's a multi-media artist who I've collaborated with–he's also worked with Robbie Robertson and his circle, you can find his work online–educated me about digital technology…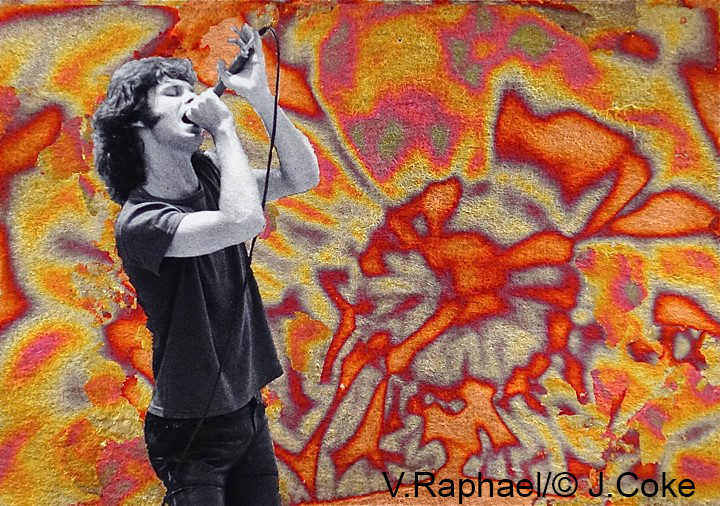 Cool…
…so, we were at LA County Museum and they always have some photos showing there, and we were looking at this one photo that was by Graham Nash and it was labeled as a digital ink jet print. And I said, Victor, what the hell is that? He's into the art world 24/7, really. And he said it's a new technology–digital printing. So, I looked that up, got a hold of Nash Editions (Graham Nash's company)–this is before the inks were even archival (permanent)…they had just invented the giclée.
Do you mean giclée prints?
Yes, "giclée" is the French word for "sprayed." They perfected this whole kind of printing. Their guy Jack Duganne was a master printer in Santa Monica. We started working together…with the help of one of his students [using early Photoshop technology]…it took two years to retouch these eleven images. The first one I had printed was in a size about four feet long. It was purchased by Randall Jahnson, the screenwriter who co-wrote The Doors movie. Because The Doors had bought most of the photos that had been taken of them before the movie–they didn't know about me, so they didn't get any of my pictures. I had unseen photos that people wanted to see and I got calls regarding that.
Did you ever have conversations with Ray Manzarek–before he passed away? How about Robby Krieger and John Densmore?
Yes. I was invited to visit Ray at his house and show him the "Jim Morrison Scream Sequence" after it was completed in 1993. He was complimentary about it and wrote me an enthusiastic endorsement. Ray even gave me the title "American Prayer" for the close up photograph I took of Jim facing the American flag. I had a chance to hear some of his stories, like the one about Ray being down the hallway from Salvador Dalí in a Parisian hotel and thinking back and wondering why he didn't go knock on the famous artist's door. As far as music goes, Ray told me that Thelonius Monk and J.S. Bach were his favorite composers.
As for John and Robbie, I've met them each separately and we talked briefly. John and I had a mutual friend, the late, great Tony Funches, who had been security for Jim Morrison after the infamous Miami fiasco. On Funches' final trip to L.A., John brought him to Barney's Beanery to have a Guinness or two with a small group of friends.
Let's talk about your Jim Morrison photo-mural in Long Beach, California.
The mural image is the climax picture from "Jim Morrison Scream Sequence." The mural is called "Flying Morrison," for obvious reasons. It's twenty feet long by four feet wide. So, I took this climax picture to the mural level–the paste-up mural. It was printed on wide strips of normal copy paper that I cut into about 10 pieces of manageable size for the installation. A friend assisted me in snapping a level chalk line on the wall for a simple way to organize the pieces. Then I brushed the wall with the acrylic medium (basically clear water-based acrylic paint) that I used as a glue. For each section, I used painters tape to position it. Then I brushed the back of the paper with the glue and stuck it in place, removed the tape, and gave it a coat of the medium. After all the pieces were installed, I protected it from solar light deterioration by spraying with U-V protective varnish in several coats that alternated with more layers of acrylic medium. Finally, to weatherize it against moisture, I used my gloved finger to spread a line of marine epoxy caulking along the top edges of the form. These details might sound tedious, but it's exciting to create something so large and so high up. Yet, the process was simple and quick — two of us installed the replacement mural in about two hours — once the two ladders were in place.
Have you thought about applying for some sort of Arts grant in Paris and seeing if you could get a Jim Morrison mural of your photos up over there?
I'd love to contact JR–the French artist that started the whole mega paste-up thing (laughs) in Paris…the nominee for the greatest artist of the century…you know, he made a film with Agnès Varda…
Oh yeah, yeah, yeah…she just passed away a few years ago–she was one of the great French Nouvelle Vague filmmakers…
Yeah, her last project was working with JR on a film called Faces Places. I'm still looking forward to seeing the film, but I did meet her once…
"I'm looking to collaborate on a concept I'm calling the Strange Days Project/Flying Morrison Global Mural."
Well, I just think that ultimately this mural has to happen somewhere…
I'm open to offers and ideas from artists and arts groups. I'm looking to collaborate on a concept I'm calling the Strange Days Project/Flying Morrison Global Mural. Potentially, it would be a creative platform for international renewal and healing as the pandemic recedes. It would be based on replication of my "Flying Morrison" photo-mural, with the partner artists having freedom of expression to add their unique interpretations to it, especially including a fitting quote from Morrison, The Doors, or anyone else. I see a process of sharing video documentation of the mural results – with any accompanying music and poetry event – by uploading to a site I'll have built. It should be a lot of fun to see and hear inspired art, music, and poetry from various places.
Organizing the Strange Days Project will be demanding, but already in Santiago de Chile we have developed a team to do the first model of the process. The pandemic crisis has slowed us down, but has also allowed more time to think out the simplest, easiest way to accomplish the goal of multiplying "Flying Morrison" photo-murals and events honoring the words and music people love around the world. I can print them and ship them here in Long Beach, with general instructions being given on a video online.
I've been working on a solution to finances, to set it up so partners will share in one-third of profits from selling prints of the art they add to my own. There is an opportunity, because of protections of certain intellectual property law, for art partners who are willing to make the effort to sell online, to benefit from selling up to 250 pieces in a limited fine art edition. Whether that is realistic depends on some unknowns, and there might be a better idea coming along, but with social media and online sales, the missing ingredient is focused energy.
Also, sharing another one-third of profits would be an international non-profit charity called Miraculous Love Kids (MLK, as in Martin Luther King). MLK will be the third main point of the project. The founder of MLK is the American rock guitar player, Lanny Cordola, whose career has been in studios and on the road with the Beach Boys, Guns 'n' Roses, and many top bands. Since 2016 he has been teaching guitar to the impoverished and war ravaged kids in Kabul, Afghanistan, and recording them with his famous rock friends such as Brian Wilson and Sammy Hagar. Please look Lanny Cordola up on Facebook and see miraculouslovekids.org and help him out, if so inspired by his example. "Imagine!"
I like what you did here with "Jim Morrison Scream Sequence" in terms of selecting the shots that you thought fit best into the sequence to make a Muybridge-like effect…and, as I said, I initially thought this was frame for frame ten seconds in between shots…it's great…it's beautiful…
It gives a cinematic impression–and if you turn it sideways, there's your "Flying Morrison."
The final image in the sequence?
Yeah.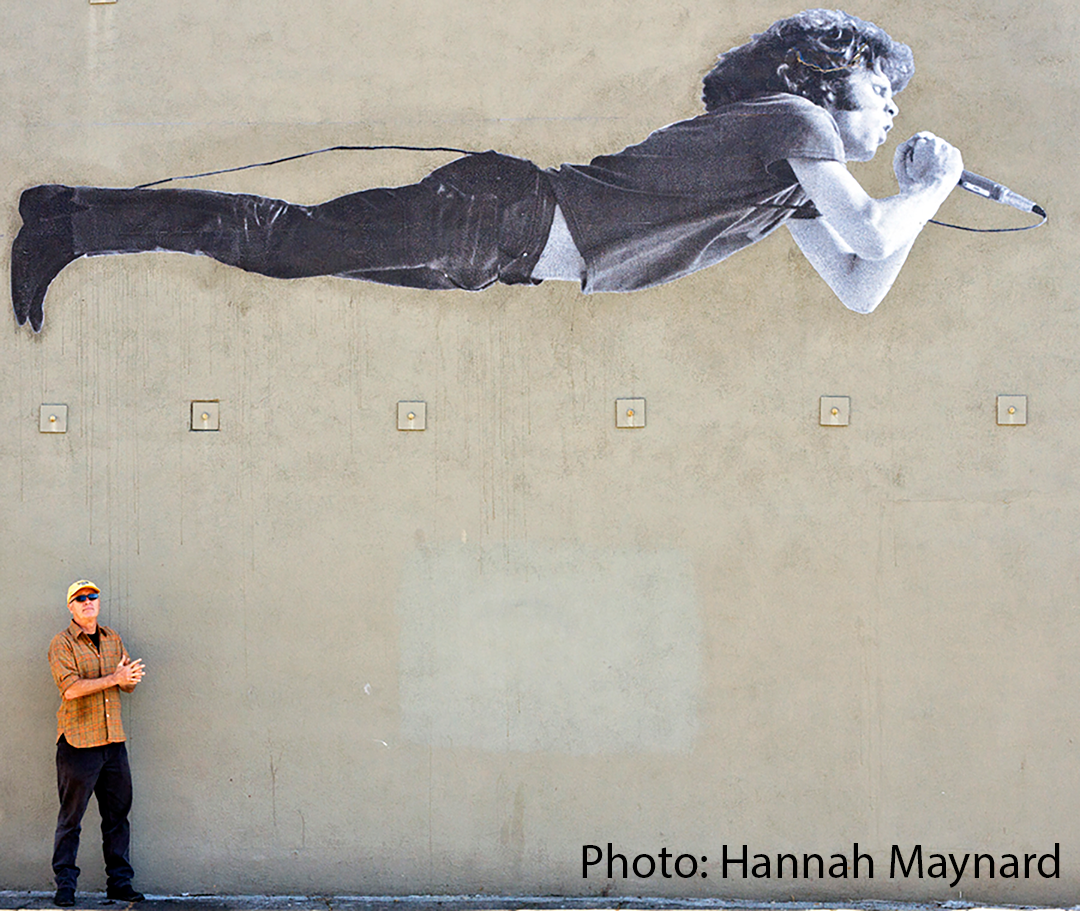 Why did you decide to turn Morrison sideways?
The inspiration for the shift in perspective – from standing to flying–came when I ran into my late, great friend Diane Gershuny, who was a music writer, radio DJ, blues fan, and culture promoter in Long Beach. A couple of years before she passed away, we had met for lunch and she asked me what I was doing with my pictures–because she was interested as a collector of photography, including Marshall…
Jim Marshall, the classic rock photographer?
Yeah–who I met once at his photo exhibition celebrating the Monterey Pop Festival. As I was closely examining his photos, I mumbled to myself "How does he get them so sharp?" And a reply came from the man next to me, while he pointed at my Nikon FA, "Because he wasn't shooting one of those." I looked over, and the man was Jim Marshall himself!
Let's finish your story about Diane.
So, I said to Diane, "I don't know–but something will happen with them." She looked at me and said: "You better up your game!" It went through me like a knife and I said to myself: "Oh shit, she's right, I can't just wait for something to happen." So, the dominoes started falling. I went from there to downtown Long Beach. There's a great record store called Fingerprints, and there was a big wall across the street where there was a parking lot…so I got permission from the building owner to do a temporary mural. So, then I went downstairs to the Long Beach branch of the Graphaids art store, and they said the partners are going to have a meeting here…and it turned out one guy's golf partner was Morrison's guitar player–Robby Krieger! So, Krieger's golf partner was one of the owners of Graphaids and they were going to have a meeting. Perfect timing! (laughs)
That's hilarious!
So, I was told, just show up and have your stuff, and after the meeting I'll introduce you…so I showed 'em, and they're like: "What do you want to do? Go! Do it!" So, we put up a temporary mural. I'd never done one, so the guy that worked at the art store had a crew…the "Coffin Crew"…normally they worked late at night… (laughs)
Hence, their moniker: "Coffin Crew"… (laughs)
They volunteered to do it. And I got about six bands to play…guys that play with The Blasters, and Mavis Staples, and the Black Crowes…
Cool!
Yeah! They each played about two songs–one of their own choice and a Doors song. And we did a benefit for Foodfinders, who serve tens of thousands of free meals everyday in LA County, in Long Beach, and we made posters and did all kinds of PR. That was for the temporary mural, and sure enough, the mural started coming down, and people were like: "What the hell…?" But I only had permission for a temporary mural…
So, just so I understand, for that temporary mural, does that mean it was painted over–or what materials was your digital photo image of the "Flying Morrison" presented on?
Well, the original one was printed on thin bond paper, as is typical for wheat pasting. It was also what I used for the replacement photo-mural. Eventually, the first one deteriorated so badly that I had to scrape it off, repair the wall, and install the new one.
It started peeling off…I had to ask the owner's permission to go back there about six times over the course of two years–gluing it back together. After a few years it had a bad case of leprosy or something…it was getting moldy and looking pretty bad.
(laughs)
I replaced it using the much more permanent acrylic medium for the glue material. That process took me a full week of work. I finished it the day before Long Beach had its first Pow!Wow! international mural crews come for one of their week-long events that have been here annually since then – except of course, in 2020.
I see.
What about Amoeba Records in Hollywood–have you thought about approaching them to see if they'd want a permanent indoor "Flying Morrison" mural inside the store?
I probably could look into that…and probably have somebody from Amoeba Records phone number written down somewhere…
I need to get motivated, because nobody but me is going to do it…and people that even care are kicking the bucket…
A second mural using the same photo was installed on an external wall at Trunk Gallery on Venice Boulevard in Mar Vista. It was called "Morrison Rising" because he is shown coming out of the ground at an angle because the wall was not long enough! It worked very well, and was placed over an existing colorful abstract mural by a Venice muralist named Heaven. Heaven was the long time assistant to famed sculptor Robert Graham– the husband of Angelica Huston.
Can we include your contact information in case any museums or gallery owners are interested in showing–or buying–prints of your photos? If not in LA or New York, I'm pretty sure there have to be galleries in Paris or somewhere in Europe that would kill to get this–this is great stuff!
Thanks! I met a representative from Rock Archive Amsterdam–a Dutch gallery–who was in L.A. looking for material. I did a small special edition Jim Morrison print for them. So they've carried that print in Amsterdam. I just need more ideas and more energy to do 'em. It takes an incredible amount of energy to organize a show. But hearing somebody interested helps me do that (laughs). I can be contacted via e-mail at jimcokefoto@gmail.com, or search jimcokephotography on Instagram.
Can I see some of the original photos–or negatives–that you took of The Doors that have the backgrounds in them…that haven't been digitally edited like "Jim Morrison Scream Sequence" or "Flying Morrison"?
[Jim Coke opens his portfolio and shows me a cache of his photographs] Let's see…that's Berkeley…
During the riots..?
It was all a riot… (laughs)
I call it the "tear gas years"…
Berkeley: The Tear Gas Years…okay (laughs)
Did you get tear-gassed at all?
First day I was on UC Berkeley campus in October of 1967, I was watching a small demonstration from a safe distance when a spherical object landed in the mud at my feet–I looked at it and it blew up in my face. The next time I saw a tear gas canister it was rolling towards me on Sproul Plaza; this time, I fielded it like a baseball and threw it back at the cops who were not yet equipped with wearing gas masks, making them retreat…the next time they saw me, they kicked my ass!
Wow!
So, why did you wait so many decades to exhibit your Doors and California Counterculture photos from the Sixties?
I didn't remember that I took The Doors pictures…
How much Acid were you on back then…? (laughs)
That's a fair question (laughs) –but I wasn't on Acid. That's Country Joe's joke that if you remember the '60s you weren't there, right?
Right.
So, when I went to see The Doors movie with a friend in 1991, I hadn't looked at my Doors negatives since 1967. We were both photographers, and my friend asked me: "Do you have anything from back then? " And I said, I don't know, let me go look. And that's when I found them in my old darkroom, under my parents' extra clothes and stuff. So, I didn't remember anything about it. Until I started writing. I got a yellow legal pad and started writing all my memories, and about driving up Highway 1 and almost crashing on the coast (laughs) on the way to Monterey Pop and all kinds of stuff came out. I didn't document any of the dates or all of that–I had to recall them.
Look at this photo from the Berkeley Student Demonstration–where would you say the focus is?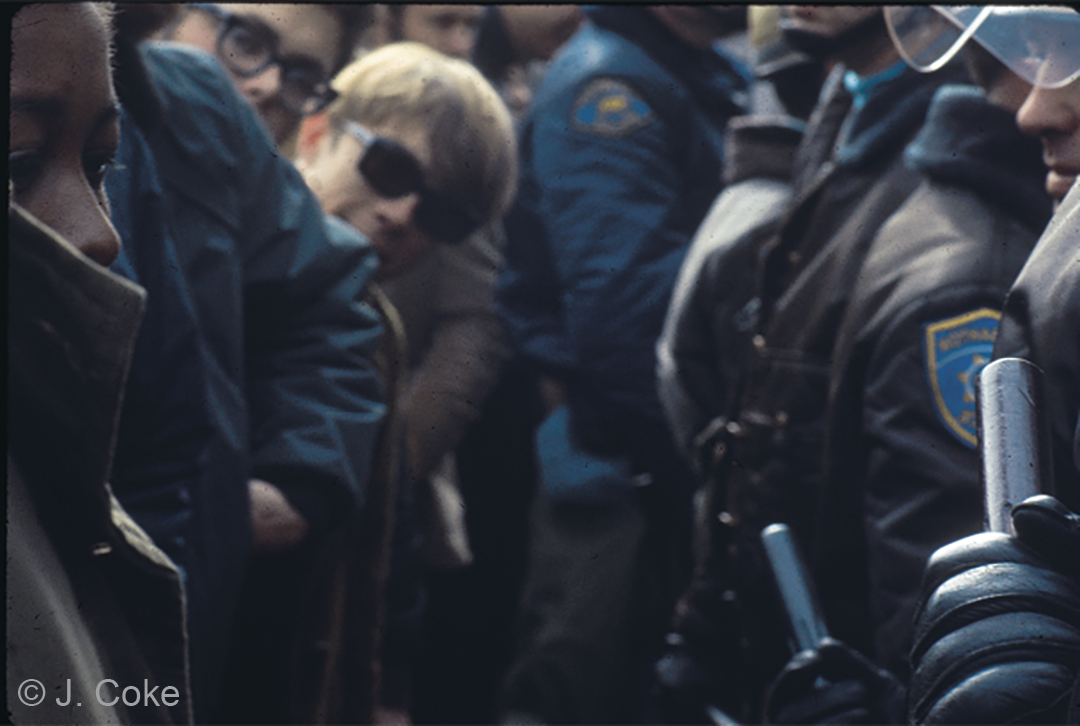 The cop's hand with the baton…?
Yeah, the club and the girl's face and her eyelashes and his glove holding the club…
Is this the original shot or did you blow it up?
No. All of my exhibition photographs have been full-frame black-line prints, which is a classic documentary style.
So in the split-second you took this photo what were you thinking about…Civil Rights and Student Rights…is this cop going to club this young African American woman…?
Well, yeah, we saw that a lot growing up on TV. There has always been that fear of the police. It could have been her or it could have been any one of us that got clubbed.
Okay…that makes sense..it epitomizes that time…over fifty years ago. Did the cop act out, or do you remember?
I think I would remember if he did…but it was one-hundred-and-one-twenty-fifth of a second…fifty-two years ago..(laughs)
It's dramatic–it reminds me a bit of the famous photo taken by Bernie Boston called "Flower Power" of the young man putting the flower in the barrel of a soldier's rifle during the 1967 "March on The Pentagon."
But going back to your photo–I also like the fact that there's a guy in sunglasses in the middle of the photo–but further back–and he's witnessing the tension between the cop and the young woman–yet he's also looking at you.
It's almost a mirror–you're there and then you see what they are looking at.
Very interesting…and–sadly–as we all know, things have not improved much and enough in terms of police brutality and accountability for mistreating and even murdering People of Color, the marginalized, the socially disadvantaged and the poor in the early 21st century and this present BLM era. Only now the eyes of the world are watching. But, just as Sam Cooke sang, "A Change Is Gonna Come…"
But, see, I didn't print any of these until a few years ago…when I first found the counterculture stuff…I've just shown The Doors until a few years ago.
What about this one Doors photo I see that's in color–it wasn't black and white originally?
No…it's from a Kodachrome color slide–I used half a roll of Kodacrome that day, along with two rolls of black and white. No photos were changed from black and white to color or vice versa.
This Doors photo of yours is interesting because of the juxtaposition of Jim with the U.S. flag; especially if you think about the politics of the time, the Vietnam War, and how polarizing a symbol the flag can be for some folks…what's this about?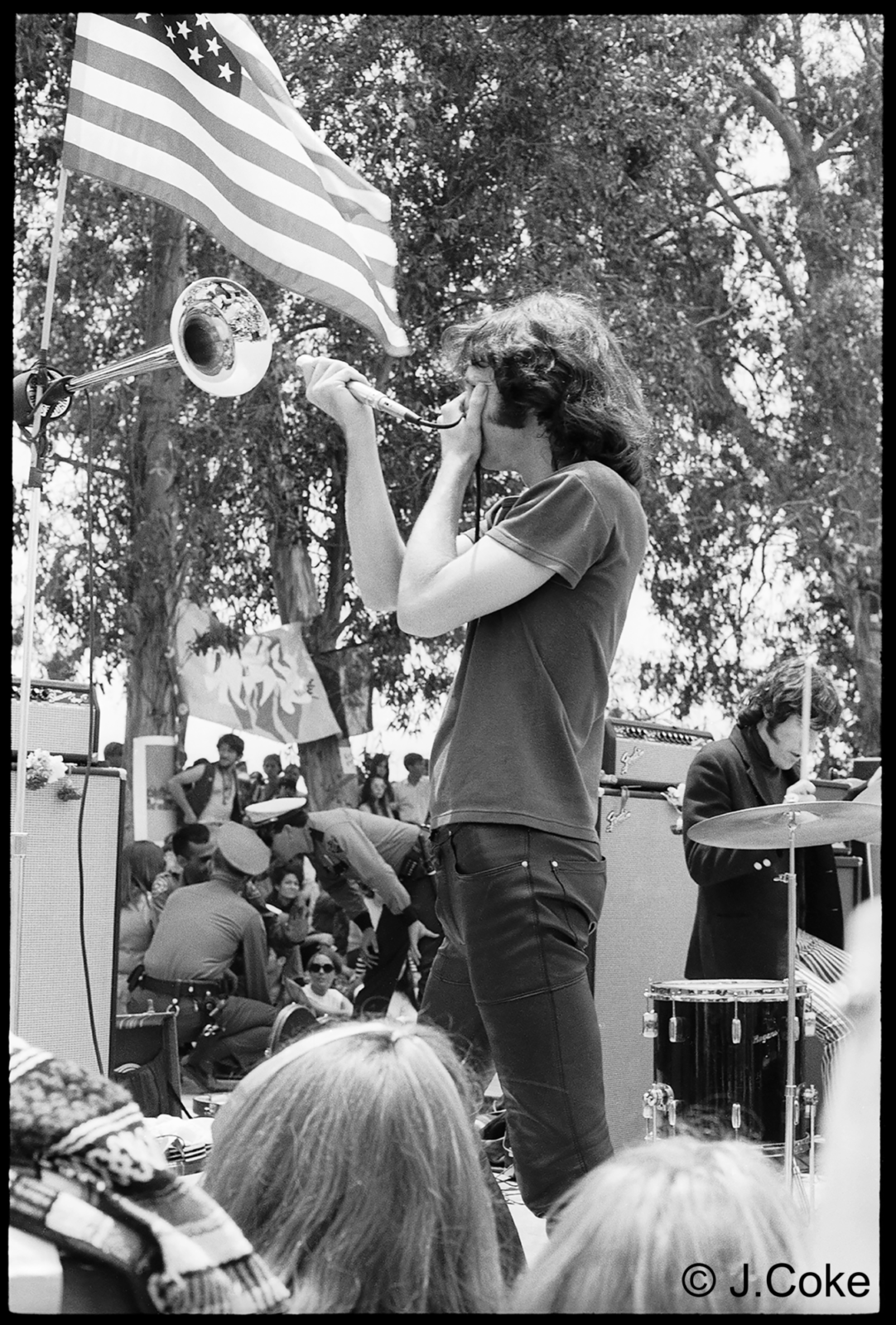 Yeah, it's particularly ironic because Morrison's father was a naval commander during the Vietnam War. But that chrome horn was part of the PA system, and even Ray Manzarek asked that question when he saw the photos.
He didn't remember?
He didn't know. I told him I'd hoped he could help me out and tell me what it meant. (laughs) Eventually I think I found out what that horn was when I visited the Rock and Roll Hall of Fame in Cleveland and saw that PA rig installed in the entrance hall there. It was in a large display case labeled: "The PA System for the Quicksilver Messenger Service." It was in pretty sad shape–bent up and rusty, but considered a piece of rock and roll history valuable enough to be placed in the entrance of the museum. I'm guessing that at this point in their careers the bands were sharing their equipment and that the San Francisco bands that played at The Fantasy Faire–Jefferson Airplane, and Country Joe and The Fish–probably borrowed that PA system from the Quicksilver Messenger Service.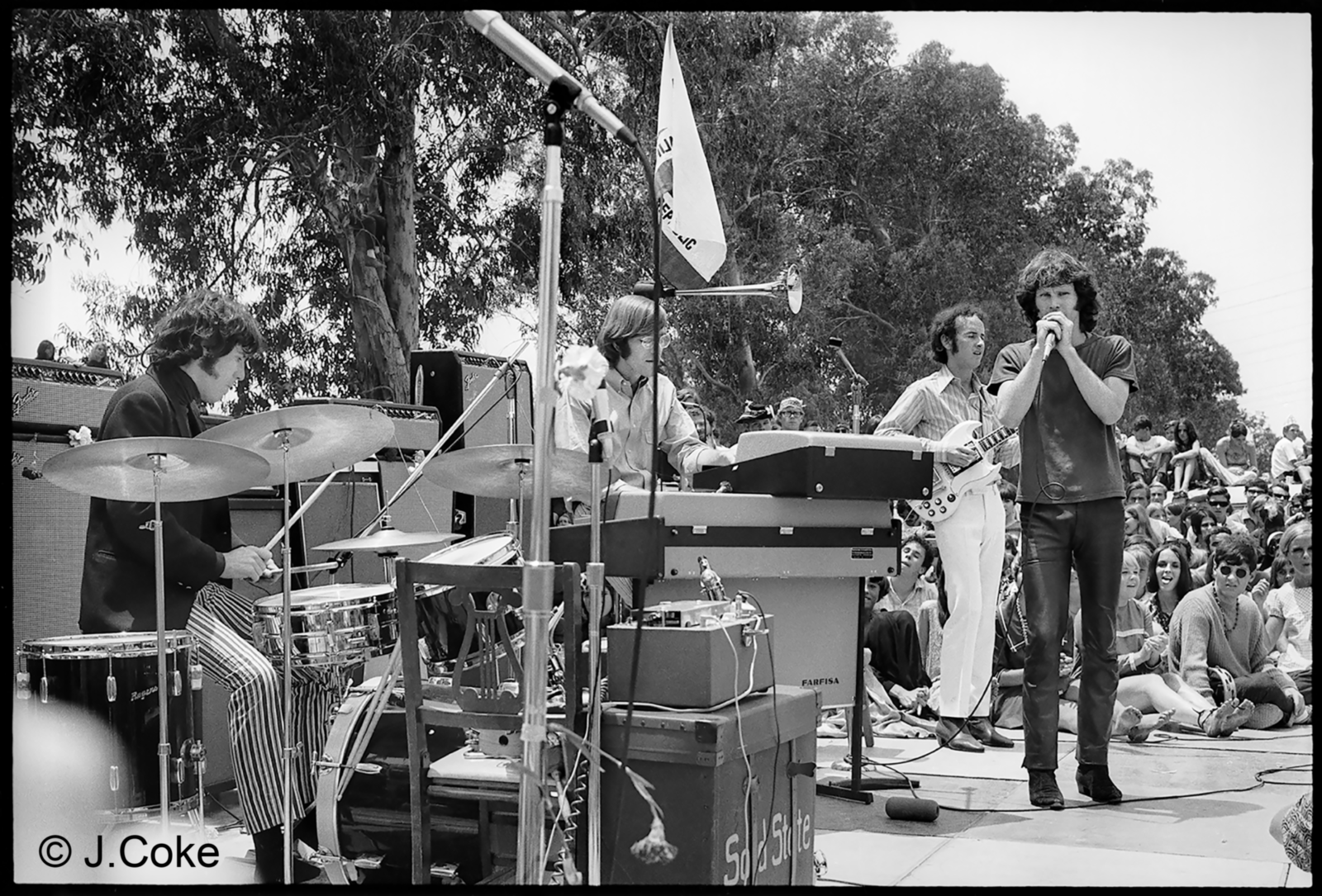 It almost feels like it could be something like a theatrical accoutrement or prop for "The Unknown Soldier" or something–because of the flag as well.
It could be–but they hadn't released "The Unknown Soldier" yet. By the second time I saw The Doors at Winterland in San Francisco, they were performing it. But I don't think I had seen it performed yet. So, I was really shocked when Robby Krieger symbolically "shot" Jim with his guitar, and Jim flew through the air and crumpled on stage. I remember seeing this from my position seated on the floor of the ballroom–this was in 1968, after the assassinations of Martin Luther King, Jr and Robert F. Kennedy and no one was dancing anymore. Instead, the audience went down like dominoes…the impact of the sound pushed them back…
Almost like a psychic attack…?
Yeah…a major negative "vibe"…I rarely use that word…but that's what it was.
Here's the photo Manzarek was going to use for the album An American Prayer, but never did.
That's too bad–a missed opportunity.
Here are some photos by my friend Takashi (Tash) Suzuki. We collaborated on a show called HeARTbeat at the MADE Gallery in Long Beach, California. The exhibition was the first showing of his photography from his time in Berkeley. His political concerns came out of having been born in the Manzanar concentration camp.
He was born in Manzanar–one of the infamous World War II American "relocation centers" that Japanese-Americans were forced to go to. That's heavy…
Since he doesn't want to participate, I purchased the rights to his photographic work. I still know him. He lives in Long Beach. He said: "You do it." So, I paid for his negatives. He has photos of the Black Panthers…
Wow!
…And of Muhammad Ali, not fighting, but speaking at a rally about his resisting the draft. In cool black Ray-Bans…and Marlon Brando at a Black Panther funeral…
Cool!
Here, while I'm digging through more photos, look at this…
Is that Timothy Leary and…Dave Alvin…?
Close…that's Phil!
Phil Alvin from The Blasters! Was he really a physicist?
He created a leap in computing that no one had thought of before. I think someone stole his ideas and it eventually lead to the Cloud…
No kidding?
That's why I took him up to talk to Leary, because I had already met Leary through somebody else.
This photo is by me–all these others are by Takashi.
So you photographed Allen Ginsberg, and Takashi took all these Black Panther photos of Kathleen Cleaver and other Black Panther members. Interesting…I thought it was cool when I found out she's in Michelangelo Antonioni's film from 1970, Zabriski Point, in a student meeting scene…
I was with Takashi…we were shooting the "Free Huey" Black Panther Rally in Oakland together. I ran out of film and he shot some great pictures.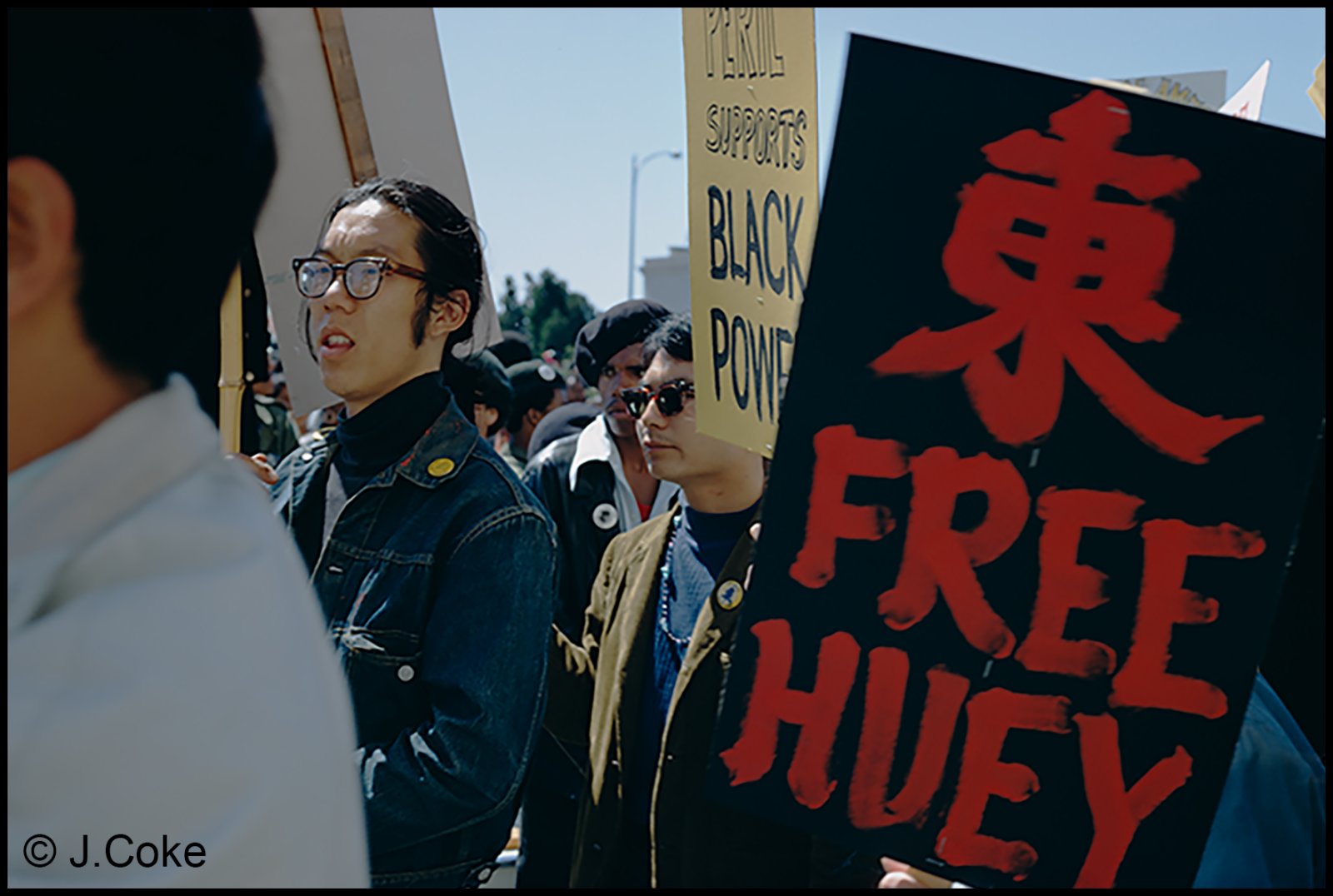 Is this your company's name, "Page Against The Machine"?
No, that's the name of the bookstore in Long Beach where we had another exhibit for the store's launch.
Very cool!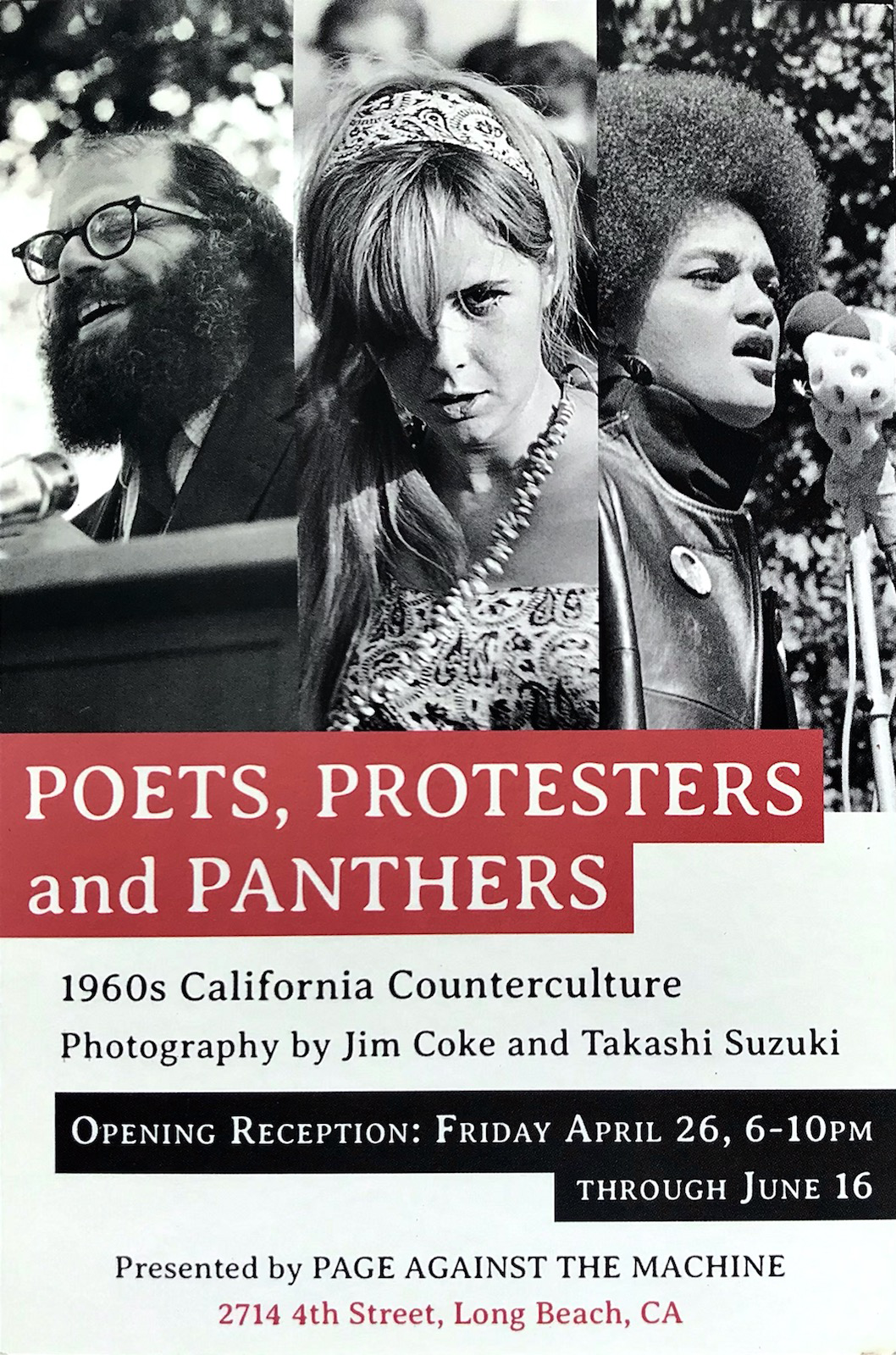 July 3, 2021 will be the 50th anniversary of when Jim Morrison tragically shuffled off this mortal coil–do you have any plans to honor his life, legend and legacy as the Lizard King?
Yes! I would love to, but I've been working under the uncertainty of the COVID pandemic with the hope that I could successfully launch what I'm calling the Strange Days Project. Basically, I want to share the "Flying Morrison" mural around the world. I've been working on the Strange Days Project/Flying Morrison Global Mural panspermia and online sharing for the 50th anniversary. I have developed partnerships with poets and artists here and abroad, beginning with my friend Gerd Hiler in Santiago de Chile and in Berlin. We have promising connections in Paris, Amsterdam, Mexico City, Buenos Aires, SF, NYC, and LA, so far. The project is being delayed by the pandemic, but as a celebration of the legacy of Jim Morrison it will continue to be a viable concept into the future as a form of cultural renewal. We'd like to help people to join vicariously on screens and see the various murals going up around the world. We aim to develop an online site hosting poets, writers, and friends of The Doors and Jim Morrison reading his wild, wise words and telling their stories of creative imagination; as John Densmore does in his new book, The Seekers: Meetings With Remarkable Musicians (And Other Artists). We're also considering using internet technology to allow for interactive sharing so fans can have their say–naming favorite lines and giving the Word Man a new day and the Flying Morrison another flight to where light is might.
Do you think if you and Jim Morrison had ever met socially that on some level you might have been kindred spirits in terms of his early film work while at UCLA and your experimental film/photography work?
I'd like to think so, based on our common interests in the film arts; remembering however that just the few years age difference was much greater then than it would be now. My friend Charlie Hawken (mentioned by Leon Bernard in Feast of Friends) was an early roadie on a couple of trips to SF from LA, and he told me that Morrison was very quiet and sat alone reading backstage. I was so shy myself, that even though it was already filled with fans, I had to force myself to get on stage at the Fantasy Faire to shoot The Doors photos we've been looking at.
What did result from hearing The Doors live and being physically close to them during the show was inspiration to follow their lead and break on through as much as possible to an authentic creative life, outside the normal paths we all had planned for ourselves. Though my plan was very vague, seeing The Doors perform freed me to the extent that I felt my own independence much more and at least knew what I did not want in life.
Those interested in learning more about the Strange Days Project, or in buying prints of Jim Coke's photographs, can contact him via Instagram @strangedaysproject and @jimcokephotogr, or via e-mail at jimcokefoto@gmail.com
Sean Mageean
---
Jim Coke Instagram