Clown | Interview with Ley Perryman | Lost and Found Prog Rock Recordings, 'Lord Of The Ringside'
Clown was a Plymouth, UK based band formed in mid-1970. An excellent progressive rock sextet which produced just one single in early 1972 for CBS, containing the tracks 'Lord Of The Ringside' and 'Rumania'.
---
Both tracks were recorded in October 1971. At the same sessions, the band recorded 6 more demo songs. These tracks were intended for a forthcoming full-length album by the same label, which unfortunately never finalized and appear here for the very first time. Anazitisi Records recently issued their material. Completing this release, the label has added both their single tracks and 4 more songs, recorded as their first demo in January 1971. Clown had lot of gigs playing with bands such as Manfred Mann's Earth Band, Raw Material, Man, Lindisfarne, Lee Riders etc. After some personnel changes, Clown came to a halt in the summer of '72. All 12 songs included on 'Lord Of The Ringside' LP here are coming from old surviving tapes which have been carefully restored and remastered. 'Ed Welch', the song which concludes the album, is coming from a semi-destroyed tape but as it is one of their best songs and an excellent example of Clown's powerful live presence, Clown members wanted it to be included and so the label did their best on making it possible, restoring it from the scratch. There's also a three CD box set on the Grapefruit Records label named 'Beyond The Pale Horizon – The British Progressive Pop Sounds Of 1972' and the Clown single is on disc two.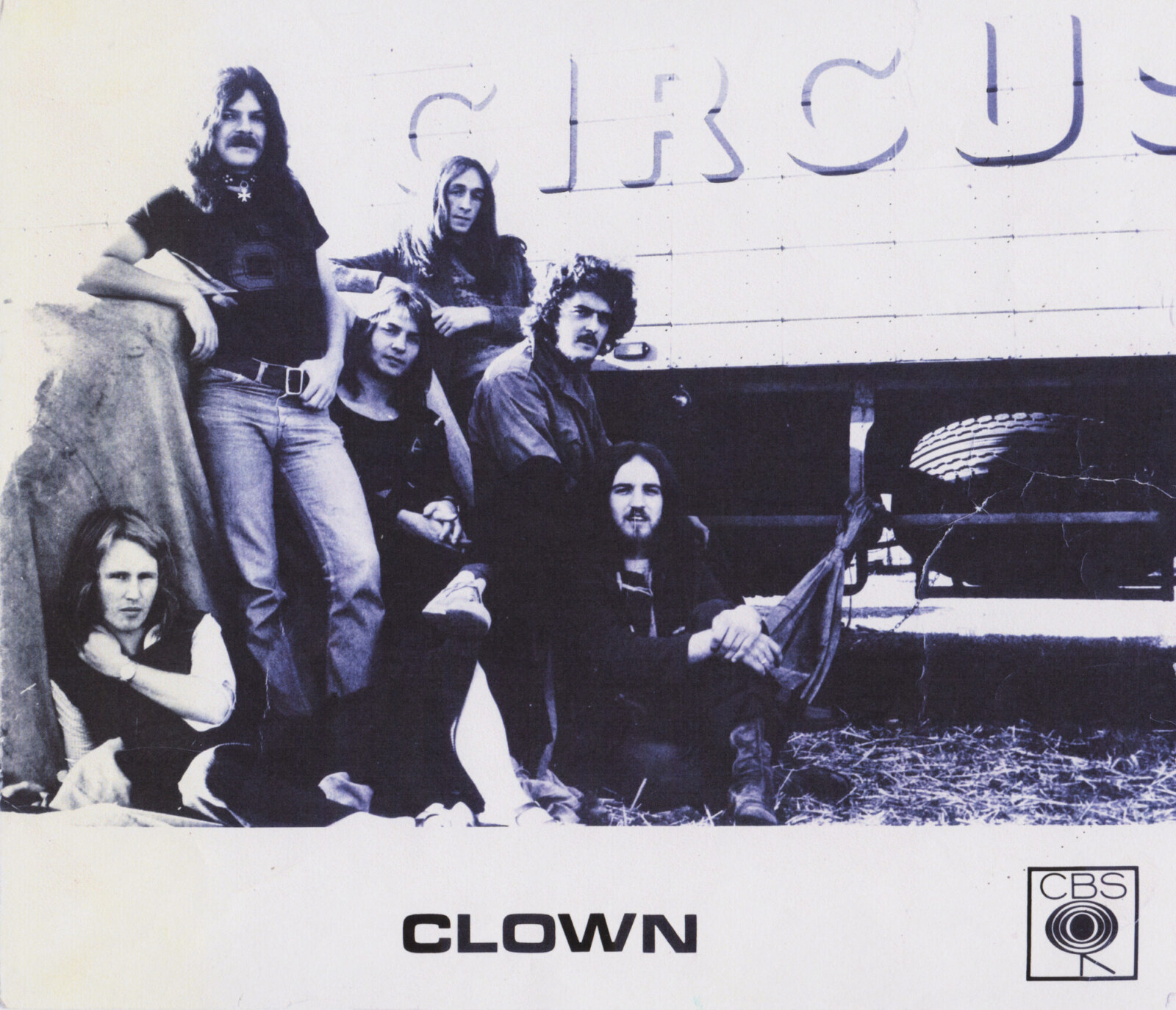 Would you like to talk a bit about your background?
Ley Perryman: I was born in Cornwall in the South West of England and eventually my family moved to the neighbouring county of Devon. We settled in the city of Plymouth when I was nine years old. I always liked listening to music and we had a battered record player at home. My sister was a singer and had won many singing competitions when we lived in Cornwall. The first record I bought was 'Diana' by Paul Anka on a 78.
When did you begin playing music?
I first played music at a school concert with two other pupils when I was about fourteen. We performed a couple of Shadows instrumentals. I recall that there was no bass! I had borrowed the drum kit from a friend and have no idea how I was able to play it. Teachers and pupils alike were also surprised at my hidden talent.
When did you decide that you wanted to start writing and performing your own music?
It wasn't involved in song writing until the formation of Clown in 1970. I had returned from teachers training college and fancied myself as a poet and initially some of my poems were set to the music composed by the band. ('Interlude' and 'Half Hour Swop Show'.)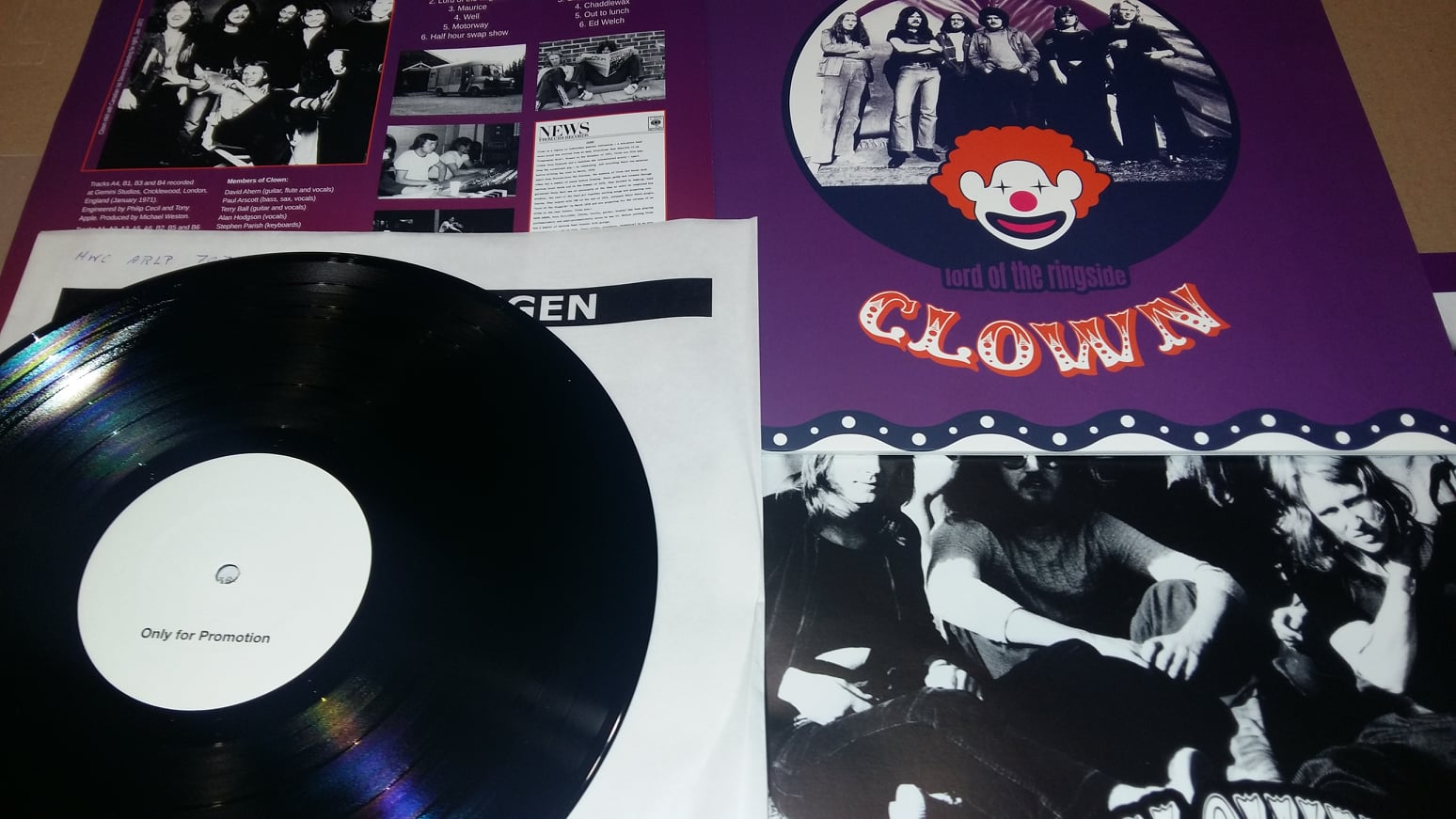 Were you part of any other bands than Clown?
Before I left for college in 1966 I had been in three Plymouth semi professional bands, The Fifth Precinct, The Scorpions and what many considered to be Plymouths' top band at that time, The Drifters. We played local clubs and dance halls. There was no recording with those bands.
What was the first song you ever composed?
The first original song I contributed to was initially called 'Feather' but was later changed to 'Interlude'.
Can you elaborate the formation of Clown?
Clown was formed by myself and my long term friend Terry Ball (lead guitar) We had worked together in all three of the Plymouth bands I mentioned. He knew other Plymouth musicians and soon we had a complement of six players. The keyboard player Steve and front man Alan had recently returned from London after a failed attempt at obtaining a recording contract. We rented a house and most of the band lived together composing and writing songs for the band.
How did you decide to use the name 'Clown'?
The band was to be called Fireclown but was shortened to Clown before we hit the road.
"Polydor Records were very impressed"
When and where did Clown play their first gig? What sort of venues did Clown play?
The first gig we played in public was a showcase gig put on especially for record company reps. who had come down from London to check us out. We used a small harbourside club called Ronnies and packed it out with our friends. Polydor Records were very impressed on the night at the reception we received from the crowd and also complemented our music.
The first professional gig we played was in Barnstaple North Devon at The Queens Hall as a support act to Black Widow. The evening was cut short when the fire curtain descended and knocked the bands P.A. off the high stage onto the packed crowd causing injury and panic. (Described in my book Inner Visions ) After this traumatic introduction to the world of pro. music Clown went on to support major bands of the time such as Manfred Mann's Earth Band, Lindisfarne and Man, to name a few. The band also played gigs as a main band on the college and University circuit travelling the length and breadth of the country.
How did you get signed to CBS to record a single in 1972?
We were eventually signed to CBS Records after they heard a recording that we called 'The Cricklewood Demos'. EMI Records also wanted to sign us but we chose CBS who had offered a £4000 advance. We also had a music publishing contract with Chappell and also recorded demos in their basement recording studio. We recorded for CBS at their Bond Street studios mainly at night and recorded our first single called 'Lord of the Ringside' which was released and just missed entering the charts by fifty copies!
We also recorded an album and used Gordon Huntley from Matthews Southern Comfort on pedal steel guitar on a couple of the album tracks tracks and one night Norman Petty who was over from the States sat in to watch us and was very complimentary.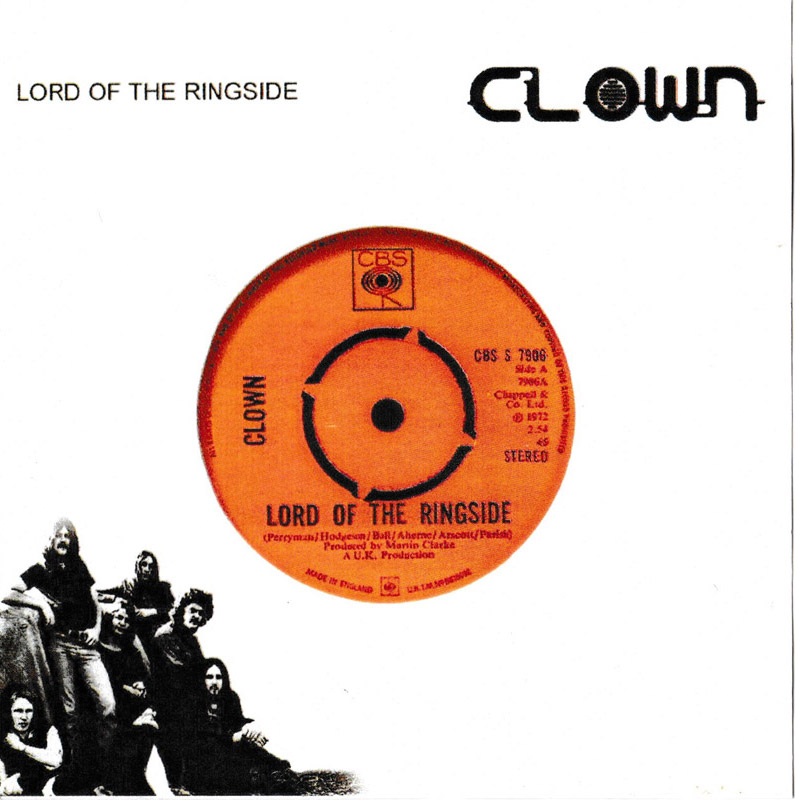 What we really lacked was dedicated management and this was to prove our undoing. Stuart Reid from Chappells did his best to promote us as well as running the company and got us some high profile support gigs. He stuck with us through some challenging times with personnel changes and managed to get the third version of the band, which in my opinion was the best version of Clown after we were joined by a Hammond player (who later went on to play for The Pretty Things) and a new bass player, a showcase gig in a brand new club in Leicester Square. The band was suppose to impress some reps, from Swedish television. However on the night drugs and alcohol proved fateful. The gig was a disaster! The band played well but their behaviour was appalling and the stage got wrecked as did the dressing room. Stuart was appalled and after a severe reprimand disowned us. The band found it hard to get decent work with high profile acts and had to do agency gigs as if they were semi professional.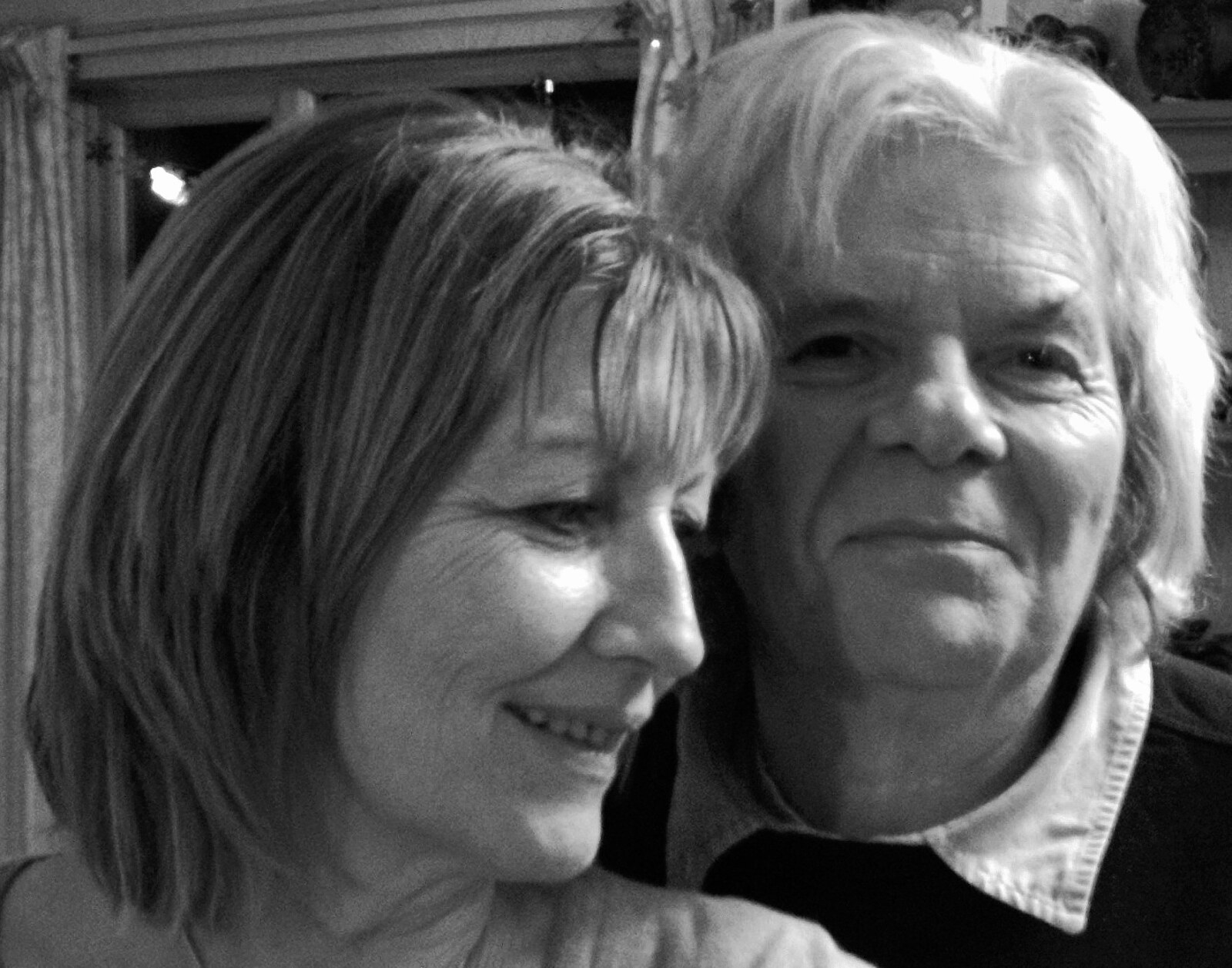 Everyone became disillusioned and after playing a gig ironically in Plymouth on 10th June 1972 the band broke up and went their separate ways.
---
Ley Perryman Official Website