The Kinks – 'Lola Versus Powerman and the Moneygoround, Part One'
The new deluxe reissue of 'Lola Versus Powerman and the Moneygoround, Part One' (BMG/ABKCO), originally released in 1970, is the third such box to be issued, following 'The Kinks Are the Village Green Preservation Society' (originally released in 1968) and 'Arthur (Or the Decline and Fall of the British Empire)' (originally released in 1969).
---
These three albums represent what may be the high-water mark of The Kinks' album-making output, after five very good albums beginning in 1964, that represented more of the group's British Invasion/pop 60s singles period. That isn't to say there weren't plenty more superb and ambitiously conceived albums to come very shortly.
This new reissue resembles in packaging and execution the 'Arthur' reissue, with the mammoth 'Village Green' in a class by itself. The deluxe 'Village Green' was an 11-disc set housed in an LP-sized box and includes 5CDs, three seven-inch 45s, a double album on 12-inch vinyl in stereo and mono and a 12-track 'Continental' (Swedish) version on vinyl. There was also a 52-page hardcover book and a variety of memorabilia collectors will love. The 'Arthur' box is a seven-inch-size box, with four CDs and four seven-inch 45s. It contained a 68-page softcover book and lots of memorabilia.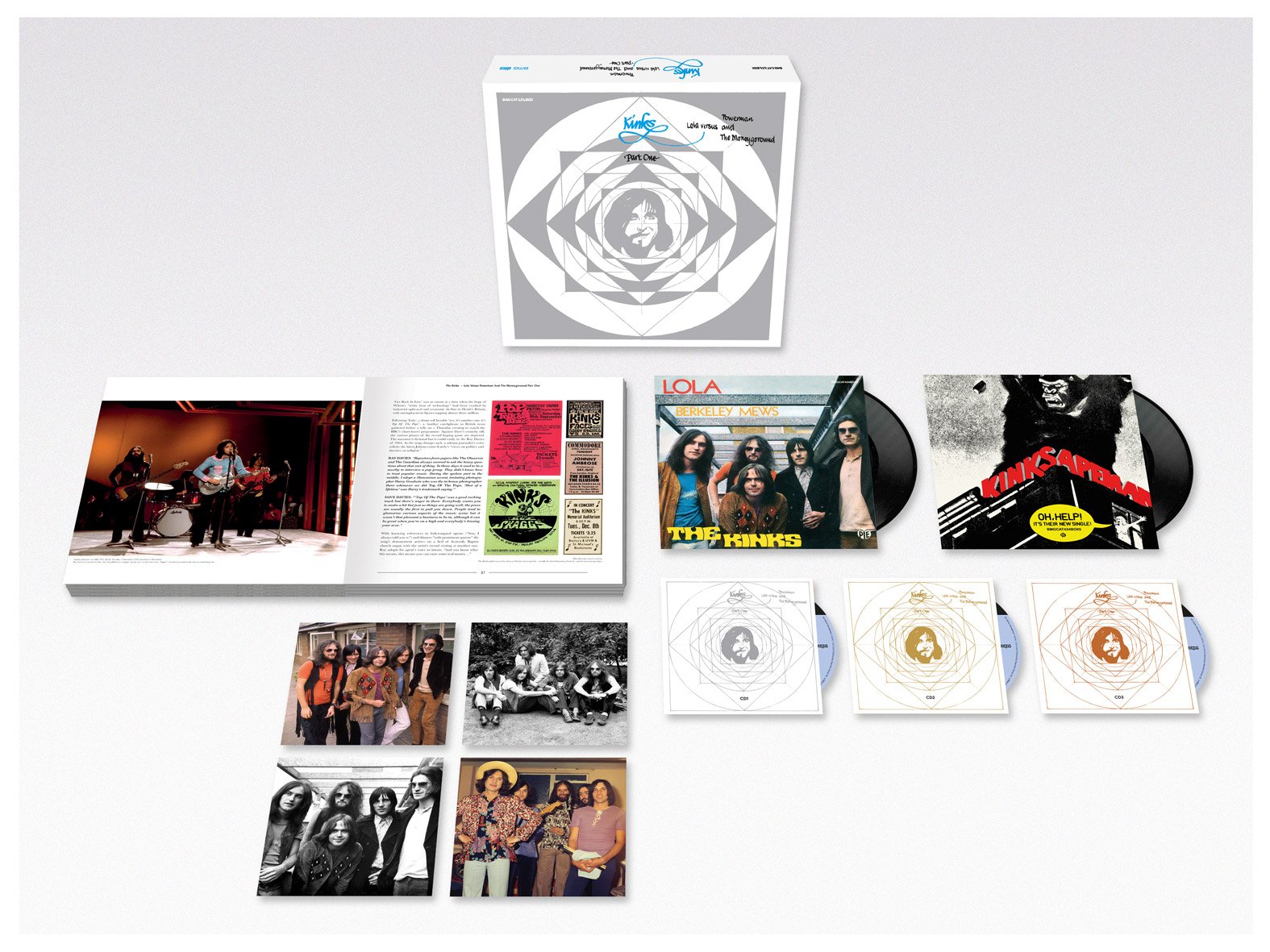 This new set comes in a ten-inch box, but the 60-page hardcover book is housed in a slip-case and the contents come inside the hardcover book packaging. There are four CDs, two seven-inch 45s and four CD-size photos. The set is light on memorabilia, but the hardcover book in the slip-case is a nice touch.
All three albums were essentially concept albums. 'Village Green', coming out as psychedelia was fading, was a look back on English traditions and not the kind of nuanced, nostalgic and openhearted material found at that point in the 60s. 'Arthur' was more personal, but had a similar approach. Lola's concept revolved around the music industry and was more biting and caustic. For years The Kinks had had issues related to recording and record companies, and particularly the inability for long periods of time where the group couldn't tour the States. Such matters were both frustrating and severely hurt the group's popularity and earning potential. Fortunately, Ray Davies doesn't wallow in misery or simply trash the music business in his compositions here, but instead offers wry observations of the various aspects of the industry that drive musicians crazy. Davies does have fun with the music business themes and takes thematic side trips that resulted in the two best and most popular songs on the album,'Apeman' and, of course, 'Lola'. As for 'Lola', only four songs charted higher in the U.S. for the group and, along with three number-one hits in the U.K., it was the group's third number-two hit. Oddly, The Kinks never had a number-one album in the U.K. or the U.S.
As for the three discs, disc one includes the original album newly remastered in stereo, with five alternate mono versions and one in stereo. Discs two and three include alternate versions, new medleys and mixes and demos. CD two also features film soundtrack recordings, and disc three also includes live recordings. Other than the original album on disc one, the rest of the music on the three CDs, contains a hodgepodge of extras that, while all quite good, perhaps could have been better organized.
Obviously, the rare mono tracks here will be of special interest to collectors, as stereo was very much taking over as the mix of choice by 1970. Along with the 2020 mixes, a more recent track included here is a 2006 live version of 'A Long Way From Home' from Austin City Limits. There is also a performance of 'Lola' by Ray Davies and Band with the Danish National Chamber Orchestra & the Danish National Vocal Ensemble from 2010. From the time of the release of the album there is a live radio spot and, from Queens College in New York at that time, some live recordings. There are edits of the songs 'Marathon' and 'Got to Be Free' extracted from 'The Long-Distance Piano Player', the debut of the BBC 'Play for Today' series, which chronicled a marathon of non-stop piano playing and starred Ray Davies, from the fall of 1970. For some, the real treat of discs two and three are what's called 'Ray's Kitchen Sink – Ray Talking to Dave Over a Cup of Tea', from various sources from 1970. There are nine of these lo-fi conversations between the two sometimes-estranged brothers, mostly about songwriting and their twisted history, but it's all quite humorous, intimate and ultimately endearing, considering how much they have achieved and unfortunately how often the two have fallen out.
There was some talk of and even work on a possible part two to this concept album, but it never materialized and the group started working on its next album, 'Muswell Hillbillies'. The popular success of the album helped the group renegotiate its recoding contract and invest in its own studio, Konk.
As much as this album was successful upon release and favorably reviewed, like nearly all the group's music, it only sounds better with the passing of time. The group's post-mid-60's albums in particular hold up so well because Ray Davies wrote songs that were timeless and he thankfully couldn't be bothered with most pop trends. Interestingly, though, 'Lola' had a glam or glitter rock feel and fit easily alongside the music of David Bowie, T. Rex and Mott the Hoople, at that time.
This is yet another must-have reissue for Kinks fans and one can only hope that as we move into the post-pandemic world, that long-rumored Kinks reunion will happen.
Steve Matteo
---
'Arthur or the Decline and Fall of the British Empire: 50th Anniversary' Reissue from The Kinks