Billy Cobham | Jazz Legend | Interview
Legendary drummer Billy Cobham is opening his musical world up in a first-of-its-kind exclusive online workshop series: Billy Cobham's Guide to Stress-Free Drumming. In a series of 9 three-hour monthly workshops, Cobham and a group of hand-picked guests – world-class drummers Dennis Chambers, Gary Husband, Will Calhoun and Dom Famularo – will teach the art of playing "simply but effectively." Cobham and his guests will discuss playing in odd times, four-way coordination, rudiments, dynamics, phrasing and more.
---
Running April 25 – December 19, 2021, the classes, which are limited to 30 participants, include opportunities for attendees to get feedback about their playing from Cobham and his world-renowned guests. More about it here.
Widely acknowledged as the greatest fusion drummer of all time, Cobham came to prominence in the late '60s and early '70s playing on seminal recordings by Miles Davis and then the Mahavishnu Orchestra. A prolific band leader with more than 30 albums under his name, Cobham's influence stretches well beyond the world of jazz.
"My drum sticks are my paint brushes"
Thanks for taking your time. How are you coping with the pandemic as an active musician?
Billy Cobham: This period of the Pandemic has been tremendously dramatic for me and my wife. We have weathered a mental assault on our social environment as regards how we relate to each other from day to day from what we eat and drink to how we verbally address and generally interact with each other on all levels of life. It has been an eye opening experience negotiating the mine fields of life with my most favorite person 24/7 over the past 500 days approximately. I feel that this period of mutual interaction between us has solidified our commitment to each other at al level I don't believe to be achievable without the negative of the Pandemic. So, out of the negative there has been much positive for me, for us. I have written quite a bit of music from percussion etudes to music for large ensemble with the difference being that my works are more rooted and defined. I guess I had no choice but to "cross the I's and dot the T's so to speak…".
What's the basic concept behind your new All-Star Online Workshop Series?
My idea is to show my colleagues and aspiring students, how I have gone about approaching creating music as a soloist and collaborator, using drums & percussion as my pallets of expression through a "sonic parchment". My drum sticks are my paint brushes, acting as extensions of my hands transferring my thought into sounds in performance. I believe that performing before an audience of 'one' or an audience of thousands must always represent truth and truth must be enjoyed in its purest form when presented by means of sonic projection is one example. Music never lies.
"Performing in a good musical environment is the gift of the day for me"
Dennis Chambers, Will Calhoun, Gary Husband and Dom Famularo will also be part of the series. Are you excited to be able to still be active in music despite the difficult times?
Every time I get the opportunity to perform I view it as a gift. Performing in a good musical environment is the gift of the day for me, no matter how I feel the end product will be pure and without prejudice.
You will be teaching the art of playing "simply but effectively". Give us some insights on developing your drumming technique.
LISTENING: interpreting what you hear and translating that information into musical phrases that you can present to your colleagues in 'real time performance'. MUSICAL FORM: learning to identify common forms (first) of musical compositions (for example, a "blues" and its basic chordal structure of I IV V I form). How to use this information to anticipate much of the direction the band can take in each piece played makes you a more effective player with your colleagues. TUNING of your drum set – understanding the tonal range of each drum therefore the drum set as a unit and how to be selective in the drums one chooses to incorporate into performance of a song and when to do so. Basic knowledge of the drum set and it's physical makeup defines the musician behind the kit. Drums cannot play themselves.
Can you share some further details of what the workshop will look like?
I will make my presentation from my home or studio location as will Dom Famularo and our guests for the day. I offer my rendition of one of my compositions with the idea that all participants can perform the same composition without my drum track being present. For those who read music there is a PDF drum chart to read from. For those who do not read music I encourage to play what "you" hear from my track and use only what you need from my performance to help you create your personal interpretation of the music. After listening to the presentations (we will select a few since we will not have time to hear everyone) we discuss the merits of the performance and suggest solutions, alternative ideas and approaches to the participant to try in the future.
Artists and labels will have to adapt to the new changes. What are your predictions for the music industry? How do you think the music industry will adapt to it?
Artists are forced to see the elements of the entertainment business that was always there for the taking: how to "promote ones self". How to market and sell ones product how to define one's music and sell via mail order or is digital platform. How to negotiate for performances… and the list goes on… This is the new normal. Better late than never for some. The reward, if one is a bit fortunate is to receive satisfaction for one's net worth (what you've negotiated for) or understand where the negotiations might have fallen apart with the idea that the cost of the mistake is to be remembered and applied in the next batch of negotiations.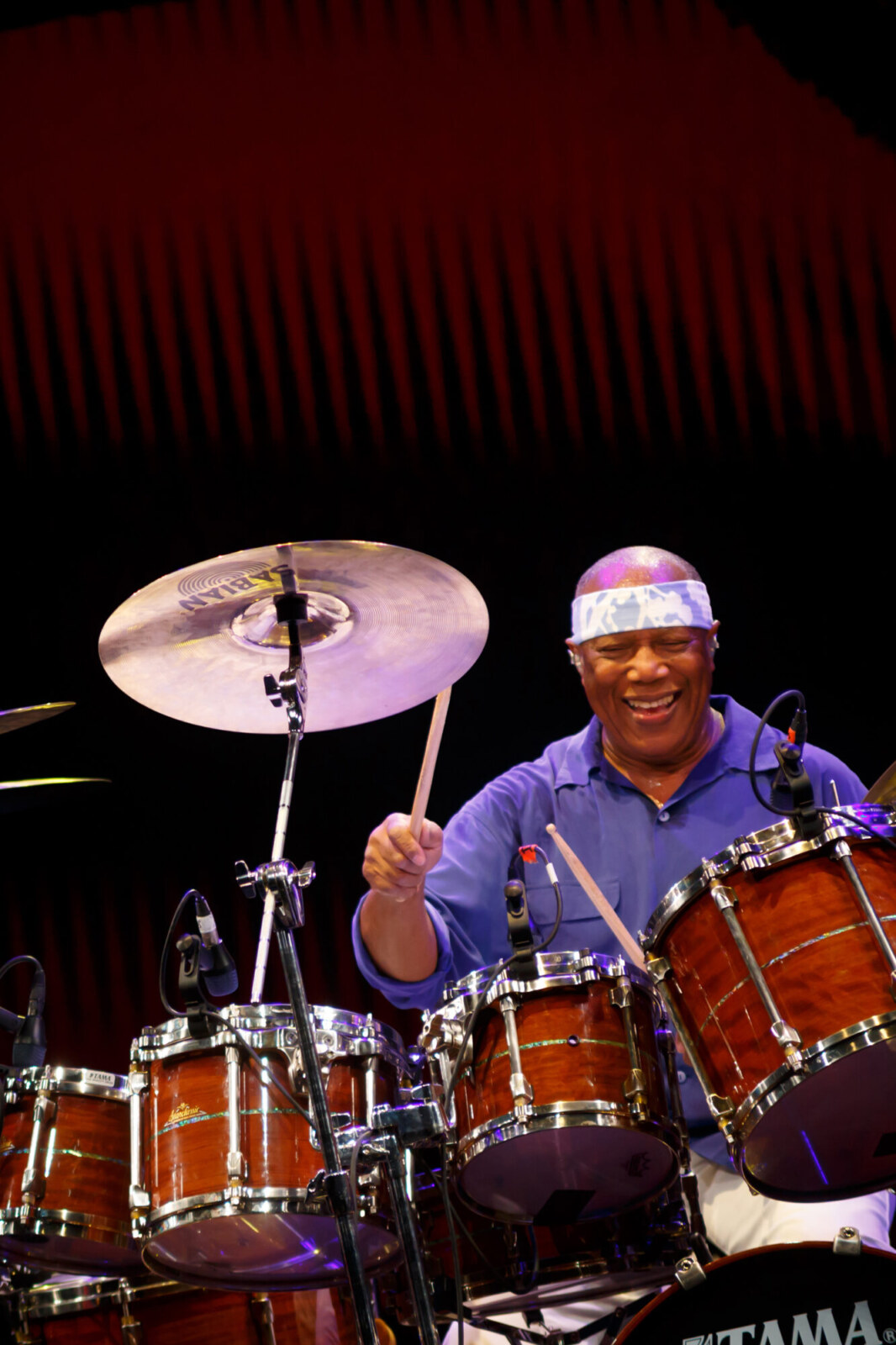 Do you have any other active projects going on at this point? Will you continue to record new albums?
At the moment I am developing my 'E-Book' for use in the development of creating a better understanding between musicians as to how to effectively interact and build a unified musical template that raises the level of quality & communication, in real time, during performance.
"I hear what I hear"
How do you usually approach music making?
Every action made or taken in my life is voluntary or involuntarily made with the idea of making music. So, 'I hear what I hear' and perform in 'my minds eye' (in my head prior to enacting externally) what hear.
It's absolutely impossible to cover your discography. Would it be possible for you to choose a few collaborations that still warm your heart?
Milt Jackson, Herbie Hancock, Ron Carter, 'Sunflower', John McLaughlin, Charlie Hayden: 'My Goals Beyond', Quincy Jones: 'I Heard That', Freddie Hubbard: 'Sky Dive', George Benson: 'White Rabbit', Billy Cobham 'Spectrum', 'Crosswinds', 'Time Lapsed Photos', 'Tierra Del Fuego'.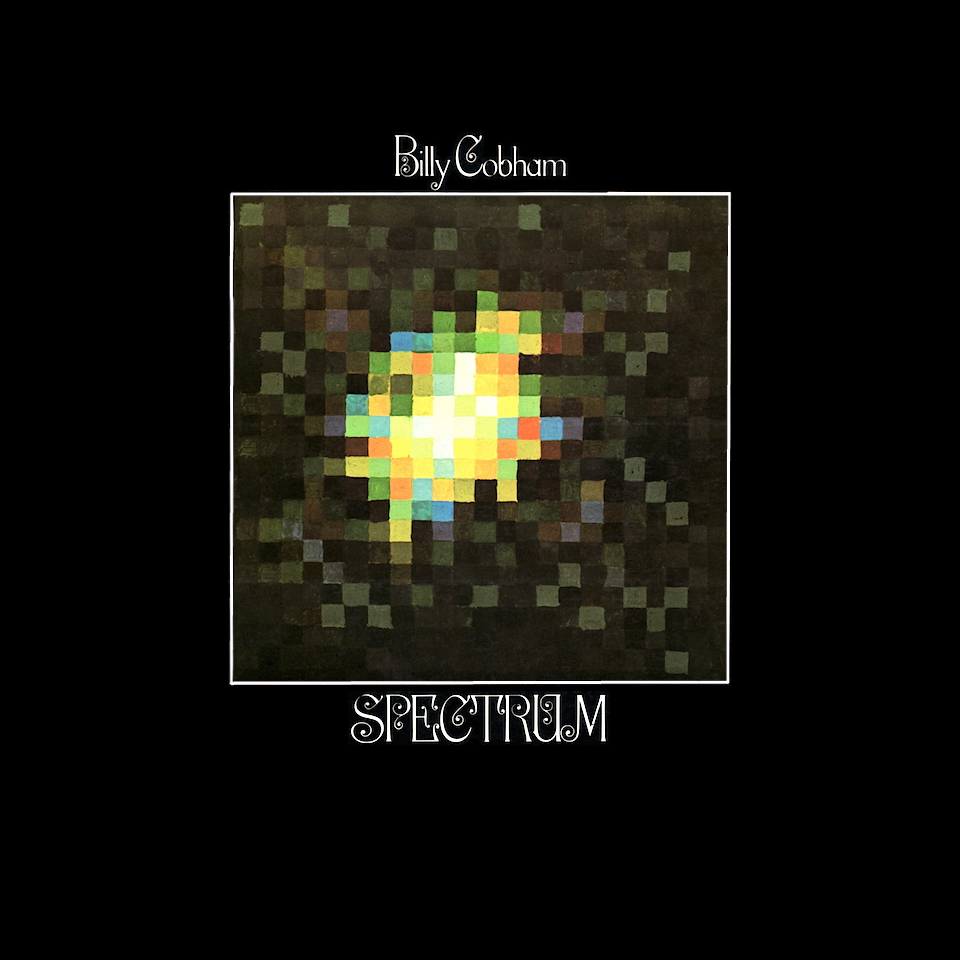 What are some of the most important players that influenced your own style and what in particular did they employ in their playing that you liked?
Elvin Jones: Disciplined chaos: the act of throwing particles about within the disciplined parameters of a musical sand box. Tony Williams: Dancing in a musical mine field without losing track of where the potholes are. Art Blakey: The 'shuffle' that made you dance while sitting in your seat. Roy Haynes: The only person who played the drums in a way that fit his physical size yet produced a personality 10 times greater no matter if the music was a ballad or a tempestuous up tempo. (Check out his work with Sarah Vaughn, 'The Land of HiFi', Ray Charles: "Genius + Soul = Jazz" ABC records.) Louis Bellson: Master Orchestrator and mentor: "Mattahorn" Pablo records. I am the 'other drummer'.
Your finest moment in jazz?
Horace Silver Quintet- 'Seranade to a Soul Sister'.
Have you found something new lately you would like to recommend to our readers?
No, I haven't.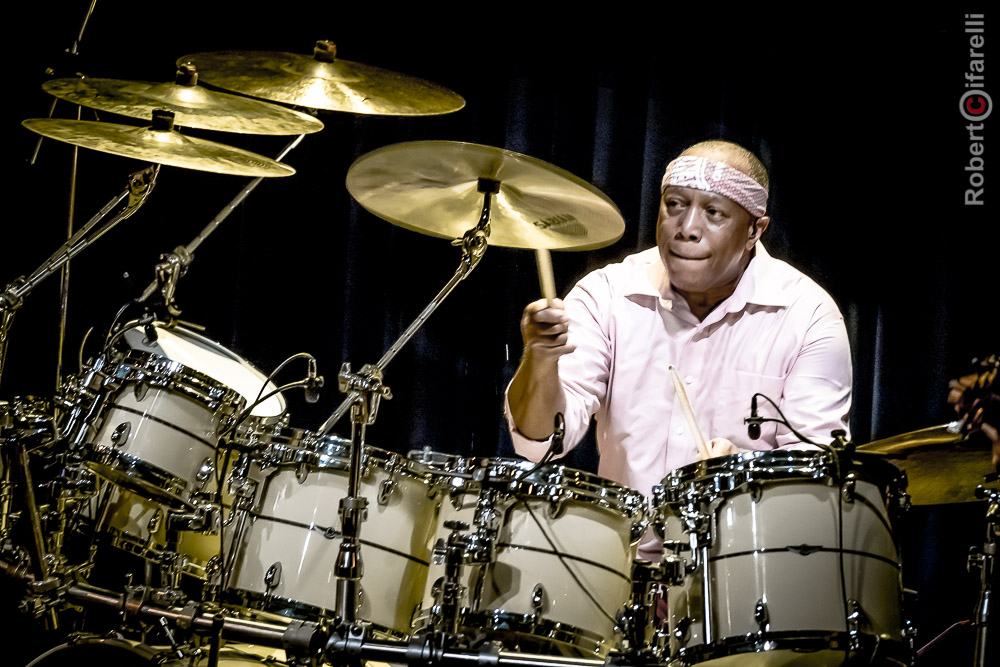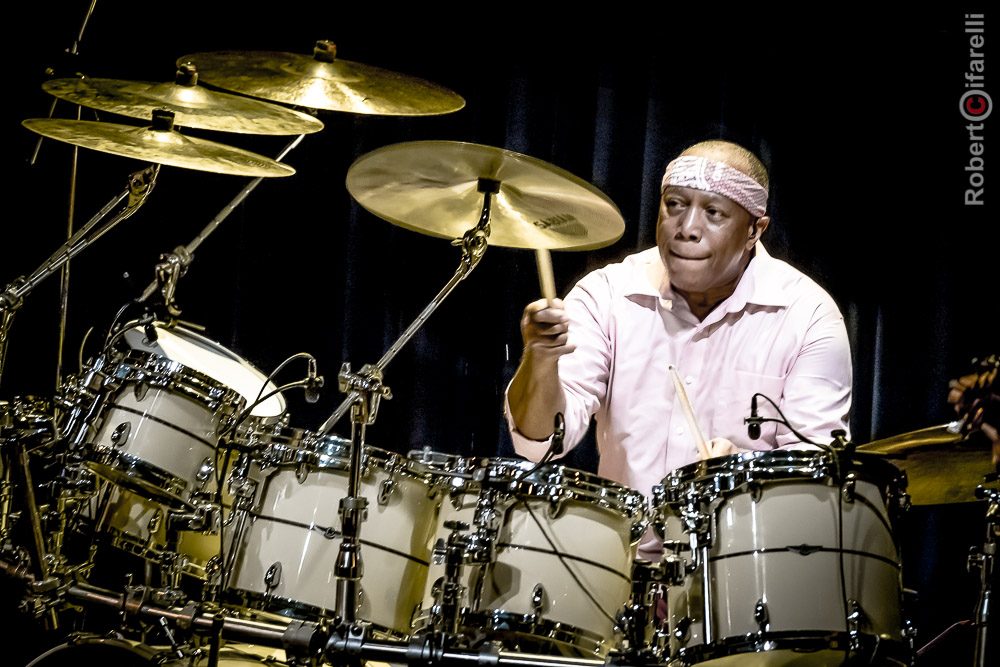 Thank you for taking your time. Last word is yours.
Looking inwards for the tools to move forward….
Klemen Breznikar
---
Billy Cobham Official Website / Twitter