T2 – 'It'll All Work Out In Boomland' (Expanded Edition 2021)
British progressive rock band T2 came to life in early 1970 when bassist Bernard Jinks and lead guitarist Keith Cross of Bulldog Breed were joined by Jinks' old friend, drummer/vocalist Peter Dunton. The group entered Morgan Studios and recorded a set of top quality material written by Dunton. The four resulting tracks were released by Decca Records under the title 'It'll All Work Out In Boomland'. The long player is joined in Esoteric Recordings' new expanded edition by two discs of demos from 1970-1972 which went unreleased at the time.
---
'It'll All Work Out In Boomland' opens with the eight and a half minute 'In Circles' featuring a roaring guitar intro by Cross. Dunton hammers out the beat while supplying ethereal vocals with Dunton and Jinks locked together in the tune's insistent riff. The melody is gorgeous yet heavy with Cross' guitar building to a crescendo level as he solos the song out. The song is a fine example of early prog with psych overtones. The tune's haunting vocals, pounding drums and versatile, virtuoso guitar define T2's sound. 'J.L.T.' features a mellow intro of Cross on guitar and mellotron, joined by Dunton's beautiful vocals. The gorgeous melody exhibits the band's versatile sound. Cross' solo is delicately restrained with horns added for texture. Jinks and Dunton keep perfect time as the tune gently plays out. 'No More White Horses' is a cover of a tune originally done by Dunton and Jinks while in the band Please. The original three and a half minute psychedelic rock classic is transformed by T2 into an eight and a half minute progressive rock masterpiece. The epic two minute guitar intro by Cross is simply breathtaking, followed by a gorgeous tempo change with horns added to the mix for good measure before Dunton's haunting vocals enter three minutes in. The song's lyrics tell the story of life's sometimes bitter reality with "Someone is sitting there, Someone who doesn't care, Someone who only stares, No one is on your side, You've got nowhere to hide, There's no white horse to ride away…..So you must stay, Where you are, Where you are." Cross contributes piano as well as guitar to what may be one of the most beautifully haunting, ethereal sounding tunes ever recorded, with Dunton and Jinks so tight on the bottom end that they are nearly imperceptible. A screaming solo by Cross gives way to the tune's main riff which builds to a feedback laden crescendo that closes the tune and side one of the album. Side two consists of a single track, the twenty one minute magnum opus 'Morning' which gives each band member a chance to show off their chops with Dunton's haunting vocals joined only by Cross' acoustic guitar introducing the tune before the rhythm section enters at the 1:45 mark. Jinks' bass line leads to Cross' swirling guitar solo taking the fore, pushing the beat with Dunton's racing drums. The band finds a comfortable groove leading to an effortless, extended solo by Cross. Dunton solos on drums with Jinks holding the bottom end steady and Cross conjuring sounds from his guitar that are otherworldly. The song's tempo changes completely at 12:00 with only acoustic guitar and vocals before the band roars back at 12:30. The tune's mood changes, chugging with horns added for texture, Cross working up and down his guitar's fretboard. Jinks takes a short solo, the band returning to a comfortable groove leading to a Dunton drum solo before the band roars back at 15:30, Cross' guitar moving to and fro as Dunton's drums race. Cross' feedback gives way to a probing solo before the band settles back in at 17:00 with a driving beat, loud yet delicate. Dunton's haunting vocals return with acoustic guitar at 18:30 before the band settles into a comfortable, heavy groove at 20:00 to close out the tune with roaring guitar, pounding drums and rock solid bass as it drives the song and LP to a close, an incredible ending to a marvelous album. The LP was released on July 31, 1970 and coincided with bookings at major festivals such as The Isle of Wight and Plumpton Race Course. Despite its obvious quality and a reputation that has grown steadily over the years 'It'll All Work Out In Boomland' failed to sell in big numbers or make an impression in the UK or other nations where it was released such as the USA, Brazil, Germany or France. Nonetheless, T2 had a very successful residency at the Marquee Club and became a regular on the University circuit along with contemporaries such as Deep Purple.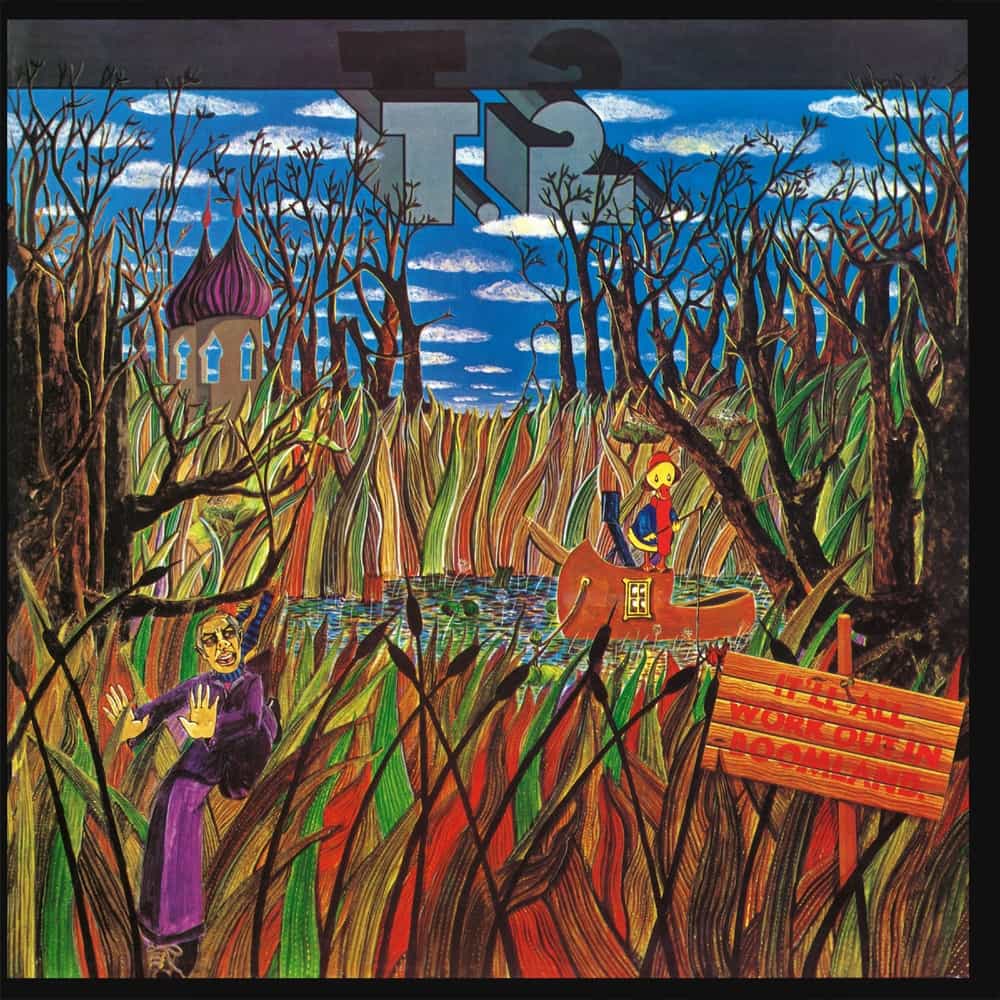 Disc two contains demo recordings intended for a second Decca album which sadly was not to be, nor was a planned tour of the US as guitarist Cross left the band, later citing several reasons for his exit. "T2 was a group effort and I wasn't being given the chance to develop the more lyrical side of my writing. The volume at which the band played, along with the flashing light shows were beginning to affect my health". Regardless, the seven tunes recorded for the aborted sophomore LP, recorded in 1970, are further evidence of the talent and versatility of the band. 'Highway' is a hot rocking number with a heavy riff with Cross' insistent guitar and soaring solos complementing the song's lovely melody and Dunton's gorgeous vocals. 'Careful Sam' begins gently with Cross' guitar and Dunton's vocals before the tempo changes mid-tune as the group turns up the heat, hitting stride with Cross soloing the song out. 'Timothy Monday' features a steady groove by Jinks and Dunton with a string bending solo by Cross bringing the tune to a close. 'C.D.' has a delicate intro leading to a heavy riff with Jinks and Dunton again locked in. Cross solos before a tempo change slows the tune nicely with Cross' swirling guitar still to the fore before the band roars back for the final minute. 'The Minstrel' features a delicate melody, its flute intro having strings added for atmosphere. Harmony vocals add to the restrained feel leading to a flute outro, a true showcase for the band's versatility. 'Fantasy' is an eight minute piece with heavy guitar intro, the band sizzling with Dunton and Jinks in a heavy groove before a tempo change slows the tune to Dunton's drums and Cross' acoustic guitar. Dunton and Jinks shift to a jazzy tempo before Cross guitar comes back snarling, the group returning to the jazzy groove with delicate, ethereal vocals by Dunton, with Cross finally firing up and soloing over the top to play the song out. The disc closes with the epic fourteen and a half minute 'T2' which once again shows the versatility of the band with its gentle flute driven intro and features numerous tempo changes and each member having their moment in the spotlight, the band effortlessly moving from gentle Moody Blues style mellotron sound to all out rock with distorted guitar and heavy groove. What a shame this second album was not to see release as it is proof positive of the band's versatility and talent. Dunton was determined to keep the band together despite Cross' departure and the set's final disc contains recordings made in his efforts.
Disc three contains tracks laid down in 1971 and 1972 by Dunton with new guitarist Andrew Bown and bassist John Weir, although one tune, 'The Gambler' features Dunton with Jinks on bass and Will Killeen who served as interim guitarist for a short period in 1971. The nine tracks are fine music, featuring a band in search of a recording contract and contain some excellent music although not quite up to the high standards set by the trio of Dunton, Jinks and Cross. 'And Time' is a melodic hard rocker with commercial appeal featuring fine guitar work by Bown whose second solo plays the tune out. 'Looking Back' is a fine six minute heavy rocker with Bown soloing over the steady groove of Dunton and Weir. 'Questions And Answers' is a six minute melodic hard rocker with a more commercial and less progressive sound. Bown's guitar shines as do Dunton's gorgeous vocals and Weir's heavy fuzz bass. 'Seventy Two' is a short, two minute, track featuring Bown's gentle guitar and Dunton's mellotron. 'The Clown' is gentle and melodic with haunting vocals by Dunton and gorgeous vocal harmonies. Bown's restrained solo adds to the tune's commercial hook. 'The Gambler' is a heavy rocker with the rhythm section of Jinks and Dunton tight as usual. Killeen supplies fine slide guitar including a tasty solo, giving the tune a bluesy. 'Closing Your Eyes' has a flute and mellotron intro, a nod to T2's early sound, and features more haunting vocals by Dunton as well as fine acoustic guitar work by Bown. 'Into The Red' is a folk rock number with acoustic guitar and mellotron joining Dunton's gorgeous vocals. The disc and set close with 'PDQ' with its driving drum intro. Heavy guitar and bass join in the straight ahead rocker before Dunton plays an extended, three and a half minute drums solo complete with tasty percussion, before the band re enters for the final minute. Thus ends the recorded saga of T2 in its original incarnation 1970-1972.
The expanded edition of 'It'll All Work Out In Boomland' comes in a fold out digipak and includes a 16 page full color booklet with complete track listings, album artwork, band and poster photos and an essay by Mark Powell. The recordings have never sounded better thanks to the 24 bit remastering by Ben Wiseman. This set will be of interest to T2 fans as well as fans of progressive rock and 1970's rock in general and comes most highly recommended.
---
T2 – 'It'll All Work Out In Boomland' (Expanded Edition 2021 | Esoteric Recordings)