Yusuf / Cat Stevens – 'Mona Bone Jakon' and 'Tea for the Tillerman' 50th-anniversary boxsets reissues
Ever since the 50th anniversary of 'Sgt. Pepper's Lonely Hearts Club Band' by the Beatles in 2017, record companies have been undertaking massive reissue projects of albums marking golden anniversaries.
---
These sets have been lavish affairs, with beautiful packaging, musical rarities, improved sound, books, memorabilia, insightful and detailed liner notes and in some cases, music presented in many formats, but often with an emphasis on the vinyl format. Two sets that exemplify the best of what can be done with such reissues, are the 50th anniversary releases of two Cat Stevens albums from 1970, 'Mona Bone Jakon' and 'Tea for the Tillerman', part of The Yusuf / Cat Stevens Cat-O-Log Collection. Stevens, in his previous incarnation, released two albums in 1967, 'Matthew and Son' and 'New Masters'.
Born Steven Georgiou in England in 1948, to a Greek father and a Swedish mother, Cat Stevens recorded seven albums after 'Tea for the Tillerman' and then retired in 1978. Then, in 2006, he released 'An Other Cup', his first album under the name of Yusef Islam, the name he goes by these days.
These reissues are of the first two albums he recorded in the 70's that gave birth to his heyday as the quintessential 70's singer-songwriter. Those albums followed his time in the late 60's as a young English teen pop artist, who barely registered in the U.S. His young fame resulted in his not being able to cope with instant stardom and, coupled with serious health problems, resulted in his withdrawing from music for an extended period of time. Eventually he re-emerged as a totally different kind of musical artist.
These are exceptional sets in terms of packaging, the inclusion of previously unreleased music and their presenting, in three different formats, visual material with the aural material.
'Mona Bone Jakon', released in April of 1970, marked his first album on Island in the U.K. after his time on Deram and included the U.K., top-ten hit 'Lady D'Arbanville.' At the time of his 70's incarnation, he was joined by a producer sensitive to his new direction, ex-Yardbirds member Paul Samwell-Smith. The baroque pop that propelled him up the charts was now replaced with a sparse new introspective style which would be a harbinger of the dominance of the singer-songwriter movement on both sides of the Atlantic in the early to mid-70's. The album also ushered in the lush studio sound of 70's music, helped along by more sophisticated recording studios and their equipment and new techniques. After the release of Stevens' next album, the breakthrough 'Tea for the Tillerman', released in November of 1970, three of its songs were given a new life when they appeared in the 1971 cult film 'Harold and Maude' directed by the iconoclastic American film director Hal Ashby.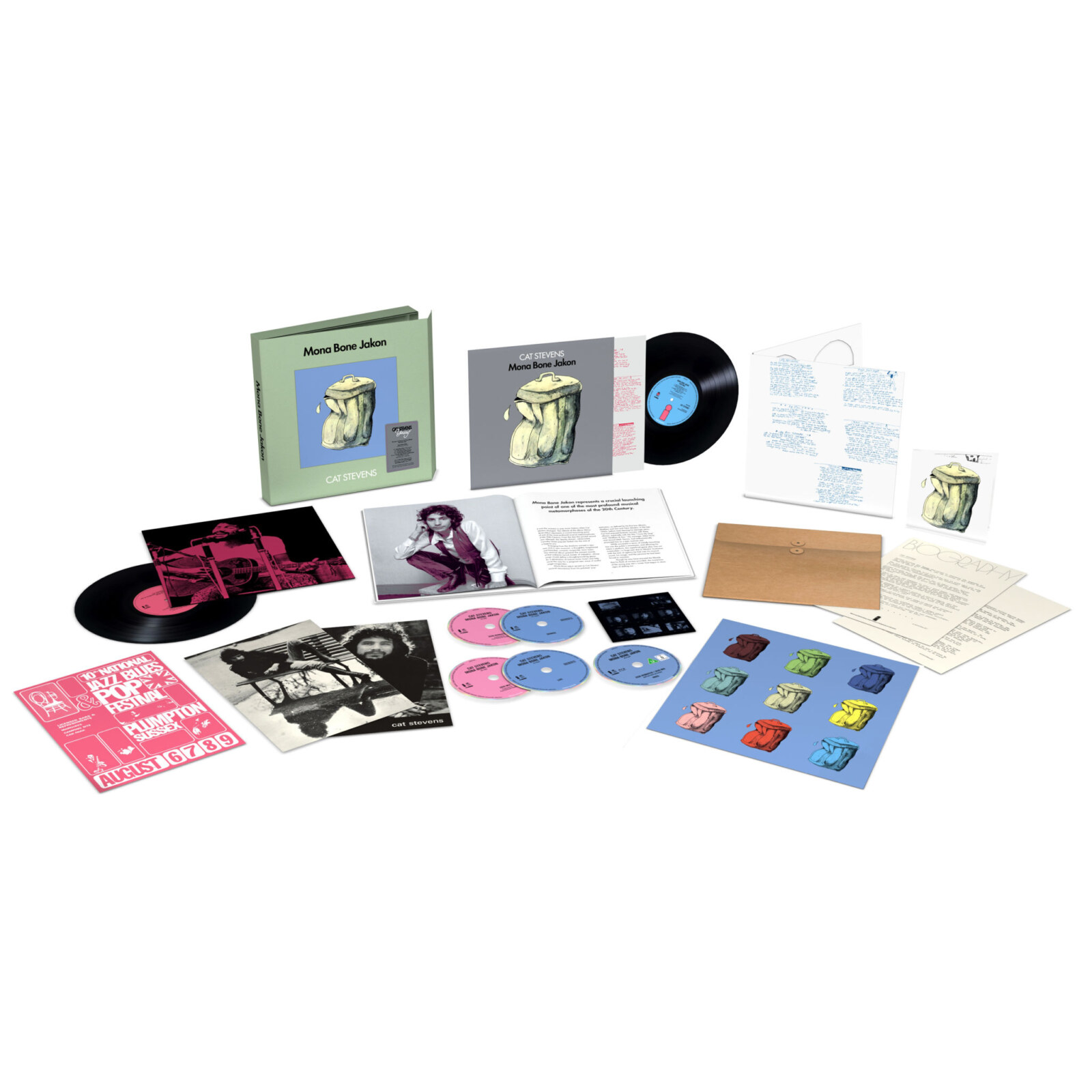 This 'Mona Bone Jakon' reissue, the first time the album has been re-released with additional material, includes 4 CD's, a Blu-ray disc, a vinyl LP and a 12-inch, vinyl EP, along with a 100-page hardcover book, an exclusive print, a press kit, greeting cards, a tour sticker and a concert flyer.
CD one includes a new remastering of the album overseen by Samwell-Smith at Abbey Road studios. CD two is a new mix of the album from the original Island Records multi-track master tapes. CD three includes nine home and studio demos. CD four includes Stevens' entire August 1970 performance from the Plumpton Jazz & Blues Festival and additional live radio performances from the U.K., France and Germany, as well as an audio interview with Stevens. The Plumpton tracks are from an audience tape, and the liner notes sheet on the back of the package makes it clear that the tape source was of very primitive audio quality. The Blu-ray contains a promo video and eight live television performances, as well as the new remaster of the album and the new remix, both in HD audio. There is a 180-gram vinyl album of the new 2020 mix and a 180-gram vinyl, one-sided, 12-inch EP, of the entire Plumpton performance, as well as a photo of the cover shot of Stevens performing at the festival etched on the other side.
The 'Tea for the Tillerman' album was Stevens' breakthrough. Samwell-Smith was back again, but the music here was a bit more produced, with Del Newman's orchestration even more vivid and dramatic than on the previous album. This is the album that established Stevens' career and it has been reissued over the years in many formats.
This reissue is a five-CD, single Blu-ray, two-album package, that includes a 96-page hardcover book, illustrations, a bookmark, a lyric sheet, a sticker and a poster from a December 1970 concert run at the Troubadour in Los Angeles.
CD one includes a new remastering of the album overseen by Samwell Smith at Abbey Road studios. CD two is a new mix of the album from the original multi-track master tapes. The previously released re-recording of the album, which first came out in May of 2020, which was called 'Tea For the Tillerman' 2 appears on CD three. The idea of re-recording such a perfect album seems odd, but it seems like Stevens is trying to pay the album some honor and rediscover his past. While his voice doesn't sound much different from his vocals on the original album, the musical instrumentation is considerably altered on some of the tracks. Overall, there are more keyboard sounds on the reissue than on what was originally a very acoustic guitar-based album. 'Wild World' and 'Longer Boats' are both very different and have a lighter feel. 'Sad Lisa' is more orchestrated and 'Miles From Nowhere' has a mainstream guitar rock approach. While I still prefer the original album's gentle, acoustic, youthful intimacy, this is a nice addition to the box and may open up these songs to a new generation. CD four includes 13 demos, alternate versions and additional tracks from 1970, including 'Honey Man,' which features a duet with Elton John and from the film 'Deep End', Polish director's Jerzy Skolimowskia most acclaimed film, a different version of 'But I Might Die Tonight.' CD five includes 20 live performances, including seven from the December 1970 Troubadour shows and one from the Fillmore East as well as live broadcasts from the U.S., U.K., France and Germany.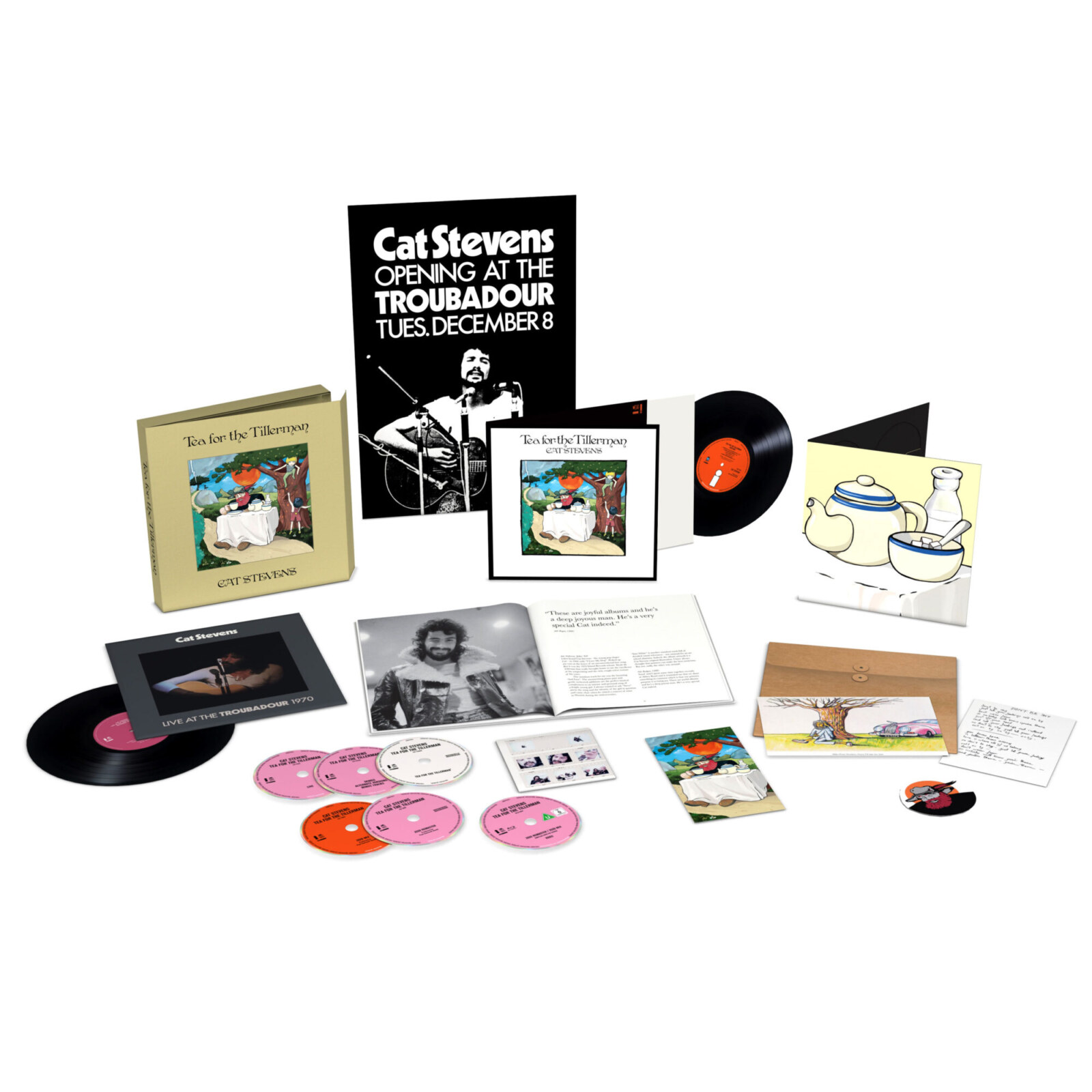 The Blu-ray contains the 'Father and Son' promo video, a new promo video for 'Where Do the Children Play,' 14 live TV and studio performances and the new 2020 remaster and remix in HD audio.
There is a 180-gram vinyl album of the newly mixed Island Records multi-track tapes and a 180-gram vinyl 12-inch EP, that includes the seven Live at the Troubadour performances from December of 1970. These performances were taken from six shows that occurred between December 8th and 13th. There are at least four other known songs performed during that engagement. One was 'Moonshadow,' which was on Stevens' next album 'Teaser' and the 'Firecat', the live version of which were previously released on a CD reissue of 'Teaser' and the 'Firecat'. The other songs performed were 'Maybe You're Right,' 'Lady D'Arbanville' and 'Katmandu,' which all appeared in their original studio versions on 'Mona Bone Jakon'.
This album was a huge success for Stevens and included the hit song 'Wild World,' which just missed the top ten in the U.S.
On both albums, Stevens was backed by guitarist Alun Davies, bassist John Ryan and drummer Harvey Burns.
There was a lot of care put into these sets. The liner notes are well researched, there are lots of period photos and clippings reproduced and the sturdy, beautifully crafted linen-covered boxes are gorgeous. Purists may wonder why slightly altered covers were implemented for the main vinyl albums. Also, other than for one of the vinyl discs and not for either of the original albums, the iconic pink Island label of the period was not used. These are minor quibbles about two reissues that are more like art objects than mere music reissues. Much of the artwork in these boxes, including the two album cover paintings, was done by Stevens.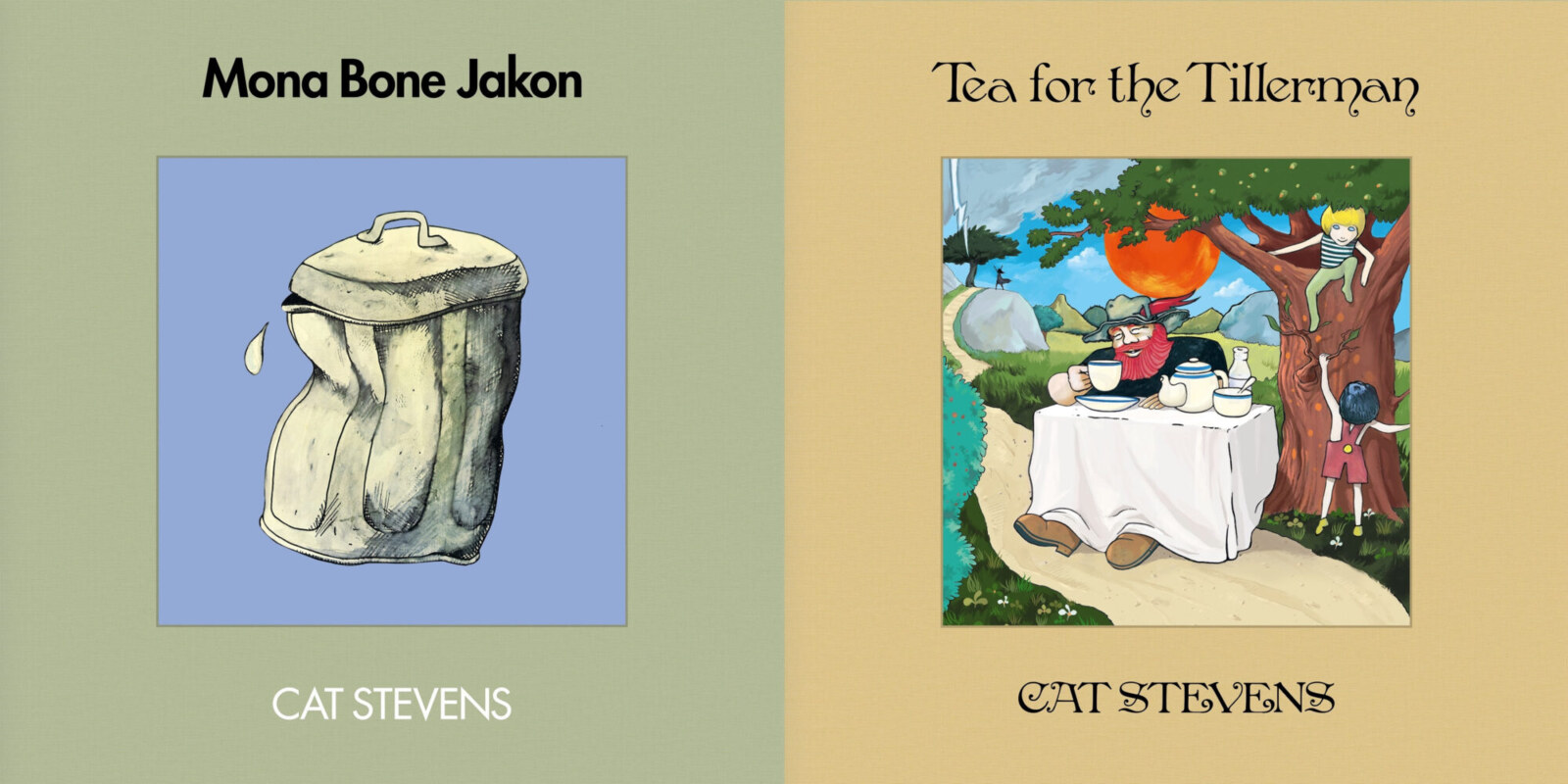 Both sets are quite pricey, with the lowest current price online just north of $150. Although worth the money, there are single CD, two-CD and single-vinyl album versions of these two new reissues available at very affordable prices which are nice options for those who can't quite swing it this time around.
Hopefully this series will continue, with Stevens' next album, 'Teaser' and the 'Firecat', which was equally as iconic and even more popular than 'Tea for the Tillerman', hopefully coming out in the same kind of lavish format.
Steve Matteo
---
Yusuf / Cat Stevens – 'Mona Bone Jakon' and 'Tea for the Tillerman' 50th-anniversary boxsets reissues [order The 50th Anniversary Box Sets here]