Paar Linien | Interview | Exclusive Premiere of 'La Danse de Tristan'
French band Paar Linien is releasing today the single 'La Danse de Tristan' to announce the release of their upcoming self-titled album via Discobole Records on April 2, 2021.
---
Paar Linien, which one can translate from German by "a few lines", reflects Nicolas Stephan's attempt to make autonomous, sometimes contradictory musical "lines" cohabit within the same piece. It aims to keep the tension resulting from these contradictions in order to give birth to poetry, "polymusic", "polyrhythm", "poly-tonality", and original music that is as popular as it is skillful. From today, you can preorder the album in CD and Digital formats.
The group was born from the meeting within Surnatural Orchestra of Nicolas Stephan with Basile Naudet, and from their desire to create their own musical world which would be the reflection of their respective worlds. An open musical space where aesthetics would make no sense. A place where freedom to play would be total, and the constraints renewed.
"Multiplicity of narratives within a single piece"
Interview with Nicolas Stephan
What would be the initial idea behind the Paar Linien project? How did you meet?
Nicolas Stephan: For some time I had been lacking a real band, one small ensemble, a crew of musicians, a square. From which to extract all the possible sound geometries. I had in mind for a long time this idea for a specific musical grammar, based on the horizontal exploration of melodies that could be in contradiction with each other. It was something quite abstract in my head, and it took the conjunction of two things as a trigger, to bring it to life. First a jogging session in the docks of the port of Le Havre, where I live, during which I was listening back the music of the band June of 44, of the nineties. The sounds of the bass and drums hit me as a proof of life in a middle of the ruins. A realistic and raw singing which struck me and gave me the desire to get out of my more acoustic habits, in terms of groove. I needed and electric bass and a drums. And then the meeting within the Surnatural Orchestra with Basile Naudet, saxophonist and guitarist. He amazed me with his ability to improvise and to remain himself, even within complex and tortured musical concepts. Two saxophones, like a distorting mirror. So we decided together to form a group, with Louis Freres on bass and Augustin Bette on drums, already Basile Naudet's playing partner, within the 2035 collective in Paris.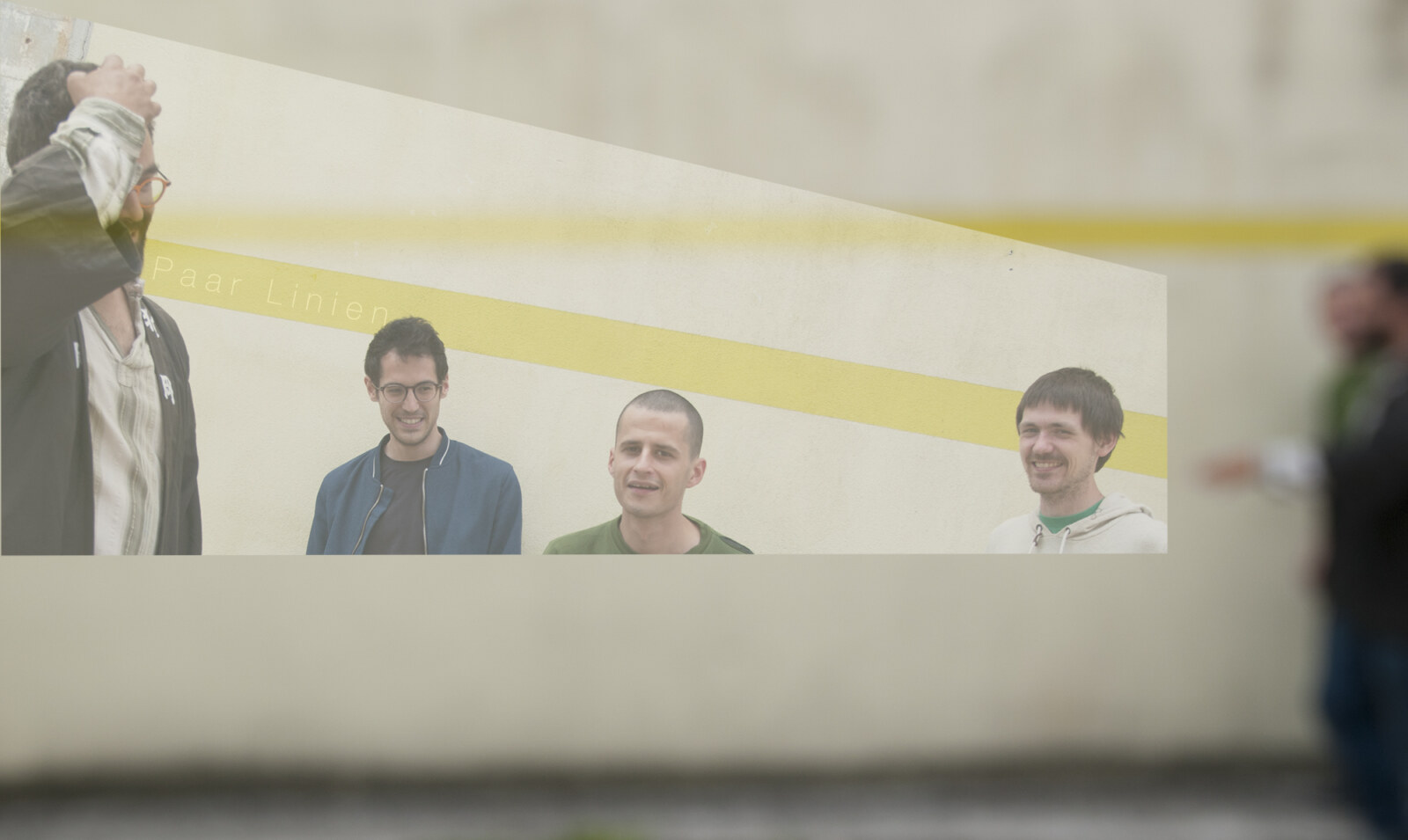 Would you like to share a few words about the Surnatural Orchestra?
It is an 18-member orchestra that has been active for 20 years and that works in a horizontal way. There is no conductor, things are thought collectively, and the group's projects are numerous. We do concerts, shows with circus companies (like Inextremiste), movie-concerts, we organise festivals in Paris where the music intersects with conferences or discussions of a political nature. Over the last 20 years, several other small groups have been formed after meeting musicians within the orchestra. And there, I've developed a pretty good taste for collective work. We've just released a new record, 'Tall man was here'.
Would you like to expand and reflect on the concept behind "a few lines"? As I understand you attempted to make autonomous, sometimes contradictory musical "lines" cohabit within the same piece?
Yes, Paar Linien, "a few lines", "quelques lignes" describes this idea of a multiplicity of narratives within a single piece. It is about creating musical lines that are overlapping without following the same rules (harmonic or metrical), as is usually the case. What connects them together is rather sensitive. Picture two people talking at the same time about two different subjects without appearing to be listening to each other. For the listener, a chaos is formed from which emerges a third discourse, wider and also more poetic. This is what happens in our music. At least in the 5 pieces that are precisely called "lines". On the other hand, we also make pieces that are more traditionally composed, with a common dramaturgy for all the musicians, and a chronological development, like songs. I love songs. A song is not necessarily sing, and can be improvised.
"The permanent quest."
How would you describe your sound?
The sound of the band is obviously the thing we pay the most attention to. The permanent quest. The place where the band becomes more than just the sum of its musicians. My first instinct was to make an old-fashioned rock band, with a fat and wide sound, playing semi improvised music, rather influenced by Henry Threadgill's Chicagoan jazz. Sound issues are always intimately linked to the music we play, and the places where we are used to play. We are an acoustic quartet (apart from the guitar and bass amps) who like to play without microphones, close to the audience. The timbres of the saxophones, the warm envelope of the bass, and the pulsation of the drums like a slap gently addressed. This rather simple conception of the group's sound grows in the writing where I always try to "create" instruments in their own right, coming from the timbres association of some of them while playing a "line" and then becoming something else to play another one. Sometimes I also sing, unpretentiously, to slightly broaden the sound spectrum and add a layer of meaning to our inventions.
Your debut album is coming out via Discobole Record on April 2, 2021. Can you share some further details how your latest album was recorded?
The group was in a good dynamic before the 1st lockdown in France, this past March, and we found ourselves at a complete standstill, like the rest of the world, and in particular as everything doesn't seem to participate enough in the world economy. We then had to find ways to see each other and to play, despite everything, among ourselves. We then decided to call Benoit Gilg, a friend and a sound engineer, to come and record what would happen during one of these sessions. Very quickly, during these days of work, we realised that we were in the process of making an album. It came about quite naturally. Helped in this by the quality of Benoit's work, and by our common desire to give birth to something. This record is in a way our birth certificate, in the end quite unexpected. Then, it is the fruit of a very collective work, with Benoit, but also with Pierre Alexandre Tremblay, who mastered the record in England (and with whom I play in another band). Stephka Klaura, Austrian artist who had already made the cover for my band Unklar (with Antonin Rayon, Fanny Ménégoz and Benoit Joblot) made the artwork of the cover from a photograph by Julie Blackmon, whom I must thank in passing for the use of her very beautiful and intriguing image. The choice of the picture was an obvious choice for me as it reflects our idea of "lines", with crossings of glances and characters walking in different directions, while clearly being in the same world.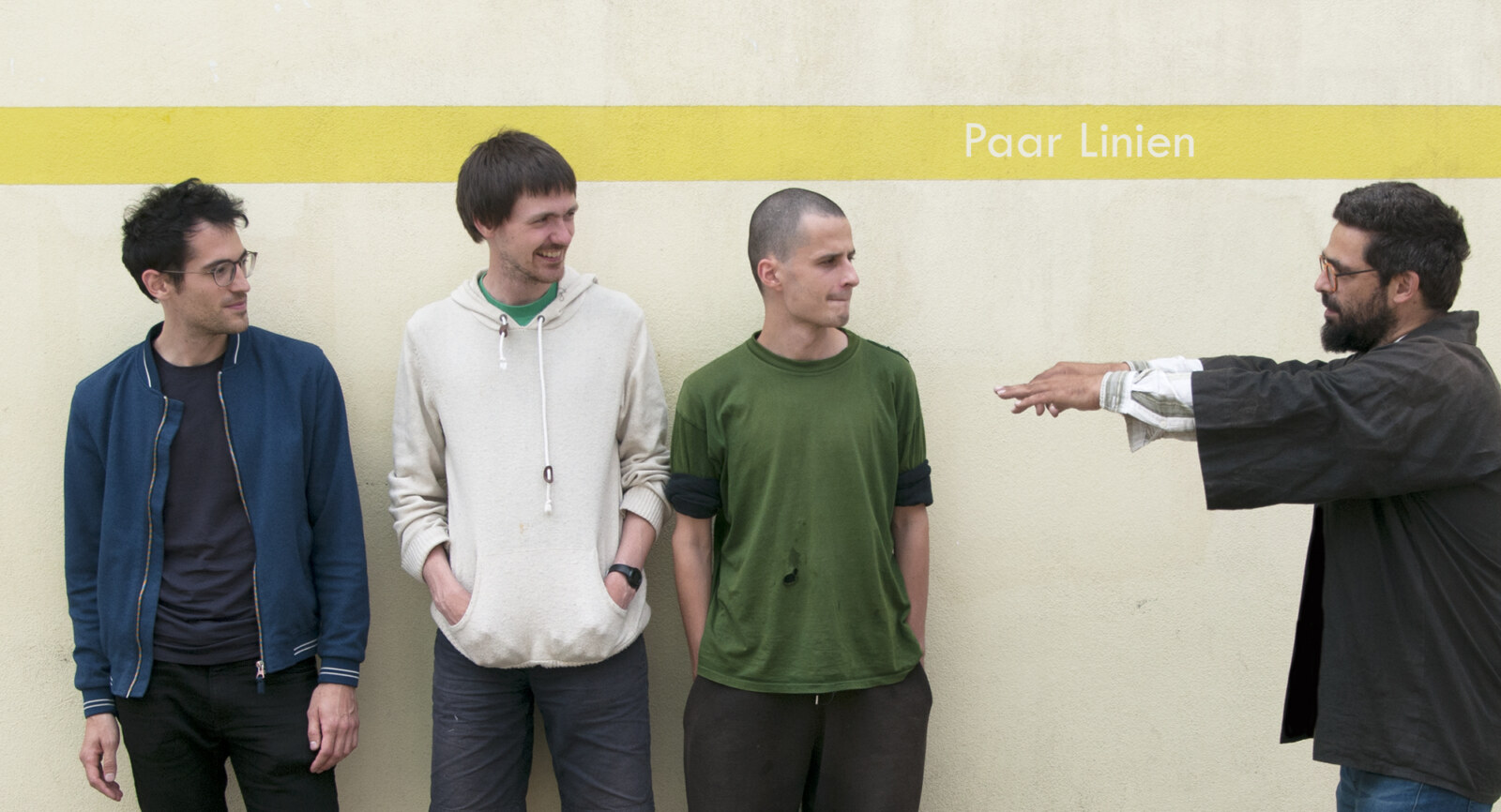 Does your music reflect the current world situation?
I think music always reflects the world in which it is created, without necessarily being an initial will. We put what we are, and the state we are in, into our music. So yes, there is rage, a will not to bend, but also a need to tell, to create with our tools, a narrative which is part of what we want to do with the world, and what it does with us. A burning desire for joy, dance, and change. However, our political fights, our means of action, are more in the choices we make regarding the conditions in which we play than in our music itself. Choosing to play everywhere (or at least trying) more than in the cultural enclosures where people from the same social level, the same gender, and the same skin colour often meet. Music is a unique source of openness. The world is a strange place, which makes us breathable, porous. Music can at least help to understand the astonishing interconnection between living beings. In a way, we are all musicians trying to play together. And these days, this music is quite scary… And would require some drastic adjustments.
How do you usually approach music making? How important is improvisation for you?
I always try to be both a composer, to have the widest possible view of the music being played, and a saxophonist, to enjoy performing, interacting and improvising. It's more a question of tools than musical style. Both improvisation and composition can be self-sufficient. And both can tell something or not tell anything at all. But it doesn't reflect the same thing depending on the tools used. The joy of playing, of improvising, often creates a more intense connection between the audience and the musicians. And of course, the multiplicity of possibilities offered by composition makes possible the use of a more varied and deeper language.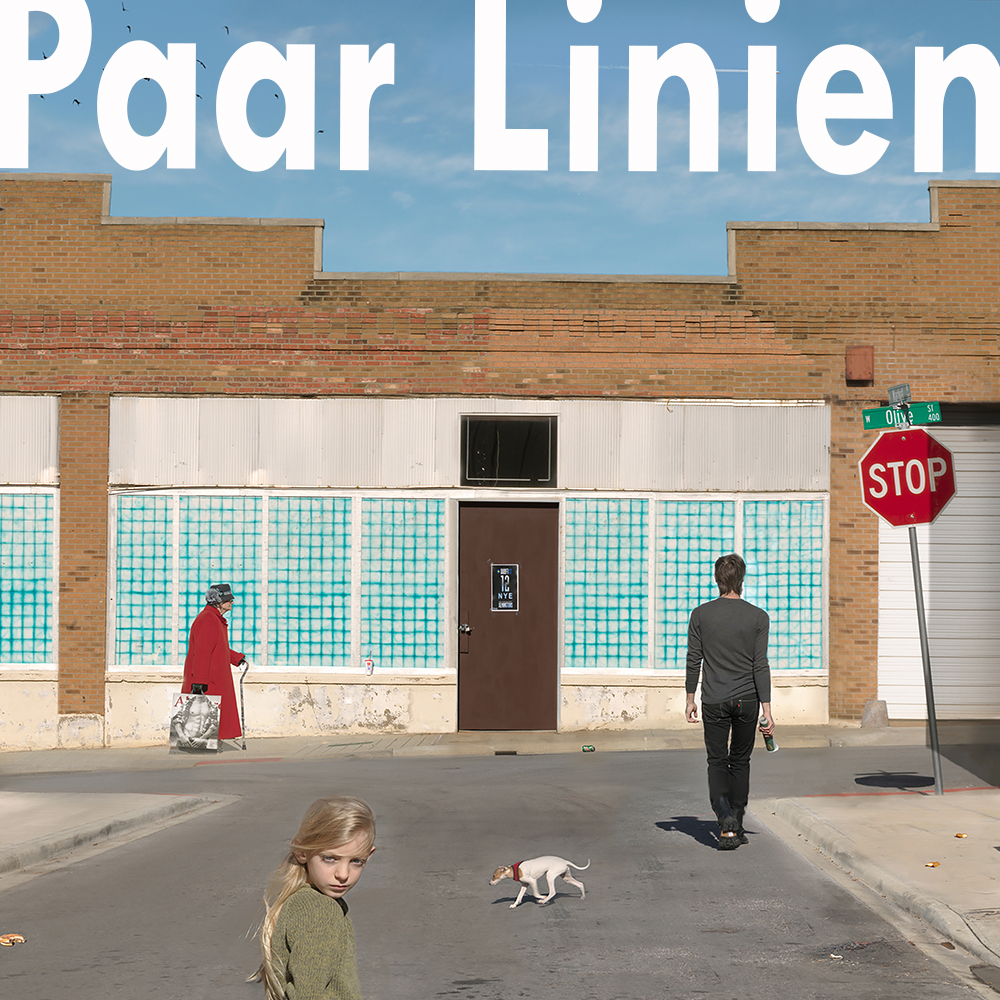 What we try to do with Paar Linien is to create a common language. A grammar that is specific to the four of us, which we can "play" with. This leads me, for example, to write pools of pieces we can use for improvisation. That's what we do on the "lines". Each musician is free to play any part of any of these pieces (or lines…) at any time. He can also play something else, or not play at all. Whatever happens, the music produced in this particular way is therefore the fruit of a common improvisational language, which comes from a process of writing.
Are any of you involved in any other bands or do you have any active side-projects going on at this point?
We all have several bands, and like to multiply experiences and sound attempts. But we prefer to work on a long-term basis rather than simply play ephemeral music for the duration of a tour. Augustin Bette and Basile Naudet have a sumptuous trio with Lucas Ventimiglia (vibraphone) called Where is Mr R?!. They are also performing together in the group Club Sieste which is a large version of it. This is repetitive free jazz. Louis Freres plays in the Rêve d'éléphant Orchestra in Belgium. And on my side, besides Surnatural Orchestra whom we spoke about earlier, I'm part of a trio bringing together Pierre Alexandre Tremblay (bass and computer) and Sébastien Brun (drums and computer) which is called Ars Circa Musicae. Our new album is coming soon.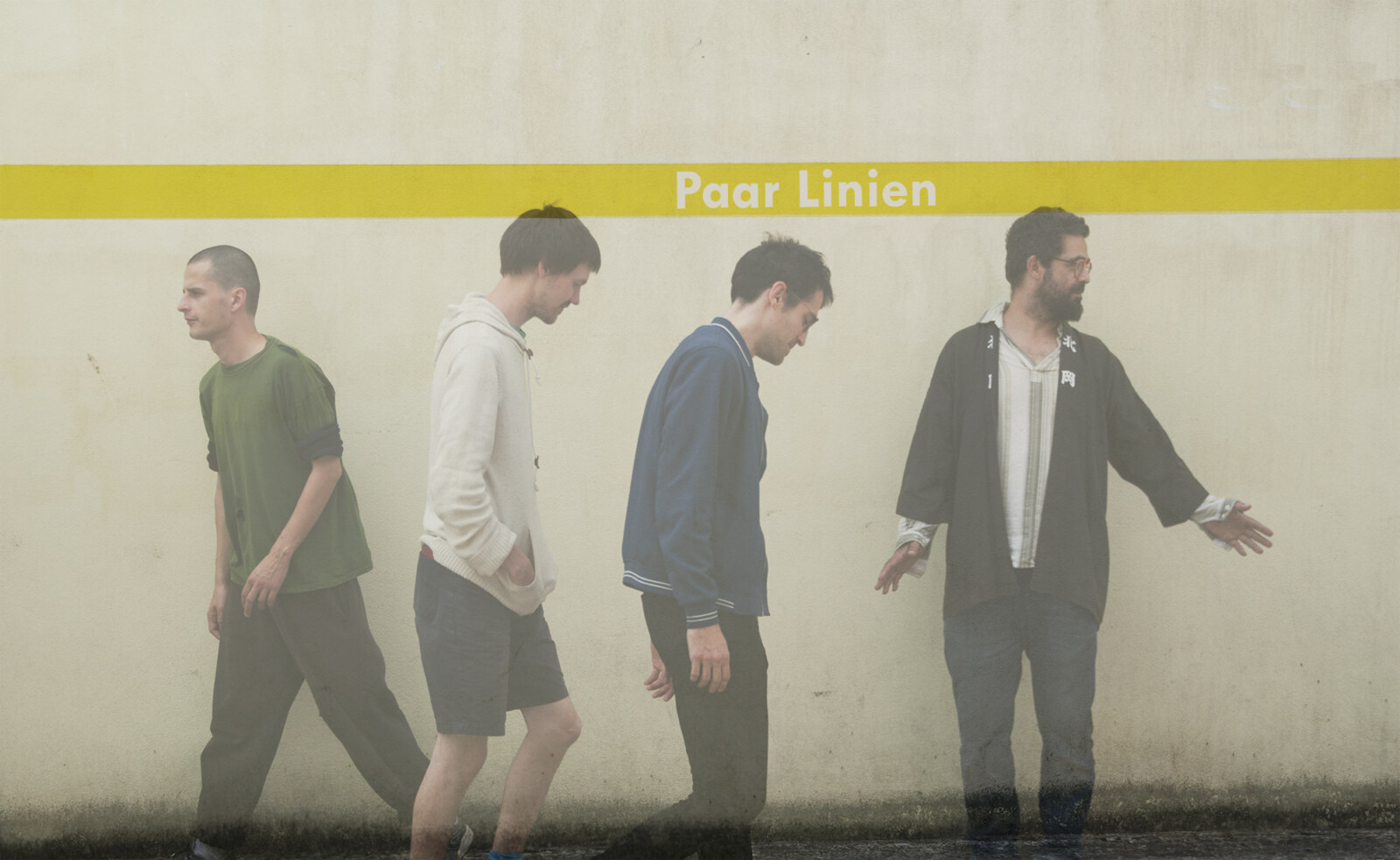 I am also in Stéphane Hoareau's band Grand Sorcier who plays music influenced by Reunionese maloya and free jazz, and in bass player Théo Girard's band Pensées Rotatives (with English drummer Seb Rochford), both on Discobole Records, in a few months. More hybrid things, I've wrote a novel (in French) in 2017, called "De la violence dans les détails" (violence is in details) and I'm currently putting together a show about photography with French actor Marc Sollogoub. Nicolas Stephan
Klemen Breznikar
---
Nicolas Stephan Official Website
Discobole Records Official Website / Facebook / YouTube / Bandcamp