Stone Machine Electric – 'The Inexplicable Vibrations of Frequencies Within the Cosmic Netherworld' (2020)
Before we dig into Stone Machine Electric's new album, 'The Inexplicable Vibrations of Frequencies Within the Cosmic Netherworld', I highly recommend packing a bowl of your best bud, because the psychedelic nature of these songs is the perfect compliment to a night of hazy relaxation.
---
Ok, know that we're all feeling that euphoric enhancement, let's talk about this duo of Texan musicians. Stone Machine Electric has dubbed their particular brand of music "doom jazz", with its immense jams that leave an airy space, and also fill up that space perfectly. The mix of psych, stoner, doom, jazz, and more, makes for great headphone listening as well as on whatever system you may use.
I would like to begin with what the guys in the band were kind enough to share with us, so the following is directly from Dubs and Kitchens …
"This album is a bit different than the previous one. All the tracks are improvised, so what you hear is what came out at that moment. There's always something to be pulled out of the air. 'Free Thought' was recorded at a show in Lafayette, LA at the Freetown Boom Boom Room. It is always a fun place to play with great folks who always ask us to come back. We typically record our sets at shows with a camera, and 'Free Thought' is just one of the many times we use the space in between songs to create something new for that show. That keeps our live show a bit different each time we play."
Opening up an album with a 20 minute jam may seem odd to those who listen to more mainstream artists, but for those of us in the know, it's the best way to get pulled into the music; 'The Inexplicable Vibrations of Frequencies Within the Cosmic Netherworld' opens up in exactly that fashion.
'Journey on the Nile' is just that, a journey into the psychedelic world that Stone Machine Electric has created for us. Employing a myriad of sounds, textures, and tones, this track is definitely going to pull you into it. I really felt the spacey sounds, and trance-like qualities this one has, not to mention those heavy riffs that get thrown in there. There's some slow groove to those riffs, which then transition back into mellower sounds quite nicely.
Up next is the 15+ minute, 'At Crystal Lake', and I imagined Jason Voorhees before I even heard a note of this song; although I'm not sure if that was the intended response. One of the things that stood out as the song got going was the use of delay and other assorted effects; when used correctly, delay is one of my favorite effects. There is also great guitar playing, imaginative song writing, and solid drumming to hold everything together perfectly.
It's very difficult for me to pick a favorite between these first two songs, but I'd have to go with 'Journey on the Nile' by a very slim margin; I just connected with that one on a deeper level, but they're both amazing songs. There's only one tune left to talk about, so let's move on to that, shall we?
Closing out the record is 'Free Thought', which, even at 9 minute, is the shortest one on this album. Shorter doesn't mean less quality, in fact, this track is equal to the proceeding tracks presented on this album.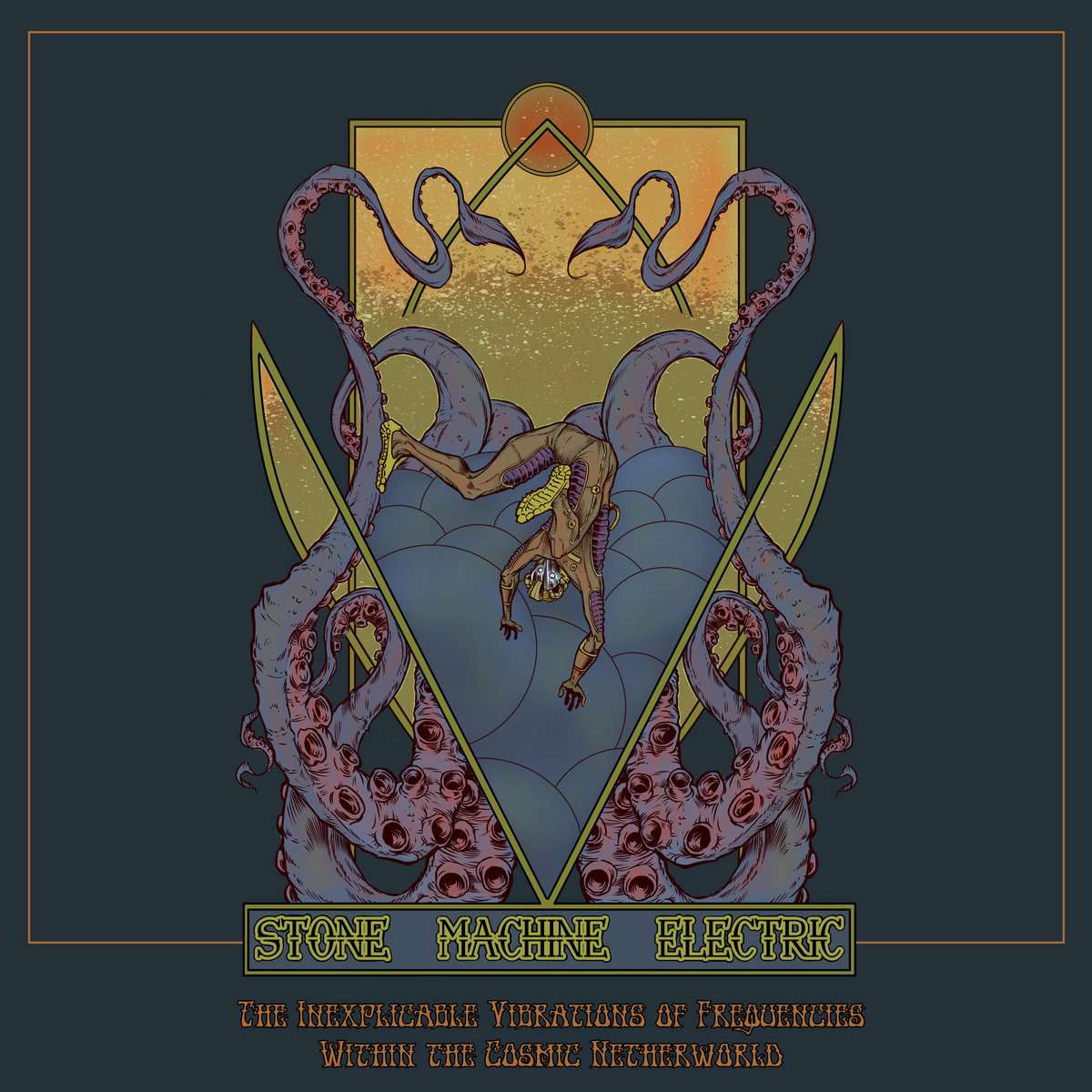 I detected a Stevie Ray Vaughn guitar tone in the beginning, during the clean section, which I immediately latched onto; Stevie is my all time favorite guitarist, and a native Texan himself. Once the heavier riff kicked in, so did the intensity; as they transitioned out of it I heard that SRV influence in the guitar playing for just a few seconds.
Stone Machine Electric's 'The Inexplicable Vibrations of Frequencies Within the Cosmic Netherworld' will be released by Desert Records on December 4th, which means you still have time to get your pre-orders in beforehand, and I highly suggest that you do so. Enjoy!!
Tom Hanno
---
Stone Machine Electric – 'The Inexplicable Vibrations of Frequencies Within the Cosmic Netherworld' (Desert Records on December 4th 2020)