Sergey Letov | Interview
Sergey Letov is a Russian free jazz musician and composer. He is the founder of the recording label Pentagram. He has collaborated with numerous jazz, avant-garde, modern classical, rock and electronic music artists, including his younger brother Yegor Letov, composer Sergey Kuryokhin, and cult Soviet art punk band DK. Letov has written music for movies and plays, collaborating with Russian, Italian and Austrian theatres, the German non-profit cultural association Goethe-Institut, and the Moscow Institute of Journalism and Literature.
---
"Music of Tri-O is a postmodern mix of minimalism, fake jazz, imitation of classical music and free improvisation."
At what age did you begin playing music and what were the first instruments that you played? What were your first musical involvements?
Sergey Letov: I started to learn piano at six – in 1963. My father was Red Army officer, so I went to House of Officer in Omsk, Western Siberia. House of Officer was situated near ancient fortress where Dostoyevsky was imprisoned in 19th century. I studied classical piano for about five or six years in musical school. Much later– in 1979, when I was the student of Moscow Institute of Fine Chemical Technology, I tried to play tenor sax, self-taught. I bought my first saxophone in 1980. It was used Weltklang alto made in DDR. Later I tried cornet, violin, oboe, French horn, but at last I choose saxophones/bass clarinet/flutes.
Soon I met the pupils of mysterious and obscure Viktor Lukin, the legendary father of improvisatory scene in Moscow. Lukin emigrated to the USA before I started to play sax. His students were Boris Labkovsky (saxophone), Mikhail Shprints (percussion) and some others. He performed with them in Moscow Studio of Improvisation some kind of scandalous punk jazz – free jazz – conceptual performance or happenings. Also I know that he made original self-made wind instruments. I have seen it and tried to imitate. I went to this Studio of Music Improvisation and got the baritone and soprano saxophone (DDR production) gratis, for free – for several years.
"I can't say that experiments were forbidden, but there were almost no opportunities to play or listen free jazz."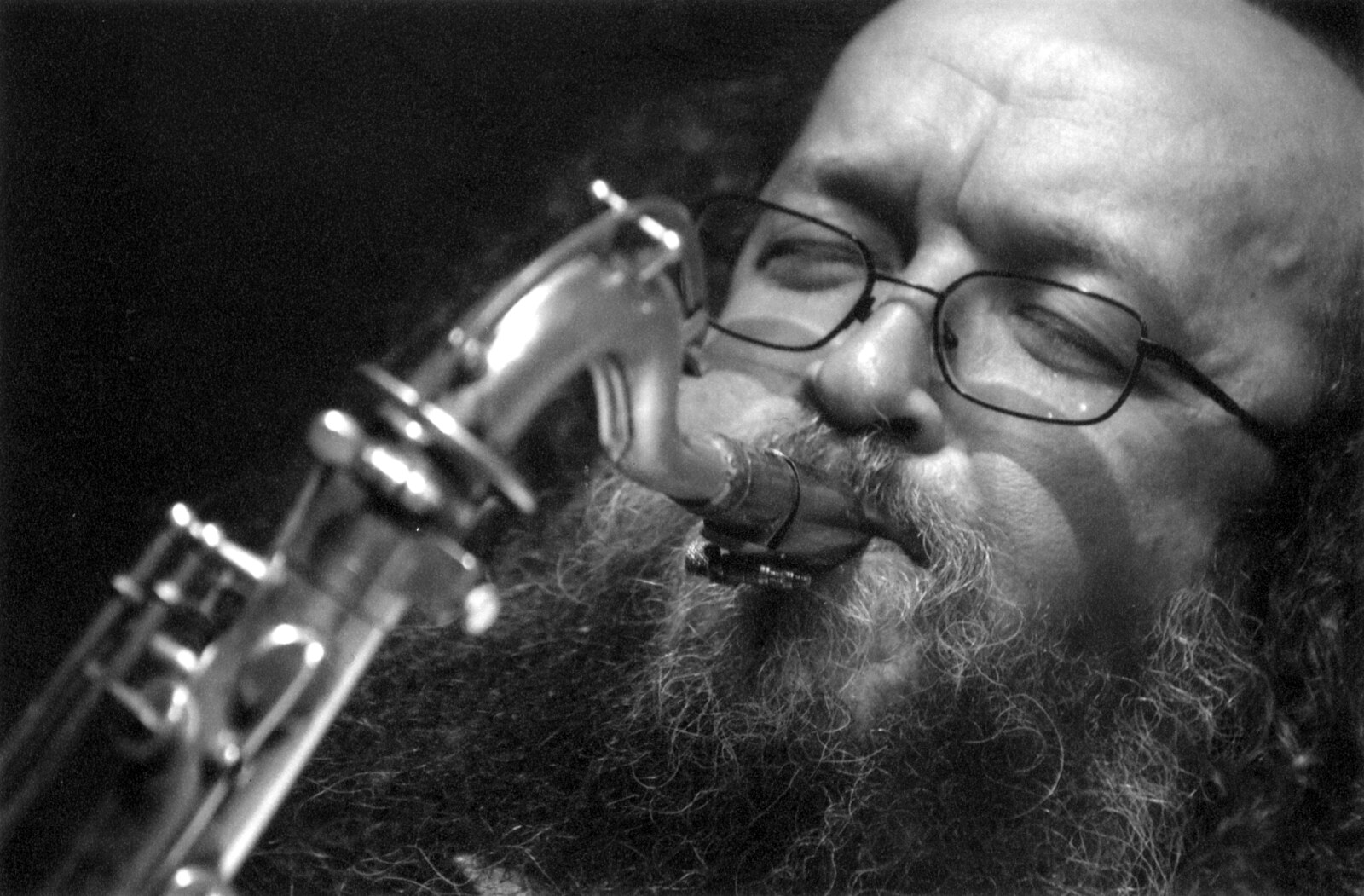 Would you be able to describe, in a few sentences, how was it to be a jazz musician in your country back then?
Jazz was music partly supported by state in the Soviet Union. Especially Komsomol – Youth subdivision of Communist Party – was responsible for Jazz Festivals. But it was only traditional jazz – like Dixieland, big Swinging Orchestra or Bop. I can't say that experiments were forbidden, but there weren't any opportunities to play or listen to free jazz. There were few exceptions; Ganelin Trio from Vilnius since the 70s and group Arkhangelsk since the 80s. Ganelin Trio works through Lithuanian philharmonic. Soviet Baltic Republics had much more freedom than any others in Soviet Union. So it was some kind of propaganda to show how much freedom and tolerance we had in the USSR. All the members of Ganelin Trio were not Lithuanians. Ganelin was Jew born near Moscow, other members were from Ural and North of Russia. Ganelin Trio had enormous popularity in Moscow and Leningrad. People rate Trio's music as something out of official ideology, something 'almost forbidden', new… Ganelin Trio performed in Moscow in eighties in big halls, but distant and obscure – mostly at Society of Blind and Studio of Musical Improvisation.
When did you first get in touch with jazz music and what particularly you enjoyed in free jazz?
I started to listen to Polish Radio and 'Voice of America' (Willis Conover). Later – also BBC Russian Service (Leo Feigin). Also I bought all the jazz LPs available in Soviet Union. Mostly Soviet, Polish, Czechoslovakian, Hungarian, East German, Bulgarian and Cuban jazz LPs. Western LPs were much more expensive, but I had dozen.
What is 'free jazz' in your opinion? How would you define it?
Free jazz is improvisational music based on Afro-American feeling of rhythm and energy.
Would you like to comment on your sax technique? Give us some insights on developing your technique.
I started to use slap tongue and multiphonics actively in 1980s. Mostly I use these elements on baritone saxophone. Also I use 'muting' the bell of sax with my knee. High overtones – on tenor and baritone sax.
Who would you cite as the biggest influence in your playing?
Luc Houtcamp, Evan Parker, Ned Rothenberg.
You originally studied physics and mathematics at a boarding school in Novosibirsk, before moving to Moscow, where you studied chemistry and aviation materials, which would later lead to working, among other things, on the heat-resistant coatings of the Soviet "Buran shuttle". Did studying physics have any impact on who you became as a musician?
Not much! But working in space industry made me more disciplined.
"In Soviet Union it was not allowed to perform in concert music of nobody, but members of Composers Union"
Your first public performance was in April 1982, with Mark Pekarsky's percussion ensemble. How was it to be on stage for the very first time?
I met drummer Mikhail Zhukov, who played in percussion ensemble lead by Mark Pekarsky. Ensemble performed mostly music by Western composers such as John Cage, Alan Hovhaness and contemporary Soviet composers Raskatov and Yekimovsky. Mikhail Zhukov had composed the improvisatory 3-part piece for percussion ensemble with supposed free improvisation of baritone sax in the third part. In Soviet Union it was not allowed to perform in concert music of nobody else, but members of Composers Union. So we should play it as a bonus in the end of the concert. Sofia Gubaidullina was in the audience. She was interested and invited me to improvise in her apartment later. This first concert was in April, 1980.
Of course I was extremely nervous. My wife said she was afraid I could fall from the stage, my knees trembled…
Your younger brother Yegor went to live with you in Moscow after graduating from school. He was quite active in the musical underground. You record some material together. What do you recall from it and may I ask what was your relationship at the time?
In the beginning of his musical career Yegor dreamed about playing soprano saxophone. We planned Letov Brothers Band. But he changed his mind and started to study percussion with teacher Mikhail Zhukov. We played in quartet with Mikhail' brother who played saxophone, or in quintet – with cello player in 1982-1983. After Yegor was fired from Moscow construction vocational school he returned to home town Omsk and started to play punk. I collaborated with Moscow underground band DK, who had a big impact on Yegor's band Grazhdanskaya Oborona (Civil Defense). Of course we sent magnetic tapes to each other…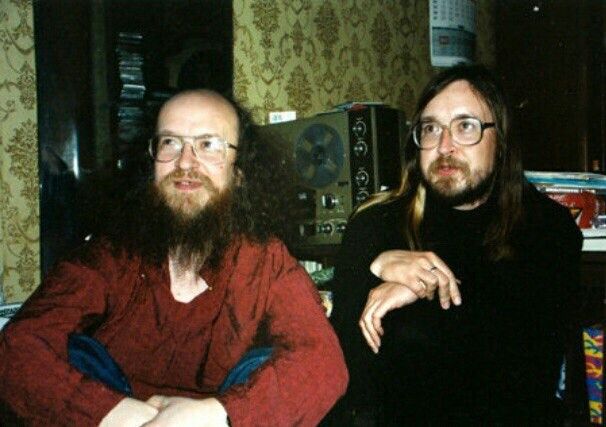 After death of Sergey Kuryokhin in 1996 I had idea to make a project similar to his Pop Mechanics but based on modern electronic music. I would like to invite Yegor just to read his poems in it. Instead of this, he asked me to participate in his group. So I played mostly in Moscow and Petersburg concerts with his group from 1998-2004. Sometimes we played in duo – only his songs. We planned to make another project – based on Russian poets Oberiu (Russian poets in 1920-1930s) with Leonid Fyodorov and Leonid Soibelman, but that never happened…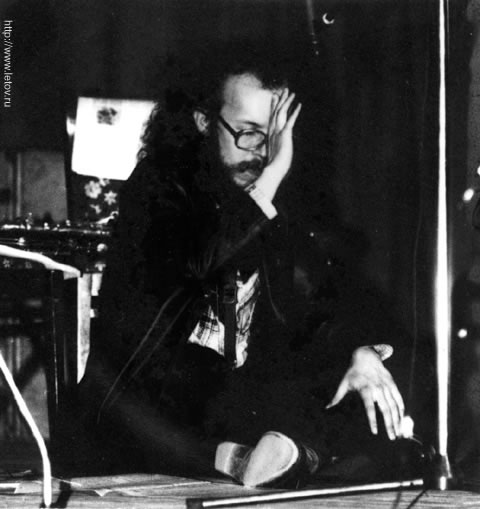 You also worked for about ten years with Sergey Kuryokhin. 
I met Kuryokhin in Leningrad in Autumn of 1982. We started to play together in Duo, recorded LP/CD in Soviet Union. The first journey to the West in 1988 – also we gigged in Finland. Kuryokhin invited me to play with him for his band Crazy Music Orchestra, later – Pop Mechanics. Sergey was my main partner in music.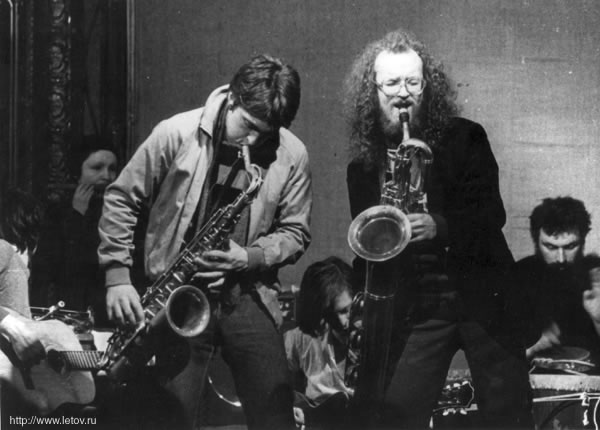 At the same time you also played with many bands like Aquarium, Tsentr, Alisa, Atonal Syndrome and others. How was it to collaborate with DDT? What do you recall from playing with these bands? Any special memories you would like to share?
Rock music in USSR was not only music. It was not an entertainment, but struggle for freedom. So rock musicians asked me to play with them, because they heard that I play free improvisation. I never felt as a member of any group, except with the Moscow underground band DK. Once in 1985 musicians from Ufa came to Moscow to record an album. It was DDT – underground band from Ufa. They asked 'DK' for some help. DK gave them sound engineer with Japanese reel-to-reel tape recorder and I gave them saxophone. We recorded tape album 'Vremya' (The Time). Later Youry Shevchuk, vocalist of DDT, decided to move to Leningrad and Vladimir Sigachyov, keyboard player of DDT moved to Moscow. So they started to form new DDT in Leningrad and asked me to help in their concerts in Leningrad Rock club. We starred in a movie together but later split because I can't tour with Sakhalin and Kamchatka in DDT.
In 2014 I made an arrangement of Youry Shevchuk's music for Taganka Theatre in Moscow – the performance 'Tagansky front'. DDT played on stage at the premiere for this performance.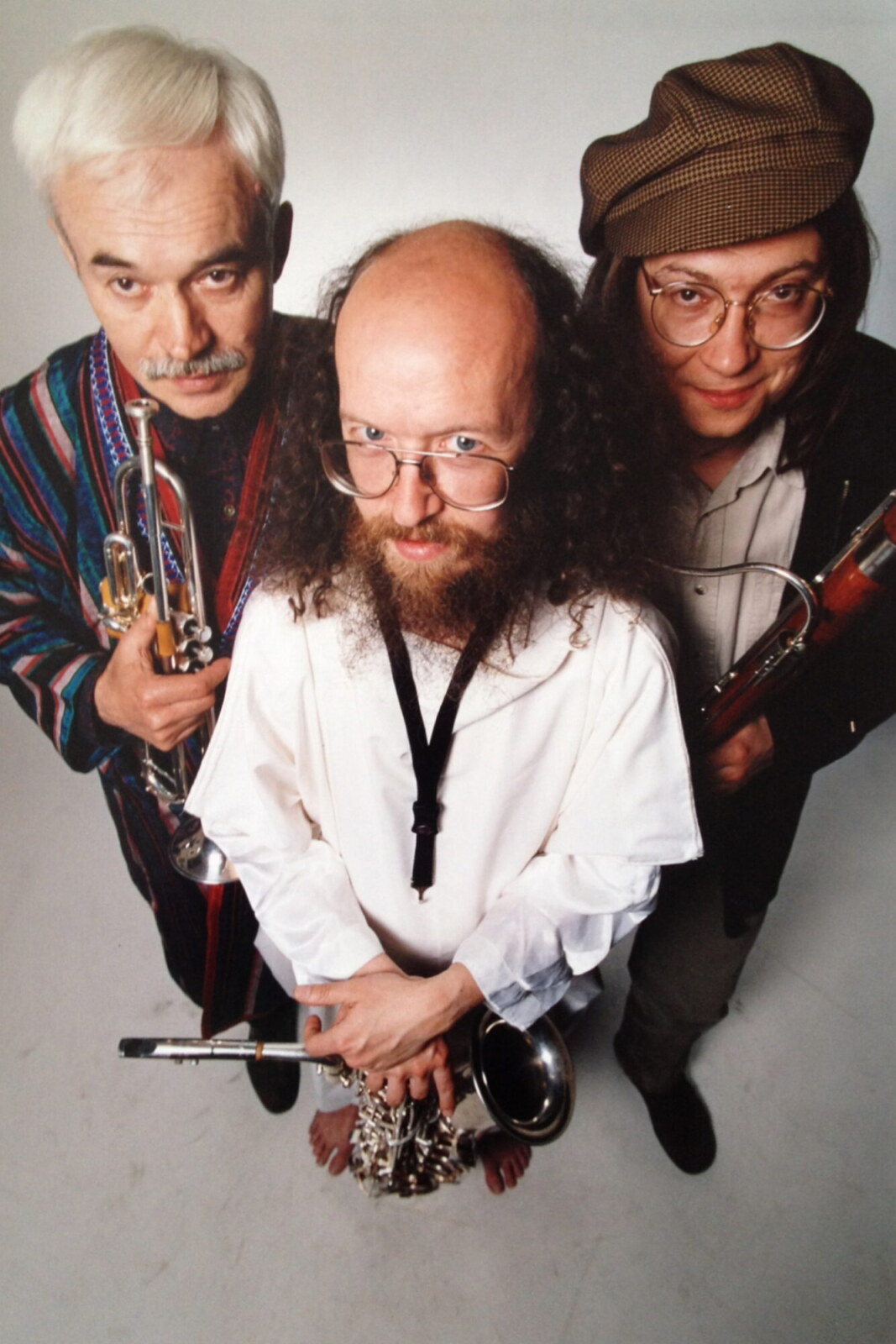 Can you elaborate the formation of Tri-O?
In Soviet Union exhibitions of independent artists were forbidden. But there was City Committee for Graphics in Moscow, who organized some exhibitions, quite liberal… So the group of Artist called "21" (mostly abstractionists) asked me to play at their exhibition in September of 1984. It was memorial to so called Bulldozer exhibition, 10th anniversary. When I started to play in exhibition, two KGB officers stopped me and detained me. So next year in 1985 – I came to play to Committee of Graphics not alone but with quite hefty tuba player Arkady Kirichenko (Freeman). He invited his friend, French horn player Arkady Shilkloper, who was part of Bolshoi Theatre Orchestra. So we started to improvise and later formed trio. Arkady Shilkloper left Tri-O for solo career in 1989, but the trio got bassoon player Alexandr Alexandrov. Arkady Kirichenko went to USA in 1991, so we invited trumpet player Yury Parfenov. Most of the music of Tri-O is composed or invented by me. Music of Tri-O is a postmodern mix of minimalism, fake jazz, imitation of classical music and free improvisation. Tri-O is my main project in music.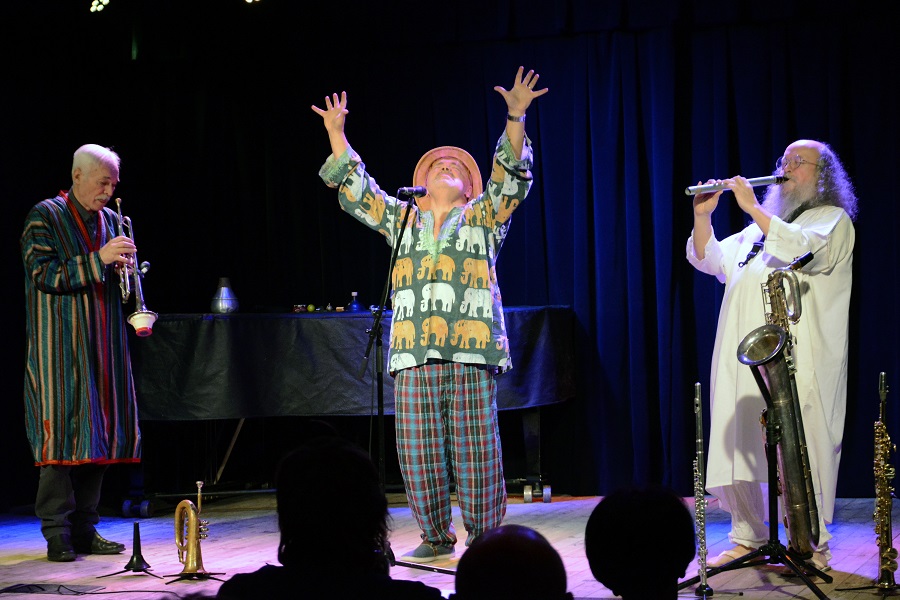 "Russian culture is logocentric."
You also wrote music for movies and plays, collaborating with Russian, Italian and Austrian theatres, the German non-profit cultural association Goethe-Institut, and the Moscow Institute of Journalism and Literature. Would you like to share a few words about it.
Russian culture is logocentric. It means that in Russian culture word prevail. Art image has the secondary position. Even the most intelligent people suppose that music is only background for lyrics. Because of it, Russian musician are forced to be engaged in some literary activities: theatre, rock music, music as background for poetry and so on. I would like to play pure self-sufficient music but I have a very small audience for it and only in Moscow and Petersburg. Anyway my work in theater has some educational dimension. For example I play mostly bass clarinet in a theatre performance based on Peter Weiss play about Jean-Paul Marat and Marquis de Sade in Taganka Theatre. I am sure that most of the audience never have seen bass clarinet before or after, never heard slap tongue on baritone saxophone and so on. Since 2014 I started to use wind controllers and wind synthesizers in theatre and now the most frequent question to me after performance is "What is it? Is it a musical instrument?".
I was lucky to collaborate with the stage-directors Yury Lubimov and Anatoly Vassiliev, the most important stage directors in Russia/Soviet Union and with most important theaters in my country. Very interesting experience – collaboration with Centro Sperimentale di Teatro a Roma in Italy: open air performances of Euripides and chamber performance of Iranian epic 'Shah-nameh' with Iranian actor/singer.
It's absolutely impossible to cover your discography. What are some of your albums and collaborations that you're most proud of?
The most important is LP of Tri-O. More than 30 000 copies were sold in Soviet Union!
Also duo with Sergey Kuryokhin – Polynesia. Soviet Union label 'Melodia' sold license to Japanese RCA Victor and RCA published our first CD – Polynesia.
Duo with Italian double bass player and composer Enrico Fazio. I came to Rome, Naples and Perugia with Moscow dance theater. I had one holiday in tour, so I went from Rome to Asti to record the CD and after recording session in a night train went to Naples.
What currently occupies your life? Any future projects we should expect?
In summer I went to Izborsk, one of the most ancient towns (now it became a village) in Russia, near border with Estonia. Some part of movie 'Andrei Rublev' by Andrei Tarkovsky was shot there. My friends Oleg Sharr (ex-percussionist of 'Aquarium'), Alexei Zubarev (electric guitar of 'Aquarium') and young Olga Glasova (she plays gusli – traditional ancient Russian string instrument) and I made online concert from Izborsk fortress. 100% improvisation for 1 hour. I hope this quartet will be more popular next year.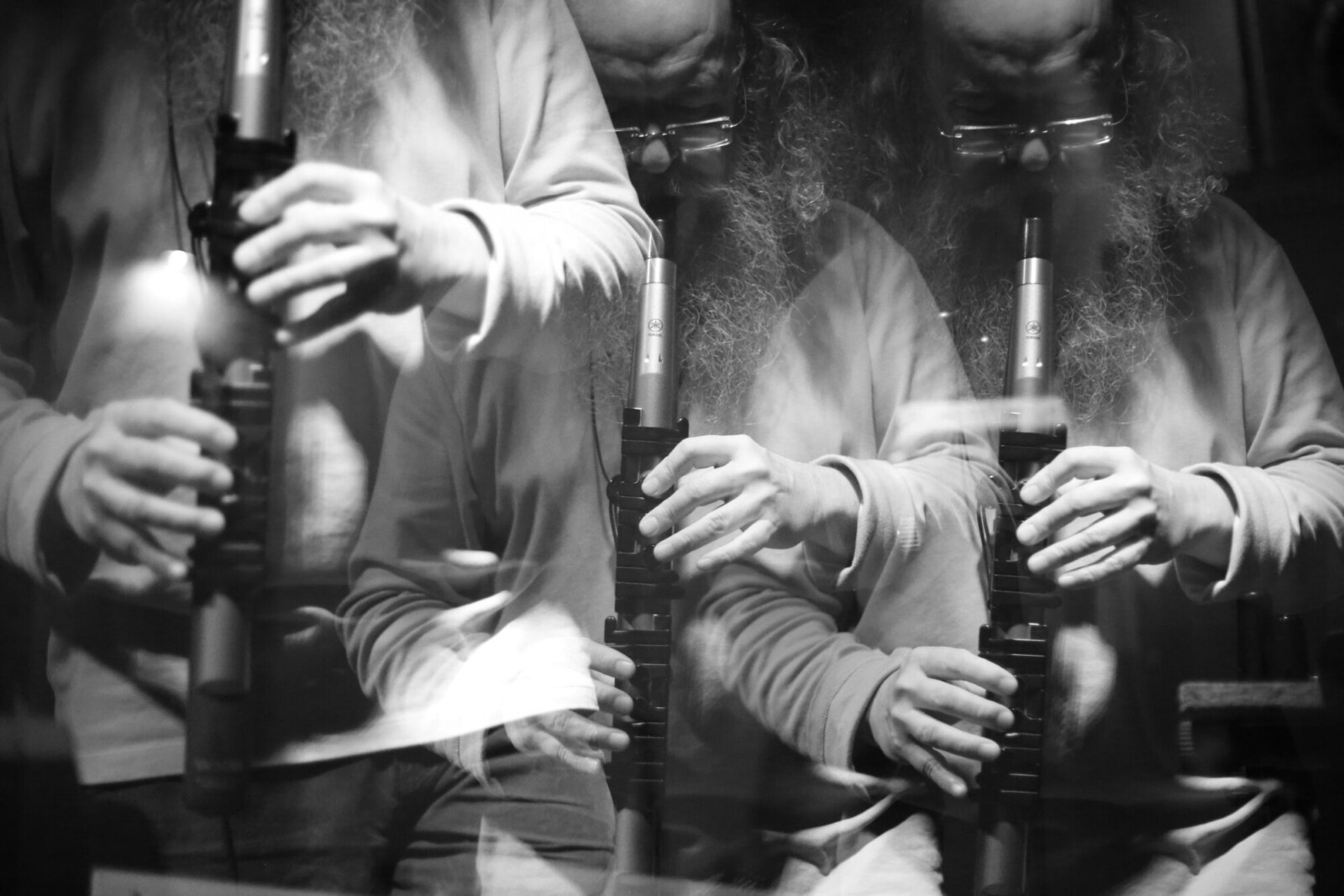 Thank you. Last word is yours.
I hope the pandemic will be over soon and we can meet our audience at concert halls, clubs, theaters and museums. Sergey Letov
Klemen Breznikar
---
Sergey Letov Official Website