Jason Crest – 'A Place In The Sun: The Complete Jason Crest' (2020)
Hailing from the suburbs of Kent, UK, Jason Crest released five singles on the Phillips label during their short lifespan from 1967 to 1969. "A Place In The Sun" gathers all ten single sides and supplements them with unreleased studio recordings and for the first time ever on CD presents tracks recorded as audition tapes for live radio broadcasts on Radio One as a possible means of gaining air time beyond the normal playing of conventional records. In contrast to the singles, mainly originals, the band played a combination of originals and cover versions of the hits of the day on the tapes.
---
Disc one opens with "Turquoise Tandem Cycle" a heavily phased, mid-tempo tune with organ by co-writer Terry Dobson reminiscent of Procol Harum and wah wah laden guitar courtesy of Derek Smallcombe. The a-side to the band's first single has fittingly lysergic lyrics, "a turquoise tandem cycle has wheels of silver rings, a choir of silent voices, a book of silent hymns". The 45, like those to follow, failed to chart but is reminiscent of the group's releases and received generally favorable reviews. New Music Express's observation seems quite appropriate "It's a slowish number with classical undertones, and the lyric is enigmatic and thought provoking. This could have been a hit with the force of a Procol Harum. In any event, it might still catch on." Unfortunately for the band that was not to be the case. The second track, another band original from Dobson and vocalist Terry Clark is the equally psychedelic, heavily phased organ driven "Teagarden Lane" which went unreleased for thirty years until 1998's "Collected Works Of Jason Crest" released on the UK Wooden Hill label, an impression of Tenth Planet Records. The track listing is a bit confusing as the single sides are not grouped together and unreleased tracks are interspersed but I don't find it problematic, just something to note. "Patricia's Dream" the b-side of Jason Crest's third single is the first non-original tune on the set, co-written by producer Fritz Fryer as Phillips tried to find a hit for the band. The tune itself is a pleasant acoustic number, balladish, and includes a very nice solo by Smallcombe. The set's title track, and the a-side of the group's fifth and final single is a delicate track, bringing to mind The Moody Blues with gorgeous vocals by Clark and a pleasant bass line by John Selley. Not the band's usual fare, this song has all the elements of a hit, yet missed the mark. "My House Is Burning" is a takeoff of The Move's "Fire Brigade " complete with sound effects and featuring thunderous bass by Selley, but was another track unreleased until 1998. "King Of The Castle " a Dobson/Clark original is one of the strongest tunes on the set led by Smallcombe's driving guitar and Dobson's organ, and was considered for single release but rejected by the label. The band took its name from "Collected Works Of Justin Crest" a keyboard driven, heavily phased track with an obviously agreeable feel and a nicely restrained piano interlude. The group wasn't comfortable with the name Justin and opted for a slight Christian name adjustment, and thus in January, 1968 christened themselves Jason Crest, as a bit of historical information. "Black Mass" the b-side of "A Place In The Sun" fits its title with its pounding beat and trademark phasing joining a cathedral like sonic quality and shouted vocals. Smallcombe's guitar is to the fore with Selley's bass and Roger Siggery's drums laying down a heavy rhythm, but Smallcombe's phased, lofting guitar solo is the highlight. "Charge Of The Light Brigade" is lighter, with beautiful harmony vocals and a memorable organ/guitar interlude adding to its "Turquoise Tandem Cycle" vibe but was another unreleased track. The a-side to Jason Crest's third single is a direct cover of The Move's "(Here We Go Round) The Lemon Tree " perfectly executed and totally lacking in the trademark phasing, but another failure on the charts. A cover of Smokey Robinson's "You Really Got A Hold On Me" shows the band at its best, with vocals and guitar floating throughout, over a thundering bass and restrained organ, Smallcombe's lead line especially nice. Sadly this is a side of the band not contained on any of its released material. Another unphased mellow track "Two By The Sea" a band original is piano led and showcases Clark's vocals over a gentle tempo and restrained guitar solo, again destined for the vaults. "Juliano The Bull" the a-side to the group's second single has nice keyboard and guitar lines and a pleasant melody but seemed an odd choice by Phillips, considering the quality of material they had to select from. "Education" a b-side is a non-phased toe tapper with Dobson's keyboards and Clark's vocals front and center, Selley and Siggery locked into a steady groove leading one to wonder why Fryer and Phillips depend so heavily on phasing on the bulk of Jason Crest's recordings? "Waterloo Road" the a-side to "Education" is light and breezy with gorgeous Clark vocals and horns but seemed an odd choice as a single and an outlier in the band's recorded legacy, especially since it was not even a band original. "Good Life" the b-side of "Turquoise Tandem Cycle" features a great hook and gentle tempo. Dobson's piano interlude is most enjoyable as are Siggery's drum fills. The tune seemed an obvious choice as an a-side and one wonders what might have been if Phillips had chosen this as the group's debut single? The false ending adds even more intrigue as to why it was relegated to the bottom side. The disc closes with an extended, nearly seven minute mix of "Black Mass" that was not band approved and lived only in acetate form until its release in 2010. It is included for historical purposes and to fulfill the set's goal of containing the complete recordings of Jason Crest.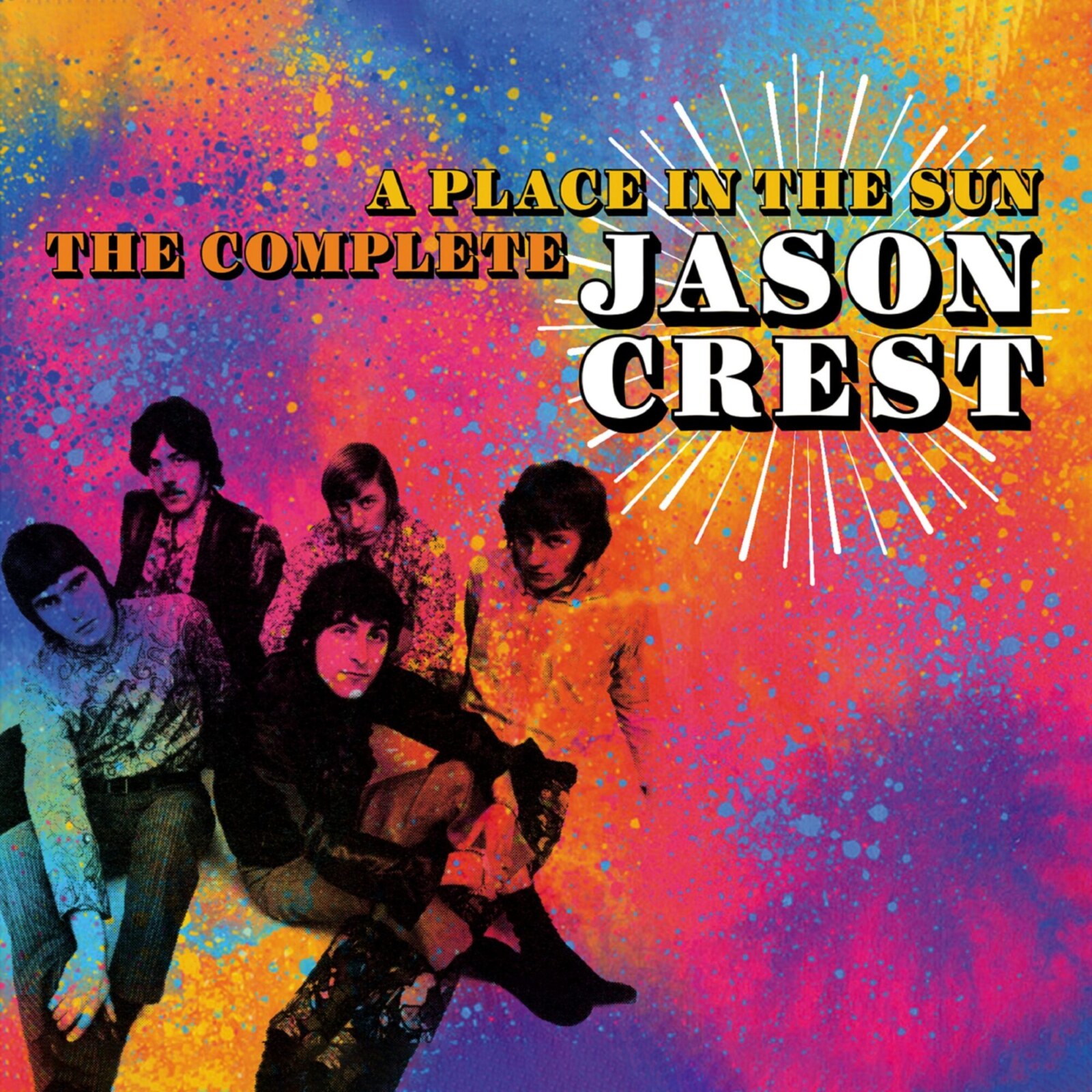 Disc two is where the real treats lie. The set is in two parts. The first five tracks were recorded in 1968 with vocalist/songwriter Terry Clark and are hits of the day. The remaining six tracks are from 1969 after Jason Crest had lost its recording contract with Phillips and were done with new vocalist Brian Prebble. There are only two covers, the remaining four being band originals. Unlike the studio recordings, there is no phasing on any of the tracks, they are live recordings done by Jason Crest and a true indication of what the band has to offer. First up is a cover of Fleur de Lys' "Hold On" with Smallcombe's guitar at the helm and Dobson's organ adding texture. Simon and Garfunkel's "Hazy Shade Of Winter" features Smallcombe and Dobson playing over a heavy rhythm held down by Selley and Siggery. A cover of Spirit's "Fresh Garbage" is next up and Siggery's drums, like those of Ed Cassidy, are center stage on the tune. Dobson contributes a keyboard interlude and Smallcombe's guitar is smooth throughout. A real change of pace is a take on "California Dreamin'" a gentle acoustic number with delicate Clark vocals with gorgeous harmonies joining in. Short and sweet, it was not an obvious choice for the group, especially coming in 1968 and is quite refreshing. The final 1968 recording is a cover of The Rolling Stones' "Paint It Black" featuring a Dobson organ intro, setting the arrangement apart from the original. The band kicks it in gear with organ and heavy bass line supplemented by Siggery's drum rolls before Smallcombe's guitar and Dobson's organ take over and rock the song out. Quite different from the original, Jason Crest's cover of "Paint It Black" perhaps more than any other track on the set shows the creative juices that flowed within the band and the possibilities that they held, even when doing non-original material. Following their dismissal from Phillips Records, the group's manager Ron Sullivan arranged for further recordings to be offered for live radio broadcast in hopes of obtaining a contract elsewhere. The group was in agreement, with the exception of vocalist/songwriter Terry Clark, who subsequently exited the band, replaced by Brian Prebble, who several years earlier had played bass in a band alongside Roger Siggery, and took over lead vocal duties on the final six tracks of "A Place In The Sun." The first track by the new Jason Crest is the Siggergy/Dobson penned "What's It Like" a heavy number with Smallcombe's lead line rocking over Selley and Siggery's rhythm. Siggery contributes a short drum solo and vocal harmonies enter before the band returns the song to its rocking outro. One of only two covers among the Prebble led recordings is a take on The Beatles' "Come Together" which remains rather true to the original. Prebble's vocals are spot on, Selley and Siggery are locked in and Smallcombe's guitar differs just enough to give it a refreshing bit of variation, indicative of the band's musical abilities and promise. Siggery's "It's Just A Way To Pass The Day" is a laid back number, showcasing the group's versatility. The rhythm section settles into a gentle groove, with Smallcombe's guitar restrained and Prebble's vocals relaxed and gently appropriate making for a most enjoyable listen. Smallcmbe's "Good Times Bad Times" fits the band perfectly with driving bass and drums and the guitarist's lead line and solo soaring above. Why Jason Crest didn't do this much more often is baffling as they deliver the driving rock so easily. Free from the production restraints of the studio Jason Crest's sound flows so effortlessly. The second and final cover from the radio recordings is a take on Gary Wright's "Better By You, Better By Me" originally recorded by Spooky Tooth. A heavy rocker, Smallcombe's guitar leads the way and does so quite naturally. Many bands covered this tune, and this rates with the best of them. Crashing cymbals, thundering bass, pounding drums, driving guitar and gorgeous vocals mesh wonderfully. Smallcombe's lead line flat out rocks while the song remains melodic, not an easy combination to achieve by any stretch. The disc and compilation closer is Prebble's "Percy's On The Run" another driving rocker with gorgeous vocals led by Dobson's organ and a locked in rhythm section. The tune has an R&B shuffle feel with Smallcombe's pile driving solo adding icing to the cake. Underneath the production restraints in the studio, namely the ever present phasing, lie a group capable of incredible rock and roll as evidenced by the live recordings on disc two and making it quite superior to the singles which sadly and somehow inadequately represent the musical legacy of Jason Crest known by most.
"A Place In The Sun: The Complete Jason Crest" comes in a tri-fold digipak and contains a full color 24 page booklet with track listings, lots of band photos, single artwork, posters, an extensive essay by David Wells, who compiled and annotated the set, and a conversation with Jason Crest's lyricist and original lead vocalist Terry Clark. The band has never sounded better thanks to the mastering job by Oli Hemingway at The Wax Works. This set will appeal to fans of late 1960's rock, psychedelic and otherwise, and comes most highly recommended.
Kevin Rathert
---
Jason Crest – 'A Place In The Sun: The Complete Jason Crest' (Grapefruit, 2020)