Kimono Drag Queens – 'Songs of Worship' (2020)
Sydney, Australia is home to many things, from the terribly tragic Backpack Killings perpetrated by Ivan Milat, to beautiful scenic destinations like Cottesloe Beach, and the Sydney Harbour; which features the Sydney Opera House as one of its attractions. Hidden amidst all of this is the psychedelic band, Kimono Drag Queens, who, despite having an unusual name, craft some of the finest psych music of the modern age.
---
Kimono Drag Queens, formed in late 2016, consists of a whopping seven members whose influences span across many genres, from far reaching continents, all in order to create a sound that is solely their own. On November 6th, in conjunction with Copper Feast Records, the band will release their newest album, 'Songs of Worship'.
I don't know about any of you, but I like my psych to have transcendental qualities, with the ability to transport me out of my reality, and place me far above the world and its troubles. I want a journey of sound that changes my perception while listening, and Kimono Drag Queens was able to offer me some of that on 'Songs of Worship'; along with a whole lot more that I didn't expect from this genre.
The album kicks off with a track I'd place in a psychedelic blues – folk category. 'Song of Worship' begins with a section powered by a subtle acoustic guitar, and some incredible vocal work, which brings to mind some of the great music that was used on the television show, Sons of Anarchy. This section creates a vibe that eventually builds into a cool counterpoint piece, which starts at about the 3 minute and 20 second mark.
This part of the song is also the backing riff to a nicely executed guitar solo, and brings to mind the dirty blues sound of old ZZ Top. Following the guitar solo, the track goes back to the beginning sound, but with a more electrified, full sound. In my opinion, this is one of the very best songs on the record.
Further into the album we get a song called 'Wild Animals'. This track is pushed forward by a percussion section that has a tribal flavor to it, while having an airy feeling due to the floating guitars above them. The vocals also seem to have that floating feel to them, and are almost hypnotic in their overall tone and execution.
Following these 5 simple words, "It's coming from the inside", the percussion and bass guitar ramp up the energy, while retaining a tribal beat rhythmically. This galloping section is in contradiction with the first half of the tune, but brings with it a dynamic shift that keeps things interesting, making this a track that is equally as striking as 'Song of Worship'.
'Evil Desires' has an intro that made me think of My Morning Jacket, which, when the vocals entered, was extended even further. This intro has an almost Disco like quality to it, with a jazz feel even. It's really well put together, and brings the song in perfectly.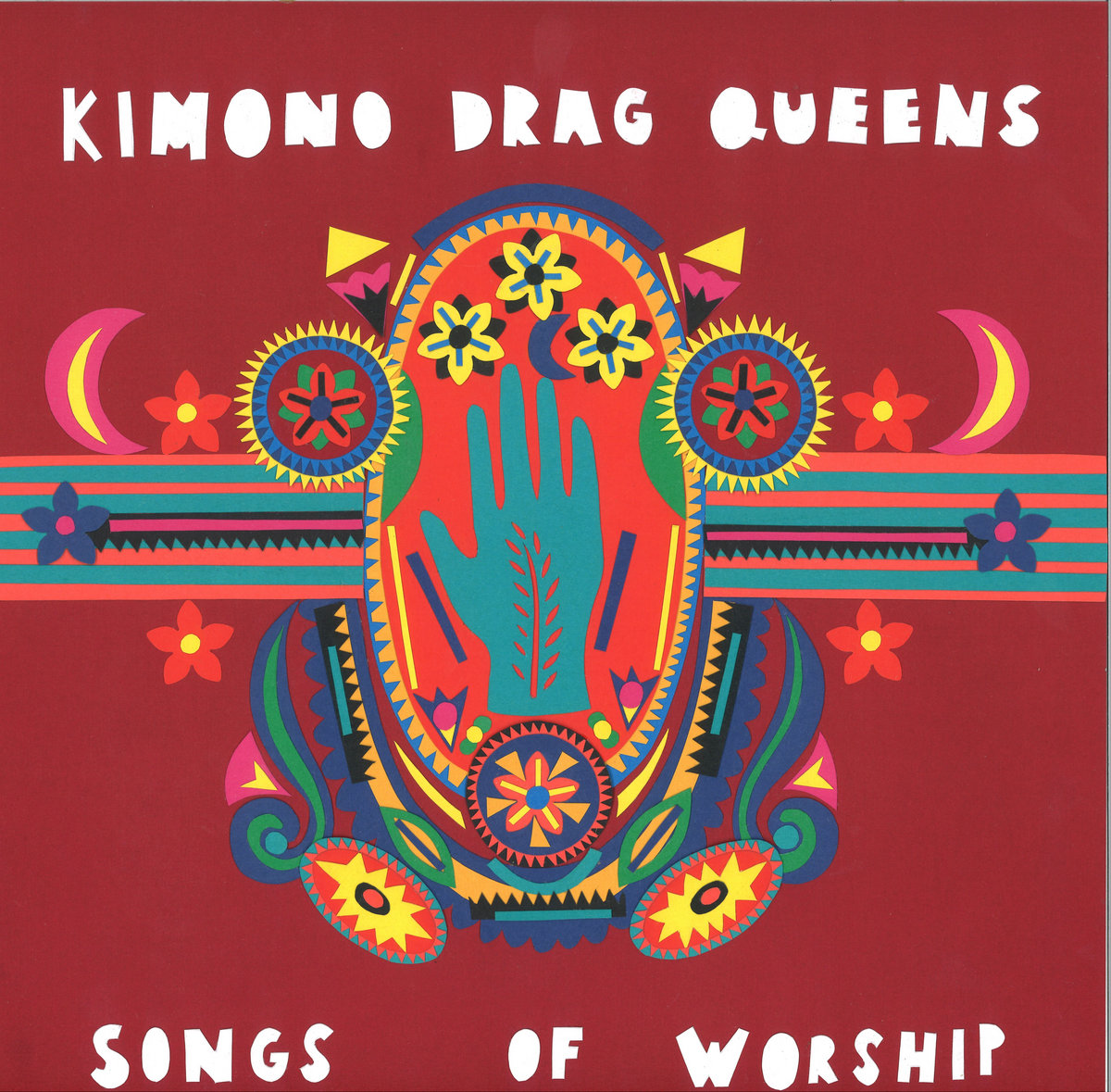 Kimono Drag Queens is adept at meshing their influences, and this track exemplifies that. Starting around the 2 minute and 25 second mark we get a section that builds up into a piece showcasing their individual skills as musicians, while playing for the song as well.
'Songs of Worship' is made up of six very cool tracks, and the three we discussed are my personal highlights, but each are wonderful in their own ways; especially the album closer, 'Willy's World'.
This record is very much worth your time, money, and listening joy, and, even though it's not out until the beginning of November, go and investigate this great Aussie band wherever you can. Enjoy!!!!
Tom Hanno
---
Kimono Drag Queens – 'Songs of Worship' (Copper Feast Records, out November 6th 2020)