East of Eden interview
East of Eden were formed in 1967 in Bristol. The founder members were Ron Caines (Alto, Tenor and Soprano Saxophones, Vocals), Dave Arbus (Violin, Flute, Tenor Saxophone, Trumpet) and Geoff Nicholson (Guitar, Vocals).
---
"We were exploring new territory."
Interview with Ron Caines and Geoff Nicholson
Where and when did you grow up? Was music a big part of your family life?
Ron Caines: I grew up in St. George, a suburb of Bristol.
Geoff Nicholson: I was born and brought up in a village about 8 miles from Bristol.
When did you begin playing music? What was your first instrument? Who were your major influences?
Ron: I actually began singing as a chorister in church, which must have developed my ear, sense of pitch etc. These were the days when Rock and Roll, as we now call it did not exist. I remember a school visit to a U.S. warship which came to Bristol, and on the ship's loudspeaker system they played 'Flamingo' by Earl Bostic at a high volume, which was incredible to me at the time. When I went to Art College to do a Fine Arts degree in painting, the soundtrack was jazz, so I started playing clarinet in a band.
Geoff: I went through the phase most of the guitarists of my generation did, the first influences being The Shadows and The Ventures, as they played fairly accessible material for a young guitarist just starting out, which must have been about 1960. I soon discovered Chuck Berry, and my first band were attempting to cover his material.
What bands were you a member of prior to the formation of East of Eden?
Ron: My first band was the Earl Russell septet, playing Mainstream Jazz. Other members were the film script writer Bob Baker and the comedian John Fortune. After Art school I began teaching Art in schools. I wanted to play Bebop after hearing Charlie Parker and Thelonious Monk. I played gigs with a Rock band in Germany, including an American Army base. I continued playing Modern Jazz with a group called The Contemporary Jazz Quintet, and we did a BBC television pilot in 1966. By this time Dave Arbus had joined on Trumpet. I also played a couple of gigs in a Soul Band that Geoff Nicholson had at the time.
Geoff: I soon graduated to playing in various bands, ending up playing in a covers band in a residency at a club in Bristol, while still at Art College. With this band we got to play in a club just outside Geneva for a few weeks early in 1967. In the end we added a horn section to play Soul and Blues material. This is where I first played with Ron.
At first you were formed as Picture of Dorian Gray. What was it like in Bristol back then?
Ron: I first met Dave Arbus when he was doing a Post Graduate year at Bristol University, studying Drama, French and Philosophy. He had just returned from teaching in Saudi Arabia, and was a fluent multi instrumentalist having had Classical training. As he had never listened to Rock music of any description, he took a bit of persuading, but when we told him about the possibility of attracting women, he jumped at the chance! Curiously enough the first name we went under was The Electric Light Orchestra.We did a few gigs at the legendary Bamboo Club in Bristol under this name.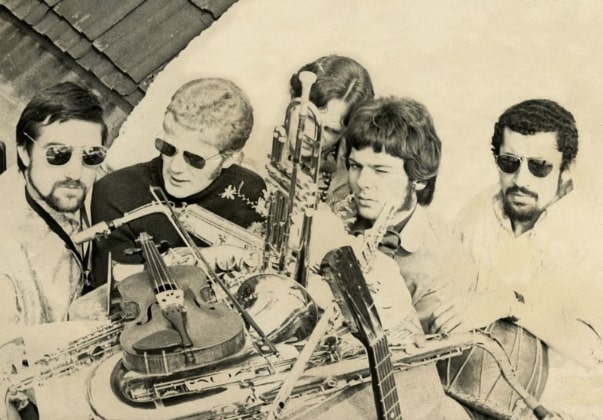 Geoff: One of the first gigs we did was a month long run of a modern dress Shakespeare play at the Bristol Old Vic Theatre. It was directed by the distinguished director Stuart Burge, who suggested we change our name, so we came up with Picture of Dorian Gray. We were then briefly joined by a girl singer, Louiza Sherman, who was the daughter of the Liberian Consul Genera. She subsequently released several singles with her three sisters, under the name Flamma Sherman.
Ron: Dave had seen Jean-Luc Ponty in Paris, using a pickup on his Violin, so we decided to incorporate this into the act. We were then listening to Frank Zappa and West Coast bands, so we went in this direction.We then got two new members in the band, Al Read, Vocals (died 2019) and Terry Brace, Bass (died 2006). We started a residency at the Dugout Club in Bristol every Tuesday with this line up.
When did you change your name to East of Eden? How did you decide to use the name 'East of Eden'? You released the single 'King Of Siam' on 25 July 1968. 
Geoff: The single was recorded in London, but was only intended as a Demo, but our management at the time got it released on the Atlantic label, and they decided on the name East of Eden. It sank without trace.
You also appeared in the film 'Laughter in the Dark'. How did that come about? Actress Anna Karina is one of my favourite actors.
Ron: We were approached by a new manager, John Schofield, who had theatrical connections, and he landed us a part in this film, which was directed by the renowned Tony Richardson. We appeared in a short party scene, which took about 4 days to shoot, fuelled by endless champagne!
Geoff: This manager, John Schofield was the live in lover of the famous actress Hattie Jacques (their relationship was portrayed in a drama on TV a few years ago). When he got us the spot in this film, we were convinced he would be a good manager. Sadly we were proved wrong.
Al Read and Terry Brace left in 1968, replaced by Steve York. Also Dave Dufort joined on drums? Why did you decide to move to London?
Ron: We realised we needed to be in London if we were going to achieve anything, but only myself, Dave and Geoff were prepared to leave Bristol.
Geoff: Dave Dufort was the first London musician we had in the band, then Steve York, who had previously been with Graham Bond, then joined the line up. I moved into a flat in London where one of the guys was an old friend from Bristol, Keith Tippett (died 2020), the famous Jazz pianist. Obviously his amazing musical ability had an influence on me.
What sort of venues did you play early on? Where were they located?
Ron: We played at a festival at The Hague in Holland, where we were flown out on a charter plane with Marc Bolan and Steve Winwood among the passengers.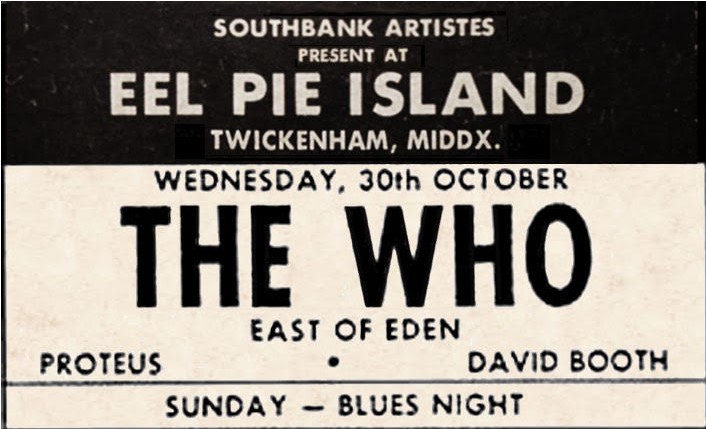 Geoff: We did one of our first London gigs at the Roundhouse with Family and John Peel. We also played a couple of times at the legendary Eel Pie Island, once supporting The Who for their only gig there. We also did a run of gigs at The Marquee Club in 1968, supporting Jethro Tull, Family, Arthur Brown, Ten Years After, and The Nice, amongst others.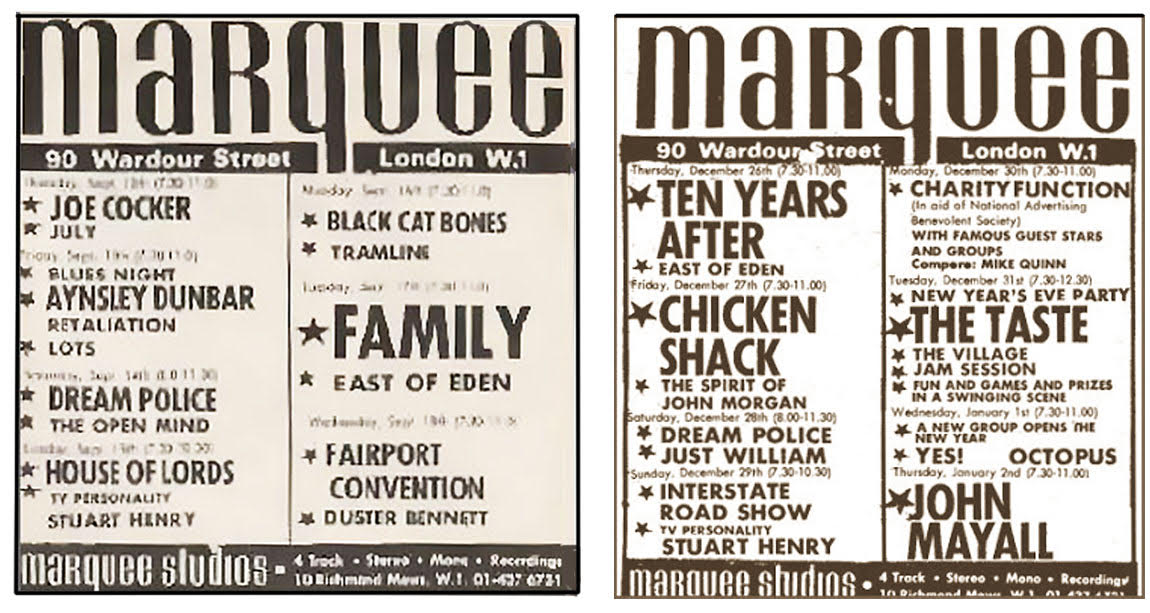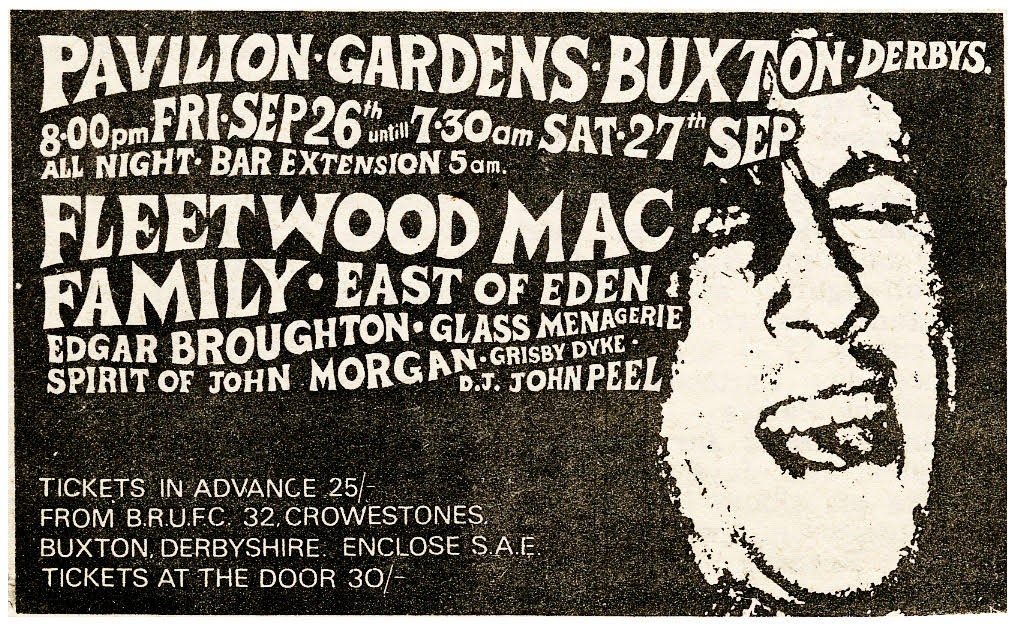 How did you get signed to Deram Records?
Ron: We'd tried the major labels, but Deram asked us to come in and record a demo album. These songs were recorded again for the Mercator Projected album (a couple of these demo tracks are on the re-release).
Geoff: We were playing in a week long event department store in Geneva, and a producer from Deram Records, Noel Walker, flew out and signed us up. We also played our first gig in Montreux for the Jazz festival promoter, Claude Nobs in this time.
"A unique alchemy, which would lead to our musical adventure."
Your sound was very unique. What influenced the band's sound? How would you describe your sound?
Ron: Because us three original members were from such different musical backgrounds, mine being Jazz, Dave's being Classical, and Geoff, Blues and Rock, it created a unique alchemy, which would lead to our musical adventure.
Geoff: Although a Blues and Rock player, I started to incorporate elements the other guys were exploring, such as Bartok and Eastern scales.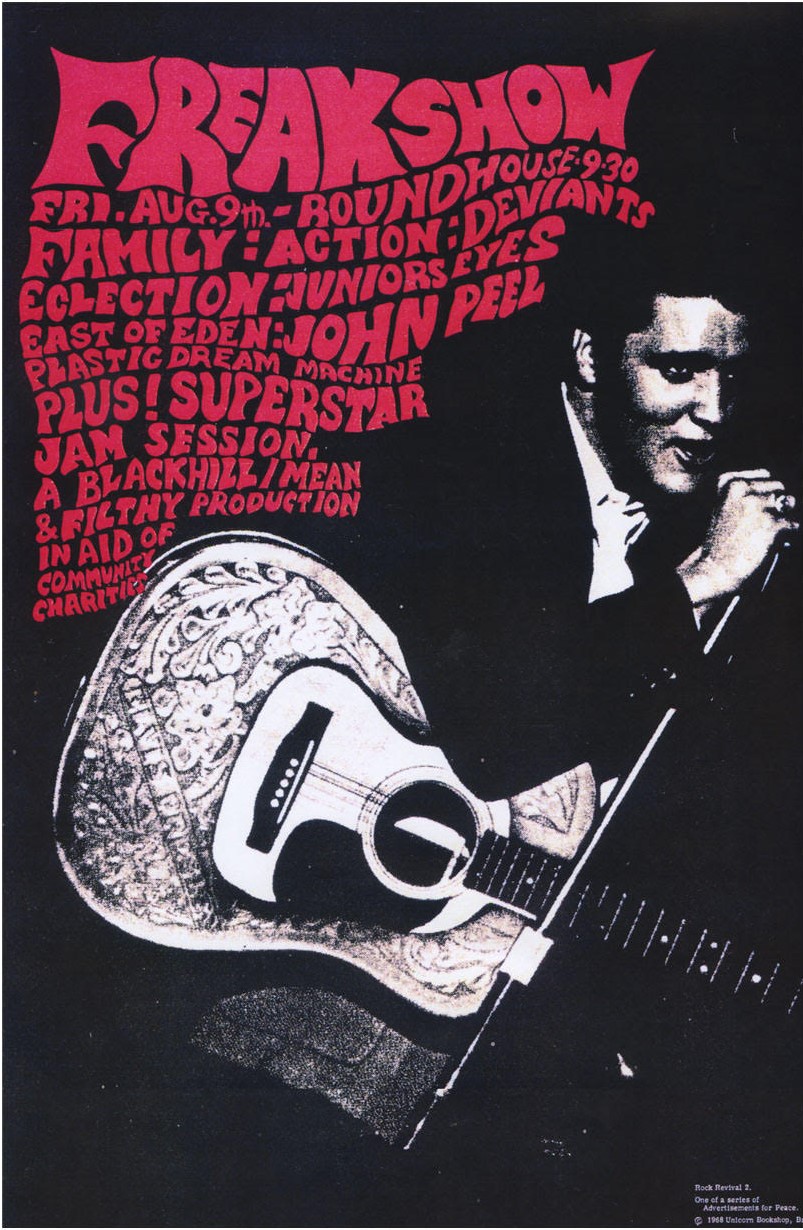 What's the story behind your Mercator Projected? Where did you record it? What kind of equipment did you use and who was the producer? How many hours did you spend in the studio?
Ron: I thought of the title, as it referred to the Portuguese map maker and explorer, and his projection of the world. I felt we were explorers. No one had written the book, and we were exploring new territory.
We were trying to find new sounds, and one piece of equipment I used was a Gibson Maestro Octave divider on my saxophone for some tracks.
Geoff: It was recorded at Decca studios in West Hampstead, and took a couple of weeks. Dave used a Barcus Berry pickup on his violin going through a Vox AC30 amplifier,and I was playing a Gibson SG Special guitar through a Fender Tremolux amplifier. We weren't particularly happy with the production of the album.

"Concept albums had become the thing, and we certainly weren't a singles band."
Would you share your insight on the albums' tracks?
Ron: New terms were being coined at the time – Jazz Rock, Progressive Rock, Psychedelia. I tried to write lyrics that reflected this, using fragments of poems, even material from catalogues on French Surrealist art and other sources. Concept albums had become the thing, and we certainly weren't a singles band.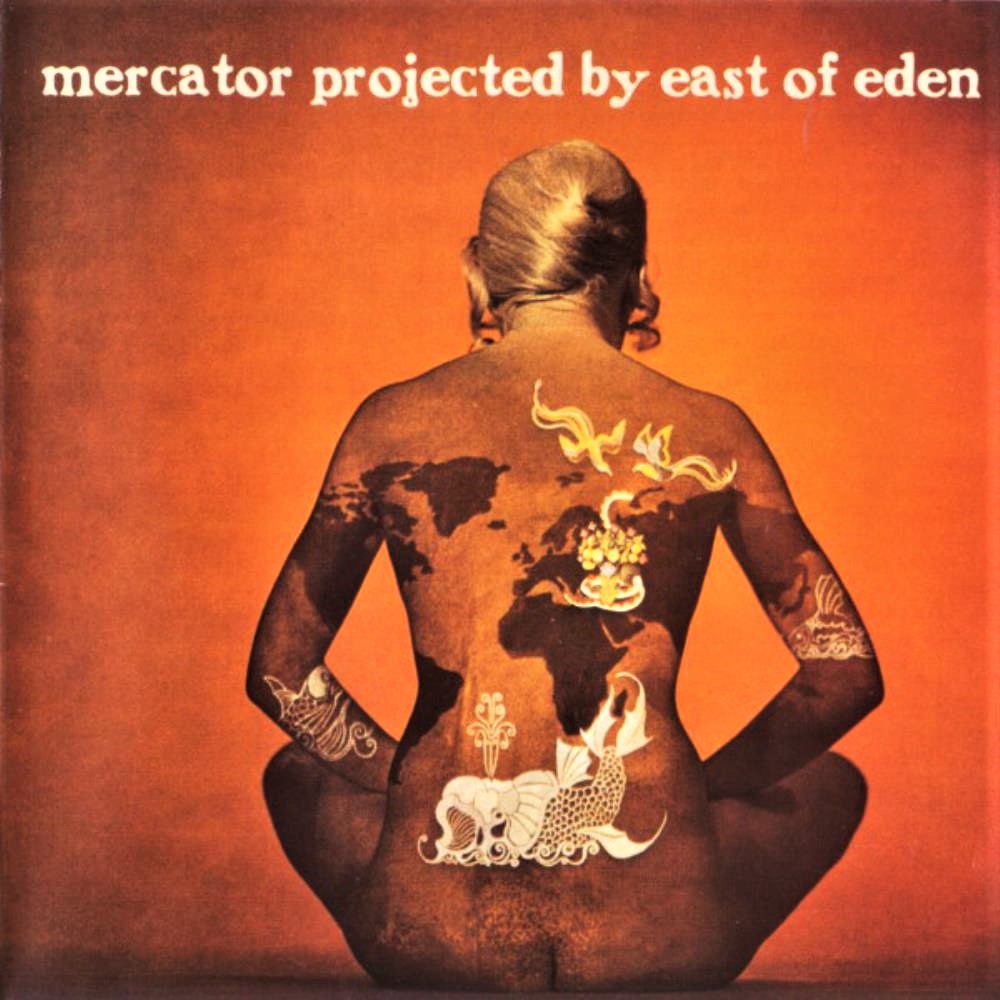 Geoff: On 'Waterways', on Mercator Projected, I tried to explore eastern scales in my guitar solo,which was played using a brass slide. We also incorporated some themes from Classical composer Bela Bartok on a couple of numbers.
Did the size of audiences increase following the release of your debut?
Ron: When we played the UK College and University circuit, we were always rebooked immediately, as we'd gone down so well.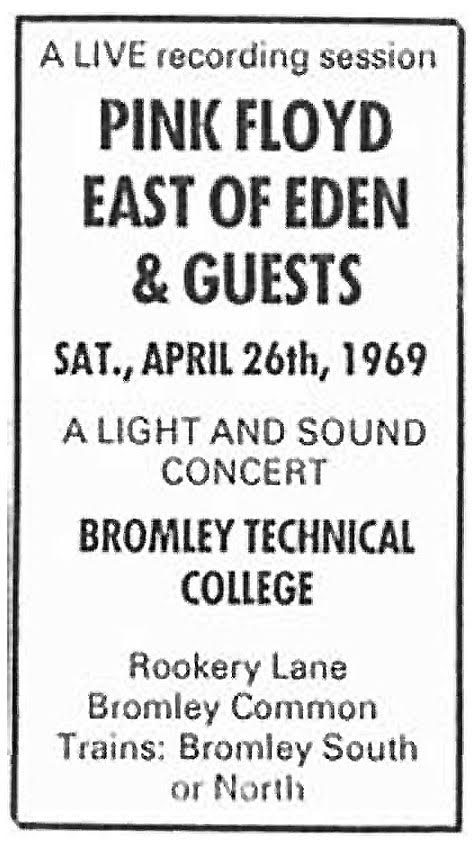 Geoff: Deram never really promoted the album at the time, so our audiences increased by word of mouth.
Mercator Projected is accompanied by beautiful artwork. 
Ron: The cover was done by Decca Art department, headed by David Hitchcock, who curiously ended up producing a lot of our second album. They projected a map of the world on to the back of a naked woman, as a reference to Mercator.
Geoff: The photos on the back were set up by a rather theatrical assistant to our manager, who had hired the Egyptian costumes. We weren't at all happy that these were used on the album sleeve.
Did the band tour to support the LP?
Ron: By this time we'd started touring in Europe, especially Switzerland, as well as the UK College and University circuit.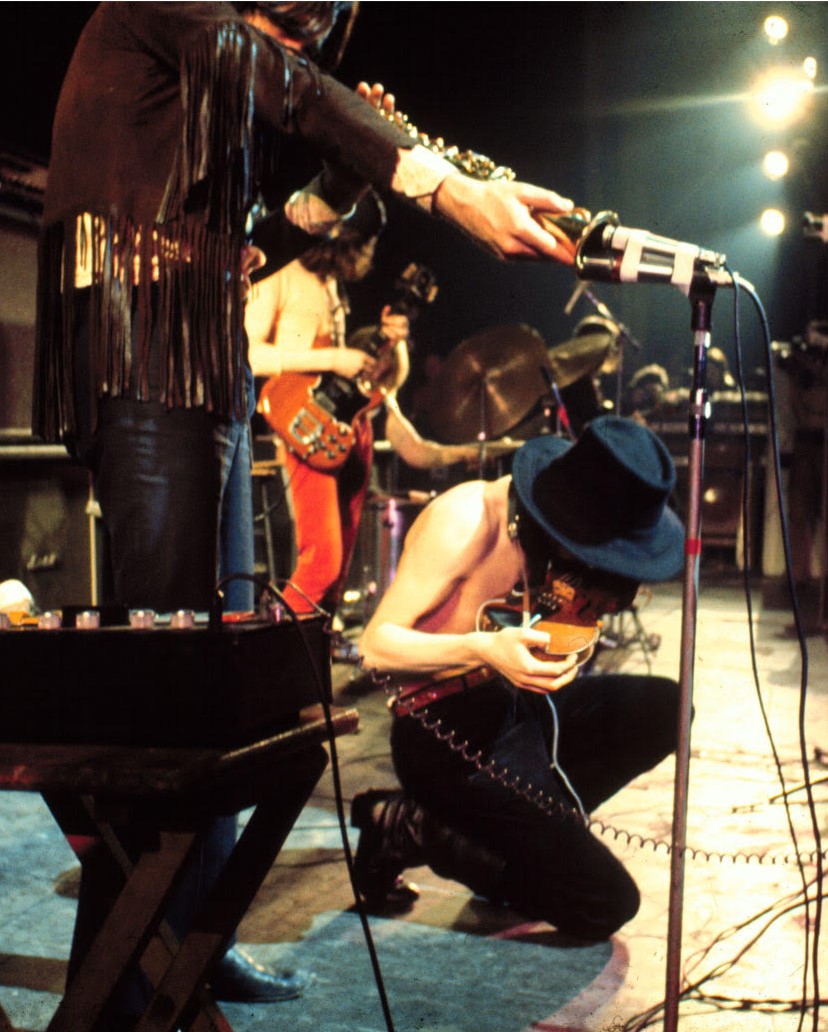 Geoff: As well as the European and College gigs, we were still playing small clubs like the Speakeasy. So the gig schedule had become very intense.
More lineup changes followed.
Geoff: In early 1969 drummer Dave Dufort was replaced by Bryan Appleyard for a short time. Then Steve York left to join Manfred Mann Chapter 3, so we recruited Geoff Britton on Drums (who later joined Paul McCartney's Wings) and Andy Sneddon on Bass. This was the lineup on Snafu.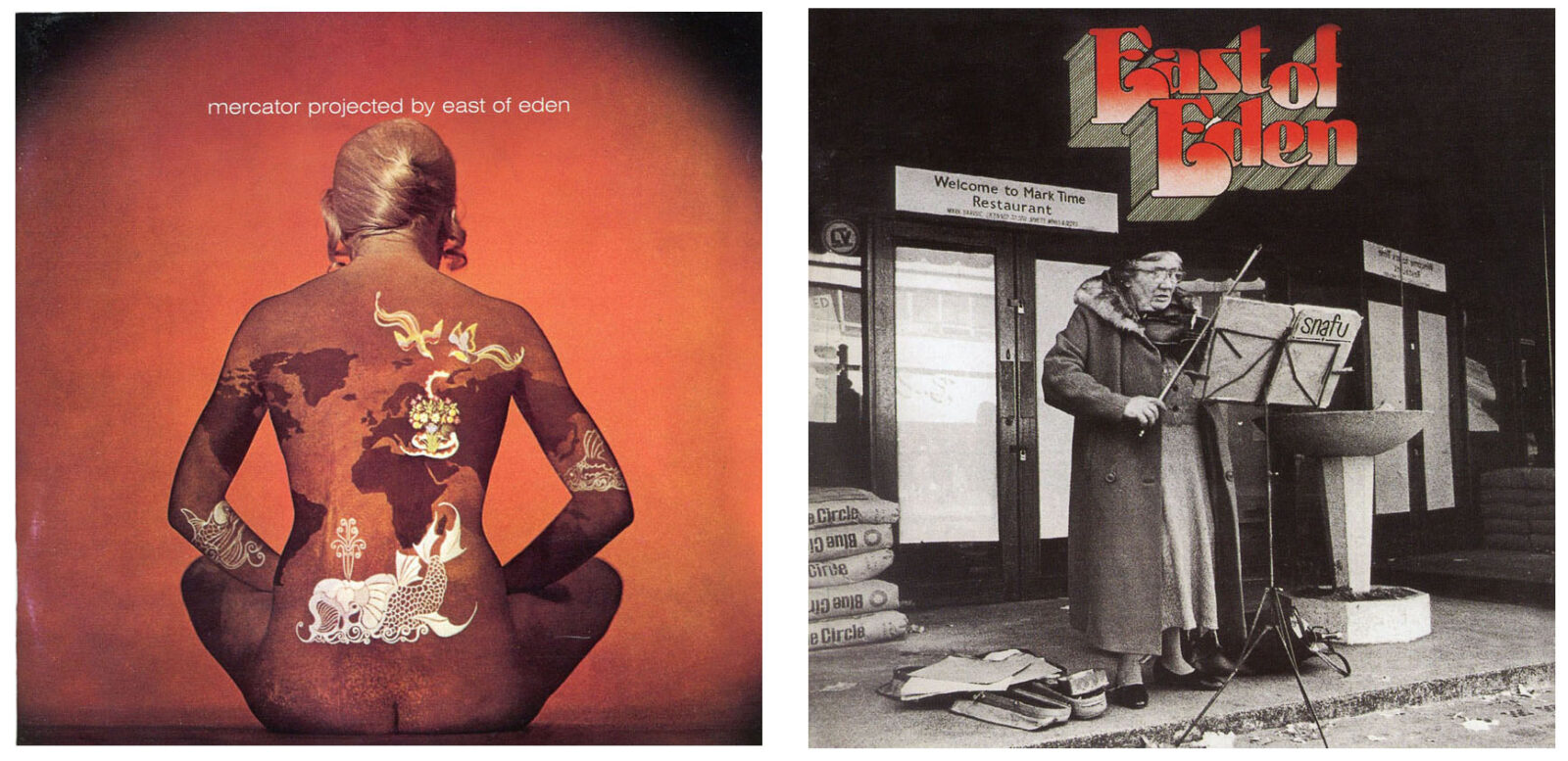 Your second album Snafu was more experimental. To what do you attribute this change in sound?
Ron: We were trying to reflect the essence of our stage show, which had become a lot more improvisational.
Geoff: Initially we recorded it in Decca studios with an American producer, Ritchie Gottehrrer, but re-recorded a lot of it in a different studio (Tangerine Studios) with producer David Hitchcock, which gave us a rawer sound.
Please share your recollections of the sessions. What were the influences and inspirations for the songs recorded?
Ron: I saw the word Snafu in a William Burroughs novel. It also had another meaning, being U.S. Army slang for 'Situation Normal All F***ed Up'. We wanted to include more improvisational Jazz based material, as opposed to structured songs which we did on the first album.
Geoff: As well as the Jazz based material, we included our versions of the Don Drummond and the Ska-Talites numbers, Confucius and Marcus Junior, which we'd been doing since the early days at the Bamboo Club in Bristol.
Were you inspired by psychoactive substances like LSD at the time of writing the album?
Ron: Back in Bristol drugs weren't readily available in those days, so we didn't have access to them until we came to London, but I don't think they influenced the direction of the music much.
Geoff: Our workload was so intense, we couldn't afford to be out of action for any length of time so drugs didn't play a big role.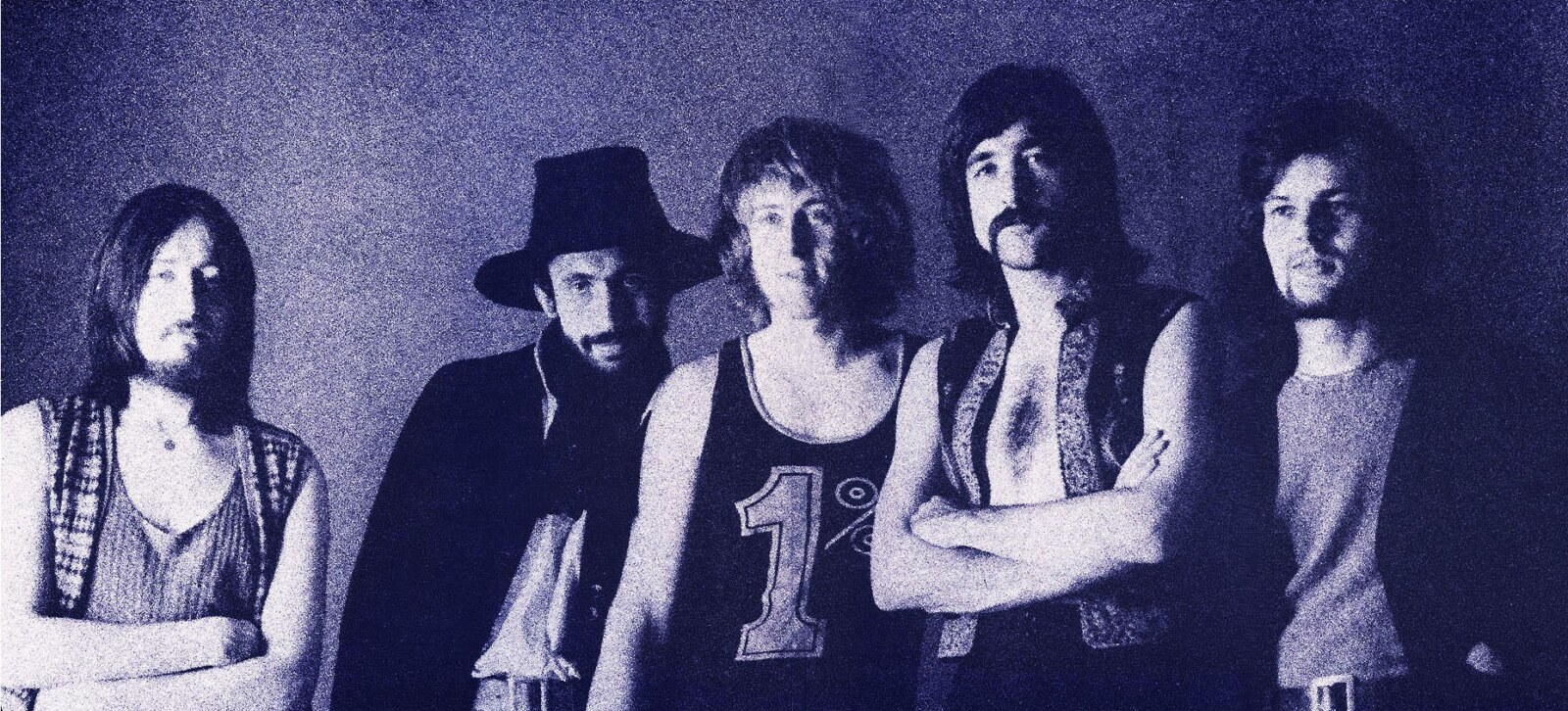 You played and toured a lot. What are some bands that you shared stages with? 
Geoff: We supported many of the big names, sometimes several times. We've mentioned Family, Ten Years After, The Nice, Jethro Tull and The Who already .We supported Free several times, plus Pink Floyd, Pentangle, Status Quo, The Move, King Crimson, Howlin' Wolf, Soft Machine, Peter Green's Fleetwood Mac, Fairport Convention, and Arthur Brown amongst others.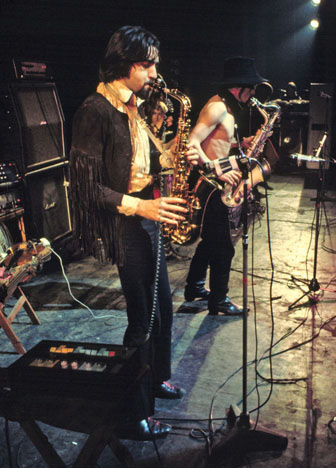 Ron: We were also on the bill with Captain Beefheart and Frank Zappa at the Amougies Festival in Belgium.
Any crazy stories from the gigs?
Ron: In 1968 we drove to Geneva via Belgium on a dark rainy morning, after a night crossing of the Channel. We couldn't go through France at the time because the French authorities need a large cash deposit left at the Board of Trade. On the outskirts of Brussels a Bus hit us, badly damaging our van. Luckily our injuries were slight.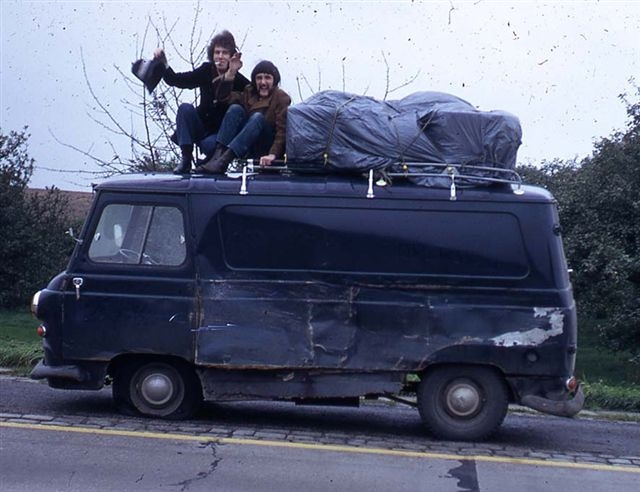 We stopped and changed our damaged wheel, and drove on to Switzerland. When we got to the Swiss Customs, they refused to let us in, because of the condition of the van. We drove back into Germany and found a garage, who hammered the side back into shape,using rivets and welding. They gave it a rough coat of paint, and told us to go through Customs at night, with the damage on the blind side of the officials. We made it through.
Geoff: We were playing at the Speakeasy Club one night, and a bunch of terrifying looking American Hell's Angels arrived. They'd come over to take part in The Rolling Stones' Rock and Roll Circus film. We didn't know how they'd take a strange English band, but when Georgie Fame drunkenly lurched on to the stage and wanted to sing 'Johnny B Goode', Steve York, our bass player told him to fuck off. Steve recalls that 'Mitch Mitchell had sat in with us on drums, then Georgie Fame picked up a broken drumstick and tried to jab at my balls, so I whacked him with my bass. Not too hard but enough to lay him out!' After that the Hell's Angels liked us.
On that night Taj Mahal and his band, asked to borrow our equipment, and played a blinding set.
The same thing happened at Blaises Club one night when Jefferson Airplane asked if they could borrow or equipment and sit in.
Ron: We supported The Bonzo Dog Band on one of their final London gigs at The Lyceum. During our set Keith Moon jumped up with us and started playing congas. He did sit in with the band later, which eventually led to Dave Arbus playing the violin solo on The Who's 'Baba O'Reilly'.
Geoff: We did a French TV show with Francoise Hardy in 1969.We were meant to just play our single 'Northern Hemisphere', but the rather long period between the run through and the live recording was spent in the bar, so when we got on, we decided to play a 20 minute instrumental. The evidence of this is on YouTube, still titled 'Northern Hemisphere'. As you can see they pulled the plug on us!
Ron: We were playing at Hull University one night, when a guy came into the dressing room, and started playing some Irish Jigs on a violin. Dave was so impressed, he bought some sheet music the next day, and we started using it as an ironic throwaway at the end of the set. When we heard Frank Zappa's Hot Rats, we decided to incorporate this feel with Jigs and Reels. This became 'Jig-a-Jig'. When it was released as a single in 1970, it didn't do very well. Then in 1971, (now disgraced) producer Jonathan King was hired by the record company to look into material to promote. On it's re-release it became a hit, which then confused audiences, because it didn't fit with the rest of the material.
Geoff: We were booked for a tour of Switzerland, and the first gig was at a club in Basel in a large house,which was also a hippy commune. When we arrived we found that the promoter has disappeared, and the tour was cancelled. The people who ran this club quickly organised a new tour for us, and we stayed in the house. Obviously there were a lot of drugs floating around, and the police would occasionally visit, but not do anything. When we left to come back to England, we had to take everything out of the van at the Swiss customs post. They even asked us to unscrew the backs of the speaker cabinets. One of the band did have some dope on him, but walked across the road and hid it. When they let us go,he went and picked it up. The Police raided the commune the next day. The club owners were arrested and charged with possession.
Would you like to comment on your playing technique?
Ron: When I started out I couldn't read music, and when I first heard sax players such as Joe Harriot and Sonny Rollins, I really had no idea of how it was done. Having played in rock bands for many years, I had a basic knowledge of blues, but litle else. When East of Eden started playing really long open ended numbers, often based on one chord, I found I had room to expand, and without realising it, playing in Modes. I was learning all the time, studying scales which expanded my range no end.
Geoff: A lot of the time I was taking the rhythm guitar role in the band, as we had no keyboard in the lineup, I had to fill this space. As well as taking solos. I listened a lot to James Brown's rhythm section at the time and tried to incorporate this feel into my playing, especially on live shows.
How important is improvisation for you?
Ron: It has always been very important, as I've never wanted to stick to a rigid format. By the second album, we only had very loose arrangements for the songs.
Geoff: I've never played solos the same way twice, so improvisation has always been an integral part of my style.
What happened next? East of Eden recorded some more albums, but you were not part of it? 
Ron: Tensions in the band were running high because of the virtually impossible gig schedule, plus the fact that we never seemed to see any of the money. Our manager had decided that Dave Arbus was the only essential member of the band, so over a short period four of us were replaced. The most recent recruit, Jeff Allen, the drummer, pulled in musicians he knew, but even they were replaced after a while. In this time the re-release of 'Jig-a-Jig' became a hit in 1971, even though most of us had left the band.
Geoff: Jeff Allen managed to keep the band going, even after Dave Arbus left in 1972 with various lineups, but the dynamic of the band had changed completely after the Snafu lineup had broken up. All they were doing was rather conventional material, as opposed to the experimental direction which was the original purpose of the band.
Looking back, what was the highlight of your time in the band? Which songs are you most proud of? Where and when was your most memorable gig?
Ron: The most memorable gig was probably a two day event at the Paris Olympia in 1970, with Richie Havens and Yes. We managed to win over the audience by wandering into the crowd, and even handing them our instruments at one point! There is some film of the concert (Festival of Progressive Music Operation 666).
Geoff: Also we played the legendary Amougies Festival in Belgium in 1969, which was filmed and released in French cinemas under the title 'Music Power'. Sadly , very little of this film exists, none of it with us on. On the bill was Frank Zappa, Captain Beefheart, Pink Floyd and Soft Machine, amongst others.
Is there any unreleased material by East of Eden?
Ron: Not that I'm aware of any. Us three founder members made three Jazz based albums between 1997 and 2005, released on small record labels.

Geoff: The first two. Kalipse (1997) and Armadillo (2000) both on Talking Elephant records, sold tolerably well, but the third one Graffito (2005) on Eclectic Records, didn't do much, as the label folded soon afterwards. If there was enough interest we could re-release this last one.
What other musical activities have you undertaken lately?
Ron: I've been playing Jazz ever since, playing with artists such as Keith Tippett (died 2020) and Evan Parker, and in the last few years with the Brighton Musicians Collective.
Geoff: Afterwards I joined a band called Bubastis, which lasted for about a year. We were managed by Clearwater, the same people as Hawkwind at the time. Sadly there are no surviving recordings of this band.
The most memorable thing which happened to this band was, that we were booked to play at a festival just outside Paris, on the same bill as The Grateful Dead. This was badly organised, and the stage had insufficient shelter against rain. Need less to say, it poured with rain , and the festival was cancelled. We hadn't been paid, and couldn't contact the promoter, so we were asked to wait. They put us up im the nearby Chatea u D'Herouvi lle, along with The Grateful Dead, along with their vast entourage. We spent several days waiting there for the promoter, and as this Chateau was famous for it's recording studio, we spent a few hours jamming there. Jerry Garcia of The Grateful Dead sat in with us for a while.
What currently occupies your life?
Ron: I've released a number of jazz albums, the latest being Dream Feathers with Martin Archer on the Discus label. As a painter I have exhibited widely, including the Royal Academy.
Geoff: I have spent many years as an illustrator, including doing three Rolling Stones tour posters. I still play in various bands, doing a wide range of material.
What have the rest of the band been doing?
Ron: Dave Arbus then built a successful business making Rattan furniture. He then spent a few years selling his paintings of architectural subjects, working in Europe and the USA. Ill health has forced him to return to the UK. We seem to have lost touch with him of late.
Geoff: Steve York now lives in Mexico, working as a musician, after many years living in the USA.
Geoff Britton lives in Spain, working as a drummer .
Andy Sneddon spent many years in a successful Rock and Roll review.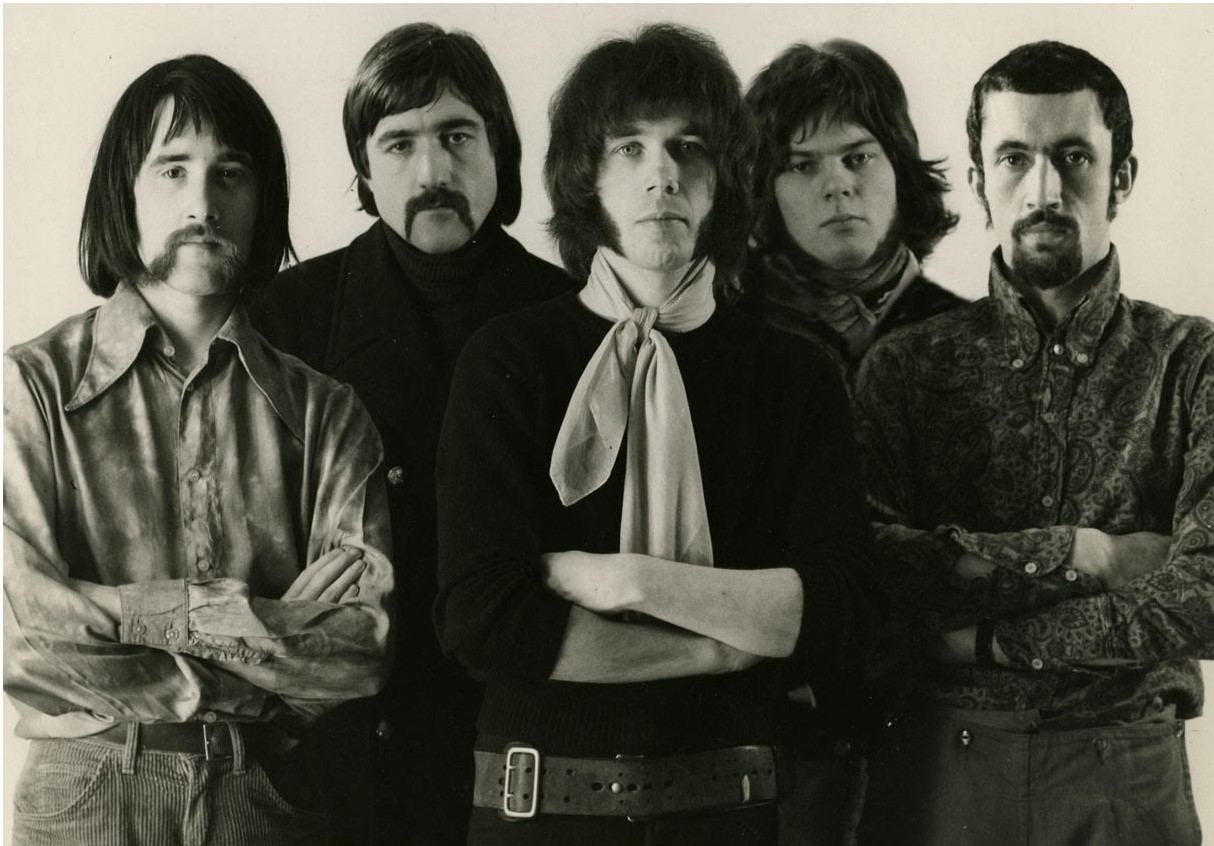 Thank you for taking your time. 
More information, gig lists and videos can be found on our website. For information on later versions of the band after 1970 see here.
– Klemen Breznikar
---
East of Eden Official Website
Steve York interview | East Of Eden, Manfred Mann Chapter Three, Graham Bond, Vinegar Joe…