Steve York interview | East Of Eden, Manfred Mann Chapter Three, Graham Bond, Vinegar Joe…
Steve York played with such a huge variety of musicians and has been active for over five decades now. East Of Eden, Manfred Mann Chapter Three, Graham Bond, Vinegar Joe and much more!
---
Would you like to talk a bit about your background? Where and when did you grow up? Was music a big part of your family.
In my early years we lived in an area of NW London known as Temple Fortune. We lived on two floors above a high street shop. My parents and I lived on the top floor. My grandparents lived below. Today it looks like this.
During the day, until I reached school age, I was left in the care of my grandparents.
My grandfather and grandmother were professional pianists. My grandfather was a concert pianist and did very well in the 1920's. My grandmother played for silent movies back in the day. She gave piano lessons from home and also played for dance classes. She mostly played pop music and light classics. The radio was on all day and my grandmother was constantly critiquing the music and explaining it to me. She loved The Ink Spots and the Platters and would have been thrilled to know that I toured with both groups 40 years later!
My mother was a concert quality pianist but did not like to perform in public. She also used to take me to Fenton House in Hampstead. It was a musical instrument museum and she would spend the afternoon playing Scarlatti on the harpsichord. She also loved jazz.
My grandfather used to write his own extemporizations to Bach's compositions. My job from the age of three was to turn the pages of the sheet music when they practiced, usually eight bars ahead. He had recorded "Rhapsody In Blue" in the 1920's with an ensemble consisting of four pianos and two percussionists. I used to listen to it over and over on a wind up 78rpm gramophone. Aside from classical music he was a fan of Art Tatum.
I had early piano and violin lessons but they did not stick. My mother took me to see Count Basie with Joe Williams when I was 11. It was then that I knew I wanted to play bass, although I did not get one until I was 14.
When did you begin playing music? What was your first instrument? Who were your major influences?
Lucky 7. In 1964, when I was 16, a local pub started featuring weekly blues shows in their back room which had about a 300 person capacity. I had been listening to Alexis Korner's blues show on BBC and when his band played there I went to see them. From then on I regularly saw The Graham Bond Organization, John Mayall's Blues Breakers with Eric Clapton, The Animals, Cyril Davies All-Stars, & more. Long John Baldry with Rod Stewart. Eric Clapton was on fire then. His solos could make time stand still! But my favourite was Graham Bond's band with Jack Bruce. Ginger Baker and John McLaughlin (later with Dick Heckstall-Smith). I also started going to Klooks Kleek where Graham played every Thursday. In 1965 I saw that band 44 times. At first Jack was playing upright bass. I used to sit at the edge of the stage to hear him. I also used to go to Soho for the allnighters at Ronnie Scott's Old Place which had open jazz jams and to a folk cellar Les Cousins where Alexis would play. Danny Thompson would be playing upright bass at both places and was a big influence on me. Also, when I could afford it, I would see Georgie Fame at the Flamingo Club all nighters. So my live bass influences back then were Jack Bruce, Cliff Barton. John McVie, Bill Wyman, Danny Thompson and Spike Heatley. I also have to mention Binky Mackenzie who's technique was unlike any other bassist I have heard before or since in that he snapped the the strings against the fingerboard with both his thumb and finger. I never heard him play straight.
I was listening to Paul Chambers, Ray Brown, Jet Harris, James Jamerson, but my favourite bassist was Charles Mingus. I was mostly influenced by upright players. Most London musicians were somewhat influenced by jazz and I gravitated to players who incorporated an improvisational element.
When did you decide that you wanted to start writing and performing your own music? What brought that about for you?
There wasn't any cover band scene in London then, except in the ballrooms and hotels. Musicians were expected to play original music or their own arrangements. There was no money in playing live in the clubs and pubs and no one was going to get a record deal playing covers!
You played with so many bands that it's almost impossible to name all of them. But let's start at the beginning with Graham Bond Organization. Where did you two meet? 
There was no formal music education available except for classical. There was a local college that had once a week jazz lessons. The maestro was a jazz trumpeter named Owen Bryce. I attended from the age of 14 to 16. We mostly played Duke Ellington and gave an annual concert.
I was required to play upright bass. They had one at the college and I found a half size upright for 60 pounds to play at home.
I became close friends with a trombonist named John Lee. We started going to jam sessions and clubs together and playing as a duo. Graham had a loose afternoon gig at a Jamaican restaurant and we showed up there. He liked the fact that we were doing something different and hired us both. He was putting together a group with Ray Russell guitar and Alan Dawson on drums. Ray envisaged it as a trio with Graham playing bass and I was out after two gigs. I was too young and not ready. The quartet went to the south of France for a week, then folded.
When I turned 18 I went to Turkey and played on a USAF air base for a year, followed by three months on Crete. Playing all styles of American music six nights / 28 sets a week was my next musical education. I hooked up with Graham again when I returned to London but I don't recall how.
What are some other bands you played with during this time? 
When I returned to London I answered an ad and auditioned for East of Eden and started working with them. I also resumed cruising the club scene with trombonist Jon Lee. We played as a duo using the name The Sunday Joint. John played trombone on the Beatles "When I'm Sixty-Four".
What can you tell us about the formation of Giant Marrowfat.
I was in this band before I went to Turkey. This was a jazzy blues band that had some strong players. The singer was Simon Lait. He later went on to acquire the rights to the song "Mickey" which he produced for Toni Basil (more here). It was a huge hit! The drummer Selwyn Lissack was a fine jazz drummer. He moved to New York and started collaborating with Salvador Dali making holograms. When I played in NYC with Chris Jagger in 1974 Selwyn sent Dali's limo to ferry us to the gig each night. Dali paid the driver by doing sketches on the limo's upholstery which the driver would sell! Lol Coxhill was a brilliant musician. The name came from a can of giant marrowfat peas in Lol's kitchen. We did a number of gigs and were finally offered an opening slot at the Marquee, which was a huge break at the time. Bob Weston refused point blank to do it. I think he did not want to be associated with jazzers! That was the end of the band.
One of the most interesting bands you were part of were East Of Eden. They were a very unusual band formed by sax player Ron Caines in Bristol, in 1967. After several failed lineups, you and Dave Dufort joined in September 1968. What are some recollections?
I have good memories of that band. I was not really into the progressive rock thing but they were easy to work with it and enjoyed the ride. We became quite popular. We played in a department store in Geneva for a week and attracted good crowds! Also a memorable night at the Paris, Olympia. Suddenly all these bands were forming with electric violinists!
Mercator Projected was one of the very first fusion albums. You combined a variety of influences and the result is one of the most unique albums. What's the story behind your debut album? Where did you record it? What kind of equipment did you use and who was the producer? How many hours did you spend in the studio?
We recorded at Decca Studio. The producer was Noel Walker. An excellent studio and a caring and pro producer. My big regret is the awful bass solo on "Centaur Woman". I did it as a soundcheck just before we went to lunch. I was just goofing around. I expected to do it for real when we returned but Noel decided it was a keeper despite my pleas! Otherwise I was happy with my sound and playing. Decca was known as the studio in town for bass and Noel and I were both going for an American R&B bass sound. East Of Eden went on to have hits after I left to join Manfred Mann Chapter Three. None of us ever saw a penny in royalties. Recently guitarist Goff Nicholson took legal action to get Decca to start paying the band but the royalties so far have barely recouped the lawyer's fees. I have also recovered the publishing rights to the songs I co-wrote thanks to Geoff.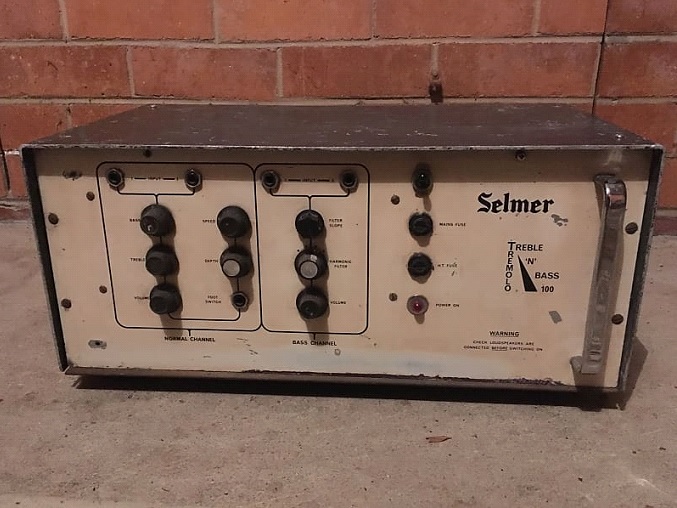 I played a 1964 Fender Precision bass with La Bella flatwound strings. I had intended to change to RotoSound roundwounds for the solo but did not get the opportunity! I bought the bass from a store in Soho. I removed the scratch plate to write my name on the body and found out that Bruce Thomas's name there. This was a real coincidence as I was using two home made 18″ speaker cabinets that I had bought from Bruce! These were driven by Selmer Treble and Bass 100 watt tube amp.
The cover artwork is pretty interesting.
No comment. Those photos are an eternal embarrassment! They were the brainchild of our manager's rather theatrical assistant!
"Conventional old school"
How would you describe your sound?
Conventional old school. Modern sounds that I like are those of Anthony Jackson and Abraham Laboriel. I like to get as much as low end as possible without swamping other instruments and while maintaining clarity. Recently I have been using hollow body instruments when appropriate, mainly a Takamine TB10 and a D'Angelico Premier bass. I also use a Yamaha BEX for louder situations where feedback may be a problem.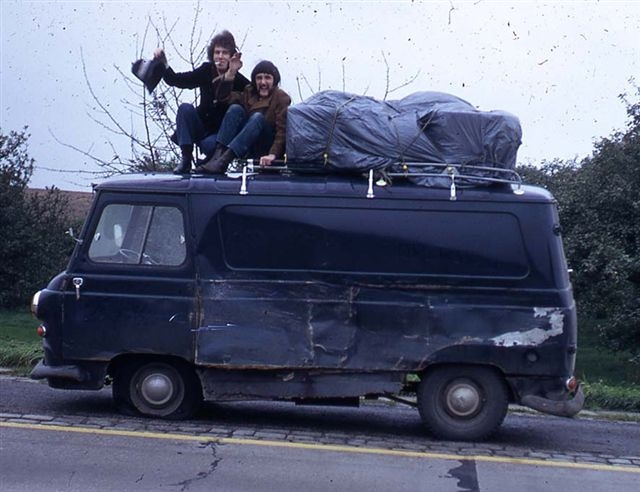 The bass is dependent upon other instruments staying out of the way in the mix, and upon acoustics in live situations. I like the bass to sit just on top of the kick drum, if there is one! Here are a couple of recent sound samples where the bass is not compromised by other instruments.
TB10 with percussionists D'Angelico Premier Bass
Here is a list of my main instruments over the years.
1968 – 1970 East Of Eden, Manfred Mann Chapter Three Vol 1. 1964 Fender Precision. Flatwound strings with East of Eden. With Manfred I used RotoSound roundwounds but the gauge was too light so I used a D string for a G, an A string for a D, an E string for an A. For an E string I used a black tape wound string and scraped the tape off! I also used metal finger picks on some tracks.
In 1970 I bought an acoustic bass guitar from the estate of a violin maker. According to the seller, this unique instrument was made around 1850. It was the size of a cello but had a shallow body, a retractable spike , and a round sound hole. It was delicate when I bought it and I had light gauge silk strings made for it. Unfortunately I have no photos, but it can be heard on these tracks. "Live A Little, Get Somewhere" by Vinegar Joe, "Sometimes" by Manfred Mann Chapter Three and "Zu Zu Mamou" by Dr. John.
About ten years later I had repair work on it which was poorly done and I sold it to an antique instrument dealer in 1981 prior to moving to the USA.
1971 – 1973 Manfred Mann Chapter Three Vol 2. 1964 Fender Jazz bass with Precision neck.
1972 Vinegar Joe first album. Ampeg AEB Scroll bass with original strings.
1972- 1978 1972 Fender Precision.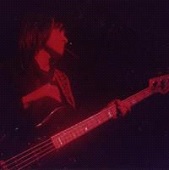 1974 -1978 1974 Fender Jazz bass. 1977 – 2004 1957 Fender Precision.
1978 – 1985 Alembic Series 1 bass. This was originally John Entwhistle's first Alembic bass. I saw a documentary where he talks about this bass. He says he fell off the stage with it and broke it. The Who's guitar tech had it repaired and sold it to me and John bought a couple of new ones that were similar. They were about $10,000 each at the time! I was told a different story about how it got broken!
1985 – 2004. 1964 Fender jazz basses, Kay Chubby Jackson 5 string upright, Ampeg Baby Basses
2007- 2010 Fodera AJ 5 string.
2008 – 2020 Fodera Emperor Elite 5 string 2009 – current Fodera Imperial Essence 5 string
2001 – current Various Lakland basses.
Current – Takamine TB10, Yamaha BEX, D'Angelico Premier.
Recording bass changed drastically when digital recording became the norm. Prior to that tape saturation and tube technology helped passive Fender basses to sound fat and warm. Early digital recording made them sound dry and clanky and, for recording, I favoured basses with on board preamps such as the Alembic. Now there are a variety of plug ins and out board gear that emulate the older equipment very well.
You left East of Eden and recorded Manfred Mann Chapter Three. How was it to be part of this interesting project that Manfred Mann and Mike Hugg started originally under the name of Emanon?
It was unique because there was no guitar. That gave me a lot of freedom both harmonically and in terms of my sound. I also soloed a lot in that band. Really enjoyed working with horn section!
The concept of the band included a lot of free improvisation space but on the other hand Manfred was meticulous about the arranged parts. He was never satisfied with something that worked until he had tried every other option! We were also busy with recording jingle for TV. I was also busy with sessions for another jingle house. Often I would play on competing jingles for the same product. Here is one we did for Michelin. It was pressed as a 45rpm and distributed to Michelin dealers. "Michelin Theme".
Most important to me was that we toured the US. It was my first visit. Our first date was three nights at the Fillmore West in San Francisco with Boz Scaggs, Steve Miller and the reunion of Janis Joplin & Big Brother and the Holding Company. I was humbled!
Working with Manfred Mann Chapter Three was a great learning experience!
Footnote. A few years ago I received an email asking how I got my bass sound on a track called  "Stand Up" by UK group The Prodigy! I investigated and found out they have based the track around a Manfred Mann Chapter Three sample. The track sold over a 1.2 million in the UK. I put in a claim and have received royalties in the five figures since. A nice bonus that somewhat makes up for some of the royalties that were stolen from me!
"Snakeskin Garter" (with tiny pop up bass solo at the end!) and "One Way Glass" (sampled by The Prodigy.)
The lineup of musicians was huge! 
I enjoyed working with a horn section.
You appeared on Holy Magick (Vertigo) by Graham Bond. What's the story behind recording it?
When Dr. John arrived in London there was a drought. He had the reputation of being connected with voodoo and that it always rained when he performed. Sure enough it started raining heavily during our first session at London's Trident studio. A few months later I went to Trident to record with Graham. Graham decided that he would also make it rain as both he and Dr. John were Scorpios (a water sign). He started an incantation with his eyes shut holding a chalice in front of him. Musician Victor Brox thought that Graham was offering him a drink and took a drink from the cup which contained perfume! He flailed his arms and knocked over a candle which set fire to the studio wall! So Graham actually managed to conjure up fire instead of water. I told Dr. John this story over dinner at his house in New York in 1984. He was doubled over laughing! For me the sessions were a disaster. Graham set us up on four sides of the room according to the elements of our Zodiac sign. I should have been next to drummer Keith Bailey as we are both earth signs (Taurus and Virgo). Instead Graham had us at opposite sides no matter how we tried to correct him. I had a raging ulcerated tooth coming on. I had to pull out after the first sessions there was no way I could play or wear headphones!
You also appeared on Dr. John's The Sun, Moon & Herbs. 
I was recommended by Graham Bond and also by Ray Draper, an American tuba player who was living in London at the time! I played an acoustic bass guitar that was made around 1850. I acquired it after the owner, a violin maker, passed away. It was about the size of a cello and fretted up to the twelfth fret. It had a narrow body and flat back and sides. Unfortunately I had to sell it when I moved to the US. I had already had it re-braced but it was still very delicate. The album was intended to be a triple. The one I recorded was all acoustic with Eric Clapton on acoustic guitar. We did the whole thing in one 12 hour session.
Manager Charlie Greene took the tapes and mastered it all as one album. Mac (Dr. John) told me that he had the master tapes in storage for a while but they were lost.
I stayed in touch with Mac over the years. I stayed with him in LA during the recording of the Gumbo album and we were neighbours in New York from 1981 -1985 and I played a few gigs with him during that period.
How about Dada? You were friends with trombonist John Lee. You didn't play on their 1970 LP, but would later join Vinegar Joe. Would you like to talk a bit about Vinegar Joe background?
While I was still with Manfred I would often go and see Dada live. They had recorded an album for Atlantic Records but were not playing much. At the time I was attracted to larger groups with horns. They also had three great singers – Elkie Brooks, Robert Palmer and Paul Korda and later Jimmy Chambers. The Average White Band was another example of a horn band I liked at at the time. Phil Chen had played bass on the album but keyboard player Don Shinn was playing bass on the gigs. I heard they were auditioning bass players for a US tour. They had seen me at their shows and knew I was a fan and I had no problem locking in musically. After Manfred Mann Chapter Three folded I had realized that I no longer had the luxury of experimenting on the bass and I had been working on conventional American R&B grooves and was set up for that sound which was exactly what Dada needed.
We did the US tour on a shoe string budget. We shared the same management as Yes and we found out that they had diverted our tour support money to support Yes instead! When we returned to the UK we played at Ronnie Scott's jazz club. Atlantic Records boss Ahmet Ertegun came to see us. The next day I was summoned to Ahmet's hotel suite along with Elkie Brooks, her husband guitarist and Dada bandleader Pete Gage, and Robert Palmer. Ahmet explained that Atlantic could not keep financing a ten piece band and that he wanted the four of us to find a new drummer and keyboard player and form a new band. Chris Blackwell of Island Records was at the meeting. The deal was that we would be signed to Atlantic in the US and to Island in Europe. We recorded the first album with the four core members. Tim Hinckley and Dave Thompson played keys, and the drummers were Conrad Isidore from Manfred's band and Rob Tait.
You released three albums with the band and did some touring. What are some of the strongest memories from recording and touring with Vinegar Joe?
There's an interesting retrospective of the band here. (Although the mugging story is untrue!)
The story of Vinegar Joe
I like the albums we made. The story with Rock 'N Roll Gypsies is that Island Records pulled the plug before the final mix and released the rough mix! The irony is that it seems to be the most popular of the three albums because it is raw and unpolished! But my favourite is Six Star General.
It was released and the first pressing sold out fast, but the vinyl crisis hit and there was a long delay before the next pressing. Then Robert announced that he was leaving for a solo career. It turned out that Chris Blackwell and Robert had simply been using the band to prime Robert to go solo. We had intended to carry on without him and recorded two tracks with Elkie. Island released a few copies in Holland but pulled it when Island decided to no longer support the band without Robert. We disbanded at that point. Here are clips of the "lost" tracks. "Sweet Nothings" (This was the only time I played bass with a pick!) and "Rescue Me".
We did a six week US tour that went very well. We were mostly a support act. Upon completion we were asked to pretty much repeat the tour but as the headliner! Having spent time in the US I knew this was a great opportunity and that we would have to stay as long as possible to make a dent there. Guitarist Jim Mullen wanted to return to the UK. Robert wanted to go home. He probably knew by then that he was going solo. Drummer Pete Gavin and I wanted to stay. Keyboardist Mike Deacon was ambivalent. For whatever reason, Elkie and Pete Gage decided to return to the UK. That effectively killed the band in the US.
Lot's of followed, including Sonny Geraci's Climax, Rufus Thomas Band, Chris Jagger Band, Arthur Brown Band, Viola Wills Band, Casablanca, Ariel Bender Band, Quip, Tony Sheridan Band, The Goodies, Carol Grimes Band, Elkie Brooks Band, Kicks, Alive & Picking, Marianne Faithfull Band, Sam Mitchell Band, Chicken Shack, Martha & The Vandellas, Alan Rose Band, Red Beans & Rice, Grace Jones Band, Laura Branigan Band, Hoopsnakes, Bo Diddley Band, T-Bag, Ron Thompson & The Resistors, Percy Strother Band, Chuck Berry Band, Hudson & The Hoodoo Cats, Big John Dickerson Band, Ron Thompson & The Resistors, The Celebrators and probably so much more. Would it be possible to comment on a few of the mentioned projects?
Sonny Geraci's Climax
Climax was quite a story! After Vinegar Joe recorded their first album there was a nine month wait for it to be released. My mother had passed away and I needed a break. I went to visit a girl friend in California, intending to stay a month. My plane ticket and passport were lost (the passport was later recovered) so I was stuck there. I was hitchhiking on the Pacific Coast highway when a car pulled up. It was drummer who recognized me. He had driven from Florida to audition with a band whose record had just entered the charts. They were looking for a bassist and he invited me to audition with him. I got the gig and toured with band for nine months during which time the record reached number 2 in the US charts. It was a ballad called "Precious and Few". I stayed until I could no longer renew my visa and then returned to the UK. The keyboard player was Virgil Weber. We are friends to this day. He later became MD for Donna Summer, then Laura Branigan. He hired me for Laura's band, nearly 10 years after we first met!
Rufus Thomas
This was just a one month tour in the UK. Rufus is about the only star I backed up about whom I have little good to say! We mainly played USAF bases. We did not know we were playing two shows a night and getting paid for one. The shows were about 20 to 50 miles apart. We had an hour between each. In that time we have to to tear down, load the van including a Hammond organ, Leslie cabinet. An Ampeg SVT with an 8×10 cabinet and drums. Needless to say we were always late. Rufus would have gone by limo and had dinner and would be waiting to yell abuse at us while we set up at the second show. He used to stretch "Do the Funky Chicken" for about 10 minutes while he did the chicken dance. I had the intro bass and one night I brought it in at break neck speed hoping he would collapse! He kept looking at me to slow it down but I just glared at him. We were supposed to do the same routine in Germany but we bailed. He told the agent he wanted an all black band. The black musicians showed up at the airport and he started yelling at them and they went home leaving him to continue without them. I guess he didn't know the difference between Americans and Jamaicans!
We did do a public show at the Hilton Hotel in London. It was filmed for a TV special. They tried to get us to sign a release without paying us for the show. We went to the Musicians' Union and got paid. I have never seen the footage which is a shame because we were playing really well behind him!
Chris Jagger
Not long after Vinegar Joe broke up I was offered a US tour with Chris Jagger. My first meeting with Chris was upon returning from Germany with Vinegar Joe. I was met at Heathrow Airport by a chauffeur holding a card with my name on it. He said "I have instructions to take you to Stargroves sir". I said "What's Stargroves?. He replied "It's Mr Jagger's residence sir". So, leaving Vinegar Joe at the airport with their jaws on the ground, I went to the Mick's country home to play a session for Chris. I had been recommended by ex Vinegar Joe drummer Rob Tait. Mick showed up and produced it. I became friends with Chris, especially as we had sons of the the same age who became friends and spent many weekends among the house guests at Stargroves. The US tour was enjoyable but Chris' album died and so did the band.
Arthur Brown
I played on several track on Arthur's Dance album in 1974. I was recommended by drummer Charlie Charles after the bassist on the sessions was arrested for attempted bank robbery! Also the producer Viv Smith had produced the first Vinegar Joe album. I continued to work with Arthur on and off until we both relocated to the US, mainly doing TV and radio. He was always a pleasure to be around!
Viola Wills
In 1975 I was recommended by arranger Ian Green to back up Viola for a season at Ronnie Scott's Jazz Club in London. There is a hilarious description of our adventures on this gig in guitarist Jackie McAuley's excellent autobiography 'I, Sideman'! We became friends for life. We gigged extensively around London clubs. Viola was a prolific songwriter and I played on many of her demo sessions but she would not let anyone cover her songs unless she had recorded them first. When I moved to New York in 1981 I ran into Viola by chance and we went and sat in some Greenwich Village clubs. I moved to Minneapolis in 1985 and found out Viola was married and living there. She immediately had me play on her new album. One of the tracks, a cover of "Both Sides Now" was a minor hit reaching #45 in the UK charts. I didn't do much on it except double the synth bass but here it is! She was a very competent pianist and this is her arrangement. We kept in touch right up to her death in 2009.
Casablanca
In 1975 I auditioned for the band Casablanca. Based around singer Aliki Ashman and guitarist Barry Clarke, they had previously recorded an album for Elton John's Rocket label. We recorded an album at Headley Grange where Led Zeppelin had recorded. I was very pleased with it and formed a special bond with drummer Charlie Charles. Unfortunately the label deemed it too experimental and it was shelved. It was released by an independent label in 2007 under the name The Lost Funk. Again, unfortunately a poor set of rough mixes was used instead of the final mix and the tapes were in poor condition with noticeable wow and flutter on some tracks.
Quip
It was based around guitarist Colin Pincott who, although largely unknown, was one of the best in the UK. Sort of a British Danny Gatton. On drums was my childhood friend Louis Borenius and Godfrey Wang played keys. We packed some London pubs for a while. Colin didn't want to record as he "wasn't ready".
Tony Sheridan
I was part of house rhythm section on salary for a small UK label in the mid 70's. They had signed Tony Sheridan and were planning on relaunching his career with a concert at the Royal Albert Hall. We rehearsed for about a month. Tony was a talented soulful singer but a complete nervous wreck. He was the nicest person but had experienced a traumatic event while touring in Vietnam during the war which had turned his hair grey overnight. I believe it was his sixth tour and that one of his band was shot dead right in front of him, but he would never talk about it. He bailed on the concert and I never saw him again.
The Goodies
I was working with a wonderful band called Pacific Eardrum. It was the brain child of New Zealand keyboardist Dave Macrae and his wife singer Joy Yates. It was kind of a UK Weather Report with Big Jim Sullivan on guitar and Tony Hicks on drums. Dave was the musical director for the Goodies TV show and hired Tony and I to back them on the concert.
Carol Grimes
I worked with Carol around 1978. We mostly played London clubs and pubs and did toured Germany. It was an excellent band, she was a fine singer and I loved the material. We had a strong following but Carol was turning down some good offers. I later worked with drummer Terry Stannard and guitarist Joe Mavety with Marianne Faithfull. Unfortunately I didn't get along with Carol, especially after she threw a beer glass at me backstage because I had just done a TV show with Elkie Brooks!
Elkie Brooks
After the demise of Vinegar Joe, Chris Blackwell of Island put Elkie on ice for the remainder of her contract, meaning that she remained signed to Island but could not record. She then signed with A&M and recorded a disco orientated album in LA which sank. In 1977 I was called to play on her next album Two Days Away along with Trevor Morais on drums. Isaac Guillory on guitar and Jean Rousell on keys. Produced by Leiber & Stoller, this is probably my favourite out of all the albums I played on.
It was a great experience working with producers Jerry Leiber & Mike Stoller. Mike and Jerry brought a case full of song demos and allowed us freedom to come up with our own arrangements with some guidance from Mike. They worked very methodically. Laying the rhythm tracks, we would generally work from 10am – 6 pm and record four batches of about ten takes at a time. After each batch we would take a break and then they would tell us what to change or what to keep. I couldn't understand why they did so many takes until we were done with the rhythm tracks and Elkie asked when she was going to do the vocals. They said: "We've already got them!". They were keeping the guide vocals looking for natural performances. The album contained two of Elkie's biggest hits "Pearl's A Singer" and "Sunshine After the Rain". I also later played on another of her hits "Lilac Wine" which was recorded live in the studio in one take with a full orchestra.
Elkie was and still is one of the best singers I have heard!
And now the not so nice! I worked with her through tough times from 1971 – 1978. When she fired her band the first time we knew about it when we read about it in the newspapers about a month before we were due to tour with her. There was never a call from her or her management.
Not long before that we played at the Royal Albert Hall. At the post gig party Elkie was presented with a gold album for Two Days Away.
Her manager told Trevor and I that Leiber & Stoller had also ordered the award for us, but that Elkie did not want them presented to us at her party and we were to pick them up at the office. If you should read her autobiography be aware that it contains lies and half truths! The story of her "Christmas mugging" is recounted by ex husband Pete Gage in the Vinegar Joe story above. The story in her book is another different fabrication. The band's tour manager and ex drummer John Wood was the first on the scene. He told me that it was simple case of domestic violence.
Kicks
This was a short lived rock band formed in London by drummer Alan Powell. Alan filled in the last days of Vinegar Joe and co wrote some songs with Robert Palmer. On guitar and vocals was Cal Bachelor from the Sutherland Brothers and Quiver and Paul Rudolph from Hawkwind. We got a lot of publicity when we started and played some London gigs. I don't recall why we broke up but there were no hard feelings.
Alive & Picking
I played with Alive & Picking every Sunday night for four years until I moved to the USA in 1981. Led by guitarist/vocalist Robin McKidd, this was best described as an avantgarde bluegrass band. The other members were Bobby Campbell on fiddle, Joe Locker on banjo and the legendary Adrian Legg on electric guitar. We packed the Hare & Hounds pub in Islington every week and was a lot of fun!
Joan Armatrading
I worked on Joan's 2nd album Back to The Night on A&M records. Produced by Pete Gage, it was not a commercial success but it is a highly original and interesting album. Joan is a unique writer with a distinctive voice. Her material was not easy to dissect. She was very shy. She used open tunings so she would play a song with a constant D in the bass and sometimes had 7/8 or 9/8 bars. I gradually got to know her and she would sometimes stop by my house for coffee and to listen to my Gladys Knight records! She has a tremendous talent. I love her recent Into The Blues album!
Marianne Faithfull
I played on Marianne's Broken English album and also the follow up, Dangerous Acquaintances. Broken English, recorded in 1979, has sold millions to date and is gold & platinum in a few countries. The band, consisting of Barry Reynolds, Joe Mavety, Terry Stannard & myself, had considerable musical input on this album. Marianne was kind enough to give us writing credits, but to my mind the musician that has not received enough recognition for his work in shaping this record was Steve Winwood. The record was reissued in 2013 as a double CD. One CD has the original finished recording with just the raw band. The other CD has the polished version with the addition of Steve Winwood's keys and other overdubs. Marianne and I prefer the raw band tracks in many ways, but we feel that the record would not have been as successful as the final version.
This record has actually made me more money than any other but, although I am proud of my work on i , I do not like it very much! I was amused when I read that Eric Clapton threw it out of the window when Patti Boyd kept playing it!
My bass sound on this record was not typical. I used my Series 1 Alembic bass in this record and for some reason engineer Bob Potter wanted to record it out of phase. It is somewhat buried in the mix on the final version but clearer on the raw band mixes.
The producer Mark Miller Mundy had no previous experience. The record would not have achieved success without his input, and, for that matter, would never have been made! He became the producer because Island Record's Chris Blackwell owed him a favour. He was a bully in the studio and the record took months to record instead of weeks. He would not pay us until it was complete. "I could advance you some money but I don't feel that would be right!" We were going broke. When we made the follow up album an Australian TV crew showed up to present Marianne with a gold album. We were so broke that Marianne promptly traded it for dinner for the band in the pub next to the studio! An example of an instruction from Mark. "Stop! We have to try a different key!" "Why"? "Well there's only four riffs in the key of E and we've tried them all!"
Steve Winwood advised Mark throughout the recording of Broken English and we got through it. I was fired before the recording of the follow up Dangerous Acquaintances. The band spent a disastrous couple of weeks in the studio and then rehired me. I can't say I had a good attitude at that point! We took months again recording. Drummer Terry Stannard and I tried to keep metronomic time but I realised that Mark didn't find the track exciting unless we rushed! Without Winwood the album was a mess!
I am recounting all this because by the time we were done I was just waiting for my money so that I could leave the UK for good. In fact the two year experience actually soured me on recording for some years and I was no longer interested in pursuing a studio career! It was good timing as studio work was rapidly thinning out anyway!
As a footnote, my publishing was signed to Mark's publishing company which quickly went bankrupt due to mismanagement. It reverted to me. I then became a victim of fraud when I signed with Clive Steven's publishing company Interterranean Music. After getting stiffed for a few thousand dollars I got a release from him and Warner Chappell successfully handled my copyrights for 15 years until 2007. Clive passed away in 2019 just as I found out that he fraudulently sold my copyrights in 2013. To date I have successfully cleared the matter up with BMG Music and Sony Music but Universal Music and Clive's family will not respond to me and a portion of my royalties is still being ripped off!
A postscript. I'm taking the opportunity to correct some misinformation that was in the book 'Marianne – As Tears Go By' by Mark Hodkinson. He states that when we toured Ireland prior to recording Broken English, the band was afraid to play in Belfast and that we bailed on the tour and went home early!
First of all "the band" did not have a collective mentality and we were certainly not afraid to go to Belfast! The truth is that there were only one or two dates left in the tour. We had been on the road for almost a month and had not been paid one penny. We were all flat broke! Marianne had been able to borrow some money from her friends in Dublin to pay for some meals but there was no one we could turn to on our way north.
Marianne's manager for the trip was her neighbour Isabella Dulaney who had no music business experience.
The day before we were headed to Belfast we had set up and sound checked in the club. I put my last couple of coins in a slot machine and kept winning. I called the road crew over and told them "Look, this machine is trying to pay me!" On the next pull I won the jackpot which was the equivalent of a few hundred dollars.
Isabella approached me and told me that the agent had promised to show up and pay us every date so far and he was due to come that night from Dublin. She had her doubts. She told me that the amount I had won was just enough to get the band back to London if he did not show up, otherwise we would be stranded! Would I lend the band my winnings to get us home?
It turned out that the machine had just been installed and was not yet calibrated. The owners and locals were not happy with me and the road crew had to protect the bag of coins that the club would not change!
Of course I did and we returned home. Marianne returned to Dublin and threw together a band to play a local punk rock club.
The day after we got home the tabloid newspapers announced that Marianne's band had left her in Ireland because we were afraid to go to Belfast thanks to her press agent!
No, it was because we were clearly being stiffed and about to be stranded! The slot machine windfall was a blessing!
To compound the falsehood, Marianne repeated the story in her autobiography 'Faithfull' with some fanciful elaboration about the band (with our collective mentality) missing the bright lights and big city!
In the mid 80's Marianne was in Hazelden for drug rehab. I heard an interview with her on PBS where she stated that part of her treatment was to summarize her life. She said that there was so much that she couldn't remember that she had to have all her press archives sent to her! And so is history written!
Charlie Musselwhite
In 1977 blues harmonica great Charlie Musselwhite came to London to record for Stefan Grossman's Kicking Mule label. The great slide guitarist Sam Mitchell was on the session. Jeff Rich was the drummer. Bob Hall later overdubbed piano. Charlie's tracks were done in a day and a half: mostly first takes with no rehearsal. The other day and a half were spent on an album for Sammy on which Charlie guested. The tracks were recorded at Livingstone Studio in an old church. When Charlie got back to the US he commented that recording in England was like "playing in someone's garage". Our directions from Charlie were "play with a blues feel" and "when I put my finger up we end the tune". This made things easy. Charlie is a very warm person and this comes across in his playing. I used an Alembic Series One bass for these sessions. The album was The Harmonica According To Charlie Musselwhite.
Sam Mitchell
Sammy was the best slide guitarist I ever heard and it was great to work with him. We had a power trio with Mickey Waller or Jeff Rich on drums. I played on two of Sammy's albums Follow You Downand The Art Of Bottleneck Guitar. Charlie Musselwhite played harmonica on Follow You Down.
Stan Webb's Chicken Shack
I toured Europe extensively with Stan in 1978- 1979. The band included Robbie Blunt guitar, Dave Winthrop sax, and Ed Spevock drums. We recorded an album in Frankfurt and also played a huge concert at the Zeppelinfield, Nuremberg, Germany opening for Bob Dylan and Eric Clapton. Ed Spevock and I spent some time playing foosball backstage with Eric and Carl Radle. I had previously spent time playing foosball with Eric at Olympic Studio in London. I later found out that he was carrying a foosball table with him or specifying one in his contracts! The album. That's The Way We Were, wasn't released until years later as the record company went bankrupt.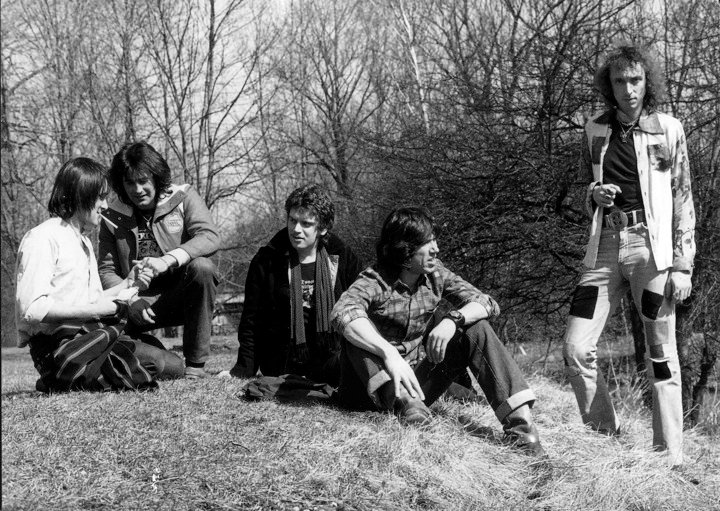 Lee Vanderbilt
I met Lee when he was singing backup with Elkie Brooks. He booked me to play on some tracks of his album Get Into What You're In which was produced by Biddu. The stand out track for me was "Funky Tropical". Arranger Gerry Shury brought the charts in during the last few minutes of the session and we sight read them (he asked me to come up with bass line on the bridge). As I was packing up Lee and Biddu asked me to add a bass solo. Lee was a beautiful soul and I'm happy to have stayed in touch with him until his passing. Here is the track with my tiny pop up bass solo at 3m 05s.
Isaac Guillory.
I worked with singer/guitarist/songwriter Isaac Guillory from 1976 until I left the UK in October 1981. The last gig I played in the UK was with Isaac. He also played on Elkie Brook's Two Days Away album on my recommendation. We only had the opportunity to record once.
Robin Sarstedt aka Clive Sarstedt
I recorded one single with Clive. It was a version of "Let's Fall In Love". The session was notable for me.
It was an early morning session at Morgan Studio in London. I lived about 2 miles away. Normally it would have been a 10 minute cab ride, but circumstances had me staying across town the night before. I allowed an hour to get there. Two cab rides and two tube (subway) rides later I was a half hour late with no way to call the studio. Frazzled and dismayed I entered the studio to find most of a symphony orchestra and backing vocalists crammed shoulder to shoulder. I made my apologies to the conductor/arranger/MD Ian Green and he called "Ladies and gentlemen the bass player has arrived! Take ten!" He then told me that they had just finished soundcheck and rehearsal and were about to record. I had ten minutes to set up and look over the chart. I was very relieved that Ian was the arranger and not a stranger, but immediately apprehensive as I was going to have to sight read and Ian, who was army trained, was fond of peppering his charts with landmines such as B#'s, E# 's, Fb's, and Cb's, along with a few double dotted 8th notes!
My seat was shoulder to shoulder with guitarist Jackie McCauley. A quick glance at his chord chart set my mind somewhat at rest when I saw the vanilla chords, and I was super relieved when I looked at my chart and saw I mostly had two notes to the bar with no military accidentals! I was barely settled when the count in started. I then realized that I had one more hurdle! I was seated to Jackie's right instead of his left. Had I not been late it would have taken seconds to switch seats. This meant that I had to hold my bass at an angle where it wouldn't hit Jackie's guitar or music stand or block his vision. Somehow we made it and it was a wrap on the first take.
Laura Branigan Band
I moved from London to New York in October 1981. I had very little money but picked up some studio sessions and some wedding band work. I heard "Gloria" and suggested to the wedding band that we learn it as it was bound to be a hit. About two weeks later I saw my old friend Virgil Weber playing with Laura on TV on Solid Gold. About two weeks after that I had a call from Virgil. They were in New York. Laura had a New Year's Eve gig coming up and the management did not want to fly the band in from LA. Could I put together a rhythm section? I met Laura that night and we got on well. I enlisted guitarist Jeff Southworth and drummer Richie Fontana. We played the gig with just an quick afternoon run through. Laura decided she liked us better than the LA guys and I toured with her until 1985.
I never recorded with her but we did a lot of TV including several Solid Gold shows and two appearances on the Tonight Show with Johnny Carson. I am also in her full length concert video from Lake Tahoe. Laura was a pleasure to work with. In all the time we were together I never heard a bad word from her to anyone in the band … just a big hug and a thank you at the end of every show!
Bo Diddley
Bo Diddley moved to Minneapolis, Minnesota in August 1985. After about two years there playing in popular local bar bands such as the Doug Maynard Band and the Hoopsnakes I started getting calls to backup touring blues and oldies artists, usually acting as musical director and contractor. The first date was in 1989. Bo was very happy with the band. We played a straight two hour set until the 1am closing time. The audience were cheering for an encore for 20 minutes so the owner locked the doors and we played another hour! I then got word from Bo's New York agent that Bo had asked him to give the Twin Cities venues a discount if I was bassist/MD on his shows in the area as he knew he wouldn't have to rehearse with me! From then on Bo would show up for a long soundcheck and he would just use us to try out some ideas for his works in process. He visited the Twin Cities once a year for the next 14 years until 2003, by which time he was frail and had to perform seated.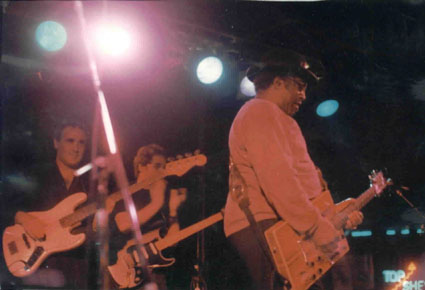 He was a true shaman. He would come right up to me and stare at me through his Coke bottle spectacles and I would lock into his groove, then he give me a nod and an unspoken "don't you dare move" and proceed to hypnotize the audience with some subtle gear shifting along the way! When he broke a string he would replace it right there on stage and turn it into some kind of ritual. Bo was the very African roots of blues and rock & roll!
Chuck Berry
I had heard how difficult Chuck can be! I was asked to put a rhythm section together for him in 1991. I was also booked to play with the Shirelles opening for Chuck. The agent called me and said Chuck doesn't allow his players to play with the opening act. Not only that but he has the option of bringing his own bass player! I told the agent that Chuck was putting me in the position of turning him down, I got a call back … Chuck will make an exception.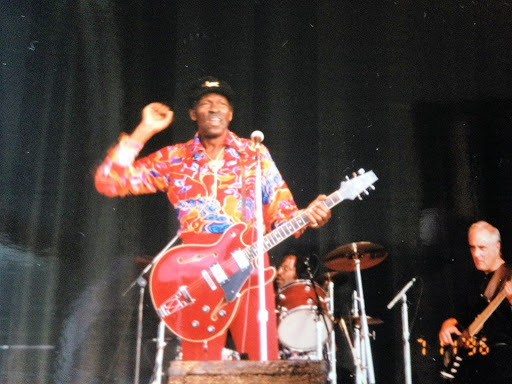 The gig was in an outdoor amphitheater at a casino. I showed up early with pianist Andy Bailey and drummer Stan Kipper. I had picked these musicians because not only did they understand the music, but I new they were mentally secure enough not to let Chuck intimidate them! No one was sure whether Chuck would rehearse or not. After hanging around for two hours we were ready to leave when Chuck showed up. He put us through his jail house intimidation audition. He told us "Chuck Berry plays Chuck Berry's hits but Chuck is getting old and can't remember what hits he had any more!". Then he plays the intro to "Johnny B Goode". Andy plays a glissando. Chuck stops him with "I don't want to hear any of that sliding shit …you hear?". Chuck plays the intro again Stan hits the snare on one in the middle. Chuck stops him. No you don't play in the middle of the intro. Then it's my turn. "Bass player! If I play this, what do you play?" Chuck plays a typical slow blues intro but fakes me out but going straight to the four chord instead of the one. "You see I went to the subdominant and you went to the tonic! You need to pay attention!" "Then if I play this, what will you play?" Chuck plays the intro to "Memphis". I come in pumping 8th notes on the tonic. Chuck beams at me "Now you've got it! Now you've been paying attention! You've been listening!"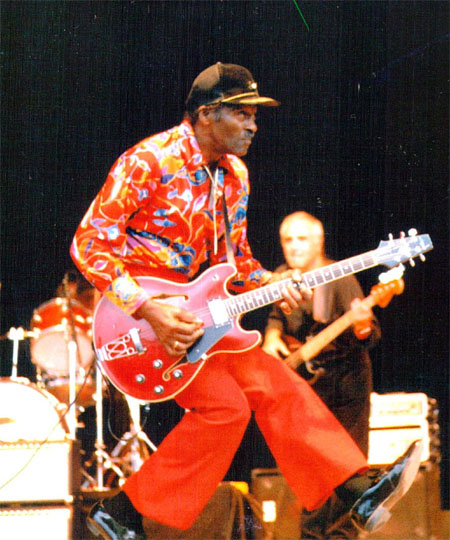 Audition over. Chuck tells us to watch his "big size 13" (foot) and warns us that he can't always remember what key his songs are in and to watch out for him changing key. (not surprising as a few of his hits were speeded up on the recording).
He also tells me I should stay simple behind the vocals and break out and do my thing behind the solos.
Drummer Stan Kipper and had discussed whether to take a straight 8th note approach to the rock n roll songs but we decided to swing them in the original 1950's style. The groove of first song of the first gig was a little shaky. On stage in front of a big crowd Chuck turned to Stan and said "Drummer, what is wrong with you!". Stan said "I've got one of your speakers each side of me and no drums in the monitors and I can't hear myself!". Chuck: "Don't you know what you're playing?". Stan (standing): "Take it easy Chuck!". Chuck, incredulous gives up on Stan, turns to me. "Bass player. Tell the drummer what I want!". Me to Stan "I think Chuck wants you to lay back a little because Chuck is getting old and likes to pace himself". Chuck to Stan "That's right!". The next tune, a 50's swing rocker fell right in the pocket. In the middle Chuck walks up to Stan (an African American) and says: "Now this is feeling real good! Now we're playing like white people!". Stan and I nearly fell out laughing. Chuck then did something totally unexpected. He called an Elmore James tune "Dust My Broom"and then Jimmy Reed's "Honest I Do". It's unheard of in my experience for Chuck to play anyone else's songs and showed that he really trusted us by then! During one of these he went and edged Andy off the piano stool and played some great blues piano in the key of E!
The casino had a clause in the contract that the artist would get fined $500 for every minute they ran over time. When he got the signal to quit Chuck started another tune and invited everyone to get on stage and dance. When the stage was full of dancers he went backstage and continued to play and left us to bring things to a close. He probably got hit with a $3000 of $4000 fine.
The casino people came backstage and Chuck agreed to pay the fine. Then the casino suit, relieved at Chuck's cooperation, said: "We have chartered a plane for you tomorrow. The next gig was another casino about 200 miles away. Chuck: "Is it a jet?". Suit: "No, it's a prop plane". Chuck "I don't fly prop planes, I'll drive". Suit: "OK. I'll order a car and driver Chuck". "No. I drive myself" Suit: "OK. I'll order a car". Chuck: "And I charge $5000 for driving!" So much for the fine. Touche Chuck. When we saw him the next day he could not have been friendlier!
T-Bag
This was short lived roots rock band I put together with Dan Neale guitar. Steve "Killer" Kilbride and drummer Phil Bass. Unfortunately Steve passed away from cancer during the course of the year we were together. We originally came together to back Bo Diddley on the 1989 gig.
Ron Thompson & The Resistors
I was called to play with Ron Thompson and pianist Mark Naftalin (ex Paul Butterfield Band) around 1988. I toured the upper midwest with them on and off over the next few years. In 2006 Ron called me to tour with him in the Midwest as a trio, and again in 2007. Both Mark and Ron have an encyclopedic knowledge of blues and soul music. Ron is great guitarist and also a proficient blues pianist.
Percy Strother
Percy was a true classic bluesman. Born in Mississippi, he and his brother were orphaned in their early teens by local whited who wanted their land. I first met Percy when I worked with harmonica player RJ Mischo. RJ only was a blues purist and objected to Percy wanting to include soul music. Percy had already recorded a solo CD A Good Woman Is Hard To Find but he needed to add four tracks for the European release. He had me play bass on these and subsequently the record label asked me to accompany Percy on his first trip to Europe as Percy was illiterate and had never traveled out of the US and was scared. Once in Europe he was overjoyed to discover the lack of racism compared to the US and also relieved to discover that there were no crocodiles in the canals of Amsterdam!
We spent a month playing in Holland and Belgium with local Dutch musicians. I stayed in touch with him up to his death in 2005.
Hudson & The Hoodoo Cats
This was a blues and roots rock trio from Austin, Texas. I had a booking agency in Minneapolis from 1998 – 2005 and I would regularly book them in the upper midwest. On one tour their bassist bailed at short notice so I went on the road with them for a moth. Hudson Harkins was the drummer and vocalist and guitarist John Logan is a master of Texas blues and roots rock, capable of keeping rhythm and lead fills going at the same time throughout a song. He was one of Stevie Ray Vaughan's mentors and his Surat bears Stevie's signature, I once asked him: "You two play such great shuffles. What's the secret?". He replied "The secret of a great shuffle is everybody has to do it". I was proud to be a part of it for a month.
Big John Dickerson
Big John is a talented entertainer and singer who was a mainstay of the Twin Cities blues and soul scene for decades. I booked his bands on and off for years until they signed a contract with a national blues label and started touring though a national agent. At that point I auditioned for them on bass and spent 2000 – 2005 mostly touring the Midwest and East Coast blues club and festival circuit averaging 3000 miles a week in the back of a van running my booking agency with two cell phones! We had some stand out gigs but the one I treasure was the opportunity to play at the granddaddy of blues festivals – The King Biscuit Blues Festival in Helena, Arkansas! In was thrilled that we got a standing ovation from the most discerning blues audience in the world halfway through our rendition of Ray Charles' classic "Drown In My Own Tears".
THE OLDIES ACTS
The Del Vikings.
This was the first of my oldies show gigs in Minnesota. Once again another bassist got the call but passed it on to me because he could not read. I was to book the musicians and act as MD. I booked Lisa Krieger (later to be Lisa York) on keys, Kenny Wilson on guitar. Drummer? The Del Vikings were the first successful mixed race doo-wop group. The agent Richard Lustig was a gold medallion, diamond name tag wearing Las Vegas type who was very nervous about taking a chance on me. The gig was in an Italian supper club in St Paul, MN. We did a quick afternoon run through and Richard was overjoyed when the Del Vikings complimented him on having booked such an excellent band! From then on we were hooked into the New York office which booked me for all their acts that came through the upper Mid West such as the Coasters, The Drifters, The Platters, The Shirelles, The Shangri La's, and The Marvelettes.
Fabian
Lisa and I played with Fabian on a casino riverboat in Iowa. The gig was totally reading. Fabian had a guitarist MD with him. I was contracted to hire a keyboard player and drummer and also contract a horn section. I found a contact in Des Moines, Iowa and told him I needed the sober horns! He came through with some excellent players from Nelson Riddle's orchestra. I was surprised at how down to earth and self deprecating Fabian was. He was a true pro with an entertaining act that mostly consisted of gently making fun of his early stardom! He is also a fine singer! We did not communicate during the shows, but he approached Lisa and I when we checked out, complimented us and asked if we had been paid well enough. I thanked him and he said: "I'm asking because I know there was a greedy agent in the middle of this and I hate when that happens! I want to assure you that if we do this again we will deal with you directly!". Most stars never think about this! Thanks Fabian!
The Celebrators
On the Del Vikings gig I was informed at the last minute that the band would play two songs before the headliner hit the stage. This was no problem until the MC came out to introduce us and, mic in hand, asked me the name of the band! My brain wen into overdrive to think of something cheerful and my mouth said "The Celebrators!" I registered the name and used it for almost anything that Lisa and I did for the next few years. I don't think any DJ or MC ever got it right! "The Celebrities","The Celebrations" etc. Oh Well!
The Coasters , The Drifters & The Platters.
I am putting these together as they were all booked out of the same New York office run by the notorious lawyer Larry Marshack. The legal story is told here.
I worked for the Marshaks from 1991 – 2005. The wiki story is incomplete. During most of the period the group were functioning under a ruling that said they must have at least one original member. So it should have billed as "Elsberry Hobb's Drifters"; Cornell Gunther's Coasters" etc. We were only allowed to play full versions of the songs that included the original member. The other hits were to be played as medleys containing no more than a minute of each hit. Of course these rules were ignored.
The singers were first rate and approached the job with the highest musical integrity and understanding. The MD for the Coasters and Drifters was David Revels. A great pro all the way! After our first rehearsal he took me aside and said: "You are excellent musicians. When I get a chance to work with good musicians I like to fuck with things. So don't get upset if I yell at you!". I usually kept the same core of musicians but it is amazing how many arrogant guitarists and drummers came unhinged when they couldn't keep up with being able to read and getting yelled at to make changes on the fly! Lisa and her keyboard sub Sarah Burke and I just had fun with it!
The MD for the Platters was another excellent singer and pianist Derek David. In contrast to David Revels he affected aristocratic manners with big hints of "street" just under the surface. I recall a concert tour we did with the Platters where he said: "We were making love on stage tonight!".
The one singer whom I will never forget was Charlie Thomas from the original Drifters. He had stayed through many incarnations of the group and was the Grand Daddy Mr Cool with huge respect from everyone. When we rehearsed "Stand By Me" which was never a Drifters' song, he instructed me to keep my notes staccato (short). When I was playing the intro that night on stage he walked over to me and gently stroked the back of my left hand And said to me: "You've got the groove. Now I'm showing you the feel!". Mr Cool!
Inkspots
Around 1999 I was recommended for a theatre tour with the Inkspots playing upright bass. They joked that they weren't the original members, having only been with group for 50 or 60 years. They brought along a wonderful manager and a pianist MD from Indianapolis. One of the singers played guitar. The only instruction I got was from the guitarist who held up two fingers as soon as we started our quick one and only rehearsal. I realised he was asking me to stay with two notes to the bar with no walking bass. I played 1 & 3 and he played a perfect slightly swinging 2 & 4. I realised that the groove was right on the edge of what later became the famous "Platter's shuffle". The real eye opener with the Inkspots was hearing them warm up with bebop vocalese renditions that would make Manhattan Transfer sound square! Musicians of the highest order in their 80's!
The Shirelles
These ladies were wonderful to work with! The leader was Doris Coley aka Doris Jackson who sadly passed away in 2000. I recall driving to Omaha, Nebraska one day in 120 degree weather to play with them and we arrived at their hotel to find the ladies in their bathrobes and hair curlers! "Oh you know our songs. Let's just warm up on some church songs instead of rehearsing!".
Cash McCall
Although not well known Cash was a very versatile guitarist and singer/songwriter. I had the opportunity to back him on a few gigs. No rehearsal. He was just as likely to play a jazz standard. A 60's pop tune or some cutting edge blues!
He was a Chess Studio session musician for many years and recorded with Howlin' Wolf and Muddy Waters, and then was in demand as a session guitarist in LA, notably with Minnie Ripperton. He passed away in 2019 at the age of 78. I have fond memories of him!
Larry Davis
A great Texas bluesman best known for his 1958 recording of "Texas Flood" which was covered so well by Stevie Ray Vaughan. Comparisons between the two versions show how much Stevie was influenced by Larry's singing!
I was lucky to play with Larry not long before his death in 1994. Again, no rehearsal or song list. Larry walked on stage and asked me to make my bass sound like organ foot pedals. I want it real deep!". Gladly Larry! Swamp bass!
Earl King
I had the opportunity to back up Earl King for a weekend. One of the most important New Orleans musicians and songwriters, Earl's songwriting credits include classics such as "Big Chief" and "Let The Good Times Roll" (as covered by Stevie Ray Vaughan). A very congenial man, he told us some hilarious stories about working in Nawlins in the 50's & 60's. The rest of the band was John Beach on piano, Jimi "Prime Time" Smith on guitar and Stan Kipper on drums.
Syl Johnson
Lisa and I worked with Syl from 1991-1998 whenever he was in the area. Syl had R&B hits with"Take Me To The River", "Is It Because I'm Black?" and "Fine Brown Frame". He was part of the Hi Records stable and his voice was often mistaken for Al Green. During the years I worked with him he was living in Chicago where he owned some fried chicken restaurants and also had a salaried no show job with the police department! Because of this he only gigged when he wanted and without any pressure! We were recorded live by PBS at a blues festival in 1996 but I have never heard the recording.
EC Scott
In 2003 I received a call from Famous Dave's, the major blues venue in Minneapolis. Blues singer EC Scott was touring out of San Francisco. Her bass player had just jumped ship. She needed someone for tonight! I called her. She was en route to the show. EC: "I have charts for everything! Can you read?". "Yes!". "Do you have a tuxedo?". "Yes!". I did not trust the chart thing so I drove over to the local record store and bought her two most recent CD's for $30. I spent a couple of hours writing cheat sheets for about 20 of the originals on the disc and then went to the venue and set up. The band showed up with a Mike Tyson wannabe tour manager. "You're not rehearsing here. I'm taking your food orders and we're going back to the hotel to eat and rehearse". Me: "I will take my meal home so please have the waiter leave my meal in the band room refrigerator". We go to the hotel to rehearse in the room with no amps or drums. We have half an hour to rehearse a two hour show, half of which is originals!
The MD is a Japanese guitarist. He asks me "Do you pray bruse?". "Yes, I play blues".
MD "I don't know how you're going to get through this!". Me "She told me you have charts?". MD: "Yes. She thinks we have charts but we only have horn charts!". I pull out my notebook and explain that I bought the CD's and made some cheat sheets. We try a couple of songs and the band is very relieved! The MD assures me that he will get me reimbursed for the CD's. The guys barely have time to eat and wannabe Tyson comes and hustles us back to the club. "We're late! You go straight on stage!". He hands me a bag dripping with BBQ sauce. Here's your food! Now get up there!". I have BBQ sauce all over my hands, on my tux, on my shirt. "I have to go wash this off!". "No time! Get on stage now". I got on stage and walked straight off the other side to the men's room and cleaned up then went back and assumed the position. I don't think he even noticed! The first set was intense as we got through the originals thanks to my cheat sheets and good cues from the MD. The second set was all blues standards and we relaxed and tore it up. The sound man told me no one would ever guess that I was subbing ta short notice.
The MD had put in a request to EC for me to get reimbursed for the CD purchase. Tyson wannabe told me that wasn't going to happen. I loaded my car and went to leave the venue parking lot. $22 for parking. I stormed back into the venue where a group of Famous Dave's suits were socializing and interrupted their conversation. "I bailed you out at short notice. You're paying me $100 for 12 hours work". I showed them the receipts for the CD's and said: "And now you want $22 for parking? That leaves me with $48 for helping you out." There was stunned silence then: "Give him the money".
As I was pulling out or the parking lot EC's van pulled up along side me. EC: "You did a great job tonight! Are you busy on Friday? Can you play with us in Des Moines?". "Sure! Give me a call". I could see why the bassist had left the tour!
I saw EC Scott the next time she played in Minneapolis. She greeted me warmly with a big hug. A sweet and warm lady who couldn't have been nicer!
"The most important techniques for a working bassist are mental, not physical!"
Your bass playing was in high demand. Give us some insights on developing your bass technique.
I can't say that I ever had much technique! Instruments were very limited in the 60's compared to now. I never really worked on slapping or tapping mostly because it's not something that I hear in my head!
I mostly play with the forefinger and ring finger of my right hand. I also use my middle finger when playing upright. I decided to do this because the first and third finger are more independent than the first and second, and are also the same length which makes it possible to play some fast passages by simply moving the wrist. The only other bassist I have seen who uses these fingers is Fernando Saunders.
I have small hands so I mostly use upright bass fingering. I try to be economical with my left hand. My students joke that I tell them to watch my left hand but they can't see my fingers move!
When I was starting to play I had a non functioning reel to reel tape recorder. I used to play into it and practice keeping the VU meter steady. This helped me a lot when I started doing studio work as outboard gear was limited and they did not have to compress my bass.
But the most important techniques for a working bassist are mental, not physical! For studio work the most important asset is the ability to grasp the intention of the music as fast as possible. I got hired because I listened and responded! The usual request was: "We need a bass part to make this a hit".
A part can be fully notated, or they may be little to go on. Often a written chart is a guide to be improved upon. The music is presented by the artist, producer, or arranger it is necessary to understand the intention of the music and then to play it with intent and without preconceptions.
I do try to sneak in some "goose bump" notes. But the art is to set them up and they work best when they are spontaneous!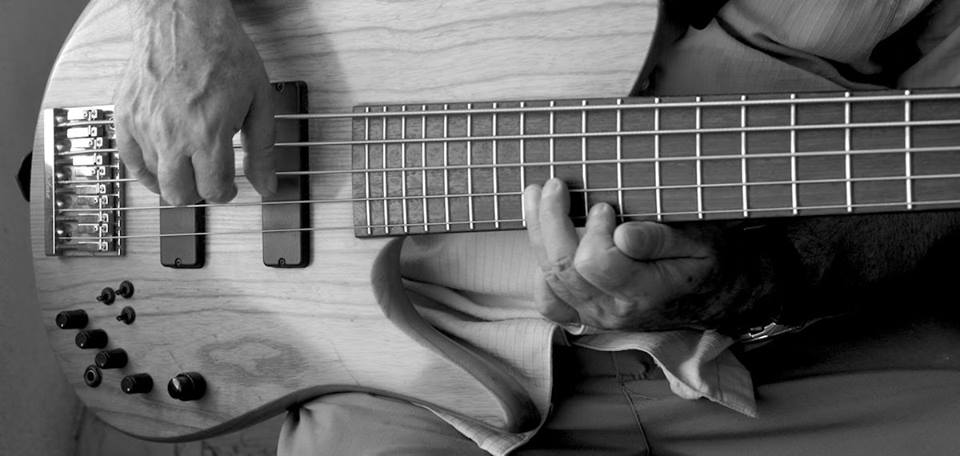 To paraphrase Hal Galper, my favourite music educator: "Music sounds good when it follows certain rules. But at any time the music may change and then a different set of rules apply!". Musicians who come to a session and try to impose bag of their current licks usually don't get asked back.
One dichotomy exists for bassists. It is required that one "serves the music" and plays in such a way to support the other players. This implies that one has to sublimate one's ego. But the problem is that in so many situations sublimating one's ego means that you will get stomped on and walked all over by egotistical players. This does not happen with the best players but you will run into it time and time again with the kind of musicians that Miles Davis eloquently describes as: "more local than a mf!".
To deal with this one has to develop what I describe as a "super ego" where you are so sure of your time and note choice that you will not be affected. Music is a conversation. When you find yourself with other players who are shouting you down for the sake of their own egos your best course of action is simply to speak your own truth clearly and patiently no matter what! Then take the money and run!
The most important technique of all is to learn to LISTEN, and LISTEN even deeper, then to try to play right notes at the right time!
Who are some of your personal favorite bands that you've had a chance to play with over the past few years?
I moved to Puerto Vallarta, Mexico in 2005, before moving I spent some time studying Latin music and adsorbed just enough not to be dangerous!
I have cut back on playing live and consider myself semi retired. The lack of professional quality venues here coupled with lack of respect for musicians and low pay have made gigging hardly worthwhile. This situation exists in many cities these days, but 20 or more years ago Puerto Vallarta was a musicians', artists', and writers colony. It has now become gentrified and the entertainment is mostly geared towards tourists. Compounding the problem of working in the tourist area is the flood of entertainers, including a plethora of celebrity impersonators, who flood the tourist venues every high season working illegally.
Aside from tourism Puerto Vallarta is also a university town with many young creative people who support the creative arts including many music venues that are not on the tourist radar. Also the creative/arts/bohemian crowd have largely settled in the small seaside towns about an hour to the north and there is an thriving, if low paid creative music scene there.
However I have had the opportunity to work with some high calibre creative musicians over the past 15 years here.
First and foremost Lisa and I have worked here as a duo up to a quartet whenever possible since moving here but we have pretty much given up as we do not have much tourist appeal!
We have had some nice cruise ship work over the years here. Cruise ship work can be tough but I often welcome being able to work in a professional setting with a clear chain of command compared after working in some of the local venues! We are now too old for cruise work. My STCW card expires this year and at the age of 72 I can't handle the training again!
Lisa and I have worked with Tex Mex legend Joe King Carrasco from around 2007 until he moved back to Austin, Texas a few years ago. He is relocating back to Mexico and we expect to be recording with him soon.
The most successful and highly professional band I have worked with here is The Banderas Bay Jazz Allstars! Everyone in the band brought first class equipment to the shows and the standard of musicianship and musical communication and chemistry was very high. The band was also the first to command a cover charge in the area! How do you get people to stop talking and listen? Make them pay a cover charge!
Kassiano is a talented singer, musician, entertainer and artist. From Jamaica, he has lived in Mexico for a few decades. He is also a property developer who has built an ecological development and retreat at Real de Talpa, close to Puerto Vallarta. I only had the opportunity to work with him in 2011 but we remain in contact.
The Jamaican Brothers. For the past three years I have worked with the Jamaican Brothers. Our home was the Jazz Foundation in Vallarta which unfortunately closed in 2019. The concept was to play reggae jazz. The band now occasionally backs trombonist Jose Bogarin but is otherwise defunct.
Stephen O'Connor
I have been working with guitarist Stephen O'Connor for the past two years. Steve is a musician and composer of the highest order, semi retired from a career composing film music. He is also the author of some fine books. We usually work as a duo but sometimes expand to a trio, quartet or quintet with the addition of Sam Davalos on drums, Stephen Goldberg on flugel horn, and Lisa York on keys & vocals.
Cuates Y Cuetes
Cuates Y Cuetes is a beach side bar & restaurant that has been the main venue for Jazz, Latin Jazz, Nuevo Flamenco and related creative music for over 25 years! It is also now the only surviving jazz venue in the city. I first visited Vallarta in 1996. At that time there were a number of jazz venues running music at all hours of the day and night. In fact there was more jazz than rock or any other genre! I brought my bass and sat in at many venues. A few months later I received a fax from Martin Montenegro, a fine musician and member of Cuates Y Cuetes, inviting me to play with the house band for a month. I returned there with Lisa in 2002 and we played at the annual Cuates Y Cuetes jazz festival on the beach. We returned in 2003 and subsequently decided to move to Vallarta. When we moved in September 2005 we were hired to play there regularly and soon combined with some of the other musicians there to form a quintet. We played there for the first three years we were here. I played at the annual jazz festival most subsequent years and both Lisa and I worked there sporadically over the years with different combos.
I was diagnosed with cancer in January 2020 which put my live music on hold for the foreseeable future. I was approached by Tete, Martin and Jorge Dau about dedicating the 2020 jazz festival as tribute and benefit for me. Jorge was the owner of the Jazz Foundation, a beautiful jazz venue in Vallarta where Lisa and I and the Jamaican Brothers played regularly until its sad closure in 2019. I was more than willing to accept as it met my criteria of not asking musicians to play a benefit for me for no pay! I am humbled and honoured that they included me on their posters and t-shirts and very grateful to those who contributed toward my medical expenses! More than that, they arranged for me to be interviewed ,along with Tete, Martin, Jorge & Lisa for a video that they showed at the last day of the week long festival. It is hard to find words to express my gratitude!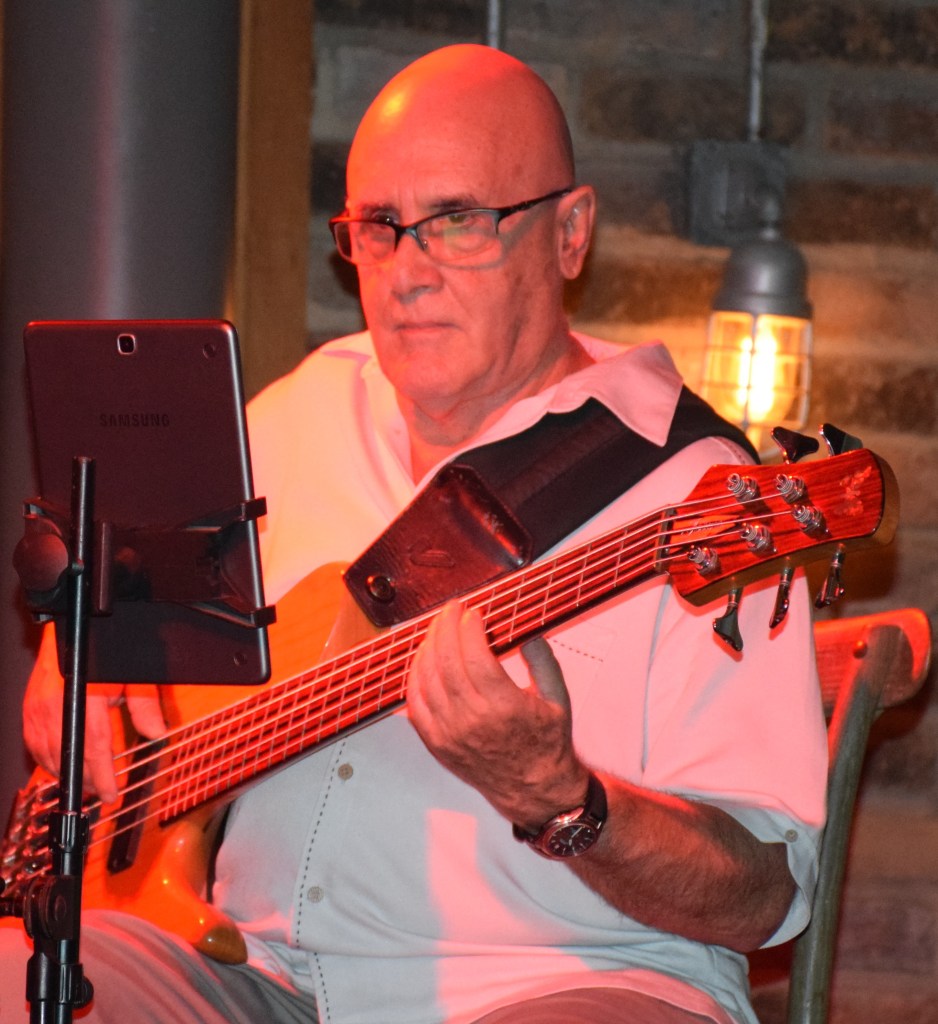 Is there any unreleased material you would like to see released?
Carl Groszman
In 1978 I spent a week at Tittenhurst Park recording an album with singer/songwriter Carl Groszman. Tittenhurst Park was John Lennon's former estate, now owned by Ringo Starr. Carl had written some hits and was recording for Ringo's label. There were some top session players involved. The core rhythm section, including myself, stayed there for most of the week. We spent one day trying to record a track with a famous drummer from a top rock band who couldn't keep time. The next day I was told that Ringo wanted to play on the song. He had not played for a few years. His gofer took Ringo's kit out of storage and set it up. He asked Ringo: "Do you need sticks?" Ringo: "Yes". "OK I'll run out and get some. What do you use?". Ringo: "Well, I used to use Ringo Starrs but they don't make them any more!".
When Ringo hit the drums the Beatles drum sound was right there! He put the song right in the pocket and we recorded it in a couple of takes. He later recorded and sang the song in LA and had a hit with it. It was "A Dose Of Rock & Roll". Ringo decided to fold his record label and the album was never released.
Cal Bachelor
Cal was a Canadian singer songwriter and guitarist living in London. He had previously worked with Sutherland Brothers and Quiver and with Ronnie Lane. Around 1979 we recorded an album with some excellent players. The timing coincided with the punk rock craze and the label shelved it.
What currently occupies your life? Any future projects we should expect?
I have been involved with the space rock project Spirits Burning and have played on three of their CD's. In 2019 I recorded five tracks for them. Three are to be included in an upcoming release in the Spirits Burning/Michael Moorcock series spearheaded by members of Blue Öyster Cult. Two are for an acoustic album. I am also recording long distance with guitarist Mike Cahen who lives in Paris. Here is a track with Lisa York on keys and Patrick Buchmann on drums.
I am currently undergoing treatment for cancer. This precludes me from playing live for at least a year. I shall continue to write and record at home. I will also be publishing a series of article on my website of concepts drawn from my teaching.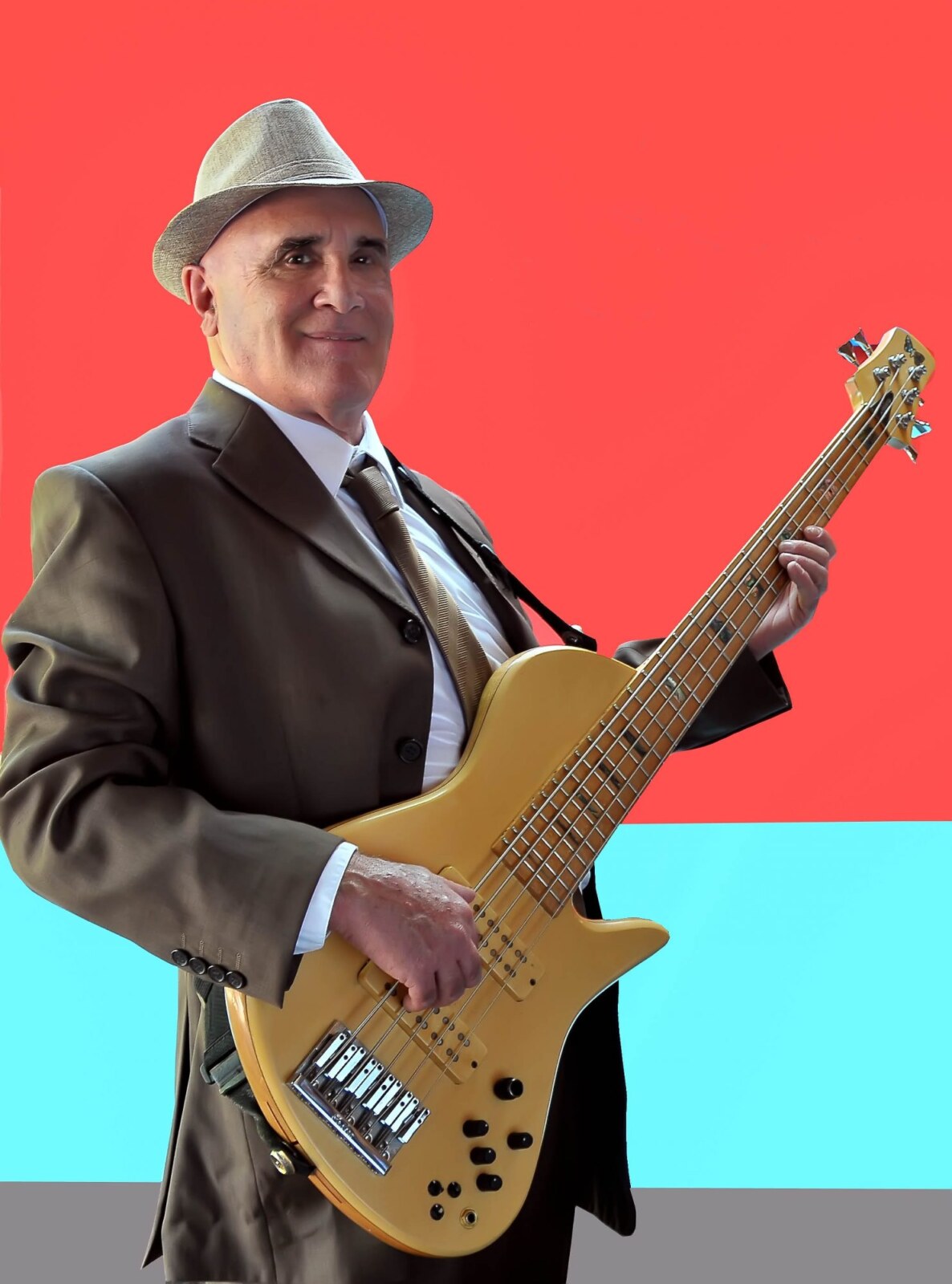 Thank you for taking your time. Last word is yours.
Thanks for taking an interest in my career! The music business is a tough way to make a living! I feel blessed to have made it this far! The game has changed since I started out but those who feel compelled to make music their life will always find a way!
Studio work took a huge hit around 1981 and has never recovered. It seems that live music is also taking a hit, especially as I write this during the covid 19 pandemic.
More and more musicians are using video and live streaming as their outlet and more musicians, including myself, are recording remotely via the internet.
This has led to very little opportunity for musicians to engage in true musical conversation and ensemble playing where the whole is more than the sum of the parts! Yet creative musicians worldwide are still making wonderful music and always will find a way to do so!
To me the biggest problem is that the general public has no way of discovering this music or recognising it when they hear it. The main reason for this is the cutting of music education in schools. I have noticed over the years that many people have no idea what they are listening to and cannot discern one instrument from another or tracks from loops etc. I can only hope that somehow there will be a renaissance of appreciation for music and all the arts in our schools!
Thanks for listening and don't ever stop listening! Steve York
– Klemen Breznikar
---
Steve York Official Website
Steve York Facebook
Steve York YouTube