Lichen Gumbo
'Altered Village' is a new, more electronic sounding album by Finland-based outsider psych rock duo Lichen Gumbo.
---
Olli, are you more the 'sound guy' and is Ville more the songwriter type?
Ville Oinonen: That is correct. We're usually working with Olli's gear anyway, so he has to be the technician too while we write and play our music. I'm very picky about my guitar signal path so I keep that to myself.
Olli Aarni: I see myself in this band as Ville's producer and I'm trying to get certain sort of music out of him and presenting them in a proper way. We've been friends for a long time so we know what's a good common ground for us musically. I also record and mix, sometimes maybe even produce his other band Atom Mouth Gimlies, and I think what he does with that band overlaps Lichen Gumbo's music in many ways, even though the output is completely different. Even if I'm responsible for most of the Lichen Gumbo's sound, I would never do that stuff only by myself.
'Altered Village' is partly recorded at EMS Stockholm.
Olli: I was lucky to spend a lot of time at EMS in 2018 as an artist-in-residence thanks to Nordisk Kulturkontakt and EMS. I spent a month there starting a couple of big projects, and I was working with the Serge synthesizer pretty much every day. Whenever I made something that sounded Lichen Gumbo-ish to me, I would call Ville and we would work together on it over the phone.
Sometimes I would send him little clips with WhatsApp or Messenger, and actually we ended up using a lot of those clips on the album as well. In addition to Serge I used the AKG R20 E reverb quite a bit, and I fell in love with the Boss BX series mixers while using one that was laying around there.
This album sounds more electronic than the previous one. It reminds me of the music when punks started to use synthesizers and drum computers, when punk became post punk, Suicide and stuff like that.
Ville: I'm influenced by a lot of music from the 50s or so, and Olli is following the current experimental sounds. Maybe that era is the meeting point of those two approaches on a timeline?
Olli: Unfortunately I've never really listened to that music and I've never heard a whole album by Suicide. Maybe I should finally check it out.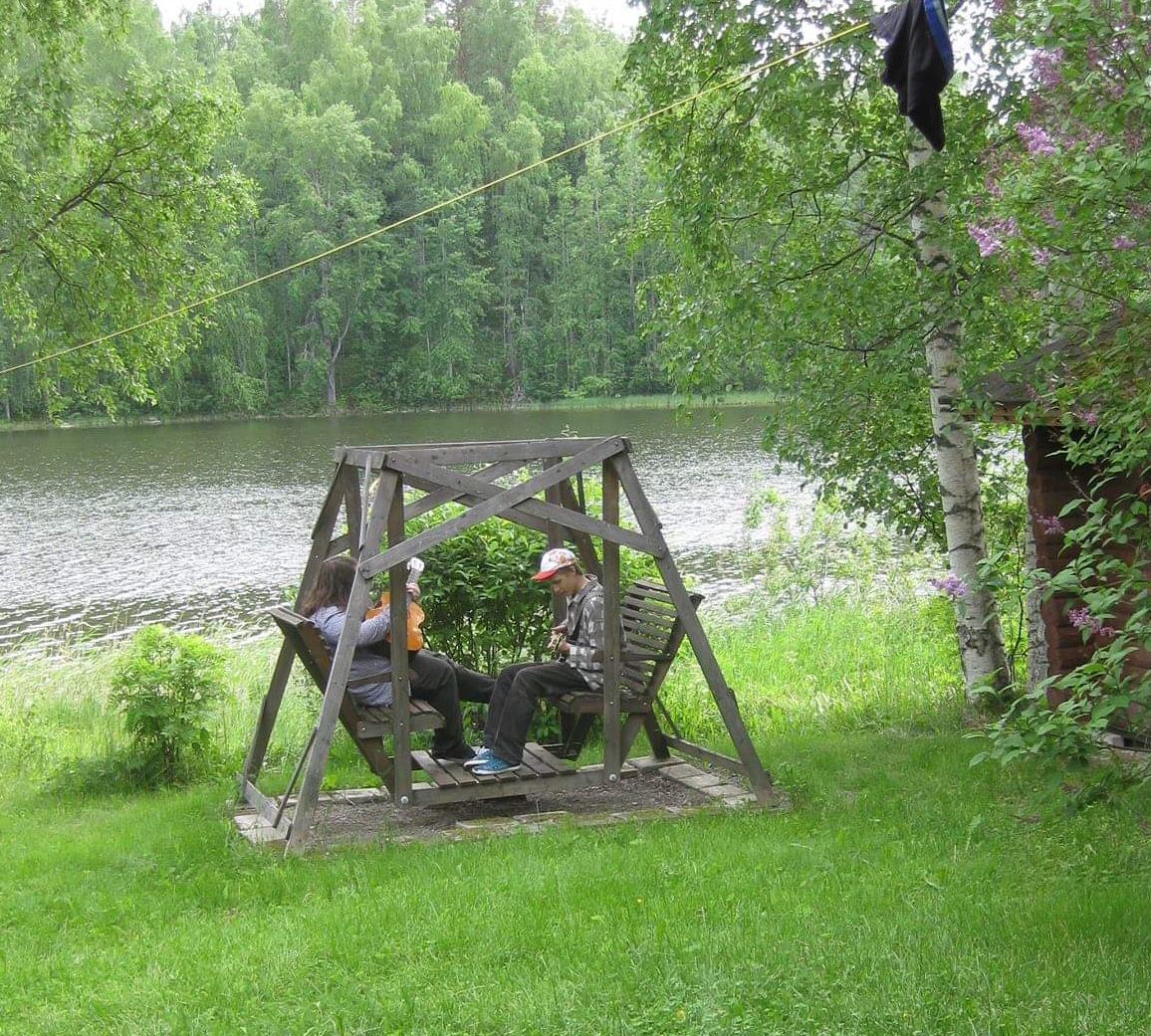 Is Lichen Gumbo a band that does not play live?
Ville: We do play shows but only quite rarely, usually once a year. That comes down to logistics: we live in different cities, and whenever we have the chance to spend time together working on music, we usually favor recording.
Olli: The live shows we do are quite different to the records, because on stage Ville is an entity that's bursting with cathartic energy, whereas when recording in my living room we have to tone it down to not scare the neighbours. We've also played a show in Antwerpen in 2018 so that I was there in person and Ville was performing at his apartment in Joensuu, Finland over the phone and a video connection – way before the Covid streaming age! We have a record release show in the internet on the 29th of May 2020 at the Lal Lal Lal Festival – here's the whole line-up with instructions on how to attend.
– Joeri Bruyninckx
---
Lichen Gumbo Instagram
Lichen Gumbo Bandcamp