Cotton Casino interview
The Japanese female singer Cotton Casino used to be the singer of Acid Mothers Temple, the legendary Japanese psychedelic band, several members of which provide backing on her latest album The Reflection.
---
When did you begin playing music?
My father was an art teacher and my mother did modern dance. My father's idea was that since he had three daughters he wanted each of us to choose a different form of art. So my oldest sister got into acting in high school while my other sister was already stuck on art. But I thought I would never choose music. All three of us did take piano lessons but I thought I'd never be good at it. Me and my middle sister never practiced or even cut our nails before the lesson. Well, I did like the sounds of the piano in our house. I would play sometimes when I felt like it.
My father had particular ideas about everything and we were barely allowed to watch TV. He just said no more TV, so that was it. No TV. So what I did to entertain myself was listen to some world music records on the record player, which I found interesting. I also had a cassette recorder and started to record my vocals on cassette tapes when I was in middle school, I think. When I started to go to high school I was picked to play keyboards since I had some experience. So I joined a five piece band, which was all boys.
When I asked my father if I could get a keyboard he mentioned that we had a keyboard in a box in the cellar. I looked around and found two unopened heavy boxes. I opened one and there I found a small wooden piano with all the channels and bottoms and faders. I never expected to find one like the Yamaha DX-7 at that time, by the way. So I was shocked. Anyway, I brought them to my room and I made some sounds as the book showed, and it began to make noises and waves.
Ok, so I played the synth and recorded my vocals on cassettes at home, which was the most interesting thing. I was chosen to be on vocals for the high school Fall festival when I was 17 years-old and we played on stage. I cut my hair short and used gel to stick it up in the air like a punk, and I also pretended to play keyboards with my head shaking. We were copying some Japanese punk and rock n' roll bands.
"I liked the band Gong most of all."
Any favorite music artists, maybe psychedelic bands?
Hmm, so we didn't have many records at my house and also didn't watch TV. I didn't know much about any music artists or music, at first. We did have Beatles and Simon and Garfunkel records. And also Christmas records. I did like pop music at first, and we did buy Madonna and Michael Jackson cassettes.
After I graduated high school I went to learn how to play the sitar, since I loved listening to world music, and also went to music school. I also joined an all girl four piece band, which we later called Mady Gula Blue Heaven. And I started to work at a music rental studio and I dug the music, bands and artists there. First, I got into punk like The Sex Pistols and Iggy and the Stooges, and started to listen to whole lot of different kinds of music that people recommended to me. I loved Kate Bush and Ofra Haza.
After we graduated music school, our original guitarist was replaced with Hiroko Tanaka, who had more musical sense. She brought a more psychedelic sound to our band. She had many records so we listened together at her flat. I liked the band Gong most of all.
When did you join Acid Mothers Temple?
Makoto Kawabata initially formed Acid Mothers Temple (interview), originally Acid Mothers Temple & the Melting Paraiso U.F.O., in 1996. I was in the original Acid Mother's Temple lineup along with Makoto, Higashi Hiroshi, Father Moo, Koizumi Hajime, and Suhara Keizo. Actually, it was Keizo Suhara who told me that Kawabata was looking for someone who could play synthesizer and sing, and he wanted a female. So I was the best fit. Well, I never really played synthesizer as my music instrument on the stage. For me that was my toy. Also, I didn't know who they were or what they looked like, or what kind of music they were planning to play. And it took me a while to even memorize the band's name. So when they came to the studio the first time, I was scared because the three of them had beards and looked like bad guys. I had been in a girl's band and we mostly played in a certain pattern and practiced a lot. So anyway, I went into the studio and set up my synth and we played like a whole session straight for two hours nonstop. I thought "when is this gonna end?" but it didn't.
What is the psychedelic music scene like in Japan, currently?
Ok, well, that's a hard question. It's because I moved to the U.S. shortly after I left Acid Mothers Temple in 2004 and worked with my husband Bill Turney on our own music. But I know Acid Mothers started to go on tours in Japan and that's a good thing. Acid Mothers's first tour was in Europe and some places we were like the first Japanese psychedelic band to play there. At that time, there were bands and avant-garde artists like Melt Banana, Boredoms, Keiji Haino and Nanjo from Mainliner. Now, some new cool bands have appeared on the psychedelic music scene in Japan and are also touring in Europe and the U.S. even more, I think. I like supporting any great musicians, having worked for the music rental studio, and I would love to see young talent as well.
"We just need our imaginations."
You are writing a novel. Could you tell us about it?
Yes. So I really like writing as much as I like playing music. I used to write short stories in my diaries, or anything I could think of. You just needed notebooks or even just a sheet of paper and pencil, and you were all set, you know. We just need our imaginations.
When I was helping Keizo Suhara with Gyuune Cassette, which started as a cassette label at first, I was making copies and typing up information. I also created a free music magazine for only Gyuune Cassette artists that was called High Art. I did the interviews, took photos and printed up all the copies of the magazine. I used to record the interviews on a cassette recorder, and after the interviews I needed to go back and listen so many times to them so I could transcribe them before typing the final version.
"The novel is going to be a fantasy."
So anyway, sometimes I worked by myself, but basically I love teamwork as I am a vocalist and always need someone to play the instruments, you know. My father also wanted me to write a book, and well, I think I listened to my father too much. But this novel was just sort of happened. I and Joe Byrne, who I first met on Facebook back in 2012, became friends. And one day I noticed a post of his that concerned me and so I messaged him asking if he was okay. You know, lots of things happen like this online. First time I met Daevid Allen (interview) was on Acid Mother's message board at that time. Well, I also met Tim Blake on Facebook as well as many others I had never met but eventually worked together with for my second solo album The Reflection, in which I used Hawk Anderson's painting that he offered on Facebook. Also, I had met JJ, the label owner of Bam Balam Records, as well as RG and Craig Nicholson, who designed my album cover. A total of 27 people were involved with the album and we all connected and worked online.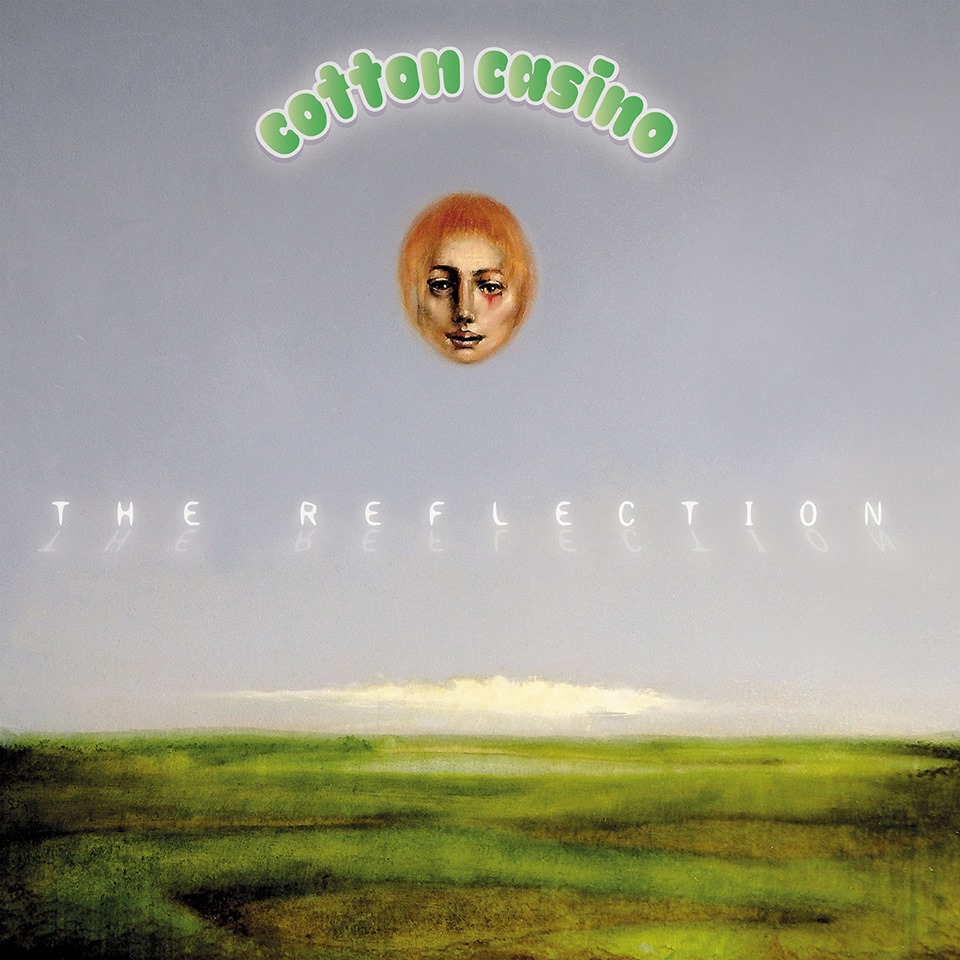 Anyway, I noticed that Joe graduated college with an English degree focused in creative writing. I'm not sure when I noticed that but we started emailing back and forth. At first, I sent short funny stories, and then we started writing a real story together. I write the basic story while he adds to it and edits it, and then we talk about where the story is going and work on characters and locations. We both like The Lord of the Rings so the novel is going to be a fantasy. We've realized that this is something that is going to take some time as we want to make sure we get everything right. We began coming up with the basic ideas in 2014, and building on it from there. We're up to chapter 10 so far. This was at first supposed to be a children's book, but it's appropriate for all ages, I think. It took three years to collaborate with everyone on The Reflection, but this novel will take more time to finish, and I really cannot wait for people to read it.
Do you have any stories about being in Acid Mothers Temple that you could tell us?
It was just perfect timing to hook up with AMT and go on their first European tour as Mady Gula Blue Heaven was pretty much finished by then. Okay. The first tour in Europe was a challenge as it was most of the members of AMT's first time in Europe. Only Makoto had been there before when he was in Mainliner. Anyway, I packed as many cigarettes as I could and that was it. My suitcase was already full, with my synth and cigarettes, so I stuffed a small amount of clothes, and I believe my effector, into a backpack along with some Japanese food. You know, I feel much comfortable hanging around guys than with girls. But just out of caution, I cut my hair short and acted like a guy. I actually wore pretty nice outfits for the first tour but, you know, after the first tour I mostly wore the same uniform: a DX T-shirt and sweat pants, as we all got into WWE world wrestling.
The first couple of tours in Europe and USA was about survival. We starved almost everywhere, one because we barely had time to get food or drinks, and two because we needed to make money and tried not to spend too much. On the train, Higashi was so hungry he started nibbling dried noodles even though he said they were awful, hahaha. Also, this was before the Euro, so much of the time we didn't have the right currency for the countries we were in. So, most of the time we didn't have the right money when the train stopped in a country, and so we didn't even have coins to use the bathroom. Oh, also we would have to wait on the freezing platform all night to catch the next train. Higashi was so cold he took out his sleeping bag and got into it and sat on the chair, and he looked like a shrimp. That made some of the passengers coming out of the train laugh. In the UK, the rental car's engine would die several times, so the band needed to get out and push the van when that happened. We also pushed the van to get on the ship. Oh, one more memory that I cannot forget was when the car died on an icy mountain road in Finland and I think that was a pretty close call, though we were lucky that a car was passing by and they picked us up and took us home safely.
Okay, so what? But yes, you know, we were all rock n' roll musicians and basically our manners were both pretty nice and terrible at the same time, I would imagine. We ate, drank and slept. We were touring musicians so we stayed in different places every day. We mostly drank beer from morning until night because we had plenty of time between shows and mostly had nothing to do. The internet wasn't as good at that time and there we didn't have laptops or anything like that, so we talked, drank beer, played cards and smoked cigarettes or weed if there was any. You know that I was married the whole time but I sometimes had one or three boyfriends on tour. It was hard not having sex for a month; plus, we were all drunk all the time and tensions were always high. So, it was needed, okay? Hahaha. And those things sometimes escalated without even realizing it. I would bring many beers on stage along with cigarettes. The venues never had enough equipment or lights so I wanted some smokes on stage, so I smoked continually. I was drunk and I was special and I was awesome, hahahaha.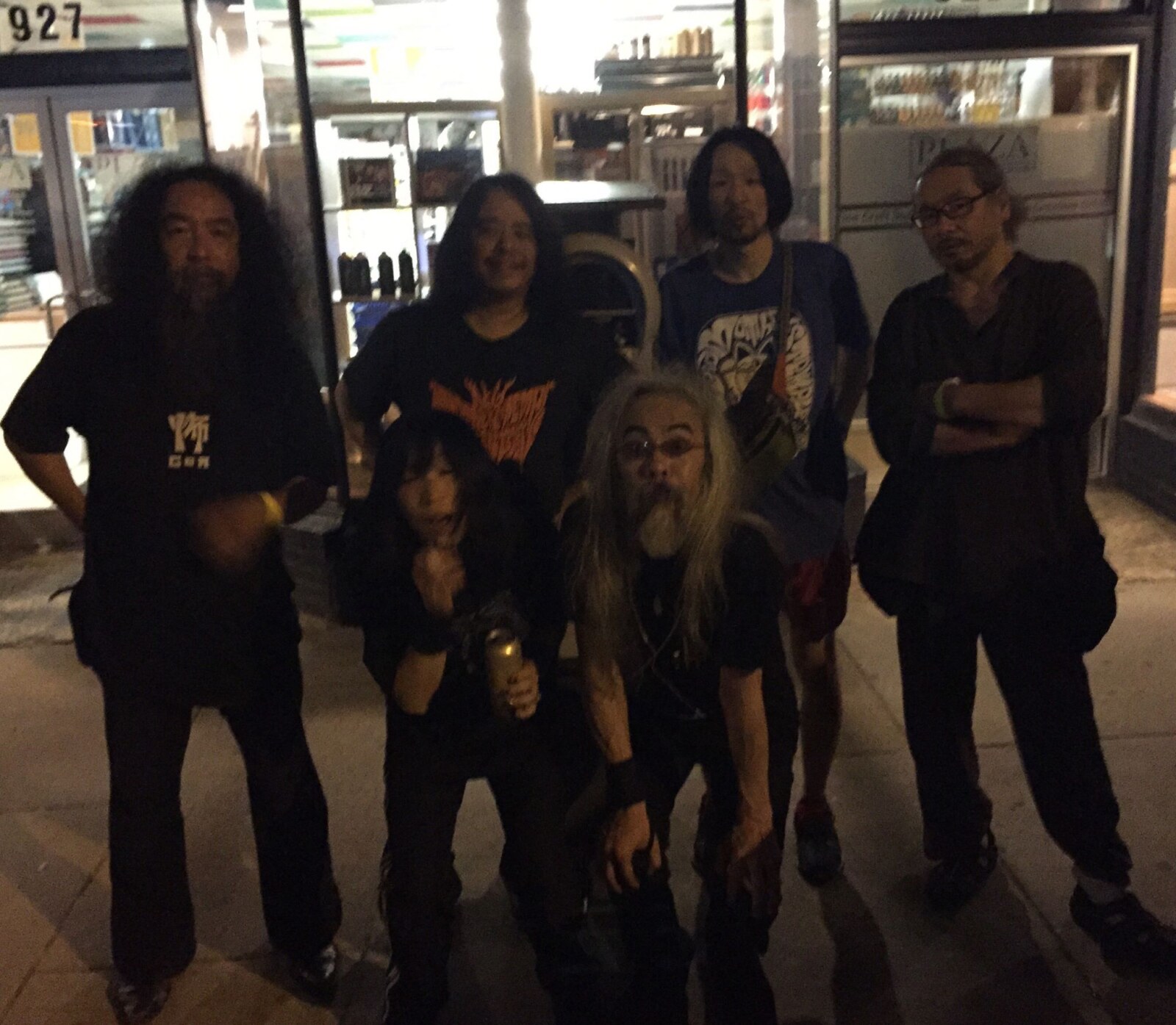 So we started as an unknown heavy psychedelic five piece band from Japan playing mostly improvised music like non-stop, two hours straight. Higashi and I were in front with synthesizers, Higashi mostly shaking his head back and forth as I think he used be a punk; and I was mostly shaking my head sideways. To my right, Makoto furiously played guitar. Father Moo was our first bass player. He was a good guy but we didn't like his behavior, like when he snored as he slept. We wanted him to be quiet. Koizumi Hajime played drums like crazy and when he wasn't playing he walked around with percussions and made some enchanting sounds, like monk. He was another precious member of the AMT. Drummer Ichiraku was one member who we really didn't accept. He played only the simple, same pattern for every song, but he was an experienced kendo martial artist, so we just kept our mouths shut. After Tsuyama joined AMT we went to another totally different level. He had so much talent and was so entertaining, and we had best time with him, that we made him a full-time member. Well, we were nice, but we were also jerks and could be bunch of assholes. Makoto sometimes let out his temper when it felt needed and Higashi could also show his frustration. Tsuyama complained when he was tired or bored, and I'd get pissed sometimes. And we would totally take it out on anyone who joined as drummer who we didn't like or we could not accept, and we treated them like they were nothing. It was about survival and we all took part. I really loved when Makoto got mad because his eyes became reddish and he looked cool, like some kind of demon. He is the best leader and I really respect him and his talent on guitar and creating songs. His leadership is just awesome.
We had the best time and were on magazine covers like Wire. We had a really great time with Andy Smith of Riot Season Records who was the best organizer for AMT in UK. It was like Makoto was the Undertaker and Andy was Paul Bearer from WWE. More people noticed us and more people came to the shows and tickets would sell out. We had guests like Julian Cope, who one time carried me on his shoulders onstage while I was still playing synth. Tsuyama supported us to make sure I wouldn't fall. We played the Royal Festival Hall and Queen Elizabeth Hall in London. Joined the All Tomorrow's Party and Southside West Festival. We played in the front of 3000 people with Gong, the Incredible String Band (Interview in Issue #2/2) and Damo Suzuki (interview). We played on a ship in Germany. We had been everywhere in Europe, the U.S. and Canada. I know they've started playing more places and countries around the world now. It was just a great pleasure seeing the world and getting to know so many people. That was priceless one of the most precious things I've ever experienced.
I have stayed connected with AMT and that will never change as we are like brothers and sister. They are in my soul. I love them so much and I really enjoy playing with them.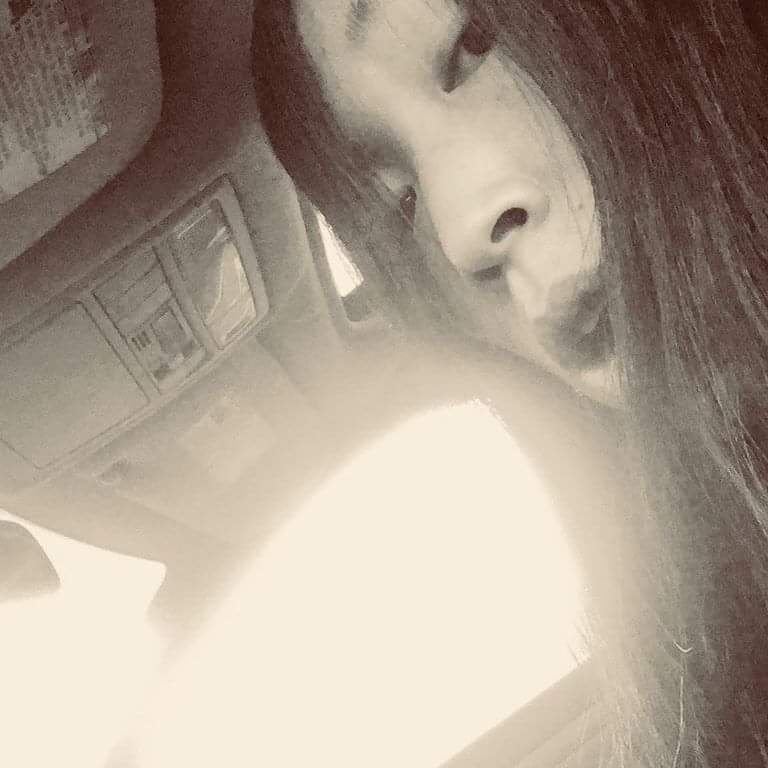 What are you currently working on?
Okay, after having finished my second solo album The Reflection with the help of many people and input from Bam Balam Records, I am just relieved, since it took me three years of hard work. But yes, Bill and I are very open and we do have some projects we're working on. Well, we might play a live show. But we are in contact with Per Gisle Galåen, who I worked with as The Birds, and had released an album and seven inch record from Important Record, and with Martin Powell, who is my and Bill's best friend and worked with as Cosmic Tag Team, touring and releasing some CDRs. And there is also a new project called 'KDO and CB' with Manu Knwell. He lives in Chile and we met on Facebook. We were talking and came up with a plan to do something together, you know. I also checked out his music on YouTube and it looked and sounded interesting. I heard and saw something like dark spirits or cultish. Well, I love and studied some black magic and white magic, luna stones and fortunes. I simply like those magical, natural forces and unnatural cosmic power. Manu mentioned that he is going to use the sounds of bees and birds with his experimental, electronic and ethnic-ritualistic sounds so this would be really interesting.
– John Wisniewski
---
Cotton Casino Official Website
Cotton Casino Facebook