Interview with Indianapolis underground quintet ICE
Here's a great new discovery thanks to ever amazing RidingEasy Records. Indianapolis quintet ICE recorded their album The Ice Age 50 years ago. It remained unreleased until today!
---
In 1970, the band recorded 10 original songs at 8-Track Studios in Chicago, only to break up shortly thereafter. Two of the tracks were eventually released as a 45 in 1972, but confusingly under a different band name, Zukus! The A-side of that single was featured on Brown Acid: The Ninth Trip, which led RidingEasy Records to discover when licensing the track that an entire album had been languishing in obscurity all of this time. The 2-inch master tapes had been shelved and forgotten until recently when The Ice Age tracks were converted to digital and remixed, preserving the sounds of the original vocals and instruments. Finally, half a century later, this 10-song album of radio- ready rock will finally see light of day.
"Every generation has its own music."
Contributors: ICE Band Members: Jim Lee, Rich Strange and Mike Saligoe
The 1960's Era:
Jim Lee: Every generation has its own music.
The 1960's live rock bands were very popular and in demand. Being able to watch and listen to a live band was special and people would make the trip to see you. They would save their money to buy the next album or tickets for the next concert. Bands were sharp dressers trending towards the popular British groups even using the same kinds of guitars, drums and amplifiers.
Information sources were very limited. There were only three or four local TV stations featuring one or two shows with rock bands. No internet, cell phones or computers. Only a few AM radio rock and roll stations existed. If you wanted to purchase a record you went to a record shop. There you could listen to the record you wanted to buy in a private booth. For the latest rock news you visited the nearest magazine stand. People would save any type of rock band memorabilia available. My wife Nancy still has her original 1964 Beatles tickets from the Indiana State Fair Beatles concert she attended. She recently took her 1960's Herman's Hermits album to a local casino where Herman (Peter Noone) was playing. She waited in line to have him autograph the album. He was surprised to see the record.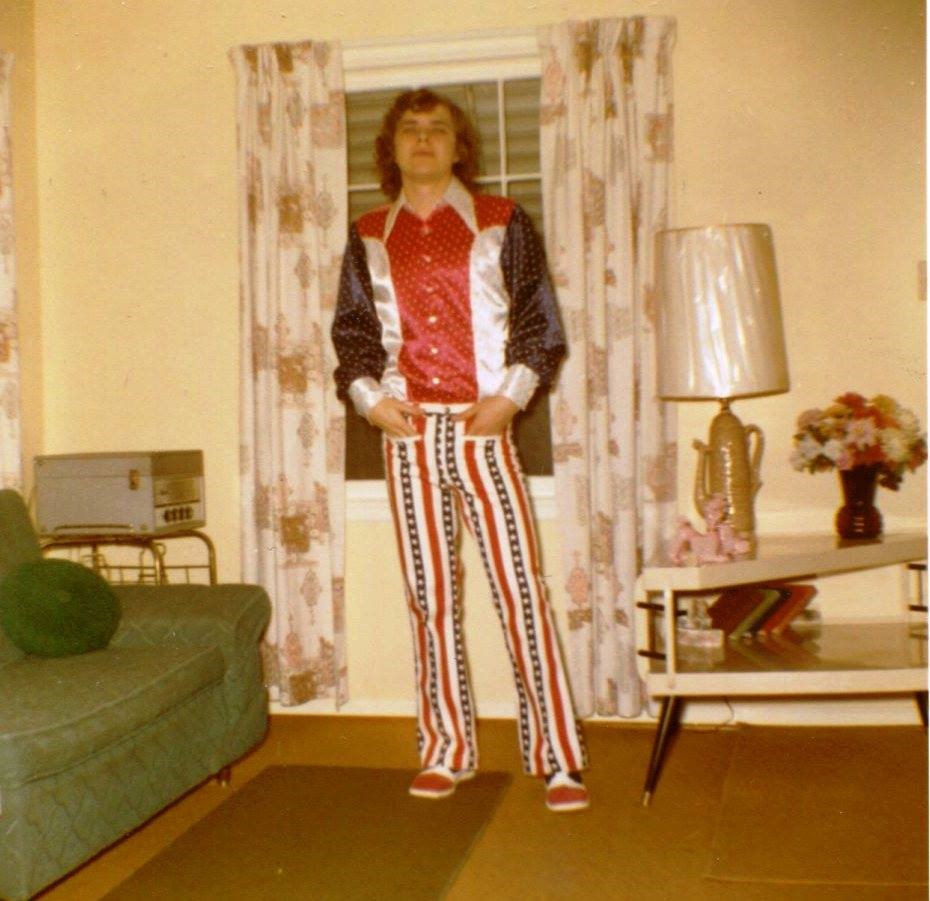 The ICE Band experience was a natural and creative fit for me. My family is from the remote Cumberland River country located in Trimble, Kentucky; an area without the modern conveniences of telephones, electricity or indoor plumbing; an area whose nearest town Somerset, Kentucky was about 30 miles away. My parents Harold and Amy grew up in this area during the Great Depression of the 1930's. During that time, the people made their own music and played at local gatherings. My grandfather Henry Clay Lee handcrafted the banjo and guitar that my father Harold and his brother Earl used to play. Both of my parents learned to play guitar and sing the country music songs to us when we were children. I learned to play guitar from watching my parents. I learned about rock and roll (rockabilly) from listening to my older sisters' 1950's records.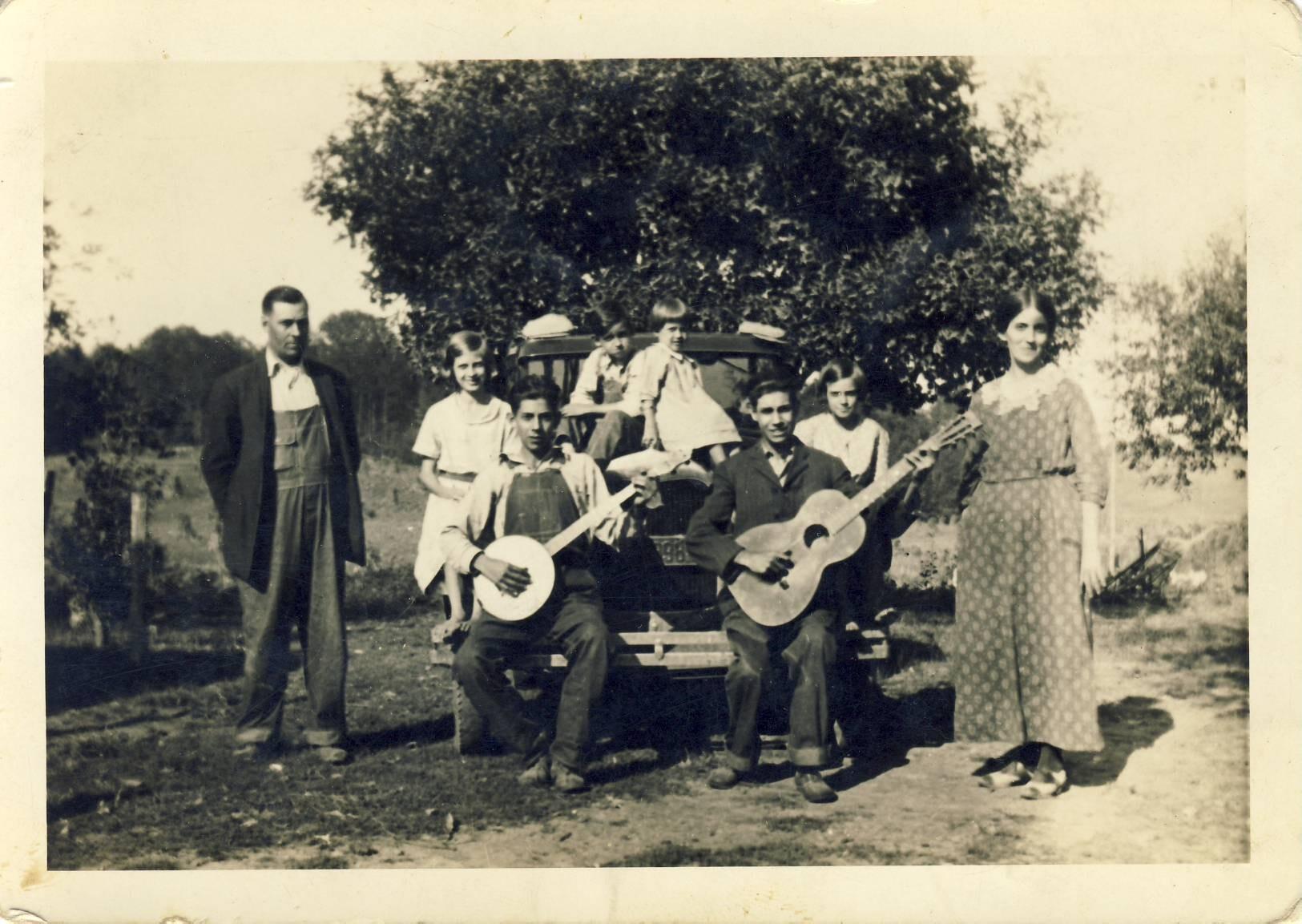 At first you were called The Brims, later The Group 5. Can you elaborate on the formation of Ice?
Jim: The formation of the ICE Band was the evolution of previous bands beginning with The Brims (1964): Jim Lee on Bass and Mike Saligoe on Drums.
The drummer Mike Saligoe and I were grade school class mates in 1963. He was 13 and I was 12 years old. We watched the Beatles in their first USA appearance on Sunday night Feb 09, 1964. We were both amazed after watching four young guys performing their own music and we wanted to do the same. So my dad and I went to a local pawn shop returning home with a bass guitar and amp. I called Mike to share the news only to find out that he had purchased a set of drums the same day. We began to practice together daily in my basement after school. I began to make up bass guitar riffs that later became songs we played together. This training became the foundation for the ICE Bands' music in the years to come. We thought that we needed a name, something that had a British flavor. Mike sketched a bold English text of the name for a bass drum head. The Brims came to mind. Our first and only show was for a basement clothing sale Mike's mom was having.
Mike Saligoe: Jimmy and I planned to buy our instruments and play music together so we saved our money for a long time and by chance, we ended up getting our stuff the same day. So we set up down stairs at jimmy's house and practiced every day after school. We started playing radio tunes and making up our own songs pretty early in our young band life. As we got better and better we planned the first band to be named The Brims.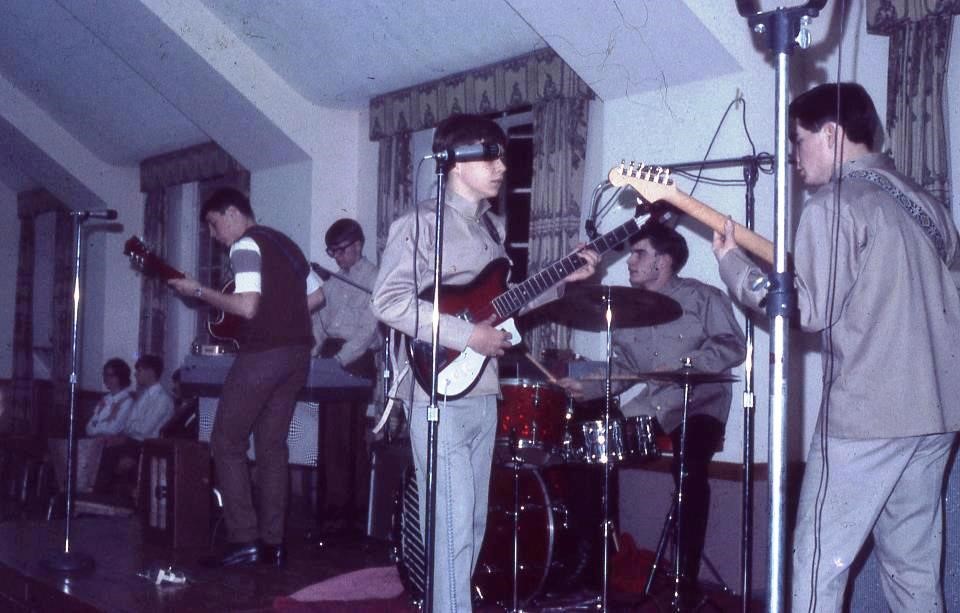 Venues: Private parties, school dances, festivals, fund raisers, state and county fairs.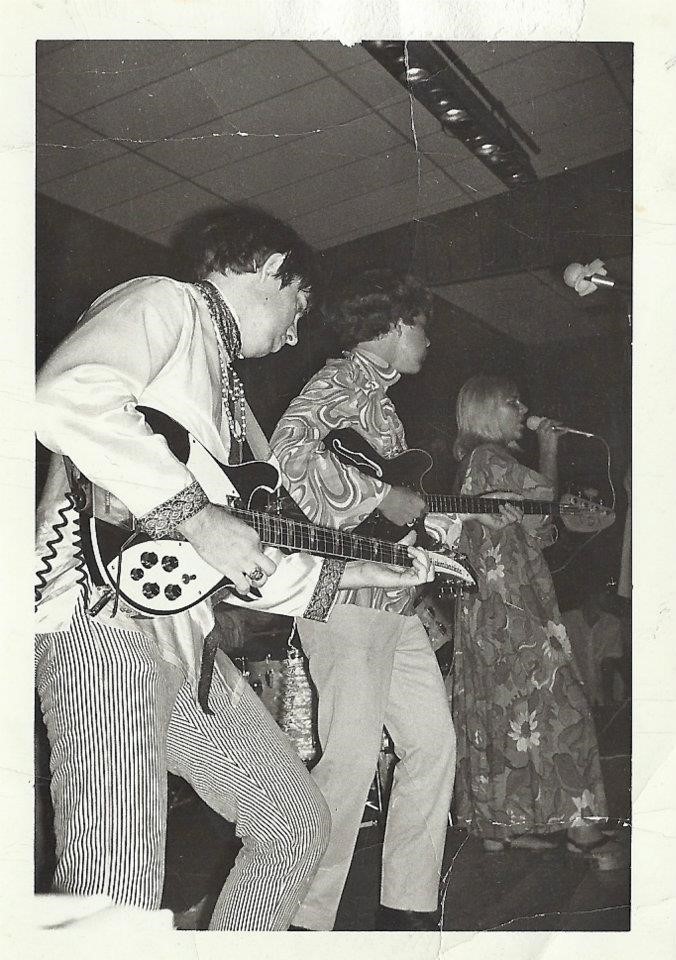 Members: Gary Poulos on lead guitar, Mike Saligoe on drums, Jim Lee replaced Bob Michaels/Dan Guinn on bass guitar, Mike McFarling on keyboards, Steve Saligoe replaced Steve Despot on rhythm guitar.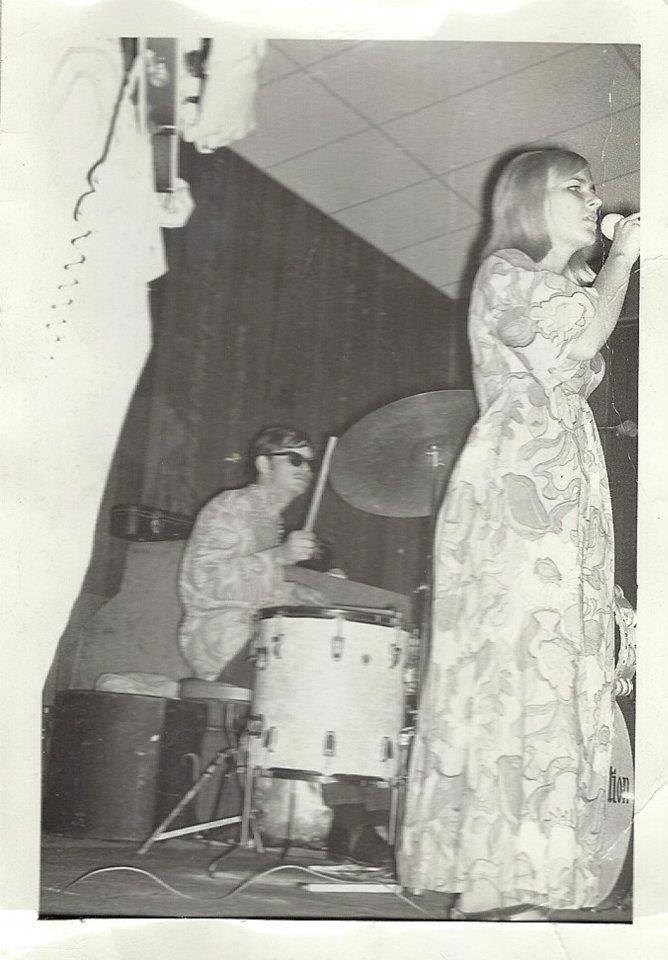 Some guys down the street were forming a band and needed a drummer and Mike Saligoe was asked to join. Shortly there after a bass player was needed and I was brought in. Eventually Mike Saligoe's brother Steve became the rhythm guitar player Steve Despot. The band played the music that kids liked to hear on the local radio stations.
Mike: A band a few streets over needed a drummer and I got the spot so I started practicing and playing shows. That band was The Group 5. And it seems like it was a short time later the bass player wanted to quit the band so I got Jimmy in and we were off and running. As time went on the guitar player quit and put Gary in that spot and my brother Steve in on the 2nd guitar player.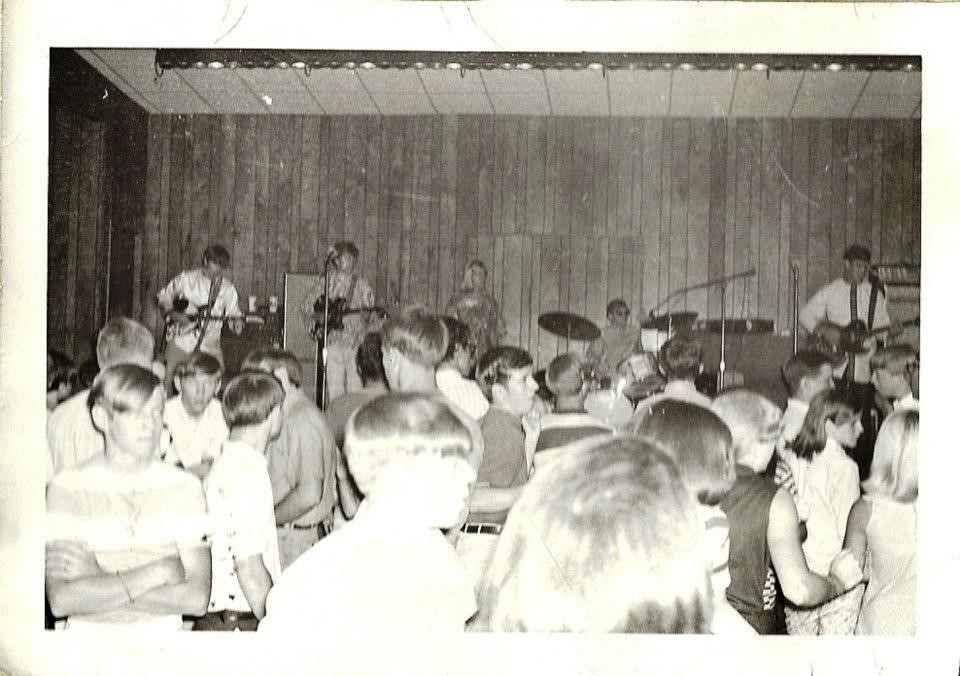 Venues: Private parties, school dances, festivals, fund raisers, state and county fairs.
Recordings 1967: "Life Gone By" and "Try".
Members: Rich Strange replaced Steve Saligoe on rhythm guitar, Gary Poulos lead guitar, Mike Saligoe drums, Jim Lee bass, Barry Crawford replaced Mike McFarling on keyboards, Cynthia Jessup became lead female vocalist. The Incorporation years were times of change for members and music. FM radio underground music made its debut of songs longer than 3 minutes. Psychedelic genres like Jefferson Airplane, Cream and others were very popular and the band was trending in that direction. On one occasion the group performed with Kenny Rodgers and the First Edition at the Indiana State Fair. During 1967 the band decided to make some recordings. Two originals were selected: "Life Gone By" and "Try". The songs were recorded at a local 2-track studio.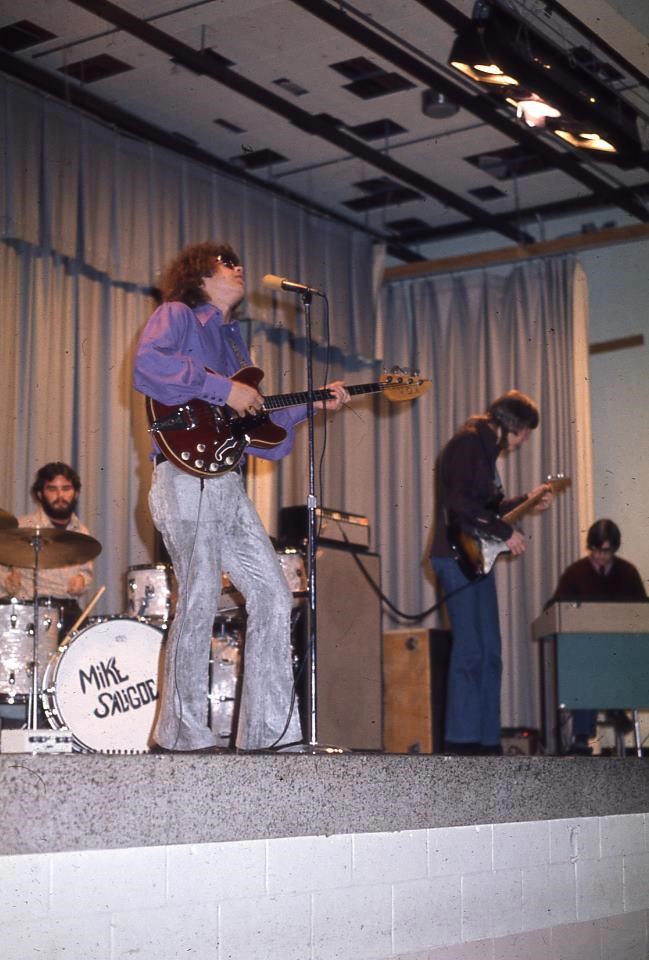 Rich Strange: The first Band I was in was called 'Just A Little'. Jimmy and Mike asked me to join their Band 'The Incorporation' when Mike's Brother Steve, the Rhythm Guitar Player, decided to venture into other avenues. I was only a singer before so this was a great opportunity to explore and improve my new Guitar Skills. After a year or so, Cynthia and Gary went their separate ways, and John joined the group as our new Lead Guitar player. As the two members left, we were a cover group.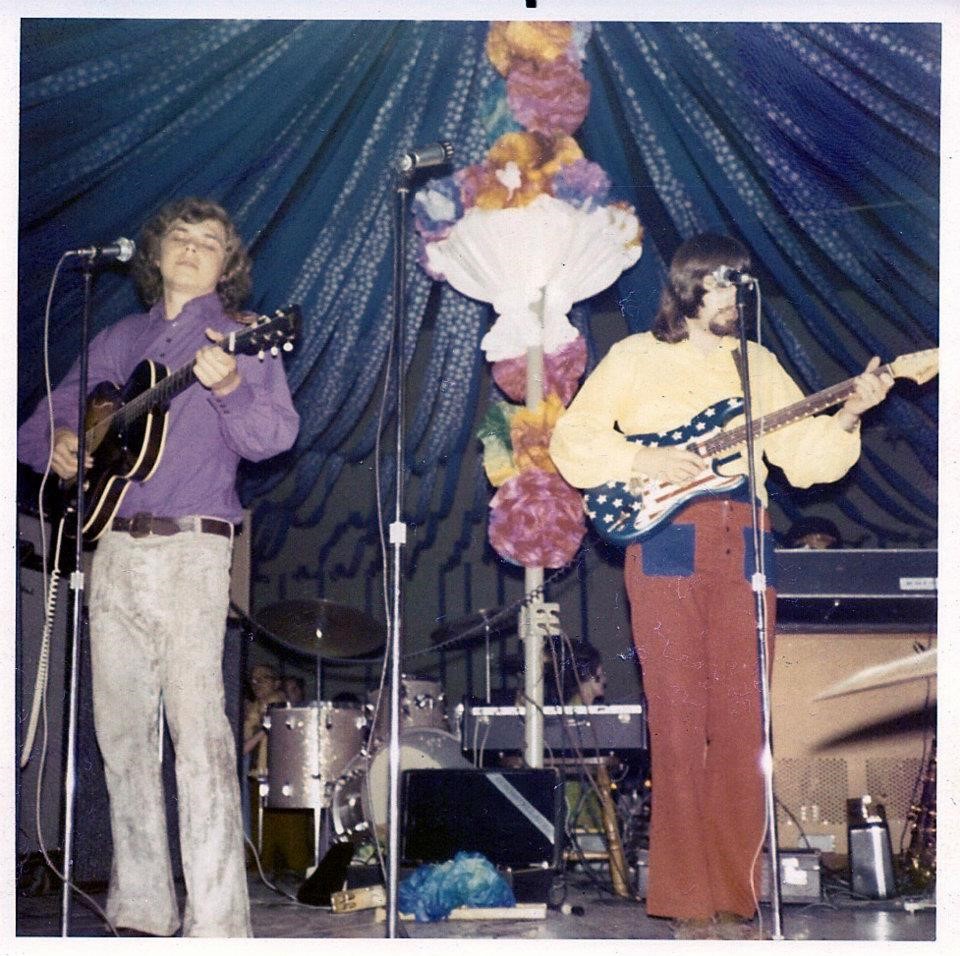 Mike: We got Cynthia in to sing and started playing Jefferson Airplane and top 40 songs which in those days would get you booked more often and changed the band name to The Incorporation. I think my brother quit next to get more into high school football and with plans of college football, and we got Richard in. I think Mike McFarling our organ player left for college next, and we got Barry Crawford on keyboards.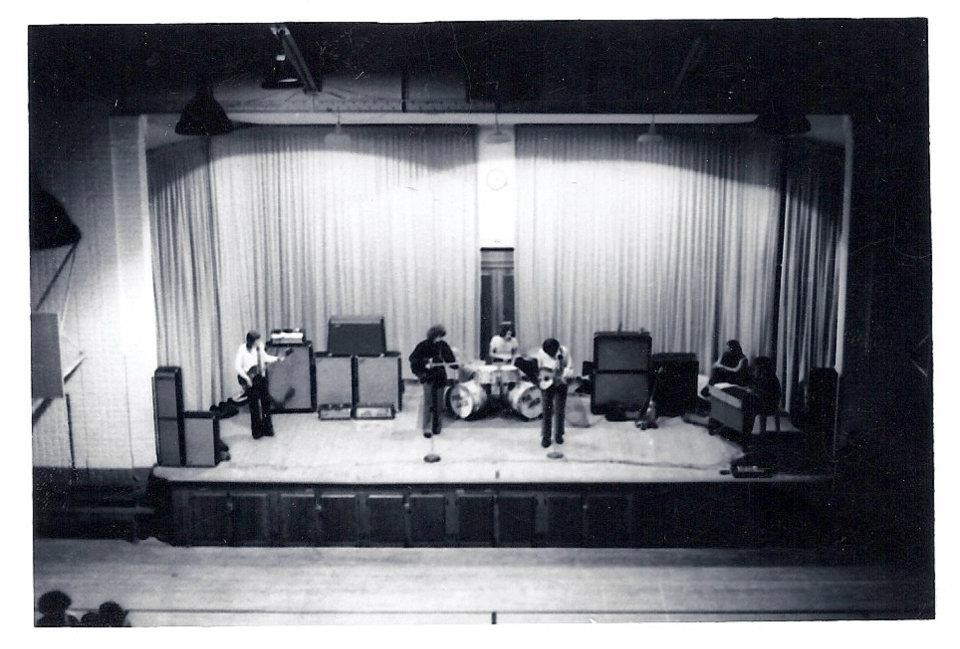 Venues: School dances, festivals, fund raisers, state/county fairs and all city venues.
Recordings 1968-70: ICE Band Album: "Gypsy", "Satisfied", "3 O'clock In the Morning", "Copper Penny", "Catch You", "Running High", "Flying", "Run To Me", "He Rides", and "Song of the East".
Members: Cynthia Jessup left the band. John Shaffer replaced Gary Poulos on lead guitar. Rich Strange rhythm guitar-vocals, Mike Saligoe drums-vocals, Jim Lee bass-vocals, Barry Crawford keyboards-vocals.
"To pursue an all original music format which was unheard of at the time."
The ICE Band revolved around the decision to pursue an all original music format which was unheard of at the time. This was a pivotal time for the group. We now had five individuals who wanted to pour all of their creative talent into a work of art, and they did. All of the necessary ingredients were available to create and complete our dream album. I like to think of rock bands as a recipe. Each ingredient is crucial to complete the final flavor. Changing one ingredient can improve or denigrate the final product. Each member contributes their own unique flavor or style of performance that is compatible with all others. The blend was perfect for all of us. I don't think that we were fully aware of this while we were doing it. It first occurred to me during the final mix as I listened to the music through very large playback monitors and overheard the comments of visitors. Consequently the band had developed a large following of loyal fans who liked our original music.
We signed an agreement with The Carousel Talent Agency. They were able to provide opportunities for new and larger venues for example: opening act for Three Dog Night at the Indiana State Fairgrounds before 12,000 fans, opening act twice for The Nitty Gritty Dirt Band at the Murat Theater Indianapolis Indiana 5000 fans, opening act for SRC at Ben Davis High School 1000 fans, opening act for The Guess Who at Garfield Park Indianapolis Indiana 5000 fans, REO Speedwagon Sherwood Country Club 1000 fans, Westlake Beach Club Grand Terrace 3000 fans.
By 1968 the band had developed a catalogue of original songs capable of providing a full 3 hours of entertainment. In 1969 the band decided to record and final mix an album of their 10 best songs at Eight Track Studios in downtown Chicago Illinois. The project was completed in 1970.
The Carousel Talent Agency shopped the finished product at numerous record labels in New York City. Offers were made but none were finalized. The album was in limbo for almost 2 years. Musical trends in rock were rapidly changing every six months. Time passed us by. By 1972 many of the rock venues had ceased operations. Live music was on the decline. Rock had moved on to theatrics and work was slow. There were more bands than the market could support. Music fans were a bit older and doing other things. Band members had to realign their priorities to address the financial responsibilities of family and home.
The ICE Band had finally melted. Ouch man!
How could this have happened? What went wrong? Where did we fail?
Answer: This is the music business and you are either moving forwards or backwards. We were musicians not business people. To achieve viability you must have a support organization that has stable resources. You need an energized organization with a management team of competent business executives capable of executing a successful business strategy consisting of a thorough public relations and distribution system. In other words you need a great record company! The truth is that the company makes you. There is no performer and/or actor who has ever been successful by stepping off the bus in Los Angeles. It takes the entertainment company complex, the Wal-Mart, the local radio station, the TV station coming together in singularity to make you successful. We did not have that. Like most musicians we were not business people. There is the band and there is the business.
The ICE Band masters were boxed up and placed in storage.
ICE disbanded. The dream was over. Gone! Finished! Done!
Against all odds…
This is a very "against all odds" tale. In 1969 there was a rock band in high demand that played all original music and opened for numerous national acts. They record an album of their ten best songs. Their agent presents the music to numerous record companies who offer record contracts to the agent. Nothing gets finalized. The album is shelved for two years. The group disbands and the original master recordings lay dormant for over forty five years. During 2019 one 45rpm ICE Band test market record surfaces in a local club in Los Angeles California. A DJ happens to be playing the record while his friend Daniel Hall owner of Ridingeasy Records is visiting. The DJ asks Daniel why his company isn't selling this record. Later Daniel contacts his friend Lance Barresi owner of Permanent Records who owns of one of the largest record collections around. Lance discovers another identical ICE Band 45rpm record. After researching the band Daniel contacted ICE Band rhythm guitarist Richard Strange. Daniel wanted to release the single until Rich told him that there was a complete album that had never been released on vinyl. Rich referred Daniel to ICE Band bassist Jim Lee. After hearing the album Daniel wanted to release the album under his label Ridingeasy Records. An agreement was reached.
And just like that here we are!
Richard: With John joining we quickly began working on a multitude of songs Jimmy was writing to get them on line and in shape for performing.
Mike: Cynthia and Gary left for college next, so we had to regroup again. We ran an add and found John for lead guitar, and he was very good. At that time we changed the name to 'Ice'. We started practicing hard and only did Jimmy's original songs to try to take the next step up. We contacted the number 1 talent agency in town and he told me to call the 2nd biggest agent in town and see what he thought. That guy came to our practice and wanted to sign us right then and there. So I called the bigger agent and told him that, so he came back with "I'll book you with the Three Dog Night show if we signed with him. That was a no brainer so we signed with Bill and after the Three Dog Night show we got shows booked every week everywhere around Indiana and neighboring states. So in the fall we started recording our Demo tapes so our agent could go record company hunting. He ended up getting 2 major labels battling over us and something went wrong with all the greed I suppose, and we didn't get signed with any record company!
What bands were you a member of prior to the formation of Ice?
Jim: The Brims, The Group 5, The Incorporation, The ICE Band.
Richard: As I said above, the first Band I was in was called 'Just A Little'. I was the Lead Singer and played no Instrument. Jimmy and Mike asked me join. I was intimidated as the new guy coming in.
"I do remember the term "underground music" used to describe the psychedelic sound."
What was the scene in your town? Any other kids interested in hard rock?
Jim: There were lots of under 21 clubs like the Mooresville Teen Canteen, Westlake Beach Club, Le Scene, The Whiteland Barn, One Flight Up, Sherwood Country Club, Garfield Park, Holiday Park and Military Park. National acts would play at the State Fair Coliseum. On Sundays young people would descend upon the local parks to see local musicians, fly Frisbees or just hang out and talk. They were peaceable gatherings with the free exchange of ideas. There was an old town district in Broad Ripple that provided people with the latest in hip fashions, music stores and some head shops. Large retail stores began stocking British, West Coast and New York Psychedelic clothes along with large bins of the latest rock albums. I don't remember term "hard rock". I do remember the term "underground music" used to describe the psychedelic sound. The kids loved it. They liked our music too. There were 100-200 people that would follow us to local shows. Some would set in front of the stage and sing the words to our songs and some would ask us for autographs.
"Hard Rock was strictly an Underground Movement at that time in Indianapolis."
Richard: Hard Rock was strictly an Underground Movement at that time in Indianapolis. It was difficult at first to find places to play. They wanted cover groups and dance music, mostly Bubble Gum. We were a sit down and listen type of Band. Word spread and with a few performances, almost free sometimes, we quickly developed a rather large following on the West Side of Indy. As our following grew, most places no longer worried about the type of original music. Some were concerned however with how loud we were.
Mike: Our city was like most larger cities and hard rock had it's niche for sure.
Who were your major influences?
Jim: Bach, Beethoven, Schubert, Chopin, Debussy, Brahms, Hank Williams, Johnny Cash, Elvis, Jerry Lee Lewis, Everly Brothers, Ricky Nelson, Carl Perkins, B.B. King, Beatles, Rolling Stones, The Kinks, The Animals, The Yardbirds, The Who, Jimi Hendrix, Cream, Led Zeppelin and others.
Richard: I liked the Beatles, Stones, Byrds, Jefferson Airplane, Doors, Cream, Hendrix, Yardbirds and several other both popular and underground groups.
Mike: For me, The Ventures, Roy Orbison, James Brown, Buddy Rich, The Beatles, Stones, Yardbirds, Kinks, Cream, Jimi Hendrix etc. All kinds of music interested me.
How did you decide to use the name 'Ice'?
Jim: We wanted to reinvent the band with a fresh original sound and identity. I remember seeing local trucks delivering ice all of the time. Every truck had the word ICE written on the sides and back. So I thought that the name of ICE would be a good name for the band. Every time someone saw a truck delivering ice they would think of the ICE Band. The guys in the band liked the idea so we became The ICE Band. One of our road managers Denny Ehrhart bought a new white Dodge cargo van and painted ICE on both sides. He drove by a local radio station on his way to work. The DJ who was a fan would say "there goes the ice band van" on his morning radio show. That same radio station was promoting the Three Dog Night concert that the ICE Band was opening for. Both bands were on commercials every half hour 24/7 for a month before the show.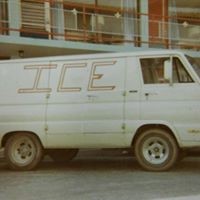 Mike: It was COOL.
When and where did Ice play their first gig? Do you remember the first song the band played? What kind of material did you play? Only covers or also original songs?
Jim: Our first ICE Band show was in 1968. I'm guessing Westlake Beach Club or One Flight Up. No covers. All of our songs were original music.
Richard: I don't remember what was first but we did a couple of Band Battles, Westside High Schools and even a Church. We were not yet a Union Band so the better Venues were not available to us yet. Once we joined the Union and got a manager, we sort of took off. Once we were Ice, all cover songs evaporated quickly. Jimmy was a prolific Song-writer, rare indeed for that era.
Mike: I don't remember when or where the first show was.
What can you tell us about your recordings?
Jim: I wrote the songs for the album in 1967-68. The band rehearsed on Tuesday and Thursday of each week. We had also been playing the songs at our regular shows so by 1969 we were well rehearsed. We all had day jobs so it was necessary to schedule the Chicago recording sessions at night. They also offered us a 50% discount for the evening sessions. So here is the drill on Fridays: Off to work at 7am, home at 5pm, pack and drive to Chicago arriving at 8pm, begin recording at 9pm, finish at 12am, return home by 2am. Saturdays were the same except for not working all day.
Eight Track Studios were located on Michigan Avenue two blocks from the famous Miracle Mile shopping district and the Playboy Club. We were able to complete our foundational recordings of lead vocals, guitars, drums and keyboards within two sessions. The third and fourth sessions consisted of background vocals, guitar, drum, keyboard solos, sound effects and final mixing. The band was very tight and on queue. The sessions ran like clockwork. Everyone was well prepared and fired up. Our equipment was the same for recording and live performances. Stu Phillips was an awesome engineer of recording and mastering. Frank Samet a Chicago architect became a great asset during the process.
Richard: My memory seems to nudging me into thinking we made three trips to the Studio in Chicago. It was very cool, and the smoke was very good. We even put together "I Can See Me Flying" while in the Studio as it was felt we needed another Song. And it has a different feel to it, I think because it was developed with all of us at the same time rather than how we normally would progressively develop the music around Jimmy's songs.
Mike: We did some small recordings before but when we went to Chicago to a real studio. I think we were all a little nervous. We settled down and got down to business. We went up there 2 or 3 times to record the 10 songs (we had more songs to do but ran out of money, kinda sorta) which were meant to be a Demo tape only and after we got with a label we would have recorded all of it over again, properly. There was so much more Jimmy and I wanted to do, it just didn't happen.
What can you tell me about the forthcoming Ice Age release via RidingEasy Records?
Jim: The vinyl reproduction has a strong analogue dynamic sound. The digital version is slightly different. Neither will disappoint. RidingEasy Records has many design and packaging options. They are very capable and I anticipate that this will be a very interesting adventure.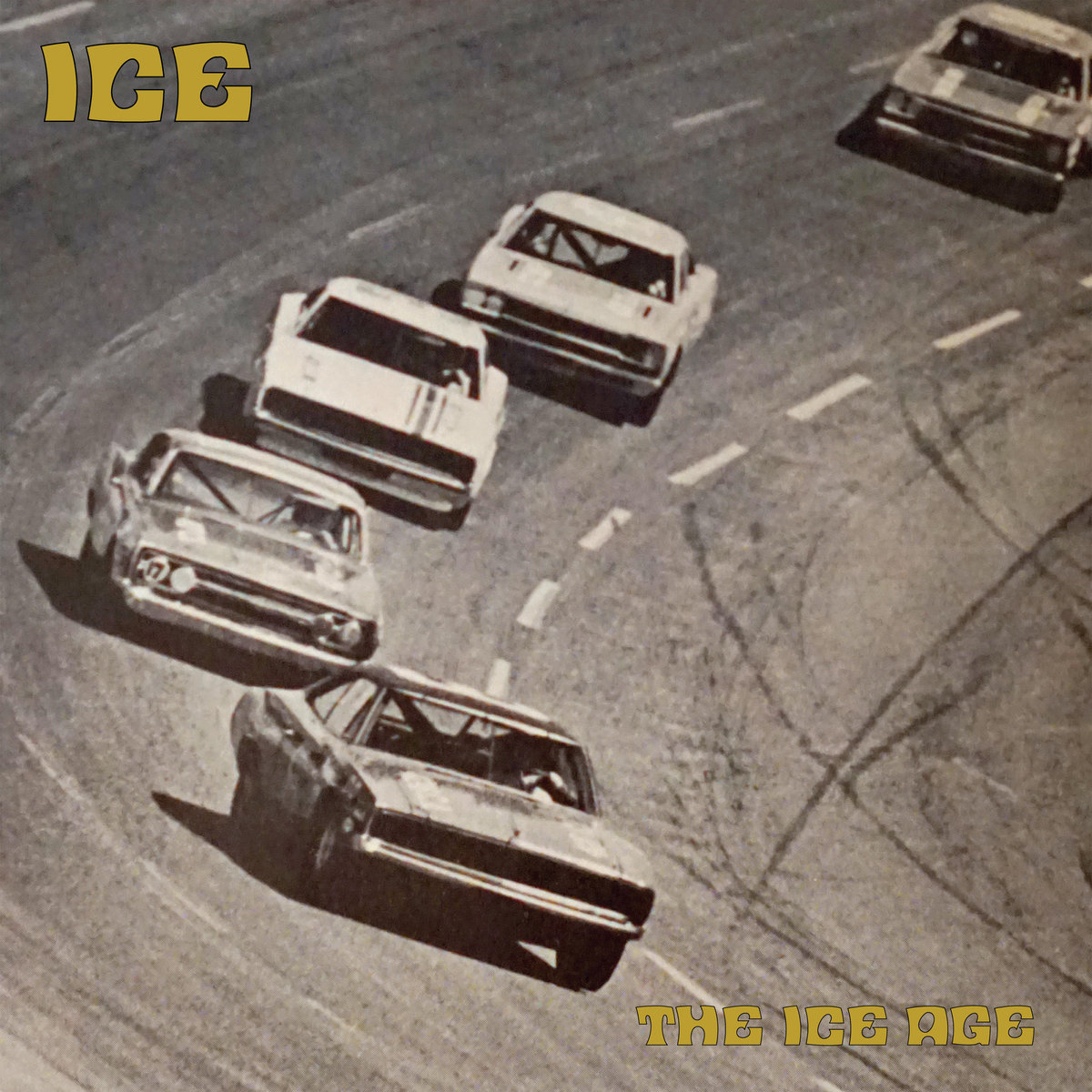 Richard: When they first contacted me, having come across an old 45 of our Single, it was quite a surprise. They were equally surprised to find out we had an entire Album, recorded in a studio. At that time, I sent them a CD with all the Songs, but I felt Jimmy should represent our interest and we should have a single point of contact so there would be no mixed messages. This was an important development for us as our music had set dormant for over 45 years.
Mike: Looking forward to it very much, at least it will be out there now.
Would you share your insight on the albums' tracks?
Jim: Generally speaking there are numerous musical continuums occurring during the selections. Mike is using his show standard Ludwig drum set that has two bass drums, two tom-tom drums, and two floor tom drums and he uses them all. His timing is consistent and provided us with a steady percussion engine. Richard is a solid rhythm guitar player. He performs the finger picking and plays rhythm guitar in all of the backgrounds. The vocal recordings pleasantly surprised us. We had never heard them in this type of venue. John and Barry were both super focused and it was fun to watch them work. Each individual added their own flavor to the mix far exceeding all of my expectations.
01. "Gypsy": The sand block, Tone wood block and Vibra-Slap Percussion Instruments were afterthoughts created during the initial mix as performed by Steve Saligoe, Denny Ehrhart and Frank Samet. John was playing his Gibson SG thru the Hammond Leslie. Riches 12 string Rickenbacker shines.
02. "Satisfied": The song was about playing the stage and was formulated as a dance tune.
03. "Three O'Clock In the Morning": Barry developed the intro months before and it perfectly sets the mode for the entire song. I love the guitar harmonies. They were developed in the studio. Also there is the lead guitar solo. It really speaks to the song. John had this unique gift and you can hear it in his work.
04. "Copper Penny": I used to collect pennies as a boy and was always looking that special dated coin. Life is like that. We're always looking for just the right person, place or thing to make something to work. It was written when I was 15. This song is featured during the intro of the recently released movie short 'Angry Baker' written, produced and directed by Lisa Mason Lee on Amazon Prime. Again, Barry with the intro. He cranks up the Leslie power amp to distortion levels while simultaneously leaning his forearms on almost all of the organ keys creating the sound of a coming explosion. Missing: his monster face. During the instrumental segment the music switches back and forth between left and right speakers. Your listening device is ok.
05. "Catch You": I broke up with a girl and it was a heartbreaker. The intro was actually the original slow version of the song. The cymbal crash and immediate acceleration of the tempo signified a moving on of my life. Riches Rickenbacker added the ideal flavor. Barry had tried to use a piano during the solo but it just didn't fit. The studio had a harpsichord and with that he nailed it. He traded places and added the Wurlitzer electric piano at the end. She hasn't come back yet.
06. "Running High": This is what I thought to be the hit. Danceable, power-chord, beat driven, amplifier tube screaming acid rock and roll. John was playing his Gibson SG with an Electro Harmonix LPB-1 power booster and Fender Dual Showman Amp and he nails it!!! My favorite solo!
07. "I Can See Me Flying": This song was created in the studio sessions replacing one that didn't gel. She is definitely gone.
08. "Run To Me": This song is like Running High 2.
09. "He Rides Among Clouds": Journey is what this song is about.
10. "Song of The East": Instrumental. We played what we called mini rock operas during our shows. They were compilations of songs blended into semi medleys. This song is a short version of that very style. It also gave me a break from singing and I could focus on bass playing. Mike did a phenomenal job on the timpani drums.
Richard: My personal favorite was "Three O'Clock in the Morning" as the guitar solo and guitar harmonies were brilliant. There were to be harmonies with the "ooooohhhs" that were left unfinished, but it doesn't seem to miss them. The Harpsichord in "Catch You" was stunning. The demands on original compositions brought out the best in us all, me included. Jimmy was the best. With headphones there are Bass Runs that again I would describe as brilliant. Jimmy was simple the Best. As I listen to my 12 String at the beginning of "Gypsy" and "Catch You" and some of the picking I like in the background, it's difficult to describe how much it fills me with pride to have been a part of this. My favorite story, "Song of the East" was inspired while we were sitting around stoned in the Band House watching a Popeye Cartoon.
What kind of equipment did you use?
Jim: Barry Crawford-Wurlitzer organ and electric piano/harpsichord, Hammond Leslie.
Jim Lee: Vox sidewinder bass guitar/Gibson Es120 guitar. Gibson Atlas Bass Amp, Fender Bassman Amp.
Mike Saligoe: Ludwig drums-Zildjian Cymbals/percussion/kettle drums-timpani.
John Schaffer: Gibson SG lead guitar/Harmony acoustic guitar, Fender Dual Showman Amp.
Richard Strange: 12 string Rickenbacker and Gibson Les Paul rhythm guitars, Fender Twin Reverb Amp.
Studio Equipment: Ampex 2 inch 16 track recording consoles rated at 30 ips(inches per second). Ampex one half and one quarter inch recording consoles. Rupert Neve multi track mixing console and Neuman Microphones.
Richard: I used a 12 String Rickenbacker and a Gibson Les Paul. John used a Gibson SG for his Guitar Work. Jimmy a Vox Bass, Mike Ludwig Drums, and Barry played a Wurlitzer Organ with Leslie Speakers.
How many hours did you spend in the studio?
Jim: We spent at least 12 hours at 8 Track Studios for half price. The digital conversion and remix performed by Joe Boldizar at Retro City Studios was probably as lengthy and certainly cost as much as the original production. Rich, Mike and I also spent a lot of time bouncing tracks back and fourth and with Retro City.
I'm thinking 30 hours total.
Mike: Most of our time and shows together were awesome. We played all kinds of venue's From high school and college dances to clubs, we played a battle of the bands against REO Speedwagon, and we Won! (we won the battle, they won the war). We did shows with Three Dog Night, Tony Orlando, The Nitty Gritty Dirt Band, we played in a city park with the Guess Who and the crowd wanted us to keep playing and playing. I think we did 2 standing ovations and the kids wanted more and almost started a riot. We had police line up in front of the stage and Jimmy told everyone to be cool, because we had to let the Name band play! The Guess Who "American Woman" band was pissed. For a local band to do original music, be on the radio, and have most everyone love it was unheard of in those days. You would never have been booked anywhere when the people were hearing songs for the first time, and not radio played music, but we did it!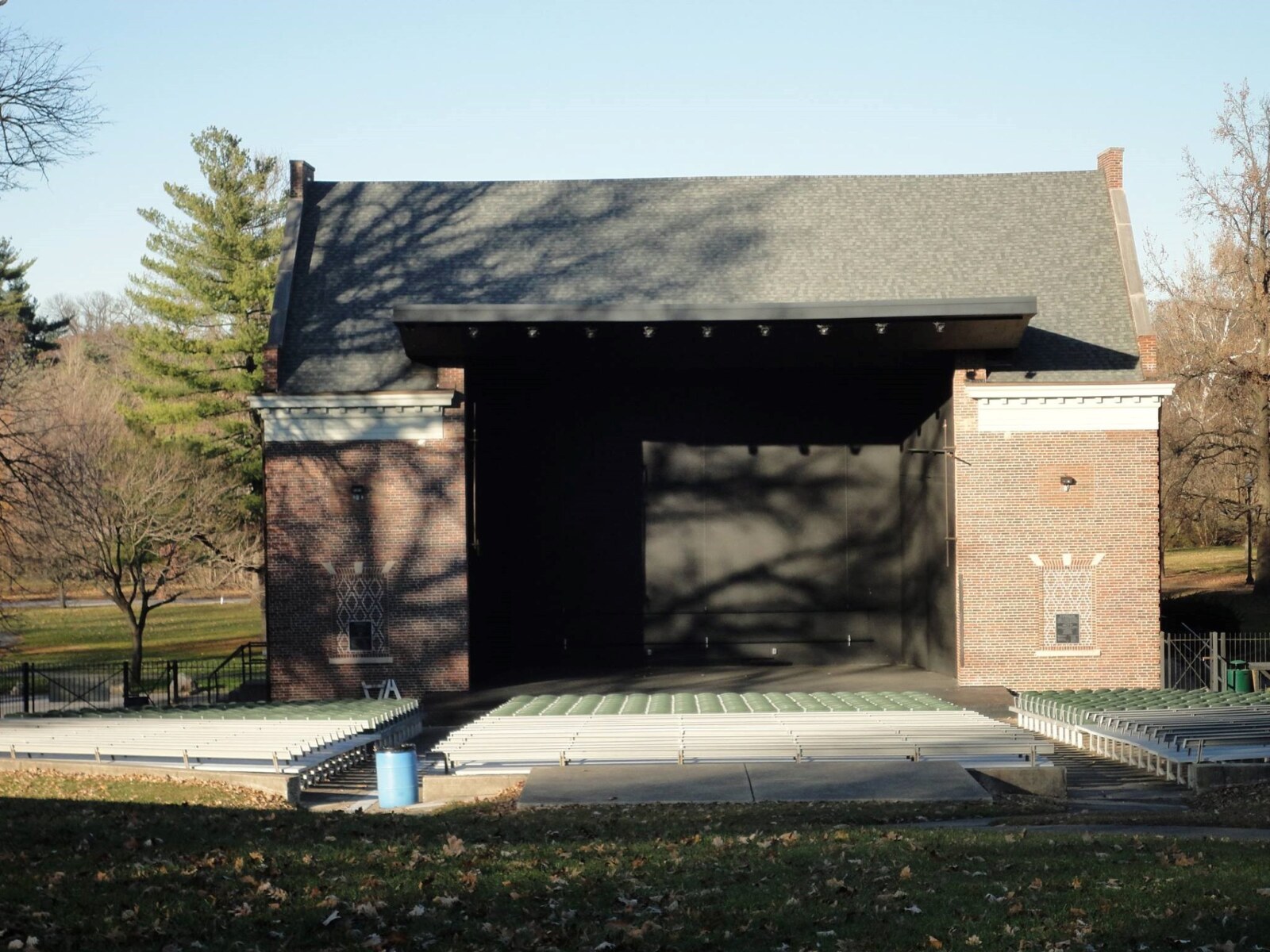 Looking back, what was the highlight of your time in the band?
Jim: Playing shows at Garfield Park. They had a very large permanent stage and very large crowds. They really liked the band. On one occasion there were thousands in attendance. People were climbing up in trees to watch the show. The Guess Who was scheduled to play after our show. During the show there were a few occasions of fans jumping up on stage. They were removed by our road managers Denny Ehrhart and Mike Williams. We finished the last song and immediately vacated the stage. The crowd became agitated while demanding an encore. There were numerous policemen stationed all over the pavilion. Our road managers were beginning to remove our equipment. The police commander and some of his patrolmen stepped onto the stage and walked backstage towards the band members. He approached me and said that they were very concerned that the crown was going to riot. He asked us to return to the stage and we did. The crowd chilled and we were on for awhile. The Guess Who was pissed because it was their time.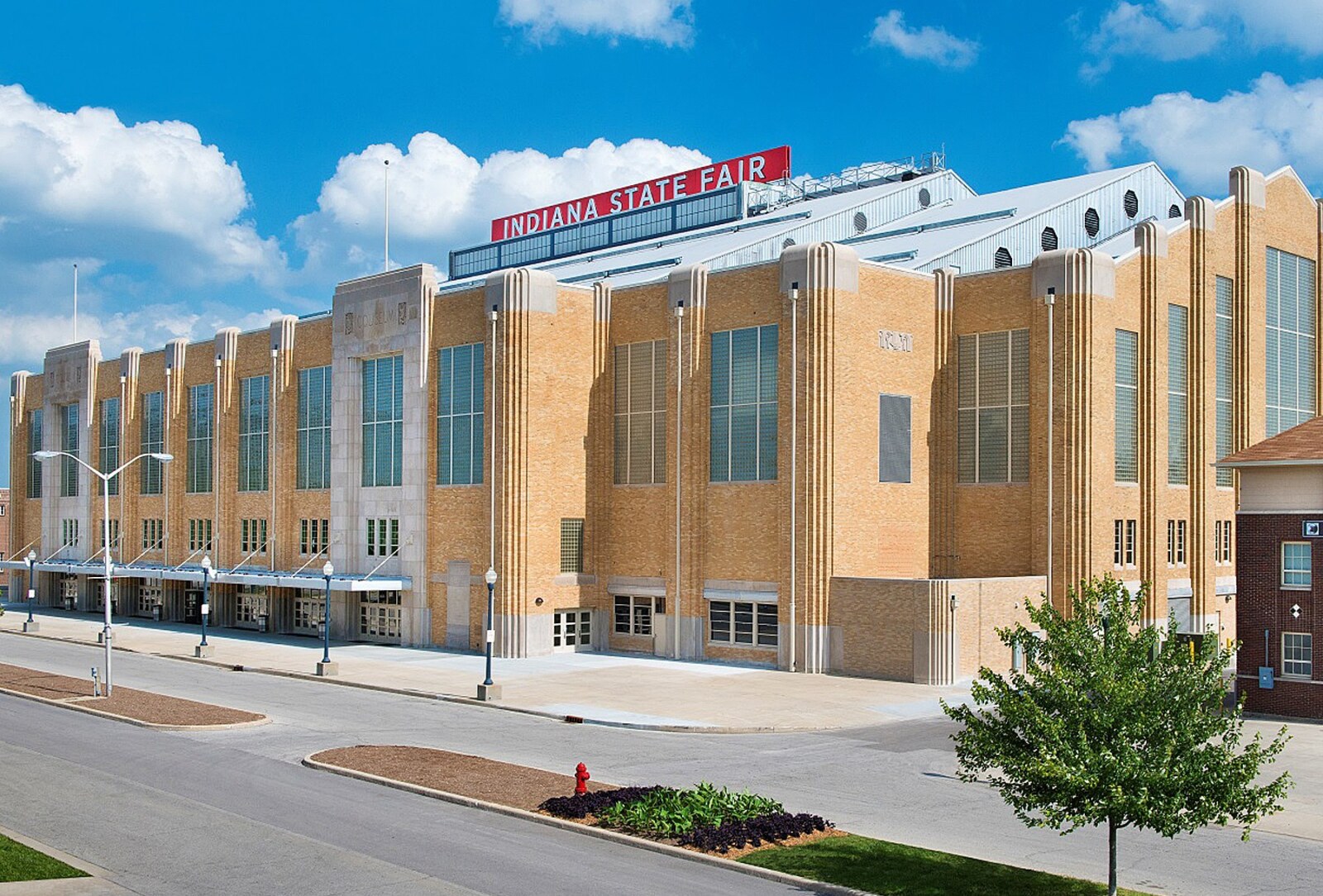 Richard: My Personal Highlight was probably getting to play at Westlake Beach Club where we had all watched the best local bands as we grew up. The most memorable probably was playing as the warm-up band before 12,600 people in the Coliseum before "Three Dog Night". A close second on both counts was sittin around between shows at the Murat Shrine Hall jamming and eating White Castle hamburgers with the Nitty Gritty Dirt Band when Bo Jangles was at its height. What wonderful memories to have. Songs I'm most proud of are "Three O'Clock", "Song of the East", "Catch You", "Running High", and "Gypsy". I'd include a couple more but that's too many.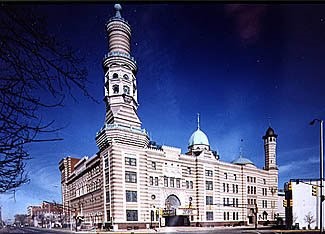 Which songs are you most proud of?
Jim: "Running High", "Copper Penny", "Run To Me", "Catch You", "Three O'Clock", "Song of the East".
Where and when was your most memorable gig?
Jim: Opening for Three Dog Night before 12,000 people at the Indiana State Fair Coliseum. We received free publicity 24 hours a day seven days a week for four weeks prior to the concert. The placed was packed. After the lights went down I could only see were the first few rows of the audience. We were given exactly 30 minutes to play. Mike performed a short drum solo during the set. The crown responded well. It was a blast!
What currently occupies your life?
Jim: I am a retired Engineer and liking it. My wife works a bit. I still write, play and have a list of songs to practice with. It's the way things started for me and it makes me happy. I haven't performed for sometime. My son Chris Lee and his wife Heather perform, write and have recorded an album. One song is on a movie track. My daughter Lisa lives in Hollywood and has been active in film and television for years. She too has released an album of her music on Spotify and Amazon. (Lisa Mason Lee)
Richard: I'm retired as a Professional Photographer, but still continue my quest for Chasing the Light, hunting for Wildlife and touring National Parks. I have three books in Manuscript form. I remain an Artist.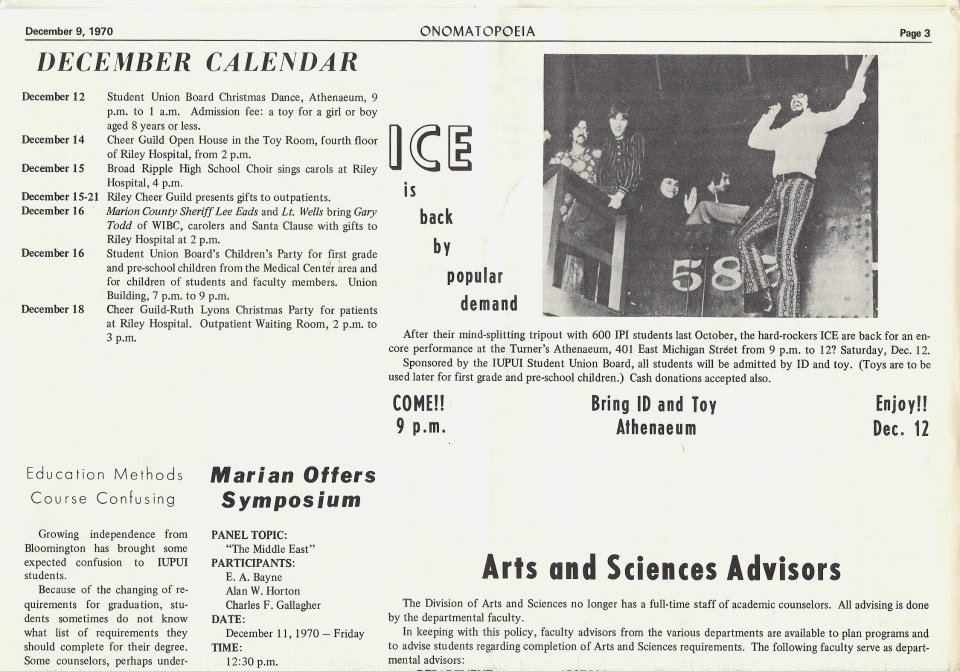 Thank you for taking your time. Last word is yours.
Jim: Love God, love yourself, love your people, and love your music. I hope that your dreams come true! Thank you for letting us tell our story.
Richard: I am so glad this is happening. As much as Jimmy likes to remind me that this Music belongs to all of us, we all contributed to its creation, I remain indebted to Jimmy Lee for taking me along on this Ride. This represents only about 20 percent of the music we were playing when it came to an end. It's a shame that all of his music was not recorded. Very few Song Writers at that time demonstrated the Creative Genius of Jimmy Lee. I am so grateful that some 50 years later, people will finally have a chance to hear and enjoy Jimmy's music. He was, simply the Best!
Mike: Living a day at a time.
Sincerely,
The ICE Band members: Jim Lee, Richard Strange, Mike Saligoe.
– Klemen Breznikar
---
Ice Facebook
RidingEasy Records Official Website