Death To Dr. Madd Vibe
BEFORE the phrase "punk" became well-known, a Beatles and Alice Cooper-inspired black band in Detroit called Death consisting of three brothers was bashing out songs just as rocky and strong as those of their white counterparts the Stooges and the Ramones. Death was among the better proto-punk bands during a period when the US rock music scene was severely segregated in terms of what types of performances were expected from blacks.
---
Death fell short of mainstream success for much the same reason as their stylistic heirs Fishbone years later: they were too black for the white kids and too white for the black ones. Presumably, Death had it worse, being from Motown, arguably the Capital City of 60s and 70s African American musical style. The band's atypical nature delayed its mainstream acceptance by more than thirty years, during which time the Hackney bros.' unreleased demo tapes languished in the attic of a house in Detroit until their eventual release by Drag City Records in 2009 under the title, "For All the World to Hear," and the subsequent release of a DVD called "A Band Called Death," a rock documentary and family history the bulk of which follows the brothers as they attempt to navigate the intricacies of the music business as a band, and which has made Death increasingly popular among indie music enthusiasts since its release.
My first exposure to Death's inheritors Fishbone came in middle school, via a girl in my study hall who mimed the several faces frontman Angelo Moore took on throughout "These Are The Voices (of Modern Industry)" the band's prescient lament of the corporate takeover of radio fare, which was in constant rotation on bygone local video show Teletunes. That radio-friendly song only showcases one aspect of Fishbone's multi-genre uber-democratic approach to musical art, having gone all the way from ska to heavy metal to funk to soul and back to ska in the course of its nearly 51 year career. Formed in South Central Los Angeles in 1979, in the days of forced busing of students to white neighborhoods, when the members were in junior high, they are perhaps best considered a punk band, with that word interpreted to mean freestyle, unbound by habitual conventions like genre. There are certainly moments, such as 1988's "Subliminal Fascism," or 2007"s "Faceplant Scorpion Backpinch," when they more than earn that title stylistically as well.
The last few years have born witness to a revival of Fishbone's career, beginning with the release in 2010 of a retrospective documentary named after one of their songs called "Everyday Sunshine", bearing witness to the ups and downs of the band's career, followed by the release of their first new collection in years, "Crazy Glue" in 2011, representing a confident demonstration of its enduring ability with songs like the title track or "Deep Shit Backstroke". September of 2012 saw the release of Angelo Moore's latest solo project as Dr. Madd Vibe, "The Angelo Show, the Olegna Phenomenon", featuring vibrant, electrified tracks like "Optimistic Yes" and "Revolutionary Girl." Current tour information and updates are posted regularly at the band's Facebook page and their official profile at MySpace.
The band's lineup has changed over the years. As recounted in Everyday Sunshine, founding guitarist Kendall Jones's deserted father was apparently some kind of Christian extremist. Other members were surprised, after Kendall's mother's death in the late eighties, to hear this villain quoted and praised by their brother. During the recording of 1991's The Reality of my Surroundings, Kendall, probably the most responsible for Fishbone's tendency toward heavy metal sound on albums like 1996's Chim Chim's Badass Revenge, started coming apart at the seams. Kendall was obviously down about a lost relationship and his fondness for alcohol was making it worse. Discussions with his father convinced Kendall Fishbone was doing "the devil's work," calling the band and everything it stood for "demonic." His father's influence was to grow over the next few years, ultimately leading to Kendall's departure from the group to join his father's organization in Novato, California in 1993.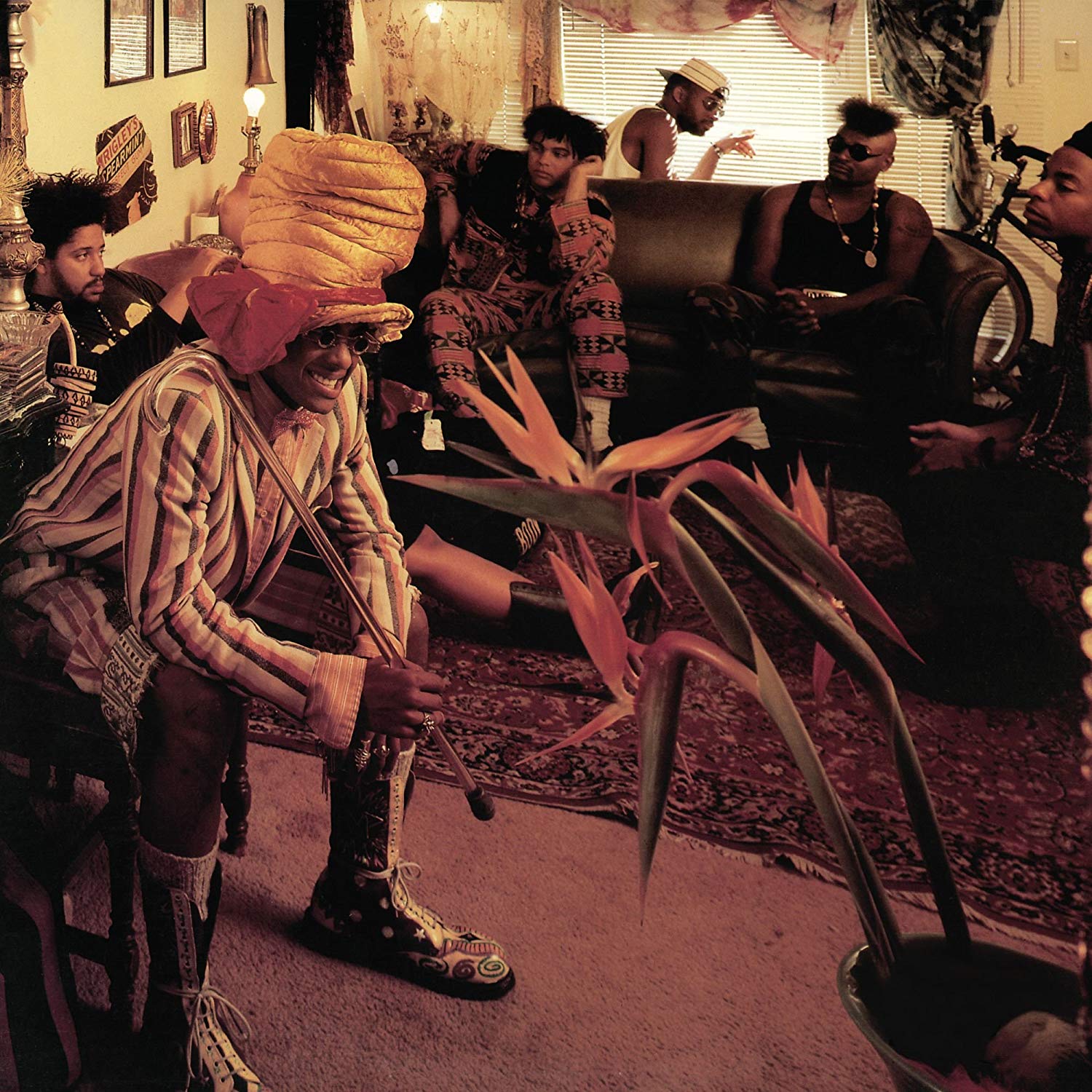 John Bigham stepped into the lead guitarist role for the band's slot on Lollapalooza in the summer of 1993, notably the only time this author was fortunate enough to see the crew live, at Fiddler's Green I think it was, or maybe Red Rocks. In time, the conflicted Kendall's reconnection with his good/evil father took on elements of cultish abuse – there are stories of the wayward son trying to baptize their instruments and forcibly attempting baptism on his own girlfriend, causing her to join forces with other members of Jones' family, and founding Fishbone bassist John Norwood Fisher to attempt to an intervention. All they wanted was to return their childhood friend "Special K" to his former wise cracking self and were charged with kidnapping for their trouble. The ensuing trial almost destroyed the band and their love for each other. All charges were eventually dropped, but Kendall never officially rejoined the familyhood. A variety of members came and went over the years. With the departure of longtime trumpet player / backing vocalist Dirty Walt in 2005, rumors of the band's decline began, but in light of their resurgence to quality productivity, such are easily dispelled. Jones himself appears near the end of Everyday Sunshine, performing with the current lineup in a small club show. This reunion spurs talk among the participants of a reunion tour, which is quickly dismissed by Moore, but all tempers seemed healed, at least for Everyday Sunshine happy ending purposes. "Never quit a band for Jesus," reflected Jones at the Mill Valley Film Festival .
Fishbone is notably one of the most deliberately democratic of modern musical acts, giving every member a stake in its eventual success or failure, featuring multiple lead vocals and styles, as well as multi-instrumentalism among its members. This mutable quality makes them hard to classify in marketing schemes and has led to a perversion of their viability in both the white and black cultures. In line with this mood of extreme tolerance, Moore has adopted the pseudonym Dr. Madd Vibe for his solo output, including spoken word and experimental musical expressions, most recently exemplified by this summer's excellent "The Angelo Show, the Olegna Phenomenon". The latest Dr. Madd Vibe release, by name "Sacrifice," is forthcoming this year. Moore has grown enamored of what is perhaps the most un-technical of musical props – the theremin, which creates eerie wavering sounds via users' disruption of the electronic force field it emanates. Talk about freestyle. This unfettered direction is often at odds with super-humanly technical bassist Fisher's vision of the band, this being far more concerned with composition and delivery of groove oriented, conservative (not to say "right wing") funk. Says Norwood, "I wanted to be in a band with Angelo, not Dr. Madd Vibe!" Not to worry, the reliable incongruity of Moore's eccentric, free-form stylistics experiments and Fisher's sober determination to provide solid funk for the band's eclectic audience ha been a central theme of this outfit's enduring sound over time, and can be counted on to give us all a friction strange as fiction to the ear.
– Zack Kopp