Planet of Zeus interview
Planet of Zeus are a heavy rock band from Athens, Greece. They have been around since 2000, playing extensively throughout their home country, just about anywhere they could, ranging from house parties to stadiums. Their raw, sincere and constantly evolving live performances have secured them a loyal and hardcore underground following, which exceeds Greece's geographical borders.
---
Faith in Physics was recently released via Heavy Psych Sounds. What was the process of recording and producing it?
John Vrazos: The truth is that we are always searching for a different approach from album to album. The need for exploring new ways and new places is a never-ending process for the band. So, the same mentality was kept during the recording of Faith in Physics.
First of all, we decided that we needed a fresh pair of ears behind the mixing desk, a person that is not so close to our sound, a producer that would bring a brand new perception to our brand new songs with a brand new sound. This person was Nick Lavdas. A very experienced producer and sound engineer, a collector of vintage studio equipment. Second, we knew that we didn't want to book a studio for a month or so.
We did want to take our time, focus on the new material, experiment with sounds and places to record them, having the luxury of time to get back after each recording session and change things. So, we visited Villa Guiseppe Studio, a home studio, but the actual real estate is a villa in Athens. The living room of the villa was used for the live room, in which the band recorded live. Our main intention was to keep the drum tracks but we ended up with the drums and several takes from guitars and bass. Then we moved to our rehearsal studio to do guitar and bass overdubs. This process was really interesting as we had the chance to use plenty of Crazy Tube Circuits pedals. We spent a lot of time to figure out which sound fits the most for every single track.
Then we moved to Kiwi Studio, to do the vocal parts. Faith in Physics is probably the album that apart from the main vocals, had a lot of backing parts and some main vocals coming from other members of the band. We needed this kind of diversity to support mentality of the new songs.
As for the mixing process, we spent a lot of time to reach the ideal outcome so the balance between the musical elements in every song and at the same time the balance itself between the songs of the album, could meet our expectations. We have to admit that this process is really painful, as it is a disagreement-generator between the band and the producer. All's well that ends well.
"This album should be our most socio-politically conscious release"
Is there a certain concept behind it?
Faith in Physics is a concept album, surely not in the way that bands like Queensrÿche, King Diamond used to do in the past. It doesn't tell a story about something fictional. It's an up to date album. In 2019, at a time in which irrationalism seems to be king, with far right politics enjoying mainstream status worldwide, religious fundamentalists, flat-earthers, and anti-vaccinists testing the limits of freedom of speech, we decided that this album should be our most socio-politically conscious release and we dealt with themes like digitalization, religion, social network pseudo-revolution, addiction and lonerism. Physics stands in the notion of science, what human being achieved while searching for the truth. Physics is not subjective, so you cannot hide behind it, as people do with religion for instance.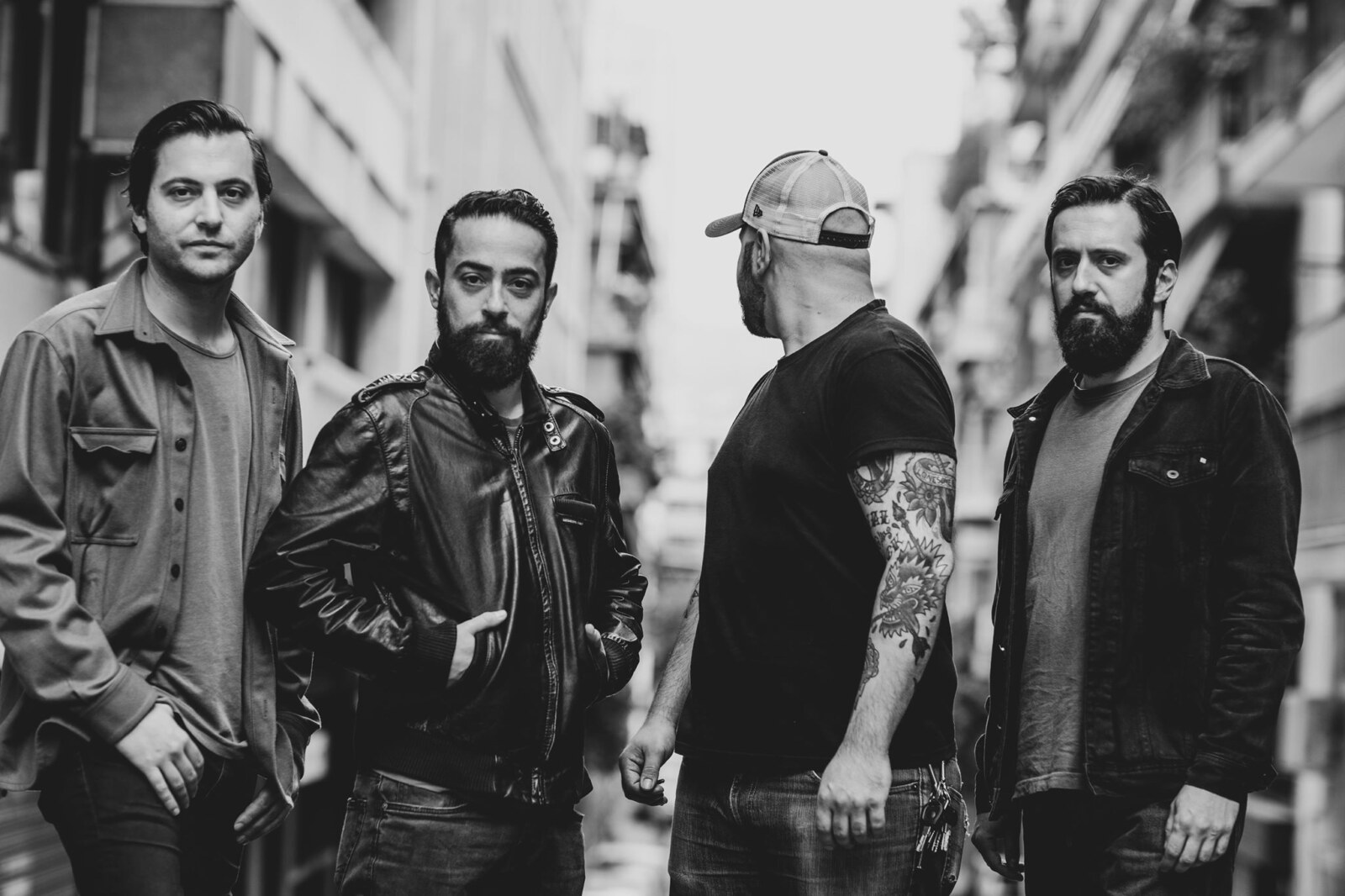 How would you describe your sound on the latest album?
I think that as a band we always enjoyed mixing elements that stem from different genres, from classic rock to metal, from funk to hip-hop. It's all about music and its different aspects and how you can mix them in your head to create your own sound. We never said that we discovered wheel, though we try to sound as we perceive a global rock sound.
Faith in Physics, production-wise, is the dirtiest path we took since day one of the day. Composition-wise, the album has the straightforwardness of Rage against The Machine and MC5, the groove-laden riffs and attitude of Clutch and Soundgarden and the pop-ish atmosphere of Queens of the Stone Age latest albums. If I could summarize it in genre label, I would call it
New Age Heavy Rock.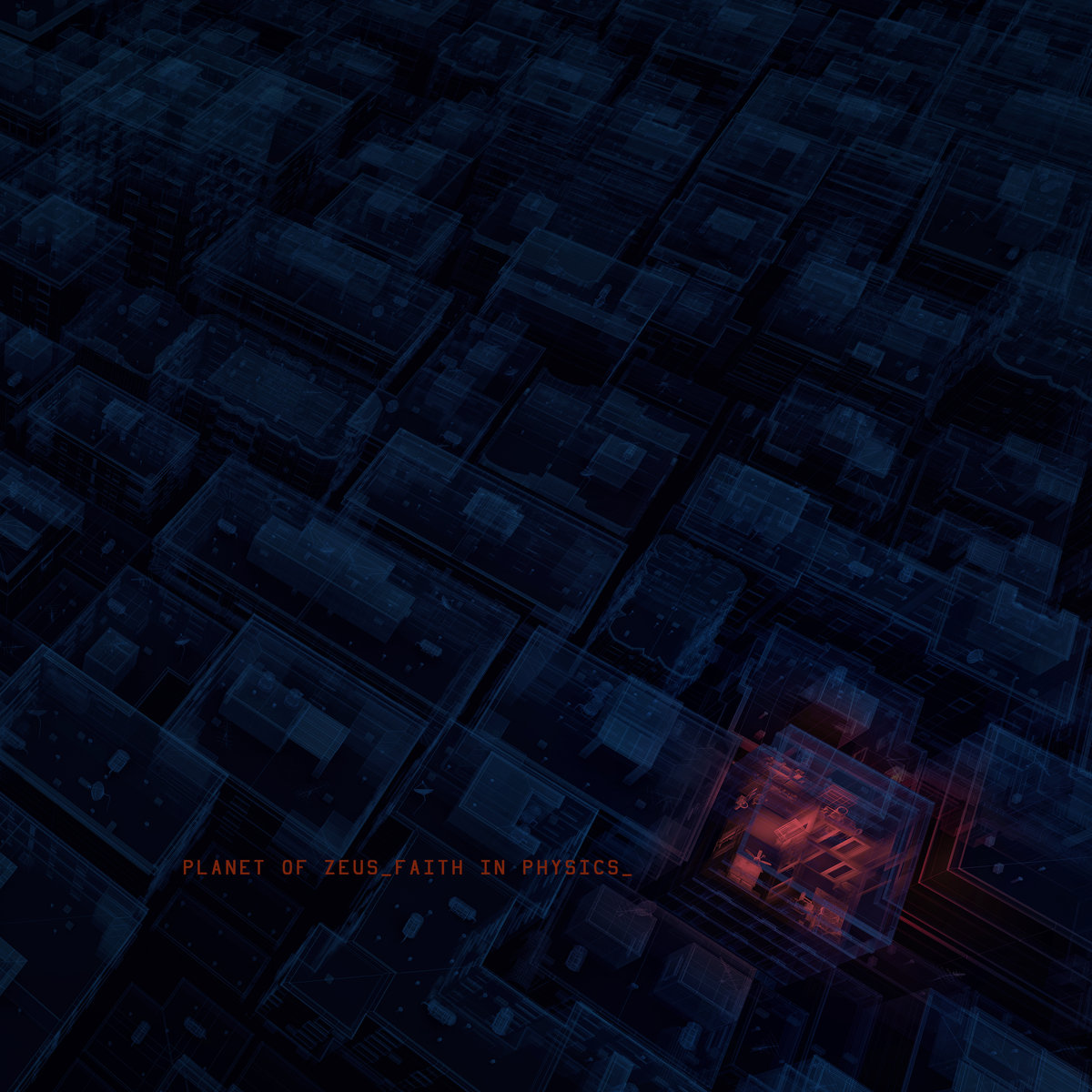 How do you usually approach music making?
We never use a certain pattern to make music. Or we may use it but it's different from time to time. A track can come out from a jam when we rehearse. We take parts from this jam and evolve them into a song.
"Vigilante" stands as an example in this case.
One of us may come up with an entire song that musically is complete and only the lyrics are missing. "Stab me", "Them Nights", "Let Them Burn"are some the tracks that fall into this category.
Though the most common way of music making, is, as we love to call it, the "Frankenstein" way. Riffs and melodies coming from different members of the band are combined in a track. The vast majority of our discography has this kind of mentality, as we are a band that every single member has composition skills, both riff and lyric-wise.
What are some bands/musicians that have a big influence on you?
That's definitely a question that needs a long answer. P.o.Z. has the utmost respect and love for the bands coming from the 70's. Black Sabbath, Led Zeppelin, Grand Funk Railroad, Rolling Stones,The Allman Brothers, Rory Gallagher, Thin Lizzy, Deep Purple, Motörhead, AC/DC just to name a few. The song-writing of these bands has always been the ultimate guide for Planet of Zeus. The riffs, the way many tracks of those bands flow, the perception of how each instrument blends with each other to form a song, is the definition of rock 'n roll music and rock 'n roll attitude.
In this point we also have to admit, that we pay a lot of respect to metal bands as well. Iron Maiden, Metallica, Judas Priest, Death. Not only for their contribution in music but basically for how they evolved their music through their career. Metallica started as a thrash metal band in their first album and slowly turned into something totally different, not ignoring though their roots, their basic sound and attitude. The Black Album is probably the reason why many people began to listen to metal music, even if that album is not the most "metal" album of the band. They may have caused disappointment to their die-hard fans over the years, but they still are the greatest metal bands of all time. Probably because they were not afraid to change their sound as they grew up as a band and as individuals. I guess it's absolutely normal and healthy not to play the exact same music style for 40 years or more. People change as they grow up, so does music.
As for the bands that grew big in the 90's, we should mention the Seattle scene and bands like Nirvana, Soundgarden, Pearl Jam, Alice in Chains. Bands that had a huge impact on us when we were young throughout our schools days. They had produced albums like Nevermind, Badmotorfinger, Ten, Dirt, albums that blended rock, metal and punk in the most interesting way possible.
The band shares the same amount of love for Rage against the Machine, for their groove, for their riffs, for their lyrics and what they stand for in a humanitarian way. Hands down, RATM is the most influential band for Planet of Zeus.
I try to omit focusing on musicians as I can't express the other members' opinion. I could speak for myself as a bass player. Geezer Butler is the reason that I started playing the bass. I also love John Paul Jones, John Entwistle, Phil Lynott, George Karras from Trypes (famous Greek Rock band) and Dan Maines of Clutch.
Do you often play live? Who are some of your personal favorite bands that you've had a chance to play with over the past few years?
Well, it depends. You have to have a good reason to play a gig or to tour nowadays. A new album is always a good one. We usually do a tour around Europe per year, sometimes as a headliners and sometimes as a support act for a bigger band. For instance, in 2015, the mighty Clutch had invited us on their "Psychic Warfare" tour. Definitely a huge honor for us and a great chance for P.o.Z. to be introduced to a greater audience. Same thing with a UK tour with Grand Magus and our upcoming tour with Kvelertak.
Monster Magnet, Karma to Burn, Baroness, Orange Goblin, Brant Bjork, Ozzy Osbourne, Machine Head and Iron Maiden are some of my personal favorites with which we had the chance to share the same stage.
Faith in Physics is your sixth album. How would you categorized it in your discography?
It's actually our fifth studio album and our sixth one if we count our live album Live in Athens that was released in 2018. I could say that it is our most mature album so far. It combines the raw sound of our first albums with the melodies and the song-writing mentality of our recent albums.
In our minds, Faith in Physics sums up all the influences we have as musicians over the past years.
How do you see the current political climate in Greece and in EU in general?
I think it's safe to say, the word "safe" is used in an ironic way, that is a dark period for Greece. After we have digested the economic crisis and the whole recession project, people have lost faith in almost everything that concerns their everyday life. And I am talking, unfortunately, about the vast majority of people. People that vote and select their leaders. Governments and several political parties manipulate people's way of thinking in the worst possible way. No wonder why people turned to trust Golden Dawn, the far-right, neo-fascist political party. Refugees, leaving their countries because of war, travelled to Greece for a better life and people here turned against them. Governments provided less help for them, while other people, everyday people did their best to help refugees find a place to stay.
Corruption has always been a major issue in Greece, but nowadays it has turned into a gigantic one. Justice, politicians, police, the media act at their own will and their own advantage. And the worst thing is that people don't seem to care about it. Greece seems to follow the instructions of EU, where the decision center lies, so as to become a conservative country, a faithful dog that dances to the rhythm that EU dictates. In Greece, we have a phrase for that, " the poor relatives".
There are a lot of bands being active in Greece.
The last five years, Greece is oozing with really talented bands in the heavy rock/stoner/sludge/ psychedelic scene. Not that there weren't any bands before that period, but there is an outburst of new bands emerging from every single city of Greece.
These five years are the years of economic crisis, the years of recession. The years of great unemployment for young people. So, I guess, there was more time for bands to play, to evolve, more time for bands to create and show their talent.
There is also more talent and know-how in terms of production. How the bands can achieve the sound they want, always with the great assistance of sound engineers. So, the outcome is totally professional and encouraging for the future days to come.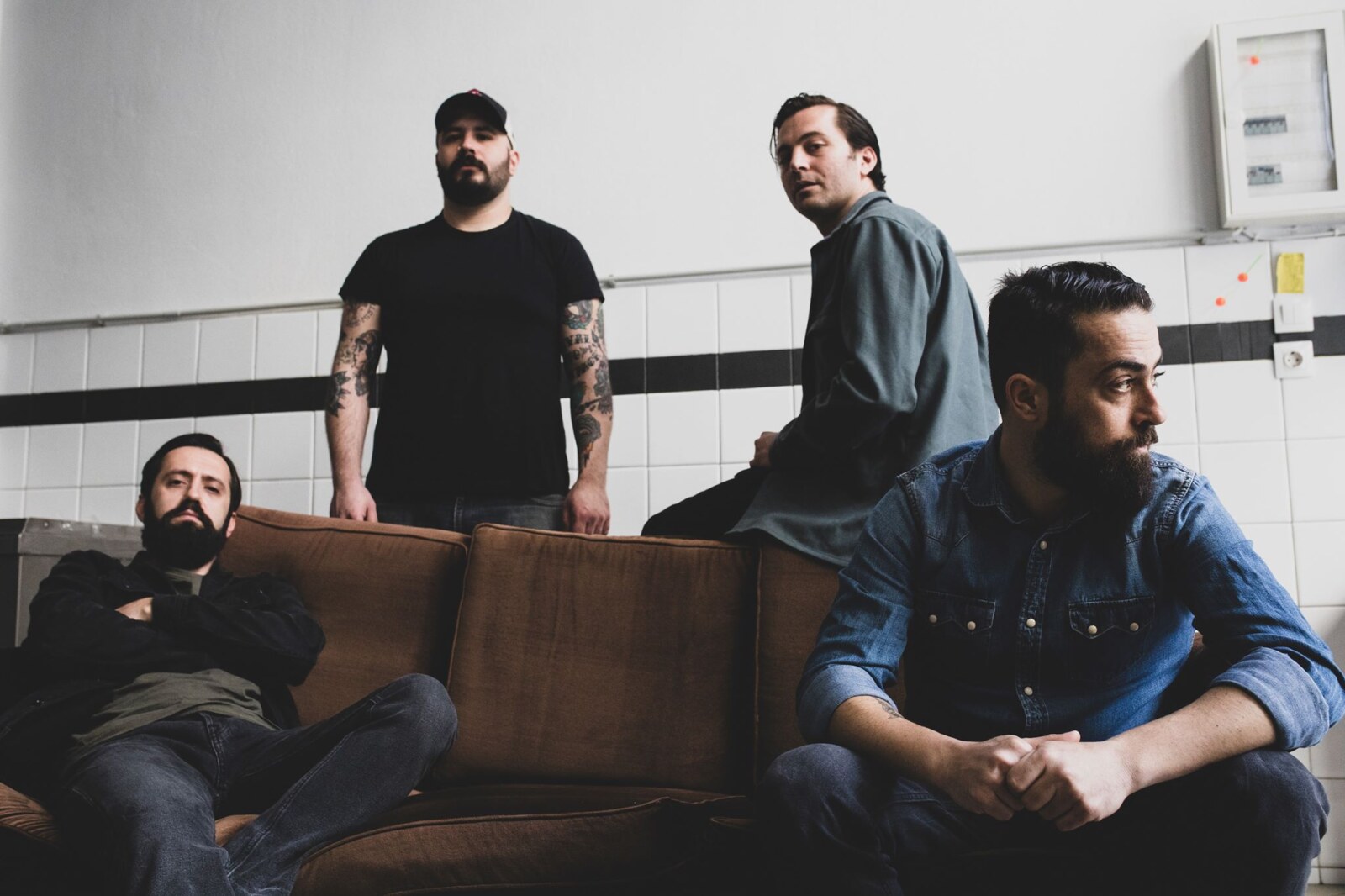 What are some future plans?
We just finished our Greek tour for promoting Faith in Physics.
Late February, we are going to visit several European Cities with the Norwegian black 'n rollers Kvelertak and then we are embarking on North American Tour for the very first time. During summer, we have already booked some Festivals around Europe and Greece and during Fall 2020 we are heading again to Europe, this time, for a headline tour.
Are any of you involved in any other bands or do you have any active side-projects going on at this point?
Stelios (guitar) and Serapheim (drummer) have a jazz trio, called Tfatfy and I play also in alternative rock band called Henry, influenced by Dinosaur Jr., David Bowie.
Let's end this interview with some of your favourite albums. Have you found something new lately you would like to recommend to our readers?
The list is endless, though I will try to name a few that come to my mind.
Black Sabbath – Paranoid
Led Zeppelin – House of the Holy
Thin Lizzy – Jailbreak
AC/DC – Back in Black
Metallica – Load
Iron Maiden – Somewhere in Time
Death – Symbolic
Soundgarden – Superunknown
The Offspring – Smash
Rolling Stones – Sticky Fingers
Clutch – Blast Tyrant
The Meters – Rejuvenation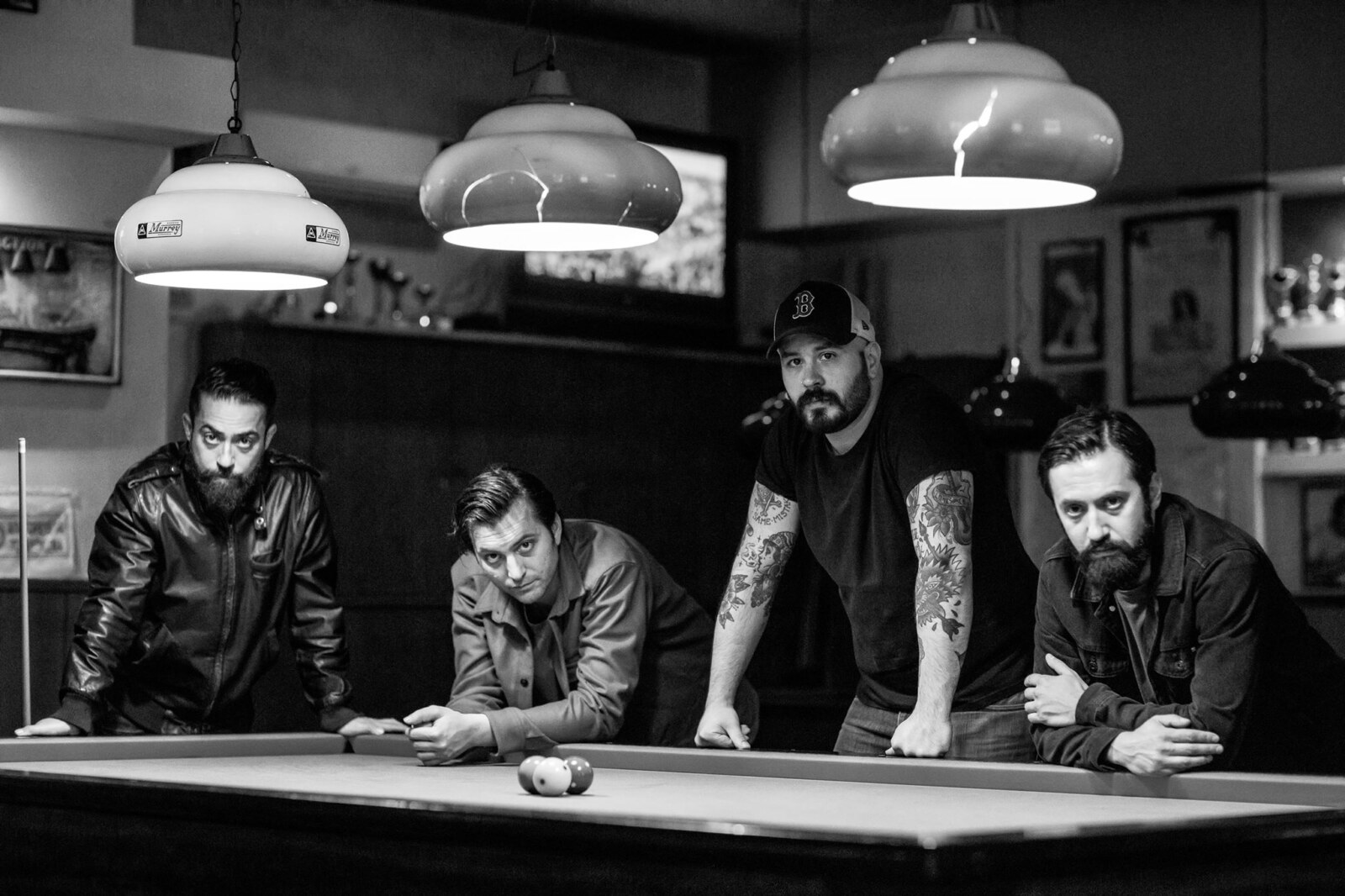 As for the second part of the question, I have to admit that as the years go by, I focus my music research to older stuff. For instance, the last week I listened to Rolling Stones' and Led Zeppelin's full discography. Especially, Zepp's discography is a music trip around the blues, rock, funk, psychedelia.
The experience of going to back to their discography, step by step, album to album, seems to be really didactic about their evolution of their music and the musicianship between the band's members.
Thank you. Last word is yours.
Thank you for the invitation and the interview. Hope you enjoy it as much as I did. Hope to meet you in a gig anywhere around the globe.
– Klemen Breznikar
---
Planet of Zeus Official Website
Planet of Zeus Facebook
Planet of Zeus Instagram
Planet of Zeus Twitter
Planet of Zeus Bancamp
Heavy Psych Sounds Official Website