Interview with Mike Vest of Bong, 11Paranoias and Melting Hand
From ever-prolific Bong to melting heaviness of 11Paranoias. Mike Vest is an original guitarist and highly active musician. Over the years he was part of so many different bands and solo projects. From Bong, 11Paranoias, Drunk In Hell, Blown Out, Haikai No Ku to Melting Hand and his solo work under moniker of Lush Worker. His latest project is OZO. "Improvisation rules out any ego and falsehoods."
---
The best things are discovered by accident
Would you like to talk a bit about your background? Where and when did you grow up? When did you begin playing music? What was your first instrument? Who were your major influences?
I was born in Newcastle General hospital on the 18th May 1982. Lived in West Denton, but moved to Whickham/Sunni-side when I was 3 or 4, I think. I grew up in a small cut off town which borders close to Gateshead. Lots of countryside. Lots of boredom, but could get into Newcastle to watch gigs at an early age. I started playing in bands when I was 15, I guess. Most of them were terrible and it was guitar-based generally. Always grew up around music since I was born. Parents would always listen to music. Jimi Hendrix, Cream, The Beatles and so on.
I pull influences from many sources in a way, I guess. Song structures, fluidity and the like. It would be hard to list all my tastes, past and current. It ranges from lo-fi analogue noise to punk rock, drone, hip hop, free jazz, improvised psychedelic psych, non-goth industrial, noise rock, no wave, and strictly no vocal improv.
I'll just list – Fushitsusha, Okhami No Jikan, Pärson Sound, Astro, Skullflower, Popol Vuh, Les Rallizes Dénudés, Amon Düül, The Human Instinct, Gore, Melvins (Lysol), Earth (Earth 2), Tokyo Flashback Comps, Globe Unity Orchestra… now this just becomes a stream of consciousness of stuff I like or have been listening to, Up-Tight, Double Leopards, New Kingdom, The Electric Prunes, Holy Terror, Titan Blood, Kool Keith, Wu-Tang Clan, Mars, Borbetomagus, Smegma, Sensational, Run the Jewels, Trina, Odd Future, Brainbombs, Large Professor. It's hard to list influences, I think. It's kinda like… If you like something does that influence you? Maybe not directly, I guess. I used to listen to so much music and buy so many records before digital era. I like to hear what other people pick up on when they describe the music I make. However most descriptions made by many can be poorly researched and a bit lazy. There is so much information and music at everyone's finger tips now there is no excuse for poor, under researched music journalism anymore.
Some bands that I've been into from an early age, some I discovered in my early 20s. That have remained. Hard to list influences. I get influenced by many forms of music and musicians and I couldn't explain how. It's just like a spark at times.
Your discography is so intense that it was really difficult to decide where to actually start this interview. Let's begin with your most well known project Bong. When and how did Bong members meet?
A long time ago in the past. Probably 13 years ago, maybe more. Dave Terry (bassist) and I spoke about starting a band. We used to live near each other. Took us a bit of time to find a drummer then we found Mike Smith. His drumming was so unique. Not many good drummers back then in Newcastle that wanted to be involved or could play this slow and measured etc. This was at a time when 'experimental noise music' or 'messed up rock bands' really weren't popular. This is pre-Facebook too. What a glorious time. Felt more at home watching experimental punk noise/weirdo jazz/drone etc., than I ever did watching hardcore straight edge or weak indie rock. Which was very popular back then. Felt a lot more genuine standing in a room with 3 people watching Smegma or third organ or Jazzfinger or Reynolds etc. Shout outs to Lee Culver and Dean Romance for putting those gigs on. That was a big influence. This was well over 15 years ago btw. They used to put on a lot of harbinger sound artists and other odd and harsh noise etc.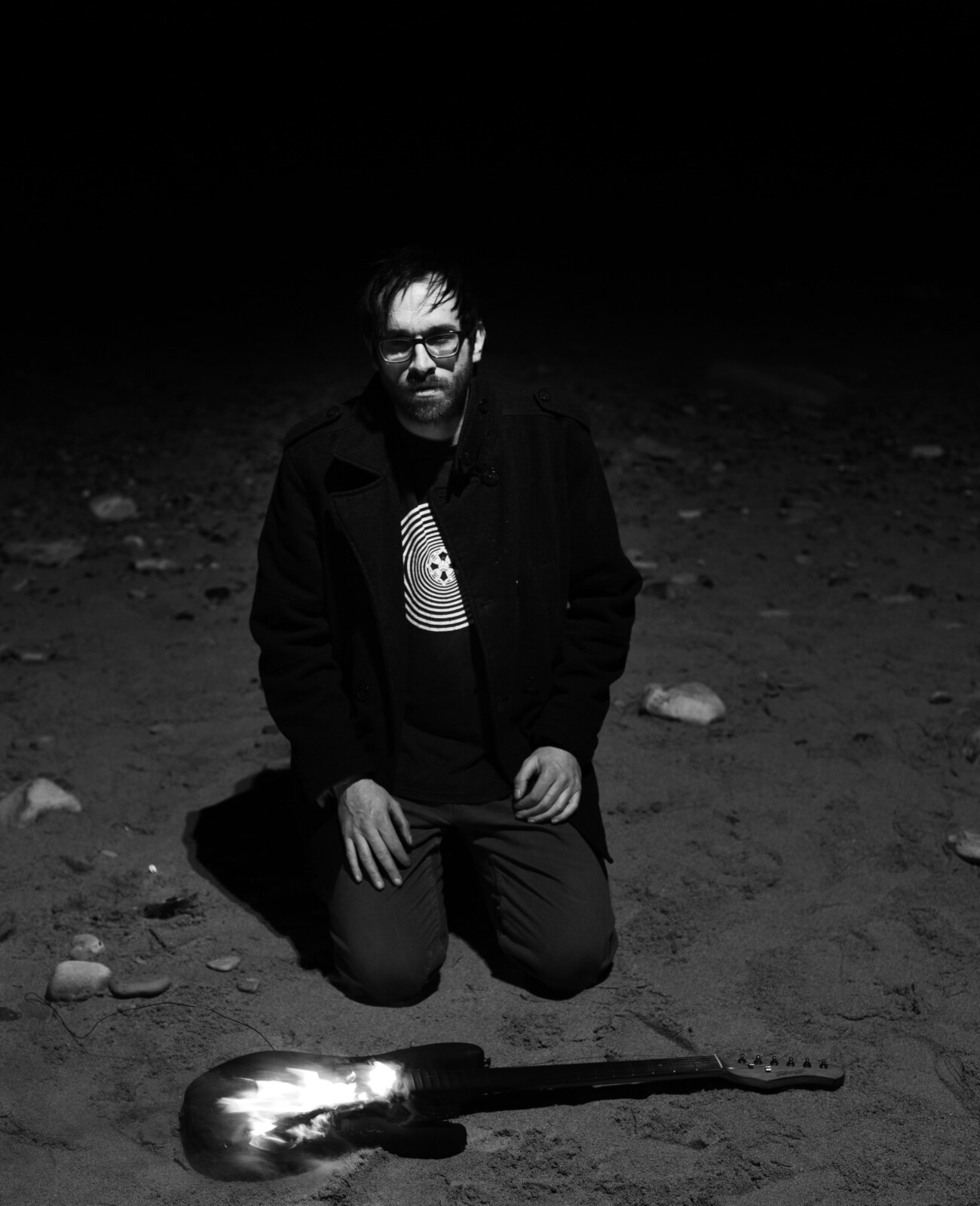 What led you to form Bong and when exactly was that?
Just wanted to play in a band and make music. No aspirations at the time. Just to do it. I think the initial idea was loosely sparked in 2003. Yikes.
Have you all made any changes to the lineup since you started or is this the original lineup?
This is the core original line up. We have had an additional guitarist for a brief spell. Pete Ryde, he was driving us to gigs. I thought he should join cos he was also a guitarist. Get him involved in 'the action' a bit more. Pete only played on one record, Stoner Rock and did a few gigs. Also we had a sitar player, but he became horrifically unreliable for shows, recording and practicing. In a band that is already 'loose' we didn't need anymore problems. So full circle – we are a trio again. We are looking at more people to collaborate with. Like Lucy Adlington who is from Newcastle and Bridget Hayden. Both free form noise guitarists.
Did you draw any influence from any particular drone musicians from the past when forming Bong?
Yes and no. I think Dave and I had very different influences back then. But we clicked on certain bands. I was just starting to discover Fushitsusha, Éliane Radigue, Tony Conrad, Vibracathedral Orchestra, Sunburned Hand of the Man, Sun City Girls, Chrome, Double Leopards, lot of Underground CDr stuff as well. A really unhealthy obsession with Japanese artists from the late 70s/80s and Jazz, Turkish psychedelic and Mexican punk bands. There was not one direct influence. It's all in there somewhere.
Were you in any other bands before forming Bong?
Yeah, a few really. But can't remember and a lot of it wasn't very good really. Let's move on…
How did you decide to use the name 'Bong'?
It's simplistic and ominous. It just seems to fit. Hard to remember exactly how it came to be. A Minimalism Joke, I guess.
How do you usually approach music making?
A very broad question.
Depends on which band. For the past few years I've recorded all my guitar overdubs in my studio/house. To avoid the stresses of being 'on the clock' in the studio. If I can spend a week on all the guitars, at home it always comes out more focused and care free. Ain't no one telling me what to do at home. Plus I can add all the effects I want and experiment heavy… once I send the tracks, whoever is mixing, has to use them as is. Only thing they can do is turn me down, I guess. Which happens from time to time. I've also mixed a fair few LPs and albums over the years.
"Each album concentrates on expansive themes"
Some of the most well known Bong albums are Beyond Ancient Space, Mana-Yood-Sushai, Stoner Rock, We Are, We Were And We Will Have Been. Can you share some further details how these albums were recorded and what's the story behind them?
Beyond Ancient Space was our first 'real' album. Around this time we finally got our heads around our sound. Musically things were starting to take more shape. That album was recorded to a Tascam 4 track. So we mixed down from tapes. This took ages. Adding post effects to the mix and recording it live onto an old PC, this took ages. Having to rewind the tape every time stuff peaked. Imagine a 35 minute song peaking at 20 mins… rewind!! Spun me right out. Our sound was defined by this point for sure. The other albums were recorded in various studios playing all together live. Thought and Existence was the first Bong album where we did overdubs. This is definitely our most focused and sonically detailed album to date. It's hard to remember anything unique regarding how they were recorded. I know we used a gong on We Are, We Were And We Will Have Been. But generally we record all together for each album.
Subject matter wise. Each album concentrates on expansive themes. Deep space, contemplation over-self purpose, excessiveness, ancient royal gods, tales from old literature, quantitative existence.
Can you share some further details how your latest album Thought and Existence was recorded?
We recorded the tracks in Newcastle @ The Soundrooms in Gateshead. I was able to spend a lot more time working on the production and on overdubs. The album was lightly mixed and arranged there. Then the tracks/stems were sent to Adam Richardson at XL studios in London. They pushed everything through a digital to analogue desk. Sounded awesome. Sometimes it helps to have a lot of outside ears on the mix. Sometimes…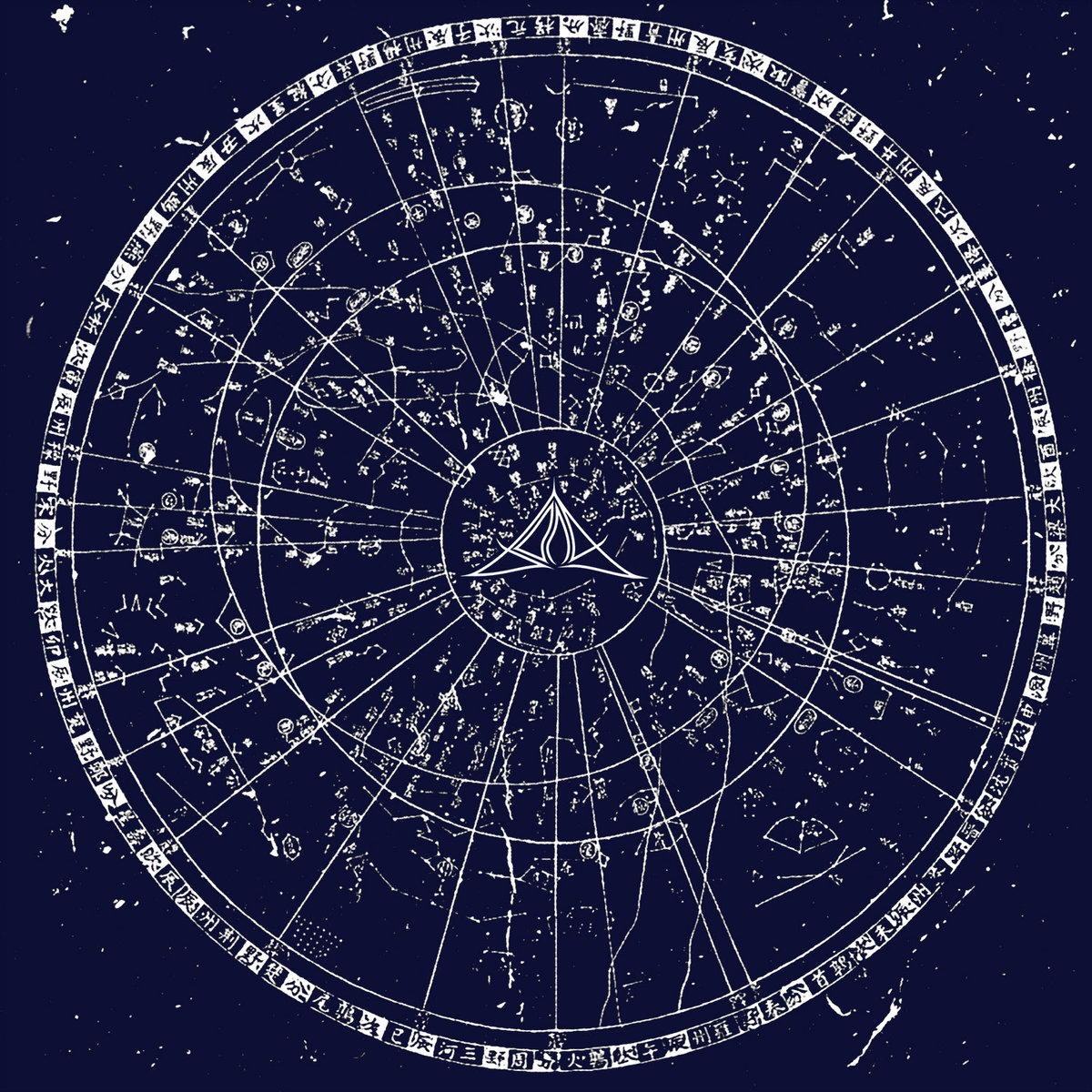 How pleased was the band with the sound of the album?
It got released, so I assume they all liked it.
Thought and Existence and most of the Bong's roster is very psychedelic and spacey. Give us a taste of your equipment …
Layers of drones in different octaves. Phasers and melodic leads and Shruti box. The drummer added more percussion overdubs and the bass is the same throughout. We use 'Metal Zone' distortion for bass. Simple drumkit with no high hat, all crash cymbals. I used a bunch of modded pedals from Moose Electronics in Dublin. Use a phaser that has a mix dial on it. Cloned Octavia superfuzz and a modded big muff. Along with delay pedals, DD3 specifically, We both use solid state amps and old Laney and Ampeg speakers. Mines is a H and H head. That was modded and serviced by Gordon Watson from Terminal Cheesecake. This thing cuts through all tubes like butter. Killer mid range. It is where all the magic lives.
"It's original ideas that make a band, not how many notes you can squeeze in."
Most of the material is released via Ritual Records, home of a few other bands that we either reviewed or even interviewed in the past. For instance Ramesses, Ghold, The Poisoned Glass, Horse Latitudes, Ancient Lights, Drug Cult and your project 11Paranoias. Who is behind the label and would you like to tell us about the formation of 11Paranoias and what was the main idea behind it?
Bong signed to Ritual Productions about 10 years ago and released Beyond Ancient Space. No other labels approached us. And we weren't really looking. We had been working with some local DIY labels, but they never paid us. Ritual Productions got in touch. They really were into our music and gave us a chance. The rest is history, I guess. No one knew what the hell Bong was really. People weren't that switched on musically back then. I think Bong kinda does a lot of peoples heads in Newcastle. Some people still just can't get their heads around the 'one note' thing or the drone etc. I heard someone say at a gig once 'Mike has done well for only knowing one note', it's funny cos at the time I was playing in bands like Drunk in Hell and Blown Out amongst a number of experimental psych noise punk guitar bands. Which have a quiet a few notes. Small towns are always full of resentment. It makes me laugh. People in bands need to start being original rather than copying shit. It's original ideas that make a band, not how many notes you can squeeze in.
Anyway…
11Paranoias started soon after Bong was signed. I was offered to play in Ramesses as guitarist filing in for Tim Bagshaw. By Adam Richardson. For a European tour. 11Paranoias at the time was Mark Greening from Ramesses and Adam Richardson, who played bass in Ramesses.
Your latest album Asterismal by 11Paranoias sounds as heavy as anything and I've been listening to it a lot!
Asterismal was recorded @ Bear Bites Studio with Wayne Adam in London, all bass and drums and most of the guitars were all recorded live, but then I went away and recorded a lot of guitar leads and atmospherics at my place. Then we went back in and mixed the whole album. Came together quickly, we improvised and add a lot of 'jams' to our songs. So we wrote tracks in parts sometimes. Its great to just flip a track with a huge slice of space rock. It's a great collection of doom, drone, space rock and noise.
The project is already a couple of years old. Your debut was released in 2014, but you already played a few years before. Lineup did change a bit. Would you like to tell us about the current members of the band?
Hmm. We never played any shows with the original line up. However we did play one 11Paranoias track at the end of a couple of shows when I was playing in Ramesses for a European tour. 11Paranoias has been going for a total of nearly 7-8 years I think.
The current line up is Adam Richardson on bass, me on guitar and Nathan Perrier on drums. Mark Greening used to play drums and was on the first two limited LPs.
I really enjoy the artwork by Adam Richardson. It gives a great vibe to the music. 
Adam is a really great graphic designer/fine artist/printer and conceptual theme builder for all our albums. Each design and layout for each LP takes into consideration many layers of printing, design, collage and colour blends. Specifically the mpv design of on Reliquary Of A Dream Of World.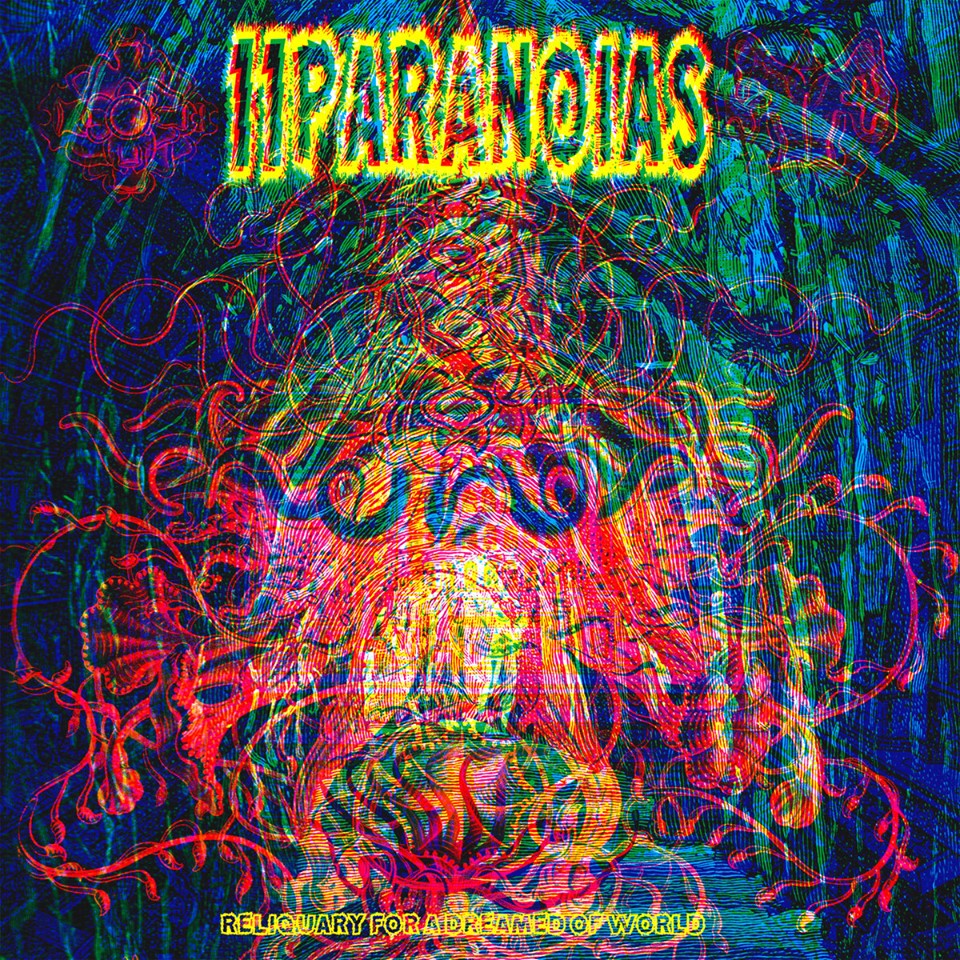 It must be interesting to jam with so many different musicians. The chemistry is always different. 
Yeah, it can be different or the same sometimes. Lots of factors really. Musicianship, the ability to improvise, which some people think they can do it, but this is not always true. How they react in studio environments. Some people get strict in the studio and forget to experiment or visa versa. You can get carried away and waste time. It's a crazy mix. What I'm most interested in is their creative ideas, motivation, work ethic and drive. Some people just do the bare minimum to get by. Lazy.
How about some other (less known) projects, like for instance Jackal, Skull Mansions, Space Victim? 
I've produced a lot of projects and bands with mates over the years, some are just one off collaborations with friends, some we did a couple of albums they were either self releases. Never played many shows, just making music with friends really. Helped me get better at music production and recording. A lot of these projects were years and years ago too.
How about Haikai no ku?
Couple of mates, Sam Booth who plays in Foot Hair and Mondo Sadists and Jerry, who played bass. Noise rock band that played everything in minor keys etc.
Ultra High Dimensionality is a killer release! 
Yeah, that was when we kinda got it right. Only time I reflect is when I do interviews, so it's hard to remember everything. I felt as if we had another album in us before the end. We lacked fluidity at the time. Ultra High Dimensionality is a great album though. Definitely the best out of the 3 LPs we did.
You also played guitar in Drunk in Hell.
Yeah, they had been around playing shows for a few years on and off. Their guitarist at the time, left and I was asked to join. I had played bass for them for a couple of shows, so was an easy fit.
At the time it was a real honour to join. There seems to be a lot of bands around at the moment, playing noisy durgy punk. I hear the Drunks' influence a lot. Which is cool. No one could and still can't match us on feedback and power though.
You also have a solo projects under moniker of Lush Worker. Would you mind introducing some of your solo albums that you're most proud of?
All of them really. Because it's just me doing the project. I can do what I want, release it how I want. There is only a few labels, Like Cruel Nature who is generally interested in Lush Worker, so no one is into releasing this type of music. Which is a shame, so I just put it up for download and release it digitally. Shame more labels aren't interested, but hey, it is what it is. Also, I get turned down a lot for features and or reviews etc. Music journalism is more about clicks than appreciation over actual music. Not everyone, but most.
New Album Uplift by Lush Worker out now.
Just had a tape released on Secretly Chuvashian, which is a label based in Russia. Split tape with Oneirine.
What would you say is the main difference in being a solo artist?
You can do what you want I guess. You can do when you please. No deadline, no waiting for other people to get it together.
Full freedom of expression, I suppose. I use it to experiment with sound production too, trying new plugins, different mixing ideas. It's also a source of meditation for me as well. I have to create all the time and or produce something, otherwise I become depressed. I can't hold it in.
Melting Hand is a supergroup made from ex and current members of Gum Takes Tooth, Terminal Cheesecake, Skullflower. Have you all made any changes to the lineup since you started or is this the original lineup?
Yeah, Russell left, as he is living in France, we weren't getting enough money at shows to even begin to cover his travel. Sometime, but generally it was impossible. Plus Russell wanted to concentrate on Terminal Cheessecake more, which we all fully respected to the max. Great band. Marion came in on guitar. Her style is different to Russell's, but still incorporated all the sounds we like. Really scratchy, huge reverb, no-wave noise guitar. Fit really well. She plays on Faces Of Earth which came out last year on Hominid Sounds.
What does the name "Melting Hand" refer to in the context of the band name? Who came up with and how did you go about choosing it?
My representation of it, is a nod to the term 'Slow Hand' which was passed around as nick names for Eric Clapton and Jimi Hendrix etc I think. In this case, it was melting. Tom Fug, drummer, came up with the name, I think. Just fit there and then. Sorted.
Can you share some further details how your latest album Faces of Earth was recorded and released?
Was recorded at Bear Bites Horse Studios with Wayne Adams. We recorded it all together, then I recorded overdubs at home and sent them down the pipes. I went back down to London and we mixed the album all together. Lots of improvisation in the studio. Highcollider was all done in 2 days. There was a bit more preparation and time to work out stuff in advance for this one. Highcollider was a blur of a few basic tracks and we all played together in the room. Then added a guitar lead here and there. We had just got together so everything was new and fresh, so everything was really creative. Tom and Gordon are such amazing musicians. So the bass and the drums we so tight and full of fluidly, it was hard no to be inspired from the perception of me and Russell.
What kind of process do you have at mastering material for the release?
I very rarely master my own stuff. My mastering technique is really primal. If I need something mastering for vinyl, I get someone else to do it for sure. But if it is just a digital, I'll do it. Digitally, I just make sure the wav is generally thick and sans spikes. Then just brick wall it.
"I never decide what a band is going to sound like."
One of the recent project you're working on is with drummer from Comacozer. Did you meet after working on that Riot Season split?
We have never met in person. We spoke when we were getting the split LP together. We spoke about doing something, he sent me some drum tracks and I started building the album, or at least a couple of tracks to see if it could work. It did, so we made an album. Fried On Rock LP came out on Sound Effects Records early this year.
How would you describe Oblivion Reptilian sound?
Space Rock, I guess. Rock riffs, lots of leads, guitar noise and experimentation. I never decide what a band is going to sound like. It's just what comes out when I start writing songs, or start recording basslines etc. Hard to describe really. For me it sounds like a straight rock band. To others it maybe sounds like a nightmare or 'too much'. Perceptions and music knowledge is everything really.
Is it difficult to balance the work you do with all the bands?
Sometimes, gig clashes used to be tricky, double booking myself etc. But I don't get asked to play many shows anymore. So don't really have that problem anymore. I have to claw for shows, so no chance of being double booked. You make time if you really want to do.
Your latest project is jazz psych unit called OZO.
I've been waiting to start a band with Graham Thompson and Karl D Silva. Karl used to play Sax in the Drunks and Graham is amazing drummer who plays in lots of bands. He can play everything and is really great at production and mixing. Couple of bands fell apart or just became unproductive, so I moved on, like I did. Graham's drum track were so good and alive that I came up with the idea to have him leading the tracks. Added bassline and asked Karl to blast through in one take. The results came back and it sounded awesome. So here we are.
"Improvisation rules out any ego and falsehoods."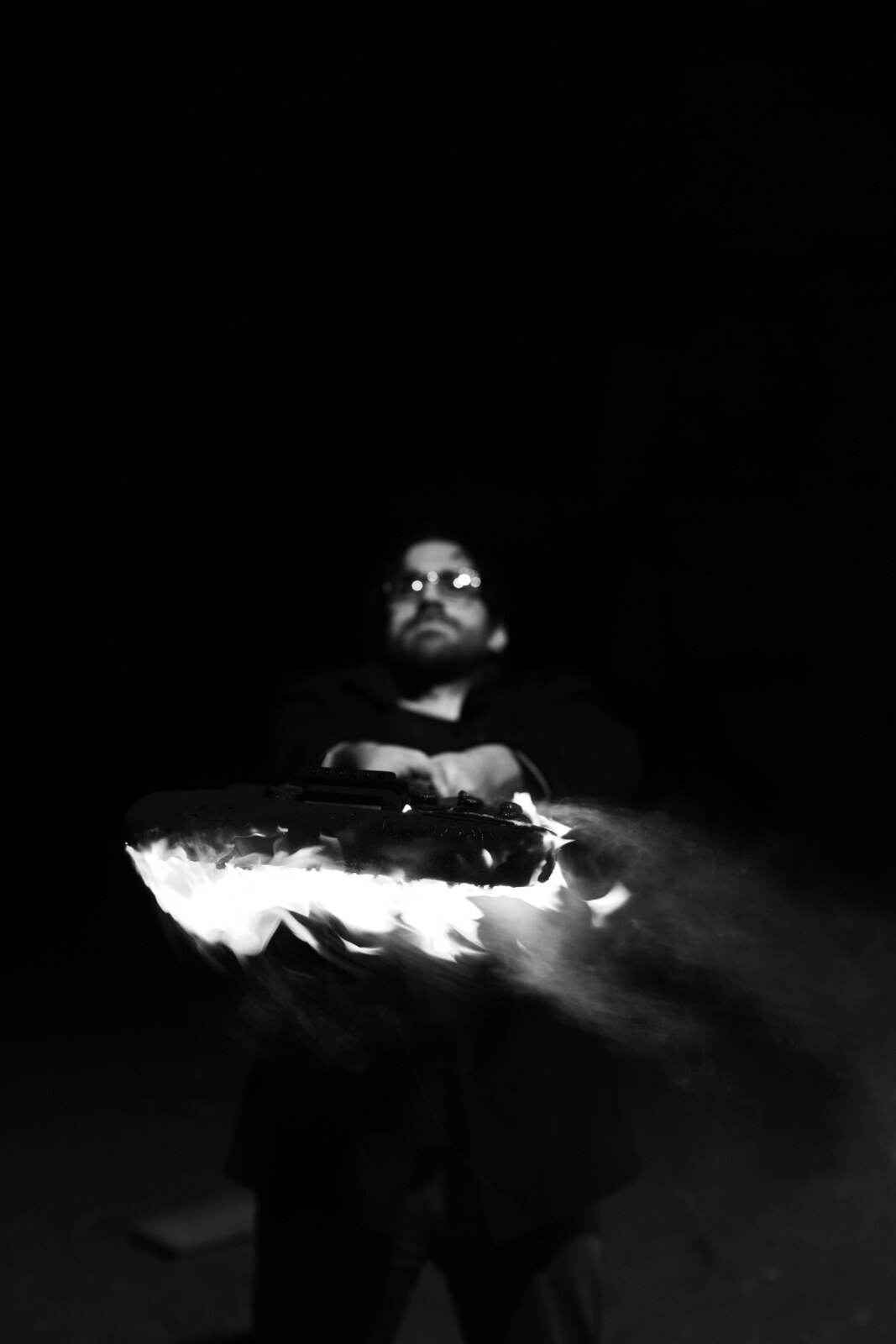 How important is improvisation for you?
Very, it's a reflection of your character. How much you listen and what you listen too. Improvisation rules out any ego and falsehoods. You have no time to think about anything else except the music and the moment.
In your dreams, who are you on tour with?
Ha, anyone really. Never get asked out on tours or anything like. You never ever seen any of my bands go out on tour with another band? Barely do tours, if I'm honest. Never get asked or have very limited opportunities to do so.
Would you like to comment your guitar technique? Give us some insights on developing your technique.
Not sure what my 'technique' is. As for developing my technique, just from playing in loads of bands and playing lots of gigs. Playing with different people in different environments of thought etc. Sharpens you up pretty quick, I guess. Making albums all the time, the best things are discovered by accident, a lot of the time.
– Klemen Breznikar
Mike Vest on Bandcamp
Ritual Productions Official Website