Clouds Taste Satanic – 'Second Sight' (2019)
Clouds Taste Satanic is my favorite instrumental (or should I say instruMETAL?) group. Playing a metal meets stoner style of music, this Brooklyn based group weaves intricate patterns with their riff fuelled sonic journeys. This Halloween sees the release of the two track monster that the band has entitled Second Sight; their second 2 track album in the last 6 months, starting with the Evil Eye record.
---
One of the aspects of Clouds Taste Satanic that I like is the 20+minute song lengths. When I had first heard them, which was during The Glitter of Infinite Hell era, I was skeptical about whether or not any band could get, hold and keep my attention for 17 minutes and 48 seconds; such as the song "Violence" from T.G.O.I.H. Amazingly this was never a problem while listening to any of the groups albums, and they get better with every new release; honing and sharpening their songwriting skills, and putting out riff after riff of some really cool music.
Side A is listed as Lesser Magic, of which "Second Sight" is under. This sting opens this record up with three distinct sections,
1. The Seer (Vision)
2. The Psychic (Mist)
3. The Pythia (Blood)
Each of the three parts is a glorious celebration of the riff; with other elements such as dark psychedelia, spacey interludes and enormous endings thrown in for added effect. Personally, I don't listen to this while trying to pick out the sections listed; I tend to listen to songs as a whole instead of separating it piece by piece. This entire song is exactly what I love about C.T.S., riffs of doom inspired power, technical songwriting, and sheer musical prowess. I know a lot of people think that doom, stoner, etc., are easy to play, but that's far from being true, because there's nuances, and additional elements that will separate the good bands from the copycats; Clouds Taste Satanic is no copycat, wannabe, bullshit music, it's the best instrumental music you'll ever hear from this genre.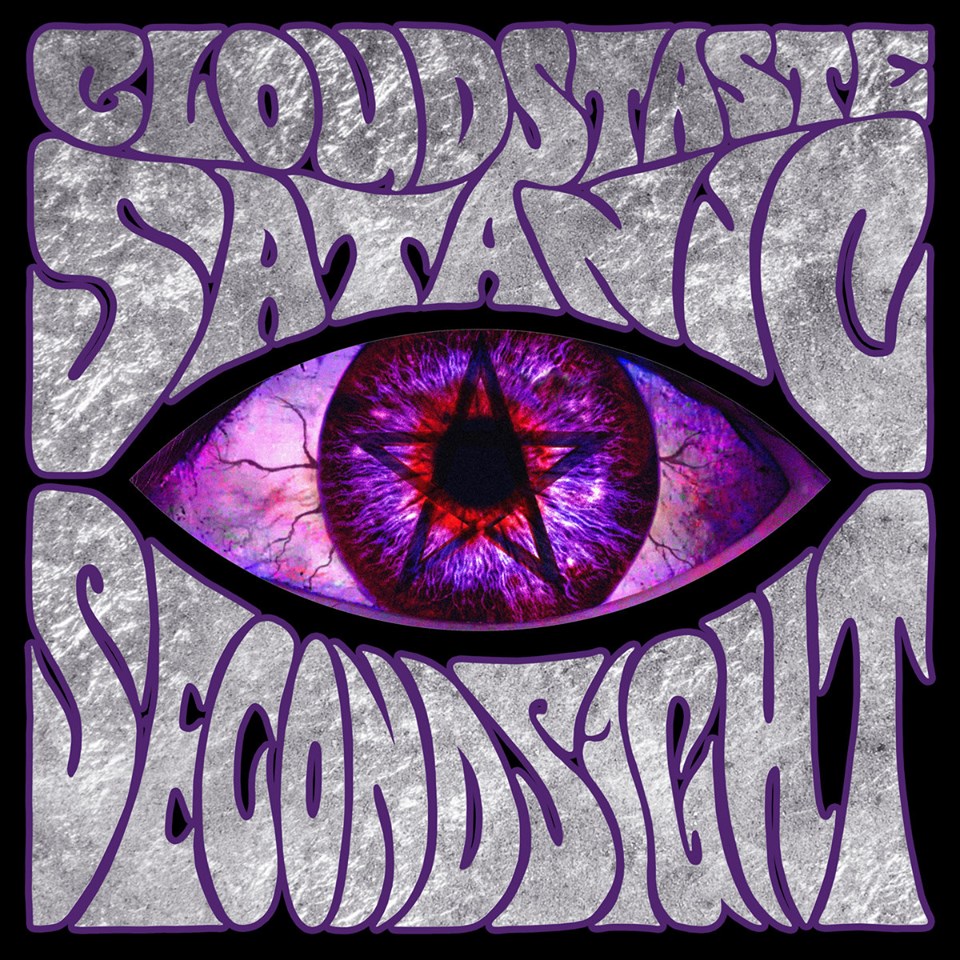 Side B, or Greater Magic, is made of a song called "Black Mass". As with "Second Sight" this one is also divided into 3 sections.
1. The Goat (Dawn)
2. The Demon (Star)
3. The Devil (Templar)
"Black Mass" is probably my favorite of the two; mostly because there seems to be darker themes involved musically. I'd have to assume that this is because of the darker song titles, and how everything ties together. Man, some of these riffs are just awesome; heavy, catchy, and just awesome all around.
This group always floors me, going all the way back to the first thing I'd heard from them. I'm positive that your Halloween will be a lot cooler if you get this to crank up loud; while handing out candy to all the bratty kids hopped up on sugary sweetness. I know you'll dig this album, so get on it and go check out Second Sight from NY's own, Clouds Taste Satanic.
– Tom Hanno