Panos Savvopoulos interview
Panos Savvopoulos has an important place in Greek singer-songwriter community. He deserves a much wider recognition. Savvopoulos is most well known for his Επεισόδιο (The Episode) LP released on Polydor Records in 1971. He recently published an in-depth research ("The roots of rebetiko") about rebetiko, a Greek music genre originated by the people of the working class in cities and mostly cities with harbors, both in Greece (Pireaus, Athens) and in Asia Minor (Smyrna, Constantinople, until 1922), wherever there were Greeks. Here's an in-depth interview that includes rare photos from that period and a very special recording, which not only is unreleased, but also no one has ever heard it.
---
Where and when did you grow up? Was music a big part of your family life?
Ι finished high school in town Patras. Although no one in my family engaged in music, both my parents enjoyed singing and they weren't cacophonous at all! When I was fifteen years old I realized I had both skills and attraction towards math and music. Math was the reason I studied to become a civil engineer in order to "satisfy"… my pocket, while through music I used to and still do satisfy my soul. Since I was ten, it has been easy for me to compose rhymes and so I did in different occasions during school; for example, when one of the students was going to leave, because his family was moving to another town or going on a trip…, I even composed rhymes for the U.N., and I used to read all these in public! None of those rhymes were saved, but I don't really care about it. So, I was infected with the "virus" of writing lyrics and music since very early in my childhood.
When did you begin playing music? What was your first instrument? Who were your major influences?
While I was a university student, I learnt to play the guitar and tried the piano. From the very start I admired, and have been since then admiring Renato Carosone, the Greeks Manos Hadjidakis and Michael Sougioul and also J. S. Bach. These artists did not directly affect my composing style, but enriched my imagination in my own orchestrations. Later on, another one was added to the list, Markos Vamvakaris, the patriarch and founder of rebetiko. I was obviously also influenced by rock music, but I never liked the electric sound and the inhumanly -I would say- high decibel levels. For that reason I never even thought of adding electric sound or drums in my album ΕΠΕΙΣΟΔΙΟ, even though many of the songs do have rock influences. Up until this day I still maintain the same aesthetics and practice. Moreover, some years ago I read in some official and well-documented articles that high decibel levels increase nervousness and so the listener, in order to suppress it, turns to alcohol and as a result spends money that somebody else earns easily, taking advantage of this situation. I also read about many hearing-impaired musicians and smiled in retrospect.
(Editor's Note: Rebetiko is a Greek music genre originated by the people of the working class in cities and mostly cities with harbors, both in Greece (Pireaus, Athens) and in Asia Minor (Smyrna, Constantinople, until 1922), wherever there were Greeks. It blossomed from 1890 to 1960, reaching its peak in the 1930's. From a sociological point of view it shares similar traits with "blues" and "tango". Today's Greek youth loves it more than any other older kind of Greek music. The same goes for foreigners who have formed music groups that play rebetiko in their own countries! One and a half year ago it was also embraced by UNESCO, and it's of course UNESCO's honor, since rebetiko has been loved by Greeks and foreigners for many years now!
Were you part of any bands before your debut LP? You released your first single back in 1965?
I've never been a band member; I've always been an all time classic troubadour. In 1965 two of my songs, which I myself sang accompanied by a 5-member orchestra, were released in a 45-rpm disc for the first time. The following year, in 1966, I took part in the song festival of Thessaloniki with one of my songs (lyrics and music) and this song was also released along with one more in a 45-rpm disc.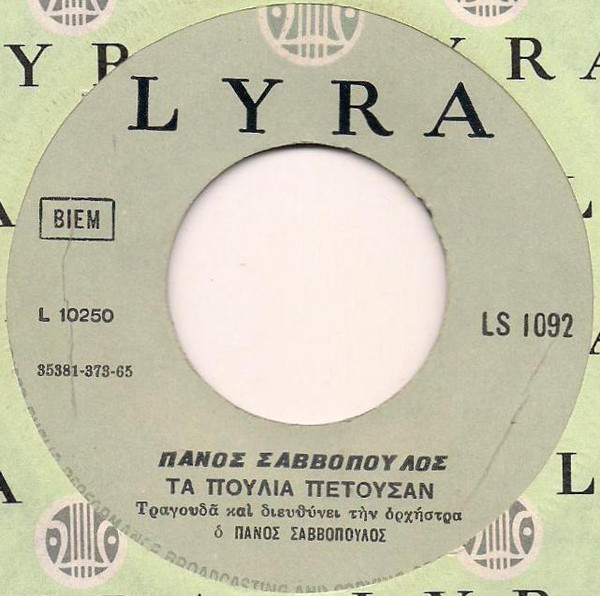 What was the first song you ever composed?
I can't remember the first song I ever wrote because at first I was just experimenting on expressing myself through music and lyrics and training myself to write songs later on. Then I got into songwriting more seriously and my songs had a more specific form; there was a beginning, a middle and an end in each one! However, the first song I had my friends listen to was the- written in 5/8 rhythm -"Τα πουλιά πετούσαν" (The Birds Were Flying), one of the two songs released in 1965. To this day I still enjoy that first recording of this song, done in an amateur way in my room as a university student: a guitar, an accordion and a chorus…with a Russian aura, in the style of Boris Alexandrov!
"The Birds Were Flying" by Panos Savvopoulos
"some lyrics were altered by the stupid censorship of the time"
In 1969 you recorded and release your debut LP ΤΟ ΔΩΜΑΤΙΟ (The Room). Where did you record it? Was it privately released? Tell us a bit background story about it.
After the infliction of the dictatorship, along with some of my friends we decided to create a buat, i.e. a small music scene. So, we opened a Boîte "ΜΠΟΥΑΤ 107", where I used to play the guitar and sing every night, as did some of my friends. There would also be screenings of short films ("The Tramp", "Mickey Mouse", fairytales…), as well as presentations of monologues, poems etc. In other words, it was a place of culture. It was there that the representative of Polydor found me and proposed releasing an album with 12 of the songs he had heard me play. That's how the LP ΤΟ ΔΩΜΑΤΙΟ (The Room) came about in 1968. I came to Athens for the recording of the album and I had two important guitarists- Notis Mavroudis and Vasilis Tenidis- play the songs. I should also mention that, due to the dictatorship, some lyrics were altered by the stupid censorship of the time. And I say stupid because its interventions were totally paranoid. For example, I was forced to change the phrase "pale look (χλωμή ματιά)" to "golden look (χρυσή ματιά)".That idiot censorship employee said that people would think that the look was pale because of the dictatorship….
Did you often play at gigs? What clubs and where were they located. Concerts were often held in local cinemas almost every Sunday morning (customary for Greek bands at the time).
When ΤΟ ΔΩΜΑΤΙΟ was released, I used to take my guitar and give small concerts to promote my album. This way, I kind of traveled all around Greece and met a lot of good people, who had brains, aesthetics and sensibility. Besides my album, I also promoted "Νέο κύμα" (New Wave), the serious young music movement of that time! I would play in cultural club's venues, bars, libraries, record stores, bookstores and sometimes cinemas…
What was the music scene in Greece?
In the 1960's what mainly prevailed in the music scene in Greece was the barbaric folksongs, which we used to laugh at and make fun of in many different ways, even by improvising small songs. Rock music appealed only to young people and there used to be a handful of rock bands, mostly in Athens and Thessaloniki. There were also some bland, "light" as they were called (ελαφρά), songs mostly suitable for "old" people of all ages! At the same time, there were two artists, Theodorakis and Hatzjidakis, who had worldwide recognition and, for the most part, serious songs. On the side of Greece's music scene was the music movement «Νέο Κύμα» (New Wave), which I mentioned earlier; a nice and commercial trick by the inspirer and founder of the record company ΛΥΡΑ, Alekos Patsifas. I used to be part of that movement up to the release of ΤΟ ΔΩΜΑΤΙΟ.
"sometimes takes years before a song is released"
What's the songwriting process like?
My own way of working begins with the content, the main idea of the song (I have to admit that I am appalled by the indistinct random, in my opinion, lyrics of some songs that are just "beautiful" images put together randomly). I want my song to have a very specific subject, even if there might be abstract elements in its form! When I have decided on the subject, I try to put it into words. First, I start by writing the general description and then I slowly move on to writing the lyrics, which sometimes rhyme and some don't. When the lyrics are ready, I start composing the music starting from the rhythm, which is usually defined by the verses. Then, comes the melody! No, I never search for the melody by improvising on an instrument; instead, it shows up in my mind. It is honestly a difficult process to describe. I could describe the "before" or the "after", but not the exact moment that the melody comes into my mind. Ι don't have the words to do it, and neither have I got words to describe the feeling I get after I have finished writing a melody! It sure is a pleasant feeling, but I wouldn't be able to say more… I would also like to add, without any exaggeration, that it sometimes takes years before a song is released, and there are plenty of such examples in my life! Later on, when the songs are going to be released in an album, I do the orchestrations.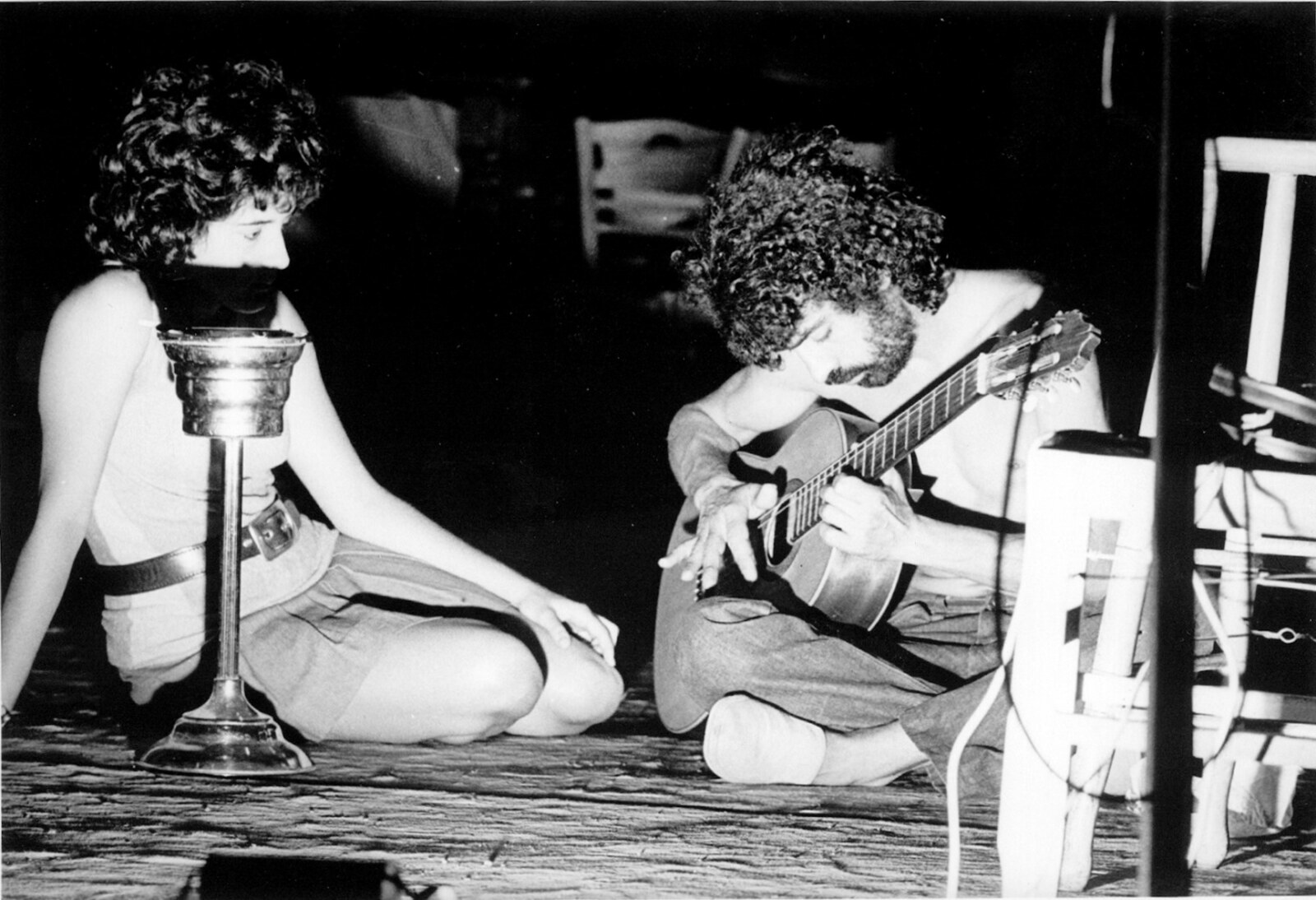 Your better known album is ΕΠΕΙΣΟΔΙΟ (The Episode), released in 1971. It contains much more complex songwriting. It was released by Polydor. How did you get in touch with such a big label and how did the recording process look like?
Polydor had also released my first LP ΤΟ ΔΩΜΑΤΙΟ, so we were in touch. I presented them with the songs; they found them interesting and, most importantly, original and we agreed on a double album cover with symbolic photos and the use of six music instruments, according to my orchestration.
What are some of your strongest memories from recording it?
I have written everything about it in the reissue of "ΑΝΑΖΗΤΗΣΗ". Here is a small fragment:
…Nearby, tireless, a man of few words, a very sensitive and talented sound engineer, Sifis Siganos "only" reveals his stress and nervousness through tiny wounds οn the skin around his thumb created by scrubbing it intensely with his forefinger! He is patiently editing my "play backs". A little further, my assistant, the divine Kate is, against her will of course, trying to teach us how the light can, in some cases, follow a straight route…During the brief breaks of the recording, Thodoros Papadinas amazes the famous band "Socrates" ,that happen to be there to record after us, with his playing skills. Also, every morning he would beg Telis "don't let me down Telis, don't let me down….", when the right blend didn't come!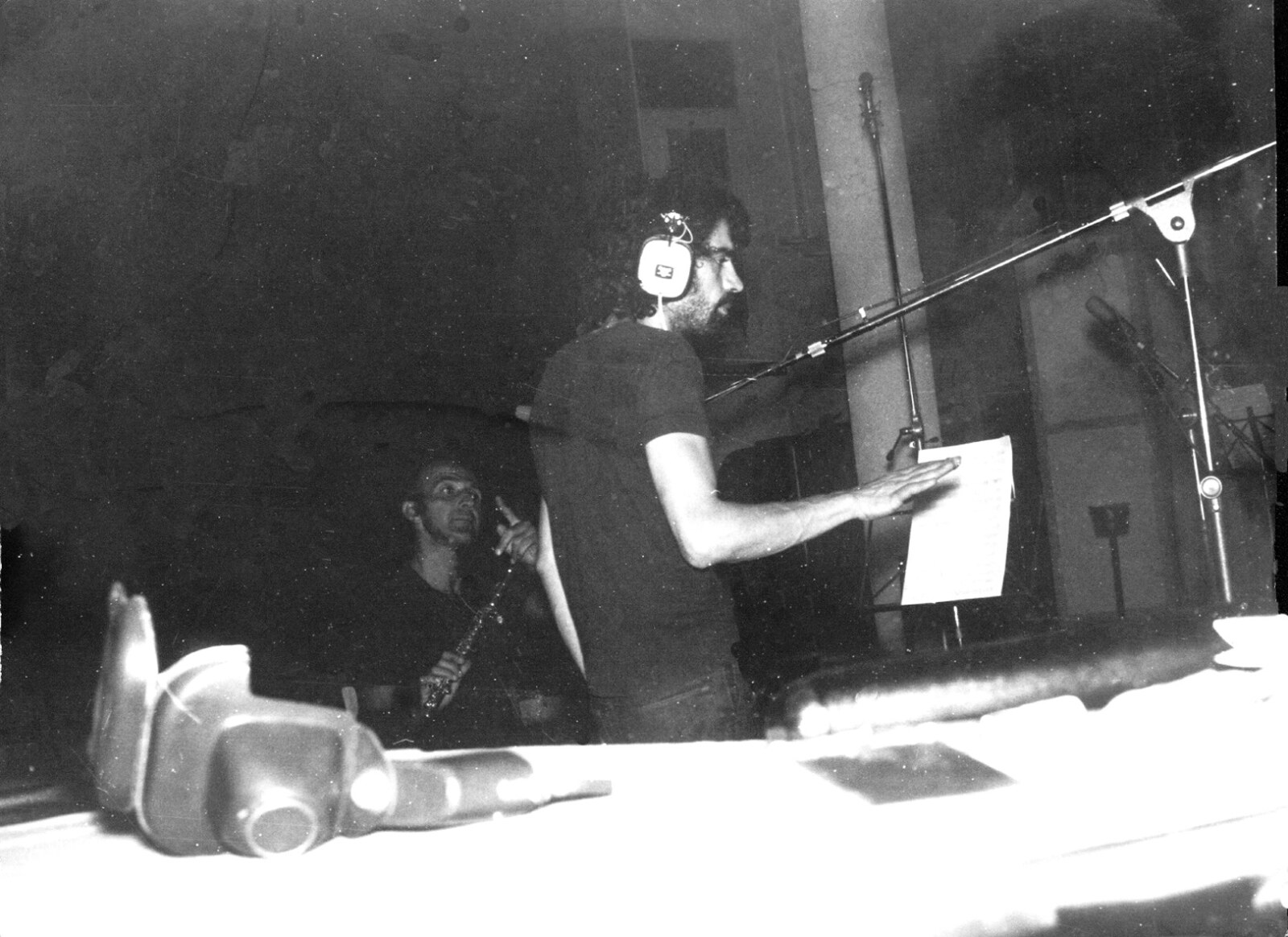 And then the censorship (as it was a time of dictatorship), which wasn't into some words from the lyrics and so we were forced to change them and it could take a lot of time until those shitheads at the "ministry" finally approved the changes. While waiting, here came our naughty excursion to the picturesque island of Spetses- intense days that had it all and… alternative nights missing nothing. Telis, Vaggelis and Panos-me, were the boys. I can't mention the girls' names, because, like the stars they were, they all got well-married-even the chubby "maid of honor"-and their husbands might get jealous in retrospect.
Was there a certain concept behind it?
No, there was no certain concept! And to make a confession, it really seems silly to me to chose a certain concept for a whole album, write some songs under this concept and finally end up stressing like a maniac over finding more songs to suit the concept. It is another thing of course to gather songs written over a period of time, for example 10 to 15 years, which share the same or almost the same subject and release them all in one album! It's a completely different thing…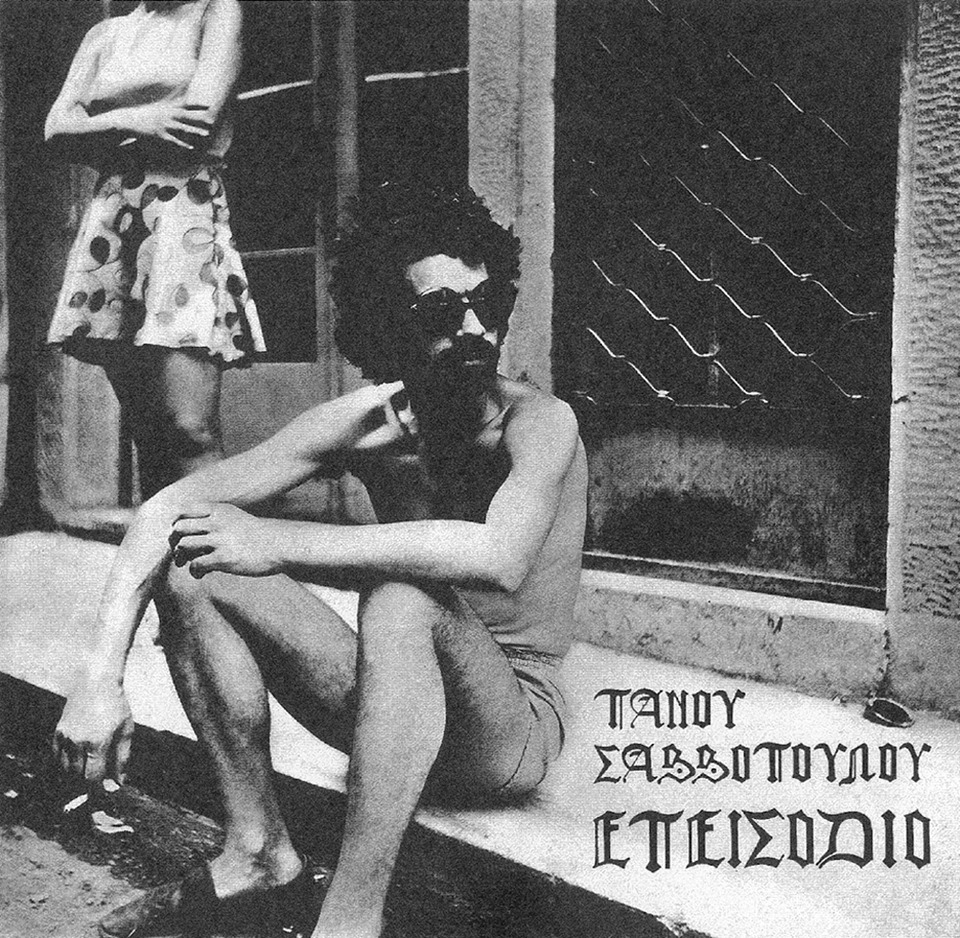 Would you share your insight on the albums' tracks?
In ΕΠΕΙΣΟΔΙΟ there is no connection among the songs in content or theme. For example, the song "Κίκος 70" talks about the dead end of romantic relationships and the distance that in reality exists between the two parts of the couple, even though they feel there is none, or that that this is…. human nature! The song "Βλέπω μορφές" talks about two things. The first is loneliness and the second is the oppression by the dictatorship, which is described in the verse "now they are setting traps to catch swallows that bring the spring" (τώρα στήνουνε παγίδες για να πιάσουν χελιδόνια που φέρνουν την άνοιξη). The song "Τουρίστες" is about what Greek people thought about tourists that visited Greece from other countries, especially during the summer…and I would say it is a moderate depiction of it, as many more things were being said about them…
What influenced your sound?
Consciously, I wasn't influenced by any sound and if I may, I would say that I believe everything I wrote came out of my mind. Besides, I don't think that ΕΠΕΙΣΟΔΙΟ's music or lyrics resemble those of any specific music genre.
How many copies of the album were released?
The answer here is kind of like the saying that only a woman can certainly tell who the father of her child is…. So, only the record company could give the exact number of copies that were released… At that time there used to be rumors about certain companies that would print out more copies than they officially declared… this way they would pay less taxes, and give less to the artists who were entitled a percentage of the profits. I personally accuse nobody of nothing. I think they first released 300 or 500 copies. Besides, it was the time I was graduating from university and was contemplating going abroad, even as an absconder, because of the dictatorship… I had no time to be concerned with how many copies of my album were sold….Moreover, it was not something of great importance, since I earned a lot of money both working as an engineer and doing gigs.
How pleased were you with the sound of the album?
The album's sound isn't bad, but it wasn't what I had dreamed of, mainly because the record company didn't provide multitrack recording, which would have brought out my orchestration that was detailed and thorough. If a connoisseur were to listen to the album in headphones – and concentrated- he would hear all the details of the orchestration. Sifis Siganos, the sound engineer, was excellent and I have no complaint whatsoever. My complaint is that the company, even though it was so big, didn't spare some more money to make the recording great. While talking about this fact at the time, a friend of mine commented: poor people are generous, while rich people are stingy; that's why they have a lot of money but also a lot of pills….
Who took the cool photo of you that appeared on the album?
It was taken by a good friend, who had the camera ready that exact moment, when I was waiting for my girlfriend to come down, so that we would go swimming along with our friends, in two or three cars, in enchanting Halkidiki, the…one "eye" of God!
What, if anything, would you like to have been different from the finished product?
I've already mentioned earlier that I would have liked a clearer multitrack recording than the one we did. I am not that "obsessed" over the image of the "product" but over its content!
Did you tour to support the album?
Not in the way I did for my first LP ΤΟ ΔΩΜΑΤΙΟ, because I had a lot of other things to do…
Looking back, what was the highlight of your time in your career?
I believe that every period of our life is special and unique and so, I couldn't set apart any specific moment. Besides, I have done so many things in my life (and still do…); I've worked as an engineer, I did radio and TV shows, I taught in schools for 10 years, I really engaged in the research of rebetiko song and made many relevant presentations and concerts, I've written books and innumerable texts. So, I can say that each decade-if not every five years- of my life has its own color and identity! I would, of course, be too cheap and feel really embarrassed, if I were to translate your nice question as a question of when I earned the most.
Which songs are you most proud of?
I couldn't really choose, because the songs I write are like children to me, each one has its own grace and has taken its own (long) period of time to be written. The same goes for my two last CDs Τα ετερόκλητα (Scattered Pieces) and Οι ρωγμές της σαγήνης (The Cracks in Enchantment). Actually, the second one is also released as an LP in 300 numbered copies.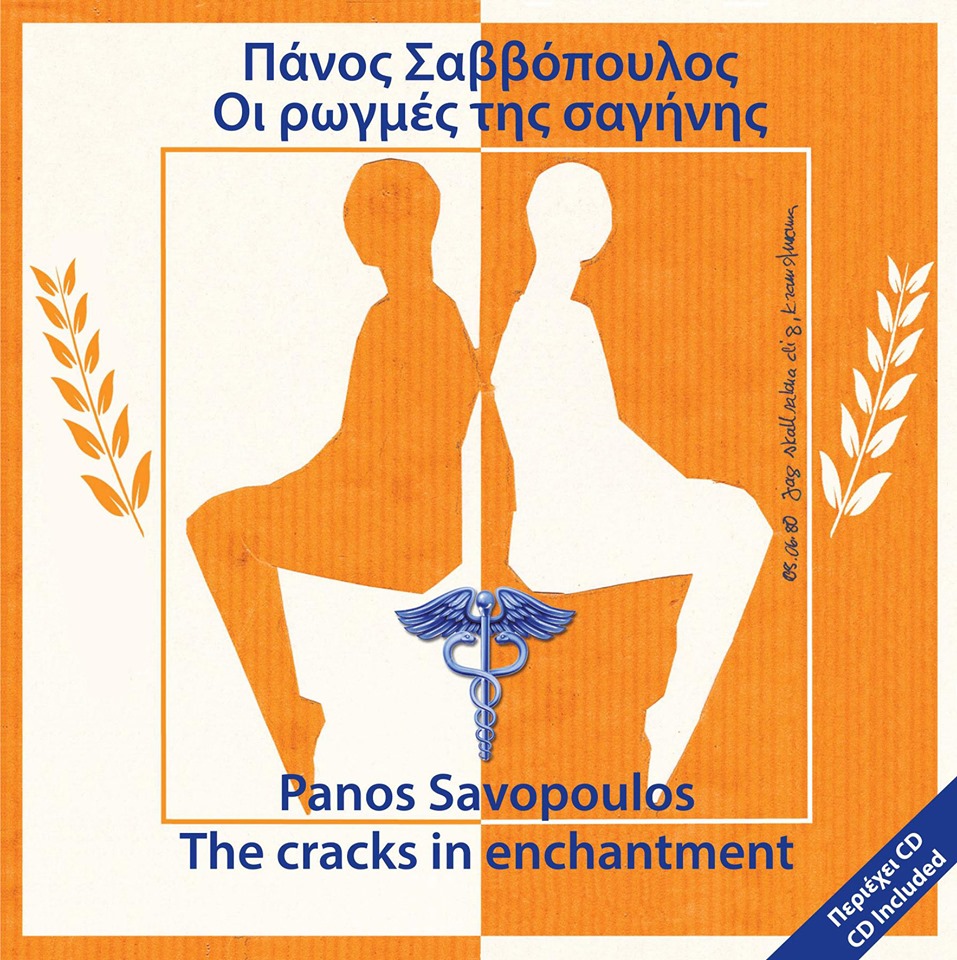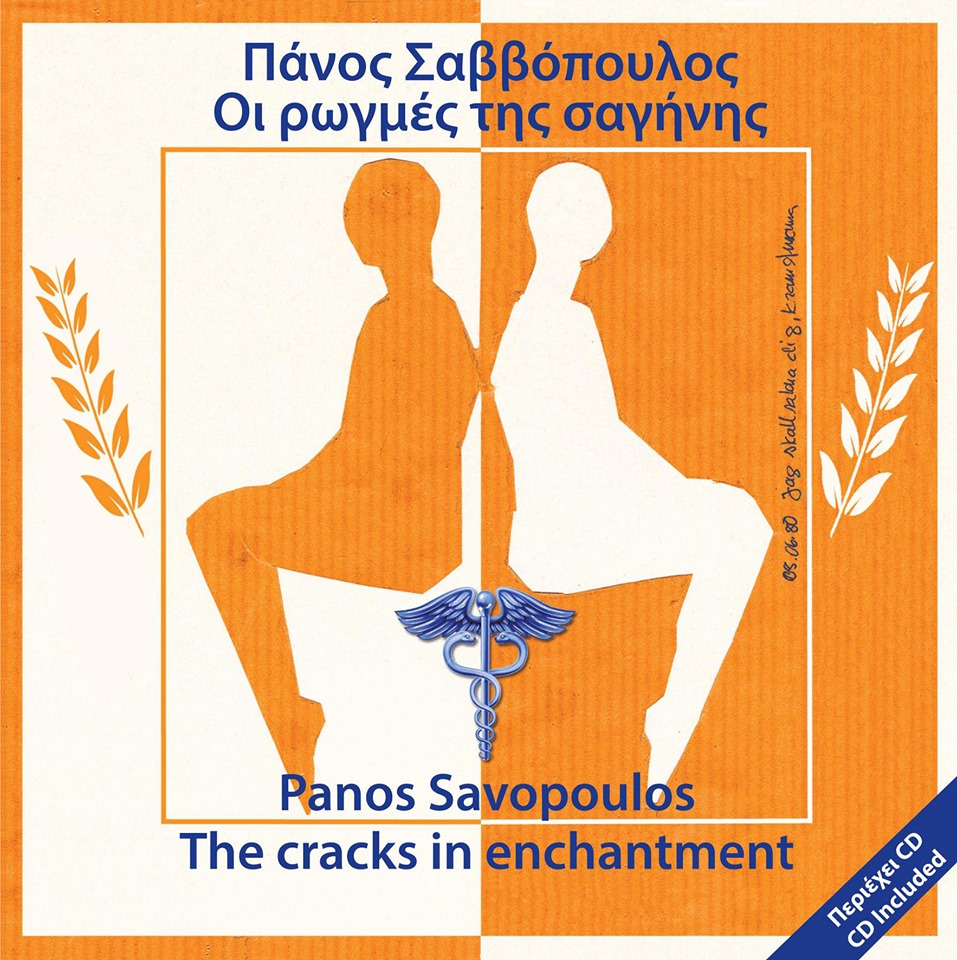 Where and when was your most memorable gig?
I would say it was the one on 29-4-1969 at "Pale De Sports" in Thessaloniki, which was attended by thousands of people, and in which I sang more songs that any of the other artists that participated.
Nick at Anazitisi Records did a wonderful job with reissuing your discography and issuing unreleased material that appeared on Διά Ταύτα and Spectacle. 
In the booklet of the album one can find the detailed story of its creation. Here is a small part:
In August of 1971 I started planning 4 songs about the strangled everyday life of the Greek people under the colonels' dictatorship. More specifically, the issues I chose to talk about became the titles of the songs, which were: "Παρέλαση" (Parade), "Τετραδάκος", "Διά ταύτα" and "Φυγη" (Flight). I had already started contemplating leaving Greece and I was planning to manage to record this album before I left. I had begun with the lyrics, as I always do.
I got my degree as a civil engineer in August of 1972. Autumn began a little violently that year in Thessaloniki; heavy rain accompanied by thunders and generous lightnings coming from the opposite mount Olympus, send by our erotic leader, Zeus. On that day I stayed at home, in the company of my Spanish guitar. The same night, before going out for dinner, I had already planned the first song "Παρέλαση". By the Spring of 1973 I had completed the other two "Τετραδακος" and "Φυγή". Ι never came round to write down "Δια ταύτα"!Ι arranged to make a rough recording of the first three, with basic orchestration, very few rehearsals and each one individually. "Παρέλαση" was professionally recorder at "STUDIO RECORD", while "Τετραδάκος" and "Φυγή" were recorded by amateurs in a loft…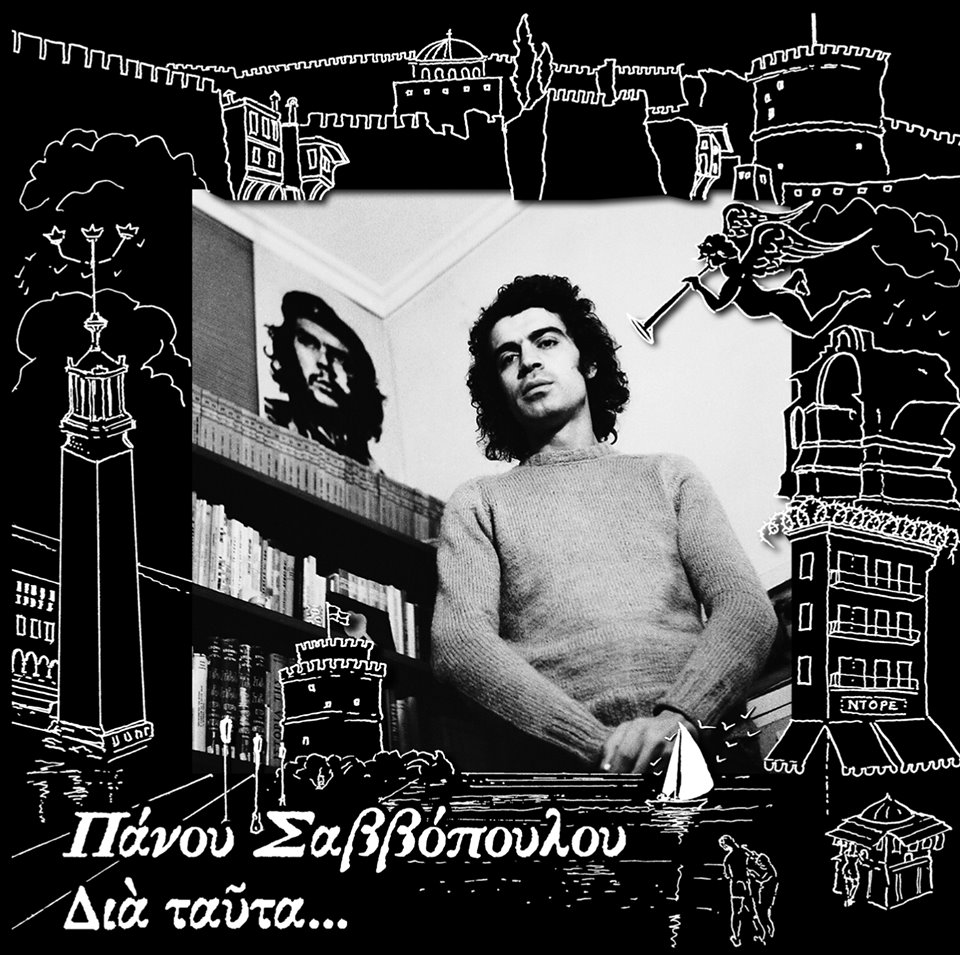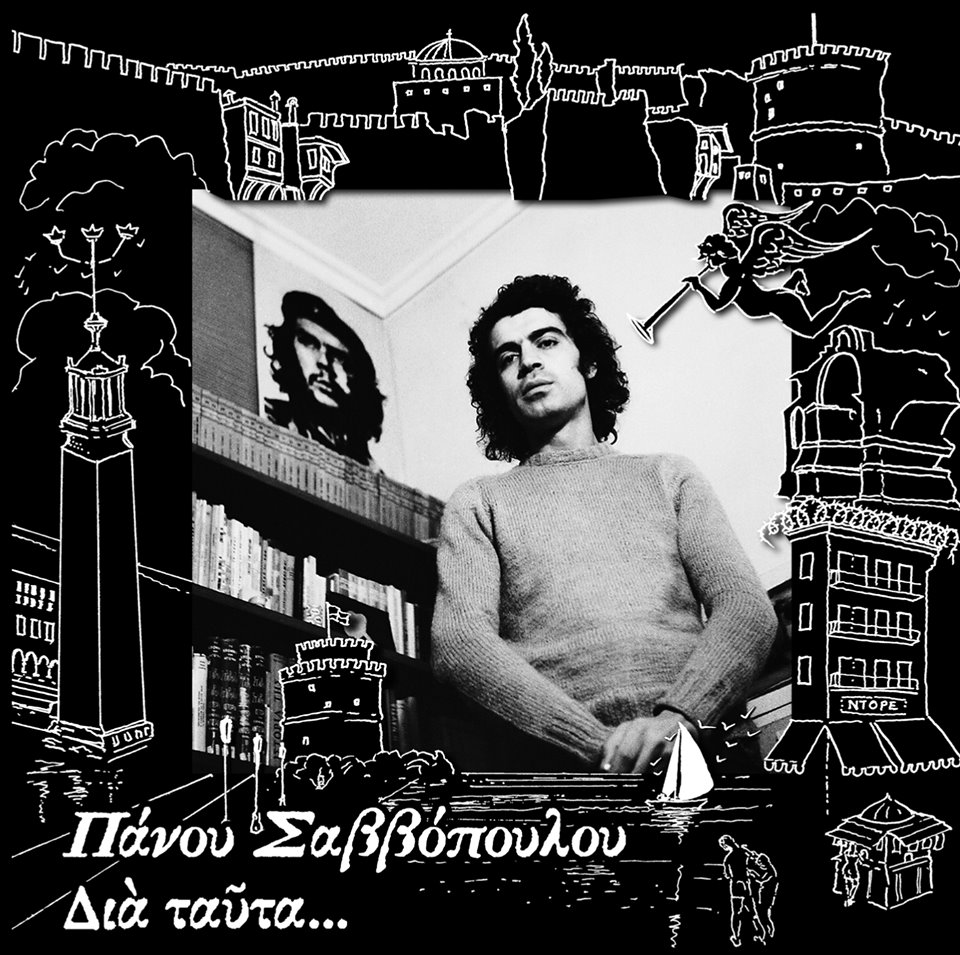 The summer of 1973 I went to Copenhagen and three months later Ι settled down in Stockholm. There, I wrote many songs, of which I chose three to be on the second side of the album Δια ταύτα…, released by the record company "ΑΝΑΖΗΤΗΣΗ", owned by enthusiastic Nikos Karathanasis.
What currently occupies your life?
I'm writing songs; and as a matter of fact, 12 of them, on which I have been working during the last 3 to 4 years, are ready, so I am going to slowly start the orchestration and then the recordings. At the same time I host two weekly radio shows, one about rebetiko songs and one about music of all kinds and times, from all over the world. If you add the music shows, the writing and the usual unpredictable work that occurs…, I would say I have my hands full! My last book "The roots of rebetiko" ("Οι ρίζες του ρεμπέτικου") was published a few months ago.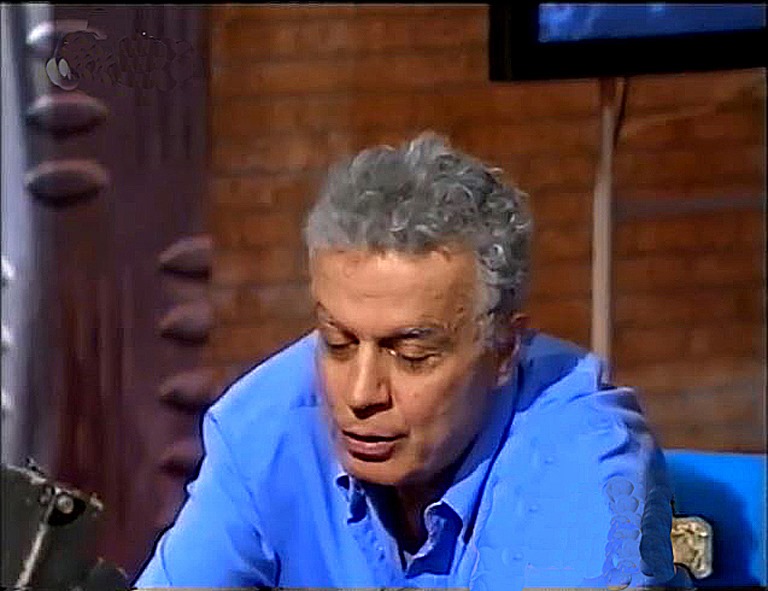 Thank you for taking your time. Last word is yours.
I really feel that I should be the one thanking you! You gave me the chance to remember those good old days that brought back to my mind dear and really unforgettable images. I'm also attaching some photos from that period and a recording, which not only is unreleased, but also no one has ever heard it. It's a rehearsal with the guitarist Thodoros Papadinas for the album ΕΠΕΙΣΟΔΙΟ, in the summer of 1970. You are free to upload it to your side, if you want to. For this amateur recording we used a Grundig recorder, you know the one with the reels (Track 2).
"Sunflowers" test (Episodio) by Thodoros Papadinas and Panos Savvopoulos
If there's anything you need and I could help you with, concerning either my own work or rebetiko song, please don't hesitate to contact me. I'm really happy to have met you and I was really impressed by your activities. I wish good health, a smile on your face and that you always stay creative. Oh! And here's my website, in case you want to visit it here.
Warmest regards,
Panos Savvopoulos, June 2019
– Klemen Breznikar