Dire Wolves Just Exactly Perfect Sisters Band interview
Dire Wolves Just Exactly Perfect Sisters Band put forth a sound of ecstatic improvisation, each member documenting coordinate points in the higher dimensions of cosmic free-rock. The music lies somewhere near the nebulous intersection of psych, kosmische beat and spiritual jazz.
---
These are exploratory journeys, transportive trance-based experiments in vertical listening, totally collaborative and often forming spontaneous compositions. The focus is more about feeling than any specific approach to playing. Psychic rock for the mind and body: breathe deep and grow towards that light, dig.
Interview with Brian Lucas (bass) and Jeffrey Alexander (guitar). Dire Wolves are also exclusively premiering their latest video "Water Bearing One" by Sheila Bosco from "Grow Towards The Light" LP (see below).
Would you like to talk a bit about your background? Where and when did you grow up? When did you begin playing music? What was your first instrument? Who were your major influences?
Brian: I grew up in California and started playing drums when I was about 13-14 years old then "fake bass" in a new wave band. My influences were FM radio, old 45 rpm singles, Creem magazine; punk, "college rock," and then the more weird, unclassifiable, and adventurous usual suspects from late teens on.
Jeffrey: I grew up in Baltimore in the 70s – my father was a minister and my mother the church organist/choir director. I was an unquenchable consumer of music – going to all sorts of concerts and buying records every week even as a pre-teen, but I didn't start playing music until much later. I went to college for studio art and then onto graduate school towards an MFA when I dropped out, unable to afford tuition. Later, I was given a guitar for my birthday (I was 25 I think – 1993) and I never made visual art again. At first I tried to teach myself Johnny Marr and Paul Simon riffs. My biggest overall influences then were Pentangle and Bert+John records, Dinosaur Jr, Kate Bush, Grateful Dead, Fairport Convention, Pearls Before Swine.
When and how did you all originally meet?
Brian: I met Jeffrey over 5 years ago when we worked at the same museum in San Francisco. Sheila and I had been a rhythm section for a couple years prior. After we jammed in June 2014 we decided to keep playing together and I suggested we revive the name Dire Wolves which had been dormant for a couple years (I was already familiar with early Dire Wolves music through their tape releases on Stunned Records). Arjun joined on violin several months later. I met Georgia at a mutual friend's art gallery in summer 2017. Everyone else that's played with us since are friends, new and old. I've been blessed to play with some great folks.
Jeffrey: Yes, we were both working at the Exploratorium, and then we both took new jobs at the San Francisco Museum Of Modern Art. I met Arjun at my cousins wedding on a golf course in New Jersey. My cousin was like, oh you live in San Francisco now, you should meet my chemist friend Arjun – he lives in Oakland and plays violin. Perfect.
Can you elaborate on the formation of 'Dire Wolves'? Who's in Dire Wolves and what do you all play? Have you all made any changes to the lineup since you started or is this the original lineup?
Brian: There's a core membership with a highly fluctuating auxiliary cast, a couple of whom I wish were more permanent, but geography and other commitments prevent that from happening. We are open to other players as long as they know how to VIBE and LISTEN. Those are absolutely necessary abilities. We recently played with Jeff Tobias (Sunwatchers) and that was fantastic.
Jeffrey: I started the band in Pennsylvania in 2008 with a completely different group of folks. I owned a small espresso bar cafe and we would lock the door at closing on Sunday evenings and go down in the basement where a mess of gear was always set up to jam for hours and drink an enormous amount of beer. It was an extension of the same practice I used to do in Providence RI with the legendary Deja Vu Mountain. And of course, TASTIC. It was a similar vibe and various players came and went, but it wasn't until I moved to California and met Brian and Sheila that it really coalesced. The core group that Brian mentioned has really taken it to another level and Arjun and Georgia just put it over the top. Other folks continue to come and go on top of that which keeps it interesting. We have been incredibly lucky to collaborate with some of the finest musicians I have ever known like Taralie Peterson and Laura Naukkarinen.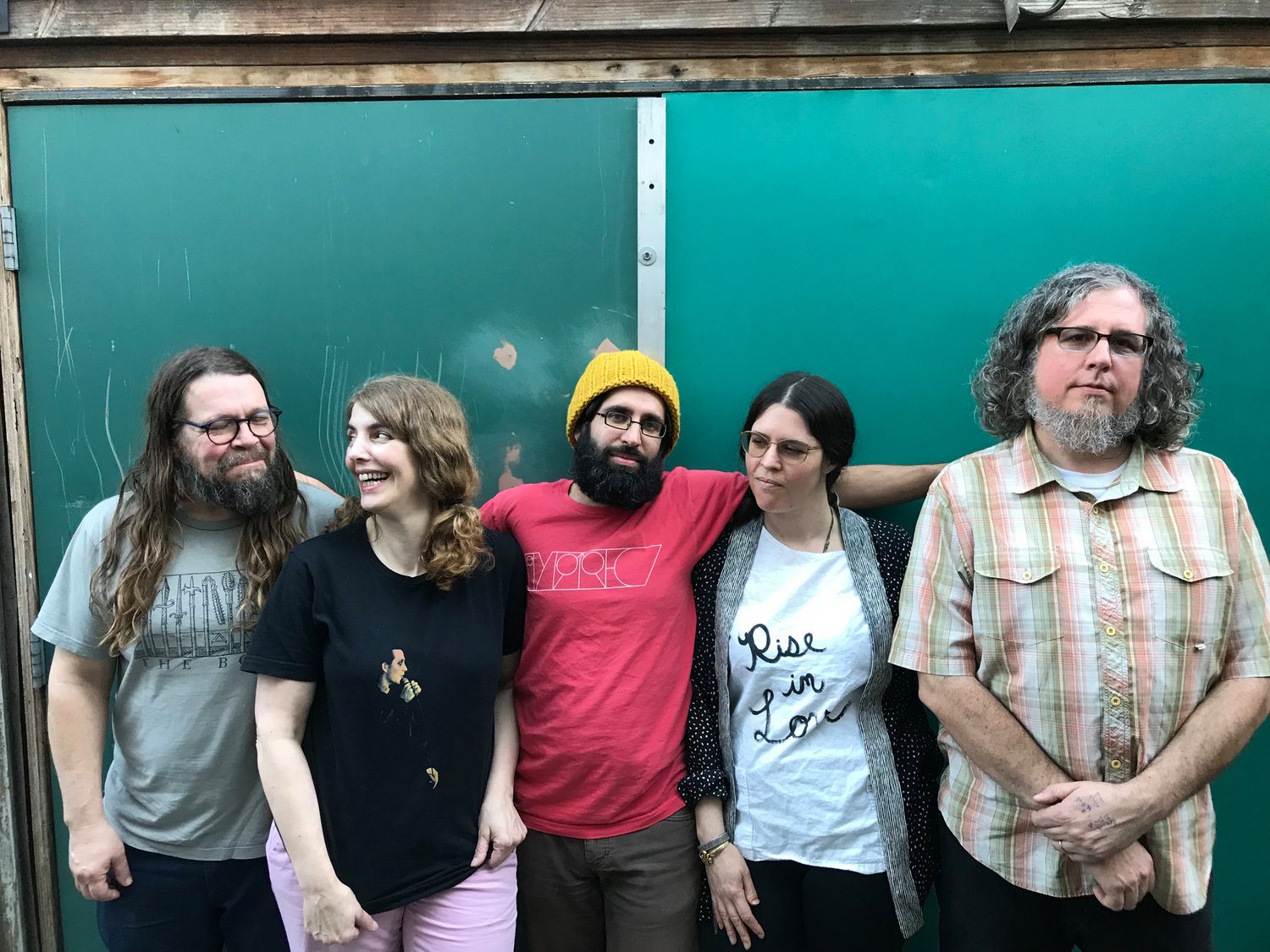 What does the name "Dire Wolves Just Exactly Perfect Sisters Band" refer to in the context of the band name? Who came up with and how did you go about choosing it?
Jeffrey: I did – and it is far too personal for me to discuss, I'm sorry.
You are all coming from various of bands. Would you like to tell us about your previous bands?
Brian: previous groups include late 80s/early 90s unknown band Dark Horse Candidate (who I first explored improvised music with), mid-90's improv psych band Mirza who recorded for Ba Da Bing and Darla Records; a short stint in Caroliner (Rainbow, etc); Cloud Shepherd, and various pairings and trios with friends.
Jeffrey: Well there was Tastic and Deja Vu Mountain (seems like we've been here before?). Back in the 90s I played guitar and moog in an indie rock band in Baltimore called Science Kit. We played the first Terrastock festival (whoohoo). The Iditarod was a weird folky duo I had in the late 90s/early 00s. That sort of transitioned into another duo, Black Forest/Black Sea, with my wife Miriam on cello. We toured extensively (some twenty countries) where I really developed a sense of extended improvisation. We would show up at some gigs – in Italy for example – where they would say, welcome, so after your first 60 minute set, there will be a short intermission and then your 90 minute conclusion, and so forth. We had maybe 20 minutes of material at that point, so it got really interesting. I've also toured and recorded with a few Finnish bands over the years – Avarus, Kemialliset Ystävät and Es. I was in Jackie-O Motherfucker for a few years, but who wasn't ?
"The business of music is garbage."
Jeffrey Alexander, you're also the former label owner of Magic Eye Singles and Secret Eye Records, currently you run Pome Pome Tones. What can you tell us about running those labels?
Well, I love to share music with people and put recordings into the world, but I'm absolutely terrible at selling records. So I gave up. It was frustrating as I was releasing music from some incredible bands like Spires That In The Sunset Rise, Ka Baird, Larkin Grimm, Auto Da Fe (Tara from Amps For Christ), Nalle and so forth … and they we not getting the support and money they deserved. And I got screwed over a lot, as well. My first label was distributed by Cargo America based in Chicago and the next was distributed by Allegro in Portland OR – both companies went bankrupt (about ten years apart) owing me thousands of dollars and wouldn't even return CD and LP stock so that they could liquidate towards their own debt. The business of music is garbage. I think it's much better to have other folks release the records whenever possible. That said, Pome Pome Tones is a total vanity imprint – tiny little pressings, but so far, I've played on every release. I'm keeping things really tight and barely doing any promo at all, trying to save money. I think the only promo I did at all for "Wayfinding Beacons From Planet To Planet" in 2015 was spending $18 at the post office to mail you a copy in Slovenia that you never reviewed. You win some, you lose some, haha.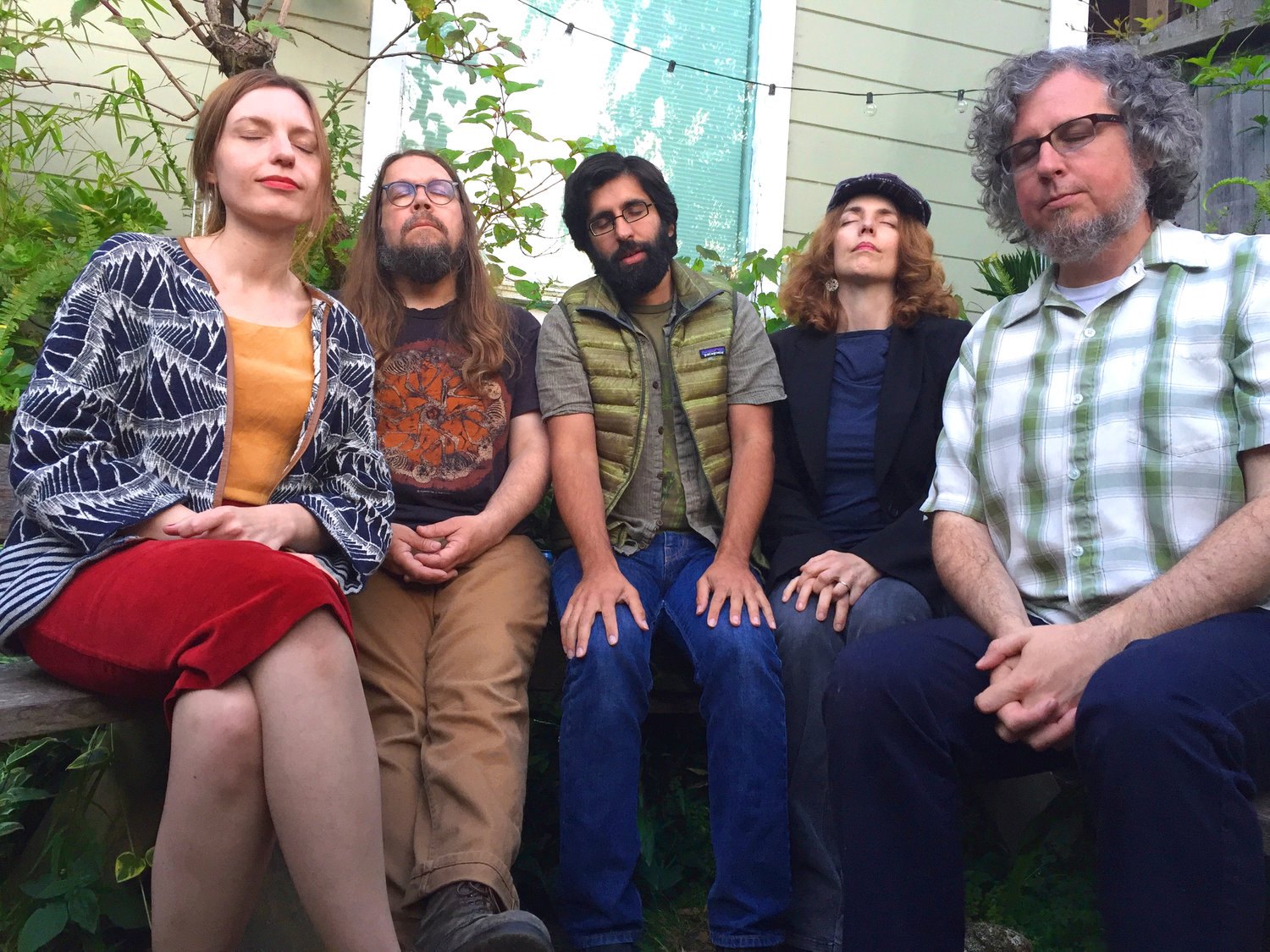 Back to Dire Wolves, how do you usually approach music making?
Brian: it's all improvised. We just start playing and the magic usually happens—it's uncanny.
Jeffrey: We each have different sounds that we like to hear and places that we like to go. It's just a matter of complete listening and going with it. Flow and heady by the fireside. It doesn't always work, but when it's on its ON. Some people don't like black licorice.
How would you describe your sound?
Brian: A whiff of stardust and damp soil emanating from a deeply telepathic and primal stew.
Jeffrey: Oooooh yes!
Can you share some further details how your latest album Grow Towards The Light was recorded?
Brian: we recorded it at Santo Recording studio in Oakland, CA on the same February 2018 weekend as Paradisiacal Mind and the upcoming Euro tour 2019 cassette. We made a lot of music on those two days.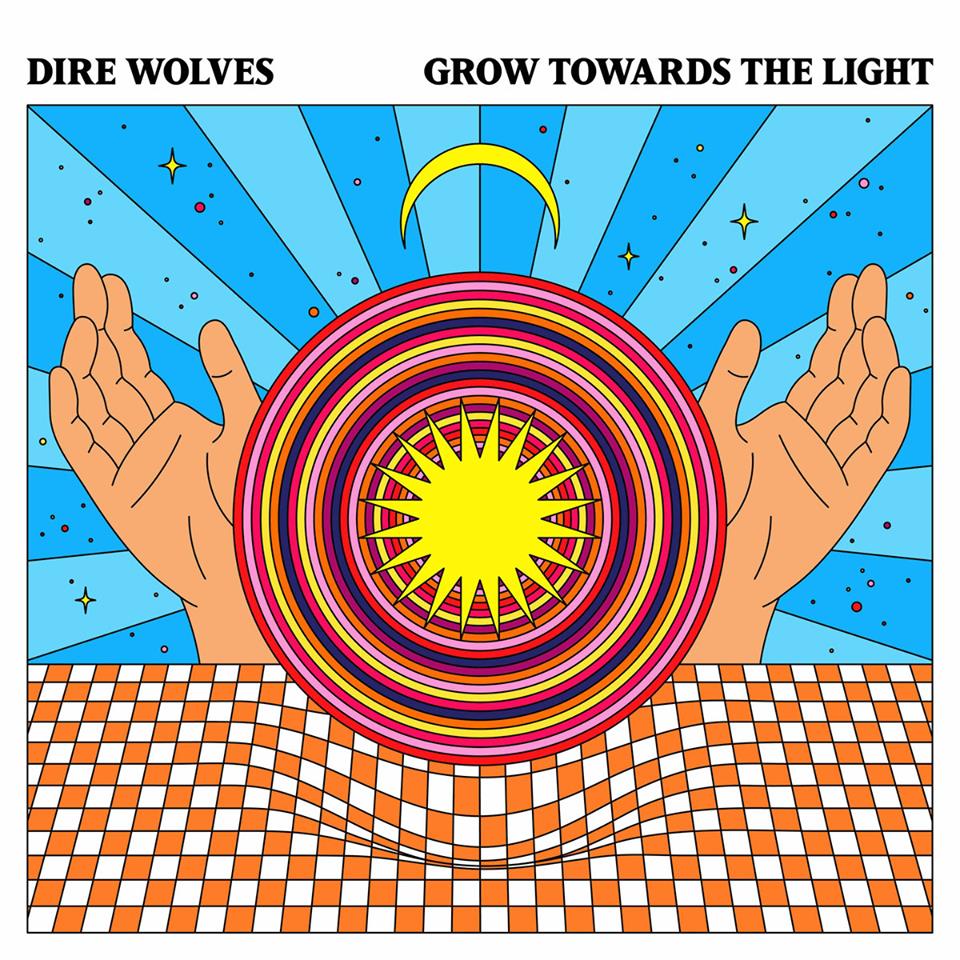 Jeffrey: We were all set up in the same room, facing each other. There were burritos and Fernet. Zachary Watkins of the group Black Spirituals was at the controls. The first day was pure magic. Later that evening, we found out that a close friend of ours (also a coworker and an amazing live performance collaborator of ours) passed away while we were recording. The next day was pure catharsis.
How would you compare it to Paradisiacal Mind?
Brian: It's a bit more song oriented, although the "songs" were spontaneous compositions. Paradisiacal Mind is more loose and spacy.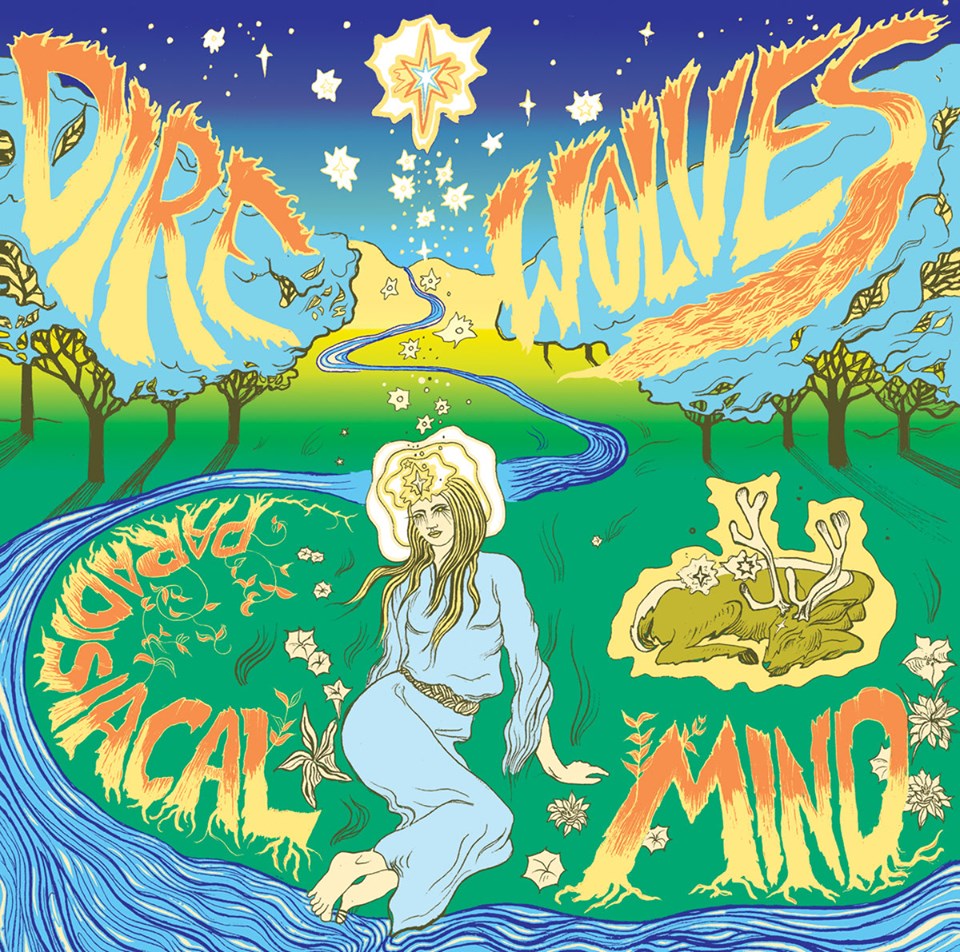 Jeffrey: I think they are similar. PM does have some home recordings on it as well, which gives that looser feel. GTTL is all studio.
How about split release with Headroom?
Brian: I can't remember where those songs were recorded–maybe in our old basement studio in San Francisco? Headroom and Mike Mannix (who released the album) are all awesome people and musicians.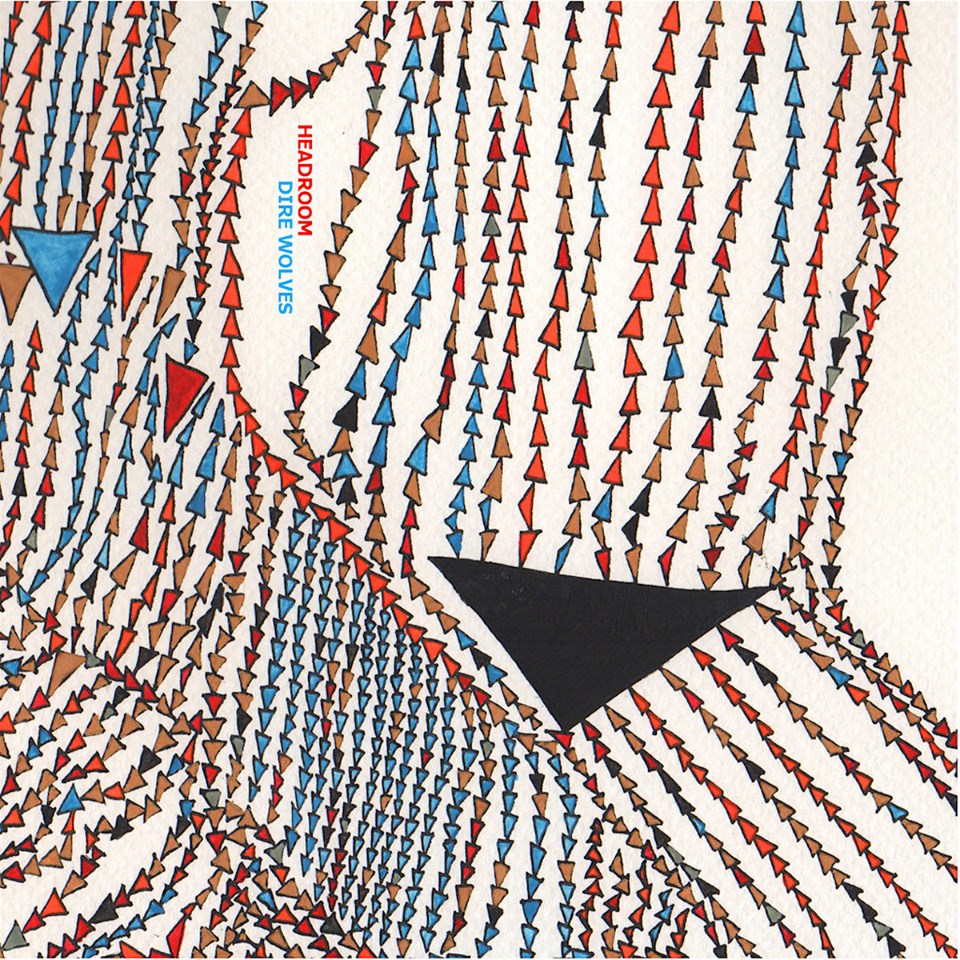 Jeffrey: Yes our side of the split was all done in our Bernal Hill basement. But I still think similar vibes flow through all of these, I mix everything myself at home.
What kind of process do you have at mastering material for the release?
Brian: Someone is hired to master the LPs and CDs.
Who is usually behind the artwork?
Brian: People we ask, people who approach us, band members—they are all credited on the albums.
Jeffrey: I try to hire women artists, just as I mostly released women's music on my old labels. I don't have a big pile of money, but do the best I can.
Have influences changed during the years?
Brian: Definitely….if your senses are open you will be constantly inspired and influenced.
Jeffrey: Always.
Who are some of your personal favorite bands that you've had a chance to play with over the past few years?
Brian: I was excited to play with Sunburned Hand of the Man because I've liked them for so long, but in general I'm happy to have played with everyone Dire Wolves have been on a bill with—some great groups and experiences.
Jeffrey: Lau Nau, Village of Spaces, any combination of Taralie/Ka/Spires That In The Sunset Rise
What are some future plans?
Brian: No concrete plans after the Euro tour in September—hopefully record our next album in spring 2020.
Jeffrey: Yes. I plan to take the kids camping.
In your dreams, who are you on tour with?
Brian: My dreams are too fragmented to accommodate a tour.
Jeffrey: Joni Mitchell on the Mingus tour (with Jaco and Metheny and Joni's amazing pantsuits).
What other musical activities have you undertaken lately?
Brian: I have a trio, Angel Archer, with Sheila (Dire Wolves drummer) and Gregory Hagan (ex-Common Eider, King Eider) –our first album will be out soon on Tape Drift. I'm self-releasing a recently completed solo album under the name Old Million Eye, and occasionally I jam with members of San Kazakgascar/Swimming in Bengal, Savage Republic, Crow Crash Radio, Big City Orchestra, and 3 Leafs (not all at the same time).
Jeffrey: I have another solo LP just released on Feeding Tube Records. This one is a bit more song-oriented in addition to the free-space-electronics. I've just put together a trio to play this material with Jesse from Elkhorn on bass and Scott from Kohoutek on drums. We're doing some shows in November. I'm also doing sketches for the next solo release, mostly acoustic, probably in the Spring. But mostly just look forward to more jams with the Just Exactly Perfect Sisters.
"I simply have no idea what I'm doing or why."
Give us some insights on developing your playing technique.
Brian: As bassist I support, steer, suggest, insist, color, and give way. Whatever "technique" I have has been unconsciously developed.
Jeffrey: I've never had a single moment of music instruction in my life. I simply have no idea what I'm doing or why.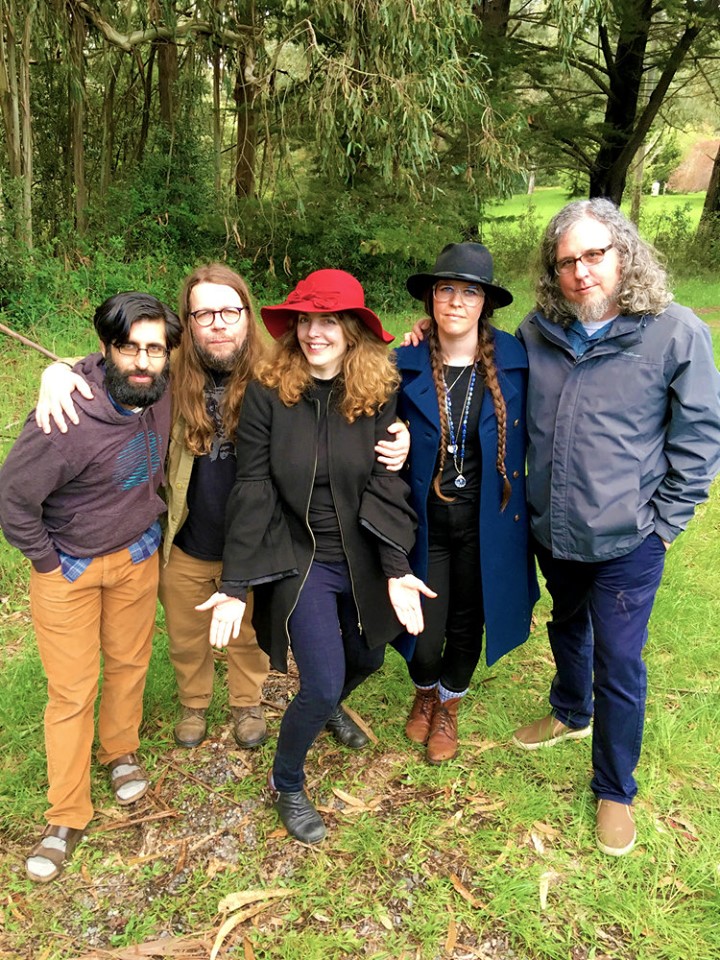 How important is improvisation for you?
Brian: It's been my primary approach to music making for almost 25 years.
Jeffrey: Licorice, saltier the better.
Let's end this interview with some of your favourite albums. Have you found something new lately you would like to recommend to our readers?
Brian: The Dream Syndicate's, The Days of Wine and Roses has been spinning at home lately. I've been digging the most recent Ashtray Navigations albums and re-releases; Ulaan Khol's Collapsing Hymns tape; Tuluum Shivering, Ulrich Rois' Everything is Merging, and music from Longform Editions and Eiderdown Records to name only a few.
Jeffrey: Most of the music that I've heard lately has been curated by a four year old and a 1 year old. Thankfully the boys have impeccable taste – so while not new, the things on repeat (and I mean REPEAT) at home are The Fall, Eek A Mouse, Spacemen 3, and Dave Brubeck.
Looking forward seeing you play at A Berry Feast – Music and Art Festival Vol. 6. 
Brian: I'm looking forward to hearing/seeing all the groups and soloists playing the festival. I've never been to Vienna and out of all the berries in the world I like strawberries the most.
Jeffrey: I played Vienna once with Avarus and it was lovely. We have been friends with Uli for some years now and he released one of our cassettes about a year ago. Very excited to meet up and be a part of his feast.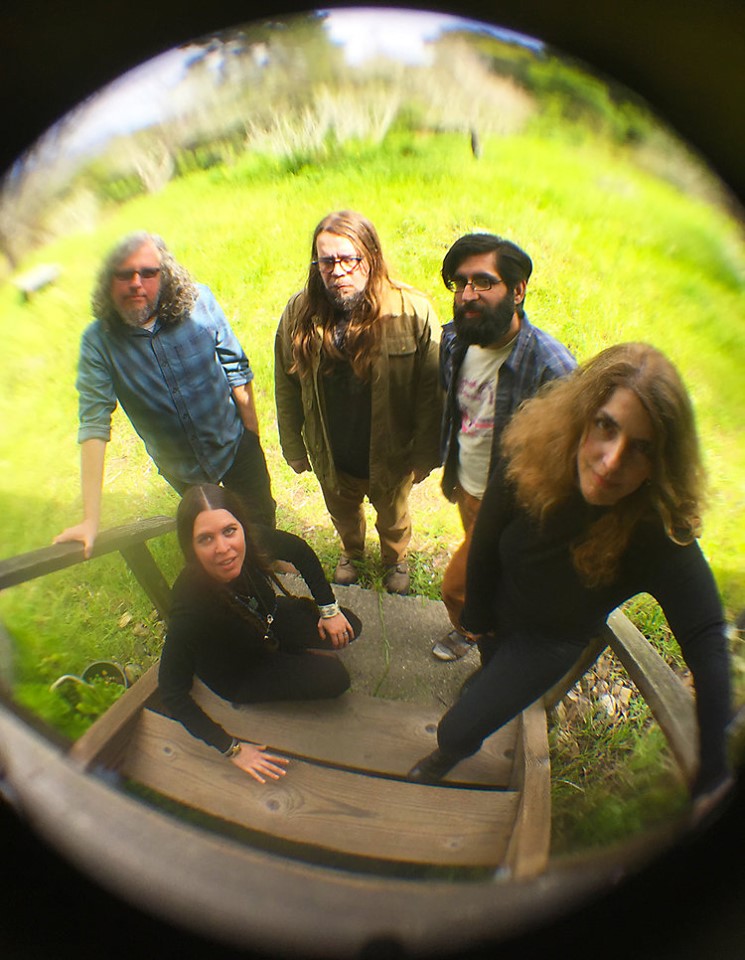 Thank you. Last word is yours.
Be well. Rise up.
Music is the healing force of the universe.
– Klemen Breznikar
"Water Bearing One" video by Sheila Bosco from "Grow Towards The Light" LP by Dire Wolves Just Exactly Perfect Sisters Band