JAZZ CORNER Presents: David Friesen – 'Amber Skies' (1984)
David Friesen's music always sounds like the soundtrack for waterfalls. There is an environmental sensibility that evokes rushing waters, gentle breezes, hurricanes and lightning. Yet he has never been one to purvey your run-of-the-mill hippie new-age pastoral droning. Friesen is also a bop-meister of a high order, who writes actual songs with involved harmonies and surprising and delightful twists and turns. Never lazy, his music is unusual, emotionally powerful and always rewarding.
---
"Amber Skies" is a 1984 release on Palo Alto Jazz, re-released on Quicksilver. The title song blasts off with a quick bass ostinato into a modal, fusiony groove. Henderson is gusty and unsettling, Corea the gentling rain, Friesen a bit of both. What are they showing us in the sky?
"Blue In Green" – the Miles classic is a gorgeous flute showcase for Paul Horn, with piano and bass to follow.
"Underlying" is an Ornette-style trio outing. Henderson and Motian duke it out before Friesen returns to drive on home.
"Jenelle Number 4" is a piano trio, with David's beautiful full tone connecting breezy Corea and insistent Motian with a surprising and inspired bass solo.
"In The Place Of Calling" – A triumphant tenor theme leads to exorbitant playfulness from all. Musicians are called to play! This is an album highlight.
"Sitka in the Woods" – peaceful sequences on flute and bass…Friesen's perfect intonation…stately spaces…gentle percussion…
"Voices" – a simple, sing-songy line and tasty blowing round out the set.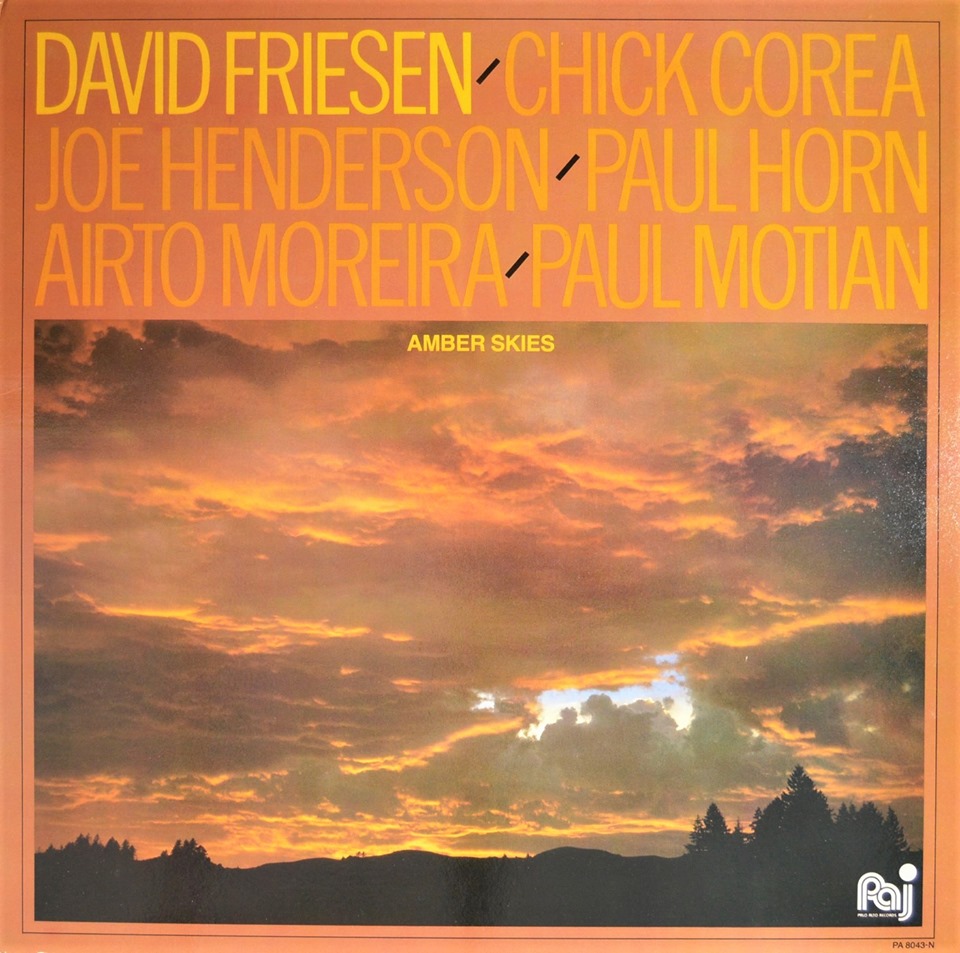 All in all, a strong and beautiful album. Strong melodies (with hooks!) and, like all of Friesen's music, everything is considered and deliberate yet the real spontaneity of the best jazz is always present. Discipline + Emotion = Art. David Friesen's music always exemplifies this principle.
– Kevin F. Wozniak
Chick Corea – Piano
Joe Henderson – Tenor
Paul Horn – Flute
David Friesen – Bass
Paul Motian – Drums
Airto – Percussion
David Friesen – 'Amber Skies' (Palo Alto Jazz |Quicksilver Records, 1984)