'The Early Years Boxset' by Osamu Kitajima
In late June 2019 Everland Music will release a mind blowing, strictly limited and hand numbered box set with Osamu Kitajima's first 5 highly acclaimed and super rare albums. All albums are taken from the original masters, provided by Mr. Kitajima himself. All LP's come in embossed, coated, hot foil printed super heavy 1200g/m2 carton covers. The 5 LPs will be housed in a beautiful box with magnetic lock, the box will also contain all inserts of the original LPs. The 5 CD box set will contain the 5 albums as high quality digipak editions.
Osamu Kitajima started under the moniker of 'Justin Heathcliff'. The label will also release strictly limited and hand numbered leather-look edition of Osamu Kitajima's great 1971 LP.
These special editions are only available in presale! Only the preordered copies will be manufactured!
---
Osamu Kitajima was born in Chigasaki, Japan on February 3rd 1949 and studied classical guitar and piano already in his childhood days. Later on in the 1960s, when beat and rock music became the hot stuff in the popular music circuit, he joined his cousin's band "The Launchers" with his brother, before graduating from university. Osamu's cousin, Yūzō Kayama, is a famous Japanese film actor and musician. In 1971, when Osamu was already a successful composer of TV advertising jingles, he moved to England for a year and developed an obsession for British rock music, especially in the psychedelic field. The Beatles, The Bee Gees, Jimi Hendrix, Deep Purple and The Zombies became his major influences and inspired him to start a solo career under the name 'Justin Heathcliff', which he adopted for its typical English sound. His 1971 eponymous album was a typical pop psych effort for its time, but not long after he returned home to Japan. Osamu abandoned the English sounding name and further on merged Western progressive and electronic music with Japanese folk sounds.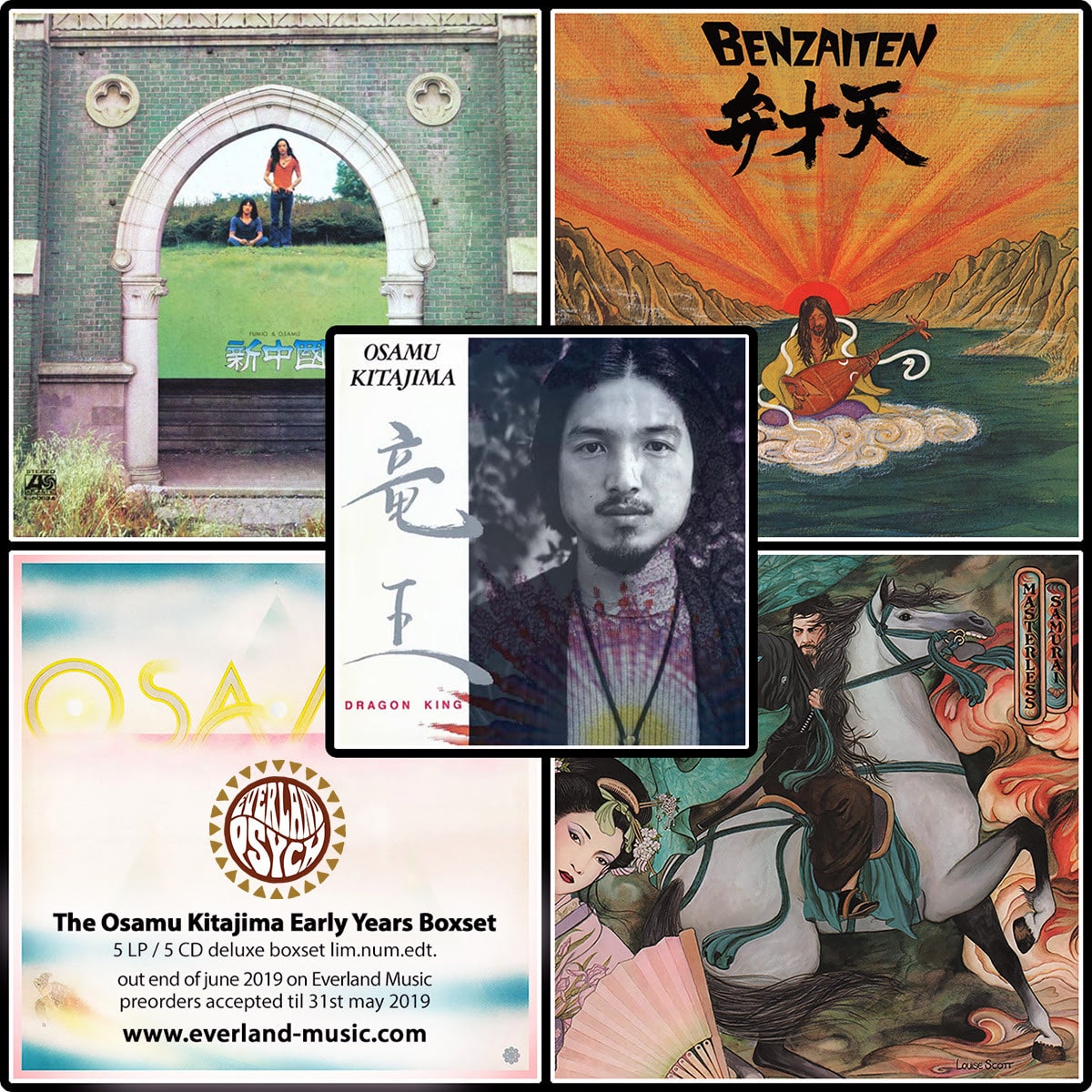 Shinchugoku (1972)
This is a beautiful early 1970s psychedelic folk rock effort, on which Osamu Kitajima cooperated with Fumio Miyashita (aka Far Out) and members of the very popular Far East Family Band, to create a bunch of mind altering colorful tunes with a mellow, yet intense approach.
Benzaiten (1976)
This album is a masterpiece, with its mixture of haunting Japanese folk elements and skillfully played spacey rock music that takes you on a spiritual journey to the center of your mind.
Osamu (1977)
His third album marks another change in direction. Still Japanese elements and some haunting melodic space rock elements flow gently into another, but by incorporating jazz, funk and even reggae, Osamu broadens the whole musical colour palette by far.
Masterless Samurai (1980)
Osamu completely abandons the space rock aspects here and takes a turn into jazz rock with a progressive edge, that he still combines with these totally exotic sounding Japanese folk elements.
Dragon King (1981)
The step from Masterless Samurai to Dragon King has not been such a big one as it has been with the albums before. We experience a softer version of Osamu's jazz rock / Japanese folk fusion, that often even shows soul pop aspects, typical for its time.