The Dream Syndicate – 'These Times' (2019)
With an album title such as These Times, it should be no surprise that Dream Syndicate, the founders of The Paisley Underground, who nearly stepped off the planet, are back for a look around, dead set on exploring these modern times and modern culture.
---
This is rather an intensely brilliant album, where even while talking about these crazy days, they manage their revelations without sounding bleak or getting themselves mired in the darkness. If anything, the album is filled with middle of the night clarity, like waking from a dream that simply feels far too real. Even so, the album is not composed of songs that are happy or sad, the sonic projection delivered here is a rolling sensation of 'this is just what it is.' On that note, I had concerns that the record would be far too avant garde, though as some sort of vacant voice from over the airwaves, it's very deceptively listenable and compelling, smoothly dancing from my speakers as a radio show that's demanding my attention, though in an entirely nurturing manner. Much of this has to do with Steve Wynn's vocals, sounding maturely warm and willing, back by wishful harmonies that circle the air within my listening space … especially on the intoxicatingly haunting song "Bullet Holes."
"All of the songs have been well considered and crafted"
Dream Syndicate come across as delightfully welcoming and elementally nostalgic, though in a charming manner, like an old key that unlocks a new door. They are not afraid to cite their heroes here, with nods to the Beatles on "The Way In," while even Steely Dan time signatures and references from the song "Throw Back The Little Ones" can be found creeping in around the edges on "The Whole World Is Watching". Without a doubt all of the songs have been well considered and crafted, unorthodoxly impressive, immersive, musically rich and at times very rocked out and danceable. Dream Syndicate have lost none of their skills, where if I'd heard this album 40 years ago it would have rocked my world as hard as Days Of Wine And Roses did back in 1982, all with the band still sounding as if they are just getting started, underscoring their intensity and energetic satisfaction.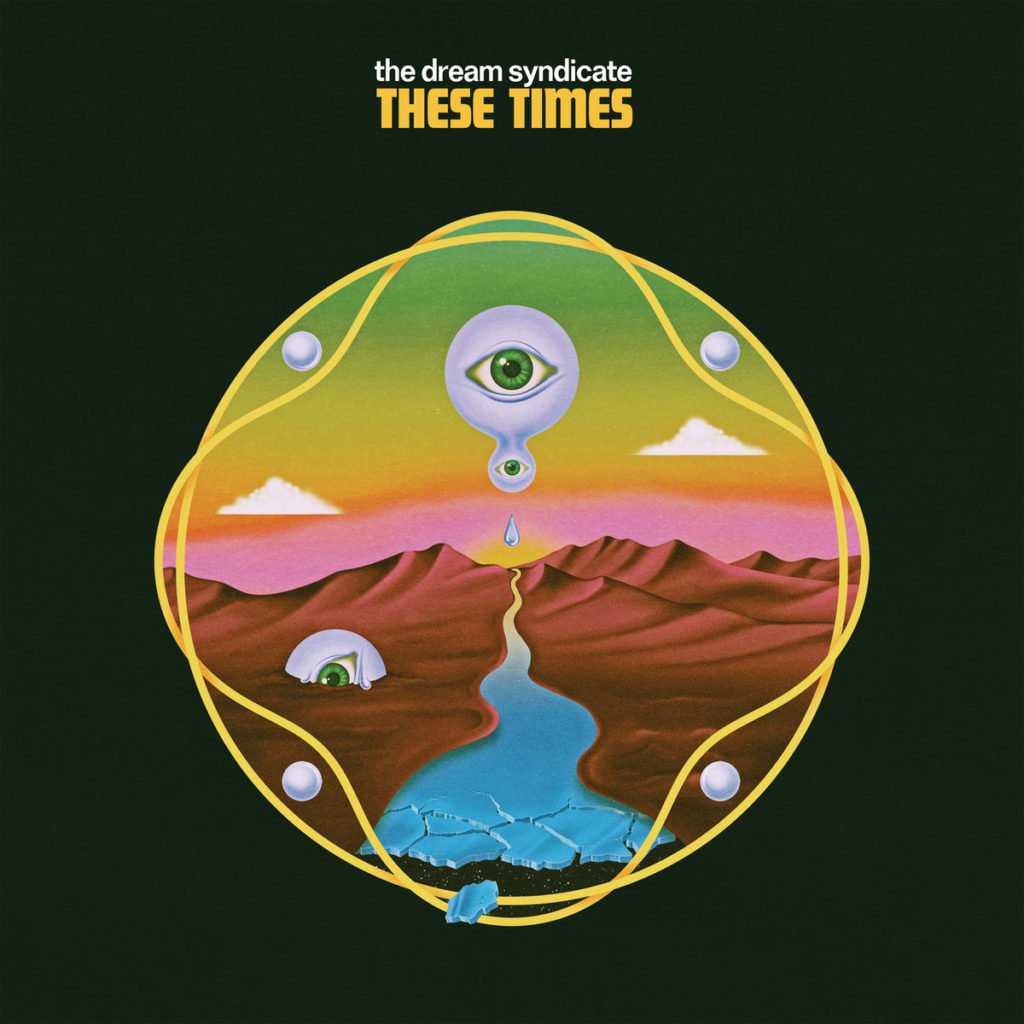 Dream Syndicate have a long and sorted history, but they're right here right now, and that's good enough for me.
As to the vinyl, my 180 gram copy sounded warm and smooth, tracked well with no surface noise. One note of caution, the black background on the front and back will fingerprint to death, get it in a plastic sleeve and reframe from touching.
*** The Fun Facts: Steve Wynn went about things a bit backwards here, writing all of the song's lyrics in the studio only after the band had finished the musical tracking, all with the intent that the lyrics would be dictated by the sound rather than the other way around; where Wynn's process contributed to the urgency of the album's title.
– Jenell Kesler
The Dream Syndicate – 'These Times' (Anti-, 2019)