JAZZ CORNER Presents: Emanative – "Earth" (2018)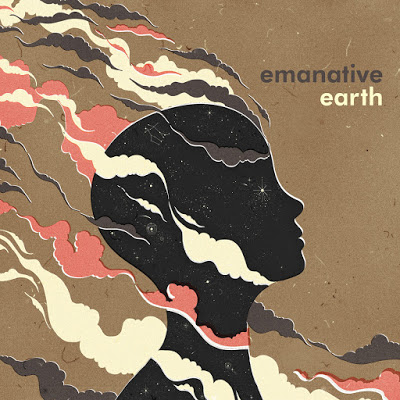 Seems that Emanative finally had the courage to step out on their own on this their fourth album Earth. Previous albums have featured work by the likes of Arthur Blythe, Sun Ra and Joe Henderson, though there are far more. Earth is not an entirely easy album to listen to, as it comes across more as the sort of creation used to augment visual presentations. I have always had great difficulty with this sort of music, as there's no real point of engagement to be found, no areas that stand out or surface where listeners have a recognizable place to land, and while those elements are perhaps not necessary, and were certainly not designed into the characteristics of this work, it does relegate this album to be played in sections, mixed in with other more comfortable jazz. With a total of twenty-one musicians playing on this outing, with a running time of 78 minutes, I dare say that I've met no one who hasn't thrown up their hands saying, "Enough already."
Earth is far more than multi-cultural and conceptual, infusing and embracing cosmic jazz, ritual music, Middle Eastern trance themes, electronica, spiritual jazz, soulful jazz, and it's all built around the template of world (jazz) music. For all this presentation is or isn't, it doesn't unfold easily, meaning unless you're holding the script in your hands, there's little to indicate what's going on, and even with the liner notes, I often found myself lost and floundering, as there doesn't seem to be a conceptual whole to be embraced, only a series of concepts that have been strung together. Part of this is due in fact to the number of players found here, and in their use, where a collective set of musicians do not travel through each track, rather, each track exists entirely in and unto itself, presented by an entirely different subset of the band, meaning that each movement is beholden to itself alone. I would love to have envisioned these tracks as spherical, meaning that each song folds back in on itself, and in turn folds back on the collection, but they don't, each outing as I've said, stands starkly alone, other than in the most general and overall feel that's created.
Led by drummer Nick Woodmansey, who credits the albums as being a spiritual movement, saying "When you work with guys like Ahmed and Idris Ackamoor, spiritual people, their vibe, attitude rubs off . I'm not religious but I'm very spiritual, my perspective on life is less materialistic and more humanitarian. It's important to see both the negative and the positive in life, but a spiritual perspective is inherently positive, I look for the good in things."
Perhaps I'm not conceptually minded enough to allow this record to make inroads with me, but having said that, that in no way diminishes the power and interplay found within these grooves. I also like to say that the album sounds fresh and exciting, though again, perhaps I've been around too long, having been exposed to experimental world music from back in the 50's, along with electronic music from the 1930's and 40's. To that end, I will say that the production is outstanding, that what's brought to the table will certainly come across as resoundingly fresh to anyone without my experiences, and in a way, that's a very good thing, as what was once seen as brilliantly original, can only come across as more-so in the hands of competent musicians building on the past, rather than repeating it.
*** The Fun Facts: The album art was designed to tribute the Miles Davis album Bitches Brew.
– Jenell Kesler