Dry Ice – 'Dry Ice' (2018)
Formed with the foundation of guitarist/vocalist/songwriter Paul Gardner and drummer Terry Sullivan, Dry Ice was a UK psychedelic rock band that went through three incarnations during 1969, the last of which managed to record and album worth of material and a single. The single found release in November, 1969 on IBC Records. The album tracks, however, remained unreleased for forty nine years, finally appearing on the Morgan Blue Town label, and the band's complete recorded legacy, eleven finished masters, two demos and an alternative mix are reviewed here, along with track by track comments from songwriter Gardner and anecdotes supplied by Gardner and drummer, Terry Sullivan.
---
The third and final lineup of Dry Ice consisted of Jeff Novak (vocals), Paul Gardner (guitar, vocals), Chris Hyrenwicz (guitar), John Gibson (bass) and Terry Sullivan (drums). The band's big break came with an invitation to play the Royal Albert Hall Festival in 1969. Just before the gig, tnen bassist Phil Griffiths left the band. The remaining trio of Novak, Gardner and Sullivan scrambled to find a replacement. Enter John Gibson, who brought with him guitarist Chris Hyrenwicz, whose lead guitar work would be put on display thanks to the songwriting of Paul Gardner. The band was so impressive they were given an advance which included the recording of an LP. Simon Stable, owner of Stable Records, also introduced the band to Ian McDonald of King Crimson who would go on to record flute on "Lalia" one of the tunes recorded by the band at IBC Studios and intended for release on the band's album. The band also played gigs with bands such as The Who, Pink Floyd, Spooky Tooth, The Taste, Blossom Toes, King Crimson and The Groundhogs among others.
The album's recording was completed in less than two days, so although the band was well rehearsed it was hard work. As for the tunes, "Dry Ice" opens with "Clear White Light" written, as were all the band's originals by Paul Gardner, and showcases the guitar work of Chris Hyrenwicz, whose fuzzed out lead guitar soars over the heavy beat. His two solos are indeed the focus of this hard rocker, which serves as the perfect opener for the long awaited (forty nine years) release of the long player whose master tapes, long thought lost, were located and utilized, resulting in incredible sound quality and an exciting listening experience. "She Gave" features a tasty wah wah intro and is a lighter, trippier tune featuring gorgeous vocals by Novak and impressive drum rolls by Sullivan. At 2:30 Hyenwicz's fuzzed out solo drives the song through its final forty seconds. When the tracks for the LP were completed there was no obvious single, so Gardner was asked to write a song for release on 45. Thus, on May 4, 1969 "Running To The Convent" was recorded at Trident Studios in Soho, produced by Mke Dolan. The song is included in two different mixes, beginning with the 2:20 edit that was released as the a-side to Dry Ice's lone single, and only release available until now. A hot rocker, reminiscent of The Who, this song has all the elements of an AM radio hit, ranging from mellow, subdued guitar to its full on fuzzed out solo. The single was released on B&C Records in November 1969. It was playlisted by Radio 1 and reviewed and played by Annie Nightingale, but is now, in the words of Paul Gardner "rarer than a hen's toothy thing." "Fake It" is a heavy, fuzz laden number with its lead guitar roaring over the intense rhythm section work of Gibson and Sullivan. With the exception of a short pause the fuzz is relentless as it roars, with a second fuzzed out solo closing out this red hot number. The only cover tune on "Dry Ice" is Bob Dylan's "It's All Over Now, Baby Blue." It differs from most of the rest of the material in that it is a bit gentler and is one of only two songs sung by Paul Gardner, whose vocals resemble those of Dylan, although much clearer and melodic to my ear.. It is also contained in two mixes although in this case they have nearly the same running time. This mid-tempo tune is a great cover, its chugging guitars restrained although always looming, as if ready for a break out. "Chinese House" rocks from its howling fuzz guitar intro until a false stop mid song. However, the guitars quickly return and Hyenwicz provides some of his finest work on this track., At five minutes, thirty five seconds it is the longest cut and its feedback drenched close would have been the perfect ending to the LP as it was intended to be. "Falling Down" is another rocker with a fuzz guitar intro and wah wah added as a gorgeous touch. The track is nicely restrained before its fuzz solo at 1:30 breaks out. The song close with feedback filling the air, wah wah adding texture. "Good Friday" opens with Sullivan's drum intro, before guitars and bass enter the driving beat. Novak's deeply echoed vocals add to the tracks' commercial accessibility with a roaring fuzz filled solo ringing out for the tracks' final minute. "Lalia" is a gentler acoustic number, sung by Gardner. The five and a half minute track is highlighted by a flute solo by Ian McDonald of King Crimson and later Foreigner, which, along with the restrained guitars and Dylanesque vocals, fit right in with this tale of a young man's journey. "Nowhere To Go" was released as the b-side of "Running To The Convent." With its driving guitar intro, the tune has a Kinks like feel and features absolutely gorgeous vocals by Novak. The lyrics draw a vivid image as the guitars pick up the pace. Chris Hyenwicz adds two memorable solos, the second driving the song to its finish. "Untitled '67" is another fuzz guitar number with a heavy groove, its lyrics the lament of a heroin addict. This sad tune is accentuated by gorgeous vocal harmonies and Hyenwicz's solo again pushing the track to a finish. Morgan Blue Town adds two demo tracks, the first, "Ashes" never having been polished to a mastered version. The four minute song has a memorable swirling guitar intro and contains strong drum work by Sullivan and vocals by Novak. "Ashes" has incredible potential with its gorgeous melody and contains even more fuzzed out guitar solos. The demo version of "Running To The Convent" is a full minute and a quarter longer than the released version. The gentle guitar and vocal intro give way to fuzz guitar at 1:30 making the song rock. This would have made a great album track. "Dry Ice" closes with an alternative mix of "It's All Over Now, Baby Blue" which is quite close in sound to the finished master version, and has just as much commercial appeal with its restrained, chugging guitars and Gardner's vocal efforts shining through.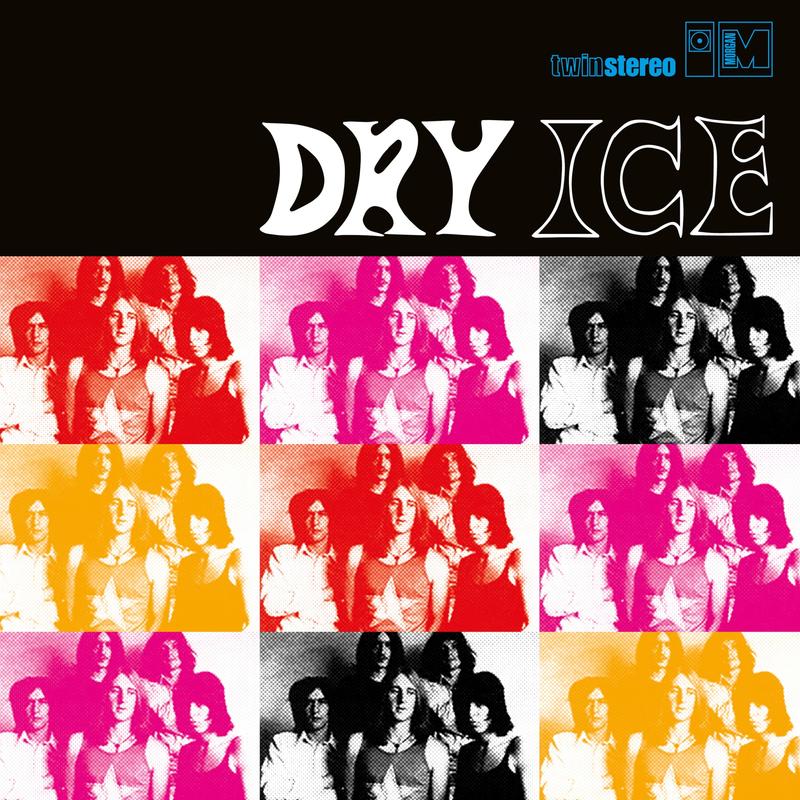 John Gibson and Chris Hyenwicz left the band in late 1969 and sadly severed all contact. Paul and Terry carried on for a few gigs but their hearts were no longer in it. Paul went on to tour with acid folk rockers Trees, playing bass, before forming Pluto in 1970 with The Foundations' guitarist Alan Warner. Terry joined the classic lineup of Renaissance, had a huge hit with "Northern Lights" and toured the world. Jeff is a Swami at Skanda Vale in Wales.
The fourteen tracks on "Dry Ice" have a run time of about 54 minutes. The Morgan Blue Town package comes in a standard jewel case and contains a twelve page full color booklet complete with sleeve notes by Paul Gardner, photos of all three incarnations of the band, handbills of gigs played by the band, newspaper clippings, and an image of the band's lone 45 a-side. The recordings sound incredible thanks to the mastering job by Pete Reynolds, utilizing the long thought lost original master tapes. Forty nine years in the making, "Dry Ice" is an incredible document of heavy psychedelic rock and will make a wonderful addition to the collection of fans of this genre of music as well as fans of heavy late 60's British rock.
Song by song explanations by Dry Ice's songwriter Paul Gardner:
1."Clear White Light" was written in ten minutes in the studio. The lyrics were laid back/meditational in meaning, to counteract with the frenzy of Chris's guitar. It sits nicely with Swami Jeff's current status.
2."She Gave" is a song about an inspirational lady/girl.
3."Running To The Convent"-there was a film around at the time when 2 crooks disguised themselves as nuns to escape.
4."Fake It" is surreal, rambling…….best left to the listener's imagination.
5."It's All Over Now, Baby Blue"-Always loved Bob……especially albums up to "Nashville Skyline."……I was actually trying not to sound too much like him.
6."Chinese House" is about an oriental gentleman's prostitute daughter.
7."Falling Down" is a lover's lament to his lady.
8."Good Friday" alludes to the Biblical events.
9."Lalia" is an allegory to life's struggles.
10."Nowhere To Go"-The problems of a homeless girl.
11."Untitled '67" is a heroin addict's plea to his girlfriend who has left him.
12. "Ashes"-I'm pretty sure it's about changes in perception, both mental and physical when meditating or taking "stuff."
"Dry Ice" anecdotes from Paul Gardner and Terry Sullivan:
Just prior to Dry Ice Mark 1…as we were planning it…Terry and myself did one of our last 3-piece gigs supporting Arthur Brown. Before he went on stage they had to fill his headdress apparel with petrol and get it alright. All before Health and Safety Regulations!!! It was chaos…the first attempt was a small explosion….smoke, panic….LAUGHTER from us….The second attempt was not much better and he went on ablaze.
The intended LP running order-"We insisted "Clear White Light" was the opener and would have ended on "Chinese House" with the feedback that Neil Young later "borrowed. But we're okay with it as is. The only slightest regret is that phasing on the drums we did on "Good Friday" mix has gone. But that might not have been on the masters, just an acetate mix."
The most memorable gigs for the Mark 3 lineup?: 1. The Lyceum with Spooky Tooth, Taste and Steamhammer. Terry burst his bass drum skin and Paul threw his Rickenbacker up in the air and smashed the neck. 2. 9th National Jazz and Blues Festival with The Who, Pink Floyd, and King Crimson among others. We ran out of petrol on the way home and had to sleep in the van.
Concerning the Rickenbacker that Paul Gardner threw up in the air and failed to catch: "Yes, the Ricky survived…..The neck had a 6" split but the headstock didn't come away. I carried on playing and in tune. I glued it up and I have it still. It is the rare '65 Rose Morris import 330. Pete Townshend actually tried to borrow it when their guitar tech failed to appear at the Roundhouse in '68. I said he couldn't smash it. He said he would buy me a new one but I said no. Daltrey actually said to me "I wouldn't lend that **** anything!!!!"
– Kevin Rathert
---
Dry Ice – 'Dry Ice' (Morgan Blue Town, 2018)