From The Vault: Spirit – 'Twelve Dreams of Dr. Sardonicus' (1970)
Many consider Twelve Dreams of Dr. Sardonicus, released in 1970, to be Spirit's finest hour, though I still find their initial self titled album to be their crowning moment. Nevertheless, Spirit, a nearly mythical band, arrived at the apex of experimental classic rock, lacing their music with jazz, rock, folk, and bathing all of that in the waters of psychedelia.
---
While not well thought out, Twelve Dreams was intended to be a sort of science fiction concept album, with the twelve songs supposedly representing, or being visions drawn from twelve actual dreams, though the construct was so loosely developed that most listeners were unaware of this attribute at all. Without a doubt, the album, and for that matter, the three previous albums by Spirit were miles ahead of their time, with the band's vision so original that there was absolutely no precedent for almost all of what the band was laying down, meaning that far too many missed out because the music didn't click immediately, or wasn't as cohesive as the radio friendly hits, "Animal Zoo" and the gorgeous "Nature's Way" … both very good, yet representing only a narrow portion of Spirit's vision. This notion was not lost on the band either, as Randy California wanted to dive into his more loose experimental aspirations, while Jay Ferguson was in favor of more commercially acceptable material, hence the far and differing presentations on this release.
One of Spirit's most enduring features is that none of their material ever sounds dated or self indulgent, and all of it comes across crisp and clean, sounding as remarkable today as it did so long ago. If anything, Twelve Dreams was Spirit's apotheosis, Spirit's merger of everything they had developed and learned over the years, especially from playing live, which they did relentlessly during the 60's, finding the key to getting inside of any musical style and almost matter of factly making it their own, and I haven't even mentioned "Mr. Skin" yet, or the bewildering and exciting "Morning Will Come," a song that in my option nearly foreshadowed the coming of glam rock.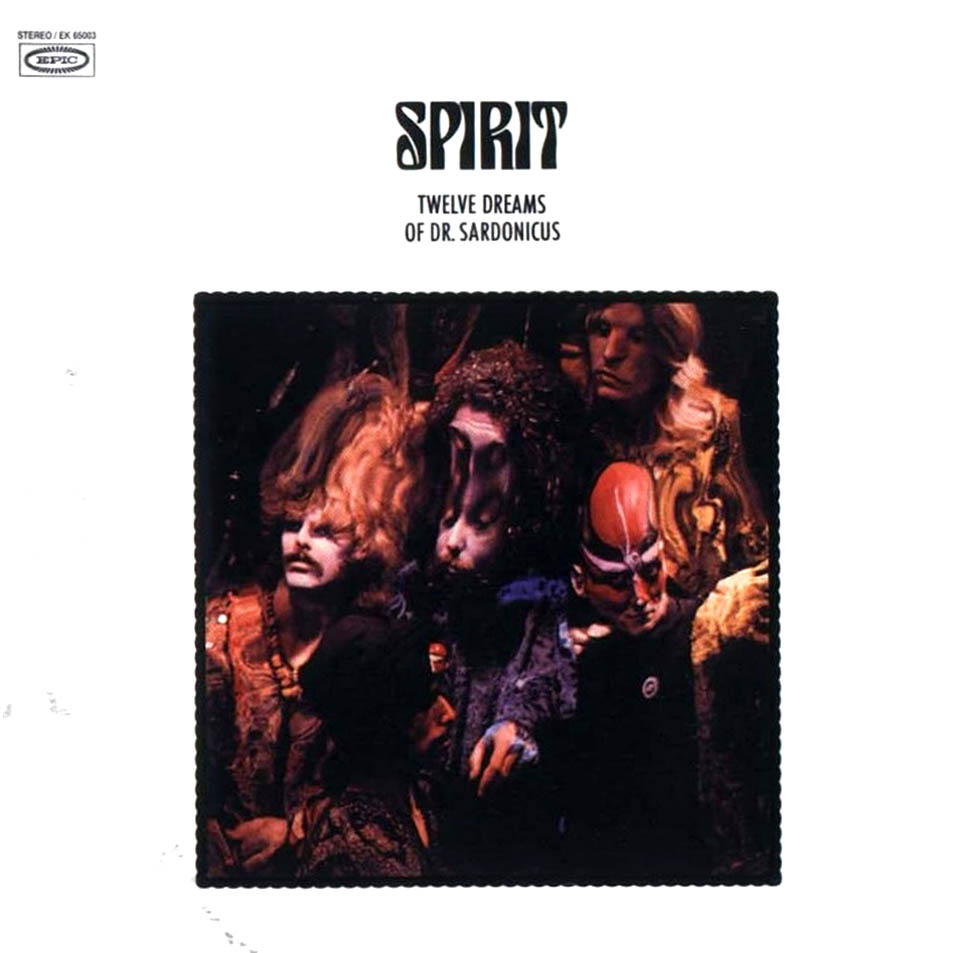 It was Neil Young's producer David Briggs who managed to bring this album to completion, where despite the tripped out album jacket, is a very atmospheric album … but of the atmosphere of this planet. Briggs was swept away by Spirit's jam oriented fuzzed out psychedelia meshed with tinges of jazz, where he managed to allow guitar prodigy Randy California to soar in time with the drumming of his stepfather Ed Cassidy, and the vocals of Jay Ferguson were not stepped on, where things got streamlined, and the magic leached out due to an equality for all involved, resulting in the creation of a stunningly well rounded endeavor that will not be forgotten.
*** The Fun Facts: Referring to the album's title, Dr. Sardonicus "Mr. Sardonicus" was a 1961 horror film relaying the story of Sardonicus, a man whose face has becomes frozen in a horrifying grin while robbing his father's grave to obtain a winning lottery ticket, and the Doctor who is coerced into treating him. The 'Twelve Dreams' represents the twelve songs on this album.
Risus Sardonicus, known as a rictus grin is an actual medical condition, manifesting a abnormal sustained spasm of the facial muscles that appears to produce the effects of grinning.
– Jenell Kesler
---