De Batteries
Yasmin Van der Rauwelaert and Clara Lissens are De Batteries. They make post-fluxus non-music. They released 2 tapes: 'Elke voorkant heeft een achterkant and Für Hildegard'.
---
"We're almost immediately happy when there's a certain noise coming out of our machines"
The recordings of De Batteries sound unfinished, but on purpose, like it's a way of keeping things fresh, keeping things raw. Is this just my interpretation or is this what you want to do?
Yasmin Van der Rauwelaert: I think that's something we find important yes, that it's something that sounds unfinished, so there's space for one's own interpretation. But it's not our goal.
The goal is?
The most important thing for us is to have fun. Things should come in a natural way. We're almost immediately happy when there's a certain noise coming out of our machines. I think this is a kind of naivety that comes from our ignorance. We're constantly looking for new instruments, which we record even before we know how to play them. Gerard Herman asked us if this could be called amateurism, which means: loving. I think that's a fitting description.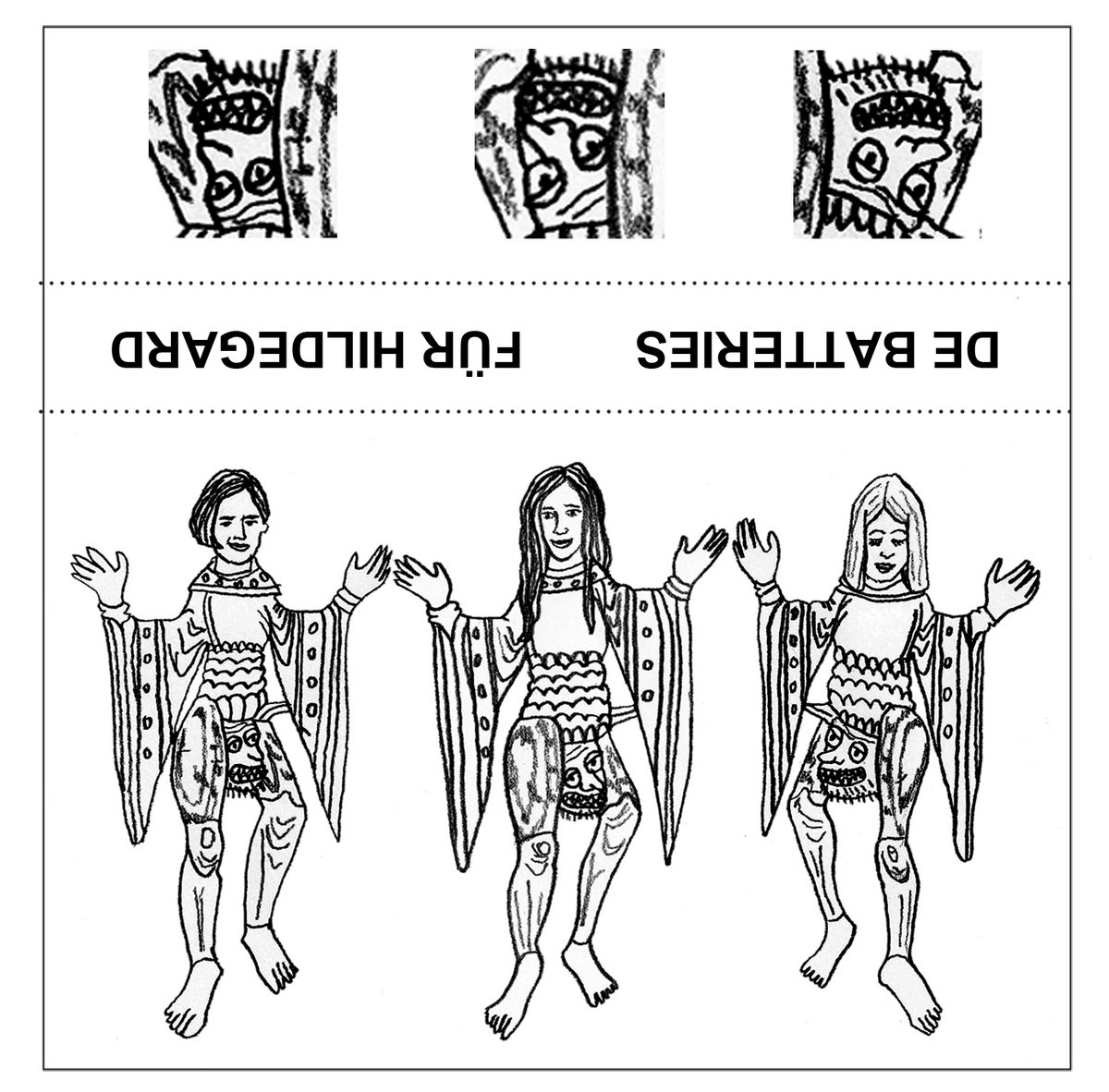 Do you see De Batteries more as a post-fluxus performance act than a 'real band' (whatever this may be, of course)? Do you see what De Batteries do as music, or more as a kind of non-music?
We never really thought about this until your question, but we see 'post-fluxus' and 'non-music' as a compliment, so: thank you!
We always say we run a sound laboratory, which kind of implies we're not a real band, and we don't make music.
I was just looking at what Kraak wrote about us for their Young Sheiks event. I remember I liked their description, they also talked about fluxus: "Post-Verboden Boys duo that takes the notorious Antwerpian Fluxus tradition into new realms of house garden and kitchen electronics and melancholic avant-pop."
Which instruments do De Batteries use?
Our workplace is full of toy instruments we found at flea markets, second hand shops and toy stores: little Casio's, a nose flute, a pull flute, okarina's, drums, small megaphone's, … I once bought a second hand Microkorg that we initially used to connect the little Casio to the vocoder. The most expensive thing we got in our collection is an Irish flute from Clara, made out of one piece of wood.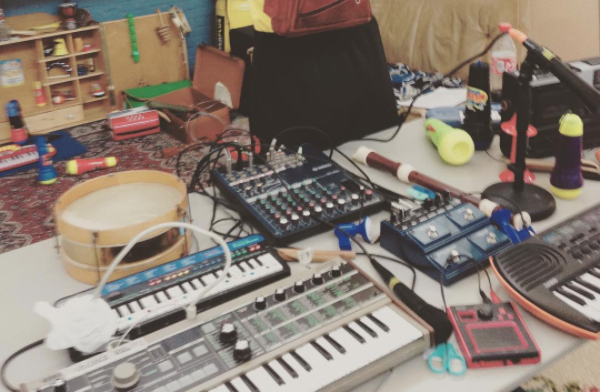 How do you record?
Mostly, we record everything with a loopstation. After that, we put everything on top of each other, layer after layer, looking for how sounds react to each other, and to us.
De Batteries have released 2 tapes by now.
There's a third one on its way. By releasing a tape, you make a recording into an object, it becomes something you can keep in your hands. This way, sounds becomes something physical.
Our first tape, 'Elke voorkant heeft een achterkant', is a blue tape with a yellow risoprint cover. The cover are sketches Clara once made. We put the name 'De Batteries' on it with clay.
We made the second tape 'Für Hildegard' for an exhibition. There are just 2 tracks on that tape. It's a collaboration with Carla Genchi, an Italian opera singer. 'Für Hildegard' is an ode to Hildegard Von Bingen.
How did De Batteries start?
Mathias MU, Wannes Cools, Ilja Kleinjans and I started out as The Verboden Boys (Chapter De Urne), an Ultra Eczema project. We rehearsed at school at the Kerkstraat, Antwerp and Clara heard us play. She proposed to play flute with us, which we accepted. But Clara and I noticed there was not much room for us in De Verboden Boys, so we decided to start our own thing. Dennis Tyfus heard about this, and asked us to play at an event he organised, called Ultra Eczema's Kortste Einde in Bagger. We agreed, even though we haden't made any music yet. So we had to. This is how De Batteries started out.
Are you a student of Vaast Colson, Dennis' partner in crime, or am I wrong here?
Funny you ask. When I studied at Sint Lucas in Antwerp, I was not one of his students, but 2 weeks ago, I started a pre-master education Sculpure at Kask, Antwerp, where he is indeed my teacher. I only attended one of his classes, but I like his attitude.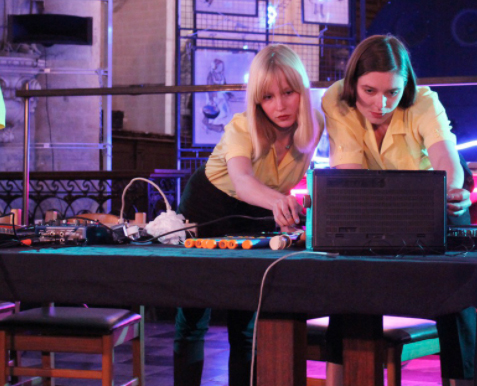 How did the you and Clara meet?
As I said before: we were both in De Verboden Boys. The idea was to make punk. We were asked to me make one minute songs.
Which you didn't.
Which we didn't.
Joeri Bruyninckx