The Dream Syndicate – 'How Did I Find Myself Here?' (2017)
In all honesty, after all this time, I never expected to hear another Dream Syndicate album, so when How Did I Find Myself Here? found its way to my front door, the album's philosophical title gave me pause to wonder the same thing regarding my own life.
---
Here we find Dream Syndicate back together again, featuring three of the four members from their last proper studio album [Steve Wynn, Dennis Duck and Mark Walton, along with Jason Victor who's replacing Paul Cutler] dropping in a cohesive album that's a perfect step forward in a timeline from the sensational 1982 release of The Days Of Wine And Roses, an album that sounded like nothing else during those years, and still holds an alluring place in most people's record collections. While the fact that this is a Dream Syndicate album is unmistakeable, the release is more euphoric, more harmoniously romantic, richly layered with a sonic textured depth and thickness that ebbs out to encompass the room. Wynn's lyrics still drip with emotion, though this time out he seems in control of both those emotions and what he's saying, whereas in a previous Dream Syndicate incarnation, it absolutely felt as if Steve and the band were riding the crest of a wave where they were hanging on for dear life, spitting out music and verse in an attempt to keep from being swept under.
That being said, there's a lightness to their sound here as well, though when you find "Like Mary" stabbing at your heart, a song reminiscent of discovering a long lost box of postcards and images, you realize that despite the feedback and cinematic reverb, the essence to the Dream Syndicate is still emotional rapture played out in the middle of nowhere … at an abandoned gas station with an overheated car, or at the empty soundcheck of a venue long past its prime, yet still holding a majestic pride for what it once was.
Each of songs stands on its own, there is no collective consciousness or structure, other than to present first class material worthy of bringing Dream Syndicate into the light yet again, sounding like a brand new band in many ways, and [laughing] unable to believe how good they sound. This is music that should not only bring back vinyl, but should bring back radio again, where meaningful little sets of music can enchant us into the small hours of the morning, and then brighten your day as you go for one more spin.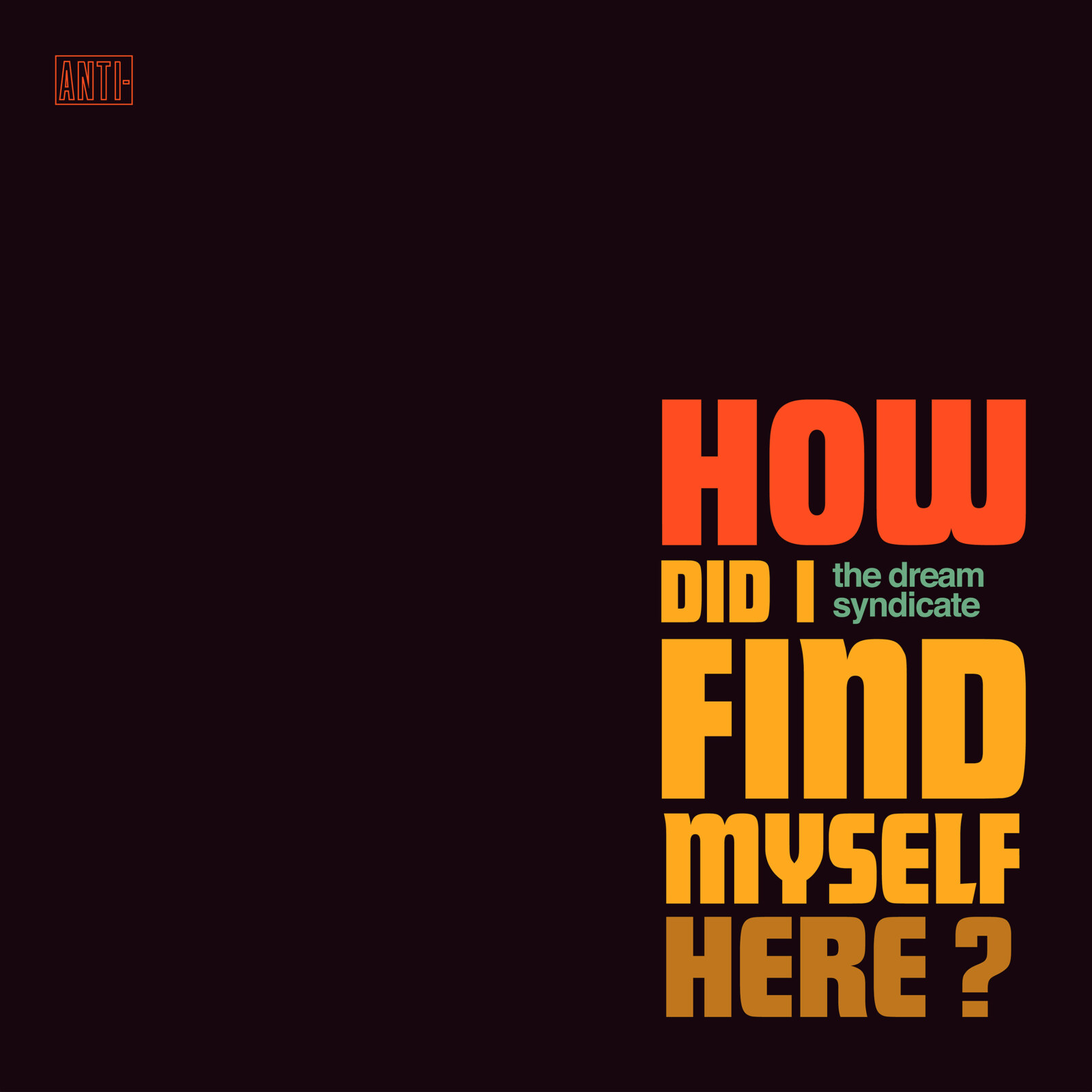 The vinyl pressing has been well considered, is rich warm and smooth … worthy of your turntable time. There's an EU vinyl pressing on turquoise wax that's simply beautiful to the eye, as well as the ear.
*** The Fun Facts: The band name Dream Syndicate was taken from the John Cale piece Inside the Dream Syndicate Volume 2, Dream Interpretation, from his tenure with the Theatre of Eternal Music, once thought lost, and recorded from 1965 through 1968.
– Jenell Kesler
---
The Dream Syndicate – How Did I Find Myself Here? (Anti-, 2017)