The discovery of Stonewall, the great lost artefact of hard rock
Stonewall recorded one of the most obscure hard rock albums of the 1970s. It was released in 1976 on a label called "Tiger Lily." According to Assalti, drummer of the band, the actual recording is from 1972 and the release by "Tiger Lily" is a bootleg. The band never received anything and their music was literally stolen! For the first time in history here's the TRUE story behind Stonewall, one of the most sought-after bands by collectors. Many thanks to Anthony Assalti for answering my questions.
When and where were you born?
Born 1951 in Flushing, New York City.
How old were you when you began playing music and what was the first instrument you played?
I was about 10 or 11 years old and would watch my brothers band rehearse in the basement of my parents home. I would sit and watch the drummer and after rehearsal he would show me how to play easy things on the drum set.
What inspired you to start playing music? Do you recall the first song you ever learned to play?
Seeing the Beatles on the Ed Sullivan show. Wow, a long time ago! I believe it was a song called "Pipeline" by the Ventures.
What was the scene back then in your city?
Back then you had the Greasers, they hung out at the local candy store and smoke cigarettes and showed off their hot rods. I hung out with them for a few years until I started playing in my first band.
Were there any clubs where young kids could hang out?
Yes the local churches would hold dances at Teen Club once a month. In fact my first gig was with a band called The Shadows at St. Kevin's Church in Queens, N.Y.
Were you in any other bands that recorded something back then?
No.
Who were members of the band?
OK, the lead guitarist Bob Dimonte lived in the same neighbourhood as I. He played in his band called the VIP's. We soon met and became great friends. As the music scene started changing and smoking grass and doing acid became more popular, my friends and I started letting our hair grow. We were different than the Greasers with their slicked back hair. So the separation began. Greasers against Hippies. There were a lot of places to jam and meet other musicians. Eventually Bob and I hooked up with Ray Dieneman who played bass guitar. We were now a power rock trio. We needed a lead singer. I don't remember who introduced us to Bruce Rapp, but he became our lead vocalist.
Why did you decided to use the name "Stonewall"?
We were playing a lot of heavy Blues and Hard Rock with Led Zeppelin having an immense influence on our playing. So we wanted a name that was rock solid and heavy, STONEWALL.
What do you remember from rehearsing? Did you have a special place somewhere?
Oh yeah! This creep manager we had rented us a basement in a part of NYC called Little Italy. Bruce our singer was using downers at the time and went up the street to the local bar to get a drink. Bob, Ray and I stayed in the basement and kept rehearsing. After an hour or so there was a loud pounding on the door. We opened the door and two big thugs told us our friend was in the alley next to the bar and for us not to leave the basement for an hour. We were scared shit! We waited an hour then went to find Bruce. We found him in the back of the alley alongside the bar under some garbage cans. He was in bad shape all beat up! We took him to the hospital. We never rehearsed there again.
What's the story behind making your album?
Someone, I forgot who hook us up with Jimmy Goldstein the owner of a recording studio in Manhattan. He liked what he heard and offered us free recording time after hours. We would car pool into the city every night. Sometimes Bob would drive and sometimes I would drive. We would get to the studio around 8 or 9 PM. Our singer, Bruce always had a supply of Hashish. We would arrive totally shitfaced and smoke some more with Jimmy the owner of the recording studio. We would then go to our instruments and start to play. We all came up with the ideas for the music. Jimmy also participated. He played all the keyboard parts on the recordings on a killer Hammond B3 with the Leslie cabinet.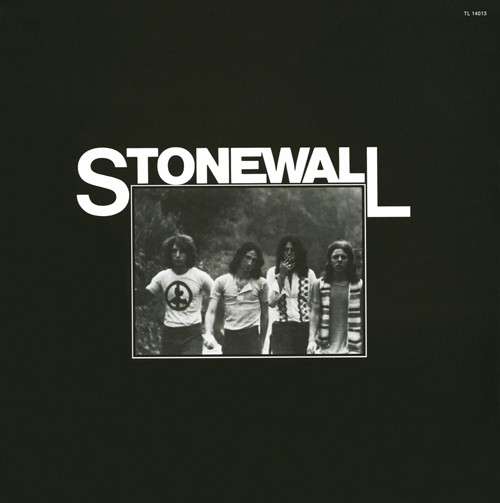 Were you playing a lot of shows before making an album? 
We were not really a known group. We only played local places in the NYC area. Wherever we could pick up a few bucks.
Where did you record your album?
The album was recorded in a studio owned by Jimmy Goldstein. The studio was located in Manhattan, NYC. around 57th street and 3rd avenue.
If I remember correctly it was our crooked manager that hooked us up with Jimmy Goldstein. We spent about 6 months in the studio experimenting with different riffs and sounds. I remember our lead guitarist Bob Dimonte using an echo chamber and a violin bow. We all had a say in the arrangements and what songs we would record.
"They released our album STONEWALL without our knowledge or permission."
Tiger Lily released your album in 1976. What's the story behind the label and how did they get in contact with you?
Tiger Lily NEVER got in touch with the band! We were told by Jimmy Goldstein that no one was interested in our music and we were NEVER offered any kind of a contract, record deal or money. Stonewall didn't make a penny on the album. After the disappointing news the band known as Stonewall broke up and we went our separate ways. Someone, I don't know who took our recordings to Tiger Lily. Tiger Lily records had known connections to the mob. They released our album STONEWALL without our knowledge or permission. The album was released in Europe and used as a tax right off to protect a larger record label that Tiger Lily was connected with. Many years later after I had gotten married and moved to Florida I started receiving phone calls from Germany and Switzerland. One guy said he was a collector of rare rock albums and it was he that told me he had a copy of the Stonewall record. I was flabbergasted and in shock! The other guy said he owned a recording studio and wanted to know if I had anymore recordings that were not on the album. He wanted to release another Stonewall album. I had started my own business here in Florida. I was now married and had children. I was still playing the drums, but only on the weekends and just for fun. My first priority was my family and my business. A career in music was no longer in my plan. It's kind of sad. We were 4 young guys that were ripped off and never got the recognition I believe we deserved.
How many copies do you think got pressed?
We were not included in any of that. Tiger Lily records pressed and released the album without any of us knowing about it. From what I have read anyone that has an original copy can sell it for quite a bit of money. I have a copy I bought off of E-Bay, but it's not an original pressing.
What kind of equipment did you use?
I played a set of blue sparkle Ludwig drums with a chrome snare drum, double mounted tenor toms, single floor Tom and Zildjian cymbals. Bobby played a Gibson Les Paul through a Marshall amp. Ray played a Fender bass guitar through various amps. Bruce played Honor harmonicas. Jimmy played a Hammond B3 through a Leslie cabinet.
"We would smoke a lot of pot and Hashish. We would then grab our instruments and start jamming."
How long did the sessions last? Would you share some recollections from the sessions? How pleased were you with the finished product? Who was your producer?
The sessions lasted roughly 6 months. We started at 8 or 9 in the evening and sometimes would record to 3 or 4 AM.
We would smoke a lot of pot and Hashish. We would then grab our instruments and start jamming. Most of the songs are pieces of these jams that we liked. We would listen back to what we recorded and pick the best pieces of music. We would then arrange a song. Bruce wrote all the lyrics. We were very happy and pleased with the finished product. Jimmy and Bob did most of the producing.
What happened after the recordings were done?
Our crooked manager and Jimmy took the recordings and said they would get us a record deal. It never happened! We were told the record companies were not interested in offering us a deal. We tried on our own for awhile, but it was like beating a dead horse! The band eventually broke up.
What was the writing and arranging process within the band?
We all came up with ideas. If it sounded good we would record it. Everyone had input and opinions. Only the best stuff made it to the album.
Would you share your insight on the albums' tracks?
"Try And See It Through" was my personal favorite. I loved the sound of the Hammond B3 on that recording. It also had a bluesy swing feel to it. I think Bob's guitar solo was brilliant.
Is there still any unreleased material?
There may be. I don't know for sure. All I have is an original reel to reel tape. Jimmy had all of the studio stuff and I recently heard he has passed away.
Would you discuss some of your most memorable moments in band?
The most memorable moment to me is when the thugs in little Italy kick the shit out of Bruce. Bob and I are Italian. I think that's what saved us. We found out from the bartender that Bruce was acting pretty obnoxiously in the bar that day. He was high on (seconols) downers and was running his mouth demanding a drink. They dragged him into the alley behind the bar and really fucked him up. We found him under a pile of rubbish and garbage cans and took him to the hospital.
What influenced you back in the '60s? Did your music taste change?
The Beatles, The Yardbirds, Jeff Beck, Cream, Jimi Hendrix, Jefferson Airplane, Blood Sweat and Tears, Woodstock, The Newport Jazz Festival and of course Led Zeppelin. My music taste has always had a very broad range. I love it all, Hard Rock, Jazz, Funk, Blues, Opera, R&B Standards, Country… I love music.
What are some special moments from the past?
The very first band I was in was a Beatles band. We had the doughboy jackets the hair and played for my high school class. The girls loved us. It was really great, we felt like the Beatles.
After the disappointing Stonewall episode I joined a name act and went on tour. The name of the band was Tommy James and the Shondells. We played up and down the east coast of the USA and across Canada. We opened the show, then Jay and the Americans would come on. The headliner was The Four Seasons. I spent every show watching the drummer for the Four Seasons. His name was Jerry Polci and we became friends. He is a great drummer.
What was the dynamic between your song writing and playing?
The song writing and playing worked hand in hand. We played and bounced ideas off of one another.
That's how we did it.
What currently occupies your life?
Currently I enjoy sailing my Trimaran in the pristine waters of the Gulf of Mexico off of Caladesi Island. I also enjoy my Grandson and my daughters twin babies.I really don't play the drums anymore. Seems like most of the bands around here rather save the money and use a drum machine.
– Klemen Breznikar