Three Man Army – 'Three Man Army' / 'Three Man Army Two' (2016)
Some bands had cult status in their time and some have retained it ever since, even if they played together only for a short period. Later estimates may be a little skewed, absurd or merely confused. Clearing up the minefield: Three Man Army were a guitar-orientated power trio featuring the respected Gurvitz brothers Paul and Adrian, who sometimes used the surname Curtis (their father changed to this name post-divorce).
---
They were English not American. A different line-up, with Buddy Miles no less on sticks and keys, recorded a debut on Pegasus, then two albums with Warner/ Reprise of which the initial release had two titles and the next was titled Two because their second release on that label with the same line-up. The latter two LPs have just been re-released together on CD, with a bonus single A-side and interesting booklet, by BGO in the UK.
Oh, and lest I forget, perhaps due to rotating-door famous drummers (Buddy Miles; Mike Kellie of Spooky Tooth; Carmine Appice of Vanilla Fudge, Beck Bogart & Appice; Ginger Baker) in their musical tree-house, they have been mislabelled a hardy perennial support band. Yet at the time others saw these configurations as a super group of sorts, though their new big label arranged tours with bands not connected to their style at all. Welcome to the wacky world of a hard platoon that had not one but two great guitarists so one had to play on bass instead!
Paul Gurvitz of High Wycombe had been in Gene Vincent's band in his teens, also The Londoners and The Knack who released seven singles during 1965-1967 after playing at Hamburg's Star Club. Adrian Gurvitz, North London born, played in the company of Screaming Lord Sutch, popsters Crispian St. Peters, and on the 1967 hit Reflections Of Charlie Brown by Rupert's People, much-loved by psych CD compilers today. He jammed with Johnny Winter at the Whiskey A-Go Go in '72 when living on Sunset Strip and cruising in a Corvette Stingray gifted by Buddy Miles for a solo album song. He later wrote hits for Hot Chocolate, REO Speedwagon, the England World Cup football #1 of 1982, and produced several Disney film scores. Of Jewish background, their father had been tour manager of Cliff Richard & The Shadows and The Kinks.
The brothers first came to prominence with Gun, the heavy psych-prog trio who had a worldwide hit Race With The Devil in 1968 plus two highly-regarded albums either side. Hendrix, who they jammed with, borrowed the hit's riff for the opening of Machine Gun at 1970's IOW festival. They played at the UFO club supporting Arthur Brown, Floyd and Tomorrow, as well as at the famous liggers club The Speakeasy. Gun are now legendary of course—not just because managed by Ronnie Scott of jazz fame, or sporting the first-ever album cover by Roger Dean, or that Pete Dunton of T2 cut his teeth with Gun—yet Three Man Army built on that with more in their arsenal including elements on Two of an unfinished rock opera.
Three Man Army / Three Man Army Two (BGOCD1256) has been remastered to high definition audiophile quality from the original masters. Predecessor A Third of a Lifetime (Pegasus 1971) was re-issued on CD by Esoteric in the summer, and the two albums here were storming follow-ups with intricate riffs, machine-gun lyrics and strafing solos from their own custom-built tank. Adrian wrote all the tracks (bar the instrumental intro) as he had for Gun and added keys (usually mellotron). Paul played bass here because agreed his younger brother was better at solos! Although underrated since, Adrian featured in music papers' top ten guitarists at the time, akin to the style of Johnny Winter without the blues. The siblings' reputation led to working on both '70s albums by Moody Blues' drummer Graeme Edge.
The three-pronged assault was completed by Tony Newman, formerly of Sounds Incorporated who was also on Jeff Beck's Beck-Ola in 1969 and The Who's Tommy soundtrack. As most of the debut was written in the studio it's logical that this drummer, who performed on numerous chart hits, should be called up. He also played with Rod Stewart, T.Rex and heady cult band, May Blitz, but when the double-bass-drummer left to join David Bowie's band it signalled the demobbing of Three Man Army in 1974. The brothers teamed up with another famed tub-thumper for the short-lived Baker Gurvitz Army, whose first album on Vertigo went gold, but the colourful flare of TMA left a trail deserving notice too.
Three Man Army came out first in some territories including the UK as Mahesha (another name for the god Shiva in the Hindu pantheon), God knows why, then eponymously soon after in 1973. Issued on Warners' Reprise, on Polydor in Germany, promo copies had an inner lyrics sleeve. The intro builds up to guns blazing, detonating ack-ack solos (Hold On), fuzz bass (Take Me Down From The Mountain), and some nifty wah-wah with soaring fret-work on the five-minute title track. Pity about the longish fade out, a blemish on vinyl doubtless due to time constraints; the same happened with Johnny Winter's recordings. Hendrix-style vocal and guitar drive Can't Leave The Summer. The punchy, energetic album—a consistent trait—of nine tracks closes with spacey The Trip written by Adrian and Tony, reminiscent of the debuts by Montrose or UFO.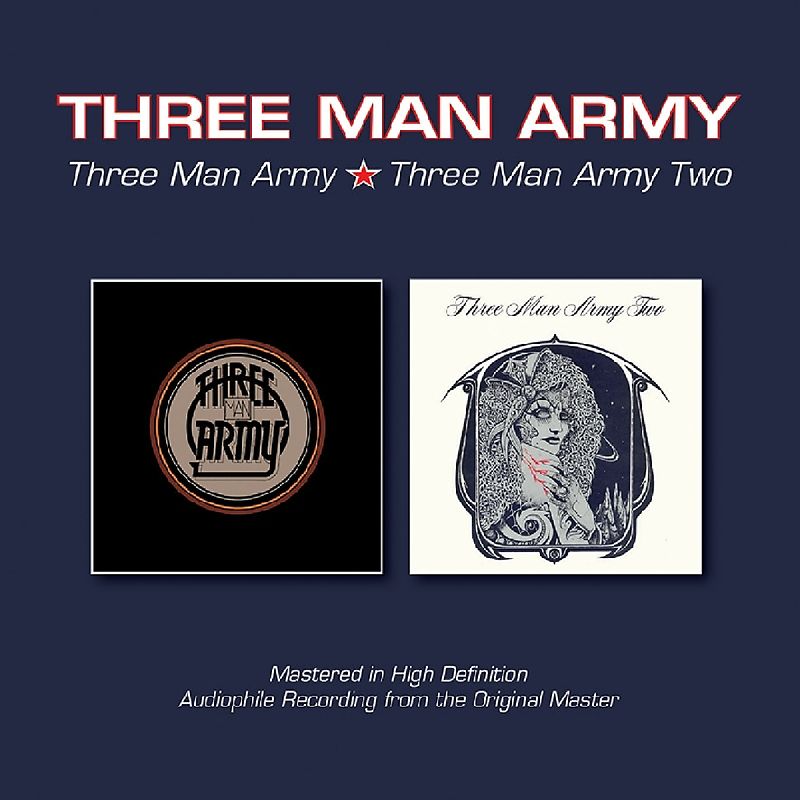 The spacey element resurfaces on Space Is The Place, albeit slower (with cello) and an overdone chorus (they called it anthemic in the '80s) on Two (1974). The trio is augmented by a pianist on two of the seven songs as well as some famous female vocalists (Doris Troy; Madeline Bell; Ruby James) on I Can't Make The Blind See. In spite of what at first seems to be soul with such a title and singers, the rocking doesn't dry up or decline into smoke-screen fillers. Cleaner-cut than say Hackensack, except on opener Polecat Woman which has a high-energy but not overlong drum solo that Ginger Baker would've been proud of. It was also a single in January '74, co-written by a roadie-drummer, but didn't chart like the bonus track Schoolgirl Queen more typical of a decade later: e.g. Chariot, who remembers them?! Group compositions Irving and Burning Angel smoke like Cream, Strife or Stray with lightning time changes and acid guitar salvoes, whereas Today shows another weapon in their armoury: a ballad that builds a la Santana. In My Eyes alternates ballad—and faux ending—with grenade crescendo licks like Patto. They had all the manoeuvres.
The label had high hopes based on the musicianship, but surely could have put more thought into the deal than arranging US tours with The Doobie Brothers and Beach Boys? The time had passed when odd concert pairings abounded: my brother Michael saw Hendrix supporting Engelbert Humperdinck at the Tooting Gaumont but that was a decade earlier. Incidentally, TMA Three (continuing the numbering confusion) surfaced a decade ago in Germany including demos of an unfinished opera glimpsed here, along with a double LP anthology. Worth checking out is the recently uploaded video of Paul Gurvitz and The New Army's shrapnel-blistering Sex @ The Wheel (is that a reincarnated Paul Kossoff?).
Less sixties more seventies pointing towards eighties style riff-rock, these reports from the gigging front are heavier than Gun but still retain their melodic element, with gutsy, inventive solos that are sniper-sharp. Often compared with Cream, Grand Funk Railroad and Blue Cheer (perversely in view of their dates) they are less frenetic than say Lord Baltimore, T2 or May Blitz, not as bass-driven riffy as Budgie but equally distinctive and full of hooks. If lacking a killer smoking-gun hit, maybe a second guitar would have provided more artillery but not more devastating ordinance.
The albums are ear-openers for those who like an atmospheric vinyl-length experience without padding, like the more obscure but potent Help of California and Agnes Strange of Southampton. The booklet rightly says that some bands don't deserve to be forgotten no matter how unsuccessful they were in their day, which in the case of this unit lasted barely four years. Dig out those Stray, Strife and May Blitz gems again, and treat yourself to this double dose of rocking energy as the nights draw in. Pure ability and no image ego-trips, even if undecorated in the field; pen-pushing officers billeted in the rear didn't always know what was happening anyway.
– Brian R. Banks
Three Man Army – 'Three Man Army' / 'Three Man Army Two' (BGO Records | 2016)
Baker Gurvitz Army – 'Since Beginning: The Albums 1974-1976' (2019)