The Third Power – 'Believe' (1970)
Michigan Psychedelic Rock Classic Gets Deluxe Release At Last!
Released in 1970 on Vanguard Records, The Third Power's sole LP "Believe" was reissued on Record Store Day, 20 April, 2016, in two versions by Light In The Attic Records on their Future Days Recordings imprint. First, a limited edition, 2,000 copies, red vinyl LP with a download card for bonus tracks and second, on CD with the original album supplemented by eleven incredible bonus tracks!
---
The Third Power formed in Detroit in 1967, with Drew Abbott on lead guitar and vocals, Jem Targal on bass and lead vocals and Jim Craig on drums. Their album contained only original material, nine tracks, with a run time of about 36 minutes. The band's power trio sound is reminiscent of Cream, with Targal's vocals a match for those of the late Jack Bruce. Craig and Targal formed an incredibly tight rhythm section with Drew Abbott's lead guitar always serving up tasty treats.
The album opens with the screaming rocker "Gettin' Together" which features incendiary guitar work by Abbott, Targal's gorgeous lead vocals and an incredibly tight bottom end. This would have made a perfect single. Makes me wonder what the people at Vanguard Records were thinking. "Feel So Lonely" begins with a light riff from Abbott before Targal and Craig join in on this lovely piece of psychedelic rock. Abbott's guitar and Targal's vocals are the lead instruments with Abbott's restrained guitar solo and ethereal vocal harmonies leading up to the band's pile driver finish. "Passed By" features gentle guitar by Abbott and beautiful vocals from Targal. The band displays its versatility playing this delicate tune with zest equal to its heavier numbers. The short and deliciously sweet "Lost In A Daydream" features Craig and Targal pounding out the beat before Abbott's guitar and Targal's vocals enter this melodious gem which would have been another excellent selection for release as a single. "Persecution" fills out side one of the album and puts both Abbott's guitar and vocal talents on display. A true Michigan rocker, his solo is stunning while Targal's bounding bass brings to mind The Ox, John Entwistle, of The Who. Side two's "Comin' Home" brings The Doors to mind. Again, Targal's vocals and Abbott's guitar are the lead instruments, with Targal and Craig so tight they sound as one. Abbott contributes a jaw dropping solo driving this rocker to a close. "Won't Beg Anymore" is another melodious rocker featuring Drew's acoustic guitar and Jem's understated vocals, before Abbott's solo climbs, bringing the tune to its conclusion. The delicate "Crystalline Chandelier" sounds straight off "Disraeli Gears" with Targal's vocals and bass both bringing flashes of Jack Bruce to mind and Abbott's light, breezy guitar the perfect complement. The most beautiful song on the LP it should have filled the newly emerging FM airwaves at the very least, if not seeing release as a single. Credited to all three members of the band, "Like Me, Love Me" ends "Believe" in style. Craig and Targal's beat has the listener's head bobbing up and down, while Abbott's guitar pushes the tune ever so gently. The longest track on the LP at about five and a half minutes it gives everyone in the band a chance to stretch out, with Abbott handling lead vocals and closing the album with one last guitar solo, Targal's bass and Craig's drums gaining momentum as Abbott's guitar climbs and shifts into overdrive.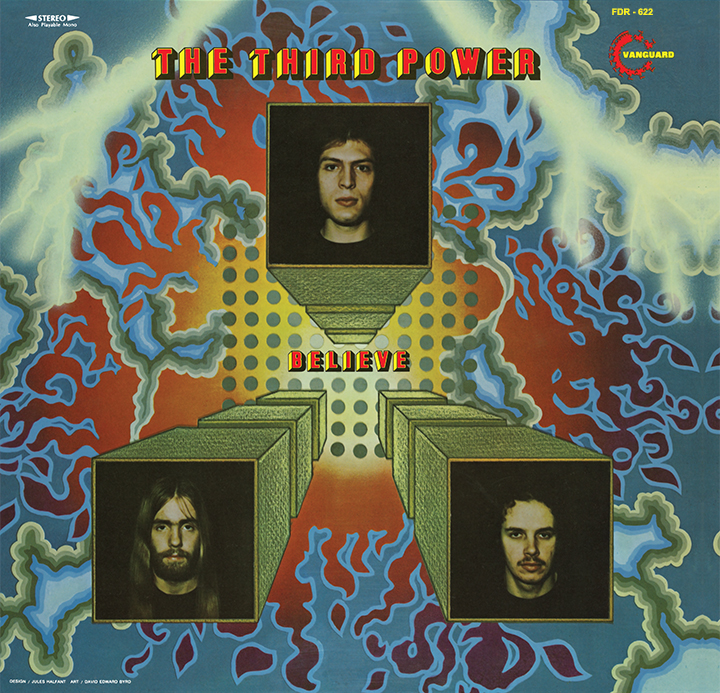 The LP, pressed on 180 gram red vinyl, includes an 8 page insert containing "The Story Of The Third Power" by Willy Wilson, remastering by John Baldwin at John Baldwin Remastering, and OBI strip. It comes housed in a gatefold "tip on" jacket and includes a download card for the eleven bonus tracks included on the CD edition of "Believe."
The CD's bonus tracks begin with both sides of the band's pre-LP 1969 single released on Baron Records. "We, You, I" is an infectious rocker with nicely echoed guitar from Abbott. "Snow" is another restrained rock number, with tasty guitar and a very nice bass passage by Targal. Abbott said he wanted to sound like the MC5 on this tune, but the producer simply replied "No." Next up is an album outtake "Every Day," a mellow tune featuring vocal harmonies and more outstanding guitar work from Abbott. Four tracks intended for a second Vanguard album follow. Abbott's screaming lead guitar and Targal's vocals make "Streets Of Heaven" stand out, complete with Craig giving his drum kit the once over and more Entwistle style bass by Targal. The set's longest track at a bit over six minutes, this is the perfect example of how a second LP might have sounded. "It's So Hot Outside" comes on with a Spencer Davis Group type beat, featuring beautiful vocals from Targal and stunning wah wah work by Abbott. "Hey Little Suzie" brings Craig's drums to the fore, leading into a Doobie Brothers style riff with Targal's bass booming and Abbott's guitar chugging, leading to another memorable solo. "You And Me" is a rather timid number featuring gorgeous lead vocals by Targal blended nicely with Abbott's gentle, soothing solo. "Got A Hold" comes on with snarling guitar and vocals, settling into a nice shuffle before Abbott's solo sends the sound into the stratosphere. "Cartune" has a Chicago (the band) style intro, with Targal's gorgeous jazzy vocals meshing perfectly with Abbott's guitar on this snappy rocker. The CD version of "Believe" closes with two live recordings from The Grande Ballroom in Detroit, recorded in 1969. "Why Do Little Girls" has a catchy groove, with Craig and Targal holding down the bottom end while Abbott's guitar explodes from its amp. "Comin' Home" with its driving beat, machine gun drums by Craig and roaring guitar from Abbott joined by Targal's incredible vocals is the perfect closer for this set.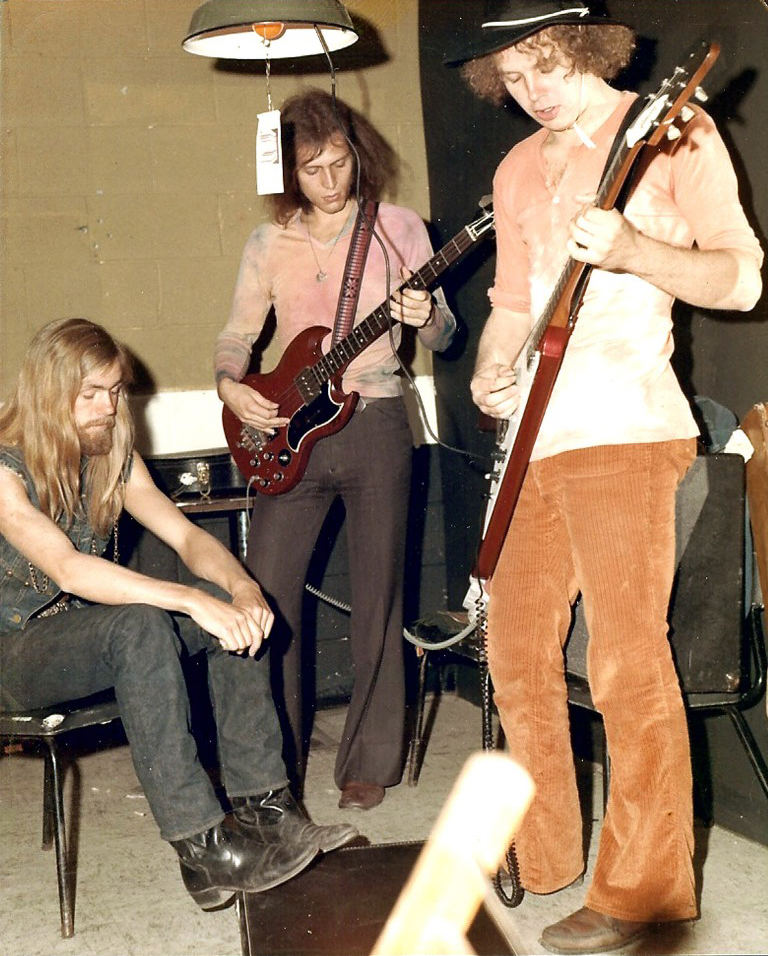 This CD version of "Believe" contains 20 tracks, more than 77 minutes of music. The set, compiled and produced by Pat Thomas and Alec Palao is completed by a 20 page full color booklet with full track annotations, liner notes by Willy Wilson, sound transfers by Ray Goodman and Alec Palao, remastering by John Baldwin at John Baldwin Mastering, OBI strip and many gorgeous photos.
So there you have it, two versions of "Believe" to choose from. With only 2,000 copies worldwide, those interested in the vinyl edition better buy now or forever live with regret. But you can't go wrong either way, LP or CD, just order your copy now while the getting is good!
– Kevin Rathert
---
The Third Power – 'Believe' (Light In The Attic/Future Days Recordings, 2016)