13th Floor Elevators – 'Live Evolution Lost' (2014)
Let's talk about the presentation first as it's not every day that such a lavish box of colourfully presented psychedelic and mystic grooviness makes itself physically known. The cover itself is like one of these magnetic tape reel boxes as used by recording studios, and here they've stuffed it full of goodness: a giant reproduction poster of the Houston Music Theater gig from whence the actual audio tracks on the grooves originate, a cool photo and memorabilia-packed book with yet another essay lovingly put together by ace chronicler Paul Drummond, and a tasty trio of individually wrapped coloured vinyl records: pressed up in red, green and blue.
---
Actually, however , there are only five sides of music come to think of it as the sixth side – on the red vinyl – is like an etched out affair embossed with one of the images from the poster; the hand with captions etc… Some, or most of these sounds are already known to many long-term fans of the Elevators; a few were also included on the super-surreal "Sign Of The Three-Eyed Men" CD, and later vinyl, box sets. The actual concert itself took place on 18th February 1967 and would mark the end of an era for the original Elevators line up of John Ike Walton, drums, Bennie Thurman, bass, Tommy Hall, electric jug and backing vocals, Stacy Sutherland, lead guitar and Roky Erickson, rhythm guitar and lead vocals. On this particular occasion too they were also joined by the Conqueroo – and, collectively, are the owners of some pretty long jam-outs that are peppered throughout. These in particular are not gonna be everyone's cup of tea that's for sure but, regardless, I'd still say that most of the selections are – at least some of the time anyway – shot thru' with enough of that spunky spirit and loose hypno-groove wail the Elevators so expertly captured, so as to save them from being all too plain, or from being more in sync with some of that later in the decade blues rock droning which, unless sourced from origins of a more inspirational seam, can result in total dullardsville. Although, and it has to be said, not everything here equates to A1 prime Elevators class, for example Dylan's 'Baby Blue', a delicious, stunningly worked-up interpretation when it appeared later on "Easter Everywhere" is, unfortunately, here reduced (almost) to a mere competent instrumental version they've called 'Jam # 4: (It's All Over Now) Baby Blue Jam'. The sound of a flute, organ and at least two guitars completely jar somewhat and also appear to be slightly out of tune with each other which, in itself, might not be that big a deal but nonetheless but here it's enough to cause me to wince at least twice, or even thrice. Here and there, however, Stacy and others can be heard shining thru', although it was apparently on this gig that Sutherland, flying high on 1000 mics of LSD, flipped out mid-gig in an angels versus demons mind-battle that at one point turned the audience into a bunch of evil wolves … so it's a wonder that he could still play in any coherent manner at all given that state of mind.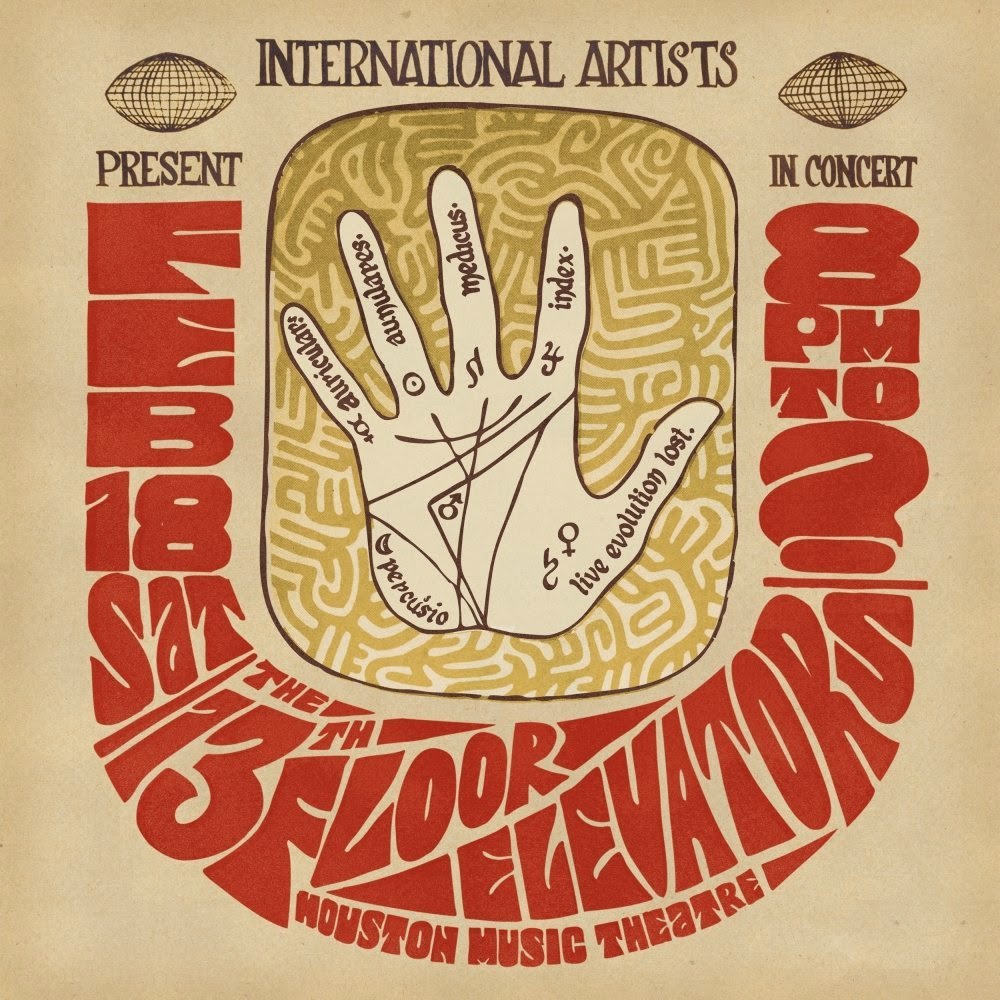 Moreover, the likes of 'Roller Coaster', 'Kingdom Of Heaven' and 'Reverberation (Doubt)' are all superfine, high class renderings with all the band members playing really well, and seeming to be totally focused on the music and right there in the zone. Same can almost be said for 'Levitation' and 'She Lives In A Time Of Her Own' despite one or two passages in the former where it seems that Roky has temporarily lost the place but, thankfully, he gets it back together and, on the latter where the vocals are all too sparse, yet group hardly falters at all. Similarly, 'Don't Fall Down' would probably fit into this compartment too.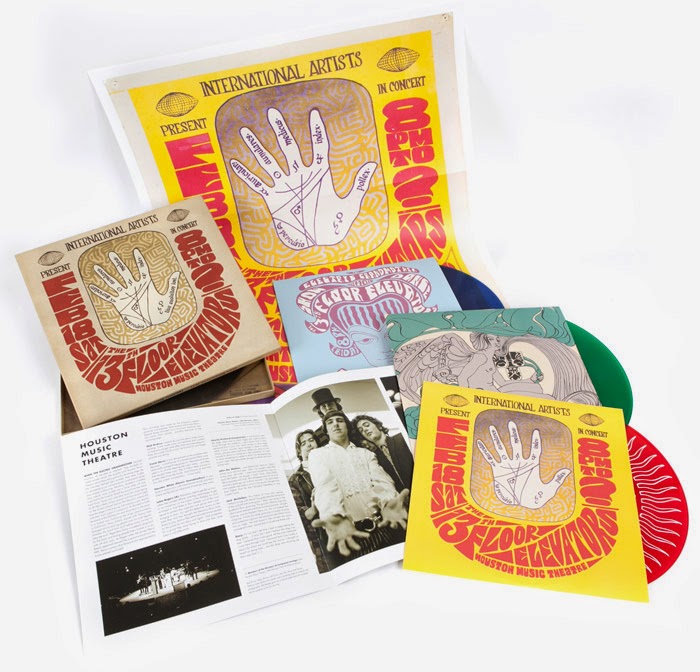 All in all then, this rates as a pretty splendid package even if it does pit such visually alluring qualities as offered by the box and it's contents against the aural presentation of what, in reality, isn't one their absolute best shows. Those shortcomings aside, however, this is still a thoroughly exciting, tremendously appealing documentation; a precious, if imperfect snapshot of one of this incredible group's most legendary performances from that all-too brief time toward the end of the original incarnation. For this alone we should be thankful such a thing even exists, and for it then to be brought to us in such a fabulous deluxe way as this we can only offer our praise to the designers, producers and manufacturers and say amen!
– Lenny Helsing
---
13th Floor Elevators "Live Evolution Lost" (International Artists / Charly 3 LP box)
Mike Jensen shares his memories of Roky Erickson of the 13th Floor Elevators