Electric Wizard – 'Time To Die' (2014)
"Wake up children, it's Time to Die."
---
A track by track review of Electric Wizard's new album
"I don't give a fuck about anyone, or your society", wails Jus Oborn in the first verse of Incense for the Damned, the opening track of the new Electric Wizard record, Time to Die. If anyone's being sincere about such a statement, it's these guys. They haven't been giving a fuck for over two decades now, and they're not about to start; this flare-bearing, SG-toting, dope-smoking, Lovecraft-worshipping outfit have never compromised their concept for any sort of commercial gain or mainstream acceptability. They've always been outsiders, and proud of it. In an age where rock 'n' roll is all too often watered down by marketing tactics, radio-friendly politically correct messages and a clean image, Electric Wizard are still loudly obsessing on vintage horror flicks, bad trips and murderers. This is, after all, the band that wrote the songs "We Hate You" and "Legalise Drugs and Murder"…. The only hits they're seeking are that of the bong. But their integrity and authenticity is what warrants them respect, and maybe that's why they're now finally achieving a broader level of recognition. They've become an integral part of any stoner-rocker's record collection; on the same shelf that is residence to Master of Reality and a grinder, is a Wizard album. They're a part of that scene, like Kyuss and Black Sabbath before them…. But it's gone further. Electric Wizard are now an iconic cult entity – shrouded in legend and mystique, they're the unashamedly dangerous, sleazy, outrageous ambassadors of the stoner underground, with a saga steeped in feuds, fallouts, bust-ups and injuries, all laced with acid, hazed with weed and drenched in booze. It's a stark and refreshing alternative to the bland, unoriginal, regurgitated product that can pass for good music in some circles these days…. but Electric Wizard are the real deal; a chaotic, aggressive, angry rock 'n' roll band.
Time to Die is the Wizard's eighth album. At just over 65 minutes long, it's their longest album to date, and the first to be released on their own label, Witchfinder Records. As the title would suggest, the theme of the album is death, and this may be the most violent release from the group yet; the entire album is an obsessive, relentless overdose of hatred, resignation and…. death. A recurring subject within the album is that of Ricky Kasso, a.k.a. "The Acid King", an American teen who, in 1984, murdered his friend Gary Lauwers whilst tripping on acid. Samples extracted from a 20/20 documentary on Satanism are used extensively to convey the theme as the album progresses. The misanthropic strength of this album, however, may have a more personal undertone. The past year hasn't been smooth for the Wizard; turbulent line-up changes aside, the band have severed ties with former record label Rise Above. The parting wasn't pretty by any account, and seems to have sparked a bitter feud between both camps as much publicised in recent press articles and interviews, in which the band have spoken of the paranoia and resignation felt during the struggle to make the album. Those emotions are certainly well conveyed on Time to Die, which takes on an even darker twist once one takes into the account the band's recent history. It's an extremely morbid affair, but you know you're in for a tour de négatif when you buy an album by Electric Wizard, that's the whole point.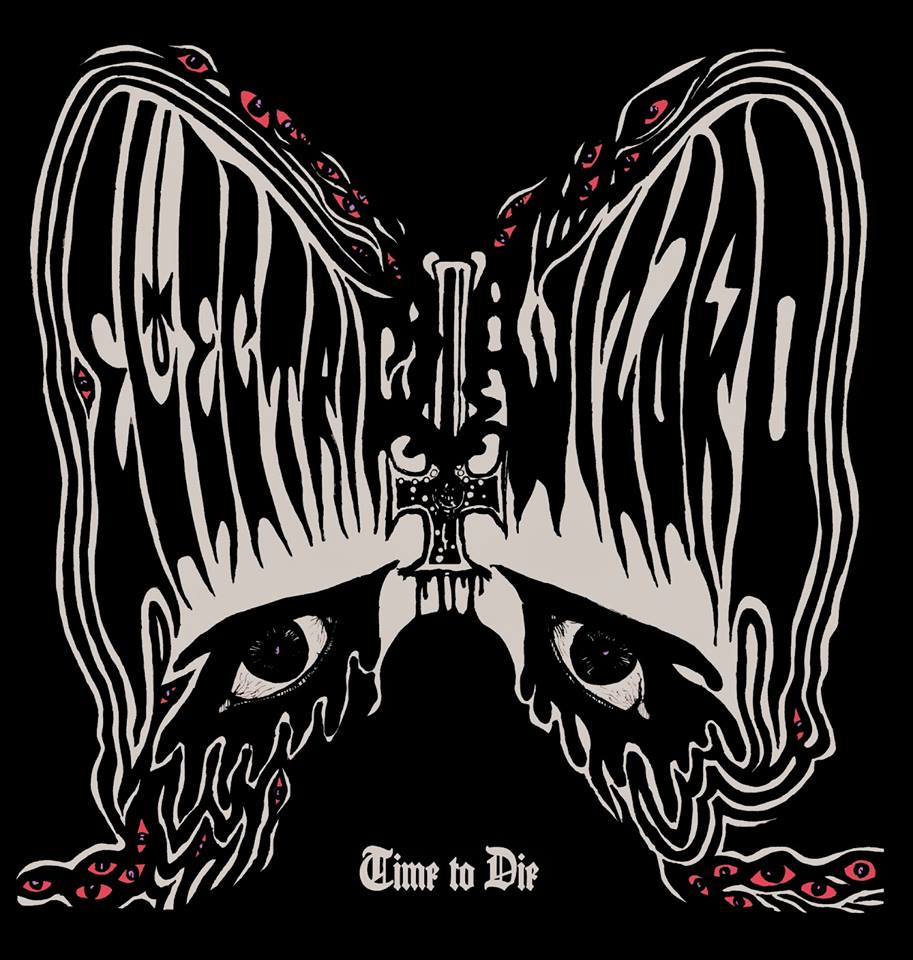 Immediately notable is the lineup; as well as cult leader Jus Oborn ("occult sciences, volume & drug dealer") and accomplice Liz Buckingham ("feedback, riffs and Hand of Doom"), the bass is mysteriously credited to a "Count Orloff", and, the album features for the first time in over a decade, original Wizard drummer Mark Greening ("violence & concussion"). It turns out that this reunion was ill-fated; Greening was out of the fold again by June, several months prior to this album's release, and the split was less than amicable. Nevertheless, Greening's [brief] return sparked a wave of excitement for some of the 'classic era' fans hoping, as per usual, for another Dopethrone, and it's certainly intriguing; whilst Liz Buckingham's membership in the group very much heralded the 'new dawn' of the band in 2003, Greening's membership represents the original lineup, two separate eras which are constantly compared an
d contrasted. The result is something fresh. Greening's busy drum work, alongside the dual axe assault, and the much welcomed growly, lead bass style of the mystery bass player gives this album a flavour of its own (as is the case with every Electric Wizard album thus far). It's a grand melding of the chaos of early Wizard, and the song craft of second era Wizard. Evident is conscious songwriting; structures and catchy hooks, but equally present is the 'raw' element that largely cemented the band's reputation in the 1990's.
The album kicks off with a sample of a trickling stream; a suitable juxtaposition for the following hour. A chaotic drum n' organ jam ensues, with news reports of the aforementioned Kasso case setting the basis of the story in which the theme of the album can be related to. This intro-to-an-intro, so to speak, is followed by a brief, bare bones progression that is definitive doom, until at two and a half minutes in, the track proper begins. Incense for the Damned is a corker from the get go; a highly groovy, nicely heavy riff really gets the album off to a good start, with a simple and catchy chorus to lure you in. With a bruising doom breakdown (featuring Oborn incessantly screaming 'DIE!'), and a mind-penetrating, continual chant of "We wanna get high before we die", the track is a brutal but comparatively uptempo affair.
The album's namesake track is built around a typical Wizard riff. It's a strong track that again exhibits this band's perhaps surprising knack for writing memorable hooks and powerful, simple lyrical lines. There's some fantastic guitar work from Oborn and Buckingham here, full of both melody and suspense, especially during the ascending riff that haunts the chorus. As the track progresses, there's some balls-out psychedelic moments, largely invoked from Oborn maxing out the wah pedal, before the song reverts to the main riff.
I Am Nothing isn't the most memorable track on the album, but is nevertheless a well placed simple-and-solid number. It can feel like it's dragging out at points, as it dwells on a very basic riff, before things get more exciting in the second half, climaxing in a sonic onslaught greatly augmented by Greening's tribal rhythms.
As their 2012 Legalise Drugs and Murder EP proved, Wizard aren't afraid of shocking or offending with their song titles and lyrics. Such is the case with Destroy Those Who Love God. A highly atmospheric dabbling, the track would make a decent psychedelic horror score, featuring a brooding organ melody, and driving, busy percussion. The instrumentation is accompanied by samples sourced from the same 20/20 documentary used throughout the album, and continues the narrative of Ricky Kasso.
At this point, the album takes yet another unexpected turn, this time into the territory of aggressive garage rock. Funeral Of Your Mind is an exceptional track that wouldn't necessarily sound out of place on a Stooges or early Alice Cooper record, with an instantly catchy chorus and psychedelic lead guitar line, but the demonic verse riff firmly stamps the Wizard hallmark on this distinctive song.
Then it's straight back to potential Hammer-horror soundtracks in the form of We Love The Dead. A slow, morbid journey laden with suspense and an eerie vocal delivery from Oborn that becomes more powerful still at about four minutes in, as the weighty horror riff changes under the chorus line into a classic Wizard-style ascending riff.
Depending on whether or not you're familiar with Black Masses, Wizard's previous offering, SadioWitch is either a full-on, all valves blazing, piece of riff gold, or a track of self-plagiarism. It's true, there are certainly comparisons to be made between this song and Black Mass, owing to the similar base riff, and identical intro, but whether they should be accused of 'recycling riffs' or not is a different matter. It definitely stands as a good bridge between this album and the last, almost as a symbol of musical continuation, but the vocal content and structure is entirely different. Either way, it is a perfect example of 21st century Electric Wizard, and offers more riff meat than it's sister from the previous album. The lyrical content focuses on being enslaved by a dominant, evil woman. This fascination with sleaze is a crucial part of the Wizard concept, and recurs throughout the band's discography, as exhibited on previous tracks like Priestess of Mars and Venus In Furs.
The penultimate Lucifer's Slaves is firmly in Sabbath territory, where the foundations of this band's signature sound lies. Based around a grooved out Iommi-riff, this number boasts a catchy feel that's sure to lodge in the mind of the listener upon first play, with further instrumental venturing into atmospheric psychedelia, before melting into a chasm of sheer blood-curdling doom, finally resolving to the core riff. It's an unnerving song of resignation, and the Wizard's powerful misanthropic approach is lyrically at its strongest here, because "Losers got nothing to lose/We are sick of your abuse/The Chosen Few and The Living Dead/ We're all Lucifer's Slaves in the end."
The comedown of Saturn Dethroned is an unexpected but glorious sonic collision of stylistic chaotic drumming accompanied by an eerie melody from yet another appearance of the Hammer-style Hammond, both of which are dominated by overdriven but melodic bass work (possibly the best bass playing of any Wizard album), greatly reminiscent of the loose, busy and lead style of Lemmy during his Hawkwind tenure. It bears more similarity to Floyd on a bad trip than anything in the doom field. It's a great conclusion, and as crows caw and the music fades away, the trickling stream that greeted us as we came up fades back in to draw the album to a close, before a final sample, which continues the quote that appears on the band's third album. Dopethrone fanatics will know that "when you get into one of the these groups, there's only a couple of ways you can get out. One is death, the other is… mental institutions," but it transpires, there is a third…. "you can't get out". It's over.
This album is classic Electric Wizard. It's hatred, aggression and depression wreathed in dopesmoke and doom-laden riffage, but it's covering fresh ground, and it's addictive. It's a melding of the weight and grime of Dopethrone, with the song craft of Black Masses, but with added psychedelic edge, added groove and added anger. It should satisfy the die-hards who are nostalgic for the group's early output, and will strike again for the fans of their post millennia material, but, perhaps more importantly, this album may well serve purpose as a gateway drug for the non-converted. This is beyond the limitations of any genre…. It's a genuine, great rock 'n' roll record.
– Haz Wheaton
Electric Wizard – 'Time To Die' (Spinefarm Records, 2014)
Electric Wizard announces new album; an exclusive interview with Justin Oborn