Sleepy John | Interview with Tom Williams
Sleepy John formed in Lewiston, Idaho back in the late '60s and recorded some really great material, which never officially came out until Rich Haupt of Rockadelic Records and later Roger Maglio of Gear Fab Records released their album.
---
Sleepy John is best described as heavy blues rock with Hammond organ. Their name reflects legendary blues figure Sleepy John Estes. The material was apparently recorded in one of the band member's basement, which adds a nice underground sloppy raw feel to their music. Thanks to Roger Maglio we came in contact with the original member, which will tell us the whole story of this long forgotten and newly discovered band, which was recently also featured on Guerssen Records from Spain. Formed in Lewiston, Idaho, the original band line-up came together in 1969 and featured the talents of lead singer/keyboardist David Lee, lead guitarist Frank Trowbridge, bassist Jim Bartlett, and drummer Tom Williams, who we are in contact with.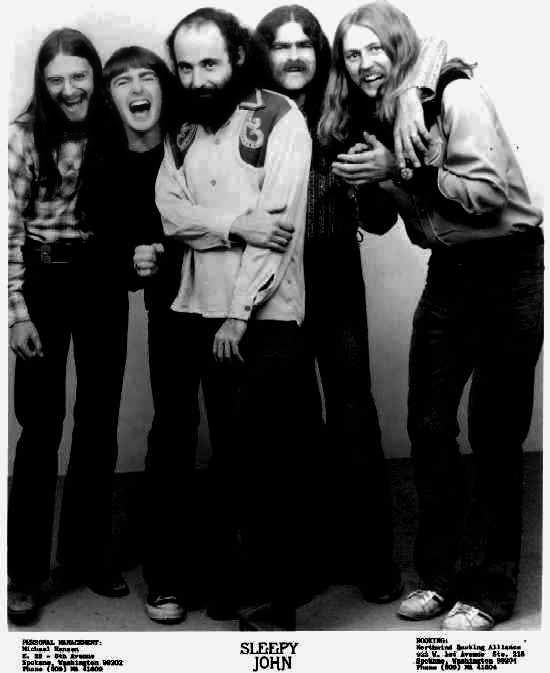 To begin with, when and where were you born and was music a big part of life in the Williams household?
I was born in Lewiston, Idaho in 1948 and I have two older sisters. I am the only musician in the family.
Were there any major events that turned your life around and you began learning an instrument?
My father was a railroad man but started a roller skating business during the Great Depression to have something to fall back on in case he lost his railroad job. Eventually the family built a roller rink which hosted all kinds of events from skating to car shows, professional wrestling, and rock and roll concerts. A few of the groups that played there in the '50s were: The Four Nights, Little Richard's band (without Little Richard) and Gene Vincent. So these musicians along with all the "Top 40" songs of the 1950s that were used for skating music are probably what really hooked me. By then I was already drumming on anything I could make into a drum.
At what age did each of you begin playing music and what were the first instruments that you played?
I first began drumming when I got a toy drum for Christmas around 1950. Next I began playing drums in the school band in fourth grade. I continued with band, orchestra and symphony orchestra through my junior year in high school. Dave and Frank each began at very early ages as well. Dave's father owned a piano and organ store and Frank's folks were popular Country musicians in Southern Idaho. His mother who played pedal steel was a huge influence on Frank. His folks also had a radio show they did with Boxcar Willie.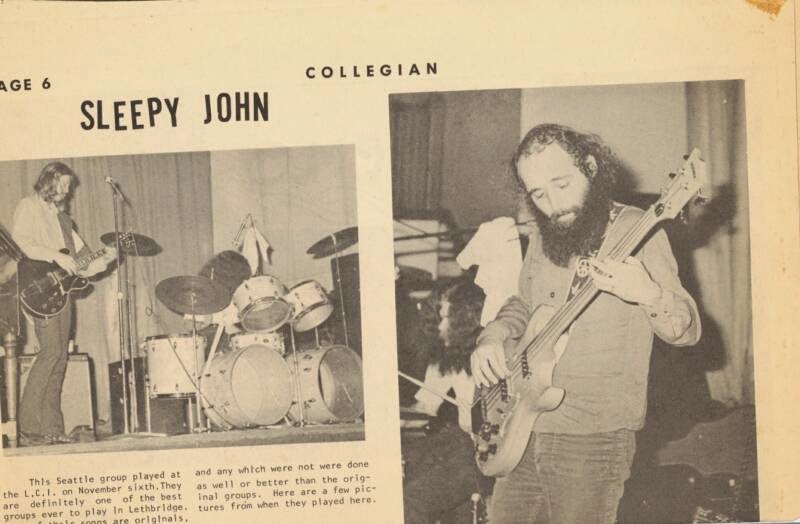 How old were you when you joined your first bands? What were the names of the bands and what role did you play in them?
I think I was fourteen. Dave and I formed our first band in the summer of '63. We called it the Lounj Men. It consisted of guitar, bass, organ sax and drums. We wore gold blazer jackets with Beatle Boots and played mostly instrumental songs by groups like The Ventures. Dave's family moved to Boise the following summer where he met Frank. The rest of the Lounj Men stayed together and added an additional guitar. We changed our name to The London Company, built a p a system so we could do vocals and started playing mostly British pop. One day our bass player comes to rehearsal with a brand new Rolling Stones album. This changed us for life. Being Idaho boys this was our first real introduction to the blues. We then continued to do covers but modeled our band after The Stones, Yardbirds, Them and threw in a little Frank Zappa just for kicks. The London Company continued until the end of the school year, 1967. Meanwhile Dave and Frank followed a very similar route in Boise with two very talented bands, The Wondering Kind and Destiny. Later that summer in Lewiston I joined The Village Music Wagon which was a kind of a top 40 band with a San Francisco rock influence. This is where I met bass player Jim Bartlett. The VMW band broke up in 1968.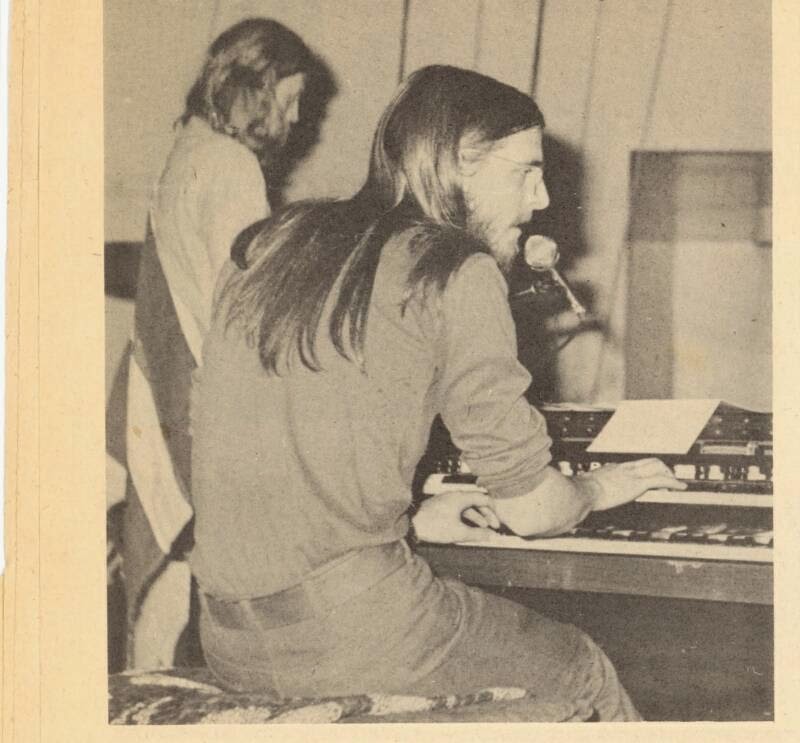 Did any of those bands release a single or recorded any material?
Free did a studio recording of three or four originals but nothing ever came of it. The Sleepy John recordings were never intended for release. They were only used to promote the band.
What would you say influenced you?
My early drum influences were guys like Buddy Rich, Gene Krupa and Sandy Nelson. This was when I only had a snare drum. I improvised a lot. Early '60s NorthWestrock bands introduced very hard driving drums which really distinguished the NW from other regions of the country. In the later '60s it was probably Charlie Watts, Mitch Mitchell and Keith Moon.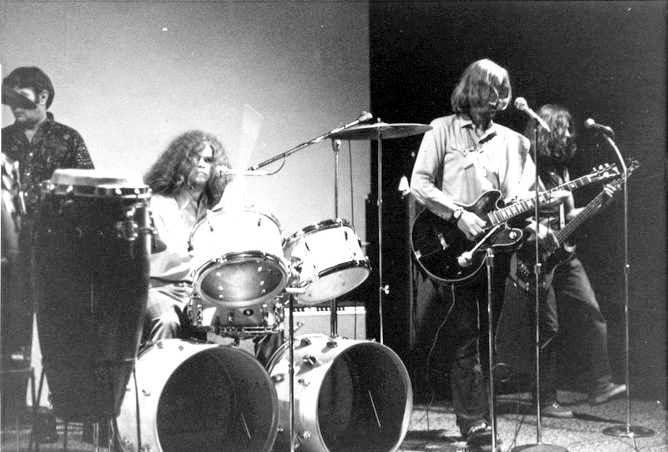 What's the story behind the formation of Sleepy John? How did you guys come together? Did you know each other from before, were you classmates in school maybe?
After Village Music Wagon broke up Jim and I found guitarist Clark Osterson, whose heavy Clapton and Page influence took us into our Hendrix and Cream three piece excursion and we began writing originals. We first called the band Free and then changed it to Valhalla. We moved the band to Seattle in the summer of '69 where we ran into Dave and Frank staying at the same boarding house we were staying at. Dave got a gig with a band called Silver Bike and Frank was not playing but had a job in a tire shop. While we were in Seattle Clark decided that he would leave Valhalla as soon as we returned to Lewiston. Jim and I asked Frank if he would join us and so in December he moved to Lewiston and surprise, Dave came with him and Sleepy John was formed.
How did the practice session look for members of Sleepy John?
We had a rehearsal building near the Snake River with no houses around so we did not have to restrain ourselves at all.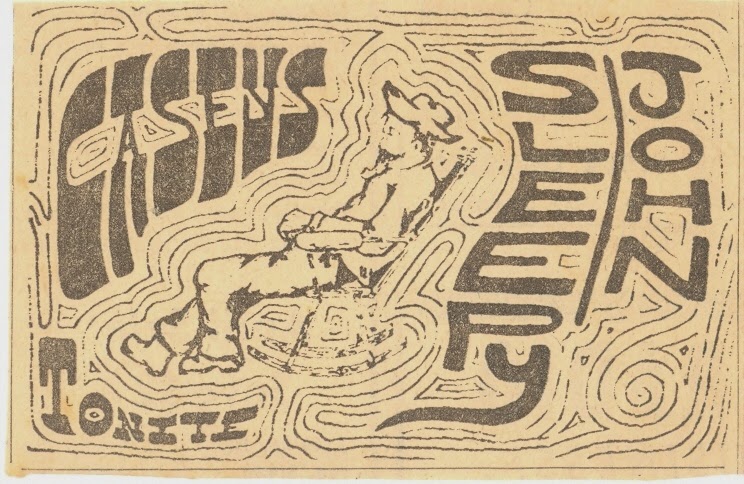 Were you part of the local scene back then? Were there any good bands you would like to mention?
Yes, Sleepy John was definitely a part of the local Lewiston, Idaho scene before relocating 100 mile north to Spokane, Washington. Lewiston had a very strong music scene for a small town. There were many fine area bands. Another notable group of the day to come from Lewiston was Stone Garden, who has also had releases on Gear Fab and Rockadelic Records. Founding member of Stone Garden, Paul Speer, was also our audio engineer on both Sleepy John recording sessions.
Who were some of the artists you shared the stage with? What are some gigs that stand out?
Some of the groups my bands have opened for are The Zombies, Moby Grape, Bad Finger and most notably, Frank Zappa and the Mothers of Invention. The Zappa concert was probably the most notable of all. It was at the Spokane Coliseum and I got to spend some time alone with Frank Zappa in the dressing room right before the show. By the way, The Mothers rehearsal was amazing!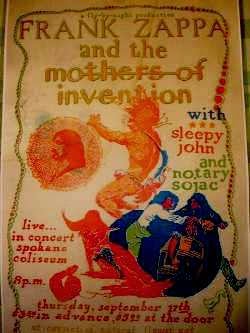 What can you tell us about material you recorded? Where did you record it, what gear and instruments did you use?
There are two sessions of originals; the first one was in the spring of 1970, recorded in the basement of Jim Bartlett's parent's house in Lewiston. The second session was recorded at our Sleepy John house in Spokane in the summer of 1970. As I had mentioned, Paul Speer recorded both sessions for us using a two track reel to reel tape recorder. On both sessions it was all live with the drums either behind hanging blankets or in a separate room with the door closed and one recording microphone in the middle of the room. The only effect used on the recording equipment was a homemade reverb unit, basically a long spring in a box. Instruments used were, 1969 Gibson ES 150 guitar with (we think) a Fender Super Reverb amp, Hammond M-1 organ with a Leslie speaker, Gibson EBbass guitar with an Ampeg amp, Slingerland drums with double 20" bass drums, a set of congas and a cow bell.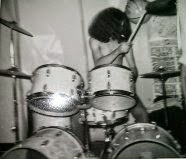 What did the songwriting process look like? Was this something spontaneous coming out of jams or a planned process?
Jim and I, as well as Dave and Frank, came to Sleepy John with a fair amount of original material. The first days were basically high energy jams where we just got real familiar with each other and a distinct sound began to develop. Once we had the introductions out of the way we began writing and arranging. We hit it very hard until we had enough material to start playing gigs. Most of our songs began with an idea, maybe a riff or some lyrics one of us would bring to rehearsal then we would jam on it to develop feel and dynamics, then we would put together a rough arrangement and go out and play it and let it mature.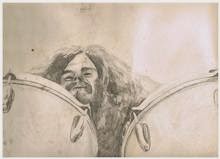 In what time span did you record material featured and now reissued on Guerssen Records. Rockadelic only included 8 tracks, but you recorded a lot more, which can be found now on this new reissue.
On the Guerssen release, River, Al Capa Strong, Searching for the World, Seasons, You Say and Dragons were recorded in Lewiston in the spring of 1970 with Jim Bartlett on bass and sharing vocal duties. Nothing, and Trying to Fly were recorded in Spokane that summer with John (Bosco) Jackson on bass. There is a cd that was released in 2004 on the Gear Fab label which I believe has all the songs on it from both sessions.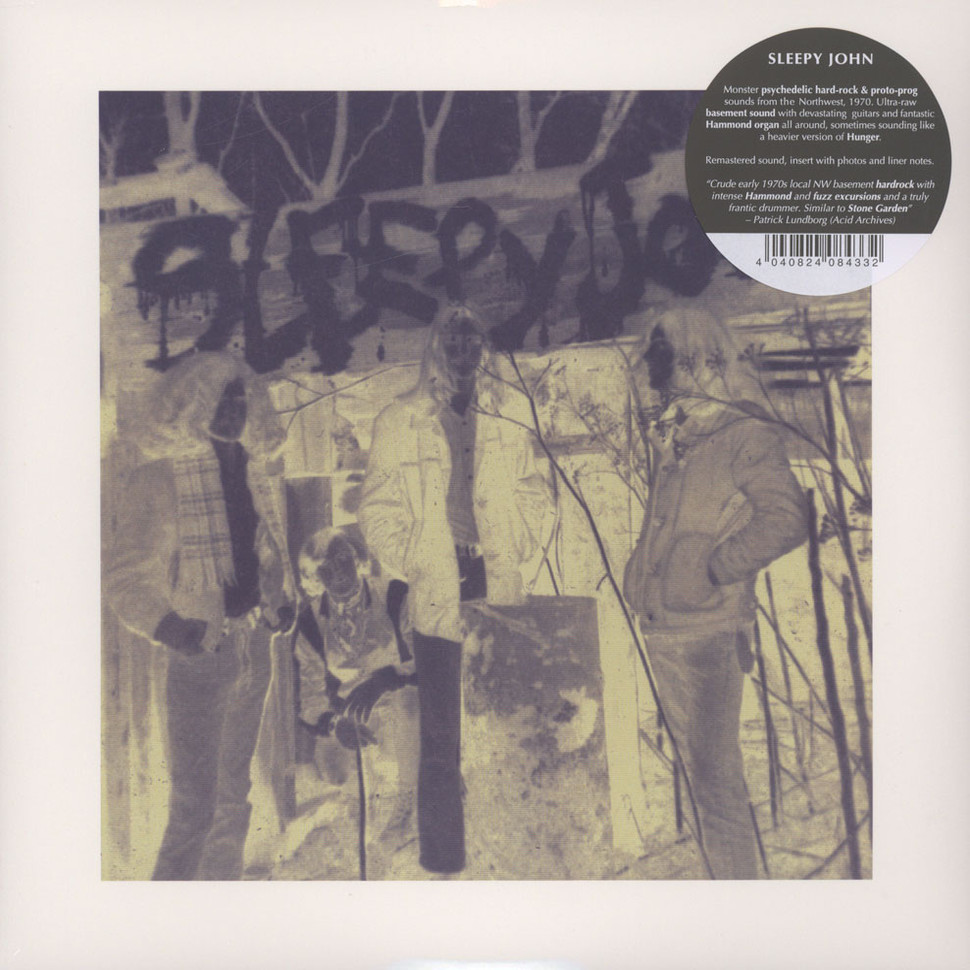 Where were the recordings archived for so many years and how did Rich Haupt of Rockadelic Records approach you?
I think a few of us had copies on cassettes that we had all stuck away in boxes and forgotten about. There were a few floating around and I guess one just happened to get into the right hands and eventually to Rockadelic Records. If I remember right, a rock historian and fan in Seattle named John Berg is the one who introduced Rich to Sleepy John and was instrumental in pushing that project forward.
This may be a bit of a difficult task, but can you please comment on each song?
I'll take a stab at it. When the other guys read this part of the interview I hope they'll forgive any mistakes I have made. We all remember things a little differently so here it goes.
'River'
'River' was written by Dave and arranged by the band. It was always well received and we kind of used it as a hook at the start of our live sets to engage the audiences which allowed us to throw in some of our more off the wall songs. Lewiston session.
'A Capa Strong'
This was a jam tune Jim and I played in a 3 piece Valhalla band. It was inspired by a group called The Collectors, from Vancouver, BC. It really evolved with Sleepy John. The lyrics are fantasy or dream-like and were written and sung by Jim Bartlett. Lewiston session.
'Nothing'
Written by Dave, Nothing was a song about nothing, a pretty song with nice dynamics. Spokane session.
'Dragons'
Another fantasy song about Knights in armor slaying dragons, written and sung by Dave. I always thought it would make a good soundtrack for a short, kids animation. Lewiston session.
'Prelude to a Dream'
'Prelude to a Dream' was a group effort again, a jam with a nice jazzy feel. It was another tune we liked to throw in as a bit of a break for the audience as well as us. Lewiston session.
S'easons'
This song, or I should probably say "work", written by Dave and group arranged, was like a "Rock Symphony" telling a story (I'm not sure what the story is) with many movements each different in rhythm and mood but always coming back to a common theme. It ends with a huge crescendo. This was probably our longest arrangement at nine minutes and thirty seconds long. Lewiston session.
'Losing My Plow'
This was written by Frank in Seattle as he sat in his apartment playing to the rhythm of his Frigidaire refrigerator. It is reminiscent of the radio show his folks hosted in Southern Idaho in the '60s. The barnyard noises in the intro and the applause was all just us making noise in the microphones. We put it in our set following one of our 'heavier' tunes and if people weren't paying attention before, they were now. Lewiston session.
'Hard Workin' Woman'
Dave and Frank co-wrote this one. It was our attempt at a more commercial song. It had a nice driving feel to it, not too long and the lyrics were easy to relate to and understand, a good dance tune. Spokane session.
'I Just Happen to Be (In Love With You)'
I think Jim and Dave and Frank wrote this one, again something different. Lewiston session.
'Monday Blues'
We thought we needed a 'slow blues' song. Dave wrote some lyrics and we just jammed it out, simple. Lewiston session.
'You Say'
Written by Dave and group arranged, 'You Say' was a study in redundancy. We'd take a catchy riff or two and see how many times we could repeat it and not lose count. This is a cool, driving song with some nice changes and a really good set or show ender. Lewiston session.
Trying to Fly
This was one of my favorites from the Spokane days, although this recording doesn't do it justice. This was written by Dave and Frank and started to point us in a bit of a new direction. Spokane session.
Blue Sky
Another nice jazzy tune, lyrics by Dave and the group arranged. Spokane session.
'Cowboy'
Idaho was a mecca for hard core Country and Western music in the 60s. 'Cowboy' was our spoof on Country Music, with lyrics like "catchin' all the long-hairs and run 'em out of town". This was always a crowd pleaser. Lewiston session.
'Searching For the World'
'Searching for the World' was another jam song that eventually had an arrangement to it. This song really moves! It is very driving, with some really nice solos, breaks and riffs. Very representative of early Sleepy John. Lewiston session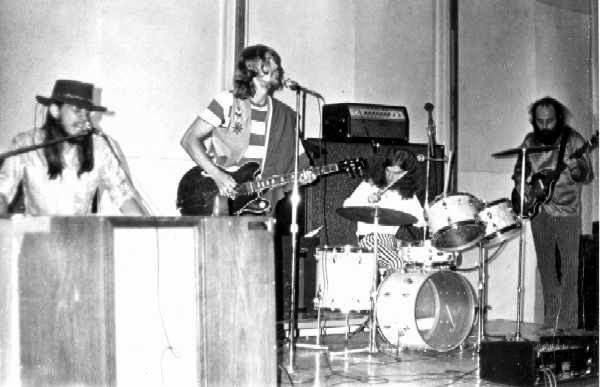 What's your opinion about the counterculture of the '60s, '70s?
Looking back today is different from looking back 20 or 30 years ago. Today, with so much chronicled and so many books and documentaries about the culture of the '60s and early '70s it is hard for anyone to say this was not a very important time in our global evolution. I am proud to have been a small part of the music scene and to have a vinyl record that is finding not only new legs as a historical document, but new fans who appreciate the music.
Were you influenced in any way you can remember by hallucinogens?
Speaking only for myself, no, I don't remember.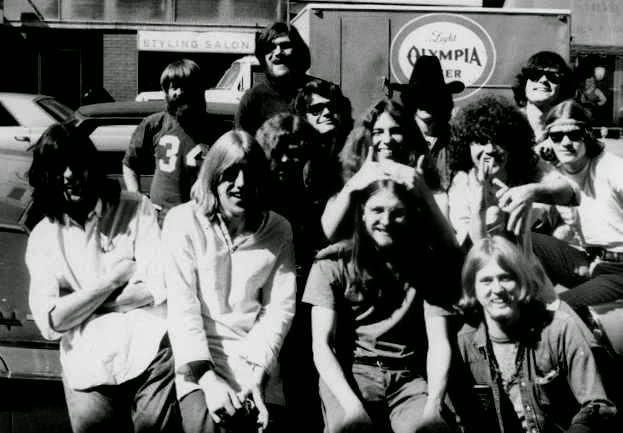 What happened after the band disbanded? This was around 1972, right?
Yes, that's right. I actually left the band in '71 and moved home to Lewiston where I went back to college, managed my folks business and got married. The band continued on with a new drummer and remained a popular band throughout the region for the next year. Frank put together a group called "Blind Willie" with a couple other Southern Idaho friends and pretty much carried on where "Sleepy John" left off only as more of a strong original band with a country rock feel, eventually with three guitars and powerful song writing and four part vocals.
Dave came back to college in Lewiston. Shortly after that Dave and I were called to Seattle to join a 1950's show band, The Unholy Rollers. That band was a very successful show band featuring fast paced music and comedy with strong musicianship, vocals, choreography. We toured the US and Canada constantly for five or six years. Frank eventually joined and our Sleepy John recording engineer, Paul Speer, even did a few tours with us.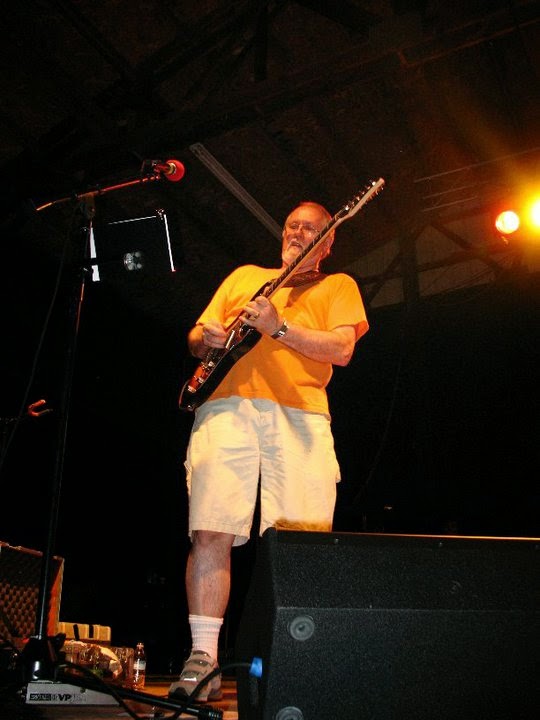 Are you still in contact with other members and what currently occupies your life?
Yes. We stay in contact and see each other at least once a year.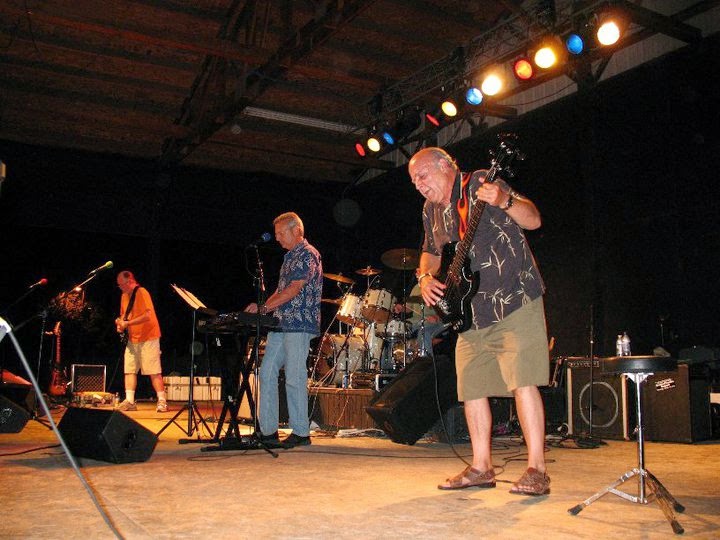 In 2010 we put together a Lewiston, Sleepy John reunion concert and included all the bands we could that played in Lewiston during the 1960s. It was two days of amazing fun, playing and visiting with old friends we had not seen in many, many years.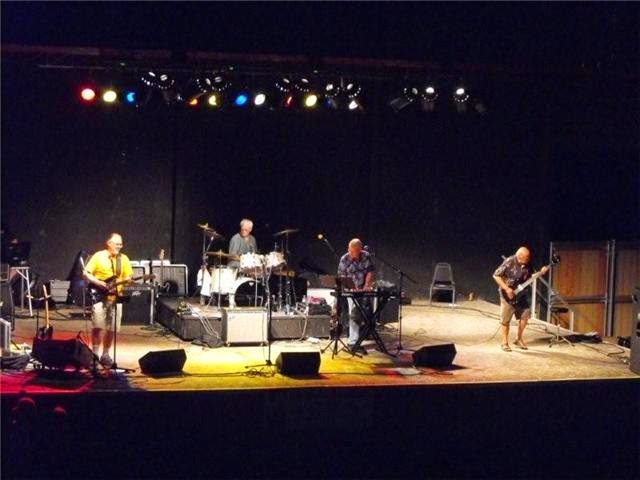 I have been married to a super woman now for 34 years and we have one wonderful daughter and live on a small farm outside of Seattle. I retired a few years ago and have begun playing drums again after nearly thirty years in a number of local groups. I stay quite busy!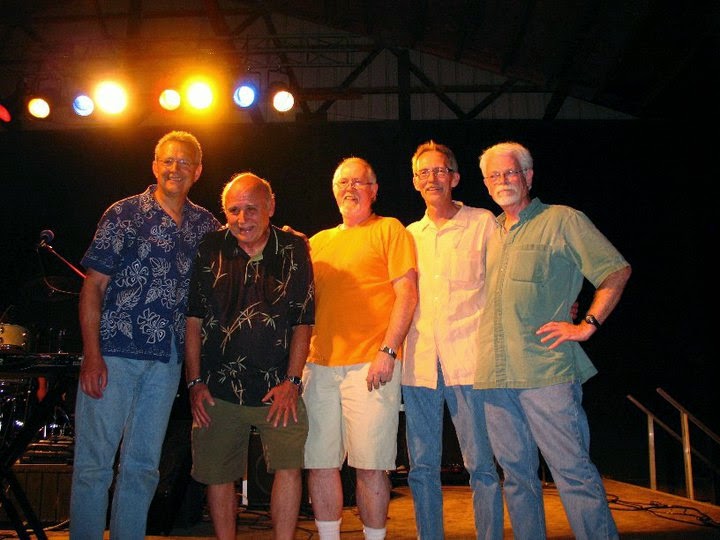 Thank you for taking your time. Would you like to share anything else with It's Psychedelic Baby! Magazine readers?
Klemen, I would like to thank you for your interest in Sleepy John and wanting to share our story with your readers. We are honored. This was a magical time that still lives on for us thanks in large to Rich Haupt, Roger Maglio, Guerssen Records and to you and many other folks around the world. I am amazed!
Also, just to let everyone know, Jim, Bosco, Frank, Dave and I are all still involved in music in some way and doing very well.
Klemen Breznikar