Kaleidoscope interview with Francisco Tirado
Kaleidoscope recorded their sole self-titled album in 1967 at Fabiola Studios in the Dominican Republic, which wasn't released until two years later by the Mexican label Orfeón.
---
Where and when did you grow up? Who were your major influences?
Francisco Tirado: My father was a diplomat and, me and my two brothers and one sister, were born in different parts of the world. I was born in Washington DC, however, my childhood was spent between Latin America (my mother was Colombian) and New York where my father's office was located. When I became a teenager my father changed careers and moved to Puerto Rico to direct a Sunday magazine for a local newspaper. The teenage "Mod" scene of the early sixties in San Juan was great! There were many "go-go discotheques" and surfing music. I began playing guitar after my father introduced me to new musical group from which he had received a news kit: The Beatles.
"My father introduced me to new musical group from which he had received a news kit: The Beatles."
Were you in any bands before forming Kaleidoscope?
Yes, my brother Pol and I started a surfing music band called "The Islanders" when we were still in high school. Soon after that Pol left this band to join the most popular band in the San Juan area which was called "The Challengers". I joined a blues band called "The Sun Stones" which played in the underground bars for sailors and beatniks.
Can you elaborate the formation of Kaleidoscope?
In the summer of 1967 I was playing bass at a new psychedelic discotheque in Old San Juan, when a group of rock musicians visiting from the Dominican Republic told me about the emerging rock scene in their neighboring country. Intrigued by the conversation I got together with guitarist Orly Vázquez and a drummer, and set out to play a two-week engagement at the "Aries" club in Santo Domingo. Orly and I loved the scene and decided to join respective Dominican bands: I joined Los X-6 and Orly joined The Masters. Soon after I joined, the X-6 band changed its name to Kaleidoscope because, by that time, we had painted our instruments in vivid psychedelic colors and designs.
"Our first sessions were filled with psychedelic magic!"
How do you remember some of the early sessions?
Our first sessions were filled with psychedelic magic! We decided to live together and we all moved to this big house in the outskirts of Santo Domingo where we could practice all day and spend our free evenings in profound pseudo-philosophical conversations with many friends and local "freaks".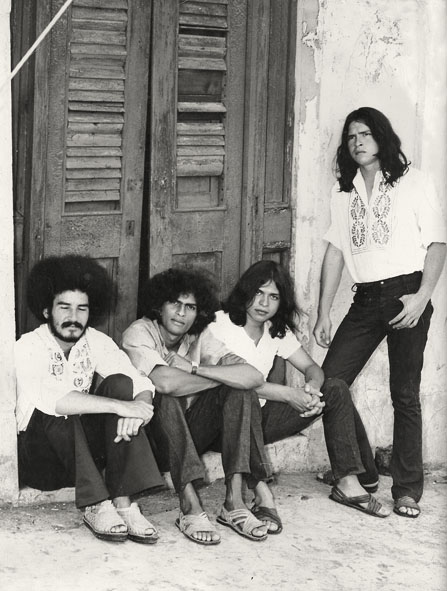 Did you release any singles?
Yes, we released a single (45 RPM) in 1968 for the Dominican Republic market with "Colours" on side A and "I'm Crazy" on side B.
What are some of your strongest memories from recording your album?
Early in 1968, Kaleidoscope won first place in the "modern music" category of a Dominican Music festival. This led to the opportunity to record an album at Fabiola, the largest recording company in the country. Because their producers had absolutely no idea of what psychedelic music was, we got total control of the content with no "adult" supervision. Heavily influenced by the music of Iron Butterfly, Frank Zappa and Jimi Hendrix, our unpolished tracks became full of raw teen-aged garage psychedelia, and we loved it!
The hard, steady, drum beats by Rafi Cruz, along with Pedrín García's fuzz-toned guitar and the punchy Hammond Organ by Julio Arturo Fernández, mixed perfectly well with the bass lines and vocals from Orly and I. (By that time Orly had left The Masters to join Kaleidoscope). Present at the recording were Adib Casta of the Venezuelan band Ladies WC and Peruvian singer Edgar Zamudio. Edgar was very impressed with the songs and took the master to his contacts at Orfeón in Mexico.
What kind of equipment did you use?
During the recording I used a Hofner "Beatle" Bass with two Fender Bassman amps. Orly and Pedrín had Les Pauls and Stratocasters with Fender Twin Reverb amps. Julio Arturo had a gigantic Hammond B3 with two Leslies. Rafi Cruz used a Ludwig set with an oversized bass drum painted with a kaleidoscopic image and a small Buddha.
Would you like to share a few words about the cover artwork?
The cover artwork was commissioned to Bodo Molitor by our producer in Mexico and we were all delighted with the design. Bodo was a German artist, musician and songwriter working for Orfeón at the time.
How did you got in contact with the label?
Peruvian singer Edgar Zamudio was very impressed with the songs and took the master to his contacts at Orfeón in Mexico. He later became our manager in Mexico.
After recording the album, we became divided over the concept of moving from the Dominican Republic to open new possibilities, and this led to Pedrín and Julio leaving the band. Rafi, Orly and I travelled to Puerto Rico and the Virgin Islands to play at tourist spots and discotheques. During an engagement in Saint Thomas we had a disagreement and Orly left the group. That is why Rafi and I were particularly shocked when we got a telegram from Mexico the next day. It was from Edgar telling us that Orfeón had signed us, and that he had arranged a tour of Mexico to promote the album.
In order to quickly fill the open positions, we recruited Héctor Gutierrez from The Masters to play lead guitar, and my brother Pol Tirado who was still the singer of the popular Puerto Rican band The Challengers. We then spent two frantic weeks in Miami getting new equipment and practicing. Our opening night at the Salvation in Mexico City was a big success.
How many copies do you think Orfeón released?
They released about 600. Just enough for the Press and the DJs, however, because we were a different band now, we sounded different and had different interests in music, I believe that Orfeón became reluctant to release that particular album and wanted to wait for the next set of recordings.
Would you share your insight on the albums' tracks?
"Hang Out"
Written by Orly. It was an anti-establishment "in-your-face" protest song.
"P.S. Come Back"
I wrote this one about an experience similar to "Norwegian Wood". A very independent girl the once had me.
"A Hole in My Life"
Written by Orly. It was a take on "Fixing a Hole" by the Beatles.
"Let Me Try"
I wrote this one as a desperate teenage cry to the world. A kind of Primal Scream.
"I Think It's All Right"
This is a "morning after" optimistic song that I wrote for the band.
"Colours"
This was based on a trip of discovery to the wonderlands I once took. It has become the most popular of the album.
"Once Upon a Time There Was a World"
I wrote this song to a lost love.
"A New Man"
This song is about my view of the rebirth of humanity as a new positive, caring, tribe full of love.
"I'm Crazy"
Written by Orly. It describes his state of mind.
"I'm Here, He's Gone, She's Crying"
The only song written by a non-member. It was written by Adib Casta of Ladies WC who was our friend and was present during the recording.
How popular were you after the LP was released?
"Colours" became popular in the Mexican radio and we performed it on television, however, fans could not buy the record, since it was not officially released, and it did not pan out. We toured many Mexican cities with other Orfeón bands.
Would you like to share some crazy stories?
The Mexican rock scene was enervating and we were immediately captivated by the audiences, the musicians, the culture and the groupies. A fantastic Mexican keyboards player, Jorge González, joined us shortly after to support our extremely busy schedule at the Salvation, El Quid of la Zona Rosa, and the Orfeón television show. We met and became friends of many fellow musicians and entertainers in Mexico, including Los Shakes, Javier Bátiz, La Revolución de Emiliano Zapata, Los Soul Masters and even Angelica Maria and "Loco" Valdez. The after-hours parties were really crazy. At one point our management decided that we had to disappear from the scene for a few weeks and we went to a countryside ranch for a while. However, with the new lineup and our experiences in Mexico we turned into a solid, more mature, band. That is why we are proud to have become known as the Kaleidoscope of Mexico.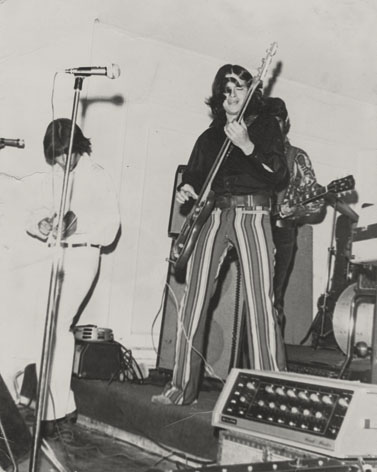 What happened next?
We decided to part ways with Orfeón and do a cross-country of the United States, so we loaded our stuff on a van with a couple of roadies and left our comfortable house in Cuernavaca to take the Mexico 15 road north. Jorge decided to stay working for Orfeón in Mexico. The group disbanded in New York.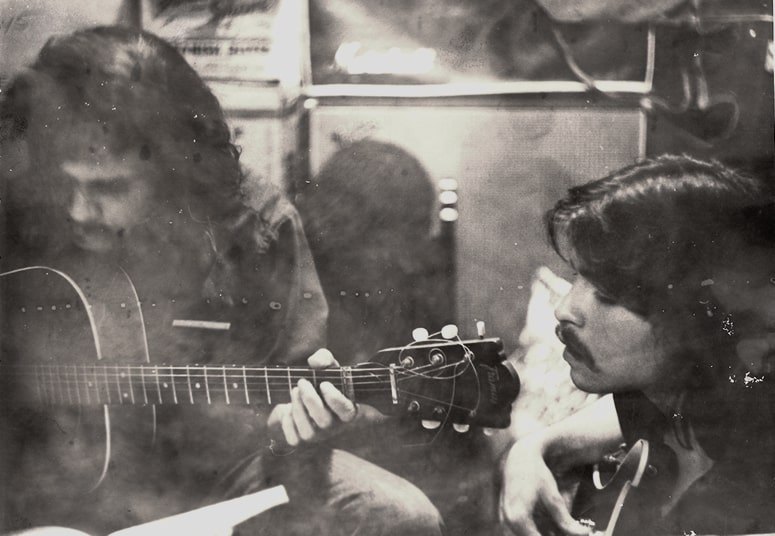 What currently occupies your life?
Rafi Cruz is now an Emmy-winner jazz musician in New York. Me and my brother Pol are computer consultants. Hector is a professor, and Orly is a publisher in California.
Thank you for taking your time. Last word is yours.
Thank you for helping me recall these 40-year-old memories of a pretty typical psychedelic experience of the sixties. Love and Peace!
– Klemen Breznikar