Earthless interview with Isaiah Mitchell
Earthless is an instrumental psychedelic rock band from San Diego, California consisting of guitarist Isaiah Mitchell, bassist Mike Eginton, and drummer Mario Rubalcaba. The band formed in 2002 and several albums followed.
---
When and how did you all originally meet?
Thanks Klemen! Earthless started in 2002 I think. I was living up in the San Francisco bay area and I'd come back to my home town of San Diego to visit my folks for the holidays. Mike and Mario had been hanging out and Mike asked if I'd like to get together with him and Mario to jam. I was way down because Mario was one of my all time favorite drummers (still is). Mike and I had played in a band before I moved to S.F. so we already had a history. We just jammed for a few hours and we really enjoyed ourselves. The rest is KISStory.
Mario Rubalcaba was already in few bands before forming Earthless: Rocket From the Crypt, Hot Snakes, Clikatat Ikatowi, Black Heart Procession. How about Mike Eginton and you?
Mike played guitar in a local San Diego band called Boilermaker for a bit, just touring I think. They were an important part of my growing up (as well as many other's) in San Diego. He played in a band called Electric Nazerrene with drummer, Tim Semple of Boilermaker. Mike and Tim got in touch with me at the guitar shop I worked at, Moonlight Music (Scott Bartaloni from Clikatat Ikatowi/Heroin worked there as well, so I'd see Mario there from time to time), and we started a band called Lions of Judah. It was a power trio like Cream and Hendrix with Mike and myself singing. I've got to get some live footage on youtube because I think it's great! I played with Drunk Horse from Oakland. One of my all time favorite bands!!! Also I played bass for Nebula during the release of Atomic Ritual. Recently I played with the stoner rock super group The Freeks. I also played guitar for the blues singer Candye Kane.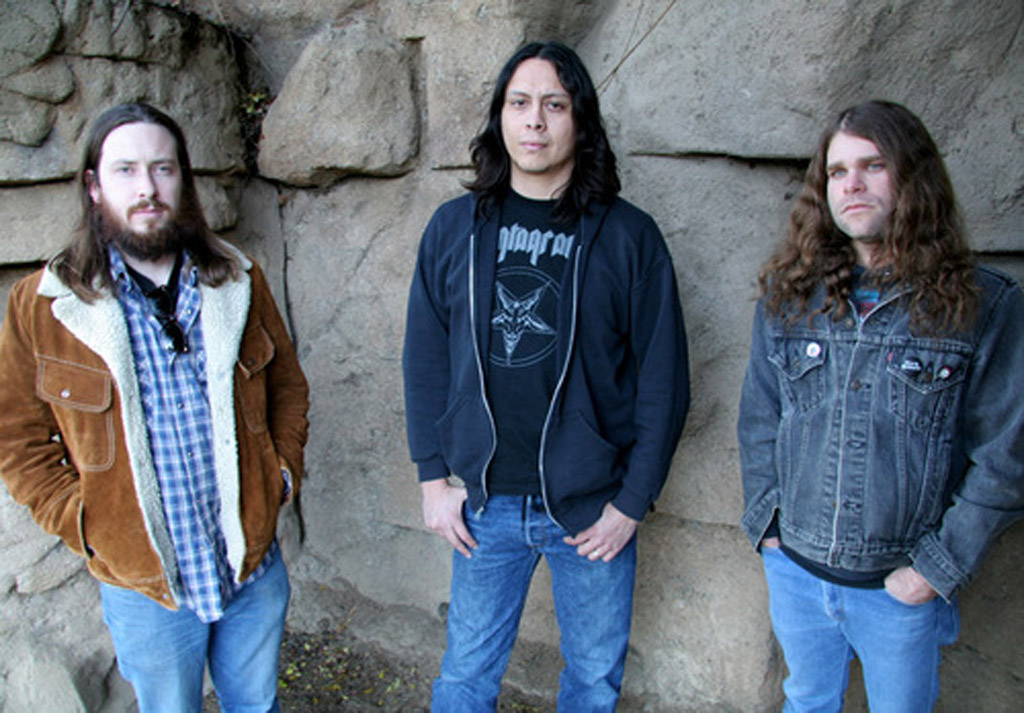 What does the name "Earthless" refer to in the context of the band name?
I think Mike came up with the name. "Earthless" is a song title from a band called Druids of Stonehenge. The name sounded cool and it seemed to make sense for what we were doing.
Who are some of your personal favorite bands? It must be heavy-psych from the 1960s and '70s. Bands like Flower Travellin' Band…
In all honesty I didn't know anything about the 60's and 70's psych music minus Hendrix and Sabbath etc. Mike and Mario turned me onto Flower Travellin' Band, Blues Creation, Pärson Sound, Amon Düül II… and all those crazy Japanese and krautrock bands that are so over the top! I'm forever grateful for them turning me on to these bands. I had been listening to the Allman Brothers, Ry Cooder, tons of old blues legends, Frank Zappa… My dad got me into Blue Cheer, The Groundhogs, Terry Reid…
What's the story behind your debut release – Sonic Prayer?
Sonic Prayer was recorded by Matt Anderson (Gravity Records owner) in a print shopped he worked at. We recorded live onto an 8 track reel to reel. "Flower Travelin' Man" was a jam we came up with on the spot to check the recording levels. It turned out good so we kept it. "Lost In The Cold Sun" was put together before we went in to record. We mixed and added minimal overdubs at Gar Wood's (Hot Snakes) studio.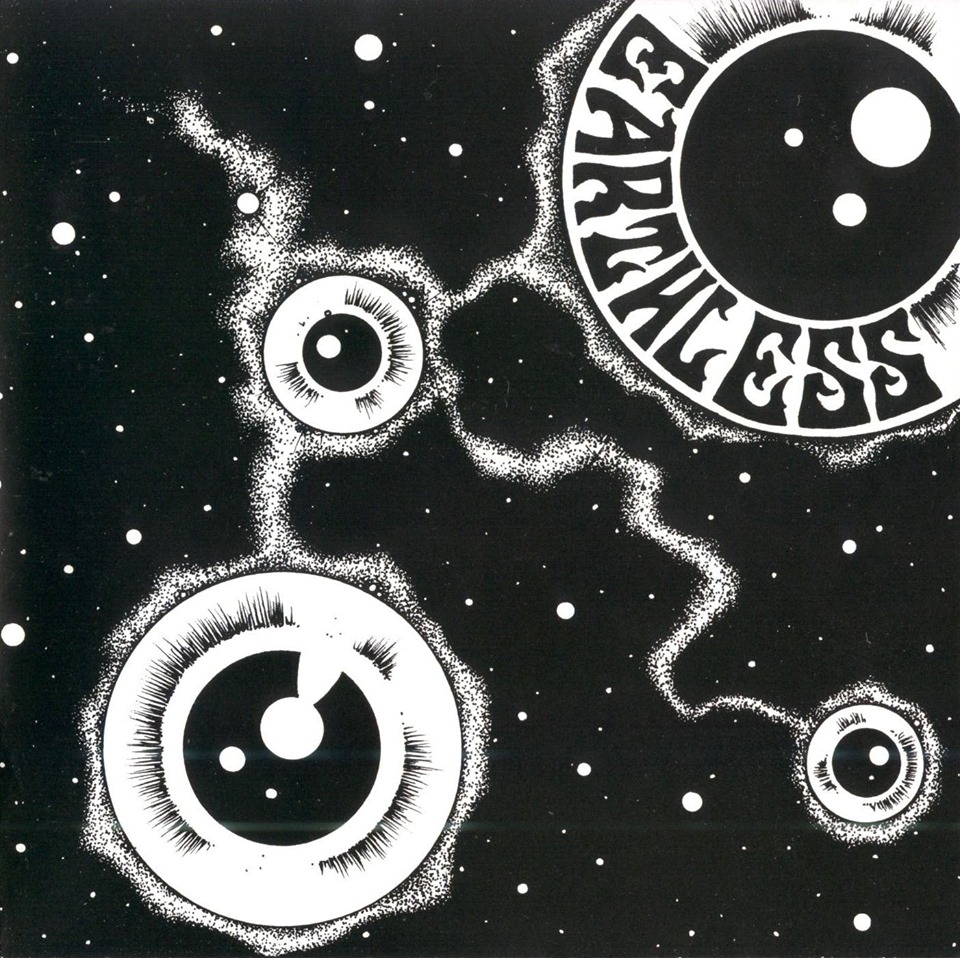 What about Sonic Prayer Jam EP?
Sonic Prayer Jam EP was recorded live at our favorite San Diego club, The Casbah. The playing and the vibe of that show was amazing! Don't want to sound cocky but we were great that night! Very happy it was recorded and we were able to put it on wax. I think it's my favorite thing we've put out.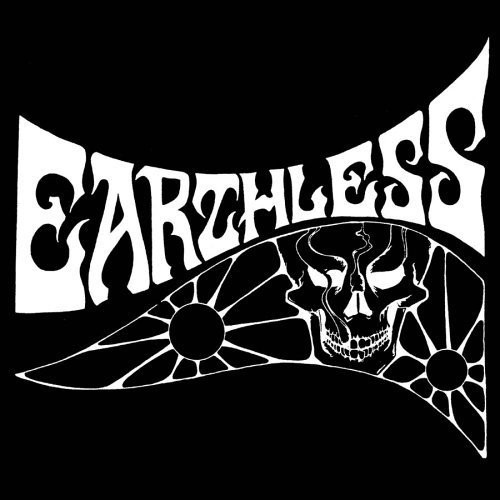 Rhythms From A Cosmic Sky followed next.
Rhythms From A Cosmic Sky was a blast to record! We recorded at Tim Green's (Vile Cherubs, Nation of Ulysees, Fucking Champs) "Louder Studios" starting on January 1st. We played a New Years Eve show with The Fucking Champs and Drunk Horse the night before to kick it all off. I think we took 5 days to record and mix. We stayed at Tim's house and listened to lot's of music and watched ZZ Top videos. Wonderful time! "Godspeed" and "Sonic Payer" were songs we had already written. Again recorded live and added a few overdubs. Tim added an organ part on "Godspeed". We decided to do The Groundhogs' "Cherry Red" because we had been playing it live a little. That song helped us get some notoriety I guess because we're mainly an instrumental band. Lot's of people including Tony McPhee (Groundhogs' guitarist/vocalist/head honcho) and Ken Pustelnik (original Groundhogs' drummer) have given us praise for doing a good job on covering "Cherry Red". I got both of them to sign my guitars. REALLY great guys!!! I think we wouldn't have met them if we didn't record their song.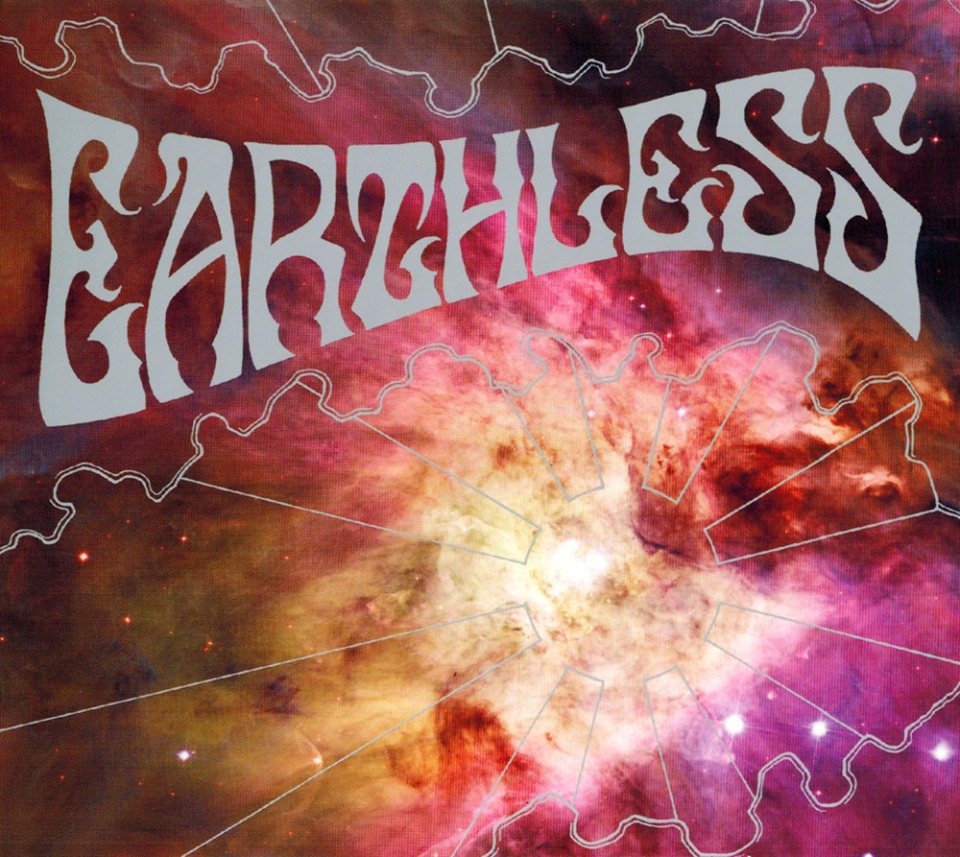 In 2008 you decided to release Live at Roadburn.
I was hesitant on putting out Live at Roadburn. I was very jet lagged for that performance and I don't really remember playing. I listened back to the concert at home one day. What sealed the deal for me is when the music ended, the audience of at least 1,500 people let us know how they felt about it. One of the warmest, loudest, and longest applause's I had ever received. So I figured "if they like it, we should put it out". I'm glad we did because it seems like it's a pretty special album for the community of artists and fans.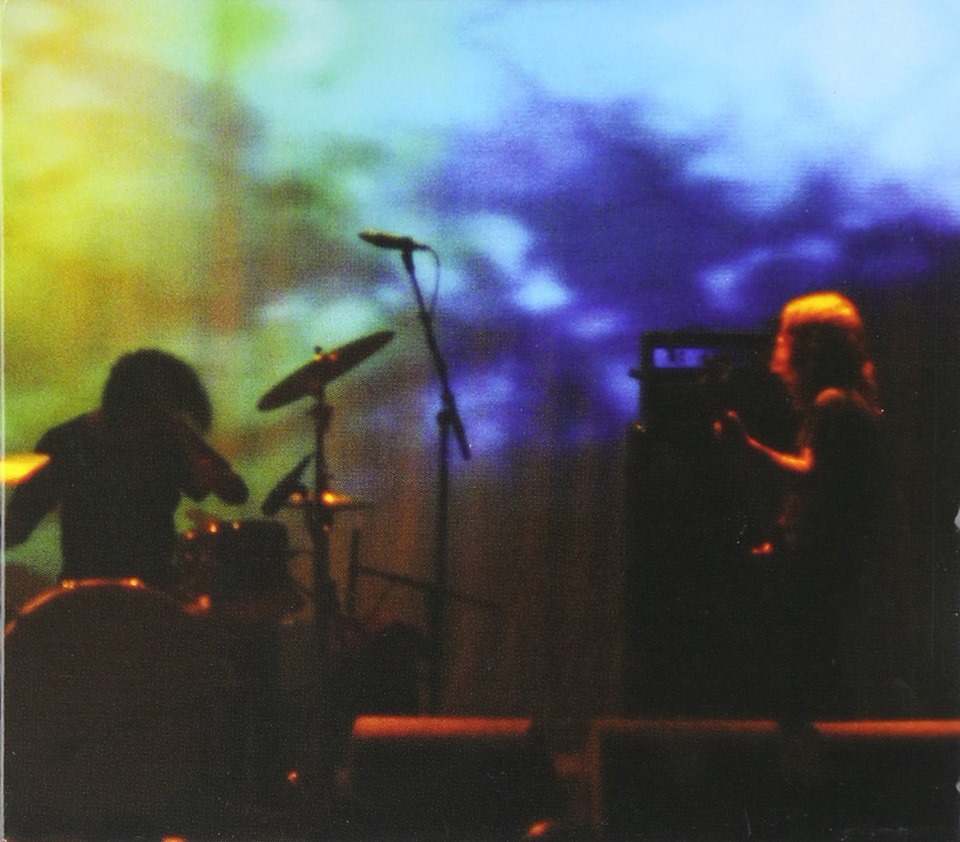 What about single "Jull" (Witch / Earthless split) and "Demon Lady"?
"Jull" was recorded for Volcom's 7" series. We recorded that with the help of Kurt Midness from RTX. "Demon Lady" was written for Emerica's "Stay Gold" skate video. We had originally recorded Spencer Davis Group's "I'm a Man", but some legal issues weren't taken into consideration and we were unable to put that song to film. So we whipped up "Demon Lady" instead. You can hear a little bit of "I'm a Man" in it. I'm glad we did an original instead of "I'm a Man". I think it came out pretty good! We recorded that at Paal Jenkins' (Three Mile Pilot, Black Heart Procession, Mr. Tube) studio in San Diego.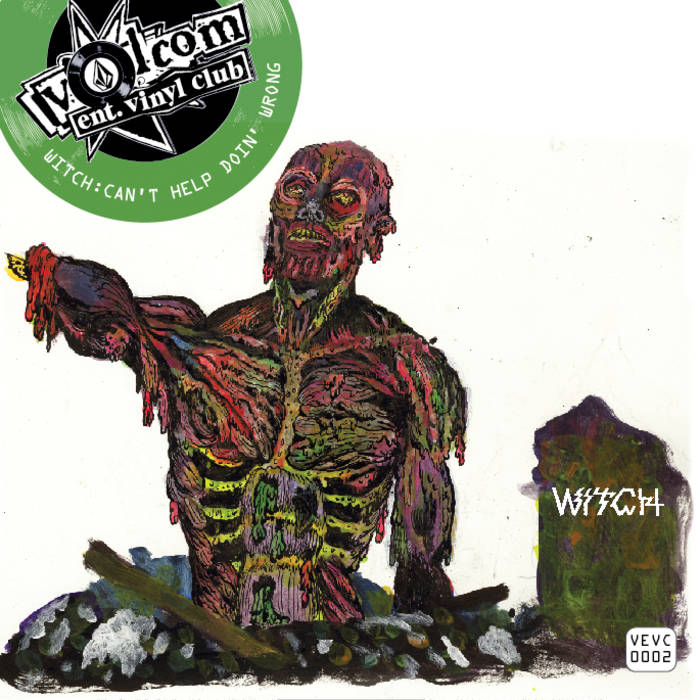 What are some future plans?
As for the future of songs, recording, touring, we've got some stuff to record for another album. We toured Australia at the beginning of this year which went really well. Everybody's kinda doing there own thing right now so we're kind of taking a little break. We do this because we want to, not because we have to. Almost been a band for 9 years now. When we're ready we'll get back to work on getting something out and talk about touring.
Any concert experience you would like to share?
Hmmm… nothing really crazy comes to mind… our buddy J Mascis played onstage with us during a SXSW show in Austin. There was A LOT of guitar insanity between the both of us, maybe a little too much (hehe) but it was a good time playing with him. Crowds get a little out of hand sometimes but for the most part our shows are pretty mellow I guess. Girls don't flash their tits at us or anything.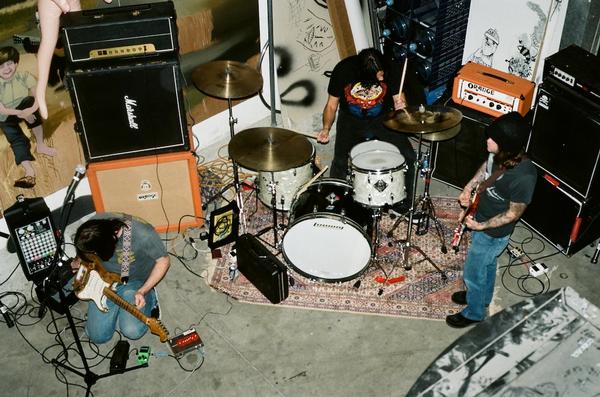 What is your opinion about current 'psychedelic rock' scene?
There are so many great bands around today! Some of my favorites are Astra, Hot Lunch, East Bay Grease, Carlton Melton, Danava, Red Fang. An endless supply of really good bands making some really great music. I'm appearing on a killer band from Portugal's next album, Black Bombaim. Those guys tear it up!!! It's a great time for music!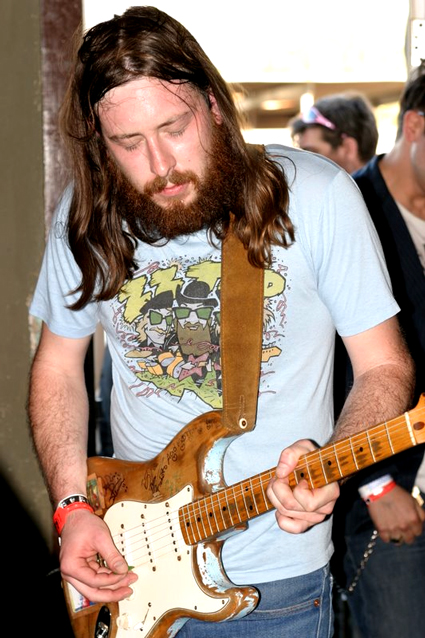 Thank you. Last word is yours.
Thanks very much for asking me to do the interview and for you and everyone else who enjoys Earthless!!! We really appreciate everyone who comes out to the shows and enjoys the albums!!! More soon…….
– Klemen Breznikar
https://www.earthlessofficial.com
https://www.facebook.com/earthlessrips
https://twitter.com/earthlessrips
https://earthless.bandcamp.com