Autosalvage interview with Rick Turner
In 1968 Autosalvage released their only LP. How did you first get interested in music, Rick?
I grew up in a home where music was constantly on the radio or record player. My parents liked the folk music of the days…1940s…Weavers, Leadbelly, Josh White, Burl Ives, etc., and had a lot of 78's of that and big band music, and my dad was an "early adopter" of 45rpm and 33 1/3 rpm albums. He was an artist who often painted to guitar music…classical, jazz, folk…
Influences.
As above…Weavers, Pete Seeger, Josh White, especially Leadbelly, then good big band stuff…Duke Ellington, Benny Goodman, Louis Armstrong, etc. Then when I was in high school ( three years at a great boarding school in Providence, RI) along came the Kingston Trio, the Limelighters, Joan Baez, Bob Dylan, Tom Rush, and then in 1962 I wound up at university in Boston…and that was it!
How did it all start?
Boston and Cambridge as an habitue of folk coffee houses and music stores.
Were you or other members of Autosalvage in any other bands?
Skip had certainly been in a succession of bands. It was a new thing for Darius. Tom had played a bit here and there around the folk coffee house scene. I was the only one with professional recording experience.
Formation of Autosalvage.
I was splitting my time between Cambridge and a place in New York…I was there because Felix Pappalardi and I had toyed with starting a band. Then I ran into Tom on Bleeker St. one day and he asked if I'd like to sit in with the band he was starting…it was him, Skip, and another drummer who dropped out fairly quickly.
You were found by Frank Zappa and the Mothers of Invention while on a visit to New York, is that correct? Was Frank Zappa involved also in producing the LP?
Kind of. We opened for the M o I at a club that was briefly called "the Balloon Farm" and then became "the Electric Circus" on St. Mark's Place in the East Village. The place had been the old Ukranian Hall.
You were signed by RCA Victor in 1968. After the release of single Rampant Generalities/Parahighway you also released an album.
It was actually 1967 when we signed. We'd signed on with a manager whose name I forget, but he also managed New Orleans trumpeter Al Hirt, so he had pull at RCA who thought we'd be the New York version of the Jefferson Airplane…who were also on RCA.
Where did you record Autosalvage LP?
That was recorded at the RCA studios on (I believe) 23rd St. in New York…oddly, the same studio room in which most of the tracks were cut for the Ian and Sylvia album I did (Play One More) for Vanguard. We were the loudest thing to hit that room other than a full orchestra, and we had a pretty good time recording there. It was done on an Ampex 1″ 8 track machine…state of the art at that time. A major musicians' union guy did the did the string arrangements with the help of Darius' father, as I recall, and he and Darius played the medieval instruments as our "horn section".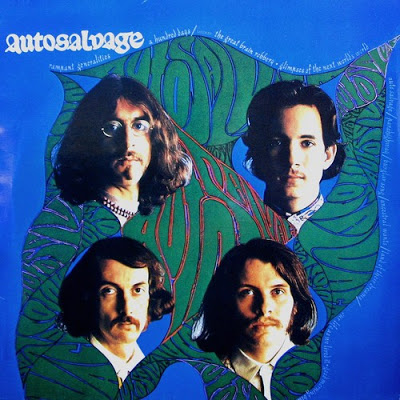 What are some of the strongest memories from recording it?
It went really quickly, and I wish there had not been such a mania for track separation in those days…so much isolation in the studio. I'd love to remix it, but I doubt the 1″ master still exists.
How many copies were pressed?
I have absolutely no idea on pressings. It did not sell particularly well…my joke is that it went lead…
Are you satisfied with the way the LP turned out?
As I said, I'd love to remix it. It could be a lot more dynamic. We did do some really neat stuff…the between tracks sounds…and I love the spoken intro…that was the girlfriend of Bob Cullen, the producer.
How did you decide to use the name "Autosalvage"?
That was the name of our big opus song. We were originally "the Northern Lights", and Zappa heard us and suggested that we change the band name to Autosalvage. We did.
What do you recall from mastering the album?
Absolutely nothing. That was completely out of our hands.
 I found mix on the stereo noticeably different then on mono pressing…I think that only tracks like "Ancestral Wants" and "Parahighway" sounds better in stereo, but the whole album is far better in mono. Your thoughts about this?
If I knew then what I know now! I wish we'd pushed the limits of stereo more…I love how the Beatles did it…a lot of hard panning left and right…
Why did you disband? Is there any unreleased material?
We couldn't get any real traction in the business in New York. "Voco", a San Francisco FM DJ tried to get us to move out to California and said there would be gigs galore for us. I came out with my wife, supposedly as the advance guard, and the other guys just would not move out. We'd have done really well in the San Francisco scene of that time, and it would have been really good for us musically…we'd have stretched out more.
What did you do after Autosalvage?
A lot of things: I did studio work with Jerry Corbitt (ex Youngbloods) playing on his first solo album, playing on Don McLean's first album (pre-American Pie), being the bassist on a bunch of demos. I worked as a silversmith's assistant making jewelry. I roadied and did sound for the Youngbloods. And finally I met the Grateful Dead and became a part of the technical arm, Alembic and we incorporated that company with myself, Bob Matthews and Ron Wickersham being the three stockholders in 1970. Been making guitars and basses ever since with a few years off in the middle.
What are you doing these days?
See above and also the magazine stories I've referenced as well as this:
http://www.renaissanceguitars.com/rick-turner-interview.php
Thank you for your email. Last words is yours.
I think that about covers it all, especially if you read the other interviews.
My Best,
Rick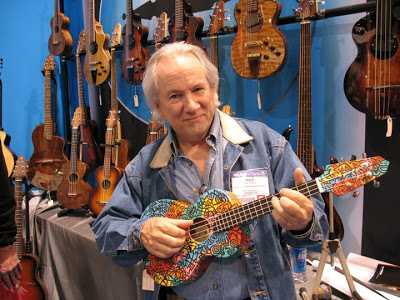 – Klemen Breznikar