Listening interview with Peter Malick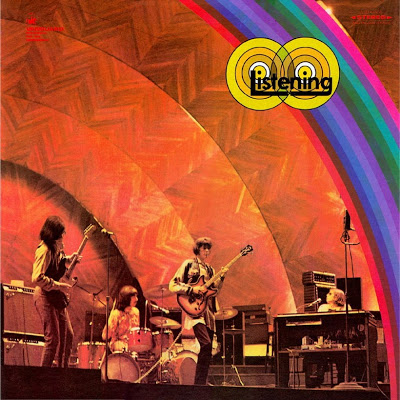 How did the band started?
Listening started as a band called PPMWW. That was for the members: Peter Ivers, Peter Malick, Michael Tchsudin, Willie Loco Alexander, and Walter Powers. I was 16 years old, and Michael had heard about me and invited me to come play with the grownups. Michael met Ernie and reshuffled the lineup shortly after our first gig at The Boston Teaparty, and Listening was born.
What was your main influence at that time? Which artists?
My main influences at the time did not really align with the rest of the band: Muddy Waters, Buddy Guy, John Lee Hooker. I'd started playing when I was turned on to the Beatles, and moved on to blues.
Can you tell me about your life before joining the band.
I was going to high school & playing guitar in a band with friends from school.
Before Listening, were you in any other bands. Any releases (45,tape..) with those bands?
Listening was my first recording. I don't think any of us even had a tape recorder in my first bands.
I know the bassist Walter Powers had previously been in the famed punk band The Lost. Can you tell me more about how did you meet with other members and in what bands they were before?
Willie was also in The Lost. Both Walter and Willie went on to play in the post Lou Reed Velvet Underground. I was just hanging out at high school until Michael called me, so I didn't really know any of them. They were the big boys, sort of out of my league.
You released a debut album in 1968. Tell us about recording it.
The album was recorded at Vanguard Studios in NYC. It was a huge studio that held Symphony Orchestras. The sessions were recorded to 8 track tape, which was state of the art at the time.
How many pressing were made?
I think the record sold fairly poorly. Maybe 40,000 copies. Maybe not that many.
Do you own a copy?
I own 3 copies: an original LP, a re-release by Akarma, an Italian record label. They sent me an LP and a CD.
Vanguard is including a couple of tracks on a new compilation that they're releasing soon.
Does any other recordings exists?
After I left the band, there were other recordings done. I have no idea where they are, though.
How far was the band's touring territory?
The band was essentially local. We played a number of shows around Boston, Mass. I think they played NYC after I'd left.
Are you still in contact with other members of the band?
I am! I'm in contact with Walter and Willie on Facebook. I have had a few email exchanges with Ernie. I hear that Michael lives in South Florida, and claims to have been a Special Ops Green Beret in Vietnam, during the time he was doing drugs and playing rock-n-roll in Boston. Go figure!!
What are you doing these days? If you can tell me about your new music project etc.
I live in Los Angeles today. I have a recording studio that's built behind my house, and do a lot of production. I get to wear a bunch of hats, so I'm writing songs, playing guitar, engineering, mixing, producing, and changing diapers. We have an amazing 5 month old whose name is Uma Mae. She seems to be a fan of my music, which is a good thing.
Do you have anything else to say about the band or yourself, that I didn't ask?
I have to tell you that I love your blog, and totally appreciate that you reached out for this interview. At the same time, I must admit to feeling a bit of a fraud.
I had some amazing experiences in Listening. I was a 16 year old kid. We opened for Jefferson Airplane, and they came to our rehearsal space after the concert. I couldn't go because I had school the next day. Jorma left a joint for me, which I never smoked and kept in my dresser drawer for years. It was The Jefferson Airplane Joint.
But, I was never that psychedelic musician guy. When Michael approached me to join the band, I was way into blues. He actually misrepresented what the band was going to be because he wanted me to join. He thought having a kid guitar player would get the band some attention. I think he was right to a certain extent, but after I figured out what was going on (which happened during the recording sessions for the Listening album), I was out of there.
At any rate, I love the music of the '60s, but I don't feel like I was really a part of it. By the way, I loved reading your interviews with The Source people. I toured The US and Canada with the musical Hair in '70 and '71, then settled in Los Angeles. I used to eat at The Source all the time, but didn't know the back story.
Thanks again, Klemen. Keep up the good work!
All the best,
Peter Malick
– Klemen Breznikar