The Rise and Fall of Willie & The Walkers
The seven years from 1965 to 1972 was a magic period in the history of Canadian popular music. Nowhere was that more true than in Edmonton. Alberta's capital had a relatively small but remarkable musical scene – it could boast of two recording studios: CJCA and Downtown Recording Studio (later called Park Lane), three record labels: Pace, Damon and Molten, four booking agencies: Rayal Talent, Amroux Enterprises, Spane International, and Studio City Musical Ltd., three radio stations playing popular music: CJCA, CHED and CFRN, hip disc jockeys such as Bob Stagg, Chuck Chandler and Bob Gibbons, a popular music promoter like no other – Benny Benjamin, numerous hip nightclubs such as the Sugar Shack a-Go-Go, the Outer Limits, Zorba's, the Forum, the Rainbow Ballroom, the Lakeview Pavilion, and finally a network of neighbourhood community halls which promoted local rock bands every weekend.
---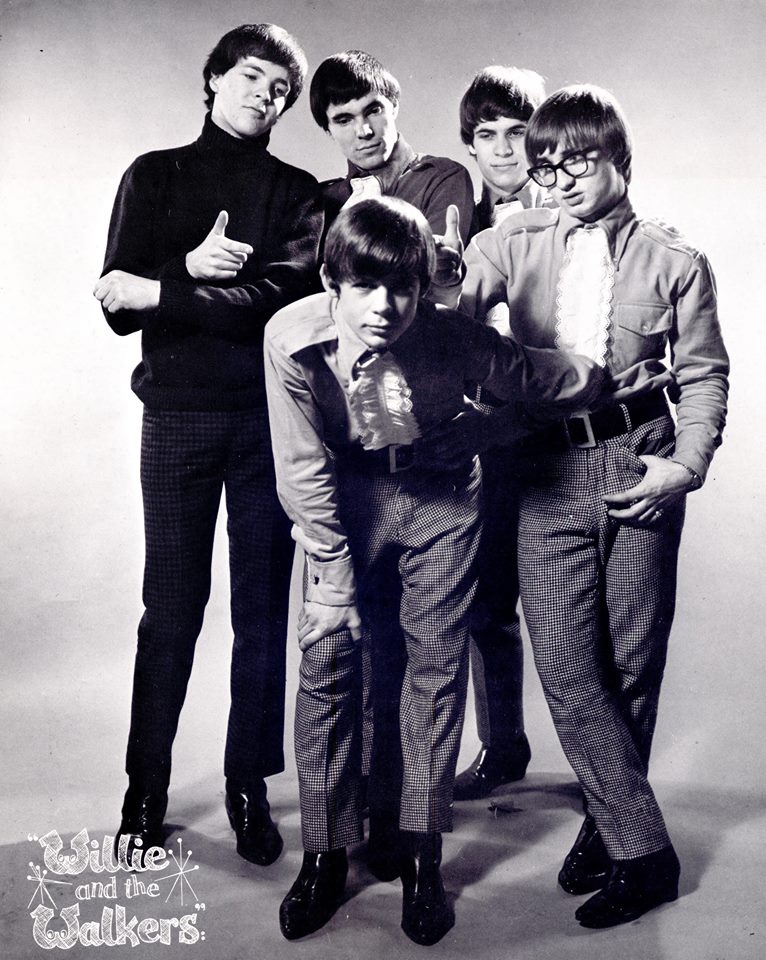 Edmonton was a nexus for original talent as well, with artists such as Mary Saxton and Barry Allen, and bands such as Wes Dakus & the Rebels, The Pharoahs (shortly to be renamed James & The Bondsmen), The Nomads, The Kingbeezz, the Lords (later to be rechristened Privilege), and L'il Davey & The Drastiks, Southbound Freeway, Graeme & The Waifer, The Young Ones, Cheyenne Winter, and Warp Factor. Most of these enjoyed regional fame, and several made it onto the national stage. Leading the pack for much of this period was the band Willie & the Walkers.
The original lineup included teenagers Will MacCalder, Bill Hardie, Rolie (Roland) Hardie, and Dennis Petruk. MacCalder, who would emerge as the band's leader, was born in Victoria BC in 1947, but his family moved to Edmonton when he was an infant. His father was a contractor in the oilfields of Leduc. MacCalder was an early follower of the CFRN Hit Parade, and clearly recalls his liking for Bing Crosby, Jim Reeves, Prez Prado, Hank Williams, Patti Page, and later Fats Domino and Elvis Presley as he arrived at teenage-hood. He took piano lessons from a Mrs. Brooks in the Parkallen subdivision, but as it was classical music he was being taught, his attention wandered. He particularly enjoyed going through his grandparents and parents' 78 rpm collections. His mother possessed what might have been his favourite record: Fats Waller's "The Joint Is Jumpin'" with its lyrics "…get your hands off that broad, put away that pistol…"
There was a MacCalder household rule that strictly prohibited guitars, so Will, at the age of thirteen, took alto saxophone lessons at a local music store Harmony Kids. That led into his first band – a trio called The Barons – with drummer Ken Avison and guitarist Wes Shannon, playing songs like "Tequila" (The Champs) and "Wild Weekend" (The Rockin' Rebels) at community halls. When they ran out of songs, Avison – a magician in training – continued the entertainment with his act. That was followed by The Casuals with Leonard Saidman, Marilyn Gardiner, Terry Merriman, Tony White and Ross Onyschuk.
In 1965 MacCalder graduated from Strathcona High and enrolled at the engineering school at the University of Alberta. After one term though, he found his enthusiasm waning, and he re-entered the world of music by joining The Tempests, again as a sax player. The band already featured the much acclaimed boy wonder drummer by the name of Rolie Hardie. The two hit it off immediately, and Hardie's musical feel was used to bring MacCalder into the real world of music. Remembers MacCalder: "I thank him from the bottom of my heart. He taught me what it was to play in time! And he caught me on numerous occasions playing out of time! He just had the knack. He was a musician and I was just hacking time in comparison."
The group wore powder blue Beatle jackets, and performed mostly instrumental hits of the day such as "Miserlou" (Dick Dale and the Deltones), "Telestar" (The Ventures) and "The Rise and Fall of Flingel Bunt" (The Shadows). The instrumentals were exciting but limiting, and thus MacCalder decided to make his vocal debut with Rosie & The Originals' "Angel Baby." He not only made it through without forgetting the lyrics ("it scared the shit out of me!…but I got nice applause…"), and was thus hooked on singing. As well he started playing the keyboards at this time – at the same time he got to know Barry Allen:
I met Barry Allen at a meeting of the Barry Allen Fan club, organized by president Sorelle Saidman. At one of these meetings the Tempests played. Barry would try to sing along with us – try to follow us. Barry was so cool – he could do Marty Robbins tunes, and here we were having trouble with "You Really Got Me." That day the organ player didn't show up…he didn't even show up to pick up his organ…he had already left Edmonton, so I said "I'll play it." Everybody encouraged me, and we started really simple – "Louie, Louie."
Another major component of the impending Walkers were the Hardie brothers – Bill and Rolie. They had been playing for some time before they became acquainted with MacCalder. Bill – born 1946 in Kelowna, BC – was the eldest son of Bill Sr. and Muriel Hardie. His formal training on guitar consisted of one year of lessons at the Olson School of Music, where for reasons he cannot quite remember, he concentrated on learning the Hawaiian steel guitar from Mrs. Clifford. As Hardie recalls with a chuckle "I'm sure visions of Don Ho went through my father's mind! But it was not exactly what I was looking for – I knew there was something else out there…"
This false start was quickly remedied when he joined his first band, The Nobles, in the summer of 1963 which consisted of Hardie, Ron Slemko, Brian McKenzie, and on drums his younger brother Roland (Rolie) Hardie, born in 1949, also in Kelowna. They did primitive versions of instrumental hits such as "Walk Don't Run" by the Ventures, and all members shared one amplifier.
They lasted a year, then Bill co-founded a slightly more sophisticated band called The Vacqueros with John Wesson, Mark Spacinsky, Pat Payne and the bespectacled guitarist Dennis Petruk. Although he started out playing guitar, Hardie soon switched to bass when it became obvious that no one else in the group wanted the job or was qualified to do it. They also dressed smartly – red velvet Spanish jackets with gold braid, black cummerbunds, and black trousers with a gold stripe down the side. They had synchronized dance steps and were not afraid to use them.
In the last few months of their existence, they recruited Rolie Hardie from the Tempests. As local musician Steve Boddington recalled in a blog:
It wasn't until Jr. High school that I saw my first live band. "The Vaqueros" played Ottewell school. This was momentous because the drummer was Rolie Hardie who went to our school. They had matching blazers and had big time professional gear – Fender amps and guitars, and Rolie's blue sparkle Slingerland drums. Denis Petruk played guitar and Bill Hardie was the bass player. Also, I believe the sax player was John Wesson….For a chubby kid with glasses…this was the road to perdition!
They then started looking over MacCalder. He remembers:
I was working as a stock clerk at Hughes Owens drafting supplies…and one day after work Bill Hardie and Dennis Petruk walked up the driveway…I knew them from the rival band – if you liked the Tempests, then you couldn't like the Vaqueros and vice versa – We had met, seen each other around, and through Rolie they decided to ask me.
He gladly accepted, and Willie and the Walkers formed in August 1965, combining the core members of The Vaqueros with those of The Tempests. Their new name was an homage to their heroes at the time – Jr. Walker & the All Stars. MacCalder recalls the moment of the naming:
Dennis [Petruk] and I were driving on 76th Avenue, heading east through the Mill Creek Ravine. Jr. Walker and the All Stars were on the radio. Dennis said "We should call ourselves the Walkers"…I said "Yeh we could, but how about Willie & the Walkers?" And he said "that sounds pretty good." They wanted me to be the focal point. I was ecstatic that I had this support from the band, and they were encouraging me to go ahead and sing and play the organ."
The Edmonton Journal announced their formation in an article entitled "Organ Dominates New Sound Group":
With a unique a-go-go beat and a new sound dominated by the organ, Willie and the Walkers made their debut as an Edmonton group only four months ago. Willie and the Walkers swing on stage in flashy short red jackets and black and gold pants. Newer outfits are planned. Spokesman, organist and lead singer is Bill MacCalder, Bill Hardie, bass guitarist; Dennis Tetruk [sic.], lead guitarist; and Rolie Hardie, drummer are the Walkers. The group is working on their own material and eventually would like to record. So far they play survey hits and newer songs. The Walkers have a different taste in music – soul music. They go for the Zombie [sic.], Beatle [sic.], and Paul Revere and the Raider [sic].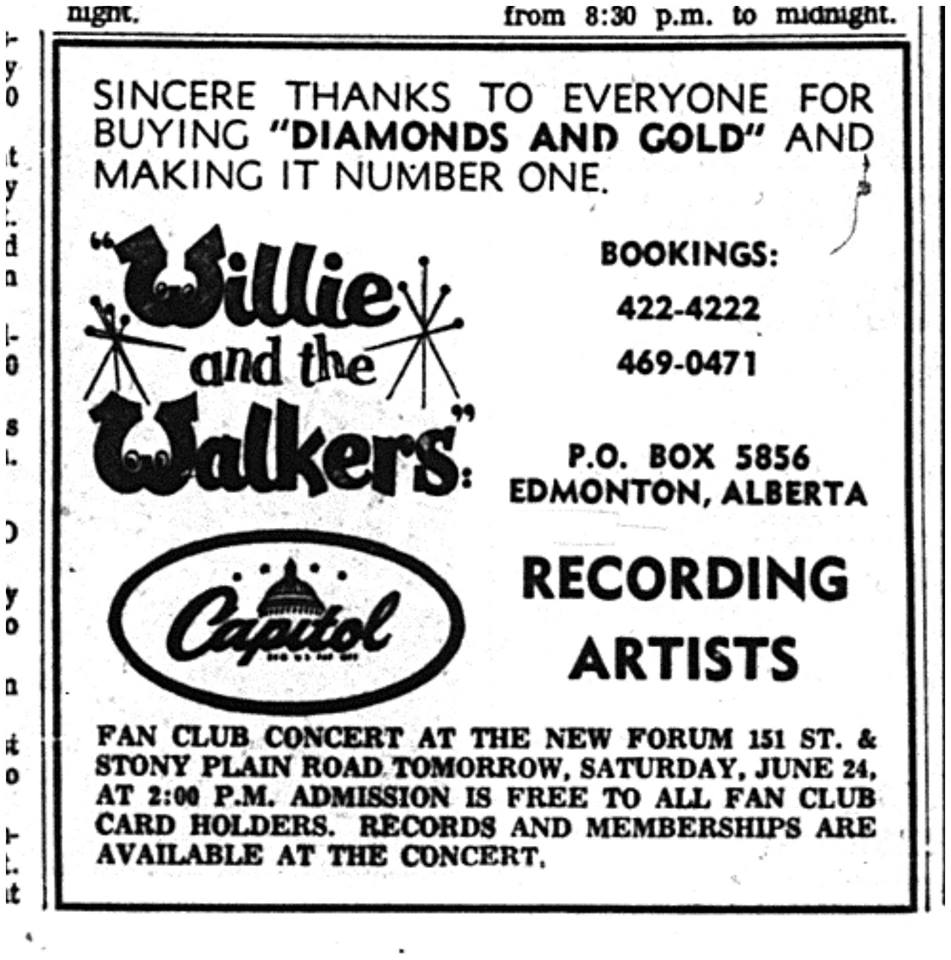 With their musical talents and complementary personalities, the Walkers gelled immediately, and quickly entered the ranks of Edmonton's musical elite. For the first six months they were managed by local disk jockey Guy Good (the all-nighter "CHED Good Guy" – in real life known as Saffron Shandro) and their bookings – mostly high schools, churches, community halls and a club called The Pussy Cat A-Go-Go – were handled exclusively by Petruk's aunt Sophie – known to all as "Toots." Management duties were soon taken over by Wes Dakus. The founder of The Rebels was just bowing out of live performance, and saw his future (and money) in artist management, talent agencies, booking, and recording studio production.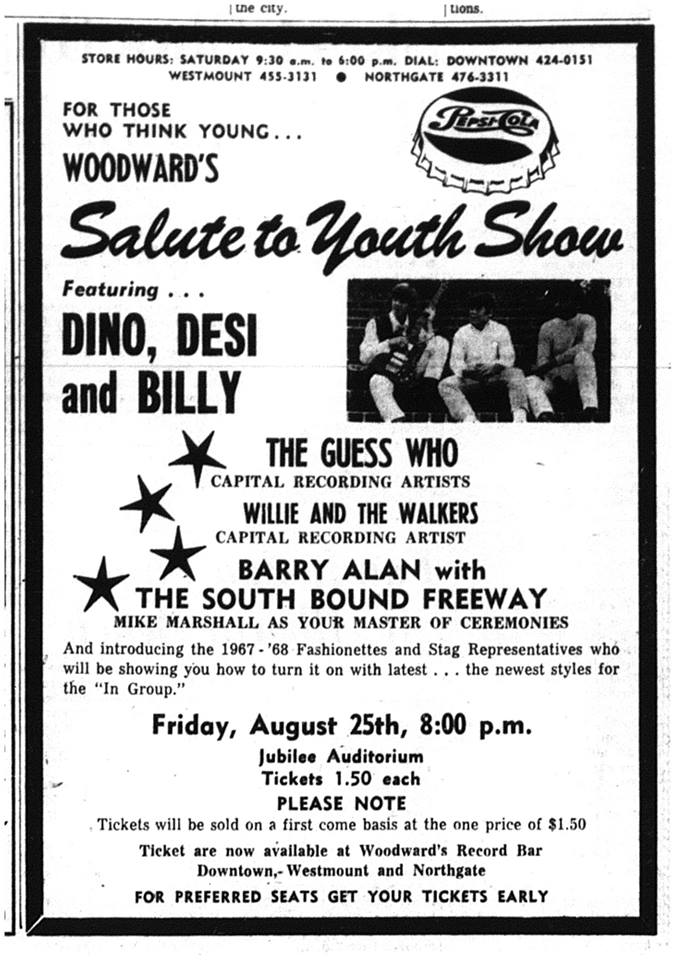 In early 1966 the Walkers realized they needed to sign with a profession booking agency to get regular and better paying gigs. The only real choice was the Rayal Talent Agency. Rayal was founded by Ray Short and Al Johnson in August 1965. Working out of the Rayal Building at 10534 – 109th street, they promoted themselves as Edmonton's first talent agency for popular music acts. By 1967 they had signed fifty bands, and their star acts included Mary Saxton, L'il Davey & the Drastiks, and The Lords (featuring Mel Degen).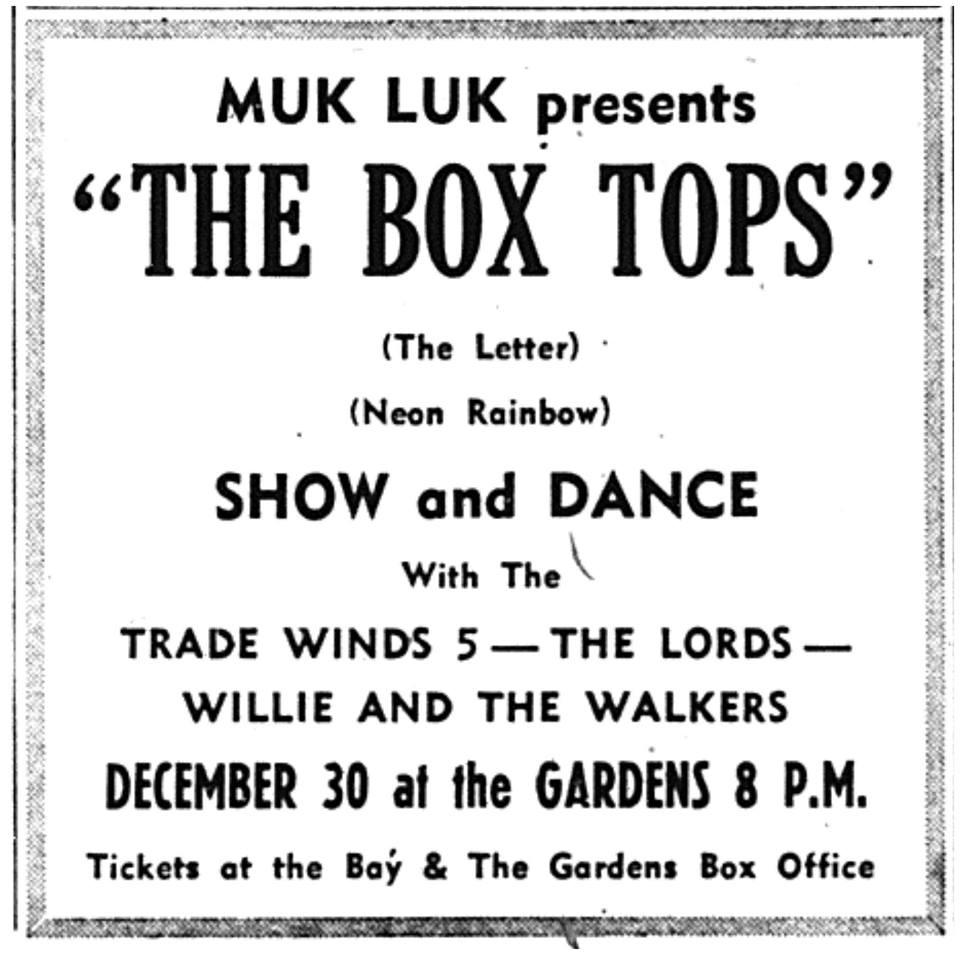 From the beginning The Walkers realized they had to use the best and state-of-the-art instruments – something none of them could afford. However MacCaulder arrived at an understanding with a local musical store. Petruk recalled in 1992:
Harmony Kids was a music store in Edmonton owned by the Barabash family. Ronnie Barabash kind of liked us guys and he said "I'm going to take a flyer on you guys. You guys pay us $400 a month", which was a lot of money, because bands were playing for $200 a night, "and you can have any equipment you want." And we said "Wow!" Willie had the first Echosonic portable organ west of Toronto. .
Willie and the Walkers had youthful energy to burn, and their adrenalin-pumping performances got them onto the Saturday morning "CHED Bandstand." The program was broadcast live from two other hip clubs the Sugar Shack A-Go-Go and The Forum. It was a finely tuned (and ever-changing) balance between bouncy pop numbers like Donavon's "Sunshine Superman" and the Monkees "Last Train To Clarksville" to increasingly sophisticated tunes like Peggy Lee's "Fever", the Yardbirds' "Shapes of Things", the Left Banke's "Walk Away Renee" and the Beatles "Day Tripper" to flat out versions of garage band nuggets like "Louie Louie", "You Really Got Me", "Kicks", "Wooly Bully" and "Lies". They literally moved into the Petruk's basement full-time – they rehearsed every day for at least 5-6 hours, followed by a record – listening session looking for new material. Claims MacCalder:" we would change our set completely every three months."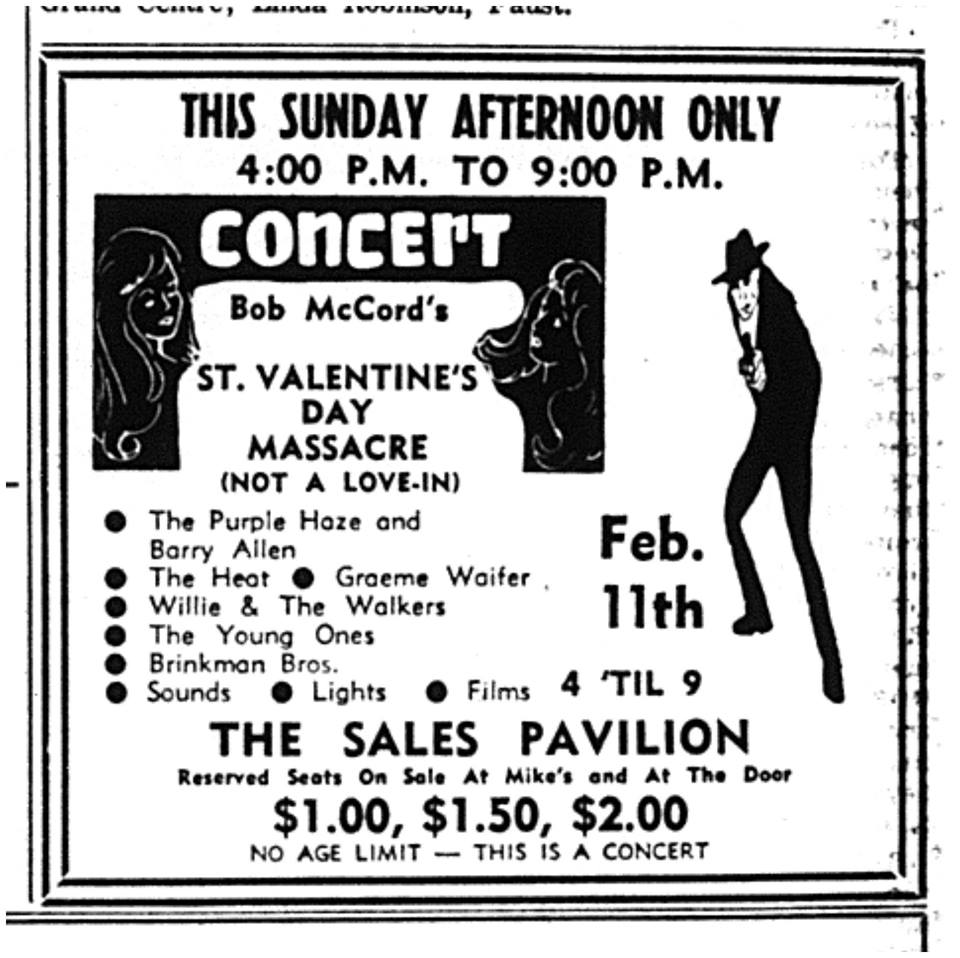 McCalder was still trying to master his instrument during this period. He learned organ solos from the records note for note ("I thought Alan Price's solos were really good…as for Rod Argent [The Zombies] – I didn't know where he was going…). There was very little improvisation onstage, and only one or two organ solos at all. Of course it may have sounded thin and cheesy for he was playing it all with his right hand. His left was occupied with working the equally cheesy light show.
MacCalder recalls gigs at the Sugar Shack A-Go-Go, managed by Dennis Hogarth and located at Stony Plain Road & 150th Street: "We got a great audience reaction. The kids just loved us – we had choreography, flashy suits, we played all the hits, AND we were the same age as them! To hear a live band in 1965 was not to be taken for granted."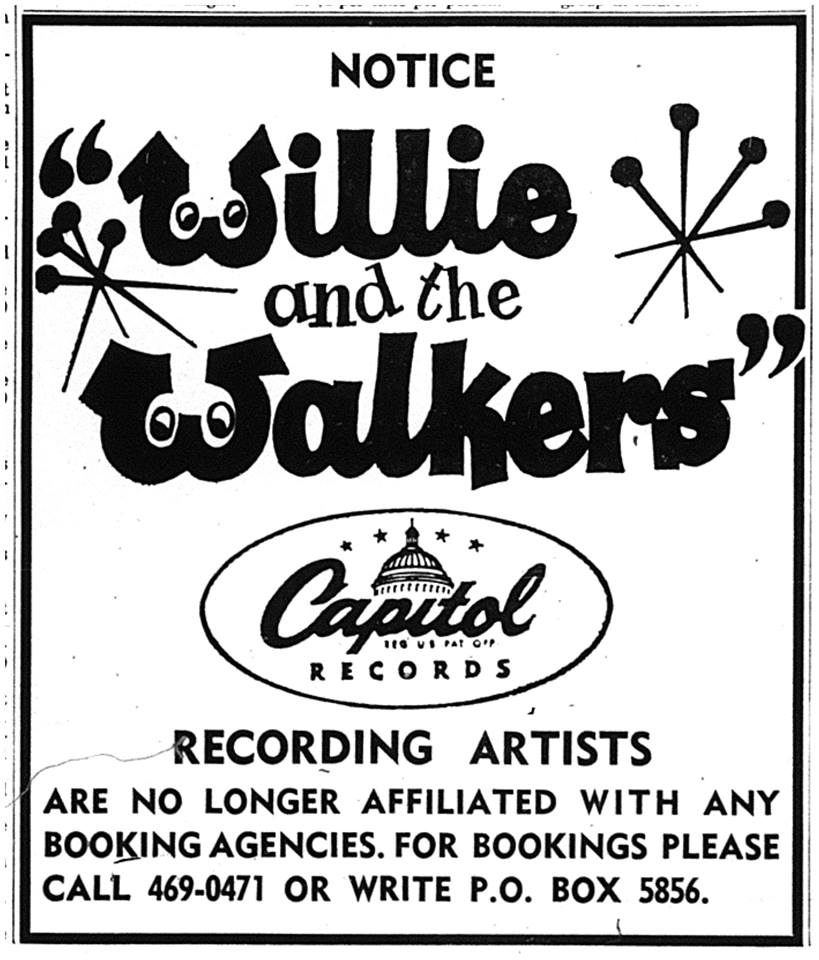 At least six (and one band member remembers up to ten) of their live broadcasts on the CHED Bandstand were recorded on the station's log tapes. The band would make a point of going to the station to listen to them as a reference point for judging and shaping their live act. MacCalder recalls: "I remember listening to myself try to sing "And I Love Her"…they were so rough, and I was so out of key! And I was thinking – that was broadcast? Oh stinkage!"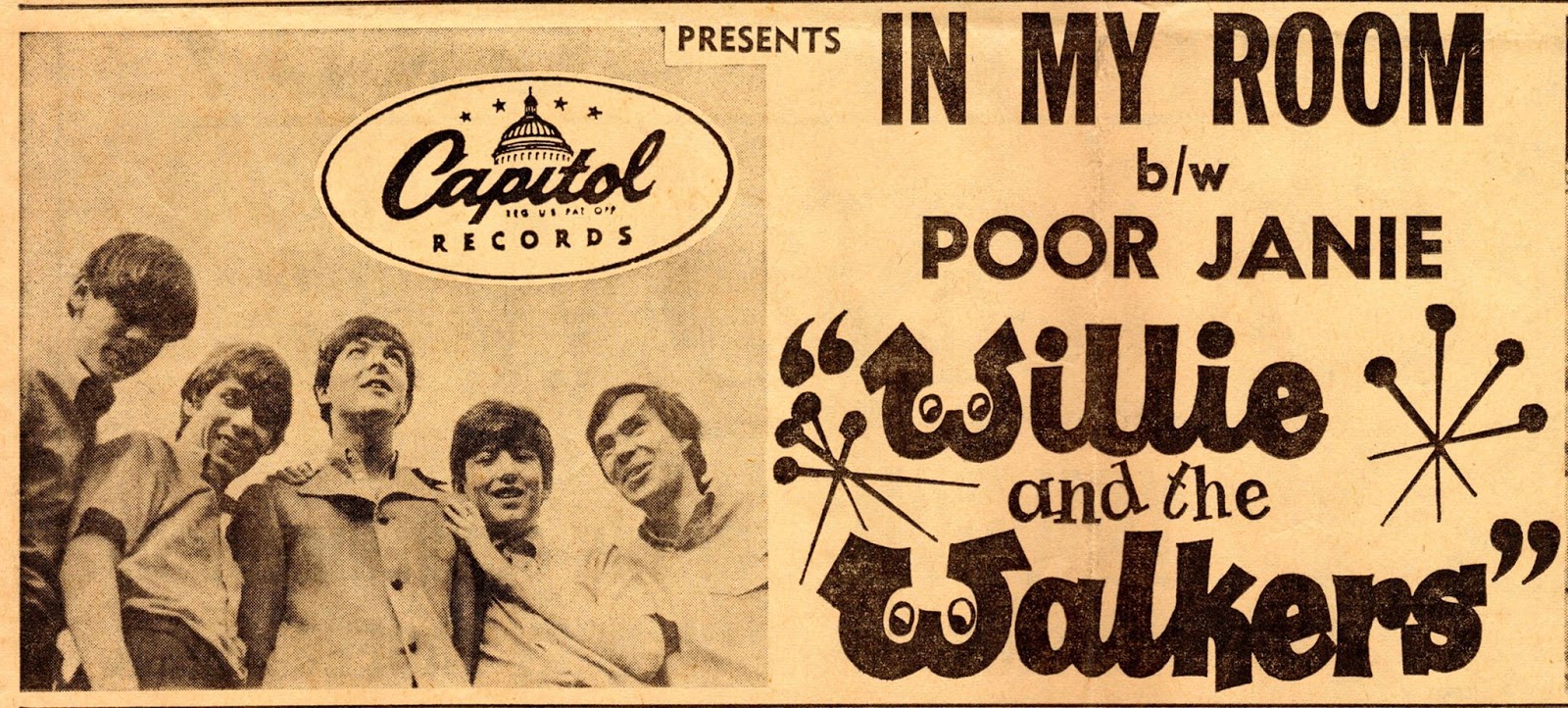 Unfortunately no one thought to make dubs and thus the band's live performances have not been saved for posterity. Word of these programs however started to attract the attention of record companies, but the band had no demo tape to give them. Accordingly in the late summer the band followed the lead of their mentors – Wes Dakus and Barry Allen – and drove down to New Mexico to record several songs for a demo tape. From the beginning the Walkers were intent on only recording their own songs and, except for a few notable exceptions, all of their released material was self-penned. MacCalder's first hurried composition, based loosely on the "Walk Don't Run" progression, was "Diamonds and Gold". His second "Baby Do You Need Me" was patterned after The Animals "Don't Let Me Be Misunderstood." Petruk offered up "Can You See" and "Just Don't Pretend."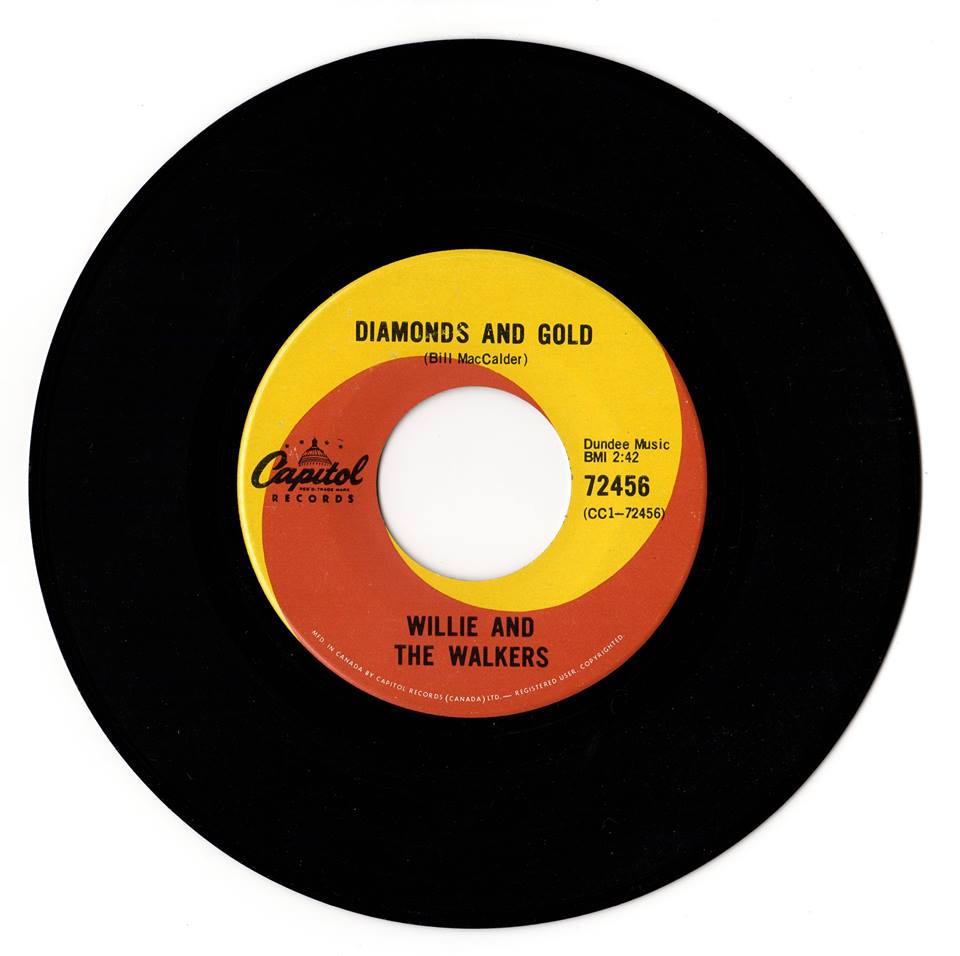 The site for their first recording session was the Norman Petty Studio in Clovis. Founded in 1954 by Petty (Buddy Holly's producer and co-writer) it was a small and not particularly impressive edifice. Its dimensions were 10 ft. x 22 ft. and was described by Holly's biographer as resembling "a 1930s gas station." Still it had a most impressive track record. Roy Orbison had recorded "Ooby Dooby" and "Trying To Get To You" in 1956, Buddy Knox had put his 1957 million-seller "Party Doll" on tape there, Buddy Holly had recorded his two hits of 1957 there "That'll Be The Day" and "I'm Lookin' For Someone To Love", and finally Jimmy Gilmour & The Fireballs recorded their "Sugar Shack" there in 1963. Add to this Petty's publishing company and independent label Nor-Va-Jak, and it is not surprising that the establishment had a reputation second only to Sam Phillip's Sun Studios.
The actual sessions, at which the four songs were recorded, took place over two sweltering days in July 1966. Even though they were extremely well rehearsed, MacCalder recalls that "we had to do seven or eight takes of each song before Norman heard something he liked." He adds that Petty offered helpful hints: "He encouraged me to sing softer, more airy – put more breath into my voice. I'd never had any coaching, so I guess I was barking into the microphone!
It was an eye-opening experience for the tender young musicians. The studio was equipped with an Ampex 4 track recorder, then state of the art, as well as Telefunken and Neimann microphones. And, in particular the listening back to a properly recorded and separated piece of music on studio monitors with each track coming out of one of the four speakers was initially breathtaking. MacCalder:
I remember the first time I ever heard a playback of our music in a professional studio. It just did not relate to my ear. I thought "Who's this? What is Norman playing us? I thought Norman was playing some sort of trick on us to show us what we should be sounding like. It was so clean and powerful! For a while I was really disoriented until I recognised that it was what we had just played! What a feeling!
Barry Allen helped with the harmony vocals. Again MacCalder:"…he learned the John Lennon/Phil Everly fifth below. Most people would take the thirds above – the most used harmony. Barry was such a monster harmony singer!!" Petty's wife – Vi – came in after the band had returned home, and "sweetened up" some of the tracks with her organ. It did not help- instead it made it sound like MacCalder was playing a Teeny Genie organ which did not add to their credibility. Says MacCalder with commendable understatement:" We all thought it sucked."
The timing was good – as they were starting to get mentioned on the national stage. Canada's music industry magazine RPM dedicated most of its July 18th, 1966 Special Issue to music in Edmonton. The lead article "Edmonton: Canada's Music City in the West" discussed the music infrastructure that was slowly coming together. There were numerous advertisements by local broadcasters, clubs, and the two talent agencies. It confirmed that there were "fifty regular working bands, several orchestras…small combos, country artists and jazz musicians are all deriving a fairly substantial living from their profession…" It ended with a warning:
Edmontonians have a liking for Edmontonians, which is a good start. Groups and artists are content to make a name for themselves in their hometown, and then gently spreading nationally. Watch for The Nomads, The King Beezz, James and the Bondsmen, Willie and the Walkers, Graeme and the Waifers, The Cat Family, the New Executives, The Exiled, the Kick a Poos, Today's Specials, Sons of Adam, The Tyme Five, Fab 5, Famous Last Words, The Colours, and many more exciting Edmonton talent. Edmonton is truly THE MUSIC CENTRE OF THE WEST.
As early as September of 1966, Dakus had hyped the Walkers to another of his influential friends in the music industry – Paul White, then head of A&R at Capitol Records Canada. Based in Toronto, White had earned an immense reputation for spotting talent – three years earlier he had decided to release the single "Love Me Do" in Canada by a hot new Liverpool band, even though Capitol Records in the U.S.A. had passed on it. A couple of years later he would sign Anne Murray who would go on to become Capitol's most popular and highest selling Canadian artist. White obviously liked the Walker demos, but did not want to make too quick a decision.
By November 1966, the Journal could report that:
Bill MacCalder of Willie and the Walkers has been given Jan. 1 as the tentative release date of the record the group recorded in Clovis, New Mexico. There is some talk about it being on the Capitol label.
Capitol finally took the plunge and signed them in early December. It was an auspicious period for the label. Under president Edward Leetham, and Paul White, they started to recruit and promote Canadian talent all helped by the profits pouring in from Beatle sales. By mid-decade, they had signed Les Atomes and Les Cailloux (Quebec), The Esquires and The Staccatos (Ottawa), Gary Buck (Sault St. Marie), Sugar Shoppe, Jack London & the Sparrow, Malka & Joso (Toronto), and from Edmonton Wes Dakus, Stu Mitchell, Barry Allen, James & the Bondsmen, and now Willie & the Walkers. They also started distributing several independent labels such as Hawk Records (Ronnie Hawkins, Robbie Lane), Roman Records (David Clayton Thomas & the Shays, The Paupers), and Yorktown (The Ugly Ducklings).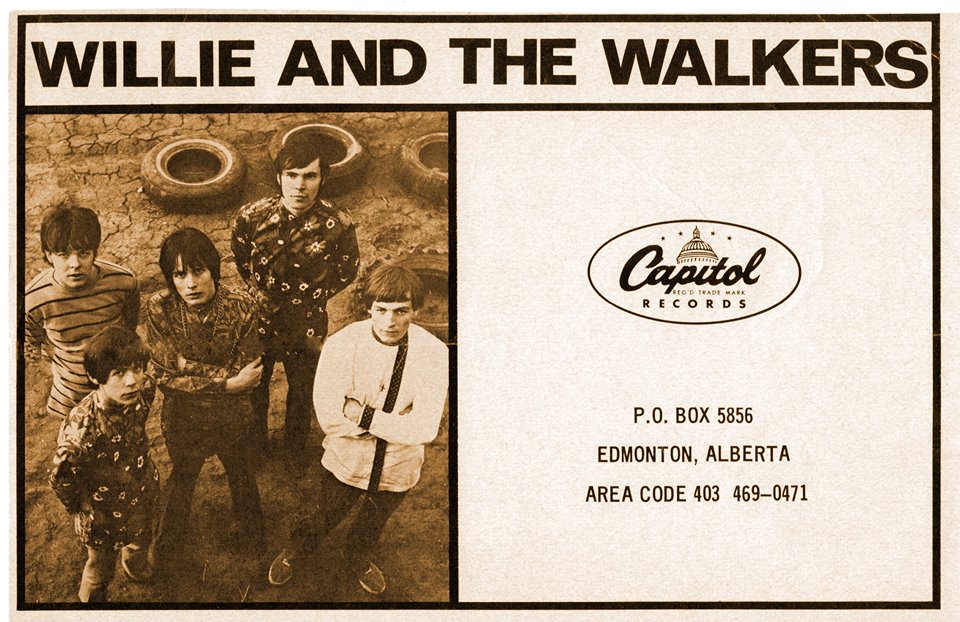 One could accuse Willie & the Walkers of being what we now know as a "boy band." They had the boyish good looks that caused girls to scream – and it did not hurt that MacCalder, with his puppy dog eyes, bore more than a passing resemblance to Paul McCartney, and as a vocalist reminded listeners of Colin Blunstone of the British band The Zombies. They also had a somewhat fanatical Willie and the Walkers fan club which was started in November 1966 under president Barb Eastland. However the key difference was that they could write songs and could play their instruments – they were musicians first and foremost. And hoping to add to their fan base, The Walkers engaged in their first out-of-province "tour" the week after Christmas – hitting Lloydminster, Saskatoon and Regina in the music-conscious province of Saskatchewan.
At the beginning of January 1967, the Walkers decided to add a fifth member to augment their sound. Their choice was guitarist Bob Dann. Dann (b. 1947) was self-taught, and showed an early interest in jazz guitar. His formative influences included Wes Montgomery and Howard Roberts. However he too got caught up in the popular music boom of the early 1960s, and joined his first band in high school – The Pharoahs. Led by Dennis Ferbey, it included drummer Tommy Doran, and singers Judy Singh and Brenda Morrison. They became regulars on the CHED Bandstand radio program hosted by disc jockey Keith James. By 1965 their sound had evolved: they became enamoured of James Brown and other American rhythm & blues, and thus added a horn section consisting of Larry Hunter (saxophone), Jack Gordon (trumpet), and John Rutherford (trombone). As they were getting ready to record, they had the sinking feeling that they would not be signed by a major record company, and could even get into legal trouble if they kept the name Pharoahs. After all there was one extremely popular band – Sam the Sham and the Pharoahs – out there.
Keith James suggested they change to James & The Bondsmen, obviously to cash in on the 007 phenomena. The Bondsmen recorded a number of tunes in the Pepper-Tanner Studio in Memphis. As Dann Recalls: "Again it was Mr. Keith James. He knew these people, and actually the studio we used was a jingle studio…my interpretation [is] "We'll buy the package off you if my boys can come down and record in your studio."
They were signed to Capitol Records, and released three singles: "El Toredo" b/w "Get Smart", "Look What You're Doing to Me" b/w "Mister Soul", and "Soup Time" b/w "Have You Ever Had the Blues." For the last half of 1966, Dann jumped over to the Time Machine consisting of Bruce Nessel, Al Treen, Ken Brenzan and Steve Palmer. Palmer recalls : "The Time Machine played a lot of country dances doing the wrong kind of tunes. The people wanted the Monkees or Don Messer and we thought we were the Rolling Stones or the Fugs. It got tense sometimes…."
Dann bailed on this, and started teaching guitar at this point. He is still scratching his head:
How I thought I could teach guitar when I didn't know how to read music I don't know! I did that for a while, and then Will asked me and I said, "Sure, I'll help out. If it doesn't work I'll go back to this, but I'm not here to take over the group, I wanna help you out." That was my understanding—let me help you musically where I can and let's get on with it. The 'Journal' thought Dann's addition was newsworthy: Willie and the Walkers just back from a successful tour of Saskatchewan, have now added a new member to the band. Bob Dann, lead guitarist of the now defunct James and the Bondsmen, now plays six string lead guitar for the Walkers, while Dennis Petruk plays twelve string electric lead.
The Walkers moved into high gear during 1967. They were obviously listening to the right advisors and acquired their own practice studio near the corner of 101st Avenue & 72 Street (needless to say, it was also a serious party space), and formed their own company to handle their bookings. As reported in the Journal on January 27: "Willie & the Walkers, one of the best bands to come out of Edmonton, have formed a corporation to handle their bookings and engagements."
They played a number of important concerts that winter and spring. In February they performed at the Muk-Luk Mardi Gras:
Willie & the Walkers will also be featured at the Muk-Luk Dance. New Walker Bob Dann had done wonders for the group's sound. Their show is alive, slick and professional. The main characteristic of The Walkers is that they know exactly what they're doing and love doing it. It shows when they perform.
On March 18th, they opened for a four-band show at the Sales Pavilion headlined by Paul Revere and the Raiders and put on by the American firm Northwest Releasing. Barry Westgate of the Journal – normally pretty hip to popular culture – reviewed it like an old man. He bemoaned the:
… monstrous bashing on a set of drums at the back of the stage, to override, shape and insist the wild cacophony of noise that is this electronic age of teen-age entertainment. But don't knock it too quickly. There were close to 5,000 teeny-boppers there and they simply loved it. No wild, wild screams. No concerted, panicky rush for the stage, but they loved it, all the way from Paul Revere and the Raiders of the upper echelons of teen entertainment to Willie and the Walkers of the local scene. In between were Roy Head and The Viceroys….The music didn't matter, what there was of it. Just the beat, the flopping heads, the abortive gyrations….
"Diamonds and Gold" was finally released at the beginning of May 1967. It entered the RPM Canadian chart at #14. It spent ten weeks on the chart, and managed to make it to #3 during the weeks of June 17th and 24th. That same May founding member Dennis Petruk left the band. Something was just not working. Of course it did not help that their first single had the two MacCalder-penned tunes they had recorded – not Petruk's two songs. MacCalder:
It wasn't premeditated. No one had a hate on for Dennis. He was such an important part of the character of the Walkers. The thought of going on without him at first was anathema…then I remembered a guy from Lethbridge who had an outstanding voice – Bryan Nelson. The Viscounts used to play at The Forum – his singing was so damn good – sort of like B.J. Thomas and Gerry Marsden."

So under the headline "Walker Goes Walkin'" the Journal reported on April 21:
Dennis Petruk quit Willie and the Walkers last week. Brian Nelson (formerly of the Lethbridge-based Viscounts) was recruited into the Walkers ranks. He played his first dance with them on Friday night after three days of frantic practice sessions. He fits in very well. The Walkers will be leaving in a week for Clovis to record some new, original and better material.
Eli Bryan Nelson was born in Lethbridge, AB in 1947, a proud great-grandson of Ludger and Madeleine Gareau, close friends and co-conspirator of Louis Riel (and as he would put it – "a true native son of Canadian Federation and a man who gave his life willingly knowing one day his name would be cleared and his efforts would be recognized"). His family moved around – he was raised in Walla Walla & Spokane, Washington, then Calgary, and back to Lethbridge as a teenager.
My first band was a mostly instrumental group named The Chancellors. An excellent Ventures/Surf music/pop band led by the illustrious Dale Ketchison who left Lethbridge at 20 to study classical guitar in Italy with Segovia. I was brought in to sing Roy Orbison tunes and a couple of Beatles songs.
His next band was a touch more sophisticated:
The Viscounts did a lot of "show rock" stuff, emulating Paul Revere and the Raiders, Sam the Sham and the Pharoahs, Tommy Roe, The Kingsmen ("Louie, Louie"), and we were a great party/people band, although musically perhaps not top shelf.
Even so they were mirroring much of what The Walkers were playing at that time. Nelson became aware of The Walkers in 1966:
I first saw the Walkers at an underground rock club in Edmonton. They were great…I saw them again when they came and played a couple of weekend dates at Henderson Lake Pavilion, Lethbridge's best teen dance place at the time. Saw them once more at the Edmonton club, then they came back the next week to watch the Viscounts play, and by the end of the week, Willie was talking to me about joining the group. By that point, Denny had given them notice that he would be leaving so they were looking for someone.

They wanted me as a singer and rhythm guitarist…The bizarre thing was that I was just a singer, not a guitarist, altho' I think I may have played two or three tunes on rhythm guitar, but I could barely play… They were very cordial and complimentary. I was wowed by their sound, and especially their equipment and obvious business acumen. They were looking for someone to back up Willie; another lead voice that would also do quality harmony, which was a strength of mine. I knew that they had a few original songs, but there was no mention of songwriting as a focus. I doubt many bands went that route in that time, or hoped to make a living at it, although we could all see that the British Invasion bands were doing it with originals. Alberta at the time was rather insular, so the focus was really on doing a good job of playing the hits people were hearing on the radio.
As delighted as he was with joining the band, there was a downside too:
I worked very hard once I was in to not disappoint anyone. It was a difficult life as I had no place to stay, so for the first few months, I slept on a cot in the rehearsal space, which was located in a small strip mall. I was given a small stipend to buy food with, but it was a hand-to-mouth existence. I wasn't very happy with it, but after a while, Roland and Bill's family offered me a room in their home in the basement.
Dann welcomed Nelson, and thought he was:
Very positive, very upbeat. The only drawback to Brian was that he wasn't very well. That was kind of heavy weight to wear around with us, because we'd have to be close to the hospital all the time. I don't know if it wore on anybody else, but it wore on me a bit. But a very nice guy. He had the right idea; he was going in the right direction. He might have been a little faster than we were. Like, "Hey, come on guys, let's catch up, let's get going doing this…" and I think between him and Will there was a little bit of head-butting.
With Dann and Nelson, the band did a lot of practicing, in their studio and on tape. Dann recalls:
It's all on Sony reel-to-reel, and I don't know how many hours and hours of that stuff there is. We'd go in there and practice in sets and record it and then play it back. We'd spend hours and hours and hours. I don't know where a couple of years went out of my life. I would go home three times a week to change clothes. I remember one morning getting up, and my mother said, "You've got a dentist appointment today," and I said, "Oh yeah, that's right!" I had just gotten home about two hours before that. We were rehearsing all night at the studio. She said, "Well, you'd better get going; it's nine o'clock!" and I got up, jumped in my car, and I drove to the studio. Never did go to the dentist appointment. I went to the studio, sat there, nobody was there, I said, "What the hell's going on? Wait, there's no rehearsal! I was supposed to be at the dentist!" I was just so used to going there and doing that. We were so deep into it. Let me add, drug-free. We might have had a couple of bottles of beer once in a while, but we did all that without drugs. We were just really into it, actually to the point where it would blind us.
In Nelson, Dann found someone with an equally bent sense of humour. As proof MacCalder remembers one recording session that went sideways fast: "There's a tape somewhere of us singing "Yellow Submarine." But Bob Dann is singing as Mr. Spock and Bryan as Jose Jimenez – and this is without marijuana!"
Shortly after his joining, the band made their next trip to Clovis:
My first visit to Clovis was done with Barry Allen coming along as a guide and mentor. Barry had been there many times and was well liked and received by Norman and his wife. There had been a massive snowstorm in April? May? that had made the usual highways treacherous, so we drove to Clovis taking the long way around through Saskatchewan, nearly all the way to Manitoba and then down thru places like Wyoming, etc…Barry introduced us to Norman and the scene down there. We had a small number of tunes to record, maybe five or six. One of them was a song Willie wrote called, "My Friend", which became a small cross-Canada hit. It was a 'bubblegum' song all the way, catchy and very danceable. We barely had time to drink Clovis in, then returned to Canada. Capitol Records (thru, I believe, Wes Dakus' connections) quickly pressed and released "My Friend". It was all new to me to be involved in a band that had some clout at that junior level.
Nelson recalls the trips were gruelling no-stop affairs:
Willie was a serious driver, which means you'd better go to the bathroom when you have the chance. Our lead guitarist Bob Dann, a very funny guy, had been asking Willie to stop somewhere, anywhere (we were out on a major stretch of highway with little traffic, so it wouldn't have been hard to pull over and let Bob out for a minute, but the car kept going. Finally, Bob made Willie laugh and he pulled over. When the car stopped, Bob cried out, "Oh! Thank you, God!" and we all laughed, but let's say Willie could be a very hard sell.
Another band member remembers his no-nonsense approach on the road:
We were coming from Moose Jaw through Medicine Hat. Will was driving as usual, and he hit a piece of highway that had gravel, and we had a station wagon and a trailer that weighed about a ton that we were pulling. When he hit the brakes he couldn't stop because of the gravel, so he took the other lane – but there was a car coming! So he took the ditch and the trailer unhooked. I looked behind and it was flipping! And Will ended up going through a farmer's yard at 60 miles per hour and killed a chicken. The farmer came out with a really forlorn look on his face. Will jumped out of the car, said "I did it. Do you have a phone? We're late. I gotta get a tow truck…"
The Walkers were a more democratic institution than it may have appeared. True, MacCalder had his name before the band, and ended up being the primary spokesman and interviewee. But he welcomed all writing ideas from any member. MacCalder in particular enjoyed co-writes as they added variety to the song list. And even though he ended up singing lead on most songs, he welcomed – indeed sought out – band members who could sing up front with different styles. He wanted to be the leader, but he also enjoyed it when other band members stepped into the spotlight. Dann looks at it this way:
Will would be the catalyst. He's the guy who fired everybody up and got everybody going. He had the idea… I'm not so sure he shared it. And he'd probably be the first guy to say, "Yeah, I didn't do it right," but everybody else was like a tool, and he was just using us—not in a detrimental way, but he was…the music… I had other things to do. I was a big believer in showmanship and things like that, so I did that. We were always doing things on stage.. but again, I helped out the best I could.
The Walkers also started to release their recordings to the public. Three of their four singles hit the market that golden year 1967. The first "Diamonds and Gold" b/w "Baby Do You Need Me" (both penned by Will MacCalder) came out in March to rave reviews. The Journal:
Congratulations to Capitol Records for finally releasing the Willie and the Walkers disc, Diamonds and Gold. This record is really something. Rather than just swimming around in slurpy superlatives over the Bill MacCalder original, we'll just say one thing – we like it. Very, very much.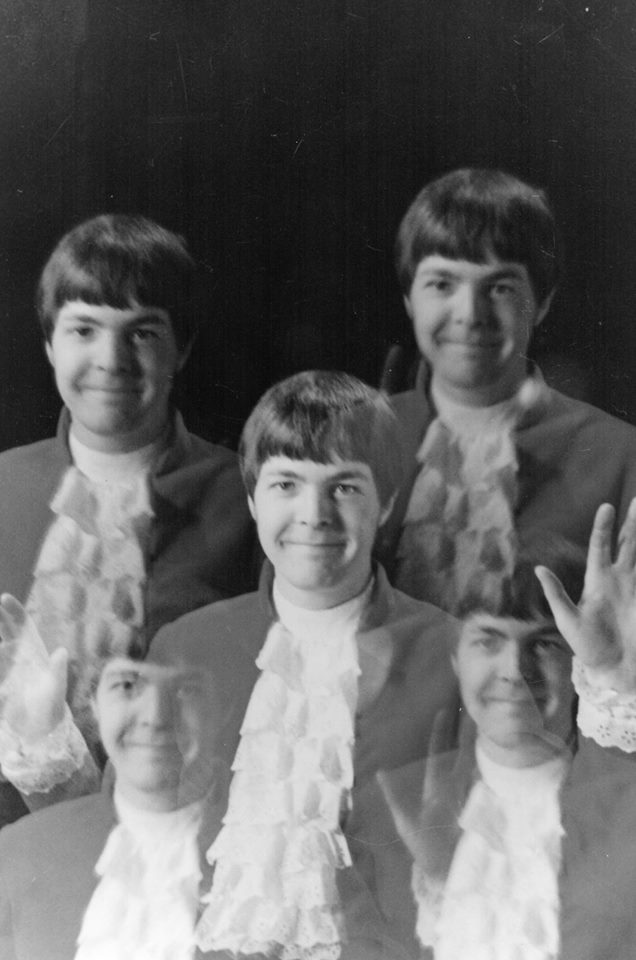 Capitol took out a half-page advertisement in RPM in April with a group portrait and the heading "The Walkers Are Running Up Chart Listings!" "Diamonds and Gold" entered the R.P.M. Canadian chart at #14 (and the general chart at #99) during the week of May 6, reaching its highest point at #3 during the weeks of 17 and 24 June. It was a strong debut, and Bill Hardie recalls that it got fairly heavy radio play in Vancouver and the lower mainland, as well as in Saskatchewan. It is a mystery as to why Petruk's "Just Don't Pretend" did not make it on the b-side, although he was no longer around to advocate for it. It is a strong composition with a driving performance, and fits perfectly into the band's early oeuvre.
The Walkers released their second single on June 1, 1967. "My Friend" and the B-side "Is It Easy To See" were both written by MacCalder and Bob Dann, and were again recorded in Clovis with Norm Petty producing. "Easy to See" was a slinky Chris Montez-influenced number that could easily have come off a Zombies album. This second recording session resulted in six original tunes, and opened up new worlds for the band. They experimented with new instruments: "The Magic In Her Eyes" used a dominant sitar lead line by Dann, while "The Door that Leads to Nowhere" incorporated a drum machine (at that time outlawed by the Musicians Union) behind Rolie Hardie.
Norman made us feel really comfortable. He was such a calm, cool, collected guy. And he was so into us having fun. He wouldn't change our arrangements – he'd encourage them to "grow." He didn't want us getting too self-conscious or thinking too much….we were delighted to be there – we knew we were in the hands of a real producer.
Nelson agrees:
I had never been around a real producer. He was also a writer, so he had a wise and measured hand in helping us hone our studio chops without being overbearing. Norman was an intriguing and very kind, a soft-spoken Southern gentleman. He was obviously loved and well-respected in that community and the bands he'd worked with were never far away from Norman. During my two jaunts with the band in Clovis, I got to meet and hang with Jimmy Gilmour and the Fireballs, the legendary George Tomsco, and a couple of members of The Champs (the "Tequila" guys). Norman had framed gold hit records all over his walls. He co-wrote a number of Petty-Hardin hits for Buddy Holly including the best-known ones. I was too young and stupid to know that I had lucked into a piece of rock history at that point.
He continues:
I hadn't thought of myself as a writer at all, but on our second trip to Clovis, it was decided that we needed to write our own material. I mean, we went down there with at least two or more covers to record, and I'm guessing Norman thought it was not going to help the band to record covers. So we were all asked to try our hand at writing while we were there (a week or less). So, Bob Dann and I wrote at least one song together and I came up with a couple more in addition to Willie, I think who wrote at least one more there. Anyway, Norman got us to rehearse and record whatever was ready, and I managed to get three of my on-the-spot tunes recorded.
As well they did "Appreciate a Girl." Dann remembers:
I …remember Will himself and Norman Petty asking me to do a guitar solo in one of the songs. Which song is it? —it's one that Will wrote himself. He said, "Put a guitar solo in it," and I said, "Well what do you want?" He said, "It's up to you!" So you're sitting in a studio by yourself and they're playing this track back to you and what do you do? I don't know to do this…I just started to play with my fingers. "Who did that?… I probably did about three tries on it, and they said, "That's great; leave it the way it is." It was a little too fancy the first time. I remember Norman saying, "It's a little too much at the end. Make it a little simpler," and I tried it the second time and it wasn't quite right, and they said, "One more time," and we did it, and that was it. Three tries. The amazing part that just shocked me was that it just happened… That song was later recorded, and I heard it on the tape that Will had given me. Jimmy Gilmer and the Fireballs did it as a B-side or something. I don't know if they ever released it, but they did re-do the song, and the guitar lick George Tomsco plays is identical to the one that I played. It's the highlight of my life—that's it.
The sophomore effort was not as successful as its predecessor. It entered the RPM Canadian chart on July 1st with a supportive introduction: "Willie & the Walkers have released another single on Capitol. This one "My Friend" is a strong follow-up to "Diamonds and Gold" and could give this popular Edmonton group another crack at the national scene." Unfortunately it did not take off, and was only on the R.P.M. chart for three weeks that month and did not rise above #13. Canada Bill, the anonymous correspondent in R.P.M. pushed it strenuously, calling it "a really great record. I hope some of my real Canadian personality friends will dig up their copy and give it a spin."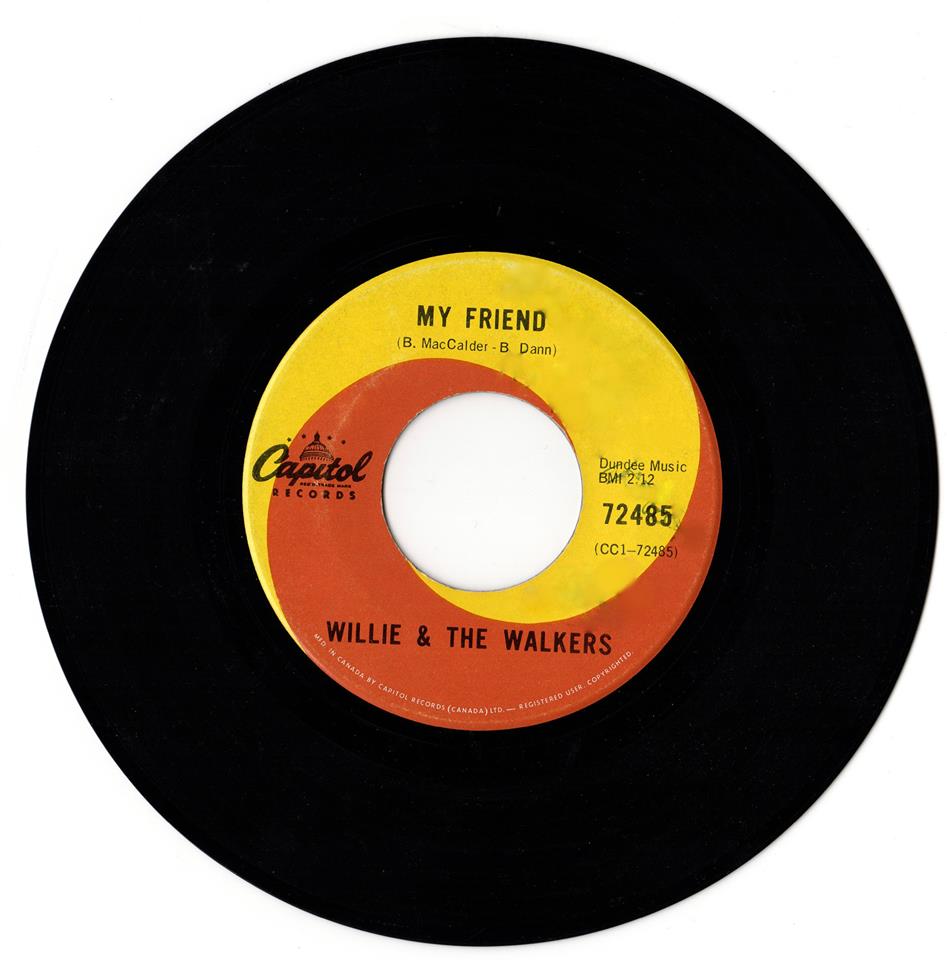 The band played a number of interesting gigs that summer. One was a rousing multi-band extravaganza held on August 21 at the new Edmonton Gardens. It was one of the stranger combinations of acts. The Who, the Blues Magoos, and Herman's Hermits (Herman was somehow the headliner) were nearing the end of a three month North American tour, with the Canadian dates including Calgary and Toronto in July, and Edmonton, Winnipeg and Fort William (now Thunderbay) in August. The Edmonton performance added Willie & the Walkers and the Guess Who. As would be expected The Who completely stole the show, both with their volume, and their on-stage behaviour.
The Edmonton Journal sent two writers to the show – one adult and one teenager. Barry Westgate was ostensibly the adult, and tried to dismiss it out of hand:
The Who break up their instruments at the end – and that's a grand idea. The Blues Magoos peer out of a wild cacophony of electronic mayhem they call "total re-creation" music. No words are intelligible…just amplified madness. And for this the kids still screamed Monday night when more than 8,000 gathered in The Gardens for another helping of the gigantic hoax called teen-age entertainment.
Nelson's memories are dominated by the teenage reporter Lori Ball and his co-interviewee Randy Bachman;
I particularly remember this date because an Edmonton newspaper entertainment scribe named Lori Ball wanted to interview someone from each group. I guess Willie didn't want to do the interview (knowing what going up against Randy Bachman would be like?), so I was nominated to do the interview. When Ms. Ball began the interview until it ended it was 95% Randy – with me barely getting in a word, but I was fine with it. ….I was interested to hear Randy speak, but there was no "off" button…
In the end, it was all for naught: Ball's review several days later made no mention of either The Walkers or The Guess Who, and contained no quotes from either Bachman or Nelson.
Two days later, The Walkers and The Guess Who teamed up with the hyped-up American group Dino, Desi & Billy, to play back to back concerts first at the Calgary (August 23) and then the Edmonton (August 25) Jubilee Auditoria. Both venues were comfortable, classy spaces, each with well-engineered acoustics and 2,500 seats on three levels. The Edmonton concert was subsumed into a larger "Woodward's Salute to Youth" city-wide event with fashion shows and back-to-school displays. It also saw the addition of their friends Barry Allen and his then backup band The Southbound Freeway.
Nelson recalls:
Dino was the first son of Dean Martin, Desi was the son of Lucille Ball and Desi Arnaz, and Billy Hinsche was the son of one of the major realtors in southern California. They were a 1st level 'bubblegum' appeal, but musically weren't that bad for a very young trio. I actually got to spend some time with Desi Arnaz, Jr. the day we were in Calgary, and I found him to be a very down-to-earth and personable guy. He and I got along very well and I remember cracking him up. Both of us began riffing with stupid accents and jokes, etc.
By this time Nelson realized he was in with a special group of guys:
Although Willie was the acknowledged leader and group spokesman, the brothers Rollie and Bill were beautiful, down-to-earth people, children of a wonderful relationship that I'm still grateful I got to see and benefit from. Also, Bob Dann, the group's lead guitarist was an extremely funny and intelligent guy, always fun to be around. I learned a lot about guitar playing and basic chord structure from him.
He continues:
Rolie was the young guy in the band, good-looking and smooth, and girls wanted to mother him! He was a very tasteful and dynamic drummer with excellent time- keeping ability. His brother Bill was probably the best all-around musician in the group. He understood the mechanics of music and had a deft touch on the bass, great "ears". Bob Dann was a consummate guitarist, a guy who had studied more than one instrument growing up and was into guitar. He was the guy who nearly went nuts when he found out we were going to be touring with Johnny Rivers because of James Burton being one of Johnny's two accompanists.
Bryan Nelson decided to move on at the beginning of October 1967. His health issues played a major role in the decision. As well he was feeling under immense stress – he felt he had to improve his guitar playing, he had to write more songs, and he did not want to delay the band's upward momentum by his health problems. It seemed like a never-ending spiral:
My health was really in rough shape at the time. I had developed stomach problems in my early teens, but by the time I got to the Walkers and all the bad food…I had ulcers diagnosed by a doctor in Clovis…By the time we returned to Edmonton, my stomach pain had worsened, and after struggling for a few more weeks, I asked for some time off. I was barely away for a few days when I got the call from Willie that I was replaced.
According to MacCalder: "Bryan left on the advice of his doctor. He was told he had an ulcer and had to get bed rest." They felt they could not wait for him. As reported in The Journal on October 13th:
The roll call for Willie and the Walkers has shifted somewhat. Ron Rault has taken over in the vocal department from Brian [sic.] Nelson. The group played a double band-stand last week with The Lords to record crowds. And as all good Walker fans know, there is much in the offing from the group. But more about that next week.
Nelson had given three important songs to the band: "Feelin' So Good", "The Door That Leads to Nowhere" (co-written with Dann), and "The Magic in Her Eyes" which were in-concert favourites but which did not make it to disc for The Walkers. Two of them did however make it for other bands. After leaving the band, Nelson's stomach ulcers healed, and he went on to join the Lethbridge radio station CHEC as a disc jockey. It was there he had a pleasant surprise:.
One night while sitting at the board, I received a phone call from Norman Petty in Clovis. He asked me for permission to allow two of the songs I'd written while on the 2nd trip with the Walkers to be placed to two groups Norman was producing. One was from Denver and they recorded "Feelin' So Good", which I don't think I even have a copy of, and the other was "The Magic in Her Eyes", both eminently forgettable, in my opinion. But it was exciting to hear Norman talk about it, and of course I gave him verbal permission. He told me to watch "Cashbox" and "Billboard" magazines, the indie bibles of the day, to see what happened to the tunes. Sure enough, a few weekly issues later, there was my name as writer under the band and song name. I have to admit that I had so little self-confidence at the time that it was almost like looking at someone else's name. I never even kept those issues! I never asked for copies of the songs that Norman recorded, but I'm sure if I would have had that presence of mind, he would have helped out.
When asked how he regards his three tunes in retrospect, Nelson muses:
At the risk of sounding jaded, I think those tunes were okay considering that I had no precedents at that point for writing songs for a band to record. I had always had musical ideas churning around in my head – I loved listening to many kinds of music – but when put upon to come up with something, I don't think I did badly. My voice on "The Door That Leads…" sounds almost pure, achingly devoid of affectation or, frankly, substance, but again it was not a bad first try. The funny thing about that song is that Willie called me once to tell me that Capitol Canada had decided that the next single should be that tune. He called me for permission to go ahead with that although by that point I'd been out of the band for at least two or three months. What a spot that must have put them in….
Nelson looks back with mixed emotions. He left no better off financially: "I was given zero cash for my time in the band, hadn't made any money and only received the daily stipend for food allowance, etc." Still he grew as a musician and songwriter, and overall had a good time: "I was really a passenger in so many ways in those days, but it was fun to be a part of something that was musically successful. We got asked to sign lots of autographs, records, casts (lol), and so forth. It was a lark."
MacCalder made a brave decision to add Rault to the lineup. He was a talented and unique vocalist, and brought a very different musical sensibility. He was also the polar opposite of the agreeable and affable Nelson – he was an opinionated, frequently ornery rebel, who thought everyone in the band should have equal say in everything – but especially him. Rault was an old friend from the Bonnie Doon neighbourhood. He had established himself as a singer of note in the band Tyme V (or Tyme Five). In October 1966 he jumped to a more professional group Time Machine (although he did not overlap with Bob Dann). It was a combo that was appreciated by all other musicians, but not particularly by audiences. It included in its ranks Al Treen and Bruce Nessel (formerly with Graeme and the Waifer), Steve Palmer, and Ken Branson. According to MacCalder:
Ronnie had a profile, as well as black, gravelly vocals. His was just a different tonality – for instance he took over "Georgia On My Mind." He was also a lively front man – he did Otis Redding stuff, Rolling Stones stuff – things like "I Don't Need No Doctor" by Ray Charles.
The Time Machine were certainly a groundbreaking band for Edmonton – if only in their repertoire. Rault:
…at first we were doing a mix of British versions of R&B, and some R&B from the States. Al Treen said one night "We've got to start looking at this stuff, because nobody else is doing it." He played us some Junior Walker, and James Brown. This was the first time I had even heard of James Brown, and he put it on and I just lost my mind. I got on the microphone and I was just singing and I thought, "I've gotta make those noises that those guys make," and all of a sudden I hit this falsetto note that was out of this world—I didn't even know where it came from. It sounded like the high register of a saxophone, like it was beyond my vocal range, like, "I can't do this!" And all of a sudden it was there. Al Treen stopped everything right in the middle and put his arm around me like, "My boy, my boy" …. and all of a sudden the band was "This is what we do." And we started doing Wilson Pickett, Otis Redding, James Brown…"99 and a Half", "Midnight Hour" of course, "634-5789"—that was a big one. A lot of Wilson Pickett. "Mustang Sally" of course. "Shotgun", "Shake and Fingerpop" by Junior Walker. "Shoot Your Shot" by Junior Walker. The real rockers by those guys. We just went right into it…. Yes, and we did some blues too. We did T-Bone Walker, "Stormy Monday"; "I Put a Spell On You", "Hoochie Coochie Man"…"Smokestack Lightning." Steve Palmer collected, much to his credit, a lot of the blues that I knew at that time. He would go out and look for this stuff. Chess Records, and the earlier stuff, like Lightnin' Hopkins and Sleepy John Estes and Blind Willie McTell…it was brought into our bloodstream. It was there from before, but now it entrenched itself.
It worked well for a while, but the lack of gigs was disheartening. Just before the group imploded, they changed their name to The Umbrella. A groovy name – but it didn't help. Rault recalls:
I hadn't seen Will in six months. He phoned me up at Randy Sawyer's while we were rehearsing. "Why don't you come and join the band? We think you'd fill the bill…" I said, "No. But I'll think about it." These guys were pretty square. They weren't hip. So I went in there and told Grant and Randy, "Will wants me to join the band and I said no." Grant grabbed me like, "These guys are touring the States and Canada! They're gonna break out right away, they've got a hit! Wake up! What are you, nuts?" I went back to the phone and dialed the number, because Will had said, "Well, if you change your mind…" So I said: "Hey, actually I'd like to reconsider that offer," "All right, well come over…" And in a half hour I was over at the Walkers' studio, which was over on First Avenue and Third Street. We were in a little strip mall, and they'd built a studio in it—sound-proofed, headphone plugs, microphones, all on the walls… they had a sound booth in there, two Sony two-tracks in there. Bryan Nelson had been in the band and had gotten such a bad ulcer he had to quit. He was literally killing himself.
A framework had to be established:
What I thought was going to happen—it was very complicated, but Will sort of laid out the business to me, like, "This is what we do, this is how we do it, this is where we're going." I said, "OK," and in my mind I was thinking, "That could change… we're gonna write really good stuff. Look at all this great material we've got, and all this money—we're gonna have fun." And from then on, it was a battle of wills between Will and myself. I must have quit that band five times. I kept asking, "Do you guys want to be a hit? You wear these goofy uniforms…goofy cute. They were cultivating that. They wanted to be like Paul Revere and the Raiders. Paul Revere and the Raiders came out in costumes and did all these regimented steps on stage, and played all this straight-down-the-middle pop music. And they were hugely successful.
Although Rault had no designs whatsoever on the band leadership, he was never happier than when he was throwing critical barbs in MacCalder's direction and encouraging mutiny. He would join the band for their travel-heavy autumn. They ranged far afield in October and November 1967, playing Calgary (Friar's Den – twice), Cooking Lake (Lakeview Pavilion), Consort, Moose Jaw, North Battleford, Medicine Hat, Dawson Creek BC, and Calgary again (Agriculture Building).
Another notable one was the Centennial concert in Consort, AB on October 21st. A full day's old-fashioned variety show, it started with the official opening of both the Centennial Caravan train and the Consort Sportsplex, then public recognition of people's centennial projects, square dancing, tap dancing, a rocket ride for kids – and finally the talent which included the Hannah Band, Beebe's Orchestra, Jorgenson's Orchestra, the Lacombe Centennial Singers (100 in number), and finally The Walkers.
Blogger Joe Thornton ("Joe Thornton's Rant") recalled it many years later:
…one of my favorite groups when I was just getting out of Junior High was Willie and the Walkers. Picture it – the year is 1967. I was given a free ticket by the Sedalia community association to attend a $100.00 a plate dinner (figure out what 100 bucks was worth in 1967!!) for the opening of the Consort Sportsplex.

The headlining entertainment was Willie and the Walkers – their big North American hit was Diamonds and Gold (one of my favs at the time) – they hailed from Edmonton… the show was great and was hosted by my all time favorite DJ Bob McCord from 630 CHED radio (he sang Los Bravos' "Black is Black" – backed by W& the Ws)…Didn't know he was a singer until then.

The show ended way too soon and I was still wanting more. Debbie Kroeger, later to be mother of Chad Kroeger of Nickleback was feeling the same way. She was now a cousin by marriage – my uncle – Claude Thornton and her aunt – Helen Kroeger had just been married a couple of months before. I cajoled Debbie into getting the keys for the dealership (her dad Henry Kroeger – later Alberta Transport Minister – owned the John Deere dealership in Consort) and together we talked Willie MacCalder… into doing an impromptu concert at the shop… it went for about another three hours… it was pretty magical for a couple of 15 year olds – I personally believe that was the real origins of Nickleback!
Arguably their finest recording hour had already come with the results of that third trip to Norman Petty's studio. By this session, MacCalder's vocals had loosened up. He was obviously more comfortable in the studio, did not feel the need to enunciate every word, was much more expressive, and sounded like…himself. The third single was the extraordinary "Alone In My Room" b/w "Poor Janie." The A-side was originally an old Spanish folk song, but was turned into an English bluesy soulful exercise by the American songwriting team of Prieto, Vance and Pockriss. It was originally recorded by the New York singer Verdelle Smith (on Capitol Records), and later by both Nancy Sinatra and, ironically, The Walker Brothers. It was unlike anything Willie & the Walkers had done before – prior to this all their songs had been impossibly cheerful and happy. This one was a serious downer – a two verse ode to loneliness, an empty life, and depression. Of course it appealed to any teenager who had been dropped by their first love. Dann knew it was special:
I don't know if the rest of the guys did. I don't think they really believed me, because we were looking for another cut because we didn't have anything good down there, and that's when I suggested we do "Alone In My Room". I don't know if they'll own up to that or not, but I distinctly remember basically having to sell it to those guys. I know Rollie thought that was a good song. I think overall it was, without a doubt, the best song that we ever recorded. It was clean, it wasn't messy, and it was the Walkers. The rest of the songs are a little bit flowery, a little bit Norman Petty-ish, but this one was us.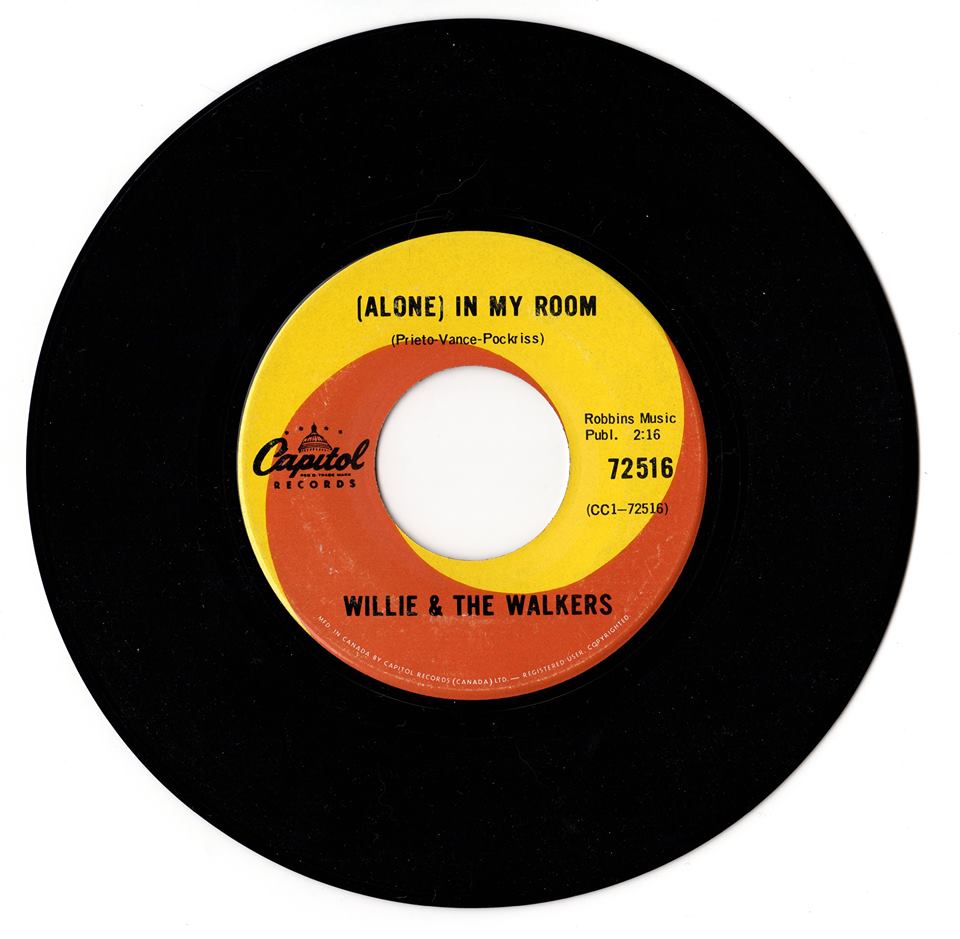 MacCalder added a hint of a Bach fugue for the opening, and sang with a clear, though appropriately angst-filled voice:
In my room, way at the end of the hall
I sit and stare at the wall
Thinking how lonesome I've grown, all alone
In my room
In my room, where very night is the same
I play a dangerous game
I keep pretending she's late
So I sit, and I wait
Over there is the picture we took when I made her my bride
Over there is the chair where I held whenever she cried
Over there by the window, the flowers she left – have all died
In my room, way at the end of the hall
I sit and stare at the wall
Thinking how lonely I've grown, all alone
In my room
"Alone In My Room" took twenty-seven takes before Petty decided they had the best version. The other tunes included two covers "Tired of Waiting" (by the Kinks) and "What Is The Reason" (by the Rascals), as well as two MacCalder originals "Loser" – one of their funkiest and finest workouts – and "I've Given Up My Soul" – none of which would see the light of day for almost thirty years. Many years later Bill Shute would review the CD reissue of all the Walkers songs, and made the interesting observation:
…ALL the material from the first two sessions is original. It's not until the third and final Petty session in October 1967 that any covers are recorded. This is the reverse of the method of most 60's bands, who usually started off doing mostly covers until they developed their song-writing skills. Perhaps the expense of traveling to New Mexico encouraged the band to bring their A-Game to this session…..The three covers are all first-rate. By this time the band had developed its own sound, and the songs taken from The Rascals, Verdelle Smith, and The Kinks truly sparkle–in fact, the cover of "Tired of Waiting For You" could have been released as a single…it's that confident and distinctive.
The single was released on 6 November 1967 and not surprisingly hit #1 on CHED's daily chart the following day. The Journal reported on 24 November "Willie and the Walkers' disc In My Room has crashed the top twenty in Calgary already and is getting good action down east." It entered the RPM Canadian chart at #13 during the week of December 2nd. It stayed on for eleven weeks, making it to the top spot on January 20th 1968.
MacCalder remembers this as a special autumn and winter in the band's history:
It was a dream come true for us…we were kids, too young to have any vices. We were really high on life. I mean, we were on the same label as The Beatles and The Beach Boys! We'd drive around to all these prairie cities and towns and all the stations would be playing us. We were hearing it everywhere… It was #1 on all these charts. For us it was a very big deal.
The Walkers' popularity started to grow as they travelled further afield. In the first week of December 1967 they played a number of showcase gigs in Winnipeg, most notably at J's Discotheque, at a local dance party at Polo Park Shopping centre, and the St. Louis Youth Centre. Gary Hart of CKRC immediately started to spin their disc on his show, and made The Walkers the "Star Story" in CKRC's "Young At Heart Chart" in the Winnipeg Free Press for December 9th. He added: "they proved to all dance types that they had a sound to sell. The group's new Capitol outing "In My Room" is currently enjoying excellent success wherever it's played."
They taped an appearance on CBC, lip-synching to "Alone In My Room." Ron Legge, a disc jockey/writer for the Free Press was mightily impressed by them, but was also aware of their context:
Edmonton has long been under-rated as an entertainment centre but it's voice is being heard now through such channels as The Lords, the Southbound Freeway, the now defunct Rebels, and early December visitors Willie And the Walkers. These bands' formula of professionalism is turning into a solid rock recipe for many "Peg acts who are now realizing it takes more than the shoulder length hair and guitar to be where its at baby… .
During this trip they also ran into a band, The Fendermen (also featuring the "Gorgeous Fenderettes"), who were playing at The Towers Club. Three of the four members were from Edmonton, where in the early 1960s – fronted by Hank Smith – had been known as The Rock-a-Tunes. The two bands become good friends. The meeting would shortly have a far-reaching effect on The Walkers future.
Meanwhile back home, Lydia Dotto continued to sing their praises and let Edmonton know about their out-of-town successes:
Great hopes in the making for Willie and the Walkers and In My Room. The group just finished a gig in Winnipeg and their song is "in" in the East. It's already charted on over five surveys down there and its still on the way up. A lot of noise is being made about sending them on an Eastern tour and it could easily become more than noise if the song continues to go. I've even heard rumblings that the record could be an American breakout. That might be going a bit far right now, but anything's possible.
"In My Room" dropped into the R.P.M. Canadian chart at #13 during the week of 2 December. It finally reached #1 by 20 January 1968. (It reached #40 on the general chart the following week).
The Walkers finally got their first nod in Billboard – the music industry's most prestigious trade journal in November 1967. It was short, and read simply: "Big Edmonton group, Willie & the Walkers, have their third Capitol single out, the Verdelle Smith hit, "Alone in My Room"" – but the point was that they had been mentioned in an international context.
The band's importance was starting to be recognized by the industry and, in particular, their record company. That and the fact that MacCalder was known to have been talking to a number of labels including United Artists Records, made their head of A&R realize that he should be paying more attention to his prairie artists. Accordingly he decided to check out the action in their home town. In January Billboard reported: "Paul White heads west mid-month visiting Capitol artists Barry Allen, Wes Dakus, and Willie and the Walkers in Edmonton, touring the city's new studio, and scouting new talent."
The Winnipeg Free Press reported on 27 January "our friends from the west, Willie and the Walkers, proudly announce their song In My Room as Canada's top single-seller for the past two weeks." The #1 ranking finally brought Willie and the Walkers to the attention of the American music industry. Lydia Dotto reported in the Journal on 13 December 1967 that:
Happiness is success. Or vice versa. This being so, one must of needs deduce that there are a couple of happy Edmonton bands around these days. Take for instance, Willie and the Walkers. The threat of national U.S. distribution of In My Room looms large over them, and are they worried? I should say not. That's not the kind of threat they're likely to get upset about. Actually the Walkers signed with United Artists Records this week, with the happy result that their single hits the American market in January. UA is planning a big promotion program to get the record going and who knows – with enough crossed fingers here at home, this could be the start of something big, as the saying goes.
The year ended on two high notes. First – their ambitions whetted – they decided they wanted to try and crack an even bigger market. The Journal reported:
Willie & the Walkers make the headlines again this week. Nothing but good news about them. They've been booked to do a U.S. tour near the end of March 1968. At the time of writing, no definite dates or cities have been specified and negotiations are still going on, but it looks like the Southern states got the nod…I've heard various enthusiastic comments just this past week about The Walker's stage act, which is superlative. They'll be playing the Boxtops Show both here and in Calgary.
One of those concerts which marked a turning point in the career of the band took place on December 30, 1967 when the Walkers opened for The Boxtops, an American band best known for its international hit "The Letter." Also on the bill were the Trade Winds Five and The Lords (later Privilege). Although the Edmonton Gardens was cold, the acoustics less than suitable, and the audience somewhat lackadaisical, the show brought home to Edmontonians the fact that they had real stars within their own community. Lydia Dotto in particular was impressed, and mused in her column that the imported talent was not all that impressive. The Trade Winds Five were a "study in monotony" while the Boxtops performance was "marred by sound difficulties and two totally unnecessary go-go dancers who merely disrupted an otherwise passable performance by the lead singer." She continued:
It left me with the realization that our home grown talent has real class. I refer, of course, to Willie and the Walkers and the Lords, indisputably two of the top bands in town. To my mind, the Walkers were definitely the highlight of the evening, the Boxtops notwithstanding. The Walkers put on a very smart, professional-looking half hour show. I recall an interview of a year ago in which members of many top bands agreed that Canadian groups lack professionalism. It was easy to see, at the show, that a lot of work has been done in the past 365 days. The Walkers were very alive on stage, without overdoing it, and they looked like they were enjoying themselves. And then there's always little things (like a hit record) that colour up the act too.
The first three months of 1968 saw The Walkers play a number of important engagements. They started to be booked regularly at Edmonton's Rainbow Ballroom, they played at the University of Alberta's "Bust Out" Dance on January 19th, they took part in several multi-band extravaganzas such as "The St. Valentines Day Massacre" on February 11th (with Graeme Waifer, Young Ones, and Brinkman Brothers) and "The [2nd] Mukluk Mardi Gras" on February 16th (with Witness Inc., Privilege, and Purple Haze). They also opened for The Who a second time on March 2nd, again at the Edmonton Gardens. The lineup for that show included Winnipeg's Sugar n' Spice, and local bands Warp Factor, The Heat, and the Young Ones.
As promised United Artists released "Alone in My Room" in January, and it did start to receive attention in the U.S. Their first mention in the other American trade magazine – Cashbox – came on February 10th. Its reviewer clearly liked the "rhythmic throb behind this piece of blue-eyed funk a la Procol Harum. The lid is a low-down organ showcase with some interest nabbing vocals. Good teen side that could take off…."
Riding on the high of the last single, the Walkers decided at the turn of the new year 1968 to reach for the next rung of the ladder – an album. The original plans called for bringing together all sides from their three singles, the best of the unreleased material already in the can, augmented with a batch of new material. They had recently been listening to single releases by fellow Edmonton bands The Sons of Adam and The Lords. Their respective tunes "The Thinkin' Animal" and "Blue" had both been recorded with producer Gary Paxton. Paxton had moved from Hollywood to Bakersfield – about one hundred miles north of Los Angeles – in mid-1967 to get away from his pop roots and delve into country music.
Paxton opened a studio in an abandoned bank building at 1301 N. Chester, assembled a core of crack session musicians (including members of Nashville West such as Clarence White and Gene Parsons – both to shortly play with the Byrds), and started a label called Bakersfield International. The initial hits from the studio came from the Gosdin Brothers, Gib Guilbeau, The Spencers, Larry Daniels & the Buckshots, and of course Paxton himself. As promising as it sounded, it was to turn out to be a torturous and ultimately unsuccessful endeavour for The Walkers.
Recalls MacCalder "we wanted to try something new. We wanted that punchy sound coming out of Bakersfield." Accordingly, in March the band (along with Dakus and Barry Allen) drove down to California to record. Even though they had not assembled a group of new songs, they decided they were ready to go. MacCalder recalls the first wrinkle: "I said, "I've got enough money to get us down and back", and Wes said "Okay that's fine…the sessions will be taken care of under my production company. You won't be paying for studio time."
Dann recalls:
I think it was more of a holiday than anything else. I think Will will even attest to that. I think we had just had enough of playing, and we just had to get away, and we had to get down to the States… I think Will just did it to get the group away on a vacation. And that's what we did. We got our 8mm camera and we got our camper and we went for a couple of weeks… It was great….We stopped in Seattle and had clam chowder and met his dad or something like that, and everybody got into smoking pipes. They were 20 years old, 19 years old, rolling down the road with pipes in our mouths, looking real cool! Burning our tongues from smoking pipes twenty hours a day… .
Rault recalls:
…around the spring of 1968 it was time to go do some more recording. "Alone in My Room" had been a hit and we were gonna follow it up… Along came John Wesson, who was hanging out, and who had played with Will before, and I knew JL because I had gone to school with him… Turns out he's a musician too. As we're loading up the camper and the trailer, JL jumps in, bag in hand and says, "I'm going too."… and we proceed down to Bakersfield, but we end up first in Haight-Ashbury. We had to go to Haight-Ashbury, because it was hip. We ended up in a store … just down the hill from Golden Gate Park. This is a hip clothing store, this is where the stars shop, and around the corner is the Grateful Dead house. I don't know this; I don't care. I never paid much attention to them—I hated the Grateful Dead when they first came out. I thought those guys were awful – but they were hip!…. .
He cringes (and smirks) as he tells the rest of the story:
… and in walked the Grateful Dead— Bob Weir, Pigpen, and someone else… it might have been Phil Lesh, I'm not sure. I didn't care. So I'm embarrassed "Oh you kids are in a band?" "Oh yeah, yeah." "What's the name of your band?" And I'm thinking "Don't tell him—make one up." "Willie and the Walkers" "Willie Wonka?" "No, no, Willie and the Walkers." "Oh, because you know there's a children's story, Willie Wonka and the Chocolate Factory – wow what a cool name…" I'm embarrassed for all of us, because Will is so square that he can't help himself. "We play all the hits. You know the Ohio Express? The 1910 Fruitgum Company?" He was so square then! We covered the Top 40 on the radio. That's what we did. I remember singing, "Incense and Peppermints", and I thought, "Now we're getting somewhere."
Lydia Dotto reported in The Journal:
Willie and the Walkers are down in Bakersfield with Garry Paxton, working on some new material. This has caused another delay in the release of their album – they weren't quite satisfied with some of the work they'd already recorded for it. The Walkers are a popular group in town – and justifiably so. It is commendable that they want to do a good job on their recording. It is also true that a first album is an important and vital step in their career and it should be taken with care. But I can't help but wonder if the fans aren't starting to say "promises, promises, promises …"
The first hesitation was the studio itself. Paxton was using an odd setup – the recording area was in an old bank building, while the control booth was outside in an abandoned school bus. The room was painted black with black egg cartons on the wall, and one red light. Cracks MacCalder:" we went from pretty high tech at Norman's studio to this whorehouse!"
Even so, the recording equipment was state of the art. Paxton was using a prototype eight track multitrack before it was commercially available. Although they started well, the sessions bogged down quickly. Unlike the rapport the Walkers had with Norm Petty, they and Paxton did not seem to understand each other at all. The necessary chemistry was lacking, and as Hardie puts it: "Paxton was one of the strangest dudes I've worked with in my life. I just couldn't connect with him at all. The feeling was just not there." MacCalder elaborates:
We would sit for an hour and a half outside the studio past the appointed time for the session and still no Garry Paxton to be seen. An hour and a half after that, he would show up and postpone the session until six hours later. When he was finally willing to work, we'd be burned out…. He didn't like the stuff we came down with, as opposed to Norman encouraging us to get what we could out of what we had written. Paxton would just say "Nah, screw that tune – here, record this one." That tune ain't workin' – here's one my wife wrote.
In all seven, possibly eight tracks were put to tape in various stages of completion, with none ready for a final mix-down. One was a MacCalder-Rault original entitled "Is It Love", another was a cover of the Buffalo Springfield tune "Bluebird", and one that still rankles – Paxton actually forced them to record a song by his wife called "Nature's Child." As well Bill Hardie remembers doing a Beatle song "rearranged a la Vanilla Fudge" (he just can't recall the title).
Then it started to get ugly. Dann recalls the treatment Paxton gave their version of "Bluebird" and its complete lack of subtlety:
We did a Buffalo Springfield song. Anyways, the toilet flushing sound, he put in it, Paxton did. I think he did it just because he didn't like the Buffalo Springfield. Again, it's another one of those …things where, "Well, it's not my label, I don't give a shit." Let's just put a flush at the end of it. And it's right in the song…And actually we ran one of the voice tracks through a Vox amplifier that had a vibrato built right into it, and all I remember is running behind this amplifier and Gary Paxton saying, "Now," and turning the controls like this, and Will's voice went like [makes vibrato sound]. He's playing back the playback through this to record his voice, and then the toilet flushed after that. I don't know if he was saying we were singing like shit…That's all I remember of that trip!
The problems started when Paxton's drinking started to take the form of paranoia. Rault recalls:
I think we did six tracks. They all disappeared. We never got even a cut of them. Never even heard them again. He was so wired: we went into the studio one day, said "Come on in, we're gonna do some mixing," because we'd pretty well finished the cuts. We didn't know if we'd finished—if we had something, we'd go, "Is that good? Are we done?" We came over one Sunday morning and decided we had to do some mixing. We came to the door and knocked, about 10 o'clock in the morning. Nothing. Go in the walkway… finally the door creaks open and this guy peers out. "What do you want?" "Gary, it's us."
In the fine tradition of Phil Spector, he was brandishing a hand gun. Continues Rault:
I was scared. I said "You're not gonna shoot me…. he might shoot one of you guys but he's not gonna shoot me." Scary. I don't know what happened after that, because I don't know if we ever got back inside. I think he came to his senses and wanted to know where we'd been.
Then Wes Dakus injured himself. He was paralyzed for several days, and it was essential he return to Edmonton for medical attention. MacCalder remembers it as a spinal disc problem. Rault has a different story:
And the second thing that happened that was funny was… I was telling you about how we had to run into the bus every time—Wes got so excited to tell us something one time, got up from inside the bus, ran down the stairs to come down and see us, yelling all the time, and wham, he ran right into the doorway of the bus, and knocked himself cold. He had to go home after that. That was it; he was done.
Either way, that is exactly when Paxton demanded his payment for the sessions. Recalls MacCalder:
Then Paxton asked me for money, and I said "…this session was supposed to be taken care of by Dakus' production company". And he started running down Wes….and I said "Well I guess we're out of here". He says "Yeah, I guess you are out of here, and furthermore if I don't get my money, you don't get your tapes. So beat your sorry asses back to Canada you dumb Canucks". The man was such a pig….salty, rude…
He continues:
No sooner did we get back home than I received a letter on foolscap written in felt pen – six lines per page "Get my goddamn money or I'll send this letter to everyone you know or Wes Dakus knows or that I know that should be aware of this!" It was like a ransom note. He did act on it – sent a copy to Andy Krawchuk, to Paul White at Capitol in Toronto and others…He was out of control and we were ill-prepared, so it was a recipe for disaster.
Plans were even made for the cover of the impending LP – a mockup of the artwork even exists. It is a portrait of MacCalder with an overlay of the album's title Alone in My Room. But upon returning to Edmonton, the Walkers realized they did not have the goods. After weekly pronouncements, the Journal made its last mention of the album on April 5th "the tapes for Willie and the Walkers have been sent to Hollywood for mastering, and this should be completed quite soon." In the end, the album fell through – one dramatic version has it that when he did not receive payment from anybody for the sessions, Paxton burned the half-completed master tapes in a fit of lunatic rage. Miraculously one tape survived Paxton's fury. A rough mix of "Is It Love" remained in his studio's vaults, and was finally released in 2015 as part of the compilation CD Happy Lovin' Time: Sunshine Pop From the Garpax Studio.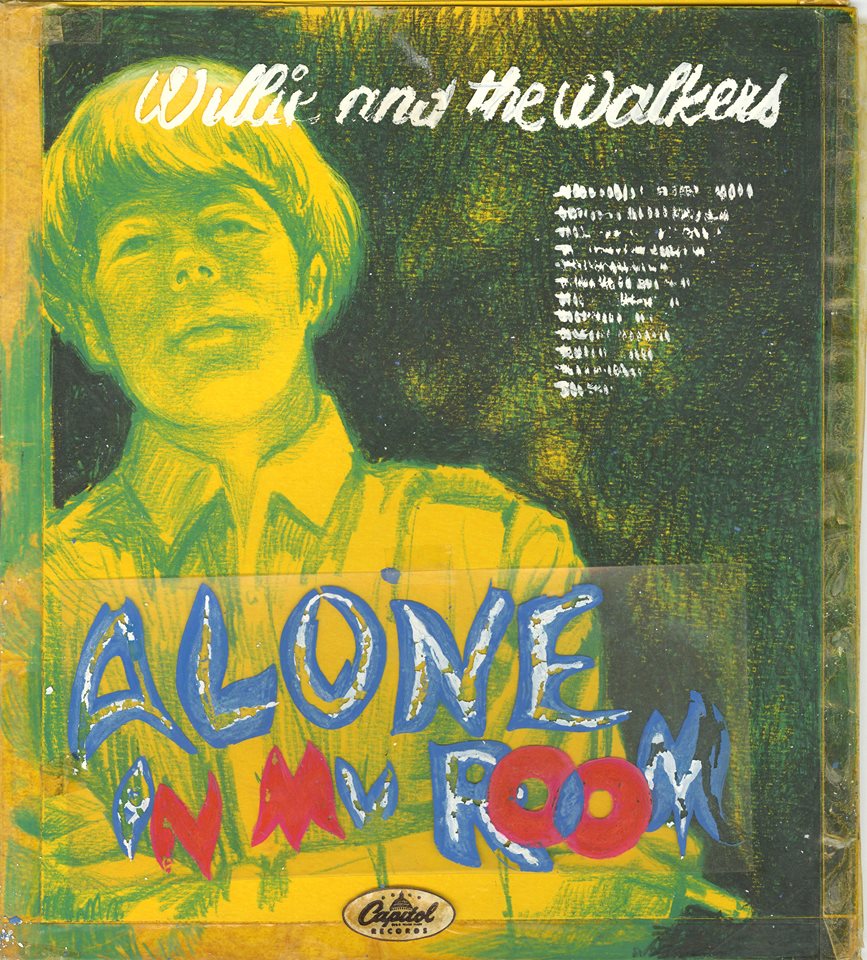 As much as they enjoyed writing and recording (well…most of the time) their own songs, they did not consider them important enough to keep them in their repertoire. MacCalder looks back in puzzlement:
We never paid much attention to the songs we were writing. We did them live only when we had to. Even when our songs were being played on the radio all the time, I suppose we didn't really appreciate how important it was to feature ourselves! That's my fault for sure. After a while, we'd be worn out on our tunes, that we couldn't be bothered to play them…how to kill your own market!
Rault agrees: "No…never did any of them. Well, we did "Alone In My Room" for a while, but it did not stay in the repertoire for long."
By May of 1968, Bill Hardie was growing disenchanted with the unrelenting commercial approach of the Walkers. For some time he had been steeping himself in a country-rock influence. Hardie convinced the band to incorporate several Buffalo Springfield tunes particularly "For What It's Worth" and "Bluebird", but the others did not want to go much deeper than that. Recalls Hardie "that's the direction I wanted to go, but Will didn't. So I hit a wall and I felt we weren't going anywhere. I was getting fed up with poppy keyboards. We weren't progressing."
Rault recalls there was an air of tension:
I remember that being a very strange time, because I didn't like Billy at the time. He pissed me off. Everybody was pissing me off! When we came back from Bakersfield, shortly after that I became very unhappy. I decided that things weren't going where I wanted them to and this band wasn't going where I wanted it to, and I quit…. We had gone to Ma-Me-Oh Beach one night and played there, and it was a terrible night. We just played terribly, and I was so upset with our performance, and I was increasingly becoming frustrated with Billy. When I was on stage, I didn't do anything but sing, and I would feel the energy—at least I thought I did, Mr. Psychic—on stage, and I was not pleased with him. And I told him, and I goaded him on to fight that night in the bunkhouse at my parents' cabin, like, "Some assholes are just not responding to the new way of thinking around here…" and he came up and threatened to smash my face. He was gonna kill me.
Rault was starting to enjoy his self-appointed role as disrupter. Then – leading up to a rehearsal, the usually-in-control leader of the band – knowingly or unknowingly (it is difficult to say) got wasted. Rault relates with some relish:
But that all settles down…we get back to the studio in town, and there's no longer much love lost between the two of us. Then Will gets drunk one night. Sometimes he'd just get stupid, out of his mind. He had a blank starter's pistol in the studio. Billy comes walking through the door to the studio from the front into the back and Will goes "Bam! Bam!" That was it, something snapped! Billy said, "I'm out of here." He got the car—the station wagon that we had—he got some equipment…I think he got some money, and that was it.
On May 31 the Journal informed its readers:
There has been a flurry of rumours this week that Willie and the Walkers have broken up. And none of them are true. What has actually happened is that Bill Hardy [sic.], their bassist, has left the group because he wants to study music at the University of British Columbia next year. The Walkers have recruited Calgarian Vern Wills, a friend of theirs, to take Bill's place.
Vernon Wills was born in Calgary, the one of several children in a military family. As a child he wanted to be either an NHL hockey player, or a musician. "I did get to play on a team with Gary Unger, who later went on to play with the St. Louis Blues…but you could tell he was the guy! He just skated circles around us." His life decision was made at the age of twelve when he went to his first rock concert – The Ronettes and Little Richard. Wills was mesmorised "…he tore the place down…to this day I've never heard a band play that fast, and be that good!"
At this point his family moved to Nova Scotia where he attended junior high school in Wolfville. He met – and then infiltrated a local band called The Mystics. He became their lead singer after an audition where he impressed them all by singing a complete Dave Clark Five song. They became extremely popular and played throughout the province.
His father was then posted back to Calgary when Wills was sixteen. He not only had to leave his first band behind, but also his first girlfriend. He was miserable and started down the teenage delinquent/drinking path, frequenting a "beatnik club" called The Vicious Circle: "…I was forbidden to go there because, you know, those beatniks were commies and they wore berets. I remember getting busted in there by my dad – too funny!" He continued to exhibit an "attitude problem", and was regularly kicked out of high school for wearing blue jeans. His downward spiral was halted however when he was asked to join another band known as The Midnight Skulkers. They played cover songs by the gritty bands – the Animals, the Rolling Stones, Paul Revere and the Raiders, and starting in 1966, Jimi Hendrix. Unexpectedly they also started to include a number of Wills' original songs in their sets. He remembers: "every once in a while, I'd pull something out, and they'd go "Hey, we like that!", and we'd get on it." One was "Sometime in This Old World" – Wills' first complete self-penned tune.
The Skulkers played regularly at two Calgary clubs – The Friar's Den and The Haunted House. Friar's was originally a bowling alley – it had a huge stage at one end and wonderful acoustics. Confirms Wills: "It was special because it was a club that wasn't downstairs, and it didn't smell like it had been there for 200 years!" The Haunted House was obviously the one that smelled.
It was at the Friar's Den that Wills recalls seeing Willie and the Walkers for the first time:
…I kind of knew their repertoire at that point. I didn't know that they were as great as they were. I remember we walked in, and they were just going to start, just getting up on stage. Bob Dann was the funniest guy on earth—he was like Robin Williams before there was Robin Williams—and he could play and play and play. A musical monster! I just remember him doing a whole bunch of his schtick…this thing called "Showtime," where he'd get up on stage by himself and go "Showtime!" [guitar noodling], and then he'd break out and he'd do this whole routine. The band would just be there waiting while Bob would go through this whole thing, and it was like the best comedy routine you ever saw….I'd never seen anybody do that!
Then:
…and all of a sudden—these guys were so slick—Rollie just counted in …he was up on a drum riser—and there's Rollie with his double-kit Ludwigs up there, and he was so young and he was so fabulous as a drummer. He was such a time-keeper. There was nobody close to him. The only guy I knew that was close to him at that time was Stu Mitchell [of The Rebels]. I remember just standing there like, "Wow, look at these guys." They just started playing, and I forget what they started with. I want to say "Bluebird." The harmonies and everything, oh my god! And at that time, Bryan Nelson was in the band, so Bryan looked like John Lennon and Willie looked like Paul McCartney. Really, I'm not kidding. And they were all in the same outfits. They just killed it! They were so tight—I'd never heard a band from anywhere around here that was that tight. And they would segue between songs—they'd do three songs and then they'd do a little break and they'd talk to you and then start up again.
He continues:
…they had such great instruments….they had lights, they had everything! And they had the best PA system that I'd ever heard. I think they had a Sunn Coliseum PA. Anyway, that was just something else! They had a roadie! They had everything! They were Capitol recording artists!
He then made his move:
I remember after the first set just going up and talking to the guitar player, which was Bob Dann. So at the end of the night we were up there talking and they go, "Hey, where can we get something to eat around here?" Well in those days there wasn't too much—you could go up to the Husky on the number 2 highway and get beat up, or you could go to 17th Avenue and 14th Street and get beat up there, or you could go to Phil's… which is still there. So we went there, and …That was the beginning of it. Then every time they came to town, I'd go and see them and hang out.
They all became good friends
Willie was in town one day, and he said, "I wanna come and see your band." So he came and saw us, and we sucked that day. It was like, you know, when you're supposed to play your best, the pressure is just too much. I just remember being so disappointed with the band that day I wanted to kill myself [laughs].
By this point MacCalder had seen hundreds of bands, and witnessed thousands of badly-performed cover tunes. However he saw something special in some of the Skulkers repertoire. Wills recalls "…so then he said, "I like those original songs that you do." So I said, "Oh, really?" ….I said, "Maybe you could produce me," and that sort of went back and forth for a while, but then nothing really happened."
MacCalder became determined to add Wills to the Walkers lineup when the time was right. Wills remembers the moment clearly:
I get this call one morning, and I figure it's just the school calling to say, "Vernon, we know you're at home." So anyway, it was Willie, and he said, "Vernon, we want you to join the band." I was as quiet as I am now, and I remember saying this to him, "Well, what do you want me to do?" and he said, "We want you to take over Billy's place and be the bass player in the band instead." I said, "I can't play like Billy; he's great. I don't have that; I'm not that good." This is on the heels of a bad performance. So anyway, he said, "Here's what we're thinking: You can come up here; you can rehearse with us; we'll work on all the songs; we'll rehearse and rehearse and rehearse; then we'll go out and play all our regular gigs, and you and Billy will perform on stage at the same time. So he'll be standing right beside you and you guys can play the stuff together, and we'll do that for a month."
He continues:.
I said, "Are you sure?" and he said, "Yeah, yeah; we want you to come up here. Come up here on the airplane, I'll meet you at the airport. You just need to bring what you've got, some clothes; you don't even need to bring a bass or anything; we've got everything here." I was kind of elated but terrified at the same time. I said, "Yeah, okay, you're on. I'll have to phone my mom and tell her I'm going or she'll be worried about me…I'll phone you back." So I phoned my mom, and she was working at the mall. She had mixed feelings—she was happy for me, but worried about me—and she said, "Well, when do you have to go?" I said, "I'm going tonight."
Although he was green, Wills had many things going for him beyond his songwriting: according to MacCalder:"he had a good personality, there was good chemistry, he was good looking, and had a tremendous rapport with kids."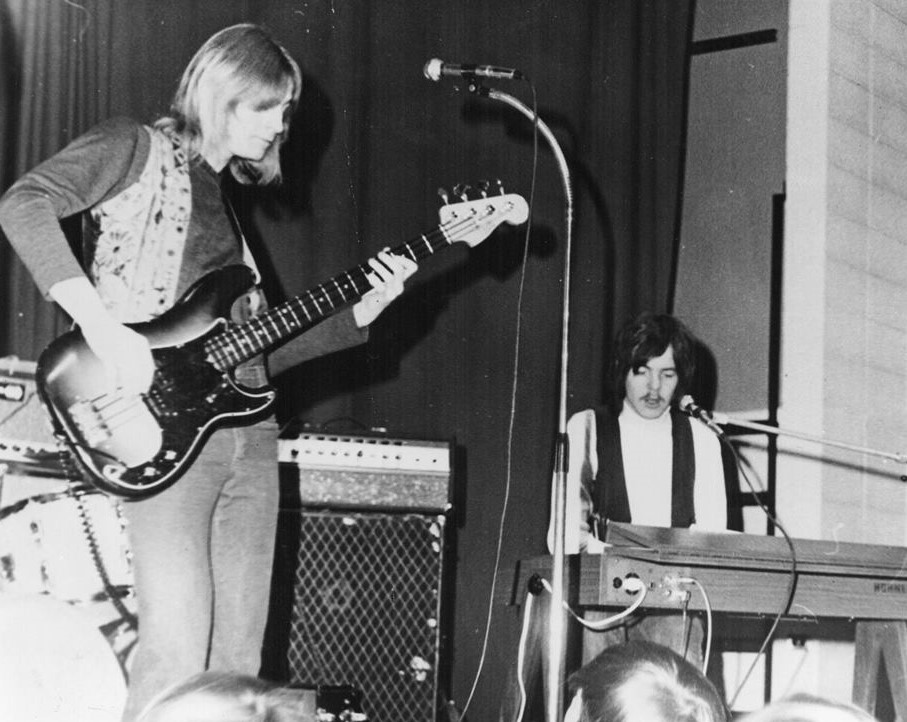 In many ways this was a dream come true for Wills to join The Walkers. His initial impressions of his band mates were favourable, and the longer he played with them, the more favourable they became. For instance he immediately liked Rault:
Oh he was excellent. He had his own little mojo that he would get into. He could just talk to anybody in the audience, and they'd get him immediately. He's that kind of a character….and he also kind of broke the mold. And then I came along and really broke the mold, to get us out of wearing those uniforms. Don't get me wrong, the uniforms were part of that whole time, but then everything started changing and got a little crazier—Hendrix came on and Clapton, so the whole scene was really changing. Peter Townsend was going crazier, that whole thing. Not only that, but you suddenly started to have this resurgence of the blues boys, who had been forgotten, and were still playing and still viable everywhere. But that youth group had surged for that kind of Carnaby Street, English music that came across…So yeah, Ronnie would be there, and we'd really be working on our blends.
He had no end of admiration for the person he was replacing: Bill Hardie:
Bill is a funk machine. Billy would play, and I'd go, "How did you play that note right there," and he'd go, "Oh, I was just jamming." I'd go, "God, that sounds so good. Where is it? What beat is it on? Tell me." Even when he played guitar he was like that. We played lots of guitar together; we spent many hours together. And he'd sing, and he'd have this really raspy, thick voice…"That sounds pretty good to me; sounds better than lots of guys I sing with." But yeah, and a really good-hearted guy. Always wanted to laugh, have a joke.
He elaborates:
I thought he was a really good bass player, a really, really good bass player. And then later, when I took guitar lessons with him …I realized I didn't know anything about music at all, and so he was like, "Vernon…" "Sorry Billy, I've been practicing it—did I do it right?" And he'd have a chuckle. But later on, when him and I played blues together, that was the most fun, because I'd play a lot of rhythm and sing, and he'd play guitar—he's a really good guitar player on top of being a really good bass player.
Above all though, he was in total awe of Bob Dann:
That guy could improv all day if you let him roll. And he would play melodies like you wouldn't believe it. He was a musical wizard. That's the only word I can use to describe him. You could put on anything and before the thing stopped, he could be playing the song with the music. I understand how you can do that a bit now, but Bob also had this thing where I think he'd taken some stuff from Mo Marshall, and I want to say Bobby Cairns. He had this thing where he could make his hand contort and play these chords you can't play, and they're kind of like Kenny Burrell chords or Pat Martino chords that are like, insane jazz chords. He could just ripple through them. He'd play a comp and he could play on every beat of that comp, these chords that are like—I can't even make one of them. So from that angle, his musicality—like I say, guitar players would line up around the stage to see him, and after the band they'd all be over there talking to him like, "How'd you do this?" He was the real deal…I think his jazz leanings were in his voicing. He could voice the band really well. If he heard something he'd go, "That'snot quite right; let's try this…."
Wills training period was short but intense:
Rolie and I would go in there and we would just play together, just the two of us, with a metronome. I couldn't count to it. I didn't really know how to count well. I played by ear. So he showed me a little trick where you listen to the metronome, and the one on the metronome and the next one is the snare. Then the metronome started to make some sense to me. Because I couldn't tap my foot separate from what I was playing, so how could I count? So anyway, he was so patient with me; I'll never forget how patient he was. We'd go over the songs, we'd learn the little parts, and then we'd learn the segues, because they had segues between the songs where they'd change tempo to go into another song and Rolie would play something cool. There was so much learning that went on. Then Bobby'd come in and work me over. So I'd do a stint with Bob, which was always great, because he was so knowledgeable musically. The guy could play [Joao] Gilberto! I remember watching him learn "White Room" by the Cream—it went by twice and he could play it. I was like, "What is this? That's Eric Clapton!" And then he played Gilberto and then he played this jazz stuff, and then he played country—he could play anything! His fingers would do all this stuff that I had never seen anybody do since…..But anyway, Bob would do his thing, and then we'd have a supper break and then hang around the apartment, and then we'd go back around midnight to rehearse.
They would then start with the vocal rehearsals:
We'd have the mics on, we'd tape it, and we'd practice our intervals; we'd practice our blend on the mics. We'd have all the AKG mics set up, and we'd sing it through those nice AKG mics through the nice preamps. We could listen back to our blend and hear if we were getting better or if we were not getting better. We were constantly recording and listening, recording and listening, and that's how you evolve.
Once again they recovered from a major personnel loss, and kept playing. THE highlight concert of 1968 for Edmonton was the one and only appearance by the British supergroup Cream. They played at the Sales Pavilion on June 1st, along with openers St. James Infirmary, Warp Factor, the Young Ones, and Shametree, and by all accounts a glorious set by Willie & the Walkers.
Another ground-breaking gig for them was their participation in the Orange County Pop Festival on July 8th.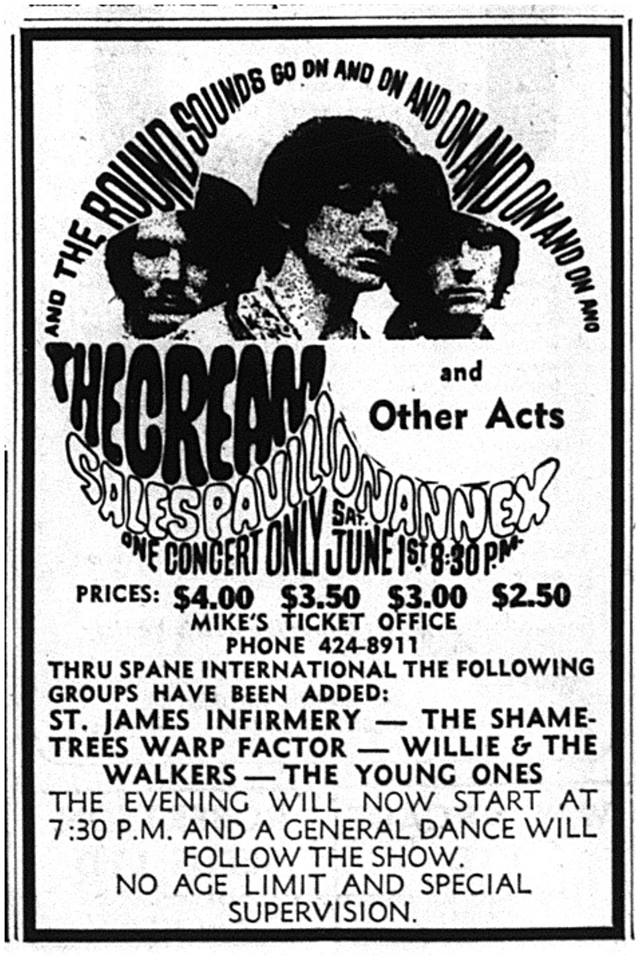 The largest and likely the most memorable Edmonton outdoor festival of the 1960s was held over two days in Renfrew Park – a baseball stadium on the flats. It was called Orange County for the large number of California bands that were supposed to have headlined it, including Country Joe & The Fish. None of them made it over the border however (drugs may have been involved), and all the final talent ended up being Canadian. The festival organizers – promoter Benny Benjamin and Wes Dakus – knew they still had a strong lineup and went ahead anyway. The acts included Vancouver's Tom Northcott and the Syndicate, My Indole Ring, and Papa Bear's Medicine Band, a lone Saskatchewan representative The Mozart Group, and a palette of local bands such as Barry Allen and Purple Haze, the Young Ones, Shame Tree, The Heat, St. James Infirmary, Warp Factor, International Dateline, The Circus, Martha Strange, the Graeme Waifers. and the Harrad Experiment.
The promoters' ads shouted out to: "Bands, Poets, Gurus, Singers, Dancers, Flower Children and Greasers. Straight and Plastic People, Hippies and Yippies." They promised: "Films – Lights – Fireworks" as well as "Over 25 bands from all over North America, 3 Fantastic Dance Groups, Vancouver's Town Fool…all in "24 Action Packed Hours." Security was handled by the local chapter of the Grim Reapers motorcycle club. The festival received extensive press, and was long remembered in Edmonton.
The Walker's profile was raised even more when they acted as the house band for the 1968 Klondike Days. For six straight nights – from July 19 to 25, they hosted the "CHED Soul City", sharing the stage with the Guess Who and Southbound Freeway on Monday, The Guess Who and Purple Haze on Tuesday, with Warp Factor and Graeme Waifer on Wednesday, with Privilege and Purple Haze on Thursday, with Privilege and Graeme Waifer on Friday, and with The Brinkman Brothers and New Breed on the Saturday.
The summer of 1968 saw a number of other changes for The Walkers. Soured by the Paxton sessions, the loss of the album, and general disgruntlement with Dakus, The Walkers finally parted ways with their manager. Rault recalls:
There was a lack of advice. That was probably the strongest loss, because Wes was no longer of any value to us. He was our agent and our sort of direction-setter. "Do this, and then we'll go to there, and then do this…" He lost it, we didn't have a manager at the time. We were managing ourselves, which was probably a bad idea…this is my take on it: looking back on it, we were directionless, and we didn't know what to do. If Davie John hadn't come around from the States, I think it might have disintegrated.
In July MacCalder was approached by Davie John MacLachlan of the Fendermen Corporation based out of New York. The Walkers had played a gig with The Fendermen in Winnipeg and had kept in touch. MacLachlan tried to convince the band to move to New York to try and break into that scene. Rault cackles:
Davie John said, "I'm going to turn these kids into another Young Rascals." He said to Will, "That kid," and he pointed to me, "has got a million-dollar face! You guys have got the million-dollar sound if you put it together down here. You've gotta come down here, you've gotta put your act together, you've gotta work hard," blah blah blah, "I'm gonna get you on the circuit, you're gonna play lots, and then you're gonna record." Then I quit. I said, "I'm sorry, this is just not what I want." And I left. And Will called Davie John and [he] said, "You get him back. You find him," at which point he did. Will was a stubborn son of a bitch too. He didn't want me back. I don't even know how we got back together, except that I knew that I was throwing a chance away and I should not do that.
The Journal reported on August 9: "Fendermen Corp. announces the signing of Willie & the Walkers to an 8-week tour of New York and vicinity." Dann remembers:
… the reason we were down there was to get into the mainstream where the action was, because this is where you were gonna be seen; this is where you were gonna be heard, you know—this is where the action is, so let's get down there, and if we're down there, can we do some recording maybe?
They left at the end of August. They still wanted to issue another single – and one they had recorded the year before. According to MacCalder: "When we were on our way to New York, I stopped off in Toronto and had Paul White listen to "The Door that Leads to Nowhere," and asking if he would be interested in releasing it. He listened and simply said "No.' It was 1968, and maybe it was a little too pretty or something." It was indeed a catchy tune, but also a bit too "lounge-ish" for the increasingly heavy hit parade.
Rault recounts their introduction to the New York scene:
We went in the summer of '68. We drove down directly to New York. We went through Niagara Falls and got all of our equipment pulled out of the truck and inspected, but we had work visas and everything put together, and we got to New York City and were shipped directly down to a place called Seaside Heights, New Jersey. We had a summer house down there, and we were playing on the boardwalk. The second we got down there, we were on stage! We played with the Fendermen and we did alternating sets with them. Eddie Brigati from the Young Rascals and Tim Bogert [from Vanilla Fudge] would show up, and just down the way you'd have the Young Rascals playing, Raspberry Park… We were in the thick of it, and there were a lot of players around, a lot of talent, and we were odd. We'd wear our costumes…we had uniforms. You ever see those things?….. It took a long time. Will wouldn't let us change. He said that was part of the glamour, wearing these stupid uniforms…. We didn't get to wear fairly hip clothes until the end of our first time we went down to New York.
Wills has his own memories of Seaside Heights – a spit of land jutting into the Atlantic Ocean, and later to be the location of the MTV reality program Jersey Shore:
Frank's I remember; it was a very famous club over at Seaside Heights right at the end of the boardwalk. We played the Tradewinds, which is up…near the arch. That one, as soon as we got there, they all thought we were kind of funny looking, because we had our uniform things on. I remember when we came out and we started playing, and the Tradewinds would have beer night, so the animals would be in there from four o'clock on, and it was all you could drink from four o'clock on. So we got in there and it was jammed, and we started playing, and they loved that band. The thing that people from Canada don't realize is that in the States, they love to dance. So as soon as we started playing, that dance floor was full. We could play dance tunes very well, and we had a show; we had a schtick….So we played one set and they loved us, then we played another set…
It did get a bit rough one night:
I remember one night we were playing there, and we had to stop playing during the second or third set because some bikers drove by and blew out the front window—big huge pane-glass window, took out the whole front of the club with a shotgun, so that ended that. Welcome to America!
There were good nights too however:
I remember playing one night in New Jersey at Frank's Bar, playing out over the water at Seaside Heights, and we're playing "Keep Me Hangin' On," and in the front row – there's Vanilla Fudge! …they were great. They were just thrilled that somebody was doing their song well, because that was a good band.
Wills, being the youngest, had to put up with a "special" type of age-ist humiliation in Frank's Club:
I had to go stay in the dressing room between sets, because I was too young to legally be out in the club, and it was really tough because in there were all these women who were changing their little g-strings and putting pasties on….It was literally like, "Could you help me with this?" Coconut oil and women! They were all topless dancers who would have to wear those pasties, and they'd come out dancing in the go-go cages between the sets…..The things I did for the band! I remember my mom – I was talking to her on the phone and she goes, "How is it?" and I go, "Well, I am in the dressing room because I'm not allowed to go out there, and I'm just sitting here with five naked women…" I always remember that part fondly! And then we'd play set after set. What happened—I remember we played our normal three sets, and then, I've got to say, that band had enough that we could play three nights and not repeat a song….That's a repertoire! Rehearsed, and on different nights the segues would be in different places. That's a rehearsed band. …People loved us. The manager loved us. Big Frank loved us.
Their first setback occurred within a week and a half of arriving. Wills' brother Howard passed away on September 7th after a short illness, and Vern went home for two weeks to help and comfort his parents. As he puts it, the next few months were "surreal."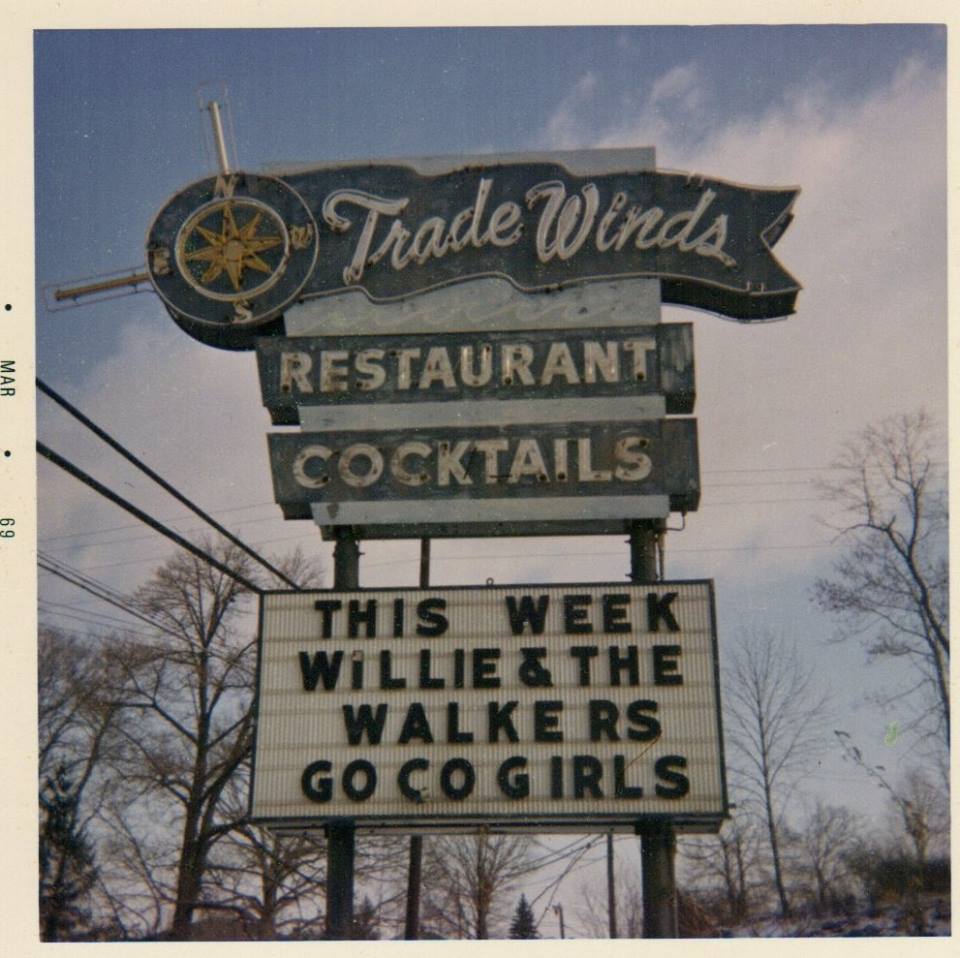 They carried on and several months later found a band house in the town of Newburgh – an hour north of Manhattan and a few miles away from where the Woodstock Festival would be staged later in 1969. As a group of five curious and somewhat innocent guys hanging out and performing in New York City and New Jersey music venues, it was inevitable that they undergo major changes musically, personally, and chemically. And that certainly is an understatement.
First of course was the music. They could not believe all the talent playing within an hours drive. In October alone they saw at Steve Paul's The Scene – Muddy Waters (Oct. 12-14), Albert King (Oct. 15-16), and Moby Grape (Oct. 20-21), and an impromptu jam night as remembered by Wills:
All the guys from Spirit were there; they were a top-quality band. One night we were in there and Stephen Stills walks in after the show, plugs in his guitar and starts playing "Mr. Soul". He must have played it for five minutes before anybody else got up on that stage. Felder, the bass player from Blood, Sweat and Tears gets up and starts playing with him, then [Rick] Derringer gets up and they start playing and it goes on and on. It'd be dawn and all the guys would be going to work on Wall Street and we'd be coming out of the club to drive home. When I think back on it, it was pretty heady. You got to see them and they were this close, and the club was grotty and loud and beautiful.
They generally accorded themselves one night off per week, and almost always used that to see other bands. They attended concerts by Janis Joplin in one of her last appearances with Big Brother and The Holding Company at Hunter College in Manhattan (November 15th), Creedence Clearwater Revival at the Fillmore East (December 20 and 21st) and The Chambers Brothers at the Fillmore East (December 31st).
Wills recalls a particularly impactful moment:
So I came back to New York, and we had a night off. We were going to The Scene to see Albert King. So we're walking through the Village…So I trot along, and we get to the club, we go down in, and there's this big tall guy down there, stringing up his guitar…I know he's a blues guy but I didn't know him… and I remember picking a pick up off the floor thinking it might be his and … it's just me and Willie and this southern gentleman. Anyway, he strung up his guitar and we sat at the table and talked, and then he said, "I've gotta go up and play," and he went up. I had no idea! Two-and-a-half tone bends and he sang like, wow, the voice of an angel. And then when he came back he sat with us and said "Where you boys from? Where'd you get that accent?" We're like, "WE'VE got an accent?" So anyway…that was it; I was like, wow—this is where the juice is! For me, personally, it just went in…. That was a changer for me, and I know Ronnie.
They started to listen to the Stax-Volt artists – Booker T & the MGs, Sam & Dave, and Rufus Thomas, and rhythm and blues finally started to noticeably dominate their act. One early gig was at the swanky New York City hotel – the Waldorf Astoria. As Rault recalls:
We played in the Waldorf Astoria, for the manager who wanted to open a club in sort of the main crystal ballroom—he wanted to close it off and make a little cabaret. We were one of the audition acts, and we had to haul our stuff in there and audition for the big boss, in the same room where all the presidents have tea. That was really odd. We were dancing and singing for like two guys. Sat there and had tea while they watched us, bright lights, middle of the day…We played three or four songs, got out, took all the equipment back to the club where we were playing.
They were ultimately not chosen, but they did not let themselves be discouraged. The Fendermen were managed by Don Seat Enterprises Inc. – a combined artist management/booking agency with offices at 119 W. 57th Street in New York City. As a result The Walkers then started to get a number of bookings through Don Seat, some good and others not so suitable.
Seat was originally a musician, leader of the Don Seat Five who gigged around the northeast United States throughout the 1940s and 1950s. He tired of that life, and made a name for himself when he discovered and groomed a young singer by the name of Harold Jenkins in 1957. He suggested a name change to the star-to-be (who thus became Conway Twitty), and secured him a recording contract with Mercury Records. They parted company in 1964, but Seat continued to manage second tier country stars such as Jimmy Tennant (whom he renamed Jimmy Velvet). Both made it into the "Who's Who in the World of Country Music" insert, published in Billboard in October 1965. Seat had many contacts, but he was not in the same league as the rock booking agency Premier Talent.
The Walkers thus played at such venues as the Coral Reef Club in Newburgh, The Beachcomber near Montauk, Long Island, The Tradewinds on the Jersey Shore (a venue that would soon host a very young Bruce Springsteen). They also opened for the Harlem doo-wop group The Cadillacs. According to Dann:
You've gotta play what's happening, and if you're not playing R&B and it's an R&B club, you're lost. You've gotta start playing it. And our name, in that part of the States, has a coloured connotation to it. Willie—that's a coloured name. So we were drawing coloured people like crazy, and they'd walk in and see a bunch of white boys. So we kind of switched over and we started playing a lot more R&B stuff.
A diametrically opposed gig was recalled by Rault:
We played Hoboken [New Jersey], a club where you played behind chicken wire… They didn't want us playing any black music. "Don't play any of that black music. Play straight white music. We get black bands in here on the weekend and they play that shit over there on that other stage. You play white music on this stage." We had a guy actually pull Will off the stage and said, "I told you not to play that shit." We played something by the Young Rascals. "You know you're not supposed to play that shit?"
Wills has slightly different, but just as scary memories:
So we played in this club, heavily mafia—you have to understand that we played with a lot of doo-wop groups that were coming back down. It's just the way the music scene worked. So they were coming down, and they would still do all these gigs. So they would come out and they would be the feature of the night, but we would be the main band. So I got to meet tons of the coolest groups… Everybody said, "You've got a great orchestra, but can you tone 'er down an octave?" "Well an octave is actually…well, forget it." So then when we were there, we met the Cadillacs and all these different, really great groups. One guy really loved my buckskin jacket with the long fringes, so he'd go into the dressing room and put it on and then he'd come and stand by the side of the stage and show me he was going to run away with it! They were such great guys; I loved them. This particular gig, it was Chubby Checker. So Chubby had come in to do his set, and he was great. Just took you back to your childhood, right? And then we'd come on…we had a good audience there; they loved us, and we were playing "I Put a Spell on You." In the middle, we used to do this thing where Rolie would roll us in and we'd go into a jacktime. So we played that, and then they came and they shut us down and pulled us into the back— "We don't wanna hear no more of that nigger music."
Being good Canadian boys – and offended mightily by such blatant prejudice – they played many of the same tunes the following night with even greater energy. Wills:
…later that night we knew that we were probably going to get either beat up or shot or something, so we waited until the cleaners came in the morning and then we went and got all our gear our and then left. They're all mafia; they're all fucking connected.
It felt like a major step forward – and in many ways it certainly was – but it also marked the beginning of the end. They had moved away from their reliable, hard core, adoring supporters to a completely unknown audience. While there is little doubt they won over a portion of their New England audiences, they were just another good band – not hometown heroes. At the same time, like most of their contemporaries, their music was rapidly changing. The radio-friendly pop tunes were quickly falling by the wayside. Psychedelia, improvisation, cross-fertilization were the order of the day, and The Walkers dove right in. And while much of the new approach worked, much of it did not always ring true.
According to Rault, new manager McLachlan wanted them to go down a different fork in the road:
He wanted us to be a pop band…he didn't want us experimenting with all sorts of stuff. He had heard us in Winnipeg at Christmas-time in '67, and he had seen us as a really interesting kind of Monkees…a real bubblegum pop band. We had the appeal, the looks, had the sound. WE wanted to be heavier when we got to New York, because we saw all these cool guys…he wanted us to take all the influences that were around us, but stay on that pop line…kind of like The Guess Who. The first thing when we hit New York – what do we hear on WABC? "These Eyes". It was everywhere…it was a huge hit. So people were opening the doors to Canadian bands.
Regardless of what McLachlan wanted, one light went off, another went on. The light attached to the light, poppy, commercial music faded quickly. The light attached to more earthy, fundamental music such as the blues, was turned on, and started getting brighter by the month. MacCalder finally understood that it was more important to be a musician than it was to be an entertainer. Because of that he was also more conflicted than the rest of the band members, for he also knew any chance of further success lay with the entertaining popular music.
Rault recalls the growing tension – and his role in heightening it:
The audiences came to hear the latest, you know, stuff on the radio – because we could play faithful reproductions of the stuff. I didn't like that. I was a little shit at that point, because I didn't want any of that. Those were the tunes you had to do to keep the animals happy. The rest of the time you did what you wanted to do. I always figured that it'd work – and it never did! When you were playing to a live audience, you might as well have been a jukebox! I mean Will had a really good thing going there, and I was fucking with it. I should have left it alone.
The blues, on the other hand, felt more real, more "legitimate", more personally rewarding, but MacCalder was also aware that fewer people wanted to hear it. For the next few years, he straddled fences – getting further and further into traditional blues, but still exploring contemporary genres such as country rock that Bill Hardie had pushed for the year before. MacCalder muses: "the first Walkers band was a bubble-gum pop band. The second unit wasn't nearly as polished, but what we lacked in sophistication, we made up for in frenzy!" Rolie Hardie agrees: "We found the perfect niche playing pop music that perfectly fit the mid-60's. By late 1968 and early 1969, we started getting "heavy" and experimenting with drugs, and I guess we sort of lost our direction."
Then there were the side attractions. As Peter North diplomatically put it in his 1997 article in the Edmonton Journal: "Given it was '68, it doesn't take much to figure out what the bunch of northern prairie town boys were introduced to in the big apple. Everything and more…." As MacCalder puts it: "Up until this time we were still into being non-stoned people….there was a big change after going to New York!" The less detail here, the better for everyone concerned.
Through the haze, the idea started to coalesce that the band make another attempt at an album. This time though, they were determined it was not going to be pop – it was to be country rock with some blues and maybe a touch of jazz. Through MacLachlan, four sessions were booked at a recording studio in New Jersey in early January 1969. Although they may have had a hint that it was special, none of the Walkers really knew how important that studio was.
Its name was Towne Recorders (or colloquially known just as the Van Gelder Studio), named after its by-then legendary jazz engineer/producer and owner Rudy Van Gelder. Van Gelder, an optometrist by training, was a lifelong jazz aficionado. So much so that he started his own recording studio in his parent's living room in Hackensack NJ in 1953. Within a few years – due to his concern with quality (he always wore gloves, and no one was allowed to smoke in the studio), his mastery of mic placement, and ability to offer cheaper rates compared with Manhattan, he was recording all of the major jazz artists on the Prestige, Blue Note, Verve, and CTI labels. As for the results, another writer made it clear that:
Rudy became a cult figure among international audiophiles and musicians. An album engineered by Rudy sounded rich in an organic, understated way, as if all the musicians had recorded in a small storage closet lined with suede..
Some of his early breakout sessions included Miles Davis (Cookin' with Miles Davis, Steamin' with Miles Davis, Relaxin' with Miles Davis), Thelonius Monk, John Coltrane, Art Farmer, Charles Mingus, Modern Jazz Quartet, Hank Mobley Quartet, Sonny Rollins, Kenny Burrell, Mose Allison, Herbie Mann, Teo Macero, and Jimmy Smith.
In 1959 he had accumulated so much business that he had a larger studio/house complex built in Englewood Cliffs, across the Hudson River from Hudson Heights, NY, and about eight miles east of Hackensack. This new facility, located at 445 Sylvan Avenue saw an incredible number of historic sessions. In the almost ten year period from its founding to January 1969, its tape machines captured blues artists such as Willie Dixon, Memphis Slim, Roosevelt Sykes, Lonnie Johnson, Sonny Terry, Jimmy Witherspoon, Lightnin' Hopkins, and King Curtis. However it was the jazz acts that really stand out: John Coltrane (A Love Supreme), Herbie Hancock (Takin' Off), Art Blakey & the Jazz Messengers (Africaine), Gil Evans (Out of the Cool, Into The Hot), Kenny Burrell, Eddie "Lockjaw" Davis (Very Saxy), Jimmy Smith, Donald Byrd (Free Form), Clark Terry, Yusef Lateef (Cry! Tender), Freddie Hubbard (Hub Cap), Stanley Turrentine (Look Out!), Ramsey Lewis Trio, Wayne Shorter (See No Evil), Tony Williams (Lifetime), Roland Kirk, Wes Montgomery, and even Duke Ellington (Duke Ellington Meets Coleman Hawkins). The last three months of 1968 saw sessions by Paul Desmond (of Dave Brubeck fame – Summertime), McCoy Tyner (Cosmos), Sonny Stitt (Soul Electricity) and Richard "Groove" Holms (That Healin' Feelin').
The musical heritage had been absorbed into the very walls and floors of the place. One writer described the atmosphere in the new studio: "In the high-domed, wooden-beamed, brick-tiled, spare modernity of Rudy Van Gelder's studio, one can get a feeling akin to religion." A band could not ask for a more legitimate studio, and a more sympathetic mentally stable engineer (as opposed to Gary Paxton). How could the Walkers NOT turn out a record with sonic integrity and sophistication when in the midst of one of the most vibrant music scenes in the world?
Unfortunately the band was just not ready – compositionally or chemically. Their energy levels were at an all-time low – they were all tired and drug use was starting to show its effects. Wills was still in mourning, Rault was naturally irritated with everybody and everything, and MacCalder was getting tired of giving over management-type decisions to McLachlan and then clawing them back when his independence was being restricted. They were torn between commercial and underground heavy music. Some members were writing original material, but they appeared to be mere sketches of ideas, not finished works. Wills offered several: "Riddle Land" and "Sail On Through the Year", while MacCalder came up with "Fat Man" and "Ronald McDonald." In either three or four sessions, they worked up a number of demos, with MacLachlan in the producers chair and Van Gelder engineering (recalls Wills "I was terrified…he had a white lab coat on!…")
Wills recalled:
… we'd write our own little things, and then we'd take it and Bob Dann would put some extra chords on it, because I'd sing it and play acoustic, so it'd always sound like a really folky thing until we'd get to the thing and they'd go, "Vernon, how many bars is that? You played it different last time." They were far better musicians than me; that's why they were my heroes. And then I just remember after we did—I think it was "Pam"—and we went in to listen, and he said,"Okay, we'll keep the bass part and the drums," and I was like, "Wow"!…I was about to have a heart attack that day; I figured the guys were going to boot me from the band!"
The sessions quickly bogged down with no clear sense of direction. Only one song is known to have been completed and given a rough mix – "Pam" by Ron Rault, but it too was never released. Not surprisingly Rault does not have good memories of it:
Will told us, "We're going to record; we've got a recording session. Davie John's booked it." We're driving out to this place in New Jersey. I didn't have the faintest idea where we were going. We ended up in this studio and they didn't really like us. It was a Sunday night or something and these guys looked at us like, "Yeah, yeah, just set up anywhere." I felt very removed from the process. I was just told to stand there and sing…Will liked it…Davie John liked it, said, "We're going to record that tune." It was originally written as a single.." This was like a three-hour session—it happened so fast. I can't even remember much of what happened. It was like "Wham-bam, here's your tape, get out of here." I don't think it was a very good tune…Bob's chords were great, probably the arrangement was good, but I thought it was a soppy kind of ballad. It was about a girl that I had known back in Edmonton who I was feeling I had unfinished business with. I remember leaving for the States and just crying, and then thought, "Oh, here's a good theme for a song!"
Wills remembers the album project just petered out: " I think we went there about four times. Then Davie John got this idea that "Ronald McDonald" was a commercial for McDonalds, and he kept trying to get it chopped so we could sell it as a commercial!" That killed any remaining enthusiasm.
Over the six months, the Walkers' live work had started to fall off, and discouraged and in debt, they returned to Edmonton in late January. As Rault recalls:
It was like jump in the truck and go home; they don't want us. Davie John said: "If you don't wanna play ball with me, we're finished." One of the girls that was hanging out with us said "I can get you jobs in New York City." I said "well, yeah." And she said "You won't get paid any money, and you'll have to sleep on someone's floor…but you get into the game….you're in the Village, so you're in the game." I thought "Let's go, let's do it!" But Will and Bob jumped in the truck…I really regretted it.
Dann then decided to leave the band. He found he could not keep propping up band morale with his humour. Even with the assistance of marijuana, he was finding it difficult to laugh about much of anything. In fact it may have been the drugs that were starting to mess things up for him. He recalls:
Unfortunately, I got whipped. I made a bad turn there, to be honest with you. Got into the dope smoking, and it was too much and I just lost it.. [it] killed my music ability completely… It was after New Year's, and we were sitting there talking about what we were gonna do, and I said, "I don't know about you guys, but I'm going home in two weeks." I did a lot of soul searching, and I just didn't see any future in it. I wasn't excited about it anymore… I wasn't happy, and I didn't want to bring the group down, and unfortunately I knew that was going to happen. I didn't think they were looking to me for leadership; they were looking to me to keep it together. I know Will was wanting my help in that way, but I couldn't do it. The only thing I did helpful was just to say, "Thanks guys," and that's it.
He also wanted to get married to his girlfriend Carol back in Edmonton. Wills: "…oh we all missed him tremendously, because he was kind of our musical director. He wasn't kind of – he was!… he just compelled you to be your best." The tensions between other members were not getting resolved, and ultimately they all thought a few weeks back home would smooth things over. Again Rault:
We had to go back. We couldn't do without that guitar player [Dann]. We decided, "We'll drive you back to Edmonton, we'll pick up another guitar player and we'll go back down again." In the meantime, we got back into Edmonton, and we actually became the hip fairly big name around here, until about June of that year. We came in the coldest winter, when we had 30 days of 30 below. We had a house out in South Edmonton, and we rehearsed, hung out and played big-money gigs on the weekends, down in that circuit of clubs there, just weekends. We'd go play a gig and they'd pay you two thousand dollars—I don't get that much for gigs now!
The band decided to stay in Edmonton for a month or two – to recuperate, to reconnect with their hometown fans, and to find a replacement for Dann. McCalder's family owned a home in south Edmonton in the subdivision of Petrolia, and the entire band moved in. Not surprisingly it became a raucus party house, and an entourage of followers, old and new friends, and local musicians started to accumulate. The only time the party ceased were those evenings when The Walkers played a gig. These concerts demonstrated that the band was performing at top capacity even without Dann. Their "trial by fire" in New Jersey and New York had made them into an incredibly powerful and professional unit. In February they played twice at the University of Alberta, once in the Arena and once at Dinwoodie Lounge atop the Student Union Building. Also in that month they took a quick excursion to Moose Jaw where they played at Temple Gardens. Unexpectedly, some of the guitar parts in the guitar-driven songs were taken over by McCalder.
Wills confirms they were now being seen in a whole new light by both their old fans and old musical comrades:
We could play now…after playing six hours a night, you could play those songs hanging upside down by your toes, bare naked, drunk, on speed, on heroin – didn't matter what – you could fucking play…and it sounded pretty damn good! Didn't sound like a cement mixer because we were SO tight….I was already slapping the bass, popping the bass, and everyone's like "what the hell is he doing? I don't know, but it sounds good." And you know we'd seen James Brown, we'd seen everything funky, everything real, and there's just this osmosis that goes in you…. It was plain to everybody. Even to other musicians who had maybe thought we were just a bunch of pop guys…they went "something's happened!"
They enjoyed the attention and the feeling that they were now "the coolest band in town." It restored some of their confidence, and the return to New York did not seem so urgent.
Back in the party house, they also started to leisurely jam with local guitarists. Recalls Wills: …we were just kind of hanging out…I know we looked at some of the young guns." First up was Bill Hunt, a teenager who was clearly going to go places with his flashy approach to guitar. While impressive, he did not mesh with the band, and went on to join a version of Franklin Stove.
Their eventual choice was actually under their noses, amongst the entourage This was Ron Rault's younger brother Lionel. He was not only a budding guitarist, but he already knew some of their repertoire, and was also a budding songwriter. Songwriting abilities in potential recruits, even in the embryonic stage, appealed to McCalder who had always wanted to go beyond the cover band approach. Lionel was thrown in the deep end of the pool, and expected to immediately perform at the same level as the rest of the band. This was both unfair and unreasonable. One would also think this would have been an easy integration with a band at the height of its professionalism, and with the added support of a sibling bond. But that is not how it turned out. Ron Rault recalls:
I shouted at him every night, because he was terrible, and I had to tell him that. He couldn't play. He and I have fought with each other since … He had lots of songs, but we never used them. He was busy just learning the material. And he wasn't very good. He knew that. He was trying. He'd get the oddest sounds out of his guitar. He didn't know anything about the electronics of a guitar. He knew how to write songs, and he knew how to play chords.
The repertoire was very un-Walker like at this point. Rault muses:
We had a real mixed bag. I remember a song by Sly & the Family Stone…another by a band called Fevertree "The Man Who Paints the Pictures". I remember a song that Vern wrote, and a song that I wrote called "Who Has Seen the Wind"… I remember The Band—we did "Chest Fever", "Wheels on Fire", "The Weight".… We did "Suzie Q"— we did like a 10 or 15-minute version. I would play organ and Will would play guitar. It was really neat. We did some blues. I think we were doing "Cross Cut Saw" by Albert King.
At this point McLachlan was calling again, and they decided to return to New York in the second week of April. Their first gig was a return show at the Tradewinds Club on the Jersey Shore. Again Rault:
We had a date to go back to New York, and we did. The Tradewinds – that's what it was called. Late June. We got there, and by this time no uniforms, hair down to here—hippies. We got up on stage and they hated us. "This isn't the stuff you played before." There was a real division in music those days between eastern-seaboard music which was R&B, and west-coast music, which was psychedelic. We had started crossing those borders, and they hated us…. "They can't book you here…get out!"
He continues: "We played another club across town "You guys will be a real hit." We played there for a week and then they said, "Get out!" We had no prospects."
He describes the final break with MacLachlan:
Davie John looked at us and said, "Either you do this, or you get out." Well, stubborn Will got up from the table and said "fuck it". It's like me; if I'd been there I would have done the same thing. So Will leaves. By this time, we had several girlfriends in New York who'd decided they would take over the management, and they were going to get us to play right in New York City. Well, you play in New York City you play seven nights a week, you play seven hours a night, and you maybe get paid—everybody wants to play the Metropole; everybody wanted to play down there. … So we left. Packed up one night.
They almost missed out on a good party though:
This is too good. Some of our girlfriends who were with us told us "there's going to be this little party out near West Saugerties, New York… and they're going to have a little picnic out there and there's gonna be three or four bands show up, like Bob Dylan and the Band; we should go and hang out." We go out there and we're stopped in a little town called Woodstock… There's all these local New York bands but no Dylan…So we just kept on going. We headed directly straight through to Denver, Colorado. We didn't stop. Went right down to Boulder. Why we drove to Boulder I don't know—there was some reason. Had a friend there, or somebody had invited us there…So we went to Boulder, and we now got hold of three albums that changed our whole perspective.…Now we've gotta stand up for what we are. We got hold of Procol; we got a hold of Crosby, Stills, Nash & Young, and we got a hold of The Flying Burrito Brothers.
They could not think of a good reason to stay in Boulder, so home to Edmonton they drove. They continued to gig throughout March and April – with several engagements at Zorba's Club in Edmonton, and dates in Red Deer (Vocational School), another at Moose Jaw's Temple Gardens, Radway (Community Centre) and Ponoka (Recreation Centre). They were exhausted and the enjoyment had all but vanished. The last known Alberta gig was – appropriately – at The Tomb in Camrose, AB on April 19th.
The disappointment of the second New York trip, the personal tensions, the differing ambitions, the debts, the sprawling musical influences – all these factors made it impossible to stay together. The other founding member Rolie Hardie quit after a few weeks. Soon after Rault quit (again):
We came back to Edmonton and about ten of us virtually lived in the camper or in the backyard of my parent's house in town which was pretty well just a floating party!.. We were doing gigs on the weekends, and sometimes not, and my unhappiness grew, and grew again. Will would every now and then say "I gotta tell you, this is the way this band works. I'm the boss, and we're going to do things the way I say, we're going to tighten this thing up…" and after the fourth or fifth time, I said, "I'm out." Shut the room completely quiet. It was like one of the linchpins being pulled out. I got loose, and I said, in defiance of him but more out of a growing unhappiness and a growing need to express myself, "That's it for me"… I had been through enough of this reading of the Riot Act, and I'd had it. I have no idea whether it was a good decision or not…it came out of my mouth before I even thought about it., and I stood up and left.
As they split apart, all members moved on to other projects. Rolie Hardie joined a local band named Patch, with vocalist Rick Francis, Rick Dubord, Doug Anderson and Gord Belsher. Shortly after MacCalder, Rault and Wills formed Everyman's Tonto with John Wesson, Steve Palmer, and Chris Nordquist. Even so, Willie & the Walkers had their first amicable "reunion" that fall. On October 12th 1969, they took part in "The Edmonton History of Rock and Roll" at the Sales Pavilion. Also on the bill was the Gainsborough Gallery, Barry Allen, The Rebels, Everyman's Tonto, The Pig, Mary Saxton, Victory Group, Stony Plain, Nomads, The Ice, Little Davy, and The Shametrees.
During the spring of 1971 MacCalder started hanging around with Rolie Hardie again, and discovered that not only was the friendship intact, but that the two had continued to develop their musical interests along similar lines. It seemed only natural that they decide to give The Walkers another go. They initially asked the other ex-Walkers Bill Hardie and Vern Wills if they were also ready for another try. Although they were positive about it, they were both for the time being committed to other bands.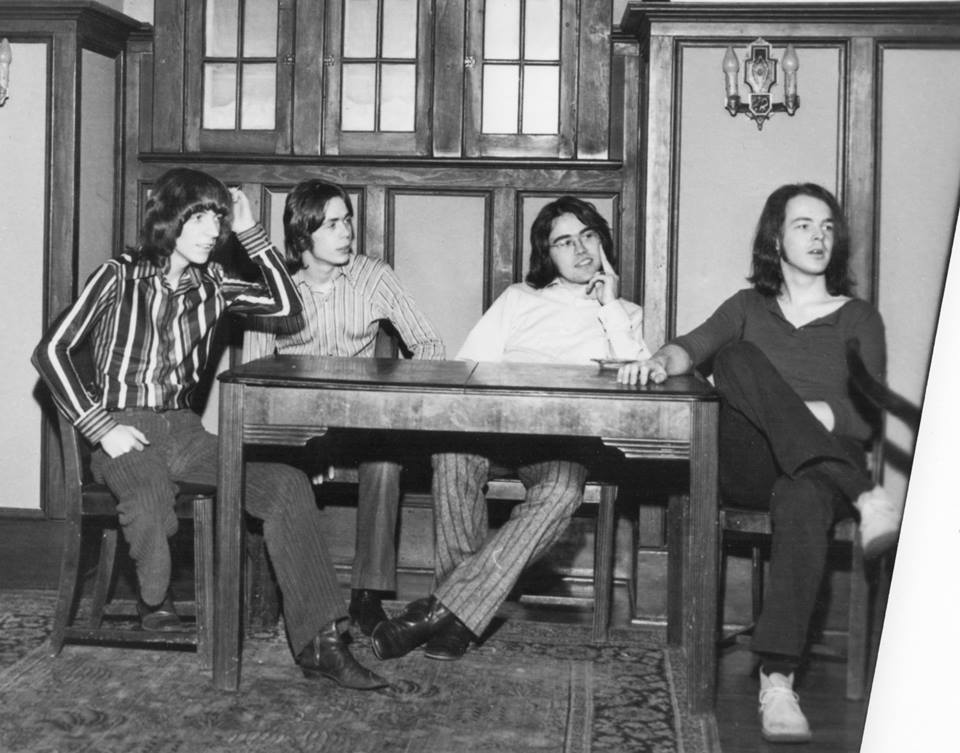 Instead Rolie Hardie brought bassist Gord Belsher over from Patch, and MacCalder suggested guitarist Steve Palmer. Belsher made a name for himself in the band The Heat – which also opened for The Who in 1967. For Belsher, Hardie was the draw to join the Walkers: "…Rol is a very humble guy, and probably one of the kindest gentlemen I've known. He is definitely the best drummer I've ever played with (and I've played with a few)… he is right on the money with his tempo and feel, and always plays very musically, knowing what would fit in best with the overall sound."
Palmer had a long and honourable record on the Edmonton music scene, having served terms with Graeme & the Waifers, Warp Factor, Dick Tator, and Everyman's Tonto with MacCalder. Palmer describes how he made his way into the Walkers:
That winter, December 1969 to March 1970 I joined "Tonto." Tonto was a country rock band formed from Willie and the Walkers after their disastrous tour of the Eastern U.S. where Will learned to smoke pot and lost his interest in 'bubblegum' music. Willie had amassed a huge debt which consumed everything that the band earned except a little for rent and food. I was promised a band that was interested in creating, but we were stuck doing all covers, "Gimme Shelter", "Nights in White Satin". The band was promising, John Wesson (sax), Gail Bowen (vocals), Chris Nordquist (his first gig on drums), Vern Wills (bass), and Will on keys and vocals. Will stayed in his room for days on end, and Vern stayed locked up in his room with his girlfriend. Basically, they would emerge to rehearse a quick cover, or hold a hot-knife session in the kitchen, or head out for a poorly organized gig. When we played a major show, we had nothing to offer, it was just another gig. It didn't compare to my Warp Factor experience. After four months of beating my head against a wall, I gave my notice and split for Vancouver…
But he was not finished with Edmonton. He continues:
I stayed on in Vancouver and had my first gigs as a hired sideman in night clubs. Not much fun. Summer 1971 I was home for a visit when Will MacCalder called and asked me to join "The Walkers". I was promised a lot more creative a group, and it was….We were a leaner four piece, Will still on keys and vocals, original Willie and the Walkers drummer, Rolie Hardie (a real pleasure to gig with), and bassist/vocalist Gord Belsher. Everybody was writing, rehearsals were positive, but gigs were few. That summer I got discouraged and quit and took a job teaching guitar at JMJ Music, a move I really regretted. Rolie's brother, Bill Hardie (originally bass for Willie and the Walkers) replaced me on guitar. I sat in a lot though. This is the group that recorded "Hotels and Wishing Wells", I think at Park Lane. As always, I found out after the song was on disc, but I got credit and an actual royalty cheque! They probably didn't want me around while they were doing it!
The Walkers signed up with Dakus' booking agency Spane International, and tried to reconnect with their old audiences throughout Alberta. Unfortunately the bookings just were not there, and the gigs they did get seemed to be just high school dances, interspersed with very rare University of Alberta concerts. Says MacCalder: "we were basically starving."
The band's emphasis had gone almost totally in the direction of country rock. They covered such tunes as "She Darked the Sun" (Dillard & Clark), "Drug Store Truck Driving Man" (The Byrds), "John Wesley Harding" (B. Dylan), and "This Wheels on Fire" (The Band) – not the usual fare for high-schoolers. They did play at one event however that did appreciate their new musical genre – the St. Albert Kinsmen Rodeo, which ran from June 15 to 17, 1971. The St. Albert & Sturgeon Gazette informed its readers:
The St. Albert arena will be the scene of the Kinsmen's giant beer and band fests. Friday and Saturday evenings there will be dancing to Canada's top rock bands. Barry Allen and Cheyenne Winter will supply the music Friday, from 8-1, and The Walkers will take over the bandstand Saturday night.
This was a good fit – a group of inebriated honky-tonkers who wanted to hear country rock. And these were not the satin-shirted poseurs- these rodeo cowboys were the real thing. The Walkers also did a radio performance for CKUA. Recalls Belsher: "It was pre-recorded, no audience. Not sure of the entire set list, but I know we did "Wild Horses" by the Stones."
The band chemistry never solidified and that, combined with the lack of solid work, led to the resignation of Belsher and Palmer. Belsher recalls without any bitterness: "Really, I was only in the band for a number of months, and other than feeling that "I'd arrived," I just don't remember much about it. We didn't play many gigs, which is why I opted to leave the band. I've never been much into just playing in a basement."
It was not a complete loss however, for Palmer and MacCalder had collaborated on several songs. One standout joint effort was "Hotels and Wishing Wells." By this point both Bill Hardie and Wills were available and re-joined, kicking off the reunion with three nights of performances at Zorba's in October 1971. Both Hardie and Wills brought an even stronger tendency to country-rock. Bill Hardie remembers the band covering tunes by the Byrds ("You Ain't Goin' Nowhere"), the Flying Burrito Brothers, and Neil Young.
The Walkers played another important concert at the Edmonton Field House in March of 1972. Filling in for an elusive Long John Baldry, they opened for Fleetwood Mac and Savoy Brown.
Willie & the Walkers filled in admirably at short notice for Baldry who…mysteriously contracted some sort of throat malady at the city limits. Pianist Willie McCalder [sic.] has probably endured as many group changes as Savoy Brown's Kim Simmonds, yet his band nonetheless managed a set that warmed the crowd and included an extended high energy guitar-centred jam.
To the Walkers' leader, it felt like he was treading water though. MacCalder: "I was searching for a life at that time. I was coming to grips with having to move on and not knowing what to do."
1972 was the year that MacCalder started to engage heavily in to the recording process. Under the tutelage of Barry Allen, he started to engineer sessions at Edmonton's Park Lane Studio. Among the more interesting sessions he guided were Walter "Shakey" Horton with Hot Cottage, Joe Hall & the Eyeball Wine Co., R. Harlan Smith (of Royalty Records fame), Brent Titcomb, Lionel & Ron Rault, and Humphrey & the Dumptrucks. He spent as many hours in the studio as he could. To hone his skills he needed a band to work with – and who better than his own – The Walkers. They rehearsed endlessly in the studio for their live gigs, and in so doing provided challenging sonic exercises for the neophyte producer. The material was a combination of covers – Chuck Berry's "Nadine", the Allman Brothers Band "Statesboro Blues", Neil Young's "Cinnamon Girl", Little Richard's "Miss Ann" – and originals mostly by Vern Wills such as "Living On a Borrowed Dollar" and "Don't Be Late." The majority of this material – which included numerous alternate takes of each song, and general goofing around was either discarded, erased or taped over. However some survived and were deemed worthy of a public release.
Later that year, two tunes were chosen for a single release. The 45 rpm, produced by Barry Allen for London Records of Canada, had Rolie Hardie-penned "All About You" as the A-side, and "Hotels and Wishing Wells" on the B-side. It appears to have been a one-off deal, with all parties waiting to see if there was still a market for the band. Even though both were radio-friendly solid efforts (with obvious Crosby, Stills & Nash vocal influences), there was no chart action and poor sales. It was an easy decision for London Records to part company with band. MacCalder recalls: "CFRN played it once, and we never heard it again. They said "It's not a great record…It's just so down, no light in it at all."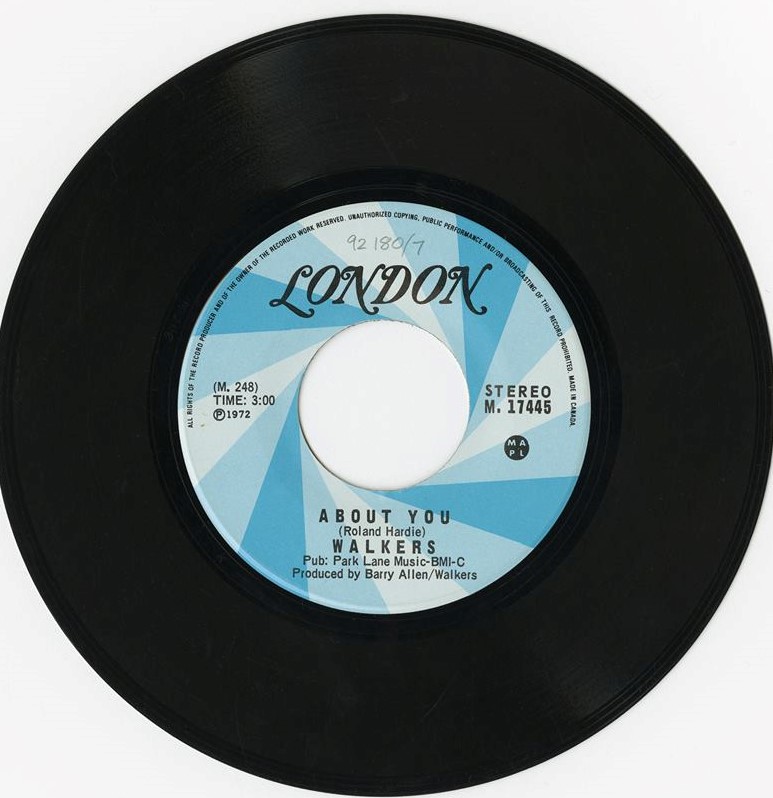 There was one last hope though – Wills remembers that Wes Dakus tried to hype them to industry friend Charlie Fach, then head of A&R at Mercury Records. Dakus tried to convince the band to travel to Chicago to do a showcase gig, but there was no wind left in the sails. MacCalder continues: "One night of work every two weeks did not constitute having a band. And we didn't even fit the profile to schlep Top 40 in a bar where you gotta be young and loud and electric."
In 1973 "Living on a Borrowed Dollar" was unearthed by CKUA host and record producer Holger Peterson for inclusion in his limited edition compilation album Acme Sausage Company. In his liner notes writer Jon Faulds already started thinking of The Walkers as from the past:
The Walkers or Willie & the Walkers as they used to be called, really belong to a different era in Edmonton's rock history. The old name gives it away. They used to be THE Edmonton band, and had two [sic.] single records to prove it. Will McCalder [sic.] works with a recording studio now but the band still gets together sometimes and "Living on a Borrowed Dollar" is one of the results. They're moving towards the country with pedal steel and harmonica that sounds just like an accordion.
In the spring of 1973, MacCalder started engineering a recording session by the Vancouver band Seeds of Time. They invited him to sit in on keyboards and, struck by the energy and enthusiastic attitude, MacCalder hinted that he might like to accompany the group on their upcoming western Canadian tour. They happily agreed, and with his departure, The Walkers dissolved for good.
There it stood for fifteen years. Everyone carried on with their lives – some with musical careers such as MacCalder who became a founding member of Powder Blues who won a Juno Award, released ten LPs and sported hits such as "Doin' It Right" and "Thirsty Ears." Another was Wills who joined the band Fosterchild which put out three albums and made it on to the radio with "I Need Somebody tonight" and "Until We Meet Again." Ron Rault took up the bass, and played behind such legends as John Lee Hooker and Johnny Shines. He also wrote the song "Jump Up" for the Powder Blues Band. Lionel Rault stayed with the roots/country genre and put out five solo albums. Yet there was always a current of nostalgia and fan good will for the Walkers.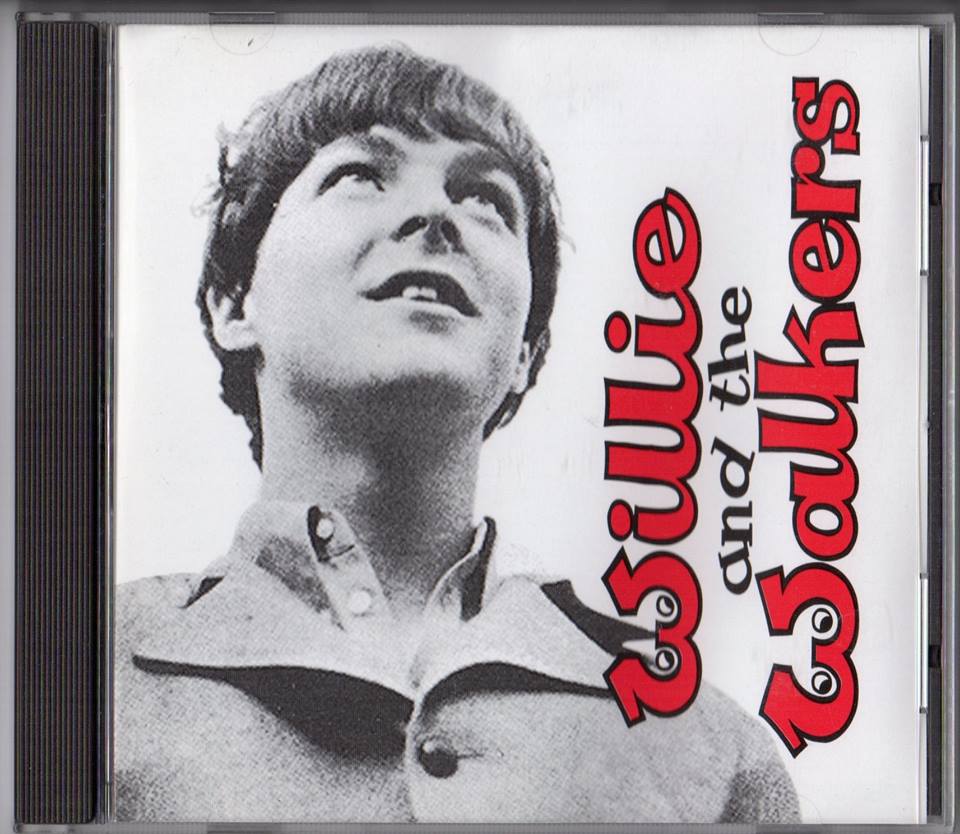 Interest in Edmonton's 1960s bands surfaced in the 1980s as both fans and musicians were entering middle age. There were two major reunions of Edmonton's bands – the first on New Year's Eve 1988-1989 at the First Annual Rock and Roll Reunion at the Edmonton Kinsmen Field House. A surprising number of bands reunited – Barry Allen & The Rebels, The Nomads, Privilege, Li'l Davey & The Drastiks, Graeme and The Waifer, and Warp Factor. Enthusiasm picked up when the original four members of Willie & the Walkers decided to see if they still had some chemistry. And they did. Their ten-song set was recorded by Damon-Soundtrek Studios owner Gary McDonall with his mobile studio, but it has never been released. The second get-together was held a year later at the Second Annual Alberta Rock and Roll Reunion with the original four plus Bob Dann on New Year's Eve 1989-1990 – also at the Kinsmen Field House.
In 1997 MacCalder and ex-bandmate and friend John Wesson finally assembled the album that should have happened thirty years earlier. Combining fifteen previously released and unreleased studio tracks, the CD compilation covered almost all of the entire recorded history of the band.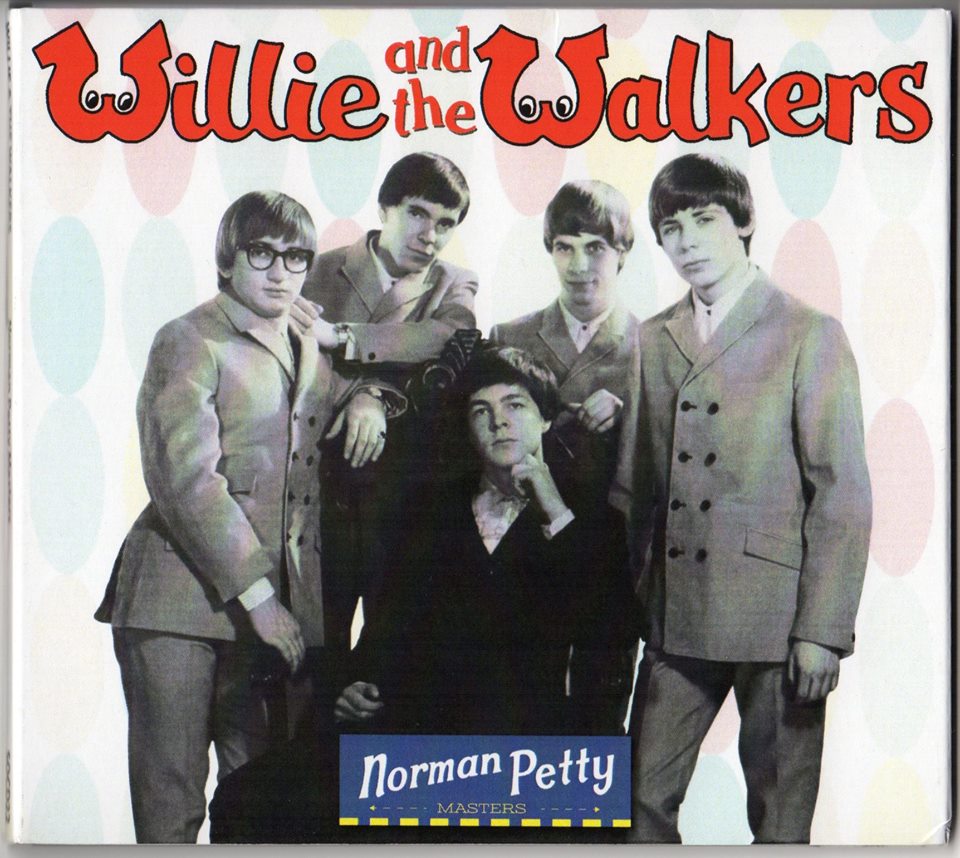 And twenty years later, in the fall of 2017, the label Super Oldies gathered together a number of newly-discovered master mix tapes from the vaults of Petty's studio (including the previously never-released "Just Don't Pretend"), and put out Willie and The Walkers – The Norman Petty Masters CD.
Bill Shute was one particularly insightful reviewer. In his "Blog To Com" (http://black2com.blogspot.ca/2018/01/cee-dee-review-by-bill-shute-willie.html) he wrote:
Willie & The Walkers were a simple quintet, two guitars, keyboards, bass, and drums, and they are not augmented by unnecessary studio musicians, but Petty could always get a full, rich sound out of a basic rock-and-roll band, and that's the case here. So while no one would label most of this material "garage punk," it IS all punchy and live-sounding. …..In any case, it's a solid set of 15 songs, and had these three sessions come out as an album, it would be considered a classic by fans of 60's regional rock and roll bands.
He goes on to try and describe them to readers who had no idea who they were:
What do they sound like? Hmmm….how about the Cryan Shames without the Byrds fixation? Or The Lovin' Spoonful without the jug band influence? Or maybe The Knickerbockers without the nightclub showband trappings? How about Gary Lewis and the Playboys as a self-contained quintet with no need for studio musicians and with their own strong songwriters? It's to their credit that while they do not have some off-the-wall, radical sound, they do not really sound like anyone else. Nowhere here can you point your finger and say "they are REALLY into The Beatles" or The Byrds or whoever.

Another feather in the cap of the late great producer Norman Petty, who brought his Midas Touch to a group of young men from Western Canada and took what was strongest and most distinctive about the band and focused it and sharpened it and presented it in its best light, with a strong punchy sound.
Willie and the Walkers were a continuously evolving musical force. In seven years they progressed from surf rock instrumentals to pseudo British pop, to white soul, ending in country-rock. They were fully aware of, but did not slavishly follow the trends. Their recorded legacy is careful, ballad-y for the most part, and restrained. But it is also misleading. Every incarnation of the band had big cojones on stage. Those who saw them in concert can attest that they could play dirty sneering rock and roll in the mid-1960s, funky r' n. b as the New Jersey/New York influence started to make inroads, white boy blues toward the end of 1969, and driving country-rock in 1972.
It is easy to speculate how they could have been more successful – better management, more consistency in their original writing, fewer personnel changes, more support from Capitol Records Canada, greater radio airplay outside of western Canada, and a best-selling album. However these never materialized. Rues MacCalder "I had no management chops at all…and I had an ego the size of Edmonton!"
Dann muses about how it should have gone differently with the original magic the band had:
Definitely. That's one of the reasons why I liked playing with the guys—there was something there that none of the groups I've ever played with had. It's never been the same. It's never had that charisma or whatever you want to call it. "I want a piece of this action—let me have some of this." And I did, and I enjoyed it. But it went awry somewhere along the line. That happens to everybody. It's unfortunate, but knowing what I know now after being out of that kind of music, all it would have taken was just to sit down and talk, and organize and get it straight…We could have made some good bucks, could have had more good times, could have put an album out, could have done some more songs…
Ron Rault considers his time in Willie & the Walkers:
Very important! It was probably the foundation – that and the period following and leading me out of that, in which I took everything that I learned and transferred it into my own scene, was probably my biggest leap forward musically. So the period of Willie & the Walkers, and the two or three year after that was probably my largest single accumulation of musical knowledge and acumen that I ever had. Not only from the influences that I gathered from the guys in the band, all the way from Rolie and Will and Bob, all the way to things that we explored together as a group. I learned how to sing, I learned how to arrange singing, I learned how to arrange songs. I learned what I wanted to do and what I was good at, and what I wasn't good at.
For him the whole time was:
Unfulfilled promises. I really believed, the first time when we were in the States, that we had a destiny. Vern, Will, myself, Rolie too sometimes—not Bobby, he was even starting to fade away—but those three guys, I felt like we were brothers in arms, and we had a destiny to fulfill, and we never did. That was unfulfilled business.
He muses:
I go back and listen to the album and I go "Jesus!" Will had something. He really did. He was enigmatic, charismatic; there was something that defied definition, but it was there. The fact is, none of us could put our finger on it. The music….It's got all the elements – it draws a little from r&b, it draws a little from pop music – cute guys singing cute tunes, but they had a beat, you know, they had the stuff. Real potential there… Blue-eyed soul is what it was once described as.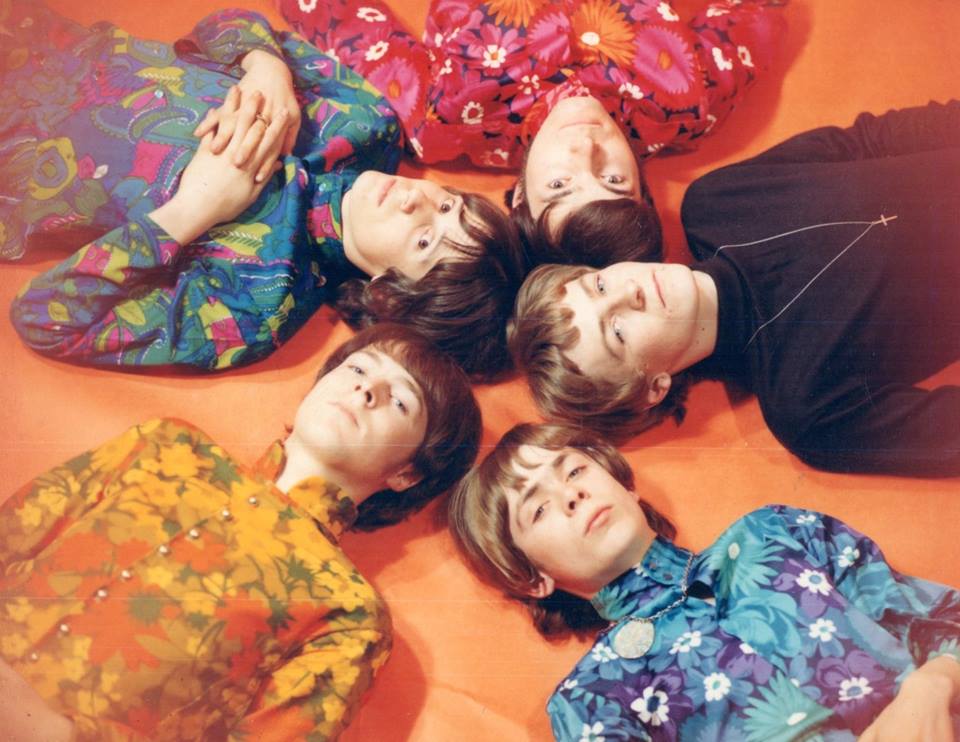 The Walkers left a strong and enduring legacy, and that influence has continued to this day. They fed members into successor bands such as Shametree, Powder Blues Band, Harlow, Pontiac, The Rault Brothers Band, Dick Tator, Everyman's Tonto, The Trip Twins, Fosterchild, Circuit Rider, Shinto, The Joes, Patch, The Timewalkers, Teen Angel & the Rockin' Rebels, Easy Wind, The Wailin' Walker Band, Brinkman Brothers, Seeds of Time, The Willie MacCalder Blues Band, Front Porch Roots Review, and Band of Sound. They changed the course of Edmonton's, and to a lesser degree the Canadian prairie's popular music scene, yet they cannot be considered a success. Theirs is a tale of being out of time – either ahead of the curve or a little too far behind. They found themselves out of place in both the small city and the largest city, and they did not always jump on the opportunities they came across. They exhibited immense musical abilities, but also a reluctance – perhaps even a fear – of success with their own original material. With typical Canadian modesty, they neither put much effort into concentrating on their writing – into recording it, performing it nor promoting it. That was a mistake. And of course their trouble with keeping a stable lineup together for more than six months at a time – although it led to many interesting combinations of personalities, did not ultimately help them on their journey.
DISCOGRAPHY
1. 45 r.p.m.
(Capitol 72456)
Side A – "Diamonds And Gold" (W. MacCalder)
Side B – "Baby Do You Need Me" (W. MacCalder)
Recorded: 21 July 1966, Norman Petty Studio, Clovis
Produced by Norman Petty
Released: 15 March 1967
Personnel: Will MacCalder, Rollie Hardie, Dennis Petruk, Bill Hardie
Note: 2 other tracks recorded during this session: "Can You See" (D.Petruk) and "Just Don't Pretend" (D. Petruk)
2. 45 r.p.m.
(Capitol 72485)
Side A – "My Friend" (W. MacCalder-B. Dann)
Side B – "Is It Easy To See" (W. MacCalder-B. Dann)
Recorded: 2 May 1967, Norman Petty Studio, Clovis
Produced by Norman Petty
Released: 1 June 1967
Personnel: Will MacCalder, Rollie Hardie, Bob Dann, Bryan Nelson, Bill Hardie
Note: 2 other tracks recorded during this session:
"Loser" (W. MacCalder)
"I've Given Up My Soul" (W. MacCalder)
Location (of unreleased tracks): in possession of W. MacCalder
3. Rehearsal
Recorded: July 1967, Walkers Studio, Edmonton
"Yellow Submarine" (J. Lennon-P.McCartney)
No producer
Personnel: Will MacCalder, Rollie Hardie, Bob Dann, Bryan Nelson, Bill Hardie
Location: unknown
4. 45 r.p.m.
(Capitol 72516 in Canada, United Artists UA 50249 in USA)
Side A – "Alone In My Room" (Prieto/P. Vance/L. Pockriss)
Side B – "Poor Janie" (W. MacCalder)
Recorded: 4-6 August 1967, Norman Petty Studio, Clovis
Produced by Norman Petty
Released: 6 November 1967 (CAN), January 1968 (USA)
Personnel: Will MacCalder, Rollie Hardie, Bob Dann, Bryan Nelson, Bill Hardie
Note: 6 other tracks recorded during this session:
"Appreciate A Girl" (W. MacCalder)
"Magic In Her Eyes" (B. Nelson)
"The Door that Leads to Nowhere" (B. Nelson-B. Dann)
"Feelin' Good" (B. Nelson)
"Tired of Waiting" (R. Davies)
"What Is the Reason" (F. Cavaliere-¬E. Brigati)
Location (of unreleased tracks): in possession of W. MacCalder
5. demo
Recorded: 1967, Walkers Studio, Edmonton
no producer
Personnel: Will MacCalder, Rollie Hardie, Bob Dann, Ron Rault, Bill Hardie
contains 1 track: "Is It Love" (W. MacCalder – R. Rault)
Location: in possession of W. MacCalder
6. demo
Recorded: 5-10 March 1968, Garry Paxton Mobile Studio, Bakersfield, California
Produced by Garry Paxton
Personnel: Will MacCalder, Rollie Hardie, Bob Dann, Ron Rault, Bill Hardie
contains 6 tracks: "Nature's Child" (B. Paxton)
"Is It Love" (W. MacCalder¬-R. Rault)
"Bluebird" (S. Stills)
and 3 others ?
Location: tapes were destroyed by Paxton when group was unable to pay for sessions
7. rehearsal
Recorded: Summer 1968, Walkers Studio, Edmonton
No producer
Personnel: Will MacCalder, Rollie Hardie, Bob Dann, Ron Rault, Vern Wills
Contains 1 track: "A Good Man Is Hard To Find" (no info on composer)
Location: in possession of W. MacCalder
8. demos
Recorded: January 1969, Towne Recorders, Inglewood Cliffs, N.J.
Produced by Davey John McLauchlan
Engineered by Rudy Van Gelder
Personnel: Will MacCalder, Rollie Hardie, Bob Dann, Ron Rault, Vern Wills
Contains 5 tracks: "Pam" (R. Rault), "Riddle Land" (V. Wills), "Sail On Through The Year" (V. Wills), "Fat Man" (W. MacCalder), "Ronald McDonald" (W. Mac Calder)
Location: unknown
9. CKUA PRESENTS THE ACME SAUSAGE COMPANY
compilation LP (Acme Sausage Co. Label)
one track credited to The Walkers Featuring Vern Wills
"Living On A Borrowed Dollar" (V. Wills)
Recorded: 1971, Park Lane Studio, Edmonton
Produced by Holger Petersen
Personnel: Will MacCalder, Rollie Hardie, Vern Wills, Bill Hardie
Released: 1973
Note: one other track recorded at same time "Nadine" (C.Berry) which was never released
10. 45 r.p.m.
(London M.17445 in Canada, United Artists in USA)
Side A – "All About You" (R. Hardie)
Side B – "Hotels and Wishing Wells" (W. MacCalder-S. Palmer)
Recorded: 1972, Park Lane Studio, Edmonton
Produced by Barry Allen
Released: 1972
Personnel: Will MacCalder, Rollie Hardie, Vern Wills, Bill Hardie
Note: 2 other tracks recorded during this session "Statesboro Blues" (W. McTell) and "Miss Ann" (R. Penniman)
11. demo
Recorded: 24 February 1972, Park Lane Studio, Edmonton
Produced by Barry Allen
Personnel: Will MacCalder, Rollie Hardie, Bill Hardie, Vern Wills,
contains 1 track: "Don't Be Late" (V. Wills)
Location: Provincial Archives of Alberta, Sundown Recorders Collection; 92.397
12. rehearsal for television
Recorded: December 1988, Dennis Petruk's basement, Edmonton
Producer:
Broadcast: December 1988, "Eyewitness News", CFRN
Personnel: Will MacCalder, Rollie Hardie, Dennis Petruk, Bill Hardie
contains 1 track: "Alone In My Room" (Prieto/Vance/Pockriss)
Location: copy in possession of R. Hardie
13. live performance (1st Annual Rock & Roll Reunion)
Recorded: 31 December 1988, Kinsmen Field House, Edmonton
Produced by Gary McDonall
Personnel: Will MacCalder, Rollie Hardie, Dennis Petruk, Bill Hardie
contains 11 tracks: "Diamonds and Gold" (W. MacCalder)
"Kicks" (B. Mann-C. Weil)
"The Letter" (A. Chilton)
"Got to Go Back" (R. Zehringer)
"Itchykoo Park" (S. Marriott-R. Lane)
"Poor Janie" (W. MacCalder)
"Daydream Believer" (J. Stewart)
"Wooly Bully" (D. Samudio)
"Alone In My Room" (Prieto/P. Vance/L. Pockriss)
"Double Shot" (Smith¬-Vetter)
"You Make Me Feel So Good" (R. Zehringer)
Location: master tape in possession of Gary McDonall
14. demos
Recorded: Feb.-March 1992, Rob Hewes Studio, Edmonton
Produced by Ron Vaugeois
Personnel: Dennis Petruk, Bill Hardie, Nick Petruk, Rick Francis, Sam Paladino, R.J. Smart
contains 2 tracks: "Mary Anne" (S. Paladino-J. Van Dyke)
"Sweet Little Thing" (S. Paladino-¬J. Van Dyke)
15. 30th ANNIVERSARY COLLECTION
CD (Jay-El Records – no unit no.)
Recorded: 1966-1972, various studios
Producers: Norman Petty, Barry Allen
Released: June 1997
Personnel: Will MacCalder, Rollie Hardie, Dennis Petruk, Bill Hardie, Bob Dann, Bryan Nelson, Ron Rault, Vern Wills, Barry Allen, Vi Petty
contains 15 tracks: "My Friend" (W. MacCalder- B. Dann)
"Feelin' So Good" (B. Nelson)
"Is It Easy To See" (W. MacCalder- B. Dann)
"Baby Do You Need Me" (W. MacCalder)
"Diamonds and Gold" (W. MacCalder)
"The Door That Leads To Nowhere" (B. Nelson- B. Dann)
"Poor Janie" (W. MacCalder)
"Alone In My Room" (Prieto/Vance/Pockriss)
"I've Given Up My Soul" (W. MacCalder)
"Appreciate A Girl" (W. MacCalder)
"Loser" (W. MacCalder)
"The Magic In Her Eyes" (B. Nelson)
"What Is The Reason" (F. Cavaliere- E. Brigati)
"Is It Love" (R. Rault- W. MacCalder)
"All About You" (R. Hardie)
16. various artists – Get Ready To Fly: Pop-Psych from the Norman Petty Vaults
compilation CD
Big Beat Records CDWIKD (U.K. release)
Includes "Poor Janie" (W. McCalder) and "Magic In Her Eyes" (B. Nelson)
Released 2007
Also includes songs by Fireballs, Hooterville Trolley, Apple-Glass Cyndrom, Mike Burnett, The
Cords, Livin' Ends, Frantics, Intricate Blend, Butter Rebellion, The Dard, Group Axis, Happy Return, Brentwoods, Danial Paul Revelation, Tyme of Day, Shi Guys, White Lightnin', Stu Mitchell with Wes Dakus' Rebels
17. various artists – Obscure 60's Garage Vol. II
compilation CD
Dan's Garage (no #)
Includes: "In My Room" (Prieto/Vance/Pockriss)
Released 2009
Note: also includes Shades Of Blue, Shaprels, Troyes, Kathy Young, Dicky Treadway & The Salados, Just Rita, Elfstone, Group Love Corp., Foamy Brine, Castaways, New Order, Plastic Menagerie, Prophets, Tony & The Vizitors, Bossmen, Dalton, James & Sutton, Beethoven 4, Kings Horse, Beethoven's 5th, Lagnafs, Hoi Polloi, Emblems, 4 O'clock Balloon, Dirty Filthy Mud, Outer Mongolian Heard, Black Rose, Shades Of Darkness, Mandrake Memorial, Wicked Truth, Great Imposters, Grotesque Mommies, Squires V, Edgin Inds
18. various artists – Happy Lovin' Time: Sunshine Pop From the Garpax Studio
compilation CD
Big Beat Records (U.K. release)
Includes 1 song: "Is It Love" (R. Rault- W. MacCalder)
Released: 2015
Note: also contains tracks by Augie Moreno, The Whatt Four, The New Wing, Curt Boettcher, The Black Box, The Chocolate Tunnel, Dave Antrell, Jim Gordon, The Bogart Cult, The Jay Bees, Johnny Apollo, The Bakersfield Poppy Pickers, The Four Freshmen, The Lords, Privilege, Mary Saxton, Homogenized Dirt.
19. Willie and The Walkers The Norman Petty Masters
compilation CD
Super Oldies SOCD22
Includes 15 songs:
"Diamonds & Gold" (W. MacCalder)
"Baby, Do You Need Me" (W. MacCalder)
"Just Don't Pretend" (D. Petruk)
"My Friend" (W. MacCalder- B. Dann)
"Is It Easy To See (Lovin' Me)" (W. MacCalder- B. Dann)
"Loser" (W. MacCalder)
"I've Given Up My Soul" (W. MacCalder)
"Appreciate A Girl" (W. MacCalder)
"Feelin' So Good" (B. Nelson)
"Magic In Her Eyes" (B. Nelson)
"The Door That Leads To Nowhere" (B. Nelson- B. Dann)
"Tired Of Waiting For You" *(R. Davies)
"What Is The Reason" (F. Cavaliere- E. Brigati)
"(Alone) In My Room" (Prieto/Vance/Pockriss)
"Poor Janie" (W. MacCalder)
* previously unreleased
personnel: Will MacCalder, Rollie Hardie, Dennis Petruk, Bob Dann, Bryan Nelson, Ron Rault, Barry Allen, Vi Petty, Bill Hardie
Recorded: Norman Petty Studio, Clovis, New Mexico
Produced by: Norman Pett
Released: September 2017
© Copyright Brock Silversides & psychedelicbabymag.com