Anonymous & J. Rider interview with Ron Matelic
It all started with Sir Winston and the Commons in the '60s. They were not a typical garage band. Their single "Not the Spirit of India" is a prime example of how good this Indianapolis band were. A few years later there was another group formed called "Anonymous". Today there's a big hype surrounding their Inside the Shadow album.
---
Interview with Ron Matelic
Where and when did you grow up? Who were your major influences?
I was born, raised and still reside in Indianapolis, Indiana. Having an older sister, I was exposed to 50s rock and roll when it was current. I liked Elvis, Everly Brothers, Buddy Holly and doo wop. I have always been drawn to good harmony and melodic lines. But I was probably more attracted to electric guitar and combo instrumental type music. "Tequila" by the Champs may have been my first 45 record purchase. Later on, I listened to the Ventures, and then a lot of 'hot rod' and surf instrumentals.
Your first band was called Sir Winston and the Commons and you released "Come Back Again" / "We're Gonna Love" and "Not the Spirit of India" / "One Last Chance". The first single was released in 1965 on Soma Records and the other one is from 1966, released on a label called Nauseating Butterfly.
Actually our first name was The Illusions and then it changed to The Suspicions. Sir Winston was our first booking agent's idea because of the British Invasion, and he even tried to say we were from England, but that was really short lived since we knew so many people that were at the shows. After we had been together for a while, we booked a recording session in Chicago at Columbia records and recorded 5 or 6 songs. "We're Gonna Love", "Come Back Again" and "One Last Chance" are 3 of those. I don't remember where or when we did "Not the Spirit of India", but there were probably other songs as well.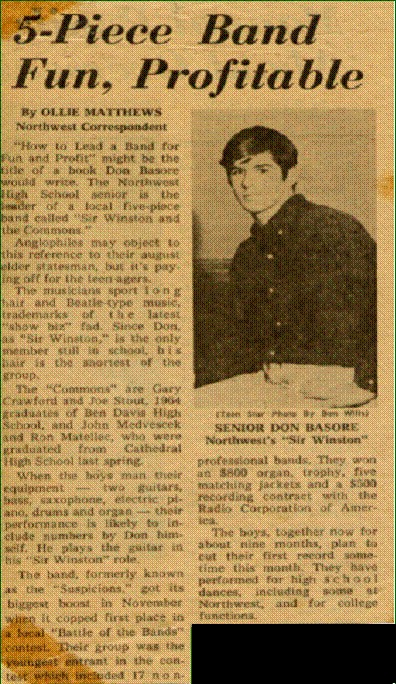 Since you were very young you and your friend, John Medvescek wanted to start a band. What was the local scene in your town?
There weren't many local dances or bands early on. Our favorite was a band called the Katalinas. They did mainly instrumentals with a few vocals like most of the bands. We sort of copied what they did in having the bass drum head painted in fluorescent paint and shining a black light on it. I still think that looks cool.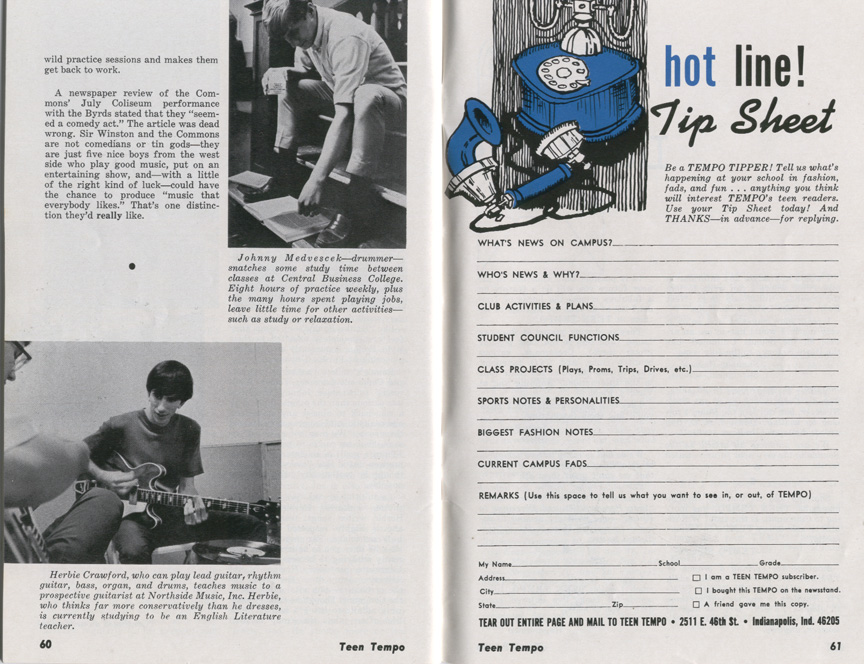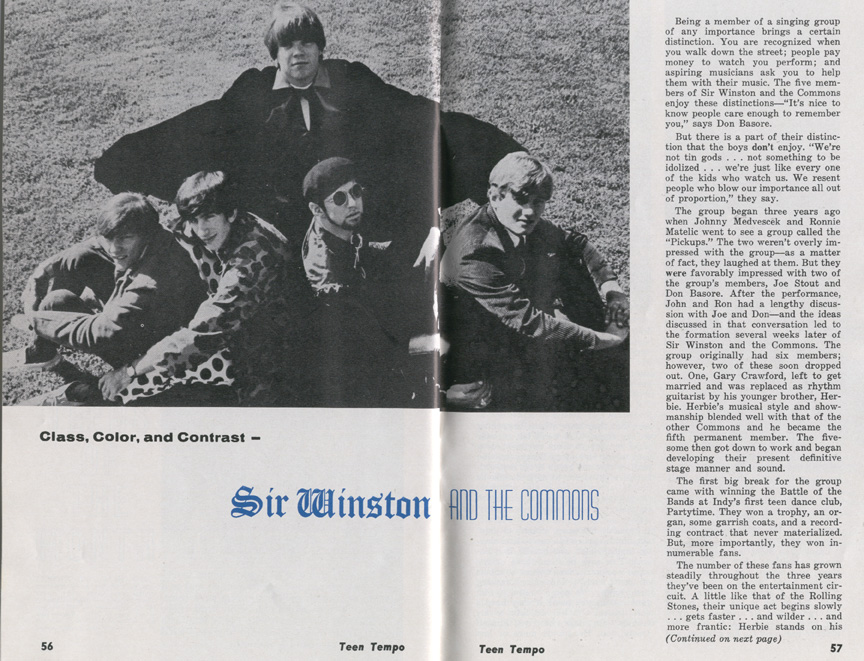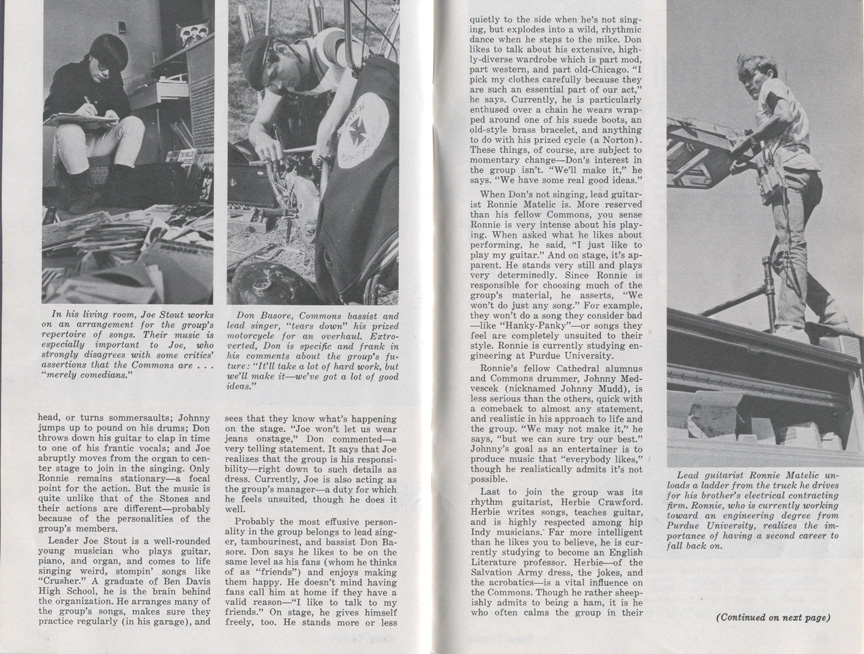 Then Gary Crawford joined.
We started with songs by the Ventures and sax instrumentals like Honky Tonk and Harlem Nocturne and progressively did more and more surf instrumentals as they were becoming more prevalent. I think one of our first vocal attempts was Buddy Holly's 'It's So Easy'.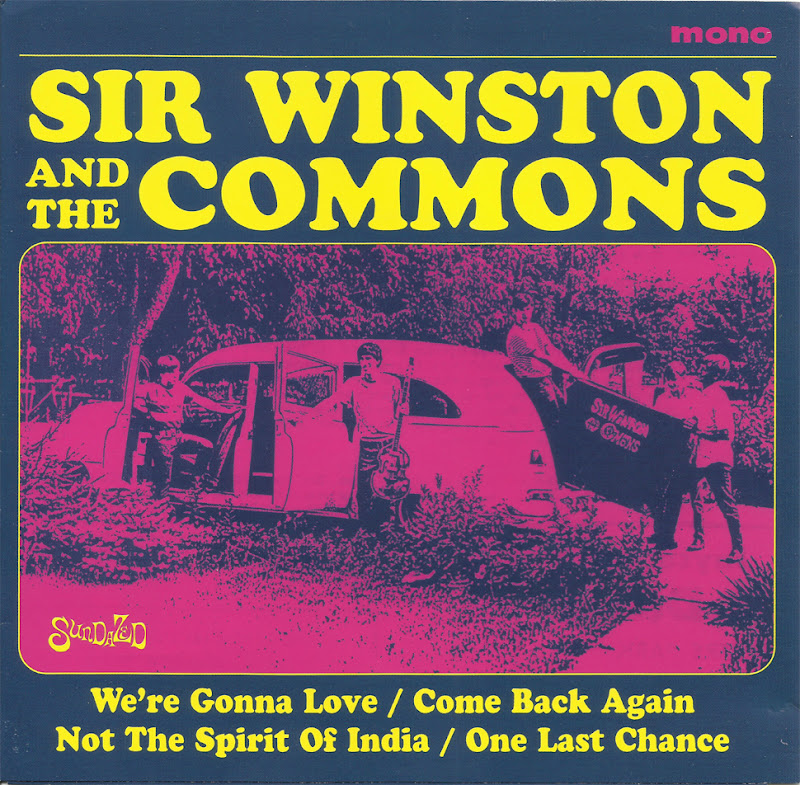 At first you were into Surf and then the British Invasion.
Yes, Dick Dale was my first guitar hero; he's still at it and still sounds great. I also liked the harmony of the early Beach Boy tunes, but when the Beatles hit, everything opened up. All of a sudden there was a world full of music and it was all good. The thing I liked most about the British groups was that they all sounded different from one another, so it was an exciting experience to enjoy all the diversity. Plus they were all so talented. I was always in awe of their musical expertise and vocal ability.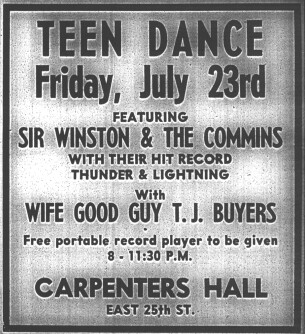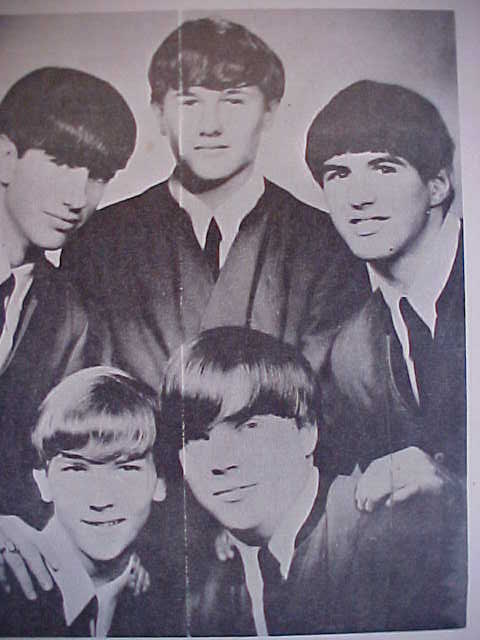 How did you sign to Soma? What was "Not the Spirit of India" about?
We were never signed by anyone. Our second agent at the time had SOMA press the first record, but there wasn't any distribution or promotion. Herb Crawford, our other guitarist, handled the "Not the Spirit of India" record from the label to the pressings. He and I co-wrote the song. I developed the music and he did the lyrics. There was an electric India vibe that was around at the time. The influence may have, in part, come from Paul Butterfield Blues Band's East-West.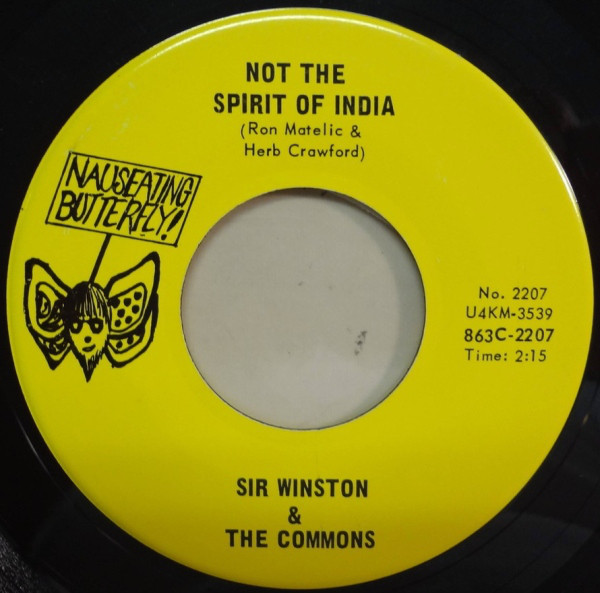 Did you also tour? You played in California?
We actually never did any real touring. We played a few one nighters and a concert or two and landed about a six week gig at the Galaxy Club which was two doors down from the Whiskey a Go-Go on Sunset Boulevard in Los Angeles. We played 5 hours a night, 6 nights a week. It was okay but not very interesting or profitable. I was beginning to lose my enthusiasm.
Do you know any other cool bands from your area?
As mentioned before The Katalinas were good and my favorite, but that was before and in the early days of our band. At the time of Sir Winston, there were several bands that shared the local scene. The Boys Next Door, The Dawn Five, Sounds Unlimited, and The Idle Few are some that I remember.
What happened next?
After California, we were reduced to a 3 piece group doing sort of a Cream/Hendrix type thing. It was fairly lucrative for a while, but became musically limiting in my mind. We eventually decided to call it quits.
You were in a few other bands before forming Anonymous like for instance Cock Robin and Ghandharvis. Cock Robin recorded some material, but the recordings are lost. Are you sure about that? Are still in contact with John Medvescek? You were both in these bands, right?
I saw a previous booking agent a few years ago who arranged for the Cock Robin recording, and he maintained that the tapes were lost after he went through a divorce. John is still my best friend, although we don't see much of each other. He is a captain at an Indianapolis fire house, and has always been the best and my favorite drummer.
Can you elaborate the formation of Anonymous?
I joined a band in 1972 called Madison Zane formed by Sir Winston keyboard and sax player Joe Stout. It was basically a cover band. Marsha Ervin, whose last name at that time was Bailey, was a friend that I used to sing with at get togethers. She was also in that band. Glenn Weaver was the bassist and we shared a lot of musical interests. I was familiar with Fleetwood Mac but he got me to listen to the Buckingham Nicks album which is an exceptional LP. He was a very melodic and aware bassist. After we both left that group we would have jam sessions on Sunday afternoons with John Medvescek and developed the material that ended up on Inside the Shadow.
What can you tell me about the material on the LP?
There was no intentional concept; just a list of songs. There is additional recorded material as J. Rider and Ron Matelic & Friends. I also have a stockpile of yet to be recorded songs.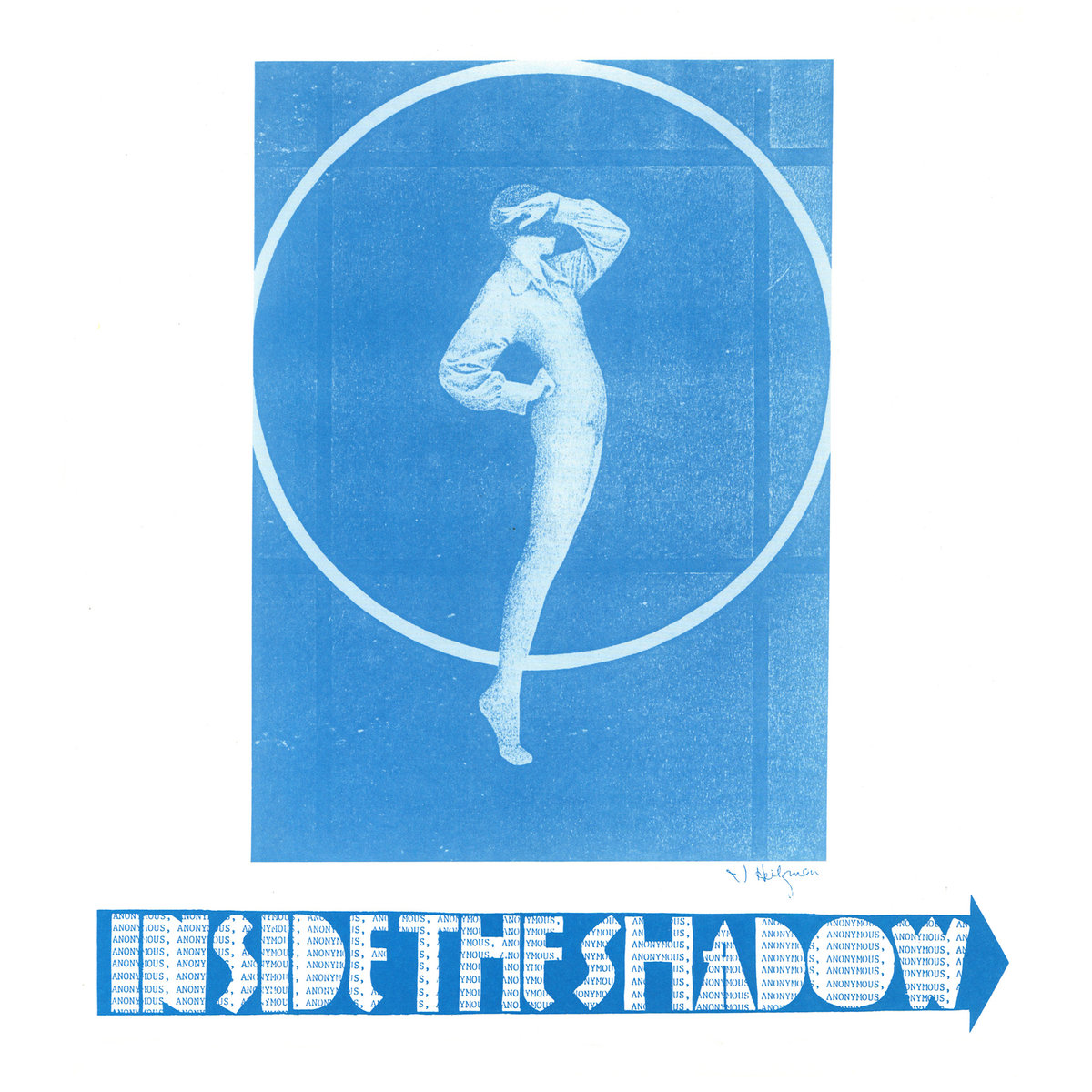 Where did you record it? What gear did you guys use?
It was recorded in a garage-turned-studio in a residential area of Milwaukee, Wisconsin.
We had rehearsed well before going and did all the instrumental tracks on a Saturday. We went back a few weeks later and added the vocals. John used his Ludwig drums, Glenn Weaver had a Guild hollow body bass, but I don't recall his amp. I used my Gibson SG, Rickenbacker 370-12 string and Martin D-35 acoustic, and a borrowed Fender Twin Reverb amp. The effect used was an Electro-Harmonix Small Stone phase shifter.
Would you share your insight on the albums' tracks?
I also like how a song originates. Here is a transcription of thoughts I came up with when the album was being released for online download.
"Who's Been Foolin'"?
I at first thought that the melody of the verse was something I heard on Don Kirshner's Rock Concert, but I never could pinpoint it so I kept writing the song with the help of Glenn Weaver. My favorite part of the song is the second "… who's been foolin'…" in the last verse. I always have liked subtle variations in a song's arrangement or melody — something I learned from the Beatles to whom I attribute most of my song writing interest.
"J Rider"
I first came up with the opening guitar lick on my acoustic guitar, but I knew that it was meant for the Rickenbacker 12 string. I'm not sure how the rest of the song fell together but I always attribute it to some McGuinn vibes. It's one of those fun songs to play. (Thanks, Roger! (Jim))
"Up to You"
This is a song written to my wife. The "her" in the "I see her…" verse refers to my daughter, Sarah, who at that time was our only child.
"Shadow Lay"
This rendition was the second incarnation of this song. When I first wrote it, it had a Lennon, "Glass Onion" groove. In a third version later on, it was changed to a smooth, mellow jazz arrangement. I like the way the instrumental accents vary at the start of each verse. I think the "you" of the song is really me.
"Pick Up and Run"
Another song built totally around the 12 string, ala "So You Want to Be a Rock & Roll Star". I spent a lot of time listening to the Byrds, but I was also hung up on changing the time signatures in a song, like this song's bridge.
"We Got More"
"Sweet Lilac"
I think this is the only time I took someone else's words and put them to music. My friend, Becky, handed me these lyrics one day and these songs are the result. I did have to change a few of the words for the song's meter, and I also came up with the reference to "Shadow Lay" in "Sweet Lilac". The Yeah, Yeah, Yeah in "We Got More" is sort of a theft from the Mamas & Papas.
"Baby Come Risin'"
This is a conglomeration of ideas that have some origin in "Layla" and a couple of McCartney songs. The instrumental section in the middle came from those Sunday afternoon practices, when we just let loose.
Album was released on A Major Label Records formed by Jim Spencer.
Jim lived a few blocks down the street from me in the early years and I'm not sure how we originally got together musically. He'd invite me over and he would play me his songs and I would play mine and we wrote a few together. He would come up with lyrics very quickly and I always admired that ability. He also had a great voice and sense of musicality. He eventually moved to Milwaukee and married; but he would stay in contact when he'd visit his mother in Indianapolis and we would again share our recent songs. He is the sole reason the Anonymous album exists.
How many copies were released?
I don't remember the exact number of the original pressing—several hundred I guess; but there was also a second pressing where the back cover of the first pressing became the front cover of the second.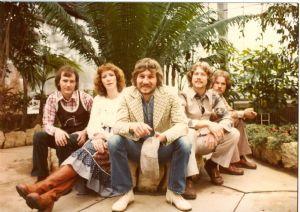 How about J. Rider with addition of another guitarist Justin Garriot. You played some local shows and recorded some material.
Yes, we played a few places, but this town has never been one for promoting original music to any extent. You have to be a real trooper to try and sustain your originality.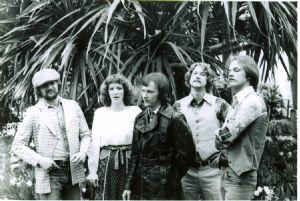 Only through our good friends Norm Welch who was able to sponsor the recordings and the engineer Mike Petrow were we able to record what we did.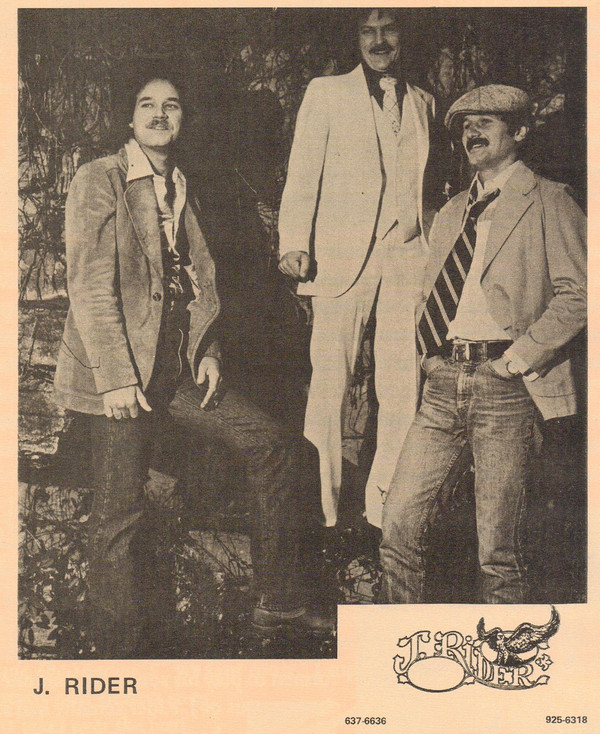 Was it recorded in the same studio as Anonymous?
No, it was recorded in a local Indianapolis studio that at time was called Neon Cornfield.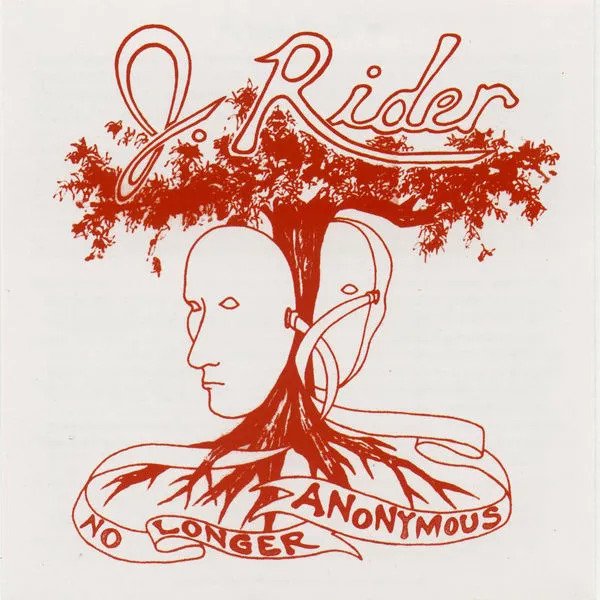 Would you share your insight on the albums' tracks?
"One Sided Lover"
Built solely around the guitar lick, this was a fun "power" song to play live. I don't know where the lyrics stem from but my lyrics are for another discussion.
"Kiss of Your Soul"
I think I just mainly liked the irony of the title and Justin's slide guitar is pretty cool. During this period, I also liked varying from standard 4/4 time which made it a little more fun and interesting to play
"We Got More"
This is what I thought would be a commercial song. I now wished I had done something else since this song was already on the Anonymous album, but Marsha sure sings it a lot better than I did.
"High Roller"
I could here the melody line to "She was a (boom boom) hi-igh roller" in my head and wrote the whole song around that one line. It then continued to evolve with more guitar parts and those great sounding drums. I think there are some Stephen Stills influences on this one. It's one of my favorites.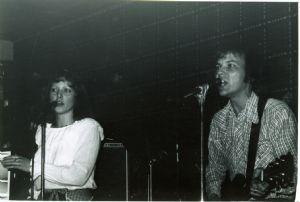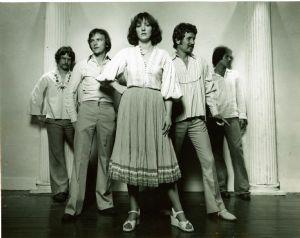 "Pike River"
A nice flowing song that was inspired by McCartney's "Mull of Kintyre". This is one of those songs that came together very quickly with seemingly little effort. Only a few are like that. I especially like Greg's bass part and John's intricate cymbal work on this recording.
"Sunday's Hero"
This is an old song written in the late sixties without the fast instrumental intro or outro. I don't remember too much about writing the original version which consisted of the entire vocal part. At some point I came up with the guitar parts and matched them with this song.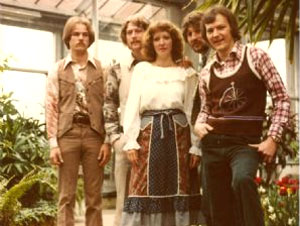 Anonymous didn't even play locally? 
Not as Anonymous, but as J. Rider. We played for a short while and Glenn left the band and was replaced by Gregg Reynolds and we played for maybe a few months longer with five people. Marsh became pregnant and left and then Justin left, but John, Gregg and I continued to play for a while. We abandoned the original music and went commercial.
How did you decide to use the name "Anonymous"?
"Anonymous" was just a name I came up for the album since we were not an official band at the time of the recordings. I always hated trying to think of band names that didn't invoke some preconceived notion of what the band was like. J. Rider is like a person's name with no connotations.
Who did the cover artwork for Anonymous and for J. Rider?
The front cover of Anonymous was a drawing by J. Heitzman, whose brother Tom was a drummer friend of Glenn Weaver. The picture hung in Tom's apartment, I believe, and Glenn recommended it. The back cover art was by K. Gehrke, I assume a friend of Jim Spencer. The second pressing of Inside the Shadow used this back cover as the front cover. J. Rider art was by Greg Day, who was selected by Stan Denski. Stan put together that album on his OR Records label after he released the first re-release of Anonymous.
What happened next?
Pretty much the normal life of marriage, working a day job and raising kids.
What currently occupies your life?
Job, marriage, kids, grand kids – trying to get to retirement.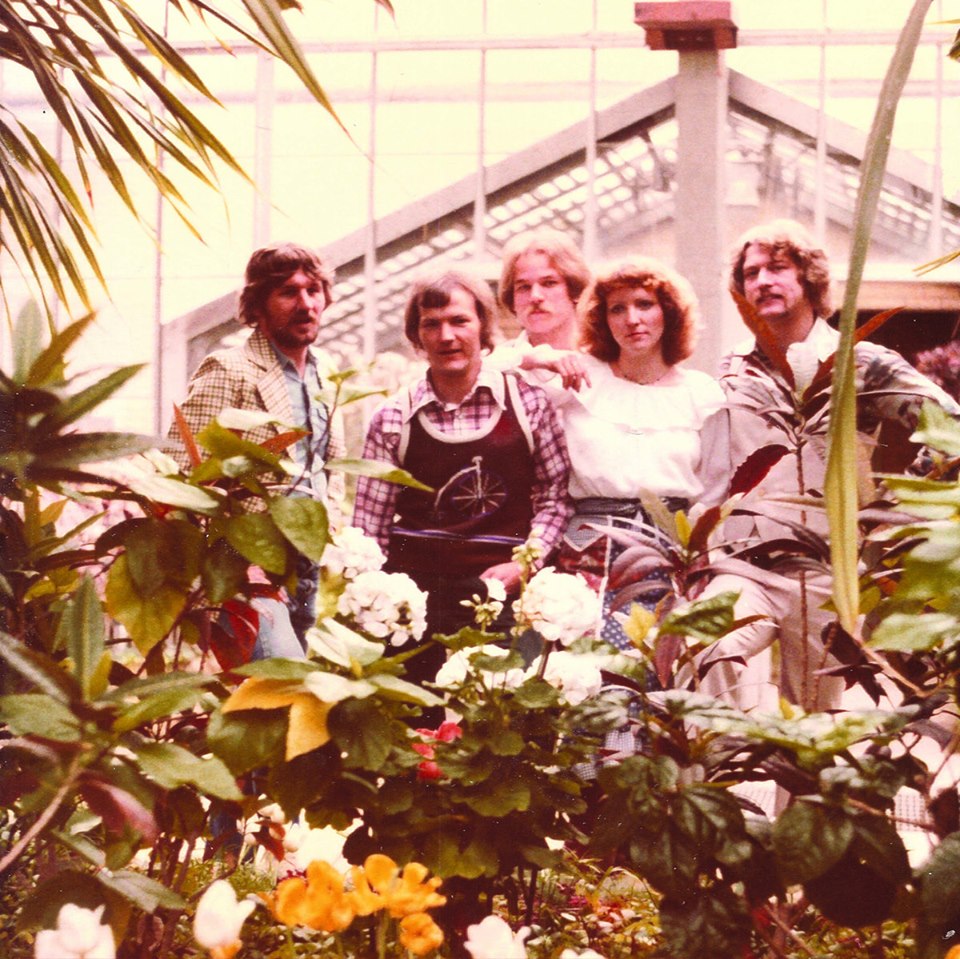 Are you still in contact with other members?
I see or talk to John and Gregg from time to time. Marsha lives out of state and Justin lives in China as of the last time we conversed.
Any regrets?
I wish I would have been more ambitious in seeking to play my original music.
I would like to thank you for taking your time. Would you like to send a message to It's Psychedelic Baby readers?
There is another vinyl release of Inside the Shadow scheduled to be released on the Machu Picchu label.
I'm extremely grateful to everyone who has shown any interest in my music, and I hope to produce some additional material in the near future. Spread the word and stayed tuned.
– Klemen Breznikar