Stoned Jesus Interview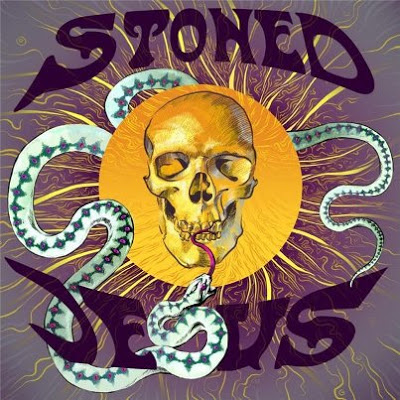 What are some of your influences?
Hello! Well, I've always been mostly a prog fan, so no wonder I like some obscure Prog-Rock stuff from those days like, for example, Italian Prog bands PFM, Banco, Le Orme and Locanda Delle Fate, Scandinavian ones like Kaipa and Atlas, Spanish Gotic and loads of German Kraut bands for sure. It's hard for me to point my favourite obscure album from 70s, I'd rather say I love the whole attitude. Rock music back in those times was filled with the spirit of experimentation, but most musicians were still eager to write good memorable songs, and when these approaches meet each other we have masterpieces like "In the Court of the Crimson King" or "Sabbath Bloody Sabbath".
Were you in other bands before forming Stoned Jesus?
Sure, I've been playing with some local bands (no recordings left fortunately!) before coming up with my own. It was Funeral of the Sun, and we were playing some kind of Death-Doom Metal with some Atmospheric Black/Prog-Rock influences. Shortly after I've lost my interest in it another project was born, Krobak ("worm" in Ukrainian). It is mostly guitar-based atmospheric instrumental material inspired by GY!BE, Mono and Yndi Halda…Post-Rock, eh? 😉
What can you tell us about the formation Stoned Jesus?
I had bad times in late 2008 and started to come up with angry heavy riffs that were hardly Krobak-related, so I decided to start another project, a Sludge/Post-Metal one. But when the opening "Occult" riff appeared I realized that this is going to be a little bit different stuff 😉 My old passion for bands like Black Sabbath and Led Zeppelin melt my Sludge/Post-Metal blueprints into something new, besides I discovered Electric Wizard and Sleep and finally realized the direction I should take with my own music.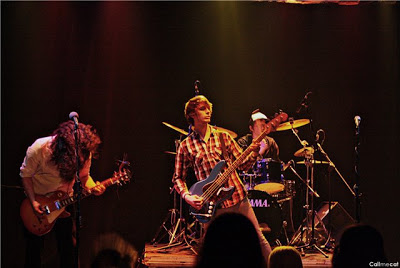 What does the name "Stoned Jesus" refer to in the context of the band name?
Well, the name at first was like "Stoned Jesus From The Outer Space" or something, kinda pun on stoner's most obvious cliches like religion, weed, space and stuff. But later I realized that this may cause some problems – some people wouldn't take our music seriously then. I don't mind jokes and having fun, but music is always the most serious thing for me, so I shortened the moniker to "Stoned Jesus".
What do you remember from first jam sessions with the band?
I'll never forget them for sure! Me and my friend Nick, who took over bass guitar at first, were renting a flat with some other guys, rehearsing right where we lived using acoustic guitar and unplugged bass. We had no drummer back in those times, almost no live show opportunities, and the whole future seemed rather poor. Emotionally we were drained and devastated, and I guess this time, late 2009, was sometimes too tough for us. But I like experiences of that kind, they give you strength and power to overcome almost any kinds of hardships you are about to face.
In 2010 you released First Communion on Solitude Records.
We were on tour (if you dare calling 4 live shows in a row "a tour"!) and the whole material was hot and ready. We recorded the whole album's basic tracks live-ib-the-studio on my Kiev's friend equipment in just two (!!!) hours, and then I've returned home to mix it, add solos and vocals. It was the first studio experience for Nick and third or second for Alex, our drummer for that time. I'm glad Solitude Prod. took over album's promotion, they know how to work with Doom Metal and they were exactly what we needed back in 2010. I still receive exciting feedback on "First Communion" even though it feels like we recorded it ages ago.
Share an interesting experience from concerts.
Hah, loads of funny things are happening before, during and after the shows! I remember slamming guys in Piter (how on earth can one slam during a slow long Stoner Doom riff???), spontaneous jams with other musicians that were just joining us during our performances, and stuff like that. The most interesting experience was that playing too often may harm the band, so half-a-year ago Alex and Nick decided to quit Stoned Jesus, and in those times we had 3-4 shows every month! Now with a new line-up (Vadim on drums and Sid on bass) we try to focus rather on quality than quantity.
What is your opinion about psychedelic/hard rock scene these days? How is the scene in Ukraine?
The whole scene had always been an underground child, but here in Ukraine we never had traditions and/or roots of playing trippy stuff, so nowadays it's all basically a reconstruction. While UK, Germany and USA had their Hawkwind, Amon Duul and Grateful Dead, we were having bands like Pesnyary, Czervone Gitary in Poland, and I bet Slovenia also had some Beatles-wannabees. I like bands like White Hills, Black Mountain or Quest For Fire, they respect traditions but they step beyond the genre and always add something personal to their manner, their sound, their attitude. This is what Stoned Jesus aiming for, too.
As for Ukrainian scene we have mostly heavier bands inspired by Grief or Isis rather than Pink Floyd or Can. Hard Rock bands are mostly too narrow, and their Hard Rock is too Hair Metal-based. But there are few bands who still interested in Psychedelic Rock like Slow Ride Home or Summer God Teachings.
What are some future plans?
Well, we've just released a new EP which is some kind of the upcoming album's preview and plan to record a new full-length this Summer and release it before 2011 ends. We eager to play some shows in Europe, and yeah Slovenia may be one of the first countries to explore! 😉
Thank you. Last word is yours.
No, everything was just fine! Thanks for this interview opportunity, I had fun…hope you'll have it too 😉 Cheers, Igor
– Klemen Breznikar