Fruits de Mer Records Interview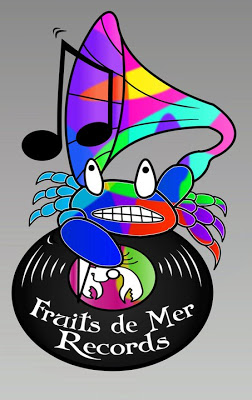 Would you mind introducing yourselves?
Andy Bracken – No problem, thanks for asking. I'm Andy, he's Keith, and we're from England, though I live in the US of A, a small place just the other side of the lost continent of Atlantis. Keith's from Walton-on-Thames, a leafy suburb in Surrey, just south of London.
How would you describe the beginning of Fruits de Mer Records?
AB – A struggle. I'd been running a label (Bracken Records) for a few years, and Keith had always shown a keen interest. We're both vinyl record collectors of some standing…my standing is higher than his in a physical sense, but he has more records than me. Over a couple of years and beers we plotted a new imprint we could run together. This was done in pubs all over south east England. Then, as Keith switched to halves (he does that, then drinks two halves to my pint, which I've never understood) we came up with a concept of re-releasing obscure or under-appreciated psych tracks on vinyl 7". This was 1841, or about twenty to seven. Unfortunately, the big bad record companies wouldn't let us re-release the original tracks, so we were buggered. But we already had a licence for 2 tracks, which we'd paid for, and I wasn't about to waste it. I suggested to Keith we get a contemporary band to cover those tracks, and the label was born! That was it. Keith's missus, Liz, suggested the name – Fruits de Mer – as it's her favourite dish, and we lit cigars and raised a glass to toast our new label. Or at least I did – Keith was at the bar getting another fucking half.
What was your first release?
AB – see the way I segued that in? I'm good, me. The first release was "Theme One" and "Ogden's Nut Gone Flake" originally by Van Der Graaf Generator and The Small Faces respectively, but you knew that; they have to be two of Keith's alltime favourite tracks. I pulled in a band I'd worked with on my Bracken label, Schizo Fun Addict, and they did cracking versions – nicely re-interpreted, but still just true enough to the originals. Ah, it was on a lovely swirly turquoise vinyl 7" with clashing orange/ red labels and a mad insert about winkles – we wanted it to be garish. We only do vinyl. CDs are something we give away and downloads don't actually exist, you know? If you don't agree, go on then – hand me one… We did a cassette once, but that was given away, as well. I've just decided we give too much away!
How many copies do you usually make?
AB – on the first few releases, we pressed 300, gave about 100 away, and struggled to sell the rest. It was tough going, but it didn't matter, we were just starting. Running a label on your own is tough, but having a partner means you share the disappointments, and celebrate the successes. It's all good. Keith and I realised the internet isn't enough on its own. It's simply too big, and you get lost in the myriad branches of it all. The trick is to marry new technology with old marketing techniques, such as magazine advertising. It's like fishing – the internet is the line on which you land the blighters, but you still need to bait the hook, and that's where old established media come in. Sorry, back to the question….on the last few we've done 500 copies, and we sell out pretty much immediately. We could do more, but that would mean working harder, and we're a bit lazy, really. Not lazy, but we have other lives and other things to do. Besides, Keith spends too much time fetching his halves from the bar and getting married. The artist isn't really a factor on numbers pressed. We have a Members Club at Fruits de Mer, and these are people who want everything we release – brilliant, they are. We've worked hard to create a label identity and sense of quality around FdM– it's the label that sells the bulk of the records to our members and the label that generates a lot of the initial press interest. But we know we're only as good as our latest release – and that's down to the fantastic bands and artists that choose to work with us. It works well: once we've agreed on a release, and argued long and hard about the choice of tracks, we give bands lots of freedom on the recordings, they produce the goods and we sell 'em. It leaves all of us free to do what we all do best.
How many releases are available?
AB – We're coming up to Volume 20 on FdM, and we've just launched a new imprint called Regal Crabomophone (let's see how many people type that into a search bar correctly). This gives us an outlet for new self-penned material by FdM bands we know and love. As for favourites – they're all my favourites. They're like me kids! There are releases we've done that are clever, such as the merging by Us & Them of "Julia Dream" by Pink Floyd, and "All The Pretty Little Horses", a traditional lullaby from where "Julia Dream" was originally lifted, and the Eddie Cochran EP we did last year. These are smart, and you're especially proud of them because they get a good report etc. Then there's the vibrant energy of Vibravoid and the skewed minds of Cranium Pie and the confident beauty of Chemistry Set and the adrenaline rush from Earthling Society. And on it goes. They're all special. It's why we sired them.
What are some future plans?
AB – in a minute, I'm going to make a nice cup of tea. After that, we have the new label to get up and running, and loads of ideas for FdM. We'll always do releases along the lines we traditionally have – limited coloured vinyl, mad inserts, smart artwork etc. Coupled with that, though, I'll always do the odd side project Keith doesn't know about until it's finished, such as the Eddie Cochran EP, while Keith works away on our occasional compilation LPs. The key for me is to always make it a challenge, and push the limits a bit. I've seen so many labels go stale because they stay exactly the same and don't evolve. But, the most important future plan is to keep it all at a manageable level. It's already starting to eat into my time too much, though Keith is taking on a lot more now, which frees me up. We have to stay creative – and staying creative means allowing time to do so. Bottom-line, though – when I meet Keith and we have nothing to talk about except label talk, that's when I'll stop.
What are the latest three releases?
AB – well now, the 'Roqueting Through Space' LP and 7" bundle in a fantastic gatefold sleeve (with a bonus model airplane!) is officially sold out. They flew! Get it…? So, we have Volume One of our Regal Crabomophone label coming soon (late-May 2011). It's by Chemistry Set, and couples the self-penned "Impossible Love" with the Rolling Stones "We Love You". Very excited about this one. At the same time, we'll have Earthling Society with FdM Volume 20, as they absolutely nail "Green Manalishi (With The Two-Prong Crown)" (Pete Green – Fleetwood Mac) and an obscure psych-garage gem by The James Taylor Move, "And I Heard The Fire Sing".
Loads of reserves and interest in them both, so get in touch pronto if you want a copy. Go to www.fruitsdemerrecords.com. or email me direct –
andy@fruitsdemerrecords.com
.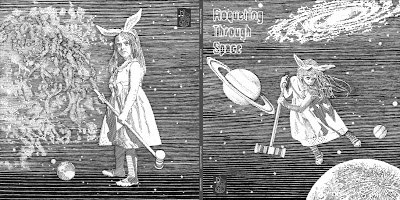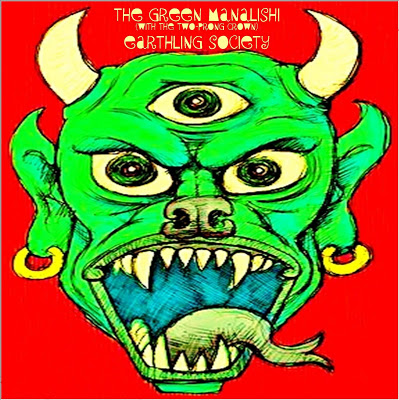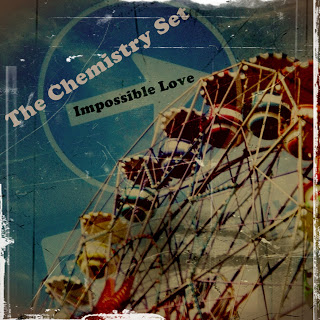 Thank you. Last word is yours.
AB – Amazingly, no. I think we've covered all the pertinent points. So, other than to say "thank you" to you for doing this, and "hello" to all who read these words, I think that'll just about do it. Right nice cup of tea – wonder if Keith wants a half…?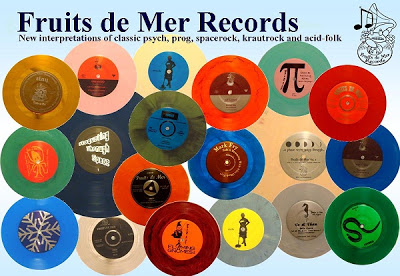 – Klemen Breznikar