Új Bála
Hungarian art teacher Gabor Kovács makes synthesizer-based electronic music as Új Bála.
---
His latest album, 'Letters Are Weird To Look At' was released January 2023.
"Home away from home"
Kraak called what you do "psychedelic techno". Would you agree with that?
Gabor Kovács: I can agree if we see techno as urban folk music, I'm not sure how psychedelic my music is, I'm just trying to make my own sonic vocabulary and play around with it, building my own narrative, that's all.
Is noise an influence on your music?
Noise is definitely an influence, but I wouldn't say it has more impact on me than – for example – pop music.
Do you mainly make your music on synthesizers?
Yes I'm using hardware synths, I'm not good with software, staring at the monitor makes me exhausted.
Why did you move from Budapest to Brussels?
It's a complex topic. I was pretty overwhelmed with the political situation, how the government occupies spaces in the so-called underground and takes advantage of the music scene. I felt frustrated by the general defeated atmosphere, the laziness, and I went through some difficulties in my personal life too during the lockdown. It was a now or never situation and I wanted to be in charge and just do something, so I did.
What does Új Bála mean?
It means "New Bale," an expression that second hand shops use in Hungary when they have a new stock of used clothes.
Do you come from a visual arts background?
Yes, I graduated from The Academy of Fine Arts Hungary as an art teacher. I've started as a painter but after a while my paintings ate up the space around me so I switched to music, it fits into a tiny folder on the desktop of my computer.
For how long have you been making music?
It's been 10 years now.
How did you get into electronic music?
When I was in elementary school I watched cable TV at night, especially a lot of Viva and Viva 2. They played all the trippy techno and electro videos and I just gravitated towards them immediately. I had no idea how they produce these sounds so it was fascinating for me. It was something that was so euphoric and so alien at the same time, the best combo, home away from home.
Can you remember why you wanted to make your own music?
It was kind of an accident, I wrote some lyrics to somebody's band and the singer couldn't perform them so I had to do it myself. I don't have any musical training except some basic choir experiences, but I've always loved to be on stage, not necessarily with music. It could be anything, telling a poem or a tale, or just making a presentation, school stuff. It's probably some narcissistic personality defect.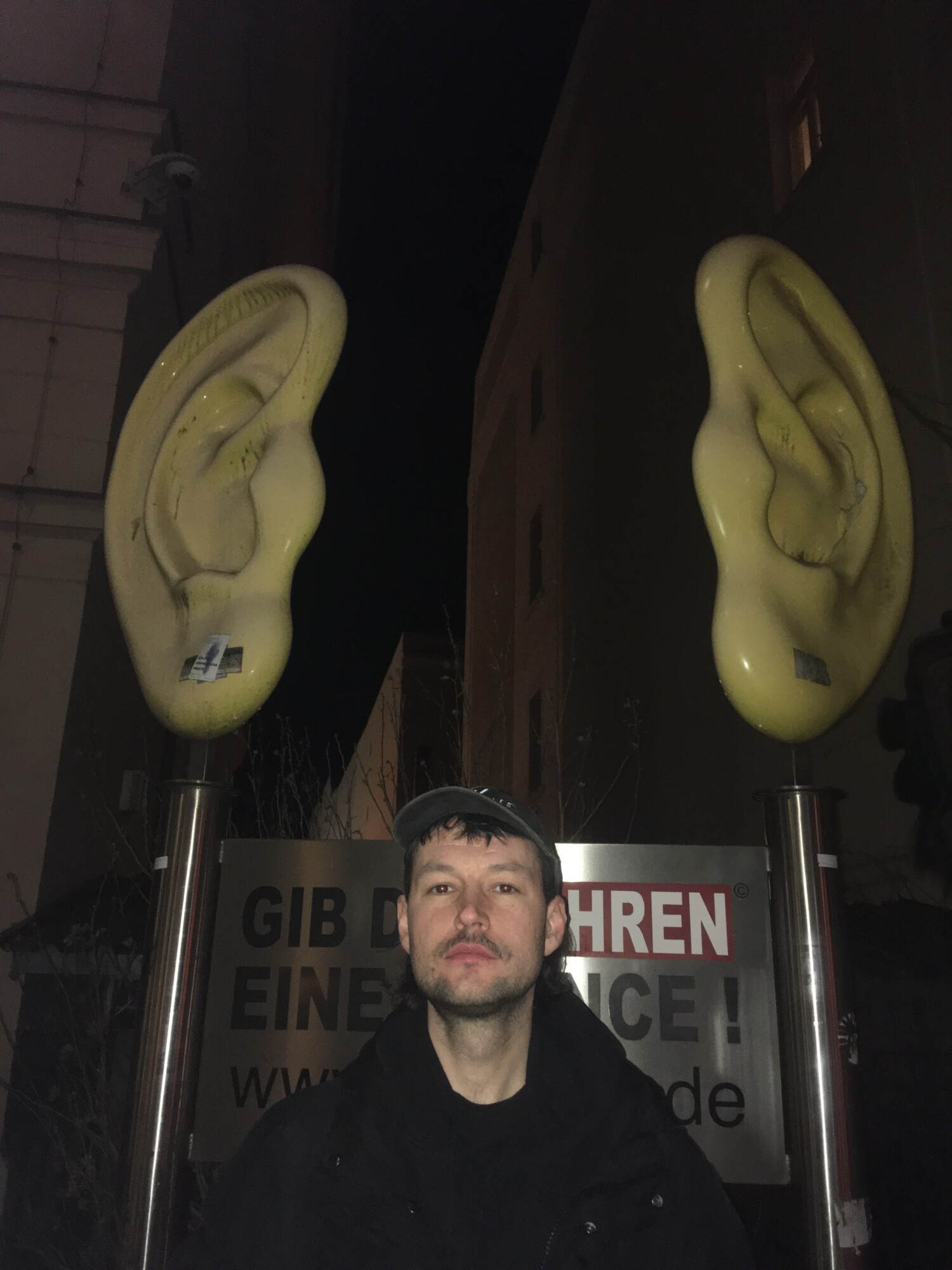 Who do you see as your influences?
My two biggest favourites are Swans and Scott Walker, especially Walker is super exciting for me, he had everything.
Joeri Bruyninckx
---
Headline photo: Santi
Új Bála Facebook / Instagram / Bandcamp / YouTube